Pac-12:

Kyle Middlebrooks
June, 26, 2012
6/26/12
7:55
PM ET
The Pac-12 features another strong crop of running backs -- seven return after compiling more than 900 yards rushing in 2011 -- but there are also a few teams facing uncertainty at the position.
Evaluations aren't easy here. A number of teams have an A-list leading rusher back but uncertain depth. Others have plenty of experience returning but no proven A-lister. So stars and depth matter here.
A general impression: Running back is strong position in the conference. No team has a sense of desperation here.
So how does it stack up?
Great shape
Stanford:
Stepfan Taylor
was second-team All-Pac-12 last year after rushing for 1,330 yards and 10 touchdowns. But the Cardinal also welcomes back its second- and third-leading rushers,
Tyler Gaffney
and
Anthony Wilkerson
, as well as
Ricky Seale
, who was impressive this spring. And, of course, there's a guy called
BARRY SANDERS
arriving in the fall.
[+] Enlarge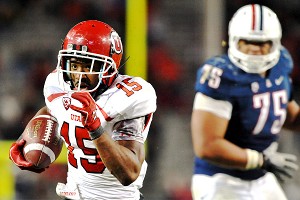 Chris Morrison/US PresswireJohn White is the Pac-12's leading returning rusher -- and could get help in the Utah backfield.
Utah
:
John White
, also second-team All-Pac-12 in 2011, is the conference's leading returning rusher with 1,519 yards last year. He was mostly a one-man show -- he led the conference in carries -- but that won't be the case this fall.
Harvey Langi
and
Kelvin York
, both over 220 pounds, showed they are ready to contribute quality reps this spring.
California
:
Isi Sofele
ranked fifth in the conference with 1,322 yards rushing in 2011, but he'll have to old off a challenge from
C.J. Anderson
-- 345 yards and eight TDs in 2011 -- to retain his starting job this fall. The depth is strong with
Brendan Bigelow
,
Daniel Lasco
and
Darren Ervin
.
Arizona State:
The Sun Devils have both a star in
Cameron Marshall
and good depth. Marshall rushed for 1,050 and 18 touchdowns last season. Depth?
Kyle Middlebrooks
,
James Morrison
,
Deantre Lewis
,
Marion Grice
and incoming freshman
D.J. Foster
will be battling for touches.
Oregon:
The Ducks are difficult to rate. If everything falls into place -- and it's reasonable to believe they will --
Kenjon Barner
, LaMichael James' longtime backup, will become a star, spectacular hybrid RB/WR
De'Anthony Thomas
will make a bunch of big plays in a change-of-pace role and touted incoming freshman
Byron Marshall
will become the third option. Nonetheless, one injury here would be a major blow.
USC:
The Trojans are just like the Ducks: Top-heavy with questionable depth. The underrated
Curtis McNeal
-- the 1,000-yard rusher averaged 6.9 yards per carry in 2011 -- is back, and so is
D.J. Morgan
, who rushed for 163 yards last year. If redshirt freshman
Javorious "Buck" Allen
and incoming freshman
Nelson Agholor
step up, things should be fine. But depth here is one of the Trojans' few question marks.
Good shape
UCLA
:
Johnathan Franklin
is back, and he's been highly productive -- if fumble-prone -- for a while.
Malcolm Jones
, who rushed for 103 yards in 2011, is back, and
Steven Manfro
was a spring standout. While the position isn't spectacular for the Bruins, it's certainly not a chief worry heading into the season.
Arizona
: Is promising sophomore
Ka'Deem Carey
ready to become a star? He rushed for 425 yards last year and looked good this spring. There's also good depth behind him:
Daniel Jenkins
,
Taimi Tutogi
,
Kylan Butler
,
Greg Nwoko
and
Jared Baker
.
Washington State
: The two leading rushers from 2011,
Rickey Galvin
and
Carl Winston
, are back, and they combined for more than 1,000 yards. But sophomore
Marcus Mason
was with the No. 1 offense during the spring game, and
Leon Brooks
also is in the mix. Catching the ball well will be almost as important as taking a handoff under new coach Mike Leach.
Washington
: Workhorse Chris Polk is gone, but
Jesse Callier
and
Bishop Sankey
both saw plenty of action in 2011. Might
Deontae Cooper
get healthy -- finally -- and work his way into the picture? Like a lot of teams, the Huskies have the potential to be fine here. But it's reasonable to expect the running game to take a step back this fall, particularly with issues on the O-line.
We'll see
Oregon State
: Everybody is back, but no Beaver rushed for more than 423 yards last year. And, of course, Oregon State was one of the nation's worst rushing teams. The pecking order also didn't seem to completely work itself out, though redshirt freshman
Storm Woods
had a strong spring.
Colorado
: The good news is
Tony Jones
had a good spring and looks capable of replacing the departed Rodney Stewart. Still, he averaged 3.8 yards per rush in 2011.
Josh Ford
rushed for 128 yards last season. Depth is a bit uncertain also, with
D.D. Goodson
and
Malcolm Creer
, who is coming back from a knee injury.
June, 18, 2012
6/18/12
9:00
AM ET
Every team has a strength -- that one position group that can make a play on offense or make a big stop on defense when needed.
Based on what happened this spring, we're going to look at the strongest position group for each school. It could be on either side of the ball -- and it could be subject to change after fall camp goes into full swing.

We're going in reverse alphabetical order.
Arizona State
Strongest position group
: Running back
Headliner:
Cameron Marshall
(1,050 yards, 4.6 per carry, 18 TDs)
Supporting cast:
Jamal Miles
(237 yards, 8.2 per carry);
James Morrison
(11-59);
Kyle Middlebrooks
(42-150);
Deantre Lewis
(2010: 539 yards, 5.9 ypc, 4 TDs)
The skinny:
Marshall is an NFL prospect, a 223 pounder who is physical and tough and faster than you think. Miles and Middlebrooks are hybrid RB/WR types. Morrison is a physical runner who's been threatening to break through for a couple of years and looked this spring like he was finally ready to really do it. Lewis is a wildcard. He was lightning to Marshall's thunder in 2010 as a true freshman but it remains to be seen if he can get back to 100 percent form after suffering complications from a random gunshot wound that impacted his 2011 season. Further, two incoming running backs arrive with plenty of hype: JC transfer Marion Grice and freshman D.J. Foster. How will the pecking order turn out? That remains to be seen. But running back might be the only position where the Sun Devils have no concerns.
June, 8, 2012
6/08/12
9:00
AM ET
Despite the high ankle sprain ... despite the bone spurs in his ankle ... despite the fact that he was a running back playing in a pass-first spread system, Arizona State's
Cameron Marshall
was still one of the top statistical running backs in the Pac-12 last season.
With all those things working against him, Marshall still pounded out 1,050 yards on the ground and matched Oregon's LaMichael James for most rushing touchdowns with 18.
Consider all of the above factors and then let it sink in. You might start to realize that the 5-foot-11, 223-pound back is a special player.
The sprain has healed. The bone spurs have been surgically repaired. Arizona State's new offense is run-first. And Marshall is poised to establish himself as one of the conference's elite backs.
[+] Enlarge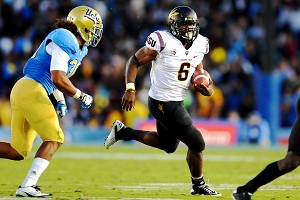 Cal Sport Media via AP ImagesCameron Marshall's senior season could be a standout one in coach Todd Graham's offense.
"I think I needed to go through that last year," said Marshall, a senior from Valley Christian High School in San Jose, Calif. "It hurt when I walked. It hurt when I would just be standing. But I think in the end it was good for me to go through. I learned a lot about myself. I learned I can play through the pain."
Marshall missed much of the spring session rehabbing his ankle, but says he's "almost" 100 percent and should be completely ready for fall camp. Not surprising, he's excited to be playing in a Todd Graham scheme, which led the nation in total offense in 2007 and 2008 and was fifth in 2010.
"As a running back, that's the kind of offense you want to be in," Marshall said. "It's a lot of downhill running. I can keep my shoulders squared. I think that plays very well to my skill set because I'm much more of a downhill runner than I am lateral runner."
Marshall knows he's not the first runner people think of when they look at the Pac-12's backs. And if it bothers him, he doesn't admit it. But his combination of speed and power has him slotted anywhere between a third-and-fifth round draft pick next year. And that's without pundits having seen what he can do in an offense that caters to his strengths.
First and foremost, he's looking to help ASU bounce back from the disappointing five-game skid that ended 2011. The Sun Devils -- after jumping out to a 6-2 start -- dropped their final four regular season games by an average of 6 points before closing out the year with a 56-24 thumping by Boise State in the MAACO Bowl Las Vegas.
"It's in the past, but it still grinds on us," Marshall said. "It was a year where we should have done better. There was a lot of hype around us early in the season when we were successful. This year I anticipate us being able to finish out the season instead of losing a bunch of close games.
"We're tired of being the team that has the potential but can't put it together."
And if the Sun Devils do put it together in Graham's first year, a big reason is going to be because of Marshall's legs. But he's not alone in the backfield. Arizona State has one of the deepest crops -- if not the deepest -- of running backs in the conference.
Kyle Middlebrooks
,
James Morrison
and
Deantre Lewis
will all see carries. And then there is Arizona prep sensation
D.J. Foster
, who might make an impact as a true freshman. Marshall feels the heat. And he likes it.
"As a competitor, you love that competition," he said. "They keep me on my toes and make me prove that I deserve that top spot. If I don't, then there are a lot of guys who could take the job. I have to practice harder than everybody else and be in the film room longer than everybody. And it's a realistic point of view of how it's going to be at the next level."
By the time Marshall leaves ASU, he might be the school's most celebrated running back. With 29 career touchdowns, he's just 10 shy of matching the school's career record.
May, 14, 2012
5/14/12
11:00
AM ET
2011 overall record
: 6-7
2011 conference record
: 4-5 (T 3rd, South)
Returning starters
Offense: 4; defense: 7; kicker/punter: 2

Top returners
RB
Cameron Marshall
, OT
Evan Finkenberg
, WR
Jamal Miles
, LB
Brandon Magee
, DT
Will Sutton
Key Losses
QB Brock Osweiler, WR Gerell Robinson, WR Aaron Pflugrad, C Garth Gerhart, LB Vontaze Burfict, LB Colin Parker, S
Clint Floyd
2011 statistical leaders (*returner)
Rushing
: Cameron Marshall* (1,050 yards)
Passing
: Brock Osweiler (4,036 yards)
Receiving
: Gerell Robinson (1,397 yards)
Tackles
: Colin Parker (75)
Sacks
: Vontaze Burfict (5)
Interceptions
: Clint Floyd (4)
Spring answers
1. He's selling, you buying?
New head coach Todd Graham describes himself as an "old school" guy, meaning no swearing, no jewelry, yes sir, no sir ... that kind of stuff. His practices are intense, as is the fast-paced offense he's installing. Players talked about being a little shell-shocked by how he does things and the discipline he demands. But so far, they seem to have taken to it.
2. Oh, line
: Once thought to be a concern for the Sun Devils after losing three offensive linemen from last year's squad, Graham has gone out of his way to note how good the unit looks. They are set at left tackle with Evan Finkenberg, a two-year starter, but he's versatile enough to play anywhere on the line.
Andrew Sampson
has 20 consecutive starts.
Jamil Douglas
,
Kody Koebensky
and
Brice Schwab
should fill out the line.
3. Back attack
: The Sun Devils have something special in running back Cameron Marshall, who should flourish with Graham's downhill running offense. Behind him is a deep, talented group, but little is known about the pecking order.
Kyle Middlebrooks
,
James Morrison
,
Deantre Lewis
, Marion Grice and incoming freshman
D.J. Foster
all figure to play some sort of role. Worth keeping an eye on Marshall's surgically repaired foot as well. He's expected to be 100 percent by fall. While this might be ASU's deepest group, there is still some uncertainty to how it will all look in Week 1.
Fall questions
1. QB question mark
: Graham hinted that the coaching staff is closer to a decision on their quarterback than they are probably letting on publicly. Still, the public at large is no closer to knowing whether it will be
Mike Bercovici
,
Michael Eubank
or
Taylor Kelly
running the show. Each has their own unique skill sets, but fans are calling for Eubank, who many have dubbed a Cam Newton replica.
2. Magee back?
The return of linebacker Brandon Magee, who was limited in spring as he continues to recover from a torn Achilles that kept him out of 2011, would be a monumentally huge step in the right direction for the Sun Devils. And for Graham. Magee is not only a talented linebacker, he's a locker room guy who commands the respect of his teammates. They'll usually step in line with him. And if he's good to go, it would be a big step for the Sun Devils on and off the field.
3. New offense, new(er) receivers
: Jamal Miles returns as the second-leading receiver (60 catches) and is a dynamic player, but there isn't a ton of experience at the position as the Sun Devils said goodbye to five scholarship receivers. Projected starters
Rashad Ross
and
Kevin Ozier
combined for just 29 catches between them last season.
J.J. Holliday
,
A.J. Pickens
and
Kevin Anderson
all figure to be in the mix as well. Plus there are more coming with the recruiting class and their impact remains to be seen.
May, 10, 2012
5/10/12
9:00
AM ET
We're continuing with our under the radar series.
The idea is to pick out a player who is not a big name, but who might be underrated. Or, at least, a guy who will need to step up and play a crucial role in 2012.
We're going in reverse alphabetical order.

Arizona State
: RB
James Morrison
2011 production
: Carried the ball 11 times for 59 yards with a score against Colorado.
Making the case for Morrison
: Outside of Arizona, most folks probably don't know Morrison. He came in as a walk-on out of St. Mary's high school in Phoenix and never really found a place with the old coaching staff. New coach Todd Graham has dubbed the 5-foot-11, 215-pounder "Tank" for his power style of running. He's coming off a fantastic spring and used the absence of
Cameron Marshall
to gain valuable reps.
In this new ASU offense, the focus is on downhill running. And that's something Morrison can do. The big question is whether he did enough in the spring to earn the reps, because ASU's backfield is going to be crowded in the fall. He could be featured as a third-down back because he's a good blocker, or simply as a goal-line/short-yardage specialist. He could be the No. 2 guy off the bench behind Marshall -- pending the status of
Deantre Lewis
. Or he could be a spring wonder who never gets consistent carries, falling back behind Lewis,
Kyle Middlebrooks
and incoming freshman D.J. Foster, who might contribute immediately. Morrison is by no means a sure thing to break out, but if you're looking for someone who could surprise under the right circumstances, he's the guy.
August, 12, 2011
8/12/11
1:00
PM ET
Look, the Pac-12 is the conference of quarterbacks. Everybody knows that. No other conference even approaches the talent the Pac-12 has at the position in 2011.
Stanford's
Andrew Luck
, USC's
Matt Barkley
and Arizona's
Nick Foles
each could be first-round NFL draft picks next spring. Luck is almost certain to go No. 1 overall. Oregon's
Darron Thomas
, Oregon State's
Ryan Katz
, Utah's
Jordan Wynn
and Washington State's
Jeff Tuel
also are experienced, talented guys with plenty of upside.
[+] Enlarge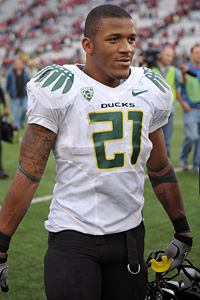 Kirby Lee/Image of Sport/US PresswireQuarterback is the position of power in the Pac-12, but LaMichael James and his fellow running backs can make a strong case as well.
So the Pac-12's position of power is, obviously, quarterback.
But don't sleep on the running backs, either.
The conference welcomes back five backs who eclipsed the 1,000-yard mark last fall, including Oregon's Heisman Trophy finalist and Doak Walker Award winner,
LaMichael James
. That crew includes Washington's
Chris Polk
, Colorado's
Rodney Stewart
, UCLA's
Johnathan Franklin
and Stanford's
Stepfan Taylor
. Those are five backs who ranked among the top-38 in the nation in rushing last fall, including three in the top 13.
(And, by the way, if Oregon State's Jacquizz Rodgers and California's Shane Vereen hadn't opted to enter the NFL draft a year early, the conference also would include the nation's No. 21 and 23 rushers from 2010).
Further, only California, Oregon State, Utah and Washington State have questions at the position. USC is stacked with talented backs, whether senior
Marc Tyler
(913 yards, nine TDs in 2010) comes back from suspension or not. Arizona State's
Cameron Marshall
(787 yards, nine TDs) is one of the most underrated players in the conference, and Arizona's
Keola Antolin
(668, seven TDs in 2010) has rushed for 1,830 yards and scored 21 TDs in three seasons.
Further, many of the backups -- Oregon's
Kenjon Barner
, Washington's
Jesse Callier
, Arizona State's
Deantre Lewis
or
Kyle Middlebrooks
, Stanford's
Anthony Wilkerson
and UCLA's
Derrick Coleman
(or
Malcolm Jones
/
Jordan James
) -- are talented and experienced (other than James, a redshirt freshman).
So conference of quarterbacks, conference of running backs -- both are positions of power.
Perhaps the Pac-12 in 2011 is now the Conference of Backfields?
June, 23, 2011
6/23/11
1:41
PM ET
The Pac-12 features another strong crop of running backs -- five returning 1,000-yard rushers -- but there are also a few teams facing uncertainty at the position.
So how does it stack up?
Great shape
[+] Enlarge

Jonathan Ferrey/Getty ImagesLaMichael James leads a talented running back corps that has both experience and depth.
Good shape
We'll see
Previous reviews
Quarterback
August, 17, 2010
8/17/10
6:33
PM ET
The ink dries on the national letters of intent and the recruiting class rankings are handed out, then the real business begins: Which true freshmen are ready to play right now?
Here's an early list for every Pac-10 team.
A caveat: This is hardly a scientific survey, evaluations are still in their early stages and I've only personally seen a handful of these guys play. These names are here because of news reports and comments from coaches and other observers (sports information directors also chipped in).
Further, some schools will start or play a lot of freshmen -- USC and UCLA for example -- while that doesn't appear likely for other schools (Oregon State may only use freshmen on special teams).
So here we go.
Arizona

CB
Shaquille Richardson
, S
Marquis Flowers
Note:
Frosh will bolster the Wildcats secondary. Richardson was kicked off UCLA's team for being one of three freshmen who allegedly tried to steal a purse. Coach Mike Stoops told the Arizona Daily Star that Richardson is "as good a corner as I've coached at this young stage."
Arizona State

RB
Deantre Lewis
, WR
Kyle Middlebrooks
Note
: Lewis turned in a good scrimmage over the weekend for an offense that needs playmakers. Middlebrooks should at least get into the rotation and may return punts.
California
WR
Keenan Allen
, WR
Kaelin Clay
, WR
Tevin Carter
, LB
David Wilkerson
Note
: Receiver is a need position for the Bears -- not all of the passing game struggles can be hung on QB
Kevin Riley
. All three likely will be in the rotation, with Allen a candidate to start. Wilkerson is pushing for time at OLB.
Oregon
DT
Ricky Heimuli
, K
Alejandro Maldonado
Note
: The 320-pound Heimuli offers a big body in the middle of the D-line. Maldonado is in the thick of the race to start at kicker. (The two touted frosh RBs could get into the mix, but No. 3 is deeper than we want to go).
Oregon State

WR
Kevin Cummings
, LB
Michael Doctor
Notes
: No true freshman has cracked the Beavers two-deep and both of these guys are grayshirts. Cummings could get into the rotation at flanker behind
James Rodgers
. Both are expected to play special teams.
Stanford
CB
Barry Browning
, S
Devon Carrington
Note
: Browning is the highest true freshman on the depth chart at present, though he's not with the first-team, according to Jim Harbaugh. He and Carrington could provide help in a questionable secondary.
UCLA

SS
Dietrich Riley
, F
Anthony Barr
, OG
Chris Ward
, DT
Cassius Marsh
, DE
Owa Odighizuwa
Notes
: This list, by the way, could have been much longer. The Bruins signed a strong recruiting class last February and a lot of those guys will play this fall. Riley, Barr and Ward are in the mix to start.
USC

WR
Robert Woods
, RB
Dillon Baxter
, WR
Markeith Ambles
, CB
Nickell Robey
Notes
: Woods may end up starting, and Baxter has been a spectacular playmaker since he showed up during spring drills, though he's suspended for the opener. Robey is the leading candidate to be the nickelback.
Washington
RB
Jesse Callier
, S
Sean Parker
, DE
Hau'oli Jamora
, TE
Michael Hartvigson
Note
: It doesn't appear at this point that any of these four will start, but they each are expected to play. Callier steps to the fore with
Deontae Cooper
out with a knee injury. Jamora and Hartvigson provide depth at need positions.
Washington State

WR Marquiss Wilson, WR
Kristoff Williams
, OT
John Fullington
, LB
C.J. Mizell
, DT
Kalafitoni Pole
Notes
: All five of these guys will play. Fullington has seen some action with the first-team. Mizell might be the Cougars fastest LB.