October, 9, 2013
Oct 9
5:30
PM ET
Stanford and Utah are looking for bounce-back performances this week -- though under different circumstances. For Utah, which has lost both of its games by a narrow margin, a victory over No. 5 Stanford would serve as a signature announcement to the rest of the league that it has arrived.
[+] Enlarge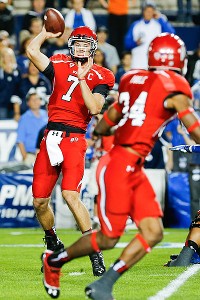 Chris Nicoll/USA TODAY SportsTravis Wilson and the Utes get their toughest test of the season versus Stanford on Saturday.
The Cardinal -- still perfect on the season -- are simply looking to shore up some offensive inconsistencies that plagued them at home Saturday against a very good Washington defense. Stanford posted season lows in total yards (279), rushing yards (179), yards per carry (4.4) and passing yards (100). Quarterback
Kevin Hogan
, who has thrown one interception in four straight games, was also sacked twice and posted the lowest passing total and completion percentage since becoming a starter last season.
"Coming off a game where we ran it and threw it and blocked it extremely well against Washington State, we were not up to par in this game," said Stanford head coach David Shaw. "We missed opportunities throwing the ball to guys [who] were open. We didn't make enough plays. Our pass protection wasn't bad, but they are a good group, and if you don't throw the ball on time, they are going to get to you."
Turnovers were what plagued the Utes in their 34-27 loss to UCLA last Thursday. The final stat book reads six interceptions for quarterback
Travis Wilson
– though that's not an accurate account of how things went down. Besides the fact that Wilson was sick in bed all day with flu-like symptoms leading up to the game, there were issues with drops, deflections and protection breakdowns that contributed to the turnovers.
"He's a resilient kid. He's confident," Utah coach Kyle Whittingham said of his quarterback. "When you break them down, deflected balls, a route structure that was incorrect, getting hit just as he released the ball. If it was six bad decisions and six bad throws, that would be a big problem. But that wasn't the case and our guess is that he's going to bounce back and play well … a lot of blame to go around for six interceptions."
This marks the first meeting between Utah and Stanford as Pac-12 members and the first showdown between the schools since 1996. The Utes are 0-1 against the Pac-12 North this season (falling to Oregon State 51-48 in overtime last month) and 4-5 overall against North teams. Since joining the league, Utah is yet to beat a conference member ranked in the Top 25.
"Stanford's front seven is extremely physical," said Whittingham, whose Utes are playing a top-15 team for the second straight week. "In my estimation they are the most physical team in the Pac-12. But we feel like we're pretty good at the line of scrimmage as well on both sides of the ball so we'll see how we match up.
"It's week in and week out. There are no weeks off in this conference. We've got some big challenges down the road. We understand that, that's part of the deal. There's nowhere else we'd rather be than in the Pac-12 competing and trying to get better."
Shaw said he sees the potential in Wilson. Prior to the UCLA game, he had thrown nine touchdowns to just three interceptions while adding five more touchdowns on the ground. Shaw has seen plenty of film of Wilson because he was high school teammates with Stanford offensive lineman
Kyle Murphy
. So he knows what Wilson is capable of when he's at his best.
"Offensively, when they don't turn the ball over, they are very dangerous," Shaw said. "I saw him play in high school. The guy can stand in the pocket and see over everybody and [can] make all of the throws. They are a very, very dangerous football team."
The Utes will likely be without tight end
Jake Murphy
for the rest of the season after he had surgery on his broken wrist. That means more Utes will have to step up in the passing game. Plus, in their past two games, the Utes are just 3 of 27 on third down -- a problem they need to correct against an aggressive Stanford front.
"The biggest issue is there have been too many third-and-longs in those third downs, which means we've got to be better on first and second down at getting ourselves in third and manageable instead of third and nine-plus," Whittingham said. "That's the first step. That's been a huge point of our focus of the last three days is to try to remedy that."
March, 28, 2013
Mar 28
1:00
PM ET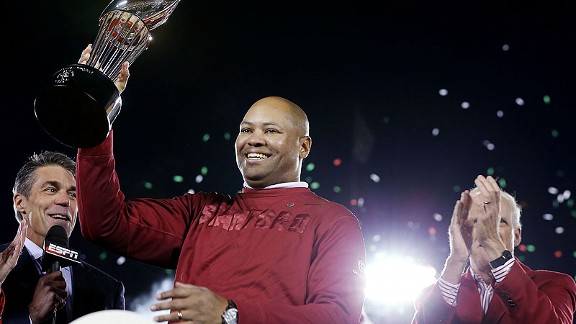 Jeff Gross/Getty ImagesThe Cardinal adopted a blue-collar attitude under Jim Harbaugh (not pictured) and David Shaw and became national title contenders. Now that they've found success, can they stay hungry?
STANFORD, Calif. -- The first step in Stanford's national ascendancy was wearing blue shirts a mechanic would wear at the gas station. The message then-coach Jim Harbaugh was trying to deliver was simple: Sure, Stanford is one of the nation's elite universities, chock full of members of the privileged class. But the football team wanted to adopt a blue-collar mentality.
It was such an obsession for Harbaugh that he once congratulated a reporter for noticing the Cardinal seemed eager to sneak in a few shots after the whistle blew.
That was good enough for 8-5 in 2009, Year 3 under Harbaugh. It was the program's first winning record since 2001.
Over the next three years, however, Stanford won 35 games and lost five. The Cardinal were a missed chip-shot field goal from going 3-0 in BCS bowl games. Yet during that span the locker room theme was a lack of national respect. Players saw doubt from every angle: Could the program survive the loss of Toby Gerhart? Surely things are done now that Harbaugh is off to the NFL? A team simply can't replace Andrew Luck, can it?
Oh, and Stanford has an Oregon problem.
Doubts were addressed. Wins piled up. The Ducks were plucked in their own house last November.
Now it's the spring of 2013. Much to everyone's chagrin on the Farm, respect has arrived.
Now just about everyone
views Stanford as a top national title contender. Even SEC fans seem to tip their hats to the Cardinal's bruising brand of run-the-ball-and-play-tough-defense football.
Ah, but this is where the "C" word comes in. Stanford coach David Shaw knows his biggest enemy is complacency. His team taking winning for granted. His team feeling entitled. His team, well, acting like USC a year ago.
[+] Enlarge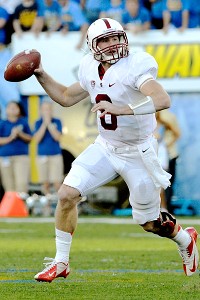 Richard Mackson/US PRESSWIREThe Cardinal welcome back 16 starters, including quarterback Kevin Hogan, who was 5-0 after entering the starting lineup.
"You can't talk your way into winning games," Shaw said. "The circumstances that surround a game never matter. Only the game matters. We've done a good job as coaches here really beating that into the players' heads. The first question I asked guys before we started spring football was 'Are we collectively hungry?' You have to have that hunger."
Said linebacker
Shayne Skov
, "People have finally started to notice what we've been doing around here but we have to stick to the same plan we've had every single year, the same method. Guys are still hungry."
Hunger is good because talent is not the question. The Cardinal, which starts its second spring session April 1, welcomes back 16 starters from last year's Rose Bowl champions, including quarterback
Kevin Hogan
, who went 5-0 as the starter and was the quarterback of record in the clutch 17-14 overtime win at Oregon.
But returning starters doesn't tell the whole story, particularly on the offensive line, where four starters are back. Stanford has a troika of extremely talented sophomores who are fighting for starting jobs or at least playing time.
Andrus Peat
-- 6-foot-7, 310 pounds and two years ago the nation's No. 1 prep offensive lineman -- is the likely starter at left tackle, which allows Morris Trophy winner
David Yankey
to move inside to his natural guard position. There are NFL teams that have weaker combinations on the left side of their line.
Meanwhile,
Kyle Murphy
is pushing
Cameron Fleming
at right tackle and is certain to see action at multiple positions and act as a sixth O-lineman when Stanford goes "big," as it is wont to do. Inside at guard, 317-pound
Josh Garnett
is in the mix, which could allow veterans
Kevin Danser
or
Khalil Wilkes
to take over at center.
However this crew stacks up, it's getting tested by the Pac-12's best defensive front seven. Suffice it to say, when Stanford goes full-go in practice, things get pretty salty.
Stanford's two biggest questions -- tight end and running back -- don't seem to worry many folks around the program. The return of Tyler Gaffney from pro baseball eased concern at running back, while there's young talent at tight end, not to mention a deeper crew at receiver.
Of course, Stanford is sharing its "national title contender" label with a familiar foe: Oregon. Winning the Pac-12's North Division might turn out to be nearly as difficult as winning the national title. But the Cardinal bucked its Oregon problem last year, and that victory still resonates, both as fact and symbol.
Every Stanford player or coach (or fan) quickly picks up the story when someone refers to the biggest play of that game, and perhaps of the college football season: Backup safety
Devon Carrington
slipping by
De'Anthony Thomas
to catch Ducks quarterback
Marcus Mariota
from behind to prevent a long touchdown run in the first half.
"That play exemplified the heart and determination we are going to play with," Shaw said. "There also were multiple times we had a guy in space with
Kenjon Barner
and we tackled him. Last couple of years, we missed that tackle. You miss that tackle, and it's over."
Oregon could no longer simply outrun Stanford. And if Oregon can't outrun Stanford, no one can.
Stanford may still view itself as a blue-collar team, but it's moved into college football's penthouse. The question is no longer can it stay there. The new question is whether it can take the next -- and final -- step up.
March, 15, 2013
Mar 15
6:00
PM ET
Looks like the gang has started up
a bracket challenge
. Count me in.
As always,
follow the Pac-12 blog on Twitter.
To the notes!
Lucas in Tempe, Ariz., writes
: Kevin, I noticed today that in your replacing impact players
in the north poll
you included two players from one team? This is partly my Coug bias bristling at the fact that there was no Coug on the list (
Travis Long
) but honestly two players from one team? Where's the logic!?
Kevin Gemmell
: The polls are limited to five spots -- so that hamstrings us a bit and someone was going to get left out. Ted and I usually discuss all the polls and poll options before they publish and we picked the five "biggest names" from the North Division. I stipulated this
in the South post
-- that these players didn't necessarily represent our choices for the "
Biggest Shoes
" series. I should have stipulated that in the North post as well.
No doubt, Long was a special player for Washington State,
as Ted notes here
. And
I talked with Travis
several times throughout the year and enjoyed each conversation. I actually shared an airport shuttle ride with his dad once, which was random, but he seemed like a great guy too in those five minutes from the airport to long-term parking.
But given Washington State's record and the fact that they allowed 33.7 points per game (10th in the conference) he was ruled out. As were players from Cal. That left us with 1) a unanimous All-America tight end; 2) a top-10 draft pick; 3) the league leader in interceptions; 4) Stanford's all-time leading rusher; 5) a lockdown corner who could also go in the first round. Which one would you replace for Long?
---
Barton in Palo Alto writes
: Can you please stop saying that Stanford defense is losing 3 starters?
Terrence Stephens
did not play at all in the last 3 games at all, and Parry has played in all games for the past 2 seasons. Stanford returns 9 of 11 starters, as I think one usually considers who started at the end of the year as the starter (regardless of the reason). Speaking of which, if you know what the housing rule that Stephens violated was, it would be nice to know. I hope that it was just a mistake on his part, and I really hope Stanford acted as soon as they knew (which seems to be the indication, but is not clear either b/c of how secretive they've been).
Kevin Gemmell
: Of Stanford's 14 games last year, they started 10 of them in their base 3-4. The other four they started with a nickelback and the nose tackle was off the field. Stephens started seven of those 10. As you note, Parry started the other three because of Stephens' violations. You can get into semantics if you want -- but we both know Stephens would have started those final three games. He wasn't beaten out for the job. So I feel comfortable saying Stanford is losing three starters.
Kyle Murphy
started the conference championship game at tight end. I wouldn't call him the starting tight end in 2013 just because he "started" a game at the end of the season.
I've heard rumors about the violations from people I trust -- but nothing I'd publish without firm confirmation from David Shaw. And even then, I'm not sure it's really anybody's business. No laws were broken. No DUI or assault.
As for how Stanford reacted -- they sat an extremely talented defensive lineman for the season finale, the conference championship game and the Rose Bowl. I'd say they acted appropriately and Stephens paid the price.
With all that said, I'm going to miss covering Stephens. Great personality, great quote and a very under-appreciated football player to those who don't follow the league closely.
---
James in Corvallis, Ore., writes
: Hey Kevin, why is it that the pac 12 isn't represented very well in the NFL at wide receiver? It seems like a pass heavy conference would draw more talent at the position than other conferences. When you look at NFL rosters you see a lot of quarterbacks that played in the pac, but not a lot of the receivers they were throwing to. What's the deal?
Kevin Gemmell
: I actually don't follow the NFL as closely as I used to -- especially during the college football season since my Sundays are spent on those bowl projections you all love so much. So I didn't have any idea what the number was.
So last night I went through every NFL roster and found that there are 27 Pac-12 wide receivers (by my count) in the league. I didn't go through every single NFL wide receiver and start marking conferences (though I did learn there is a California University of Pennsylvania). But it's interesting that more than half of the NFL teams (18) have at least one Pac-12 receiver on the roster, seven have two or more and the Cincinnati Bengals and Tennessee Titans share the lead with three each.
Note: I'm not counting Carolina's
Steve Smith
since he played at Utah well before they joined the league.
Doing some quick math in my head -- you figure the average NFL career is about three years. Each year there are anywhere from five to eight receivers from the league that land on active rosters. So, at any one time, there are approximately 25-30 in the league, give or take. So I guess that number seems about right.
I found
this story from 2011
and 28 was the high then. The Pac-12 has since added four wide receivers since the last draft cycle. When you factor in the amount of guys who actually make the league, 27 doesn't seem like all that bad of a number. I might be totally off on this, but it's the best answer I can give on short notice.
---
Kenny in Portland writes
: Kevin, Curious on your thoughts about
Brandin Cooks
as a Heisman dark horse? Personally, I don't think we'll see anyone other than a QB or RB win it unless they have an out of this world season, but I also don't think it's any less likely for a WR to win than a LB (
Anthony Barr
) or DT (
Will Sutton
). Accidental omission on your part or do you not believe him to be up there?
Kevin Gemmell
: I've been a big Brandin Cooks
fan for a while
. And no doubt, he has the potential to be a special player. But there are some things I need to see from him this year before I elevate him into elite wide receiver status. First, he obviously benefited from
Markus Wheaton
playing opposite him. Wheaton drew most of the safety help over the top which allowed more one-on-one opportunities for Cooks. This year, he's going to be the target of all those double-teams and bracket coverages.
Next, who is going to be throwing him the football? The wide receiver position goes hand-in-hand with the success of the quarterback. And until Oregon State picks one, that's going to be a sticking point.
And for Cooks to truly emerge as a Heisman dark horse, he first has to prove that he's the best wide receiver in the conference. No easy task with the reigning Biletnikoff winner catching passes in the South Division. Then, he has to prove he's the best player in the conference. Again, not easy with guys like
Marcus Mariota
,
De'Anthony Thomas
,
Brett Hundley
,
Marqise Lee
and
Ka'Deem Carey
lurking.
Then, he has to prove he's the best player in the country. So no, Cooks wasn't an accidental omission. And given his position, coupled with all of the players he'll have to leapfrog within the conference and nationally, it seems like a stretch.
---
Eric in Sammamish, Wash., writes
: What are the chances this is the year UW beats the University of Nike Ducks? The Huskies should have a breakout year with so much talent coming back and the offensive line getting
Erik Kohler
and
Colin Tanigawa
, plus they will playing them at home in the new Husky Stadium, where the fans should be fully primed to deafen those clowns in the neon clad uniforms.
Kevin Gemmell
: For those of you in need of a translator, allow me.
Eric is writing in code. Here is the actual translation:
It's the offseason. I'm annoyed that my team has lost nine straight times to Oregon. There has been too much solidarity of late on the Pac-12 blog with the readers banding together to fight off SEC fans. We once again need to turn against each other. And I'm going to stir the pot.
Eric, don't make me pull out the Ed Rooney youtube clip again.
However, what you say is true -- though calling them clowns really only makes your team look worse for having lost to said clowns. Folks have always pointed to 2013 as the potential breakout year for Washington. The offensive line should be better, they have a stud running back, good wide receivers, an elite tight end (presumably) and a much-improved defense. Is that enough to beat Oregon? The truth is, I don't know. A lot can happen between now and Oct. 12.
How long will
Austin Seferian-Jenkins
be suspended? I doubt it will be half a season, but you never know. The week before, Washington travels to Stanford. What will their mood be after that game? Will they be riding high as spoilers? Or get thrashed like they did in their last trip to The Farm? Is
Keith Price
going to return to his 2011 form?
Right now -- based on what we know on March 15 -- I'd be an Oregon lean, simply because of history and trends. But the Ducks have their own set of questions that need answering. We need to see how the defense comes together with two new middle linebackers and how the team comes together under a new head coach.
I will say I do think this might be Washington's best chance in a while. But chances don't equal wins.
Speaking of neon uniforms: Anyone get a look at Notre Dame's hoops unis last night? Looks like the team took
a guacamole bath
before taking the court.
December, 30, 2012
12/30/12
10:00
AM ET
LOS ANGELES -- Before a Stanford offensive lineman ever sees the field, he must first negotiate "The Room." And The Room can be tougher than any drill, any conditioning program or even any defensive end or linebacker he will face. Because it's in the The Room where line coach Mike Bloomgren not-so-silently passes judgment on who does or doesn't have the chops.
And it's not just Bloomgren. It's the veterans, too --
Sam Schwartzstein
,
David Yankey
,
Kevin Danser
– who will self-police and critique those who desire more playing time.
"Everything those guys get in that room is earned," said Stanford head coach David Shaw. "And it's a tough room. You walk in that room, you better have thick skin. Cause it's not just Mike that's going to get on you. Sammy's gonna get on you. David Yankey's gonna get on you. If you can handle that room and come out and perform, you deserve to play."
[+] Enlarge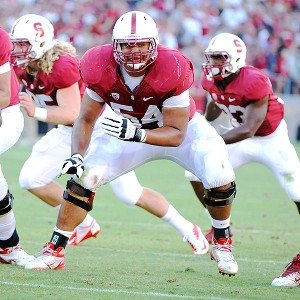 AP Photo/Rob HoltDavid Yankey and Stanford's offensive line have kept grinding down foes despite constant turnover.
For as much credit as Stanford gets for overcoming the losses of Toby Gerhart, Jim Harbaugh and Andrew Luck over the past few seasons, forgotten is that the offensive line has had to re-invent itself several times over with multiple standouts leaving for the NFL. The philosophy remains the same. But the personalities of each line have changed throughout the years.
"It starts in recruiting," said Bloomgren, who began his career as a graduate assistant at Alabama and cut his teeth for four seasons as an offensive assistant with the New York Jets. "We were fortunate to plug in the three new guys last year and have them grow (Schwartzstein, Yankey and
Cameron Fleming
). Then you lose David DeCastro and Jonathan Martin a year early and it's like, wow, now we have to do it again. David Yankey comes around and wins the Morris Trophy (given to the Pac-12's top lineman) and is a consensus All-American. It's a compliment to those guys and how they work and striving to get better. They call themselves the Tunnel Worker's Union. Those guys buy into that stuff."
Along with assistant Ron Crook -- who manages the tight ends and offensive tackles -- Bloomgren also coordinates Stanford's rushing attack, which has produced a three-time 1,000-yard rusher in
Stepfan Taylor
. And like any good running back, Taylor knows where his bread is buttered. He's rushed for 1,000 yards behind three very different offensive line units.
"They are a lot more goofy than last year," Taylor said. "They are great guys. I wouldn't want to be behind any other line. They are physical, tough, smart and athletic. That's the thing. They are really big athletic guys running around. It all starts with them and to win games, they have to do their job. And we are winning games so they are obviously doing their job."
Stanford's downhill, power-running approach is appealing to prospective offensive lineman. And the fact that they have offensive packages that involve as many as eight offensive linemen at a time is also attractive.
"For us, we've played one true freshman on the offensive line, up until this year, during the last five years," Shaw said. "This year we've played three. And those guys have earned that.
Andrus Peat
,
Kyle Murphy
,
Josh Garnett
. Those guys have earned that. And those guys have taken some beatings in that room. Some verbal assaults, if you will.
"… There are a lot of places that play five starters and the rest of the guys watch. They've had success and that's great. But we're going to play eight -- at least eight -- just in the Rose Bowl. And we've been that way all year. If we can play nine, we'll play nine. A young guy comes in and knows he's going to have a chance to play. That he won't sit on the bench for three years. If he does it right. If he can survive in our room, he'll get a chance to play."
Danser -- who became a full-time starter this year after seeing lots of time the last couple of years as a reserve -- has seen some great offensive linemen come and go. And he's witnessed each season how the line has rediscovered a new identity and how each group takes on a life of its own.
"It really comes down to the work we do in the winter, spring and summer," Danser said. "It really forms this unit. It takes leaders like Sam and leaders in the past like Chase Beeler, James McGillicuddy, David DeCastro, Jonathan Martin, Andrew Phillips. It's that leadership that makes this a great unit."
And the trio of freshmen who have made their debuts this year know they are getting their trial by fire on the field -- and in The Room.
"The coaches and the older guys won't let anything slide," Garnett said. "They always find something. Yankey tells me you have to find something. You never do it right. Always be nit-picky and find something you did wrong. That's what we're all about -- getting to that next level, never being content. You are always looking for the perfect block."
September, 12, 2012
9/12/12
12:00
PM ET
While so much attention has been given to the Stanford quarterback situation, it's worth noting that the offensive line is still a bit of a rebuilding project.
But so far, head coach David Shaw said he's been pleased with some of his true freshmen offensive linemen -- specifically how they performed in the Cardinal's 50-13 win over Duke.
"They played very well," Shaw said. "
Andrus Peat
had his best day as a
Stanford Cardinal
on game day. He was outstanding.
Kyle Murphy
, I thought was off the charts too. Josh [Garnett] played very well, but I think the two tackles played extremely well and we're looking forward to getting those guys even more acclimated to college football and giving them more opportunities."
Those freshmen up front will be indoctrinated into Stanford's rivalry with USC this weekend when the No. 2 Trojans come to town. And Shaw has zero hesitation about playing them against a USC rush defense that is third in the conference -- but still considerably untested.
"No hesitation. Those guys have earned the right," Shaw said. "They understand their roles and we're still spoon-feeding them to a certain degree because we do a lot. We let them do what they've shown us they can do and that's expanding every week. Those guys have shown nastiness and athletic ability and they've shown the aptitude to handle what we give them. They are difference-makers up front and the way we need to run the ball and pass protect, we need to have guys like that on the field."
Stanford's defense also got a boost with the return of middle linebacker
Shayne Skov
-- who played his first game against the Blue Devils since injuring his knee in Week 3 last season at Arizona. Skov, who also was suspended for Week 1 because of an offseason DUI arrest, had five tackles and broke up a pass in his first game back. How close was he to the old Skov?
"Very close," Shaw said. "He ran extremely well, which is what I was waiting to see -- if he was going to be favoring the leg a little bit ... We were wondering about his conditioning. His conditioning looked good. We still spelled him with other linebackers that have played extremely well, but he showed flashes of being that same Shayne Skov."
April, 18, 2012
4/18/12
12:00
PM ET
David Shaw has said many times that he was spoiled having
Andrew Luck
at quarterback. Now that Luck is gone, the Stanford head coach is getting back to his roots as a quarterbacks coach -- a position he held with two NFL teams.
Part of that means scaling back the playbook. With Luck, he could let his offensive imagination run wild. Now with a couple of quarterbacks with a total of zero college starts between them competing for the job, it's more about getting back to basics.
"It's really not frustrating, it's just coming back to reality," Shaw said, followed by a big laugh. "That's where I've been most of my career. That's where [offensive coordinator] Pep Hamilton has been for most of his career.
"I received
a nice little shot from Lane Kiffin
saying that his quarterback checks plays also -- which is great. That's what most good quarterbacks do. We just had a guy that was on a different level. Now we're just back to what is really the standard for college football. You have to have your quarterback get you out of bad plays and into good plays, which is what we're back to."
Shaw said he won't really know the identity of his offense until he settles the quarterback question -- and also plugs the hole at left tackle vacated by
Jonathan Martin
.
[+] Enlarge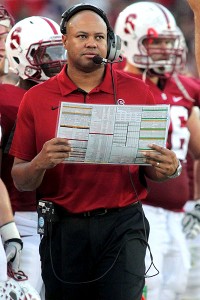 Cary Edmondson/US Presswire"You have to have your quarterback get you out of bad plays and into good plays," coach David Shaw said of Stanford post Andrew Luck.
"At some point, we'll settle on a quarterback," Shaw said. "At some point, we'll settle on left tackle. It's hard to completely say who you are and what you're going to do until those places are settled."
In other post-spring news
:
Shaw said he's pleased with the progress of Kevin Danser and Khalil Wilkes at the right guard position -- though he wasn't ready to name a starter. When tackle Brendon Austin missed time, David Yankey moved from guard to left tackle and Danser and Wilkes played both guard spots.

"If nobody on campus takes that left tackle job or if one of the two younger guys [Andrus Peat and Kyle Murphy] isn't ready, we could kick Yankey out there and be solid at both guard spots as we groom those young tackles."


Just how deep is Stanford at linebacker? Well, Shaw was running off a list of names; Chase Thomas, James Vaughters, Shayne Skov, A.J. Tarpley, Kevin Anderson, Alex Debniak, Trent Murphy, Joe Hemschoot. Forgetting someone?

"What about Jarek Lancaster, coach?"

"Oh yeah, Jarek is playing great."

"OK, I didn't hear his name so I wanted to make sure he didn't transfer to Oregon or anything."

"No no. Please don't wish that upon me."

The moral of the anecdote is that Stanford is so deep at linebacker that Shaw forgot to mention the guy who led the Cardinal in tackles last season.


Shaw also sang the praises of running back Ricky Seale, who had an outstanding spring session.

"We just played a spring game without our top three running backs and we found out that our fourth running back is good enough to start at a lot of places," Shaw said.


With tight end Coby Fleener headed to the NFL, the Cardinal lose one-third of the Tree Amigos -- the vaunted tight end trio of Fleener, Zach Ertz and Levine Toilolo. Does that mean the Cardinal will move more toward the wide receivers being the primary receiving option?

"I personally don't really care about one group getting the ball over another," Shaw said. "I tell these guys all the time that I don't care who actually plays. It's whoever shows they can consistently make plays. We could easily become a three-or-four wide receiver team if that's the best group of guys and the most consistent and making big plays. Or we could be a two-tight-end team. Or a one tight end team. The offense will be whatever the personnel allows us to be."
February, 2, 2012
2/02/12
2:30
PM ET
Your shower shoes have fungus on them. You'll never make it to the bigs with fungus on your shower shoes. Think classy, you'll be classy. If you win 20 in the show, you can let the fungus grow back and the press'll think you're colorful. Until you win 20 in the show, however, it means you are a slob.
February, 2, 2012
2/02/12
12:00
PM ET
Stanford head coach David Shaw has a lot to smile about after hauling in a top-15 recruiting class on Wednesday.
With six ESPNU 150 players
-- including three of the top offensive linemen in the country and athletic playmakers on both sides of the ball -- Shaw said his team fills much-needed holes and adds depth at other spots.
Here's part one of a Q&A with the second-year head coach.
Q
: What are your first impressions of this group?
A
: This group has what we're looking for. We wanted to address the offensive line and make sure we had some more playmakers at the wide receiver position. We were going to take a running back if he was a difference-maker. That's what Barry (Sanders) is. Defensively, to be able to come in with the defensive line we've put together in this class, I think is a credit to our coaches and our coaching style and our scheme that these guys are excited to come play for us. Then to get a couple of the top defensive backs at the safety and corner position in the nation is really exciting.
[+] Enlarge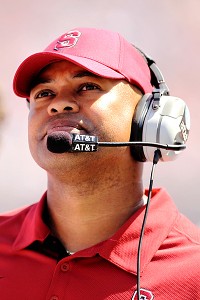 Ezra Shaw/Getty Images"It was pretty loud," coach David Shaw said of the reaction to Andrus Peat's announcement. "I think it was heard pretty much around the building."
Q
: So the offensive line was a target position this year? It didn't just work out that way. You guys were going after linemen all the way?
A
: No question. We hadn't gotten enough in the last couple of years. As well as we've played, we haven't been deep. Thankfully for our strength and conditioning program, our guys have stayed pretty healthy so we haven't had to play down to our younger guys. We needed depth, especially with two guys leaving early for the draft. We needed guys to come in and compete right away and I think we've brought some guys in that can do that.
Q
: Coach (Mike) Sanford tweeted after
Andrus Peat
announced: "Our staff reaction was priceless!" What does priceless mean and what was the reaction?
A
: It's something you don't feel in the NFL. You draft a guy and you know he's there and you draft him and you get excited. But to sit there waiting and not knowing for sure. Having a good feeling, but not knowing for sure that he was coming to us. Then the announcement was made and we saw the hat. Guys were jumping up and down and pumping fists and high fiving. It was pretty loud. I think it was heard pretty much around the building. Not too much longer, we had the same reaction when
Kyle Murphy
did his announcement. We jumped up and down and high fived and guys were yelling. It's been a special, special day for us because these guys are our type of guys. They aren't prima donnas that want to come in on a silver platter. The guys we've been recruiting, they want to come in and work and earn what we give them.
Q
: How exciting will it be to see these offensive linemen grow together?
A
: It's going to be exciting. Anytime you start with a player that does the things you can't teach -- size and athletic ability and flexibility and nastiness -- that's when it's really fun as a coach because now you are teaching the finer points of the game. The techniques and the calls. You're not trying to make up for something ability wise the player doesn't have. This group is really exciting. I think they are humble and they are hungry. The guys on our team are going to welcome them in as true competitors and teammates. It will be a fun group to work with.
Q
: You talked about having "that feeling," how confident were you leading up to the
Barry Sanders
announcement?
A
: Very. I think when Barry came to campus for the first time, I think it opened his eyes. I think he saw a place -- like so many guys on our team and committed to us -- the first time on campus it hit them that this is a place they are looking for. It hit them that there is a place out there that is first in academics but doesn't slight in the football category. That's what Barry saw. Barry Sanders is a famous individual. And to be able to sit down and have lunch with Andrew Luck, who is also a famous individual, for people to recognize him, but not bother him -- you're sitting in a place where there are a lot of people that are famous in their own rights in what they do and are really good at what they do. There is an environment that is very comforting to a guy like that who does have some fame and some notoriety to be around people that are just like him.
Q
:
Noor Davis
committed early and was so outspoken in support of the program to other recruits -- how much does it help when you have a guy who is going to sell the program for you and hasn't even signed his letter yet?
A
: I think every program in the nation always has one or two of those guys who commit early and is determined to help build the class. Noor has a lot nicknames around here for us. My favorite one is "The Senator." We're talking about a big kid who is imposing physically and extremely intelligent and very well-spoken, very thoughtful in every word that he says, but also very convincing. When you have a guy like that that can be talking to other recruits, he's an example of what we're looking for. Much like Andrew Luck before him and guys we have now that can talk to other recruits and give them an example of what a Stanford man is.
February, 1, 2012
2/01/12
5:19
PM ET
And now, the cherry on the big man sundae.
Kyle Murphy
(San Clemente, Calif.), the No. 4 offensive tackle in the country committed to Stanford, giving the Cardinal three elite offensive linemen in this class. The 6-6, 270-pound tackle is the seventh offensive linemen in the class.
Murphy joins
Andrus Peat
(No. 2 OT) and
Joshua Garnett
(No. 3 OG) on an offensive line group that now has to be considered the nation's best.
Murphy was also considering USC. Peat announced earlier today and Garnett announced last week he was picking Stanford over Michigan.
January, 31, 2012
1/31/12
12:00
PM ET
Rich Rodriguez has some work to do in his own backyard. That's the conclusion from ESPN The Magazine's LaRue Cook,
who examined the worst in-state recruiters
. Along with the RecruitingNation crew, ESPN The Magazine poured over the past five years of ESPNU 150 rankings, (750 total recruits) and found the worst 10 BCS programs at holding on to homegrown, elite talent.
Per the study, Arizona is 0-for-12 during that stretch at landing ESPNU 150 recruits while USC has been the top program in that state over that time.
Writes Cook:

Arizona has signed just two ESPNU 150 recruits over the past five years, and neither DE Apaiata Tuihalamaka (Gardena, Calif.) nor TE Rob Gronkowski (Pittsburgh) was a home-state product. While the Trojans have had the most success here, Arizona State was at least able to land two preps within its state borders. Last year, the state's top prospect (OT Christian Westerman of Chandler) signed with Auburn. In 2012, all eyes in Tucson are on the nation's top ATH Davonte Neal (Scottsdale), who's still considering the Wildcats and would certainly kick start Rich Rodriguez's tenure.
But Arizona isn't alone in the Top 5. Pac-12 brethren Stanford and Cal check in on the list at Nos. 3 and 4 respectively. Like Arizona, USC has been California's top recruiter during 2007-2011. Stanford has nabbed just 2-of-73 ESPNU recruits.
Cook on Stanford:

We gave Stanford props for its ability to go out of state to sign top prospects, but there's no ignoring the program's inability to create an elite pipeline in its state. (Meanwhile, UCLA has signed 12 in-state ESPNU 150 recruits over the last five years.) Sure, Cardinal fans can blame their program's struggles on academic constraints, but out of 73 players, surely more than two could qualify. In 2012, David Shaw doesn't have a single ESPNU 150 commit from California -- USC currently has four and UCLA has two -- but No. 4 OT Kyle Murphy (San Clemente) still has Stanford on his short list.
Cross-Bay rival Cal hasn't been much better. The Golden Bears have hauled in just 4-of-73 ESPNU 150 prospects during that time.
Cook on Cal:

We could make the same knock against the Golden Bears over the last five years, but Jeff Tedford has nearly matched his 2007-11 total in 2012. Cal is close to signing three of the state's top eight prospects, including the nation's No. 3 S Shaq Thompson (Sacramento).
You can cut Cal and Stanford a little slack, since California is a recruiting goldmine for the rest of the country -- not just USC. It isn't just the rest of the conference they are trying to fend off. And to compensate,
both schools were praised by Cook as top five programs at recruiting out of state
.
August, 22, 2011
8/22/11
7:27
PM ET
Fifth in a series looking at potential dream and nightmare scenarios for all Pac-12 teams.
Understand: These are not predictions. They are extreme scenarios and pieces of fiction. You can read
last year's versions here
.
We're going in reverse order of my
post-spring power rankings
(which might not be identical to my preseason power rankings).

Up next
: UCLA
Best case
Someone forgot to tell Datone Jones UCLA's visit to Houston was supposed to be about the quarterbacks.
Jones provided three of the Bruins six sacks against
Case Keenum
, while Bruins starter
Kevin Prince
turned in a solid, unspectacular performance in UCLA's 28-24 win.
"I read in the Pac-12 blog that Jones was supposed to be good, but against my better judgment I chose to ignore the Pac-12 blog," Keenum says. "I have learned my lesson. Dude's a beast. Jones, not the Pac-12 blog, who I hear is very nice."
Prince and most of the other starters sit out the second half of a 55-10 win over San Jose State. Up next is Texas, which comes to town talking about revenge for the 34-12 whipping administered by the Bruins last year when the Longhorns were ranked seventh.
"We want revenge," Longhorns quarterback
Garrett Gilbert
says. "We're Texas. You're not supposed to mess with us, particularly if you wear pastels, though my mother thinks I look good in powder blue."
Prince passes for 250 yards and two scores and rushes for 85 in a 35-21 Bruins victory.
"Does that guy only play well against us?" queries Texas coach Mack Brown.
It's not an unfair question. But it's one Prince answers well at Oregon State, running for a score and passing for another in a 30-27 victory. UCLA, at 4-0, moves up to No. 15 in the national polls.
Headline in Los Angeles Times: "Neuheisel seat no longer so hot."
Headline in Seattle Times: "Miami scandal? Neuheisel's fault!"
Of course, Prince is no
Andrew Luck
. Luck, the Heisman Trophy favorite, throws three touchdown passes in a 35-24 Cardinal victory, though Jones does beat All-American tackle Jonathan Martin for a sack.
"Those two are going to be going at it 10 years from now," observes play-by-play man Brent Musburger.
The Bruins nip Washington State on a 55-yard field goal from Kip Smith, but they fall at Arizona in overtime. They beat California at home, which sets up a critical Pac-12 South showdown with Arizona State.
Down 28-21, Prince finds
Cory Harkey
, who hasn't dropped a pass all season, for a 17-yard TD with 38 seconds remaining.
"I'm going to tell you why we are going to go for two," coach Rick Neuheisel tells his gathered offense on the sideline during a time out. "It's because we need to show everyone who we are right now."
On a quarterback draw, Prince runs over Sun Devils linebacker Vontaze Burfict for the winning points.
UCLA, in a classic let-up scenario, goes down at Utah the following weekend. The Bruins bounce back with a 31-24 win over Colorado.
They head to the Coliseum to play arch-rival USC with the Pac-12 South Division title on the line. If the Trojans beat the Bruins for the 12th time in 13 years, they will be the South champions, even though they're not eligible for the postseason. If the Bruins win, they will be tied for first with Utah and Arizona State, which beat the Utes, but would win a tiebreaker for a spot in the inaugural Pac-12 championship game.
"Is it more motivating to win the first South division crown or to stop UCLA from doing it?" USC quarterback
Matt Barkley
says, repeating a reporter's question. "Well, I'd like to say us winning the division but really there's nothing better than making those guys miserable. Was I even alive the last time they beat us?"
Barkley recovers: "Oh, yeah, you're right. I was alive in 2006."
Jones sacks Barkley three times as the Bruins roll over the Trojans 33-17.
Before the Bruins play top-ranked Oregon in the Pac-12 championship game, Neuheisel is named conference Coach of the Year.
Says USC coach Lane Kiffin, "Yeah, I voted for him. He deserved it. He outcoached me."
"Vindicated?" says Neuheisel. "You know what? Tough times don't last, tough people do."
Whispers Prince to a nearby reporter: "He says that, like, five times a day."
Oregon nips the Bruins 33-31 on a 44-yard field goal at the end of regulation. The Bruins are invited to the Alamo Bowl, where they whip No. 10 Texas A&M 41-20 to finish 10-4 on the season and ranked 14th.
"We sort of own the state Texas, don't we?" Jones says.
Andrus Peat
,
Shaq Thompson
,
Kyle Murphy
and
Davonte Neal
announce commitments to the Bruins the night of the bowl game. The Bruins 31-player class -- six elite prospects are brought in early to count against the 2011 class -- ranks sixth in the nation.
"It was great to cherry-pick Southern California recruiting," says Neuheisel. "So much talent. Glad we had a full allotment of scholarships."
Worst case
UCLA coach Rick Neuheisel had pointed to the road trip to Houston as a game his Bruins needed to win in order to establish early-season momentum. If so, the season's momentum starts off flowing in the wrong direction.
Case Keenum, whose season ended in the 2010 game at UCLA, throws for 330 yards and three TDs in a 35-21 win, as the Bruins passing game again sputters with Kevin Prince under center.
Neuheisel repeatedly berates Prince as he walks off the field. "He has to play better," Neuheisel says after the game. "We've taught him what to do. He's just not doing it."
"So the coaching isn't working?" LA Times columnist T.J. Simers volunteers.
The Bruins beat San Jose State 24-10 but get humiliated at home by revenge-minded Texas, which keeps its starters in the game well into the fourth quarter of a 44-10 victory.
"
Richard Brehaut
will start at Oregon State," Neuheisel says. The Bruins lose 28-17 in Corvallis.
"Kevin Prince will start at Stanford," Neuheisel says. The Bruins lose 51-13 in Palo Alto.
Writes Simers, "I'm trying to figure out who is a worse coach, the Bruins head coach or its quarterbacks coach. It's hard to say who is more clueless."
Neuheisel began the 2011 season on the hotseat. It's clear he's pretty much sitting naked in a pool of lava after a 1-4 start.
"Tough times don't last, tough people do," Neuheisel says.
Neuheisel is fired after a home loss to Washington State. Offensive line coach Bob Palcic is named interim head coach.
The Bruins slog through the rest of the season with Prince and Brehaut sharing the QB duties. It works curiously to perfection in an upset of Arizona State, but the Bruins head to the Coliseum to play unbeaten arch-rival USC at 2-9.
"Do we hope AP voters rank us No. 1 if we finish unbeaten?" USC coach Lane Kiffin asks. "Well, sure. We're pretty good. We just beat No. 1-ranked Oregon. Stanford's only losses this year are to us and Oregon. Arizona State's only loss is to us and Oregon. Notre Dame's only loss is to us, though Stanford will probably beat them. "
It's pointed out to Kiffin that UCLA upset the Sun Devils. "Really?" he says. "How the hell did that happen?"
Matt Barkley throws four touchdown passes as USC rolls the Bruins 42-3. Barkley nips Stanford QB Andrew Luck for the Heisman Trophy. When Oregon beats Alabama in the BCS national championship game, the AP votes USC No. 1.
On Jan. 12, NCAA president Mark Emmert announces that after a double-secret meeting, all remaining sanctions against USC are revoked. Says Emmert: "It's easy. A Committee of Infractions hearing chaired by former Miami athletic director Paul Dee has zero credibility. I personally reviewed the case. Those penalties were exorbitant. So the Trojans get time served -- a two-year postseason ban. But they will get all their scholarships back."
Kiffin sweeps across the country, tearing away commitments from major powers in every AQ conference.
Says ESPN recruiting guru Tom Luginbill on national signing day, "It might be the best recruiting class in history."
Meanwhile, UCLA hires Paul Hackett as its head coach.
"He has a track record in Southern California," says athletic director Dan Guerrero.