July, 11, 2014
Jul 11
12:00
PM ET
Today, we finish our preseason position reviews.
Here's how we do this. We provide three evaluative categories: "Great shape," "Good shape" and "We'll see."
Hint: You'd prefer your team to be in "Great shape."
"We'll see" doesn't mean you're going to stink at said position. It means just what it says -- we'll see, because there's no way at present to know.
You can review last year's rankings here
.
Up next: Safety. Teams in each category are listed in alphabetical order.
GREAT
Arizona:
Jourdon Grandon
,
Tra'Mayne Bondurant
and
Jared Tevis
return with a combined 78 starts. On Thursday, Tevis, a former walk-on, was named to the Bronko Nagurski watch list for the nation's best defensive player. Safety is a clear strength for the Wildcats.
Oregon State:
Ryan Murphy
and
Tyrequek Zimmerman
both begin Year 3 as starters. Combined, they have 345 career tackles and neither has missed a game the past two years. Murphy was an all-conference honorable mention selection last year.
UCLA:
Between
Randall Goforth
,
Anthony Jefferson
and
Tahaan Goodman
, the Bruins are loaded with talent at safety. Both Goforth and Jefferson were named all-conference honorable mention last season, but Goodman has the potential to be the best of the group.
Tyler Foreman
, a well-regarded recruit, will be coming off his redshirt.
USC:
Despite losing Dion Bailey early to the NFL, USC still has the potential to have one of the best safety combinations the conference.
Su'a Cravens
might have been the best freshman safety in the country last season. Who he'll play next to remains a bit of a question, but if it's
Josh Shaw
-- who is proven at both safety positions -- or someone else, possibly
Leon McQuay III
, USC will be in great shape.
GOOD
Arizona State:
One of only two returning starters for the Sun Devils on defense is safety
Damarious Randall
, which, by default, will rise expectations for his performance. The competition for the other starting spot still needs to run its course, but many expect
Marcus Ball
, who missed last season with an injury, to win the job.
Stanford:
Jordan Richards
is a potential All-American at strong safety, but the spot opposite him remains the biggest question mark on the Stanford defense. The vacancy, created by Ed Reynolds' early departure for the NFL, resulted in the coaching staff moving a pair of offensive players -- QB
Dallas Lloyd
and receiver
Kodi Whitfield
to safety. Those two will compete with Zach Hoffpauir, who spent the spring playing baseball, and
Kyle Olugbode
.
WE'LL SEE
California:
Much like the case at linebacker, the Bears return several players that have started games, but based on the defense's performance last year, it's hard to generate much optimism. The best thing going for the group is the return of
Avery Sebastian
, who was a starter before going down with an Achilles tear in the first half of the first game last year (at which point he already had 10 tackles and a pick). He'll likely line up next to
Michael Lowe
.
Colorado:
Jered Bell
is back, but the Buffs need to replace
Parker Orms
, who was a fixture in the starting lineup the last two seasons.
Tedric Thompson
,
Marques Mosley
and
Terrel Smith
have all started games in the past and they'll compete with
Ryan Moeller
, who is coming off his redshirt.
Oregon:
Brian Jackson and Avery Patterson ran out of eligibility which makes safety one of question marks facing Oregon headed into 2014. Pencil in
Erick Dargan
, a fifth-year senior that has contributed throughout his career, at one spot, but the other isn't as clear.
Issac Dixon
is probably the favorite, but
Tyree Robinson
should push him.
Utah:
After three years of starting at safety,
Eric Rowe
split his time between corner and safety in the spring and will likely wind up playing more cornerback. That move leaves the safety spot a little hazy. Tevin Carter, who started his career as a receiver at Cal, went to a junior college and sat out last season due to academic issues, is expected to have one spot.
Brian Blechen
, who missed last season with an injury, should have the other. Although, Blechen could play linebacker, which would likely result in
Charles Henderson
at safety.
Washington:
The Huskies don't return either starting safety, but have a large group of talented players vying for playing time. It's probably too early to make safe predictions on who will start, but
Brandon Beaver
,
Trevor Walker
,
Kevin King
and
Thomas Vincent
are all in the mix. UW also signed three safeties to its most recent recruiting class.

Washington State:
If you were to name the individual player who meant more to his team's defense than any other last season, Deone Bucannon might have been that pick. Without him, the Cougars have a likely pair of starters in
Isaac Dotson
, a former quarterback, and
Taylor Taliulu
, who lost his starting job late last year.
Other position reviews:

May, 2, 2014
May 2
8:00
AM ET
What we learned about the two-time defending Pac-12 champion
Stanford Cardinal
in spring practice.
Three things we learned in the spring:

1. Defense is ahead of the offense.
That shouldn't be taken as a slight against the offense, either. Stanford's defense is loaded back to front and set the tone for most of the spring. Replacing defensive coordinator Derek Mason, linebackers
Trent Murphy
and
Shayne Skov
, defensive ends
Ben Gardner
and
Josh Mauro
and safety
Ed Reynolds
is daunting, but not reason for panic.
2. Henry Anderson is a potential All-American.
He has flown under the radar at times, but Anderson will be among the best defensive ends in the country next season. The fifth-year senior has the size (6-foot-6, 295 pounds) and skill to alter opposing gameplans.
3. Kevin Hogan is ready to lead.
With a 10-1 career mark against Top 25 opponents, it'd be easy to argue he arrived ready to lead, but there's now no question that he's a leader. With a talented group of receivers coming back, it shouldn't come as a surprise if his passing numbers make a big jump this season.
Three questions for the fall:
1. Who will win the starting jobs on defense?
One safety spot and one inside linebacker spot appear to be the biggest question marks going into the summer.
Kodi Whitfield
still figures to have a good shot at starting next to
Jordan Richards
at safety after converting from receiver, but
Dallas Lloyd
,
Kyle Olugbode
and
Zach Hoffpauir
will factor in. At linebacker,
Blake Martinez
and
Joe Hemschoot
are the frontrunners to replace Skov.
2. How will the young offensive line come together?
Left tackle
Andrus Peat
is the only full-time starter back, but it's a unit that won't be light on talent. The other four players, like Peat, were from the
lauded Class of 2012
and need time to gel. There was little rotation among the first team during spring practice as Stanford tries to ready the group. There won't be much time either, with USC on the schedule in Week 2.
3. Will running-back-by-committee last?
Coach David Shaw predicted a committee approach in 2013, but
Tyler Gaffney
forced his hand and took the lion's share of the carries. This time, with four players close in skill level, the Cardinal will probably stick with it longer, which will jeopardize the school's six-year streak with a 1,000-yard back.
One way-too-early prediction:
Kelsey Young
will lead the team in carries. He arrived at Stanford as a running back, switched to receiver and is now back at his natural position. He and
Barry Sanders
appeared to be the most dangerous of the backs with the ball in their hands, but they need to improve in pass protection. If Young proves to be a capable blocker, he'll see the most snaps.
April, 30, 2014
Apr 30
7:00
PM ET
Stanford safety
Jordan Richards
took a few minutes to chat with the Pac-12 blog about how spring ball went for the two-time defending Pac-12 champs and adjusting to life with some new defensive coaches.
Every year it seems like people say "this is the year Stanford takes a step back," and every year you prove people wrong. How will you prove them wrong this year?
[+] Enlarge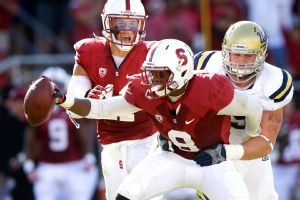 Ezra Shaw/Getty ImagesJordan Richards had three interceptions last season, including two against UCLA.
Jordan Richards:
What happens in the season is a product of what we do in the offseason. Whether that's on the field in spring ball or on the field by ourselves or the stuff we do with Coach [Shannon] Turley in strength and conditioning. It's a mentality that's throughout our program. We have a standard. The bar is raised every year, and we're constantly trying to beat that standard. The last couple of years has been a product of the work the previous classes have gotten everyone to buy into.
How much of a hangover was there following the Rose Bowl?
JR
: I would not say there was much. There's not much to be happy about after you lose a Rose Bowl. So we got our two weeks off. Got rejuvenated. Got to reboot. Got to go home. And then it was right back to the grind.
The secondary faces a lot of pressure because traditionally it has been so tough to run on Stanford. As a result, the secondary stats are a little skewed. How do you guys handle that knowing teams are going to be coming after you through the air a lot of the time because the front seven has been so tough?
JR
: It's nice playing behind those front seven guys and how they get after the passer because it makes our job easier. We can cover while they get after the quarterback. We definitely appreciate all of that. In terms of the numbers, it doesn't really matter. It's cool to have bragging rights. But in the end, all that really matters is Pac-12 trophies and bowl trophies. The one we want is a national championship trophy and that's what we're working for. We play in a pass-happy conference anyway. Wazzu is going to put it up 80-90 times. You just have to live with it and hope each and every Saturday you come out with a "W" when it's all said and done.
There have been some changes on the defensive coaching staff. What has that adjustment been like this spring?
JR
: We were sad to see coach [Derek] Mason leave. But we're happy to see him as a head coach. Coach [Duane] Akina came in for the second half of spring ball. For an older guy like me, you've heard one voice for the last three years. So it's different with a new voice out there. That's something we're all getting used to. Coach Akina has this group moving in the right direction. Some guys who probably didn't have as big a role in the past couple of years have gotten a clean slate with a new coach and that's good for us. Everyone has something to prove, including myself, to Coach Akina. We're trying to put our best football forward. The spring was good. We just need to translate that into the spring and hopefully when we get into camp we'll be ready to go.
What has it been like without Ed Reynolds? You two were such a good tandem the last couple of years. Is it strange not having him out there next to you?
JR
: I guess it's weird to know I'm one of the older guys now. Between myself and
Kyle Olugbode
and
[John] Flacco
. I guess that's the biggest change. You see guys you played with for two or three years and they start disappearing. You start with
Michael Thomas
and
Delano Howell
and those guys graduated. Then
Terrence Brown
and Harold Bernard and those guys graduate. I guess it's a realization that this is the last one I have eligibility-wise. Whoever is playing among the DB group, I feel like we really improved. Who plays? I don't know. I'm fighting for time just like everybody else. It's been good. We're all grinding and fighting in the same direction.
Speaking of guys leaving, you're losing a lot of guys who were the "faces" of the defense in Shayne Skov, Trent Murphy and Ben Gardner. Do you feel like this is starting to become your defense?
JR
: Maybe not in the traditional "face" of the defense. But in terms of leadership, confidence, poise on the field, I feel like that's a responsibility of mine more than it's been the last couple of years. There are plenty of guys besides me who have played a lot of football here who are poised, calm and respected players on this defense. The faces change. We don't have the Screaming Mohawk with Shayne or Big Murph out there. But we've got guys that can still demand what those guys demanded of this defense.
After the NFL, what do you want to do with your public policy degree?
JR
: I'm still not sure. Taking classes to figure that out. I want to try my hand at education. Whether that's policy, I don't know. I feel like I need some experience in the classroom before I focus on policy. Hopefully I'll find out more this summer.
Finish this sentence: In 2014, Stanford football will be …
JR
: Exciting. I'm excited to play next year and I'm excited what this team has in store for our school and the Pac-12. I'm excited. That's the word I would use.
March, 7, 2014
Mar 7
8:00
PM ET
Our look at position groups in the Pac-12 continues with the safeties.

Arizona:
The Wildcats have a lot of experience at safety with a combined 78 starts between
Jourdon Grandon
,
Tra'Mayne Bondurant
and
Jared Tevis
. All three of their backups on the AdvoCare V100 Bowl depth chart --
Anthony Lopez
,
William Parks
and
Jamar Allah
-- also return.

Arizona State:
Damarious Randall
returns as one of the more talented safeties in the conference after a season in which he finished tied for third on the team with 71 tackles.
Marcus Ball
is a strong candidate to eventually earn the job next to Randall, but he's still working his way back from a clavicle injury that cost him the 2013 season.
Laiu Moeakiola
, who appeared in 10 games last year as a reserve,
James Johnson
,
Jayme Otomewo
and
Ezekiel Bishop
are other names to watch.

California:
Cal started five different players at safety last year and four of them --
Michael Lowe
,
Cameron Walker
,
Avery Sebastian
and
Damariay Drew
-- will be back. Sebastian began the year in the starting lineup and had an interception and 10 tackles before suffering a season-ending Achilles tear in the first half of the season opener. Look for him to regain his starting job next to Lowe.

Colorado:
The Buffs need to replace SS
Parker Orms
, who had 26 career starts and 10 last season, but FS
Jered Bell
will return. All three of the players competing to replace Orms --
Marques Mosley
,
Terrel Smith
and
Tedric Thompson
-- have started at least three games. Smith redshirted last season after he underwent shoulder surgery and has 19 career starts.

Oregon:
The Ducks lose both
Brian Jackson
and
Avery Patterson
from a secondary that has consistently been among the nation's best. Fifth-year senior
Erick Dargan
, Patterson's high school teammate, looks to slide into his first full-time starting role after three years of meaningful contributions on both special teams and reserve duty. Opposite him,
Issac Dixon
is the presumed favorite with
Tyree Robinson
and
Reggie Daniels
also in the mix.

Oregon State:
The Beavers have both
Ryan Murphy
and
Tyrequek Zimmerman
back for their third year as starters, which should help soften the blow of losing CB
Rashaad Reynolds
. A few others to watch are sophomore
Cyril Noland-Lewis
,
Justin Strong
,
Brandon Arnold
,
Zack Robinson
and walk-on
Micah Audiss
, who was No. 2 behind Zimmerman in the season-ending depth chart.

Stanford:
Ed Reynolds
' early departure for the NFL creates the one real unknown spot for the Cardinal. Two former offensive players -- QB
Dallas Lloyd
and WR
Kodi Whitfield
-- are in the competition for the vacant spot, as is
Kyle Olugbode
.
Zach Hoffpauir
will join the competition once baseball season is over. The winner will play next to
Jordan Richards
, a senior who has started the past two seasons and played regularly as a freshman.

UCLA:
Starters
Randall Goforth
and
Anthony Jefferson
are both back after being named all-Pac-12 honorable mention last season. Two names to watch are
Tahaan Goodman
and
Tyler Foreman
, both of whom arrived as part of the Class of 2013.

USC:
Su'a Cravens
and
Josh Shaw
are back, but the Trojans will have to replace
Dion Bailey
, who left early for the NFL after converting to safety from linebacker last year. Shaw could wind up back at corner, which would open the door for
Leon McQuay III
.
Gerald Bowman
got a medical redshirt after appearing in three games last year and should provide depth.

Utah:
Veteran
Eric Rowe
is set to begin his fourth year as a starter in the Utes' secondary, but he'll play next to a new player with
Michael Walker
out of eligibility.
Charles Henderson
was Walker's primary backup last season, but look for junior-college transfer
Tevin Carter
-- a former Cal Bear -- to challenge him for the starting job.

Washington:
The Huskies are looking to fill both starting spots and will likely do so with young players. Sophomores
Brandon Beaver
,
Kevin King
and
Trevor Walker
all saw spot duty last year and the program signed an impressive crop of high school safeties, including Bellevue's
Bishard "Budda" Baker
.

Washington State:
Replacing
Deone Bucannon
means replacing one of the school's all-time greats at his position.
Isaac Dotson
looks like the favorite to take that spot, but will be pushed by
David Bucannon
,
Darius Lemora
and true freshman
Markell Sanders
, who arrived for spring practice.
January, 14, 2014
Jan 14
3:15
PM ET
Stanford safety
Ed Reynolds
will forgo his final year of eligibility and enter the NFL draft, the school announced Tuesday.
A two-year starter for the Cardinal, Reynolds was twice named first-team All-Pac-12 and ranked third on the team with 87 tackles this year.

"After much thought and discussion with my family and mentors, I have decided to enter the NFL sraft," Reynolds said in a statement. "I would to thank the Stanford football family for putting me in this position and preparing me for the next level. A very special thanks to our coaching staff, support staff and my teammates for making the memories of these past four years last a lifetime."
He's the
second Stanford player in two days
to declare for the NFL draft, joining guard
David Yankey
. Right tackle
Cam Fleming
has yet to announce whether he'll return for his final year on the Farm. The deadline to declare is Wednesday.
Reynolds is among the top free safeties in the country and is ESPN.com's eighth-ranked safety overall. He was a key member of two Pac-12 championship teams and a pair of defenses that both ranked No. 10 in the country in scoring.
Without Reynolds, the Cardinal will have to break in a relatively inexperienced player to play next to strong safety
Jordan Richards
next year. His immediate backup this season,
Devon Carrington
, is out of eligibility and
Kyle Olugbode
and
Zach Hoffpauir
, the most experienced replacement candidates, have both worked primarily at strong safety.
Despite the loss of Reynolds, Stanford's secondary still figures to be a strength of its team next year with the return of starting corners
Alex Carter
,
Wayne Lyons
and Richards. The Cardinal will also need to fill holes at defensive end, two linebacker spots and nickleback due with the losses of
Ben Gardner
,
Trent Murphy
,
Shayne Skov
and
Usua Amanam
to graduation.
Reynolds replaced current Miami Dolphins safety Michael Thomas in the starting lineup in 2012 and finished the season with six interceptions -- the most by a Stanford player since 1973. His 301 interception yards that year led the nation and fell 1 shy of the FBS single-season record.
April, 3, 2012
4/03/12
12:00
PM ET
Stanford's secondary is going to be young next season. Not exactly breaking news, but that's the reality when four seniors, three of them starters, graduate. But the players returning also have some experience and quality playing time, which should help compensate for their youth.
In other words, there no excuses.
"I think [defensive coordinator Derek] Mason might have been a little more tolerant with us last year, a little more patient," said safety
Jordan Richards
. "Not anymore. We've all been here and have a full season under our belts. This is on us -- and coach Mason is making sure we know that."
[+] Enlarge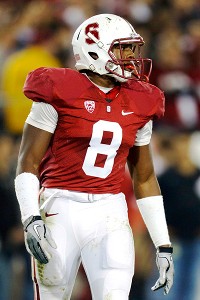 Jason O. Watson/US PresswireJordan Richards is one of many young Cardinal defensive backs that will have to replace three senior starters.
The back four -- two cornerbacks and two safeties -- have to be getting tired of hearing how good the front seven is going to be. They are so experienced. This guy is back and that guy is back. It gets old. And if the front seven is considered Stanford's defensive strength, by virtue of elimination, the back four can't be.
That perception is something the group is looking to alter. But first they'll need to settle some competition. Gone are safeties
Delano Howell
and
Michael Thomas
. Gone are cornerbacks
Johnson Bademosi
and
Corey Gatewood
.
Terrence Brown
and
Barry Browning
are back at cornerback, along with the highly-touted
Wayne Lyons
who is returning from a foot injury.
Usua Amanam
should also be in the mix and don't be surprised if Alex Carter makes an immediate impact when he arrives in the summer. Also returning are Richards and
Devon Carrington
at the safety spot along with
Ed Reynolds
, who is also returning from injury.
Kyle Olugbode
has also seen reps this spring.
Richards was one of the true freshman called into action when Howell went down for several games with a hand injury. He started three games for Stanford last year -- the most brutal stretch of the season that included at USC, at Oregon State and home to Oregon. Tough detail.
"It was, at times, a blur," Richards said. "And other times, I felt like I was in control and the game slowed."
The telling part of that quote is the "at times" portion. Richards notched eight tackles in his first start against USC. Then a couple of games later he watched Oregon run all over the Cardinal. Sometimes good, sometimes bad. In his second year, he's striving for more consistency. And having had the chance to learn behind Thomas and Howell, he thinks he's found it.
"I learned how to see the game from those guys," Richards said. "As a freshman, you come in with tunnel vision. You need to learn to see how things move around. Now it's a transition. You've been here for a year, you learn to read formational cues and the game slows down a lot more. You know what the offensive tendencies are. That's the biggest difference. You're not a deer in the headlights anymore. You just go out and play and try not to over think it."
Brown has the most experience at cornerback, followed by Browning who started three games last season. According to Richards, Brown and Reynolds have taken on the leadership roles vacated by the departed seniors.
"As a group, it's been TB and Ed," Richards said. "Those guys have been around. But we all know what's at stake, and we're all trying to be leaders and be on our game as a group because we know that we are going to be young and people are going to try to come after us."
Like in Week 3, when the Cardinal host USC -- a pass happy offense with the Heisman front-runner at quarterback, the top wide receiving duo in the country and possibly the No. 1-ranked team in the nation. So this group is going to have to find a way to come together quickly.
"That's what the spring is all about," Richards said. "We're working hard to be a cohesive group. Coach Mason is pushing us and I think we're going to come together."
PAC-12 SCOREBOARD
Saturday, 12/20
Monday, 12/22
Tuesday, 12/23
Wednesday, 12/24
Friday, 12/26
Saturday, 12/27
Monday, 12/29
Tuesday, 12/30
Wednesday, 12/31
Thursday, 1/1
Friday, 1/2
Saturday, 1/3
Sunday, 1/4
Monday, 1/12
Tweets from https://twitter.com/ESPNCFB/lists/pac12