February, 27, 2015
Feb 27
6:15
PM ET
Happy Friday. Welcome to the mailbag.
Follow me on Twitter
.
To the notes!
Caruso from Stamford, Connecticut, writes:
With three of the Power 5 leagues at 14 teams, I propose we bring back to the table the expansion debate! The traditionalist in me wants to bring on Utah State and Colorado State to match up with their in-state rivals already in the Pac. This has an added bonus in that they've both been pretty good the past few years. Any chance this would ever have legs? I'm guessing in addition to the financial negotiations, there are some academic benchmarks and such that have to be met before schools can join the Pac, but just imagine all the joy brought to us Pac fans with mild OCD! Thoughts?
Ted Miller:
What fans often miss about conference expansion discussions -- expansion that has happened or could happen -- is that it's not about "fan" things, such as picking up natural rivals or up-and-coming programs or even a program's tradition of success. It's about TV markets and revenue bottom lines.
When the discussion turns to expansion, the name of the school doesn't matter that much. It's the demographics and what those mean for the current members of the conference that's considering adding members. If Larry Scott had an expansion idea for the Pac-12 to become the Pac-14, the school presidents wouldn't particularly care about the name of the school or how it could upgrade the quality on the field. It's almost entirely about money.
[+] Enlarge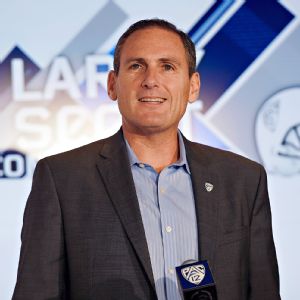 Kelvin Kuo/USA TODAY SportsIt's very unlikely that Pac-12 commissioner Larry Scott is pursuing expansion these days.
I say almost entirely because academics do matter in the Pac-12, as do values. Any potential new member must be like-minded when it comes to institutional policies.
What would get the Pac-12 to raise an eyebrow anew to expanding is market share: Would adding Teams A and B add significant eyeballs in front of TVs, thereby making the conference significantly more valuable when the next TV contract comes up? And by "significantly," we mean that a share of revenue split 14 ways would significantly exceed that revenue split 12 ways.
That wouldn't happen with the addition of Utah State and Colorado State, nor would it happen with Fresno State, San Diego State nor Boise State.
It would with Texas. That was the big prize back during the expansion feeding-frenzy five years ago and it continues to be, but
that flirtation seems at an end
, at least in the near term.
In fact, without Texas, I don't see any Pac-12 expansion on the horizon, at least in our current conference/postseason model. While you never say never, there seems to be zero momentum behind the idea from Pac-12 decision-makers.
---
Scott from La Jolla, California, writes:
I am wondering about your take on the
ranking of the coaching jobs
from worst to best? I thought it was a very interesting piece, and by and large very well done. A few quibbles, which likely reflect a (long) lifetime of being an interested watcher of West Coast football (at an increasingly late hour of the day, unfortunately): 1. I notice the "panel" of experts who had input have no direct experience out West; 2. Utah behind Kentucky, Texas Tech, Maryland, Pittsburgh and (less so) Iowa? How many BCS, etc., games have those schools been to in the last 20 years? 3. Arizona behind North Carolina? 4. Oregon tied with Texas A&M, and not even in the top 10. I read where Oregon is the winningest program in the country over the last 20 years. In that same time frame, they have six outright conference titles and one shared (with Washington and Oregon State). How many consecutive decades do you have to be good to have "tradition?"
Ted Miller:
Obviously, these rankings are subjective and would vary year-to-year -- and widely so every five years.
Further, if you asked me to make a top-25 on Jan. 10 and then asked me to do one today -- and I couldn't look at my Jan. 10 list for reference -- the one I did today would be different. They subjectively would even strike at the pollsters on mercurial whims that have little to do with developments with the programs.
With Utah, it was ranked a high of 39 and a low of 58 among the five pollsters and finished 47th. I understand your quibble with that. Below Kentucky? Really?
Only Kentucky will pay Mark Stoops $3.25 million this season, and, despite his success, Kyle Whittingham "only" will get $2.6 million. Not to be mercenary, but...
Keep in mind this isn't a ranking of the programs. It's a ranking of the coaching jobs.
Further, of all those teams you note, only Pittsburgh played in front of fewer fans last year than Utah, while Kentucky, Texas Tech, Maryland and Pittsburgh certainly are in more fertile recruiting territory.
My rankings would have had Utah higher, and I believe Utah would have been higher if the Utes didn't have that bit of soap opera after the season between Whittingham and athletic director Chris Hill, which included a loss a both coordinators.
Yet I also think these rankings were pretty darn well done.
---
Ryan from Salt Lake City writes:
How big of an impact do you see
Kylie Fitts
having for the Utes next season? He was a big recruit for UCLA a couple years ago and adds to an already dominant D-line for Utah.
Ted Miller:
How big? I have no idea. We haven't seen enough of Fitts -- he had one tackle as a true freshman at UCLA in 2013 -- to know what he can do against Pac-12 competition.
We know he was a fairly highly rated recruit, good enough to be offered by both USC and UCLA, though his recruiting story was a bit tangled, as he flipped from the Trojans to the Bruins when USC belatedly told him they didn't have enough space for him to enroll early. We also know that he said -- tweeted --
that he left UCLA for personal and not football reasons
.
My guess is he's going to have an impact next year, though he's got a fight on his hands to earn a starting slot. As you noted, the Utes look pretty strong -- as usual -- on the defensive line.
My general thought on first-year players -- freshmen and transfers -- is to take the Missouri approach: You've got to show me.
---
Gavin from Portland writes:
Has there ever been an offseason when the Pac-10 blog has not named [Washington] a rising program, on the cusp of a breakout season, contender to challenge for North title?
Ted Miller:
Yes.
And it's the Pac-12 blog.
May, 2, 2014
5/02/14
5:45
PM ET
Happy Friday. With Pac-12 spring practices ending this weekend, the offseason is officially upon us.
Of course, there is no offseason if you follow
the Pac-12 blog on Twitter
.
To the notes!
James from Washington, D.C., writes:
Is there anything Larry Scott can do to force other conferences to adopt a similar schedule as the Pac-12's? It looks like the conference is severely hurting itself with nine conference games and a title game.
0006shy from Los Angeles writes:
Ted, Bill Hancock came out and said the selection committee doesn't care whether a team plays eight conference games instead of nine; they just care about overall strength of schedule. Doesn't that mean, once again, the SEC has won the debate before it even really started? It's the beginning of May and the selection committee has already decided that it's fine for the SEC to game the system. What are the other conferences supposed to do? I'd personally like to see them black-ball the SEC so that they're unable to schedule the "mandated" out-of-conference games.
Brian from Colorado writes:
Regarding the SEC scheduling brouhaha, I think Pat Haden's advice is appropriate: "Get over it." The SEC will not change of its own accord, because its scheduling format has worked quite well in the BCS era. The future is bright for the SEC because the poll voting will likely not change that rewards SEC teams in the Top 25. The coming year's playoff committee, just like the BCS, will be highly influenced by the rankings -- that is a stark reality. Why would the SEC change? In all likelihood, they will have one guaranteed seed in the playoff and a realistic shot at two seeds -- remember Alabama vs. LSU in the national championship game a few years back? The only way the SEC will change is if they suffer the same risk the rest of the conferences face -- being snubbed by the committee. Until that happens, we can expect the status quo will continue.
[+] Enlarge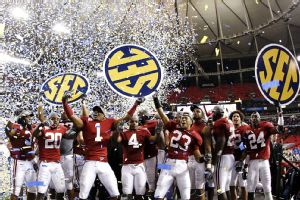 Kevin C. Cox/Getty ImagesBecause of the SEC's success nationally, they feel no real pressure to play a nine-game league schedule while others will.
Stephen from Smyrna, Ga., writes:
As a Tennessee grad and longtime ticket holder,
I couldn't agree more with you
. In fact, if a poll were conducted among SEC fans, I dare say the vast majority would also agree that a nine-game conference schedule is a must. It is simply a matter of time before the SEC leadership recognizes this is in their best interest. In the meantime, I can only hope that schools such as mine will schedule the UCLAs and Oklahomas as opposed to the WSUs and Kansas' of the world.
Bobby from Greenville, S.C., writes:
I think your article on SEC scheduling is very shortsighted on many points
. At one point it is stated that it's not a debate about Big Ten vs. SEC. Well, to that point, I think that exactly proves why the SEC stays at eight games. A little biased here, being a UGA fan. But let's look at it closer. Last year, UGA played how many teams that were ranked in top 15 at the time they played them? Now let's see a Pac-12 or Big Ten team do the same! Now let's add another SEC game, why don't we? Because the SEC IS THE BEST CONFERENCE. Whether too heavy or not, that was still like five or six teams UGA played that were top-15 at the time they played. No thanks -- I'll pass on another league game. Also, stories are very slanted on the SEC not playing quality nonconference opponents. Again, UGA played top-10 Clemson and Georgia Tech last year. I also refuse to lose Auburn as a yearly opponent. So that debate needs to leave forever. Now Alabama or Florida nonconference, I cannot defend. Maybe that needs to be looked at more as far as the ADs are concerned. Thanks for listening.
Ted Miller
: As you might guess, we got a lot of response to
our discussion about the SEC opting to play only eight conference games
instead of nine, as the Pac-12 and Big 12 do and the Big Ten plans to do.
All the fans from nine-game conferences were frustrated to some degree, though often over different issues. Some of the SEC respondents said, "I hear you." Others defended the SEC decision.
First off, if you want to go with the "SEC rules and everyone else stinks!" approach, go away. I understand this day and age that it's fun to troll and to purposely say something that is ridiculous just to get a rise out of people, but this actually is an issue that goes beyond conference quality.
Further, if you're going to say that SEC teams already face a tougher schedule than the Pac-12, know that
what you are saying is factually inaccurate
. You can still say it, of course. Free country. But you will be saying something that is wrong.
OK. Now that we've covered the fatuous stuff.
What this is really about is simple: The SEC thinks it can get away with making things easier on itself. That's not my opinion. That is a fact. Anyone stating otherwise is either ignorant or disingenuous.
The SEC is not going to change this approach unless it is forced to, or at some point in the future it believes this approach no longer gives it an advantage. Let me give you an example of how the College Football Playoff Selection Committee can make that happen.
[+] Enlarge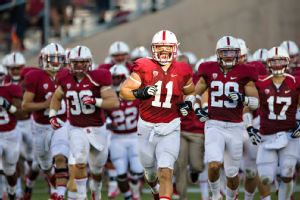 David Madison/Getty ImagesStanford would have had a strong argument for inclusion in the playoffs if the new system were in place in 2013. But would the committee have snubbed Alabama to get them that berth?
Say the selection committee is meeting
right now
. It has selected three of four teams. The fourth selection will be either Alabama or Stanford. In an extraordinary coincidence, Alabama and Stanford each have played the exact same schedule as they did in 2013 with their opponents ending up exactly the same. Weird, huh?
Committee member 1: Alabama has great tradition and it passes the sight test. And it's an SEC team. But was it really? It played just three teams that are presently ranked and it's best win came over No. 16 LSU, which has lost three games. It missed South Carolina, Missouri, Vanderbilt, Georgia and Florida.

Committee member 2: I know. It's like Alabama was in the SEC in name only last year.

Committee member 3: And then there's Stanford. It went 5-2 against teams that are presently ranked, with its marquee win being over No. 10 Oregon. Yes, it lost two games, but all the metrics suggest it was more difficult to go 11-2 against Stanford's schedule than it was to go 11-1 against Alabama's. Heck, the Cardinal played six road games and Alabama only played four.

Committee member 1: By every objective measure, it should be Stanford. Boy, that eight-game conference schedule is something, isn't it? You get to say you play in the SEC, but by missing five conference teams every season, scheduling quirks sometimes almost make it like playing in the ACC.

Committee member 4: But we're going to get barbecued by all those SEC fans.

Committee member 1: Screw 'em. They need to call their ADs and demand a nine-game conference schedule as well as a more robust nonconference slate.

Committee member 2: Can we at this point all agree that the Pac-12 blog is awesome?

All together: Heck yeah!
This isn't about the quality of the SEC, which every clear-thinking person acknowledges as the best college football conference. It's about aspiring toward an equitable playing field so the selection committee can do its job well.
If the Big Five conferences all play a nine-game conference schedule, it provides a broader picture of a conference's actual pecking order. Why? More games against each other, duh.

If the Big Five conferences all play a nine-game conference schedule, it makes it easier to compare teams across the country because they played the same schedule: Nine conference games, three nonconference games.

If the Big Five conferences all play a nine-game conference schedule, it helps balance the number of home and road games between the conferences.

If the Big Five conferences all play a nine-game conference schedule, it's better for the fans because they get to see, say, Alabama and Georgia play more often.
Again, other than Machiavellian self-interest, there is no argument that justifies what the SEC is doing. None.
[And now my mailbag fills with "The Pac-12 stinks!" notes.]
---

Wat from Parts Unknown writes:
Why does the ACC get a pass when discussing the eight-game league schedule? Especially since an ACC team is the defending champs and the overwhelming favorite to repeat? I hate to play this card, but at least getting through the SEC means playing multiple talented, well-coached teams. But as for FSU, they bested their strongest regular season foe 50-14. (That foe's only other regular-season game against a ranked team? 31-17). Even better: their second regular-season-best foe (whom they crushed 45-7) went 10-4 with no victories against the top 40 and a pair of losses to 7-6 teams. So FSU gets to the national title game by beating Clemson, Duke and a bunch of unranked teams (including Nevada, Bethune-Cookman and Idaho out of conference), and it is the SEC that has you concerned with schedule strength? And not only is the ACC consistently a weaker league, but they do not even have the annual out-of-conference power conference foe requirement that the SEC just adopted. So what prevents FSU (or if they slip up, Clemson; or for that matter, longtime pretender Virginia Tech) from staking an annual berth in the four-team playoff? Now my aim is not to ACC-bash. Instead, it is to point out that if the schedule strength issue is not going to be discussed equitably, then it amounts to no more than mere SEC envy.
Ted Miller
: Part of it is the ACC hasn't yet decided on the issue. It meets May 13 in Amelia Island, Fla. Of course, the SEC decision gives the ACC a pass to stick with eight games, which I suspect it will do.
The other part of the reason is the SEC is presently the bell cow in college football. It's won seven of the last eight national titles, falling just short of making it eight in a row in January. When the SEC shakes the ice in its glass, the media erupts with reports and analysis for the next month.
Further, there's a general feeling that the ACC, unlike the SEC, won't get the benefit of the doubt. Fair or not, the perception is most years that an 11-1 SEC team will get the nod over an 11-1 team from any other conference. But, again in general, an 11-1 ACC team wouldn't get the nod over an 11-1 team from the Pac-12 or Big 12.
For example, if Oregon or Stanford had gone undefeated last year, I strongly suspect it would have been ranked ahead of Florida State in the BCS standings.
---

J Dub from Los Angeles writes:
Can you please explain to my USC friends that their sanctions have very little, if anything at all, to do with UCLA's resurgence? They can't seem to understand that UCLA plays 12 teams not named USC every year.
Ted Miller
: The biggest reason for UCLA's resurgence is Jim Mora, his outstanding coaching staff and QB
Brett Hundley
, which means Rick Neuheisel deserves at least a tip of the cap.
That said, NCAA sanctions against USC have benefited every Pac-12 team, and most prominently UCLA. With USC down 10 scholarships in each of the past three recruiting classes (plus or minus), that means more talent for everyone else, particularly that coveted Southern California talent.
I can even point to one guy specifically
: D-lineman
Kylie Fitts
. He's at UCLA because USC didn't have space for him.
With USC able to sign a full recruiting class in 2015, it will be interesting going forward to watch these bitter rivals battle to rule LA.
---

Kai from Bear Territory writes:
Team (or teams) you will have marked improvement over last year?
Ted Miller
: I guarantee your Cal Bears at least double their 2013 win total. Heck, they might even triple it.
So, Cal would win this question.
I think Colorado will be better next season. I think Oregon State is interesting. Could be a nine-win team. I think Utah returns to the postseason if it starts the same quarterback the entire season.
---

Chester from Tempe writes:
Dear Bert and Ernie, I'm a die-hard University of Arizona fan. I think the media has swooned too much over Todd Graham while not giving enough credit to RichRod. Shock! My reasoning: Graham is a motivator, salesman and leader. I don't see him as a good game coach when all is equal. When the talent was equal on the field, he lost to Notre Dame and twice to Stanford. (I'll argue UCLA was young and hurt and USC was being "Kiffined.") I believe he was handed a roster full of experienced and talented players who lacked discipline. He infused discipline and structure with some good juco players. Texas Tech was the ultimate decider for me; they needed that win to continue the "Happy Days" parade and bandwagon. Instead, Graham and his defense COULD NOT adjust. It was just weird. RichRod took over a dumpster fire of talent. Hindsight being 20-20, Stoops stopped recruiting in 2008-2009. Denker? 210-pound Mike LB's? Who needs defensive linemen? A combination of RichRod and his coaching staff's ability, coupled with
Ka'Deem Carey
, enabled them to win 16 games in two years. I think that is impressive. I guessed we would go five wins in 2012 and then six wins in 2013. I'll hang up and listen.
Ted Miller
: So just because Todd Graham does things a good college coach does -- infusing discipline and structure while recruiting good players -- doesn't mean he's a good coach?
Or you're citing the the Holiday Bowl face-plant as a justification for saying Graham isn't "a good game coach?"
Piffle.
I do agree he inherited more talent that Rich Rodriguez at Arizona, which is part of the reason Graham is 2-0 against Rodriguez and has won 18 games compared to 16 for Rodriguez, though it's also worth noting that the Sun Devils' nonconference schedules have been far more taxing the past two years.
I know this won't satisfy you, Chester, but my -- and most objective observers' -- impression is both teams have good coaches, and we won't know who is better until... oh, let's just say 2017.
February, 6, 2013
2/06/13
7:00
AM ET
ESPN RecruitingNation
has signing day covered. Follow ESPNU's coverage, chat with analysts and get breaking news on our
Signing Day Live
page beginning at 7:30 a.m. ET through 7 p.m. ET. For more on what to expect on signing day, check out the
Pac-12 conference breakdown

.
Bold prediction for the Pac-12:
UCLA is in a position to shock the conference and perhaps the country on signing day. Already in possession of a top-12 class, the Bruins have a chance to close with a bang, as UCLA is in a good position with ESPN 150 prospects
Eddie Vanderdoes
,
Isaac Savaiinaea
and
Asiantii Woulard
. If all goes well in Westwood on signing day, Jim Mora could finish the day with a top-five recruiting class.
Arizona
Biggest need:
Linebacker. Arizona's defense is in need of some immediate help in all three levels, but the Wildcats will add some serious depth at linebacker with five commitments at the position.
Biggest recruit:
QB
Jesse Scroggins
. A case could be made for either quarterback commitment --
Anu Solomon
is the other -- but with Scroggins' experience at USC and his status as an early enrollee, he could have an advantage when it comes to battling for the vacated starting quarterback spot.
Arizona State
Biggest need:
Secondary. Arizona State is set to add plenty of help at the offensive skill positions, but the Sun Devils needed to add depth on the defensive side of the ball, and they did so. Safeties
James Johnson
and
Jayme Otomewo
are strong additions, as are cornerbacks
Damarious Randall
and
Will Earley
.
Biggest recruit:
DT
Marcus Hardison
. Getting defensive tackle Will Sutton back for another year was a big win for Arizona State's defense. Getting the No. 5 junior college player in Hardison, a 6-foot-4, 275-pound defensive tackle who can help Sutton inside this year, is another big win.
California
Biggest need:
Offensive line. With head coach Sonny Dykes and offensive coordinator Tony Franklin, Cal is looking to take off offensively, but that can't happen without a dominant front. Six offensive line commitments, including four-star tackles
Aaron Cochran
and
Erik Bunte
, are a good way to continue building up front.
Biggest recruit:
OT Aaron Cochran. This is true figuratively and literally. Cochran, at 6-foot-8 and 364 pounds, is an important recruit for Cal, as the offensive tackle plays a position of need. He is the younger brother of Cal lineman Matt Cochran. Honorable mention here to
Cameron Hunt
, who committed to Cal last summer but opened his recruitment after the coaching change and now appears to be headed to Oregon.
Colorado
Biggest need:
Offensive line. The Buffaloes need help everywhere, but solidifying the offensive line is step one for the new regime. Colorado holds commitments from five offensive linemen as it looks to take a step forward in the Pac-12.
Biggest recruit:
QB
Sefo Liufau
. While building along the lines is important, Colorado needs to add playmakers at every position, and Liufau is definitely that at quarterback. He understands and appreciates the challenge at Colorado and is the kind of player the Buffs need to bring in and build around.
Oregon
Biggest need:
Running back. While the Ducks have been blessed with an embarrassment of riches at tailback, it's important that they continue to stock the cupboard in order to keep finding those gems and running the blur offense. Three tailbacks were a possibility in this class, as there will be an opportunity for playing time.
Biggest recruit:
RB
Thomas Tyner
. This was big on two fronts as Tyner has an opportunity to contribute as a freshman, and the Ducks were able to keep Oregon's top recruit from leaving the state. Tyner's commitment became even more important when
Dontre Wilson
flipped from Oregon to Ohio State on Monday.
Oregon State
Biggest need:
Defensive line. The Beavers looked to get bigger and better up front and did so in a big way. Six defensive linemen are headed to Corvallis, including four junior college defensive tackles capable of playing as soon as they arrive on campus.
Biggest recruit:
CB
Dashon Hunt
. Oregon State needed to add talent in the secondary as well and Hunt -- the Beavers' lone ESPN 300 commitment -- will help there. Hunt's commitment also helped Oregon State continue its presence in Southern California, which it recruited extremely well with this class.
Stanford
Biggest need:
Wide receiver. The Cardinal needed to add receiving threats in this class, and adding wide receivers
Francis Owusu
and
Taijuan Thomas
did that. Of course, at Stanford, no position poses more of an offensive threat than tight end, and the Cardinal have commitments from three high school standouts who will suit up there.
Biggest recruit:
WR
Jordan Cunningham
. As the Cardinal continue to hunt for pass-catchers in this class, snagging Cunningham -- an ESPN 150 wide receiver -- on signing day would nicely cap an undermanned but still impressive recruiting class. It would also carry over Stanford's terrific signing-day success from last year.
UCLA
Biggest need:
Offensive line. While it might not be the most immediate need for the roster, the UCLA coaches saw a need to infuse the offensive line with young talent and they went out and did just that. There are offensive line recruits, including two ESPN 300 prospects and a third four-star lineman.
Biggest recruit:
DT Eddie Vanderdoes. The country's top defensive tackle will announce at 5 p.m. PT and the Bruins are thought to be in good position. Landing Vanderdoes -- a former USC commitment -- would be another positive sign for the Bruins in their quest to tip the rivalry in their favor.
USC
Biggest need:
Secondary. The Trojans have been shaky in the secondary for several years now and are in need of players capable of adding depth and perhaps playing as freshmen. Signing day could offer a disappointment if cornerback
Jalen Ramsey
goes elsewhere, but the early enrollee group of safeties
Su'a Cravens
and
Leon McQuay
and cornerback
Chris Hawkins
, gives the Trojans three players capable of stepping in and offering a solution to the pass defense troubles.
Biggest recruit:
S Su'a Cravens. USC is set to add plenty of impact players in this recruiting class, but landing Cravens as an early enrollee was huge. A local player who plays a position of need and has the talent to make an impact as a freshman, Cravens was as close to a must-get recruit as the Trojans had in this class.
Utah
Biggest need:
Running back. With
John White
finished at Utah, the Utes have just one player returning in 2013 who logged more than 25 carries last season. While there are several tailbacks on the roster, Utah looked to add talent at the tailback position in this class and did so with four commitments from running backs, including junior college back
Devontae Booker
.
Biggest recruit:
DT
Lowell Lotulelei
. There is no guarantee that the defensive tackle will turn into his older brother, Star Lotulelei, a likely top-five pick in the upcoming NFL draft. But getting a commitment from Lowell Lotulelei was arguably the most important piece of Utah's recruiting puzzle. The four-star defensive tackle is Utah's top-ranked commitment and will look to take over where his brother left off.
Washington
Biggest need:
Offensive line. The Huskies hoped to find several big bodies to position as the future of the offensive line in this class and have commitments from three high school linemen, including four-star center
Dane Crane
. While the Huskies lost a commitment from
Sean Harlow
, who flipped to Oregon State, they could make up for it in a big way by grabbing ESPN 300 tackle
Nico Falah
away from USC on signing day.
Biggest recruit:
WR
Damore'ea Stringfellow
. The highest-ranked player in the class, the ESPN 150 wide receiver is a playmaker capable of providing an immediate spark for Washington's offense. He also gives the Huskies a big recruiting win in Southern California, as he was sought after by UCLA and USC.
Washington State
Biggest need:
Offensive line. While much of the attention with Mike Leach's offense goes to the offensive skill players, it can't take off without an effective offensive line. Six offensive linemen, including junior college tackle
Jacob Seydel
, are headed to Pullman in this class.
Biggest recruit:
QB
Tyler Bruggman
. The Cougars won a big recruiting battle for Bruggman, as they were able to pull him away from hometown Arizona State. He was someone Washington State targeted early on as a player who could fit into and succeed in the offense.