April, 4, 2014
Apr 4
11:00
AM ET
STANFORD, Calif. -- With linebackers
Shayne Skov
and
Trent Murphy
off to the NFL and defensive coordinator Derek Mason and inside linebackers coach David Kotulski off to Vanderbilt, change is inevitable for the
Stanford
defense.
For some, that's code for "worse."
[+] Enlarge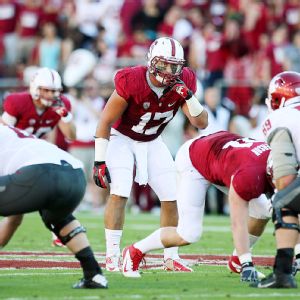 Tony Medina/Getty ImagesA.J. Tarpley, who was the 2009 Minnesota Gatorade Player of the Year, has been a key cog in the Cardinal's defense for the past three seasons.
Not for fifth-year senior inside linebacker
A.J. Tarpley
.
"Great players leave. We're not going to lower our goals," he said. "We're not going to say, 'OK, we're not going to be as good as last year.' I want this linebacking corps to be better than last year.
"I do feel that our linebacking corps has gotten better every year since I got here, so why not? Why can't we be be better than we were last year?"
Tarpley wasn't looking for a literal answer, but if he were, the fact that Skov was one of the nation's best inside linebackers and that Murphy led the nation in sacks would be on the list. Those aren't guys who simply get replaced without some level of drop off.
That isn't lost on Tarpley, either. He, perhaps better than anyone, understands just how valuable Skov and Murphy were to the Stanford defense. The part that isn't understood as well beyond the Stanford locker room is how Tarpley's role has been nearly as vital to the Cardinal's success over the past three seasons.
"We see it all the time and we've just marveled at how solid he is, how efficient he is," new defensive coordinator Lance Anderson said. "I think playing next to Skov is a reason he's been a little overshadowed, and then with Trent Murphy and Chase Thomas on the outside the last few years I think it's easy to get overshadowed."
Over the past three seasons, Tarpley is the Cardinal's leading tackler (216). If he replicates his 2013 total (93), he'll finish his career in the top 10 on the school all-time tackles list. Currently, only two other players who began their career in 1990 or later are part of the group: Skov (2009-13) and Chris Draft (1994-97).
Tarpley's near-immediate production came as no surprise to Stanford coach David Shaw, who said the former Minnesota Gatorade Player of the Year made a strong impression during his true freshman season during the team's scrimmages on Fridays.
"He just seemed to make every play," Shaw said. "Tackle after tackle after tackle, and if the ball was thrown anywhere around him he either picked it off or deflected it."
Both Shaw and Anderson credited Tarpley's instincts as a major factor in his success, which, coupled with good quickness, makes up for what wouldn't be described as elite athleticism. Anderson has Tarpley down for 4.75 seconds in his most recent 40-yard-dash.
"There's a lot of people that think I study tremendous amounts of film and know what plays the offense is going to run, but that's not the case," Tarpley said. "I believe I'm a pretty good athlete. I base everything off my quickness and just read plays to make things happen."
And if film study isn't the root of his ability to read defenses, what is? That's simple: video games -- the Madden franchise, in particular.
Tarpley is a firm believer that playing Madden -- a game in which he claims he's unbeatable -- has helped develop his understanding of the way angles, routes and coverages work.
"Looking at the plays in Madden you see passing concepts, you see zone coverages and how those work out ... where this guy is and who he's replacing and how things can occur," he said. "I really do think going through the plays on both offense and defense -- what beats what? -- I think that's helped me as a player. When I'm out there on the field, it's almost a [subconscious] decision in my mind how something should develop."
That understanding has allowed Stanford to regularly use him to cover receivers in single coverage with good results. Tarpley is the program's only player to record an interception in each of the past three seasons.
"He is one of the best coverage linebackers I've been around," Anderson said. "He has such good patience and a good feel for routes and what people are going to try and run. That is one thing that stands out. I don't know if I've been around anyone like him like that."
Tarpley's focus is on finishing his Stanford career strong, but he made it clear the NFL is also in his sights.
"I've always been doubted my whole career. No one's ever said how great I was going to be so I've always had that mentality with a chip on my shoulder," he said. "I'm going to dream about [playing in the NFL] every day until I can earn a spot there."
And if that doesn't work out, there's always the Madden pro leagues to fall back on ... or his Stanford degree.
February, 19, 2014
Feb 19
5:30
PM ET
So far, only three Pac-12 teams retained their 2013 offensive and defensive coordinators: Arizona, Colorado and Washington State.
Here's a look at who's in, who's out and what it means, starting in the North Division:
California

Out
: Defensive coordinator Andy Buh, who will be reassigned as a position coach, probably linebackers, if he remains in Berkeley. Coach Sonny Dykes also fired defensive tackles coach Barry Sacks and defensive backs coach Randy Stewart.
In
: Art Kaufman, whose defense at Cincinnati ranked ninth in the nation last season.
Thoughts:
Kaufman, 55, takes over perhaps the worst defense in Cal history, a unit that was injury-ravaged but also was often unsound and seemingly uninspired, allowing an eye-popping 46 points per game in 2013. The good news: If the injury issues resolve themselves with the healthy return of talented players such as defensive end
Brennan Scarlett
, safety
Avery Sebastian
, defensive tackle
Mustafa Jalil
and cornerback
Stefan McClure
, the improvement could be dramatic. Dykes also hired Greg Burns to coach the secondary. He was at USC from 2002-05 and Arizona State from 2008 -11. He spent last season at UMass.
Oregon

Out
: Longtime defensive coordinator Nick Aliotti retired.
In
: Don Pellum was promoted from linebackers coach.
Thoughts
: The promotion of the 51-year-0ld Pellum stuck with the "Oregon Way" of promoting from within, though there was mutual interest between coach Mark Helfrich and former USC coordinator Clancy Pendergast. Pellum won't have to rework much with the Ducks' hybrid 3-4 scheme.
As noted here
, since 2009, "the Ducks have finished no lower than third in the Pac-12 in yards-per-play allowed. That includes leading the conference in 2009, 2010 and, yes, 2013, when the Ducks finished seventh nationally by that metric." The Ducks did falter a few times last season, most notably against Stanford, Arizona and Oregon State, and often had trouble against physical running games as well as on third down. Helfrich did make a quasi-outside hire when he brought in Erik Chinander to take over the Ducks' outside linebackers, which Aliotti coached. Chinander, 34, is a former Oregon graduate assistant who worked under Chip Kelly with the Philadelphia Eagles last season.
Oregon State

Out
: Offensive coordinator Danny Langsdorf left to become the quarterbacks coach for the New York Giants.
In
: John Garrett, who was the wide receivers coach for the Tampa Bay Buccaneers last season. He was on the staff of the Dallas Cowboys from 2007-12, where his brother Jason Garrett is the head coach.
Thoughts
: Garrett, who last coached in college at Virginia from 2004-06, shows that coach Mike Riley remains married to a pro-style scheme. Garrett will also coach quarterbacks and tight ends, but it has not yet been determined who will call plays -- Riley has done so for the past two seasons. Garrett and Riley have known each other since 1991, when Garrett played receiver for Riley's San Antonio Riders of the World Football League. The good news for Garrett is the Beavers are strong at QB (
Sean Mannion
) and deep at tight end. The bigger questions are making the running game more consistent and replacing WR
Brandin Cooks
' production.
Stanford

Out
: Defensive coordinator Derek Mason, who became the head coach at Vanderbilt.
In
: Lance Anderson was promoted from outside linebackers coach, a position he will continue to coach.
Thoughts
: Another promotion from within that will ensure the Pac-12's best defense has schematic continuity. Anderson has been at Stanford for seven seasons. He coached DTs from 2007-09. He was also the recruiting coordinator from 2007-11. The Cardinal also hired Peter Hansen as inside linebackers coach. He replaces David Kotulski, who was named Vanderbilt's defensive coordinator under Mason. That was another move that maintains continuity, as Hansen spent the 2009 and 2010 seasons at Stanford as a defensive assistant before following Vic Fangio and Jim Harbaugh to the San Francisco 49ers.
Washington

Out
: Steve Sarkisian brought most of his staff from Washington to USC, including defensive coordinator Justin Wilcox, but not offensive coordinator Eric Kiesau, who was not retained by new Huskies coach Chris Petersen
In
: Offensive coordinator Jonathan Smith and defensive coordinator Pete Kwiatkowski
Thoughts
: Smith, the overachieving former Oregon State QB, is a real up-and-comer. Petersen trusts him enough to give him play-calling duties, even though he was not the offensive coordinator last year at Boise State. He'll also coach quarterbacks, so he'll play a central role in determining who wins the starting job this fall. Before joining Petersen at Boise State, Smith spent the 2010 and 2011 seasons as the offensive coordinator and quarterbacks coach at Montana. Kwiatkowski spent the previous four seasons coordinating the Boise State defense. He was the defensive line coach before being elevated to defensive coordinator in 2010, when he replaced Wilcox. The Broncos led the Western Athletic and Mountain West Conferences in total defense and scoring defense in each of his first three seasons and were third and second, respectively, in 2013.

Washington State
No change:
Head coach Mike Leach is his own offensive coordinator and Mike Breske is back to coordinate the Cougars defense, which was disappointing in 2013, slightly lagging behind its 2012 numbers.
February, 14, 2014
Feb 14
1:00
PM ET
The
shuffling of defensive coordinators
appears to be over. We think. And as previously noted, all five of the top scoring defenses in the Pac-12 last year have seen changes at the top of the defensive coaching hierarchy. Three of the hires were internal promotions and two were coordinators who stayed with their head coach while switching schools.
This is how the top five scoring defenses played out last year:
Stanford (19.0 points per game)
Oregon (20.5)
USC (21.2)
Washington (22.8)
UCLA (23.2)
Who got the better end of the deal? Sounds like a poll question for you to ponder all weekend long.
Which team will lead the Pac-12 in scoring defense in 2014?
Your options:

Stanford
: Derek Mason departed to become head coach at Vanderbilt and Lance Anderson was promoted from within. The Cardinal lose some marquee players but have others such as safety
Jordan Richards
and linebacker
A.J. Tarpley
returning.
Oregon
: Out is longtime coordinator Nick Aliotti, who retired. In is longtime position coach Don Pellum. The Ducks lose some talent but return standout cornerback
Ifo Ekpre-Olomu
, who gives the Ducks' secondary instant credibility.
USC
: Clancy Pendergast was not retained by new head coach Steve Sarkisian. So Justin Wilcox is in after working his magic at Washington. The Trojans lost a lot of players to the draft, but a couple key players are back and there is a pretty good crop of young, talented players.
Washington
: New head coach Chris Petersen brought his guy, Pete Kwiatkowski, with him from Boise State. The Huskies made tremendous strides in two seasons under Wilcox and have some pretty solid personnel returning.
Other
: UCLA's Lou Spanos returned to the NFL and Jeff Ulbrich was promoted from within. Head coach Jim Mora will still oversee a lot of the defense. Though impact players like
Anthony Barr
and
Cassius Marsh
are gone, the Bruins have plenty of talent coming back. ... Arizona was sixth in the conference last year and made huge strides from 2012 to 2013. Can it keep the momentum going? ... Arizona State (seventh) also shuffled its defensive staff around with
the hiring of Keith Patterson
, though Todd Graham will still be heavily involved in the defense. ... Utah (eighth) is just two seasons removed from leading the conference in scoring defense. Can the Utes get back to the top?
February, 12, 2014
Feb 12
5:30
PM ET
Get this. Stanford's Lance Anderson actually
wanted
to be a defensive coordinator in the Pac-12. Crazy, right? Biletnikoff winners to lose sleep over; Doak Walker finalists dashing and gashing for 20 yards a pop; and All-American offensive linemen that must be displaced. Oh, the humanity.
"There are some pretty good quarterbacks, too," says Anderson.
Oh yeah, the quarterbacks.
[+] Enlarge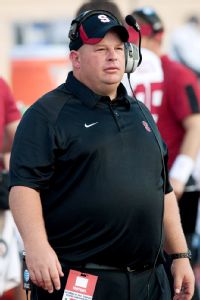 Peyton Williams/Getty ImagesLance Anderson, who has been on Stanford's staff since 2007, will have to replace some big names on the Cardinal's 2014 defense.
Anderson has his wish. With the departure of Derek Mason,
who was named the head coach of Vanderbilt last month
, Anderson takes over one of the most respected defensive outfits in all of college football. The Cardinal have led the conference in scoring defense and been ranked in the top 15 nationally in three of the last four years. They live by the mantra #partyinthebackfield and have put the brakes on some of the nation's top offenses.
Now it's Anderson's turn to add his own flavor to the scheme -- however minor it might be.
"Every year we tweak a little bit no matter what," said Anderson, who first came to Stanford in 2007 with Jim Harbaugh. "We go back and watch film and do all of our self-scouting and analysis. We try to find places where we can get better and improve and that's naturally going to lead to tweaking. I think every coordinator has a different feel and some stuff you might like a little better than the other guy.
"We've been in a system for a few years now and I think the kids are really comfortable with that. They like it. And I think the systems we're in on both sides of the ball suit our personnel really well. Vic Fangio came in in 2010, installed the system at that point and we've kept it pretty similar ever since."
That includes transitions from Fangio to the co-defensive coordinator team of Jason Tarver and Mason to just Mason and now to Anderson, who will continue to work with the outside linebackers after coaching the defensive tackles his first two seasons on The Farm.
Equally known as a top-flight recruiter, Anderson must now help the Cardinal transition to life without some of their marquee players. Gone next year are linebackers
Shayne Skov
and
Trent Murphy
, defensive end
Ben Gardner
and safety
Ed Reynolds
. All were major contributors in one form or another to Stanford's appearances in four straight BCS bowl games.
Despite those losses, Anderson is confident the Cardinal have the depth -- both in and out of the locker room -- to stay atop the defensive standings.
"I look at guys like
A.J. Tarpley
and
Jordan Richards
who have played a lot of football and they really stand out," Anderson said. "Both guys display some natural leadership and they are well-respected by their teammates.
Henry Anderson
and
David Parry
are a couple of other guys who are really looked up to among the defensive players. I think we'll be OK."
Interestingly enough, the Pac-12 has seen the defensive coordinators from the top five scoring defenses
move on after the 2013 season
. Mason went to Vanderbilt, Nick Aliotti retired at Oregon, Justin Wilcox moved to USC with Steve Sarkisian, Lou Spanos returned to the NFL and Clancy Pendergast was not retained with the Trojans after Sarkisian came in. Three of those were replaced internally, with Anderson, Don Pellum (Oregon) and Jeff Ulbrich (UCLA) all being promoted. Pete Kwiatkowski joins Chris Petersen in Washington by way of Boise State and Wilcox followed Sark. So despite the transitions, the continuity among coaching staffs remains relatively unscathed.
However, that combination of coordinator shuffling, along with some A-list offensive players returning in 2014, makes for an interesting setup. The Pac-12 is known for its offensive diversity, and when you factor in the possibility of nine teams returning their starting quarterback, the dice seem loaded to the offensive side of the ball.
"There is a lot of offensive talent in this league and it doesn't look like that's going to slow down," Anderson said. "The quarterbacks all have experience. It's not going to be easy.
"We know that every week we are going to be tested. All we can do is try to go out and learn the techniques and the fundamentals and get the physical and mental mastery of the position. Once we get that in spring ball and the preseason, it's just matter of going out and applying what we've learned during the season. Every week is going to be different. All we can do is prepare the best we can, master the position and try to apply it on Saturdays in the fall."
January, 24, 2014
Jan 24
5:20
PM ET
Stanford coach David Shaw's decision to
promote Lance Anderson to defensive coordinator
should come as a surprise to exactly no one.
If there is anything Shaw has shown in his previous hires, it's that he likes to promote from within and strives to have continuity within the program. Choosing Anderson to replace Derek Mason, who left last week to
become the head coach at Vanderbilt
, fits the mold established with his initial coordinator hires of Pep Hamilton and Mason and last year's promotion of Mike Bloomgren.
The only coordinator hire that came from outside the program in Shaw's tenure was when he named current Raiders defensive coordinator Jason Tarver the co-coordinator with Mason in 2011. Tarver was at Stanford for just that season, in which Mason still served as the play caller.
Shaw and Anderson are the only coaches who remain from Jim Harbaugh's initial staff at Stanford in 2007. Both made the jump with Harbaugh from the University of San Diego.
In all likelihood, this move was at least a year in the making. Anderson reportedly turned down the chance to become the defensive coordinator at South Florida a year ago under Willie Taggart, another former Harbaugh staff member, to remain at Stanford. It was clear then that Mason would land a head-coaching gig sooner rather than later, which makes it reasonable to assume Shaw and Anderson discussed the possibility that he'd be the eventual replacement.
That's roughly how it played out when Bloomgren was elevated from offensive line coach/run game coordinator when Hamilton took the offensive coordinator job with the Colts. In fact, Shaw and Bloomgren discussed the potential for that to eventually happen before he hired him in 2011.
With Anderson's promotion official, Stanford still has three spots to fill on its staff.
In addition to Mason, Shaw needs to replace Mike Sanford, who left to become Boise State's offensive coordinator, and inside linebackers coach David Kotulski, who will serve as Mason's defensive coordinator at Vanderbilt.
Tavita Pritchard shifted from running backs coach to quarterbacks coach immediately after Sanford left, which means the Cardinal is currently without coaches for its running backs, inside linebackers, defensive backs and does not have an official recruiting coordinator.
March, 1, 2012
3/01/12
4:25
PM ET
Stanford head coach David Shaw rounded out his staff by naming David Kotulski his new inside linebackers coach.
Kotulski spent the past six seasons as the defensive coordinator and linebackers coach at Lehigh University of the Patriot League. He replaces Jason Tarver, who left last month to be the defensive coordinator for the Oakland Raiders.
"David Kotulski is a veteran in 3-4 defense and has a very positive history with both [defensive coordinator] Derek Mason and [OLB coach] Lance Anderson," Shaw said in a statement. "He has demonstrated through the years that he is an outstanding teacher, great motivator and a very good recruiter -- especially in the Northeast. Our entire staff will benefit from his experience and expertise."
During his 31-year career, Kotulski has worked at Holy Cross, Utah State, Bucknell, Saint Mary's and Utah. It was at Bucknell that he crossed paths with Mason and Anderson, and again with Anderson at Utah State. He started his career in 1978 at Utah.
Kotulski, 59, isn't a big name on the West Coast, and he doesn't have the NFL coaching pedigree that Tarver had -- which included 10 years with the San Francisco 49ers. But he seems to know the 3-4 scheme and how to create pressure, and that's what Stanford's defense is all about. Last year, Lehigh's defense ranked in the top three in six defensive categories, including first in pass efficiency defense, sacks and third-down defense.
As noted earlier in the week
, the Cardinal have two budding stars at inside linebackers in
Jarek Lancaster
and
A.J. Tarpley
-- who flourished under Tarver's tutelage. Both have shown good ball instincts and Lancaster's open-field tackling was spectacular toward the end of the season. The Cardinal also hope to have
Shayne Skov
back and healthy after a season-ending knee injury last year. He still has to serve some sort of punishment -- likely a suspension -- stemming from his DUI arrest last month and his rehab will keep him from participating in spring drills. But if he's back at 100 percent, he'll be one of the top inside linebackers in the country.
Worth noting also in Shaw's released statement is the recruiting factor. Stanford is one of the few true national recruiters and having a known presence in the Northeast can't hurt.
You can see the full release with Kotulski's complete bio
here
.
February, 7, 2012
2/07/12
12:00
PM ET
This is what happens. You get good, and then the getting gets good for other teams to come in and start picking off assistant coaches.
Stanford is no exception. It happened last year with the head coach. And another successful season means another round of the coaching carousel.
The fact that co-defensive coordinator
Jason Tarver left the Cardinal
after just one year to return to the NFL is no real shock. He's one of the brightest defensive minds in football and his star is on the rise. There are only 32 defensive coordinator gigs in the NFL -- and when one of them opens up, you have to take it. If it were a lateral move to another college team, you might scratch your head. But none of that is needed with Tarver. Great move for him and a validation for David Shaw for hiring him in the first place.

So where does this leave the Cardinal -- specifically that monster front seven we've been chatting about since the end of the season? Tarver's is a beautiful mind -- and not just in the football sense. The guy is smart. There probably aren't a lot of other NFL defensive coordinators who have masters degrees in molecular biology and biochemistry from UCLA hanging on their office wall.
What he brought to Stanford was an unbelievable understanding of the 3-4 defense. In the decade prior to his time on The Farm, Tarver learned every strand, strain, wrinkle and wiggle there is to know about the scheme from some of the best defensive minds in the NFL.
At Stanford, he worked directly with the inside linebackers and deserves a ton of credit for the rapid development of
Jarek Lancaster
and A.J. Tarpley from good prospects to legitimate Pac-12 starters.
Without a doubt, losing Tarver is a blow. But if Stanford is anything, it's resilient. Wasn't the team supposed to lose its swagger once Jim Harbaugh left? Remember how the run defense was shot after
Shayne Skov
went down? Wasn't recruiting going to decline once
Andrew Luck
was gone?
From a game-planning perspective, little will change with Tarver's departure. Co-defensive coordinator Derek Mason (who we can only assume is running the show solo until otherwise told), will continue to install the game plan with the direct input from Lance Anderson, Randy Hart and an inside linebackers coach to be named later. (And don't be surprised either to see Mason's name popping up for head-coaching gigs either in the future).
In extensive conversations with Tarver during the season, one of the things he always made clear was that every week it was a collaborative effort, and every week there was something in the defensive game plan from each contributing coach.
Mason is not a micro-manager, and that's why he works so well with Anderson, Hart and Tarver. Now a quarter of that brain trust will be missing, but it will be replaced.
Where the real impact will be felt is teaching technique and installing the front seven's schemes. Tarver was very good at implementing the same blitz or stunt out of several different looks in the front seven -- and then tweaking it each week based on the opponent. As he often said, it allowed the defense to play faster without having to think slower.
Mason, Hart and Anderson are all fantastic coaches in their own right with an unquestioned wealth of knowledge. But none has the next-level experience of 10 years in the The League that Tarver brought -- the last five specifically working with linebackers in an NFL 3-4 scheme.
Because of who remains on staff, Tarver's departure doesn't make or break the Stanford defense. But whoever comes in has some big brains to fill.
March, 7, 2011
3/07/11
11:55
AM ET
By
ESPN.com staff
| ESPN.com
Only Oregon and Washington
didn't experience any staff turnover
this offseason, so we're running through the staff changes for the other 10 Pac-12 teams.
Next up is Stanford (we're skipping Oregon State for now because its lone vacancy at running backs coach has yet to be filled). The Cardinal saw head coach Jim Harbaugh bolt for the San Francisco 49ers and the promotion of offensive coordinator David Shaw to Harbaugh's former post.
Team in parenthesis is where the departing coach ended up.
Out

Jim Harbaugh, head coach (San Francisco 49ers)
In

David Shaw, head coach (formerly Cardinal offensive coordinator)
Out

Greg Roman, associate head coach (San Francisco 49ers)
Shaw, offensive coordinator/running backs
In

Pep Hamilton, offensive coordinator/quarterbacks/receivers
Mike Sanford, running backs
Out

Vic Fangio, defensive coordinator (San Francisco 49ers)
In

Derek Mason, associate head coach/co-defensive coordinator
Jason Tarver, co-defensive coordinator/inside linebackers
Out

Tim Drevno, offensive line (San Francisco 49ers)
In

Mike Bloomgren, offensive line/running game coordinator
Reaction
: Stanford still has a vacancy at tight ends coach. Defensive line coach Randy Hart, special teams coordinator Brian Polian and OLBs coach/recruiting coordinator Lance Anderson also were retained from Harbaugh's 2010 staff. Hamilton and Mason were promoted from within; Hamilton was receivers coach last season, while Mason coached the secondary. Sanford, Tarver and Bloomgren were outside hires. They came from Western Kentucky, the 49ers and the New York Jets. By promoting from within, Shaw ensured continuity from a highly successful 2010 season. His outside hires have an NFL flavor, which players tend to respect. Sanford, a former Cardinal offensive assistant in 2007 and 2008, was quarterbacks coach and passing game coordinator at Western Kentucky last season. The loss of Harbaugh, who rebuilt the program from the ground-up, shook Stanford fans, but the departures of Roman, a creative offensive mind, particularly in the running game, and Fangio, who adopted a highly effective 3-4-hyrbid scheme, are nearly as big. Can the Cardinal maintain and even build on their recent momentum? That's the big question for Shaw and his staff.
August, 9, 2010
8/09/10
10:51
AM ET
By
ESPN.com staff
| ESPN.com
Stanford opens preseason camp today. Here's a quick look.
Who's back
: Eight starters on offense, seven on defense and both specialists
Big names
: QB
Andrew Luck
, FB-LB
Owen Marecic
, C Chase Beeler, WR
Ryan Whalen
, KR
Chris Owusu
, DT Sione Fua
What's new
: A lot. Vic Fangio is the Cardinal's new defensive coordinator after spending the previous 24 years coaching in the NFL, including the last four with the Baltimore Ravens. Pep Hamilton is the new receivers coach after spending the last three seasons as quarterbacks coach of the Chicago Bears. The highly respected Randy Hart takes over the defensive line after a year at Notre Dame (his tenure at Washington started with Gil Dobie and lasted through Tyrone Willingham). Derek Mason takes over the secondary after three seasons with the Minnesota Vikings. Brian Polian will coach special teams after spending the previous five campaigns at Notre Dame. Lance Anderson has switched from coaching defensive tackles to LBs.
Key competition
: Other than CB Richard Sherman and SS Delano Howell, things are fluid in the secondary. The competition over the lone void on the offensive line -- right tackle -- includes fifth-year senior, Derek Hall, and a sixth-year senior, James McGillicuddy.
Coby Fleener
and
Konrad Reuland
will compete at tight end. As for backup QB, redshirt freshmen
Robbie Picazo
and
Josh Nunes
are battling, but the athletic
Alex Loukas
, who's been doubling as a safety, might get the call, if needed.
Breaking out
: Owusu seems primed to transform from a fast guy to a deep threat. LB Shayne Skov should take a step forward after an impressive debut as a true freshman. The TE position is stacked, with four guys 6-foot-6 or taller who could do damage. LT Jonathan Martin and RG David DeCastro, both sophomores, are two of the conference's most promising linemen.
Quote
: Coach Jim Harbaugh on Luck: "You look at Andrew and you wonder what makes a youngster that good. You know it has some to do with mom, dad, God; he has such talent. He has tremendous arm strength. He is as accurate as any quarterback I've seen. He is athletic and can run with the football. He rushed for 400 yards last year. He is a brilliant kid, not just book smart, but also with football."
Notes
: The Cardinal has switched to a 3-4 defense, with Thomas Keiser and Chase Thomas switching from defensive end to outside linebackers. ... Marecic will go both ways. He will start at inside linebacker and also see significant action at fullback, his position last year. ... Harbaugh said that senior
Jeremy Stewart
, though listed second on the depth chart behind
Stepfan Taylor
, is the top candidate to replace Toby Gerhart at running back. ... Four-time Pro Bowl selection Chester McGlockton will serve as a defensive assistant.