Pac-12:

Lane Kiffin 021210
February, 12, 2010
2/12/10
11:30
AM ET
By
ESPN.com staff
| ESPN.com
Part II of a Q&A with new USC coach Lane Kiffin.
Read Part I here
.
What's your take on quarterback Matt Barkley's season?
LK
: He was a true freshman. He made some mistakes and there were some injuries up front and at the receiver position, the receiver corps, forcing us to go to some different guys. But for a true freshman, he did a lot of good things. We're very excited about his future.
You spent a year in the SEC: How do you think that conference compares to the Pac-10?
LK
: Front sevens are probably better out there, and that's been the way for a long time as you study the draft. From top to bottom, the SEC is tougher. I think that is proven by records and by studying over the years. Especially right now the SEC, the teams that usually were maybe on the bottom are having some of the best years they've ever had. But at the end of the day, it's football, especially when you're at SC. There's really not much difference because everywhere we go, it's going to be the biggest game, whoever we're playing. SC is one of the top places in the country. They used to ask me down in the SEC what's the difference between the SEC and USC and there really isn't [a difference]. When you play, you are everybody's biggest game.
Is the Pac-10 tougher top to bottom than when you left to take over in Oakland?
LK
: I don't know if I can answer that. It appears to be but I have not studied every team to make that statement yet.
So, it seemed like the USC-UCLA rivalry amped up during recruiting: Do you expect detente or is this going to get even more heated and bitter than ever before between you and Rick Neuheisel?
LK
: I'm not worried about what they are doing or what he's saying. They have a great program and great tradition and they've been winning a lot of games since he got there. So we don't really concern ourselves with that. We're just trying to get better.
How far are you guys away from competing for a national championship again?
LK
: I can't answer that. We're just trying to finish off this signing class and we're excited how that went. We've got to finish off our staff and get ready for spring ball.
February, 11, 2010
2/11/10
4:26
PM ET
By
ESPN.com staff
| ESPN.com
When Lane Kiffin bolted Tennessee for USC, it was the second biggest -- and most controversial -- story of the offseason.
The biggest story, of course, was Pete Carroll leaving the Trojans for the Seattle Seahawks.
Kiffin, 34, was mostly hammered by the media for spending just one year in Knoxville before leaving the Volunteers following a 7-6 season. His 12-21 record as a head coach, which included a brief and contentious tenure with the Oakland Raiders, was used to bolster his image as a guy whose meteoric climb through the coaching ranks was inexplicable and unjustified.
And yet when the smoke cleared on national signing day, USC once again had an
elite recruiting class
. And it's hard to ignore that
Kiffin's staff
, though not yet complete, looks to be as good as any in the Pac-10.
Things have settled down a bit, so it seemed like a good time to check in with the Trojans new general.
This is Part I of the Q&A.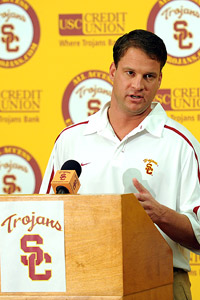 Chris Williams/Icon SMIUSC coach Lane Kiffin is taking his time putting together his coaching staff.
We've heard a lot about how well things went in recruiting during the transition: What didn't go well or at least needs to get better going forward?
Lane Kiffin
: I don't think anything is ever perfect. We'd liked to get every single person in the country. But I thought it went extremely well, to be able to close the way this staff did, with the short period of time we had, with the short transition of coaches coming in and out. I think it speaks volumes of what has been done here before at 'SC and what will be done in the future.
Where do you stand with finalizing your staff?
LK
: That's still an on-going process. I take my time on this to make sure that the staff fits right and that it's the best possible staff we can put together for our players.
Are you still interviewing some of the guys who are holdovers from Pete's staff?
LK
: Yes.
So looking back: You took a lot of heat for leaving Tennessee after one year: Any reflections on how things went down? Any regrets?
LK
: Well, I was trying to do it the best it could be done as far as getting back from the SEC head coaches meeting that I was at to speak to the team. As I think you'd be familiar with, most of the time people don't speak to the local media and I was trying to do that out of respect to them because there are
some great people there
. I guess I should have listened to other people and just got out of there and went to my new job instead of trying to do what I thought was right.
You got hit pretty hard by the national media: Did any of it hurt? Did it bother you at all?
LK
: Not at all. Because every person who I talked to about this decision, when I laid out the facts, every single person said not only that it wasn't close but basically that it was a no-brainer. So, if people were familiar with all the details of the situations -- which they never will be -- I think that people would definitely understand. And, even with people back there. I understand people are hurt but the sense I've gotten from the people I still talk to back there or who have called me -- people involved in business -- understand the move and don't fault me for it.
Any "details" you mentioned that you want to share with us?
LK
: No.
Lots of speculation about USC and possible NCAA sanctions: What were you told about that before and after you took the job?
LK
: I can't really get into detail with that. Obviously, it's on-going. Hopefully, there will be closure on that soon. I can't get into detail on that.
When you look at film of USC in 2009, what was different compared to the dominant years when you guys won consecutive national titles?
LK
: You had a lot of new players. 21 players were drafted over the last two drafts. That's a lot of good players, including some guys who have had immediate success in the NFL. You lose four linebackers in the first three rounds the same year. And you lose your quarterback a year early. I think [Carroll] thought Mark [Sanchez] was going to come back because Mark had not started that many games here. So that forced you to play a true freshman quarterback. Also, losing both coordinators, 21 players to the NFL, I think most head coaches in most places would be pretty jacked to come out of that and still win nine games.
How does the SEC compare to the Pac-10? What does Kiffin think of Matt Barkley? And what about the rivalry with UCLA and Rick Neuheisel?
Read Part II Friday!
PAC-12 SCOREBOARD
Saturday, 12/20
Monday, 12/22
Tuesday, 12/23
Wednesday, 12/24
Friday, 12/26
Saturday, 12/27
Monday, 12/29
Tuesday, 12/30
Wednesday, 12/31
Thursday, 1/1
Friday, 1/2
Saturday, 1/3
Sunday, 1/4
Monday, 1/12
Tweets from https://twitter.com/ESPNCFB/lists/pac12