October, 21, 2010
10/21/10
4:41
PM ET
The conventional wisdom is the old Pac-8 made sacrifices to create the new Pac-12.
Arizona and Arizona State -- the teams that made the expanded Pac-10 in 1978 -- will join the conference's newest members, Colorado and Utah, in the South Division with USC and UCLA. That means when the coaches of the four junior members hit the recruiting hotbed of Southern California they can tell mommies and daddies they will get to see their sons play near home every year.
Original Pac-8 members Oregon, Oregon State, Washington and Washington State will not.
And, yes, that is a significant issue.
[+] Enlarge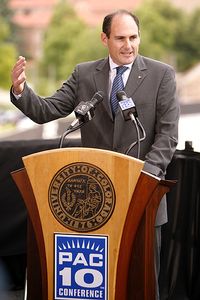 AP Photo/Ed Andrieski The pressure is on Pac-10 commissioner Larry Scott to secure a TV deal that keeps equal revenue sharing, well, equal.
Further, the four newest teams will benefit from the revenue sacrifice of the L.A. schools, which agreed to equal revenue sharing when the new TV contracts are signed for the 2012-13 academic year, instead of the former appearance-based model. However, USC and UCLA will get a $2 million payout in any year total revenues are less than $170 million, so commissioner Larry Scott needs a new TV contract that beats that number or he'll look bad because then he'll end up with an "Animal Farm" version of equal revenue sharing -- "All Pac-12 members are equal, but some Pac-12 members are more equal than others."
So the biggest winners are Arizona, Arizona State, Utah and Colorado. And Washington State benefits the most of the northwestern schools from equal revenue sharing.
The biggest losers? Maybe Washington and Oregon. The Huskies are the old-school northwestern power with the biggest stadium, while the Ducks are the new-school power with the second-biggest stadium in the Northwest. Both recruit hard in Southern California. Over the long haul, you'd think they wouldn't gain as much as Oregon State and Washington State, though the Beavers have been doing well in
terms of football revenue of late
.
Ah, but the conventional wisdom isn't always correct. And unintended consequences often produce more powerful ramifications.
For one, there might be a benefit to not playing USC and UCLA every year, just as it was a benefit before the nine-game, round-robin conference schedule was adopted to miss USC during the early Pete Carroll era.
Do some shuffling in your head. What happens if Jim Harbaugh leaves Stanford? And Rick Neuheisel leads the Bruins back to national relevance? And Utah remains good? A deeper South Division could benefit North Division powers.
How? At present, the conference championship game is going to be played in the home stadium of the No. 1 seed in December. A conference championship game in the Northwest in December -- due to the elements -- is a significant home-field advantage.
And keep in mind: The North teams will still get a Southern California trip every other year. It's possible a feared recruiting advantage won't actually be that significant: If a kid was willing to even entertain the idea of leaving home to go to Oregon State or Washington State in the first place, why would losing a couple of games near his home town drive his ultimate decision?
But here's the biggest reason you shouldn't get too lathered up about how the divisions worked out: It is what it is. It's done.
A bunch of smart people with their own agendas -- Scott, 12 athletic directors and 12 school presidents -- were able to come to accord over this plan. As individuals, you'd think the AD and president at your school care just as much as you do about how things worked out. The presidents claim to have reached a unanimous agreement.
While there will be plenty of grousing about the details going forward, it won't change anything. And, of course, how often is any change greeted with a warm embrace from everyone?
Here's a guess you'll still get just as juiced every Saturday for the games.
Oh, but if Scott doesn't get the TV deal everyone hoped for, then the foundation for widespread grousing will be substantial. This massive change, after all, was driven entirely by money.
So, Commish, now it's time to show everyone the money.
August, 5, 2010
8/05/10
11:00
AM ET
Here's our take on the most painful losses for each Pac-10 team.
Feel free to disagree.
Arizona
Oregon 44, Arizona 41, 2OT, 2009

With "College GameDay" on campus for the first time, Arizona fans stormed the field in celebration. Prematurely. And that set up a red ring of disappointment around the field at packed Arizona Stadium, when Jeremiah Masoli rallied the Ducks late for a tie in regulation and then a win in double-overtime. As it turned out, if the Wildcats had won, they would have gone to the school's first Rose Bowl. Masoli tied the game at 31-31 with an 8-yard touchdown pass to Ed Dickson with six seconds left, capping a 15-play, 80-yard drive. Two plays before, he had converted an 8-yard pass on fourth-and-5. Masoli scored the game winner from 1-yard out in the second overtime. It was his sixth touchdown of the night -- three passing and three running. It may have been the best game of 2009.
Arizona State
Ohio State 20, Arizona State 17, Rose Bowl, 1997

So close to a national championship. The Sun Devils' 11-0 regular season included a 19-0 victory over defending national champion Nebraska, and they looked poised to win in Pasadena when Jake Plummer, on third-and-11, scrambled for a touchdown and 17-14 lead with 1:40 to play. But the Buckeyes weren't done. They drove 65 yards for the winning score, with David Boston hauling in a touchdown pass from five yards out with 19 seconds left. That pass was thrown by Ohio State's backup quarterback, Joe Germaine, who came off the bench to earn game MVP honors. Germaine was born and raised in Arizona and grew up rooting for ASU but opted to go to Ohio State because the Sun Devils coaches wanted him to play defensive back.
California
USC 23, California 17, 2004

Cal dominated the best USC team of the Pete Carroll era -- the Bears outgained the Trojans 424 yards to 205 -- but a comeback attempt fell short at the end. It was the Bears only regular season loss, despite quarterback Aaron Rodgers tying an NCAA record by completing 23 consecutive passes. Rodgers was nearly perfect until three throws missed from the USC 14-yard line in the final minute. Cal was undone by poor special teams play and three turnovers (versus one from USC). Making the defeat even more bitter: After a lobbying effort from Texas coach Mack Brown, the Longhorns eclipsed the Bears in the BCS standings and played in the Rose Bowl, which relegated Cal, which hadn't played in the Rose Bowl since 1959, to the Holiday Bowl, where they played without passion in an upset lost to Texas Tech.
Oregon
Arizona 34, Oregon 24, 2007

It's hard to decide between the 49-42 loss to Stanford in 2001 -- the Ducks lone defeat that season -- or this one (the 2000 Civil War defeat also deserves note). The Stanford loss -- after leading 42-28 -- ended a 23-game winning streak and was the Ducks first home loss in four years. It also cost the Ducks a shot at the national title against Miami. At Arizona in 2007 on Thursday night on ESPN, the 8-1 Ducks were ranked No. 2 and quarterback Dennis Dixon was the Heisman Trophy frontrunner. They led 8-7 and were driving when Dixon blew out his knee (he'd first hurt it 12 days before versus Arizona State). Things mostly fell apart from there, in the game and over the final two games of the regular season. Here's the distinction: 2001 and its final No. 2 ranking still rate as the best season in program history. If Oregon had beaten Stanford, however, it would have played Miami in the Rose Bowl, the BCS title game, and that Hurricanes team was, well, awesome (in the real sense of the word). If the 2007 Ducks had won out and played LSU or Ohio State for the national title, their chances would have been very good to win the program's first national title. Instead, the season ended in major disappointment -- the Sun Bowl -- and an overwhelming sense of what might have been.
January, 20, 2010
1/20/10
11:47
AM ET
Lots of extraordinary games to choose from, as well as many ways to ascribe greatness: the size of the stage, the competitiveness of the game and the overall strangeness.

And we made the executive decision not to make this a list of USC upset losses -- other than the biggest one of those.

10. Oregon 56, Arizona State 55 (2 OT), 2000: Many of you are drawing a blank, but the ones who saw this one are jumping out of their chairs and going, "Oh man. That one was nuts." Both teams scored 21 points in the fourth quarter. The teams combined for 1,228 yards, 663 of those for the Sun Devils. Ducks quarterback Joey Harrington threw six -- SIX! -- touchdown passes, including three in the fourth quarter, the last of which tied the score with 27 seconds left after the Sun Devils gave away a critical fumble. Arizona State freshman QB Jeff Krohn threw five TD passes, by the way. ASU lost the game when coach Bruce Snyder decided to fake the extra point and go for the two-point conversion in the second overtime. It failed, leaving fans in Tempe stunned.

9. Washington State 30, USC 27 (OT), 2002: Any of you Cougars fans able to muster the memory of kicker Drew Dunning's slide on his knees at Martin Stadium? Dunning sent the game into overtime with a 35-yard field goal and then made the game-winner from the same distance in a victory that was critical to the Cougars' run to the Rose Bowl. The game featured a brilliant quarterback duel between Carson Palmer and Jason Gesser -- Gesser passed for 315 yards, Palmer for 381 -- and a dominant performance from Cougars defensive tackle Rien Long, who went on to win the Outland Trophy. Between this game and the 2006 Rose Bowl, USC lost just once.

8. Oregon 44, Arizona 41 (2 OT), 2009: If Arizona had won this game, we now know the Wildcats would have played in their first Rose Bowl. The Wildcats led 24-14 early in the fourth quarter, but then the game went crazy. With red-clad Arizona fans encircling the field, Ducks quarterback Jeremiah Masoli tied the game in regulation with six seconds left with a touchdown pass to Ed Dickson. Masoli then won it in the second overtime with a 1-yard run. Masoli ran for three TDs and passed for three more.

7. Stanford 24, USC 23, 2007: Greatest upset in Pac-10 history? Maybe. Stanford was a 41-point underdog playing its backup quarterback at No. 2 USC, which had won 35 in a row at home. But Trojans quarterback John David Booty, who foolishly played -- and was allowed to play -- with an injured throwing hand, threw four interceptions, while Stanford's Tavita Pritchard led a clutch, game-winning drive, throwing a 10-yard touchdown pass to Mark Bradford on fourth-and-goal with 49 seconds remaining.

6. Oregon 37, Oregon State 33, 2009: It was the Civil War for the Roses, with the Ducks earning a berth in the Rose Bowl after slipping a game crew of Beavers. While the return of Ducks running back LeGarrette Blount was significant -- he scored a critical touchdown -- the game belonged to redshirt freshman running back LaMichael James, who scored three touchdowns and rushed for 166 yards, and quarterback Jeremiah Masoli, who ran over Beavers safety Lance Mitchell to convert a fourth-and-3 play from the Beavers' 33 with 3:41 left as Oregon ran out the final six minutes with its final drive.

5. California 31, Oregon 24, 2007: Sixth-ranked California, featuring a stellar performance from receiver DeSean Jackson, outlasted No. 11 Oregon in a game between two teams that each would at one point rise to No. 2 during the season, though both ultimately crumbled. The game turned on a strange play as the Ducks were on the cusp of tying the score. With 22 seconds to go, Dennis Dixon found Cameron Colvin near the goal line, but Colvin fumbled trying to reach the ball into the end zone when he was hit by Marcus Ezeff. The loose ball went through the end zone and was ruled a touchback and possession for Cal.

4. Washington 33, Oregon State 30, 2000: It was the greatest game no one saw because of the late, West Coast kickoff at Husky Stadium. And at the time its magnitude wasn't clear. The critical play of the back-and-forth affair happened when Washington defensive tackle Larry Tripplett caught Ken Simonton for a three-yard loss on second-and-1 from the Huskies 26-yard line with 42 seconds left. The Beavers panicked and mistakenly spiked the ball -- they had a time out left -- and then Ryan Cesca missed a 46-yard field goal to tie. It was the Beavers only loss of the season; they crushed Notre Dame in the Fiesta Bowl. They would have played Oklahoma for the national title if they had prevailed. And the win helped the Huskies win the Rose Bowl tiebreaker.

3. USC 23, California 17, 2004: No. 7 California had a first-and-goal on top-ranked USC's 9-yard line with under two minutes left. At that point, Cal quarterback Aaron Rodgers had completed 29 of 31 for 267 yards and a touchdown. But the Bears couldn't punch it in, with USC registering a sack and forcing three incompletions. It was the closest call of the season for the best team of the USC dynasty.

2. USC 34, Notre Dame 31, 2005: The infamous "Bush Push" game. No. 9 Notre Dame was about to knock off top-ranked rival USC and make Irish coach Charlie Weis a national sensation, but Matt Leinart led a drive for the ages in the waning moments as the Trojans prevailed, scoring the winning points when Leinart got a little extra help from Bush on his second effort on a quarterback sneak.

1. Texas 41, USC 38, 2006 Rose Bowl: Perhaps the great game in college football history, particularly considering that the stakes were a national title for two unbeaten teams and the field was packed with talent and future high draft choices. Vince Young almost single-handedly willed his team to the victory -- he ran for 200 yards and passed for 267 more -- and denied the Trojans a third consecutive national title. USC walked away with a laundry list of "what ifs," but the ultimate result was a 34-game winning streak coming to an end.
August, 17, 2009
8/17/09
9:00
AM ET
Posted by ESPN.com's Ted Miller
My guess is this will be a heck of a conversation starter.
Thou art a villain!
Now and forever!
Who is Public Enemy No. 1 of your program? Who beat you, ruined you, annoyed you?
Here's a list.
But know that we are completely aware of this unavoidable fact: We only observe and speculate. You feel.
If you have additions, gripes or different takes, feel free to respond. We want to know who really gets your goat.
Arizona
Current villain: John Mackovic. Mackovic went 10-19 before getting canned midway through the 2003 season after a player revolt. His prickly and pompous personality didn't go over well in Tucson and he left the program bereft of talent.
All-time villain: Frank Kush. Kush led Arizona State to national prominence and was 16-6 vs. the Wildcats, winning 13 of his final 15 matchups.
Arizona State
Current villain: Joe Germaine. The Ohio State quarterback, who played high school football in Mesa, Ariz., led a last-minute touchdown drive in the 1997 Rose Bowl, denying the previously unbeaten Sun Devils a share of the national title.
All-time villain: Kevin Rutledge. The former Sun Devils punter accused legendary coach Frank Kush of punching and harassing him and in 1979 sued the school for $1.1 million, which directly led to Kush's midseason termination.
California
Current villain: Mack Brown. The Texas coach vociferously -- and with little justification -- lobbied to be promoted in the national polls past California so the Longhorns could earn a BCS bowl berth. A number of voters listened, changed their voting patterns and denied the Bears their first Rose Bowl invitation since 1959. Dispirited, Cal sleepwalked through a Holiday Bowl loss to Texas Tech.
All-time villain: Tyrone Willingham. Willingham? Well, while Stanford's coach from 1995-2001, Willingham went 7-0 in Big Games. How can that not be incredibly annoying to Cal fans, even more so today, considering the trajectory of Willingham's coaching career?
Oregon
Current villain: Dennis Dixon's ACL. Dixon looked like he was on his way to the Heisman Trophy and his Ducks to the national title game when his knee gave way with four games remaining in the 2007 season.
All-time villain: Washington. The hate between the schools started in 1948 when Washington broke ranks with the Northwest schools and voted California into the Rose Bowl instead of Oregon -- and convinced Montana to do the same -- after the Bears and Ducks tied for the best record in the conference.
Oregon State
Current villain: Larry Tripplett. In the 2000 game at Husky Stadium, the Washington defensive tackle caught Ken Simonton for a three-yard loss on second-and-1 from the Huskies 26-yard line with 42 seconds left and Washington leading 33-30. The Beavers mistakenly spiked the ball -- they had a time out left -- and then Ryan Cesca missed a 46-yard field goal to tie. It was the Beavers only loss of the season; they crushed Notre Dame in the Fiesta Bowl. They would have played Oklahoma for the national title if they had prevailed.
All-time villain: 1971-1998. During that 28-year span, the Beavers never posted a winning record. What's more, they averaged just 2.32 wins a season. It's one of the great streaks of consistent losing in college football history.
Stanford
Current villain: Jeff Tedford. Since Tedford took over at California, the Bears have won six of the past seven Big Games.
All-time villain: Kevin Moen. Moen is the Cal player who ran through the Stanford band and knocked over trombone player Gary Tyrrell in the endzone to complete "The Play" in the 1982 Big Game.
UCLA
Current villain: Pete Carroll. Honestly, does this need explanation? He's 7-1 vs. the Bruins since starting USC on its unprecedented run.
All-time villain: Bill Hayhoe. Though the Bruins' classic 1967 showdown with USC is most remembered for O.J. Simpson's 64-yard touchdown run, UCLA fans surely recall that kicker Zenon Andrusyshyn missed three field-goal attempts and an extra point in the 21-20 defeat. The 6-foot-8 Hayhoe blocked two of those field goals and the PAT. The Bruins entered the game ranked No. 1 and the defeat cost them a shot at the Rose Bowl and the national championship. USC went on the win both.
USC
Current villain: The BCS. Who knows how many national titles USC would have won during Pete Carroll's tenure had a playoff been in place. Certainly more than two. Maybe as many as five. Moreover, the BCS has kept the Trojans out of the "national title" game a number of times, which has been a great boon to the SEC, which hasn't had to prove itself vs. the Trojans.
All-time villain: Lou Holtz. Holtz went 9-2 vs. USC while Notre Dame's coach, including the 1988 game when the unbeaten and No. 1-ranked Fighting Irish whipped unbeaten No. 2-ranked USC 27-10 in the Coliseum. The Trojans then lost the Rose Bowl to Michigan, while Notre Dame went on to win the national title. Ouch.
Washington
Current villain: Tyrone Willingham. Tough call here between Willingham and Rick Neuheisel as to who Huskies fans blame the most for the program's current state. But our guess is memories of Neuheisel's victory in the 2001 Rose Bowl earns him a break, while the Willingham-led 0-12 disaster is still very, very fresh.
All-time villain: William Gerberding. While school president, he alienated highly respected and successful athletic director Mike Lude and then -- the whopper -- enraged revered football coach Don James, who resigned in 1993 because he felt Gerberding mishandled an NCAA and Pac-10 investigation into the football program. Gerberding also hired Barbara Hedges, whose leadership is often cited as the point A for the football program's downturn as well as the current sorry state of Husky Stadium.
Washington State
Current villain: Bill Doba. Nicest guy in the world. Did a great job as Mike Price's defensive coordinator. Led a winning effort against Texas in the 2003 Holiday Bowl. But the lack of talent on the Washington State roster in 2008 and at present falls almost entirely on him.
All-time villain: Rick Neuheisel. While Don James led a period of Washington dominance in the Apple Cup rivalry -- he was 13-5 vs. the Cougars -- there was always a grudging respect for James. Not so for Neuheisel, who went 4-0 vs. the Cougars and was reviled in Pullman. The unranked Huskies triple-overtime victory over the then-third-ranked Cougars in 2002 ended with Washington State fans littering the field with bottles and other trash.
June, 19, 2009
6/19/09
10:06
AM ET
Posted by ESPN.com's Ted Miller
The new United Football League held its first draft Thursday night, and number of familiar Pac-10 names got called.
According to the Web site, "Each team selected 24 players and now owns the rights to these players if they chose to play in the United Football League. The UFL has already begun contacting the players listed below and expect to announce signings over the next few weeks."
Here is a list of the former Pac-10 players who were picked:
UFL Draft
Las Vegas
B Adam Archuleta (Arizona State)
P Danny Baugher (Arizona)
DB Wale Dada (Washington State)
RB Ronnie Palmer (Arizona)
DB Chaz Williams (Oregon)
RB Terrence Whitehead (Oregon)
New York
DB Trey Brown (UCLA)
DB David Lofton (Stanford)
Orlando
NT Rien Long (Washington State)
NT Larry Tripplett (Washington)
San Francisco

RB Darrell Hutsona (Washington State)
May, 22, 2009
5/22/09
6:27
PM ET
Posted by ESPN.com's Ted Miller
Happy Friday...
To your letters.
King from San Diego writes: Given the controversy caused by the differences in conference scheduling, shouldn't the NCAA require all conferences to either do a round robin schedule like the Pac-10 or a division setup with a Conference Championship game at years end like the SEC, Big 12 and ACC?
Ted Miller: The NCAA doesn't have that sort of control over FBS football. It really only does rules enforcement. The BCS and the bowl games operate outside the NCAA, and the conferences mostly make their own decisions about divisions and schedules.
Moreover, round-robin schedules wouldn't work for 12-team conferences and splitting up into divisions doesn't make much sense for the Pac-10 or eight-team Big East.
I understand your sentiments. You want standardization. But I don't foresee that happening any time soon.
---
Jorge from Chambersburg, Pa., writes: I recently read an article on Tim Tebow and it made me think about his tremendous leadership. This, sadly, reminded me of Vince Young, his great leadership, and how far these two had taken their teams. Who will be the Trojan's leader (on offense) or will Taylor Mays be the leader for both sides of the ball? Will the new leader match Mark Sanchez's fire?
Ted Miller: There are plenty of candidates -- there are veterans at every spot on offense, other than quarterback. The offensive line is a good place to start, most particularly guys like multiyear starters Jeff Byers, Kristofer O'Dowd and Charles Brown.
But a quarterback has to be a leader. That will be a critical part of Aaron Corp's offseason -- convincing his teammates that he's the guy to follow into battle.
---
Michael from Tucson writes: Why no love for Arizona. Class is out and we're killing for news from the desert. But other then some features on a particular player there's nothing coming out. The team is barely making it into the lunch links more then once a week! What up in Tucson??? Why no love?
Ted Miller: Well, Arizona started and finished spring practices first. There's not a lot going on over there.
Moreover, you should probably be happy you aren't reading much about the Wildcats -- the softball team is getting all the headlines at present. If you were reading a lot of football stories right now, they would likely be bad news -- suspensions, transfers, off-field problems, etc.
Moreover, all our recent posts -- spring reviews -- have had Wildcats tidbits, and this story was about defensive end Brooks Reed.
---
Scott from Rochester, Minn., writes: Ted, really really disappointed in your answer to the guy from NYC about arguing the PAC 10 is better than SEC. Seriously man, there are enough people who speak without thinking you are supposed to be on our side. I am tired of the ass kissing everyone does for the SEC.
Ted Miller: Hey, the SEC is the nation's best conference, on average, over the past decade. While that can't be stated as fact, there's plenty of anecdotal and circumstantial evidence -- starting with number of different teams that have won national championships -- to support that idea.
My major contentions in this conference strength debate -- tiresome at times, but also catnip for passionate fans -- have been twofold: 1. USC is the best program in college football. If the Trojans had played in the SEC since 2002, they would have dominated and probably won three or four national titles; 2. The difference between the Pac-10 and SEC -- and Big 12 and Big Ten and everyone else -- isn't nearly as large as SEC adherents and many national commentators claim it is.
For example: Oregon would have been the second-best team in the SEC last year and California and Oregon State would have been in the top-five.
---
Kenny from Corvallis writes: Ted- I'd like it if you would give me an honest (not sugar coated) assessment of the Oregon State program, and its possibilities. I understand that is is going to be difficult given the size of the program to consistently win 10 games a year and became a major player. I also believe that a reason Mike Riley's underrated recruiting classes work is because that Pac-10 has been down of late, but once the Washingtons and UCLAs of the conference pick up steam, that he is going to have to get better athletes, plain and simple. What are your thoughts?
Ted Miller: Kenny, are you trying to get me into trouble?
Well, Oregon State's best team (2000) was put together when both Washington and Oregon were up. And recall that team was a nail-biting game at Washington away -- what if someone had blocked Larry Tripplett on that play! -- from being undefeated and playing for the FREAKING NATIONAL CHAMPIONSHIP!
I think Mike Riley has something going in Corvallis. A down season will be around .500. The program will regularly win seven, eight or nine games. And every so often they will be in the running for a BCS bowl berth.
I don't think UCLA or Washington rising will damage the Beavers that much.
---
Bearcatvol from Dalton, Ga., writes: Ted, Loved the roadtrip list but it seems like you missed an amazing potential double header football day. September 19th- Utah (Sugar Bowl) at Oregon and Cincinnati (Orange Bowl) at Oregon State. If TV works the right kickoff times you could easily attend both games and they would be very good non-conference clashes.... all within an hour and 20 minute drive of each other. I'm coming across country for it, hope I get both games in.
Ted Miller: That is a good one. Can you bring me some carpet when you come to the West Coast? (Inside joke about Dalton, Ga., from an Atlanta native.)
That's also a huge twin-bill for the Pac-10, considering both are revenge matchups that the Beavers and Ducks previously lost.
---
Nate from Pleasanton, Calif., writes: Obviously there has not been much success with Stanford's passing game in recent years but with Andrew Luck primed to be a starter and with the receiving corps improving since the loss of Mark Bradford and Evan Moore, could this be the year were a powerful combination of Stanford's rushing game and passing game push them into the upper part of the Pac-10 and possibly into a bowl game?
Ted Miller: How upper?
My guess is Stanford earns a bowl berth this season. And I wouldn't be surprised if the Cardinal challenge for a spot in the top-half of the conference, though they may still be a year or two away.
By the time Luck is a senior and coach Jim Harbaugh's stellar recruiting settles in? Things could get interesting.
---
Michael from Parts Unknown writes: There is quite a bit of optimism and expectation for Arizona going into next season. I'm not so convinced. While I can certainly see the team winning eight or games because of the softer schedule, given the number of starters they have to replace on defense while also losing the heart and soul of the offense (i.e. Tuitama, Britton, Thomas), I can just easily see the Wildcats losing as many eight games in 2009. Thoughts? As a followup, I'm wondering what happens to Stoops if the latter scenario plays out considering the recent contract extension.
Ted Miller: Hey, nothing shocks me in the Pac-10.
At least not since USC lost at home to Stanford.
I'd be surprised if the Wildcats tumble. Mike Stoops has collected some good talent and I think he's transformed the culture in a positive way.
But if things did go south, and Arizona went 4-8, well, the hot-seat talk would begin anew. That's just the way it is in big-time college coaching.
---
Dan from Eugene, Ore., writes: Can you elaborate on why Oregon's offensive line is such a big issue? None of your previous postings have convinced me that this is true.
Ted Miller: The Ducks lost three multiyear starters from their dominant offensive lines of 2008 and 2009. Two of whom -- center Max Unger and tackle Fenuki Tupou -- were drafted. The third, 26-game starter Mark Lewis, signed a free-agent deal with Miami.
They were the Ducks' three best linemen in 2008. By far.
The returning players with experience who are expected to fill four of five starting spots -- Bo Thran, C.E. Kaiser, Jordan Holmes and Mark Asper -- have combined for 19 starts.
The fifth spot is currently manned by Carson York, who's a redshirt freshman.
Thran and Kaiser missed spring due to injuries.
Without those two, the line often looked overwhelmed this spring by a defensive line that also is replacing three starters.
In a previous mailbag, I noted that the Ducks' issues up front aren't as worrisome as they might seem -- they've got four guys back with starting experience and line coach Steve Greatwood is first-rate.
But any Ducks fans who tells you he's not worried at least a little bit is working the fan spin pretty hard.