August, 15, 2012
8/15/12
4:30
PM ET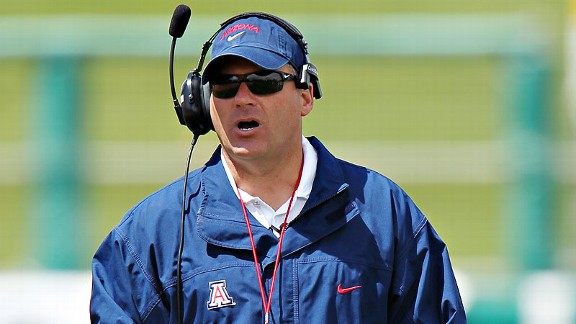 Chris Coduto/Icon SMICoaches around the country have implemented parts of Rich Rodriguez's hurry-up spread offense.
Here's an interesting story from Andrea Adelson about "
copycat coaches
." It's interesting not only because it's a good topic but also, for our purposes, because its central figure is new Arizona coach Rich Rodriguez, arguably the father of the modern day, run-first spread-option attack.
Andrea sent over the Q&A she did with Rodriguez, which we're going to publish in its entirety. It includes lots of background on Rodriguez and his innovative offense, which has been copied by a lot of folks -- yes, including that guy up in Eugene.
Thanks to Andrea for doing all the legwork and writing a nice story.
When was the first time you had coaches asking for pointers on your offense?
Rich Rodriguez
: When we went to Tulane, the second year we had a good year, with Shaun King. Then you had some games on TV, and that was the first time after that season that a lot of coaches started coming and visiting and calling. We beat BYU in a bowl game, and Lavell [Edwards] was the head coach, Norm Chow the offensive coordinator. So after the game, they said, 'Would you come over and talk some football with us? I'm thinking are you kidding me? This is Norm Chow and Lavell Edwards, the passing gurus. I said I'll do it on one condition. You have to give me some of your information, too. You have to teach me what you're doing. Norm and I have been friends since that time. It was a great trip.
What was your connection with Tommy Bowden at Tulane?
RR
: At Glenville, I went to the Bowden Passing Academy and I always talked football. Tommy had taken an interest in what we were doing. We never worked together when he called me to be offensive coordinator. It was really flattering. I asked, 'Will you let me run my offense?' He said sure. Tommy was the first big name, big coach, who took an interest in what we were doing. When we went to Tulane, there were a few folks. At Clemson, we saw a few more. Then at West Virginia, it wasn't as good the first year we were there, but after that it took off again. I can remember Urban [Meyer], when he first got the Bowling Green job, we were at a coaches convention hospitality bar. He told me, 'I'd like to run some of your offense.' So he sent his whole staff for a week, we traded some ideas and so we always traded ideas. The Oklahoma guys, Bob Stoops and I became friends. They would come to our place or we'd go to Oklahoma and spend the week. After the Sugar Bowl year in the 2005 season, we had a whole bunch more. Some 30 different staffs come in, Penn State, Ohio State some non-traditional non-spread coaching staffs. I said maybe I am being too open, but I thought it was a great opportunity for us to learn, too. To pick their brains.
June, 1, 2012
6/01/12
7:00
PM ET
Every game counts. But some games count more. Or tell us more.
We're going through the Pac-12 and picking out one game that seems most important -- or potentially most revealing -- for each team from our vantage point today.
We're going in alphabetical order.

Washington State
Most important game
: Aug. 30 at BYU
Why it's important
: We close out this series with a question: Just how much of an impact is Mike Leach going to have in his first year?
The early returns are extremely favorable. Having spoken with several players and coaches from Washington State in the last few months, there is definitely a renewed sense of excitement surrounding the Cougars. The belief is that of the four new coaches in the conference, Leach is going to have the biggest, most immediate impact. And given some of the players he has at his disposal, it's tough to argue.
A national TV audience will find out that Thursday night. It seems like quarterback
Jeff Tuel
has picked up the offense very quickly and that chemistry is flowing with his receivers. That's what this offense is all about. And like many, I'm excited to see it in action.
So why this game over the Apple Cup (which was my original pick until I talked to some folks at WSU who insisted this is the game to choose)? First, there is the national TV aspect. Any national exposure is good for recruiting. Second, Leach has said so much of his football philosophy was
nurtured during his time as a student at BYU
watching the LaVell Edwards teams. This game is obviously very personal to him. Third, a quality road victory to open the season does wonders for a team's confidence.
A victory over BYU would set the Cougars up nicely for the next few weeks -- home to Eastern Washington, at UNLV and then home to Colorado -- before meeting Oregon in Seattle on Sept. 29. A 4-0 start is more likely than not for this team which should be oozing confidence by the time it faces the North Division favorites.
February, 23, 2012
2/23/12
7:00
PM ET
It's a rare moment when Mike Leach is asked a question about quarterbacking and he doesn't know the answer.
Ask him who was the best he ever worked with and he'll rattle off four or five names. Ask him about the origins of his philosophy and he'll go into detail about the wishbone roots and his days as a student at BYU. Ask him what he looks for in a quarterback and he'll hammer on how accuracy and decision-making are the primary characteristics.
[+] Enlarge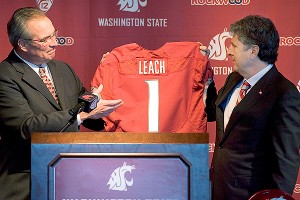 AP Photo/Dean HareMike Leach will lead a Washington State offense that finished ninth nationally in passing in 2011.
But ask him about the current quarterback competition at Washington State, and suddenly he's grasping for a response.
"I wish I could answer that," Leach said. "I know that question might be rolling around some other people's heads. But trust me, it's not rolling around in their head as much as it's been mine ... I'll be able to answer that better after about three days out there."
As the Cougars head into spring football next month with their new head coach, all eyes will be on the competition between veteran
Jeff Tuel
and upstart
Connor Halliday
. The winner of the job is destined for big numbers and a sore arm. No quarterback in the history of NCAA football attempted more passes in a season than B.J. Symons when Leach was his coach at Texas Tech. No player threw more times over a two- and three-year period than Graham Harrell when he played for Leach. Look at the NCAA record book for passing and it's littered with Texas Tech quarterbacks from their time with Leach.
Now Leach is bringing his style to Washington State -- a team that ranked ninth nationally in passing offense last season. Tuel and Halliday each enter the spring coming off of significant injuries. Tuel suffered a broken clavicle in the season opener last year and saw action in just two other games. Halliday appeared in four games before suffering a lacerated liver in a gutty loss to Utah.
"We'll split the reps with both of them," said Leach, whose job title also includes offensive coordinator and quarterbacks coach. "They both throw pretty good balls. Connor is pretty accurate. Jeff has real good feet and Connor's aren't bad. They are both tall guys. I'm excited to work with both of them."
And if you are a quarterback, it's hard not to be excited about the prospect of learning from Leach. It might come as a surprise to hear that Leach's offense grew out of the run-oriented wishbone. But when he breaks it down to the simplest form, it makes perfect sense.
"I know it sounds strange that it came from the wishbone and everybody says we're different because they run and we throw," Leach said. "Well, we're not that different. Both of our offenses value, first and foremost, distribution. Making sure all of our skill positions touch the ball. You want to attack space. The wishbone does a pretty good job at that."
And so do Leach's offenses -- which more often than not ranked first nationally in the pass during his time at Texas Tech. You need guys to haul it in, but it all starts with the quarterback.
"When I evaluate a quarterback, I look at if he makes good decisions and if he's accurate," Leach said. "And I don't compromise those two things, no matter what. I won't recruit a guy unless he can do those two things. That's the very minimum. And I think too often people do compromise those.
"I think it's very difficult-to-impossible to take a guy that is not accurate and make him accurate. You can improve accuracy, but you can't take a guy -- at least that I've seen -- take a guy who is not accurate and make him accurate. People say 'this guy is big and fast and all you have to do is work on his accuracy.' I say 'good luck,' because I don't see that happening."
While the schematic concepts of Leach's style derive from the wishbone, his philosophical approach to the game was borne out of his time as a student at BYU -- an era he calls the Golden Age of BYU football under LaVell Edwards' pass-happy offense.
"That was the single biggest influence," Leach said. " ... It was a great time to be there and it had a big influence on me. I've always credited LaVell and his group for having a major impact on me. He's what inspires a lot of us to coach and you hope you can stack up on some level with him when you finish your body of work. Very few people ever have. He's one of the bench marks and role models for all coaches."
January, 13, 2011
1/13/11
10:34
AM ET
By
ESPN.com staff
| ESPN.com
The odd and uncomfortable tango between UCLA coach Rick Neuheisel and offensive coordinator Norm Chow may be at an end.
It appears
that Chow is out in Westwood, and San Francisco 49ers assistant Mike Johnson is in. Further, Chow is talking to Utah about a job, the
Salt Lake Tribune reports
.
[+] Enlarge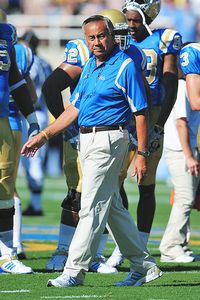 Chris Williams/Icon SMINorm Chow appears to be on the way out at UCLA.
So, if you are keeping score, the problems with Chow came to a head when Neuheisel wanted to change to a pistol offense this season. Now Neuheisel is dumping Chow and going with an NFL coach who isn't a pistol guy either. Whither the pistol? And Chow may be headed back to the archrival of the school (BYU) where he built his reputation as an offensive guru, a program he left because he wasn't going to replace LaVell Edwards in 2000.
Moreover, Chow could end up at an incoming Pac-12 school that presently has two offensive co-coordinators. Complicated!
UCLA is at Utah on Nov. 12, by the way.
And, by the way take II, UCLA is confirming nothing. Calls to Chow and Neuheisel on Wednesday were not returned.
Johnson and Neuheisel worked together with the Baltimore Ravens, and Johnson was a backup quarterback at Arizona State in the mid-1980s before transferring. He's also coached at Oregon State.
Part of the complication here is money. As the
Orange County Register notes
, "Hiring Johnson could be expensive. Chow and Neuheisel agreed to two-year contract extension last summer that includes a payout worth about $1 million."
That
leaves open the option
, though it sounds uncomfortable to the point of unworkable, of Chow remaining on staff as the QB coach working under Johnson and Neuheisel.
Neuheisel also has to hire a new defensive coordinator, and two top candidates are likely off his list: Rocky Long, who was Brady Hoke's defensive coordinator at San Diego State this season, was promoted to Aztecs head coach after Hoke bolted for Michigan. Vic Fangio, Stanford's defensive coordinator this season, has a number of coaching options that appear more promising and lucrative than a job at UCLA.
Chow also may have some options at San Diego State with Long.
Neuheisel enters the 2011 season on the hot seat after producing a second 4-8 finish in three seasons. When he was hired in 2008, his coaching staff, with Chow and defensive coordinator DeWayne Walker, was seen as a major coup for the program. As the
L.A. Times said
:
Chow was considered a coup for the Bruins when he was hired in 2008. UCLA immediately began selling Neuheisel, Chow and defensive coordinator DeWayne Walker as the trio that would bring an end to USC's dominance in football and make the Bruins a power. The three were introduced in a coming-out ceremony during a UCLA basketball game in January 2008.

Only Neuheisel remains, and the Bruins are 15-22 in his three seasons.

UCLA made little effort to retain Walker, who left to become the head coach at New Mexico State after the 2008 season. Chow became the focal point of frustration by some high-end boosters after the Bruins finished this past season by losing six of their last seven games.
Some more background from Jon Gold of the
LA Daily News here
.
At this point, it's fair to say this "super-staff" was pushed on Neuheisel when he was hired. Things didn't work out, and Neuheisel's own job security is now at stake. So Neuheisel is trying to put together a staff of his own making, one that he trusts. A bit late in the game? Maybe. Hard not to see desperation in the moves, but it also seems that Neuheisel has decided that if he goes down, he's going to go down swinging.
There is probably a lesson in here for head-coaching candidates in the future, don't you think?