November, 6, 2011
11/06/11
10:58
AM ET
If you needed any more proof that Oregon's visit to Stanford is big, ESPN's College GameDay provided it by deciding to make its
first trip to the Farm
.
Oregon, ranked eighth in last week's BCS standings, is 8-1 and has won 18 conference games in a row. The Ducks lone loss came in the opener against No. 1 LSU. Stanford, ranked fourth in last week's BCS standings, is 9-0 has won 17 in a row, the nation's longest winning streak.
Yes, it's big.
This will be the fourth time this season Chris Fowler, Kirk Herbstreit, Lee Corso, Desmond Howard and Erin Andrews have been at a Pac-12 game. "GameDay" was at the season opener between Oregon and LSU, at Oregon for the Ducks' matchup with Arizona State and at USC for the Trojans game with Stanford.
October, 23, 2011
10/23/11
11:57
AM ET
ESPN's "College GameDay" is heading to LA for Stanford's visit to USC.

This will be the third time this season Chris Fowler, Kirk Herbstreit, Lee Corso, Desmond Howard and Erin Andrews have been at a Pac-12 game. "GameDay" was at the season opener between Oregon and LSU, and it was at Oregon for the Ducks' matchup with Arizona State.

This will be "GameDay's" first trip to LA since Oct. 30 of last year (Oregon at USC).
October, 9, 2011
10/09/11
11:59
AM ET
Lee Corso, Chris Fowler, Kirk Herbstreit and
ESPN GameDay
are headed back to Eugene for Arizona State's visit to Oregon.
This will be GameDay's sixth trip to Oregon. The Ducks are 4-1 in the five previous games.
The game kicks off at 10:15 p.m. ET.
Oregon was ranked ninth before it beat California 43-15 on Thursday. Arizona State was 22nd before beating Utah 35-14.
September, 5, 2010
9/05/10
12:50
AM ET
ARLINGTON, Texas -- TCU pushed Oregon State around inside palatial Cowboys Stadium. No getting around that. The sixth-ranked Horned Frogs rushed for 278 yards, which is more than the Beavers 255 total yards. Oregon State ran just 51 plays; TCU 81.
"Still," the glum head shakes from the Beavers said afterwards. They had the ball and a chance with plenty of time left in the fourth quarter, but they made their biggest error of the evening. A miscommunication on a shotgun snap from senior center Alex Linnenkohl to sophomore quarterback
Ryan Katz
, who was making his first career start, sailed over a surprised Katz's shoulder, which forced Katz to kick the ball through the end zone for a safety.
Those would be the final points -- and the last time the Beavers touched the ball -- in a
30-21 defeat
.
[+] Enlarge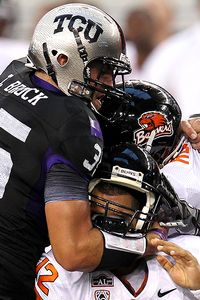 Ronald Martinez/Getty ImagesRyan Katz and the Oregon State offense had a tough time with TCU's defense.
"I'm disappointed that we didn't give ourselves a chance on the drive at the end," Beavers coach Mike Riley said.
What happened was this: Oregon State, down seven, had a first down on its 18-yard line. A draw play was called. Katz saw something he didn't like. He tried to change the play. Linnenkohl didn't get the message and snapped the ball.
The Horned Frogs got two points and the ball and they didn't give it back.
"The safety was a big deal," TCU coach Gary Patterson said. "You go up by nine and you play the game a lot different."
The biggest deal was TCU's running game and the Beavers lack of one. While
Jacquizz Rodgers
gained a tough 75 yards on 18 carries, the Beavers finished with just 73 yards on the ground. Three TCU runners gained at least 64 yards, topped by
Ed Wesley
with 134 on just 17 carries, which works out to a crisp 7.9 per rush.
Suffice it to say, the Horned Frogs option worked even though the Beavers knew it was coming.
"We just couldn't get off a block to make a play," Riley said.
Oregon State was still in the game in the fourth because of two interceptions of TCU quarterback
Andy Dalton
-- one by Lance Mitchell and the other by Dwight Roberson -- and a well-executed fake punt that netted 23 yards on a fourth-and-1. The fake punt set up the second of Katz's two touchdown passes, which gave the Beavers a 14-7 lead in the second quarter.
Katz made some nice throws -- his TDs covered 30 and 34 yards -- but he only completed 9 of 25 passes for 159 yards. Nonetheless, it was a solid first start on the road. He didn't throw an interception and was mistake-free until the muddled shotgun snap.
The only plus coming from that play was Katz taking responsibility for the miscue, just like a veteran quarterback would.
"We should have just stayed with the [called] play," he said. "That's on me."
Riley agreed, by the way: "He didn't have to get out of it."
As for TCU, it got another win over a BCS conference foe. In the constant fight for respect, this was another notch on the musket. Seeing that the Horned Frogs are 14-3 in their past 17 games against teams from BCS automatic-qualifying conferences, they might need another musket.
"The national spotlight and national attention I think will pick up," Dalton said. "I think a lot of people will watch the game tonight and see how we play football."
One thing is for sure: TCU still enjoys seeing itself as an underdog. It didn't escape detection that ESPN GameDay analyst Lee Corso picked the Frogs to go down by "three touchdowns."
"I did text [Corso]," Patterson said. "You guys thought that was a bogus text. That was me. I asked Chris Fowler, 'Lee: Three touchdowns?'"
Big week for the Mountain West Conference, too. Utah beat Pittsburgh, the Big East favorite, on Thursday, and BYU's win over Washington -- along with Oregon's 72-0 win over New Mexico -- gave the conference a 2-1 Saturday vs. the Pac-10. Why is the conference in turmoil when it's so darn good?
Perhaps the most disappointed Beavers were the Rodgers brothers, who were playing their first -- and likely only -- game together in the state of Texas. Both turned in solid performances --
James Rodgers
caught four passes for 75 yards and a TD -- but both only saw what they didn't do.
"We left a lot of plays out there," James Rodgers said.
For both programs, this big stage was an opportunity. Both are nationally respected -- see national rankings -- but both want to take the next step. TCU knows only perfection will get it into the national championship conversation -- or even BCS bowl contention -- while the Beavers want to climb toward the top-10 while they make a run at their first Rose Bowl since 1965.
For TCU, mission accomplished. For Oregon State, it's another nonconference loss to start the season, which fits into a pattern: The Beavers started 2-3 in 2006, 2007 and 2008 and 2-2 in 2009.
Of course, if any team knows that an early loss doesn't end the season, it's the Beavers.
"It's very frustrating, but we can't let that get to us," James Rodgers said. "We've got 11 more games."
That's 11 more games, including a date with Boise State on Sept. 25, in which to make a statement.
But on this night, TCU made the statement: Count us in the mix in the national championship chase.
July, 21, 2010
7/21/10
12:58
PM ET
Eighth in a series looking at potential dream and nightmare scenarios for all Pac-10 teams, starting at the bottom and working up from my vote in the Pac-10 media poll.
Understand: These are not predictions. They are extreme scenarios and pieces of fiction.
Up next:
Oregon State
Best case
TCU coach Gary Patterson looks at the scoreboard and shakes his head.
"We were lucky to win this one," he says. "Very lucky. That's a very good team and they pushed us around."
Nonetheless, a 24-23 loss doesn't offer Oregon State much consolation, even if it comes against the nation's No. 7 team. The Beavers outgain the Horned Frogs 435 yards to 305, but three turnovers -- two off tipped passes in TCU territory -- and a missed extra point explain the final tally.
Jacquizz Rodgers
' 135 yards rushing and 65 yards receiving and two TDs are only a footnote.
After a week off, the Beavers take out their frustration on overmatched Louisville. QB
Ryan Katz
throws two TD passes-- one to each Rodgers brother -- and Jacquizz rushes for 188 yards.
Up next: a visit to No.3 Boise State.
"We have a chance to do something special here and really get everything back from that tough loss to TCU," coach Mike Riley says.
That's exactly what the Beavers do. With the Broncos forced to double-team defensive tackle Stephen Paea inside, end Gabe Miller sacks
Kellen Moore
three times. The Broncos are unable to run the ball consistently, and the constant pressure gets to Moore, who's uncharacteristically off-target. Meanwhile, Katz plays a mistake-free game, distributing the ball to the Rodgers brothers and breaking off a handful of backbreaking first-down scrambles.
"[The Rodgers brothers] are the two most dangerous players in college football," Katz says afterwards "They make it easy for me. Jacquizz should win the Heisman, but what they really should do is give it to both of them."
What ensues is a six-game winning streak. The Beavers, at 8-1, ascend to No. 6 in the national rankings. With unbeaten, third-ranked USC coming to town, ESPN's "College GameDay" makes its first trip to Corvallis.
"I know Jacquizz Rodgers is the odds-on favorite to win the Heisman Trophy at this point," GameDay's Chris Fowler says. "But isn't the bigger story that they may be the best brothers combination on the same team in college football history?"
Replies Lee Corso, "It probably won't happen, but wouldn't it be neat if they both were invited to New York for the Heisman Trophy ceremony?"
The Trojans jump ahead 14-0 in the first half, with
Matt Barkley
connecting on two long TD passes to
Ronald Johnson
and the defense bottling up the Rodgers brothers until Jacquizz slips away for a 56-yard scoring run just before the break. A 23-yard toss from Katz to
James Rodgers
ties the score in the third, but the Trojans retake the lead early in the fourth when
Allen Bradford
bursts in from 2-yards out.
Heisman Trophy winners typically produce a signature highlight. Jacquizz Rodgers already has potential candidates for that, but none more spectacular than the screen pass he transforms into a 62-yard, game-tying score with 1:10 left.
The only problem is Johnson silences the euphoric Reser Stadium crowd with a 65-yard kick off return to the Beavers 35-yard line. Three plays later, with five seconds left, Jacob Harfman boots the game-winner from 44 yards.
"This was a tough one," Riley says. "But we've still got a lot to play for. We've got to get re-focused quickly because if we don't Stanford is going to kick our butts."
The Rose Bowl is still up for grabs: The Beavers, Stanford and Oregon only have suffered one conference defeat. After the Beavers dispatch the Cardinal, 30-28, everyone knows the stakes: It's a Civil War for the Roses II.
Riley gathers his players in the locker room.
"Oregon State hasn't been to a Rose Bowl since 1965," he says. "That's going on 46 years. Every person in this stadium knows what's at stake. You carry the hopes of everyone who wears black and orange. Tonight you have an opportunity to make a permanent mark, to be remembered and to create a memory that you will be able to return to fondly for the rest of your lives. But that team over there in that other locker room has an advantage over you. They think they are better than you. They carry that confidence. It's a smirk, isn't it? They are smirking at us in our house. I want you to see that smirk in your mind's eye right now. Hold on to that. If at any moment tonight you start to doubt or start to falter, think of that smirk. Now let's go knock it off their faces."
Speeches don't win football games, though. The game plays out much like the 2009 version. With two minutes left, Oregon leads 27-23 and faces a fourth-and-3 from the Beavers' 33-yard line. Ducks coach Chip Kelly opts to go for it. Quarterback
Nate Costa
drops back and, under pressure from Paea, shovels the ball to
LaMichael James
, who breaks to his right toward the sideline. One yard. Two yards. But at the marker he meets safety Lance Mitchell, who
blasts James backward inches short of the first down
.
Fumble. Keith Pankey recovers at the 50.
On first down, Riley shocks everyone by running a draw play to Rodgers, who bounces outside and is forced out of bounds at the 7-yard line. With just under a minute left, Rodgers gains four yards up the middle. The Beavers use their final timeout. Rodgers goes for two. The Beavers hustle to the line. 11, 10, 9 goes the clock.
Rodgers. Touchdown. Rose Bowl. Pandemonium in Reser Stadium.
With his brother at his side, Rodgers wins the Heisman Trophy. And the Beavers beat Iowa 28-24 in the Rose Bowl and finish 11-2 and ranked fourth.
Worst case
A brutal nonconference schedule sometimes offers opportunity. But playing a pair of top-10 teams ultimately ends up meaning Oregon State is 1-2 heading into conference play.
The Beavers bounce back to beat Arizona State at home, but after consecutive road losses to Arizona and Washington, it becomes clear that sophomore quarterback Ryan Katz is a different player on the road, which is to be expected with a young, first-year starter. Teams crowd the line of scrimmage to stop Jacquizz Rodgers, run bracket coverages on James Rodgers and dare the offense to use other weapons to win. It can't, at least not consistently.
Still, after beating California and Washington State at home and UCLA on the road, the Beavers sit at 5-4 overall and are again in good position to play in a quality bowl game.
But the back-loaded schedule is brutal. USC whips the Beavers 30-17. Stanford quarterback
Andrew Luck
throws four TD passes in a 35-24 win.
A final opportunity for redemption: Oregon and Stanford are tied atop the Pac-10 (USC also has one loss but is ineligible for the postseason). If the Beavers beat Oregon in the Civil War, it will knock the Ducks out of the Rose Bowl.
But LaMichael James, the nation's leading rusher, outshines Jacquizz Rodgers, rushing for 193 yards and three TDs in the Ducks' blowout, 35-17 win.
"I don't get into that comparing myself to Rodgers -- I leave that to the media and fans," James says afterward. "But you guys did see the game, right?"
James wins the Heisman Trophy and the Ducks roll over Ohio State 27-14 in the Rose Bowl.
Beavers offensive coordinator Danny Langsdorf is hired as the head coach at Nevada, while defensive coordinator Mark Banker is hired by Pete Carroll to run the Seattle Seahawks' defense.
Jacquizz Rodgers opts to leave a year early and join his brother in the NFL draft.
November, 21, 2009
11/21/09
6:36
PM ET
TUCSON, Ariz. -- Will the 'Zona Zoo come through? Or will this one produce a Civil War for the ages?
The red-clad, 'Zona Zoo student section started to fill up two hours before the game, and this beautiful evening in the desert should get pretty hectic.
Oregon (8-2, 6-1), ranked 11th in the BCS standings, and Arizona (7-3, 4-2) both control their Rose Bowl destiny. All they have to do is keep winning, starting tonight.
The Ducks enter as the favorite. They own the Pac-10's No. 1 scoring offense and scoring defense. Arizona, meanwhile, slightly smudged the gravity of the matchup when it lost at California last weekend, which knocked it out of the national rankings.
But the Wildcats are a different team at home. They've won 12 of the last 14 in Arizona Stadium and all five games this season.
The buzz certainly was strong. With ESPN's College GameDay in town -- Lee Corso donned the Duck head, much to the consternation of the gathered throng -- the locals have become intoxicated with the smell of roses.
Who can blame them? Arizona is the only Pac-10 program that hasn't played in a Rose Bowl.
Arizona is no slouch statistically, either. It ranks second in the conference in total offense and total defense. It has the offensive balance to keep the Ducks defense honest, particularly with the return of elusive tailback
Nic Grigsby
from a shoulder injury. It has the defensive speed to keep up with the Ducks ludicrous speed spread-option offense.
But does it have the discipline? The Wildcats have lost twice this year -- at Washington and Cal -- due to late fluke plays, but in both cases they allowed the flukes to happen by not asserting themselves in the fourth quarter.
The Wildcats linebackers need to play soundly tonight in order to contain
Jeremiah Masoli
and
LaMichael James
and company. Getting caught out of position can lead to disaster. Just ask USC.
And
Nick Foles
and the offense can't make mistakes and give the Ducks a short field. They need to take advantage of opportunities and score touchdowns instead of field goals when they push into Ducks territory.
As for Oregon, if it prevails, it will play host to rival Oregon State on Dec. 3 with the Rose Bowl as the stakes -- the Civil War winner takes the Pac-10 and heads to Pasadena to play Ohio State.
If Arizona finishes on top, it still must win at Arizona State next weekend and at USC on Dec. 5 to earn the Rose Bowl berth.
In large part, this one acts as a Rose Bowl elimination game.
So the stakes couldn't be much higher.
August, 12, 2009
8/12/09
12:25
PM ET
Posted by ESPN.com's Ted Miller
Ninth in a series looking at potential dream and nightmare scenarios for all Pac-10 teams, starting at the bottom and working up from my vote in the Pac-10 media poll.
Up next: California

Best case
Last year, California running back Jahvid Best blew a technicolor pizza on national television at Maryland. This year, he made the Terrapins nauseous.
In a tour de force performance that announced his Heisman Trophy candidacy like a bolt of lightning, Best rushed for 195 yards and two touchdowns and caught three passes for 105 yards and a score -- most of which came on a 58-yard touchdown off a screen -- in a 44-10 victory.
Best produced touchdown runs of 55 and 68 yards but sat out the second half of a blowout victory over Eastern Washington.
The Bears overcame a shaky start at Minnesota and rolled in the second half for a 30-17 win.
That set up a marquee showdown for the No. 8 Bears at No. 5 Oregon with ESPN's College GameDay on location in Eugene.
Lee Corso donned the Duckhead. Kirk Herbstreit tapped the Bears.
"It's fair to say the winner of this game will send a player to New York for the Heisman Trophy ceremony," Chris Fowler said about Best and Oregon quarterback Jeremiah Masoli.
The Bears led 17-10 at the half, a 76-yard run from Best being the difference.
With 3:05 left, the Bears led 24-20. From the Oregon 47, Cal quarterback Kevin Riley did a play-action fake to Best and launched a bomb.
But Ducks safety T.J. Ward didn't bite on the fake, and he out-leapt Marvin Jones for the interception.
Masoli drove the Ducks to Cal's 32, but faced a fourth-and-8 with 0:55 remaining.
Masoli set up to pass, but Bears end Cameron Jordan was on him. Masoli stiff-armed Jordan, and started to backpedal. Jordan was joined by Mike Mohamed in pursuit of Masoli, who reversed the field and started directing receivers downfield.
There was room to run. Masoli tucked and made a break, but just short of the line of scrimmage, he stopped and lobbed the ball into the corner of the endzone.
Tight end Ed Dickson leapt, but the ball was tipped away by safety Brett Johnson.
And onto the turf.
Autzen went silent.
"California might be the best team in the nation," Herbstreit said after the game.
"See you next week in Berkeley," Fowler concluded.
No. 2 USC vs. No. 4 California. Big. Perhaps the biggest game in Cal history.
"People have contemplated the origin and evolution of the universe since before the time of Aristotle," said George Smoot, Cal physics professor and Nobel Prize winner. "Very recently, the era of speculation has given way to a time of science. The advance of knowledge and of scientific ingenuity means that at long last, we can actually test our theories. But no body will be testing anything Saturday because the Bears are going to stomp 'SC. Go Bears! Whoooo! How 'bout another margarita!"
One piece of good news that emerged from the day as a sidebar was that Memorial Stadium, awaiting a major seismic retrofitting, proved it could withstand a minor earthquake.
We know that because the rumble inside Strawberry Canyon probably could have be heard across the Bay in San Francisco when Best went 75 yards for a touchdown on the Bears first possession, having outraced Trojans safety Taylor Mays the final 35 yards.
On the biggest stage, Best and Riley and an inspired defense pushed the Trojans around in a 40-17 victory, the worst loss of the Pete Carroll era.
Cal rose to No. 2 in the rankings. Texas coach Mack Brown complained. According to an ESPN.com poll, 78 percent of the college football nation believed he should quit whining.
When Texas' Colt McCoy and Oklahoma Sam Bradford combined for six interceptions in a 10-7 Sooners victory on Oct. 17, the door opens for the Bears.
"It's the matchup everyone wants to see," Fowler says. "Florida vs. Cal, Tim Tebow vs. Jahvid Best. SEC vs. Pac-10. It's freaking beautiful."
The Bears rolled through their next seven games by an average of 24 points. The offense ranked third in the nation with 41 points per game, the defense fifth with 13 ppg.
On a technicality, however, Cal didn't play in its first Rose Bowl since 1959.
"While disappointed we're not playing in the Rose Bowl, it is some consolation to play for the national title in the Rose Bowl Stadium against a fine team like Florida," Cal coach Jeff Tedford sighs.
Best, already called the best player in the nation by Florida quarterback Tim Tebow, won the Heisman.
During a pre-BCS title game press conference, a reporter asked Best whether he won the Heisman because folks were tired of hearing and reading about Tebow.
"I hope not," Best says. "Because that would mean people are really stupid. Tim Tebow is the greatest college football player in history. And he's a great person. And I use the term 'great' in its true sense, not as a casual compliment. Why would people get tired of hearing about a guy who does so much good? A guy who remains humble despite all the accolades? I don't care if you don't subscribe to his religion. I don't care if you don't like Florida. I certainly don't like Florida this week. But the idea that people are tired of hearing about such an outstanding person bothers me and it should bother you. It's the worst type of cynicism."
Florida nipped Cal 43-42 in triple-overtime when Gators linebacker Brandon Spikes tipped away a Riley pass on a 2-point conversion.
Worst case
California opened 2-0 with wins over Maryland and Eastern Washington, but a team that wanted to contend for championships had to win on the road.
And Cal still didn't prove that it can, which became clear when the Bears fell at Minnesota, 28-24, the program's fifth consecutive road defeat.
That, of course, didn't bode well for a visit to Oregon. This time the Bears were sharp to start, but Ducks quarterback Jeremiah Masoli led a fourth-quarter rally and the Ducks prevailed, 27-24.
A home loss the following weekend to USC left a season that started with such promise on the brink of disaster. Coach Jeff Tedford announced he was benching quarterback Kevin Riley in favor of Brock Mansion.
While the passing offense continued to struggle, running back Jahvid Best and a tough defense led the Bears on a five-game winning streak.
But Best hurt his shoulder in the overtime win over Arizona, meaning he missed the Big Game vs. Stanford.
In the second overtime of the Big Game, needing a field goal to tie, Stanford called a flea flicker, and quarterback Andrew Luck found Richard Sherman, who was uncovered, for the game-winner.
Stanford improved to 9-3 and earned a berth in the Holiday Bow
l.
Cal slipped Washington in the season-finale and headed to the Sun Bowl.
The Bears whipped Notre Dame 38-10.
The following day, Best, Jordan, Mohamed and cornerback Darian Hagan announced they will forgo their senior seasons and enter the NFL draft a year early.
And Tedford was named the Oakland Raiders head coach.
Cal hired John Mackovic.
August, 11, 2009
8/11/09
8:47
PM ET
Posted by ESPN.com's Ted Miller
Eighth in a series looking at potential dream and nightmare scenarios for all Pac-10 teams, starting at the bottom and working up from my vote in the Pac-10 media poll.
Up next: Oregon

Best case
Just because Oregon quarterback Jeremiah Masoli is a chill dude doesn't mean he can't hold a grudge.
That became abundantly clear when he took a spread option keeper and smashed his shoulder into the chin of Boise State safety Jeron Johnson. It appeared that Masoli, who was knocked out of last year's upset loss to the Broncos on what some described as a cheap shot, had no interest in juking Johnson, who left the game with a broken jaw.
Call it revenge on the blue turf, but Boise State is no match for the enraged Ducks, who roll up 574 yards of offense in a 56-28 win.
"Guess our offensive line is going to be OK," Ducks coach Chip Kelly quips afterwards.
The Ducks don't let up, breaking the 50-point barrier in wins over Purdue and Utah. Masoli's newfound proficiency of as a passer starts to generate Heisman Trophy buzz.
"I always knew he could be a proficient passer," Kelly said. "It's not newfound."
[A Pac-10 blogger notes to himself that it's eerie that Kelly seems to be participating in a fantasy post about the Ducks].
"Why is it eerie?" Kelly asks.
[Voices ... in ... my... head. Quiet!].
Oregon ascends to No. 5 in the national rankings, and a visit from No. 8 California brings ESPN's College GameDay to Eugene.
Lee Corso dons the Duckhead. Kirk Herbstreit taps the Bears.
"It's fair to say the winner of this game will send a player to New York for the Heisman Trophy ceremony," Chris Fowler says about Masoli and Cal's Jahvid Best.
Cal's defense is a different animal. It bottles up Masoli and running back LeGarrette Blount. The Bears lead 17-10 at the half, a 76-yard run from Best being the difference.
With 3:05 left, the Bears lead 24-20. From the Oregon 47, Cal quarterback Kevin Riley does a play-action fake to Best and launches a bomb.
But Ducks safety T.J. Ward doesn't bite on the fake, and he outleaps Marvin Jones for the interception.
Masoli takes over at the Oregon 5-yard line. He connects with Jamere Holland for 15 yards. He finds Ed Dickson for 26. He scrambles for 18. A screen to Blount goes for 12 to the Cal 34.
But Jeff Maehl can't haul in a tough ball over the middle, Blount drops a short pass in the flat and a scramble nets only two yards.
It's fourth and 8 with 0:55 left. Masoli sets up to pass, but Bears end Cameron Jordan is on him. Masoli stiff arms Jordan, and starts to backpedal. Jordan is joined by Mike Mohamed in pursuit of Masoli, who reverses field and starts directing receivers downfield.
There's room to run. Masoli tucks and makes a break, but just short of the line of scrimmage, he stops and lobs the ball into the corner of the endzone.
Dickson leaps, but the ball is tipped away by safety Brett Johnson.
And into the hands of Rory Cavaille. Touchdown.
Autzen erupts.
"Oregon might be the best team in the nation," Herbstreit says after the game.
The Ducks roll through Washington State, UCLA and Washington.
No. 2 USC heads to town to take on the No. 3 Ducks. It's billed as the biggest game in Autzen Stadium history. GameDay comes back to Eugene. It's impossible to get a seat at Beppe & Gianni's Trattoria.
But this is not the Ducks day. The Trojans have the offense to match and their defense is fast enough to keep up with the Ducks. USC wins 38-28.
"We should have won this game," Kelly said. "Why didn't we win this game?"
[Must ignore him... how does he do that? We knew he was a control freak but this is a little much.]
Predictions of a hangover prove overstated. The Ducks roll through their final four games, including a 40-28 win over Oregon State.
With USC playing Florida for the national title, it appears Oregon will head to the Rose Bowl to face Ohio State. But by some complicated BCS machinations that everyone agrees would make your head explode if they were explained, the Ducks head south to play Georgia in the Sugar Bowl.
Masoli finishes third in the Heisman Trophy race.
"Neh," he says. "No big deal. I ate at Le Bernardin and hung out with Thomas Pynchon and the the Kings of Leon. That was cool."
Oregon, which has thrived on balance much of the year, throws only four passes but rushes for 388 yards against the Bulldogs in a 48-21 victory.
After USC beats Florida in the BCS title game, Oregon finishes No. 2 in both polls.
Worst case
Boise State doesn't lose on the blue turf, and the Broncos season-opening 38-35 victory over Oregon becomes the foundation of an unbeaten season and another BCS bowl berth.
The Ducks rebuilt offensive line plays fairly well, but it surrenders three sacks. The defense, however, is clearly a work in progress, with Boise quarterback Kellen Moore throwing three touchdown passes and the Broncos rushing for 190 yards.
Oregon whips Purdue and outlasts Utah, but quarterback Jeremiah Masoli suffers a concussion in the fourth quarter.
Nate Costa is the surprised starter the following week against California, but he goes down in the second quarter. With a thumb injury.
Darron Thomas comes off the bench and plays well, but the Bears roll 40-24 on 173 yards and two touchdowns from Jahvid Best.
The Ducks whip Washington State and UCLA, Masoli returning to action against the Bruins.
Then they head to Husky Stadium. The Ducks have owned rival Washington of late, winning five in a row in the series.
Huskies quarterback Jake Locker passes for 265 yards and two touchdowns and rushes for 98 yards another score, but the key play comes when it seems like Oregon is driving late for the victory.
From the Huskies 8-yard line, Masoli throws the ball to his left into the flat toward the endzone pylon, but Washington cornerback Quinton Richardson snags the ball and sprints down the sideline.
"Quinton Richardson's gonna score!" screams Huskies play-by-play man Bob Rondeau.
Huskies win 31-20.
Richardson's 97-yard interception return for a game-clinching touchdown becomes known as "The Pick," and it will be played repeatedly in Husky Stadium whenever Oregon visits in the future.
The Ducks seem lethargic while losing 35-17 to USC, but they bounce back with wins over Stanford, Arizona State and, in double-overtime, at Arizona.
The stakes in the Civil War are mostly pride. Oregon State appears headed to the Holiday Bowl in any event, while Oregon could end up in the Sun Bowl with a victory.
Yet the Beavers clearly have revenge on their minds for the disaster of 2008. They pound the Ducks defense with Jacquizz Rodgers, who rushed for 159 yards and three scores, and Masoli and company never find their rhythm in a 35-20 defeat.
Oregon then beats Boston College in the Emerald Bowl and finishes 8-5.
Three days later, Nike files for bankruptcy.
August, 5, 2009
8/05/09
5:02
PM ET
Posted by ESPN.com's Ted Miller
Fourth in a series looking at potential dream and nightmare scenarios for all Pac-10 teams, starting at the bottom and working up from my vote in the Pac-10 media poll.
Up next: UCLA
Best case
UCLA beat Tennessee in 2008 despite four first-half interceptions. When redshirt freshman quarterback Kevin Prince produces a clean sheet in the return trip to Knoxville, the game becomes a rout, the Bruins rolling 35-14, the same score as their opening victory over San Diego State.
The result renders new Volunteers coach Lane Kiffin speechless. Literally. He just stands at the podium during his postgame news conference and stares wordlessly into space.
The Bruins then shut out Kansas State in the Rose Bowl, 28-0, and slip Stanford 20-17, the defense, led by linebacker Reggie Carter, defensive tackle Brian Price and cornerback Alterraun Verner proving to be among the nation's best.
UCLA jumps into the national rankings, but the schedule's degree of difficulty increases. Prince turns in his first poor performance in a 30-21 loss to Oregon, an interception return for a touchdown from Walter Thurmond III turning the game in the third quarter.
California then hands UCLA a second consecutive defeat, with Jahvid Best becoming the first running back to eclipse 100 yards against the Bruins' defense.
UCLA bounces back with a 24-20 victory at Arizona, Prince leading a game-winning, 68-yard touchdown drive with less than a minute to play, but it can't win two in a row on the road, falling 28-24 at Oregon State.
The Bruins sweep the Washington schools and then return to the national rankings with a victory over Arizona State.
That sets up a showdown with No. 2 USC, which is undefeated and on the cusp of earning a berth in the BCS title game opposite top-ranked Florida.
"It's the matchup everyone wants to see," says Kirk Herbstreit during ESPN's GameDay, which is on site outside the Coliseum.
Lee Corso puts on the Trojan helmet.
But Price knocks USC quarterback Aaron Corp out of the game in the first quarter with a vicious sack, and Verner returns two Matt Barkley interceptions for touchdowns as the Bruins roll to a 30-24 win.
The Bruins then blow out Notre Dame in the Sun Bowl.
"Anyone want to play Monopoly?" Pac-10 Coach of the Year Rick Neuheisel asks.
Worst case
It's not easy being a redshirt freshman quarterback in any event, but UCLA's Kevin Prince clearly wasn't ready for 110,000 fans in Knoxville. Tennessee sacks Prince four times and intercepts him twice in a 28-10 thrashing.
A Bruins offense that could be charitably described as anemic in 2008, doesn't look much better in 2009, even when UCLA improves to 2-1 with a 17-14 victory over Kansas State.
While the Bruins' defense is again solid, it wears down late at Stanford, with Toby Gerhart grinding out 115 yards on 26 carries in a 21-17 Cardinal victory, the first of five consecutive UCLA defeats.
Midway through that run, Neuheisel and offensive coordinator Norm Chow bench Prince in favor last year's starter, Kevin Craft. When that doesn't work -- Craft is no less interception-prone than the previous year -- they take the redshirt off true freshman Richard Brehaut, who nearly leads the Bruins to an upset win at Oregon State.
With Brehaut starting, the Bruins sweep the Washington schools and then slip Arizona State at home, leaving them one win short of bowl eligibility.
That sets up a showdown with No. 2 USC, which is undefeated and on the cusp of earning a berth in the BCS title game opposite top-ranked Florida.
"It's the matchup everyone wants to see," says Kirk Herbstreit during ESPN's GameDay, which is on the Florida campus before the Gators and Florida State play.
Lee Corso puts on the Trojan helmet. "But this one will be closer than the experts think," he says.
It's not. USC rolls 38-10.
The NCAA announces the following Monday that it finds USC's football program blameless in the Reggie Bush investigation. Curiously, it ends the press release with a, "Fight ON!" though only Bruins Nation thinks that's a big deal.
The Trojans dust Florida, winning their third national title under Pete Carroll, and sign the nation's No. 1 recruiting class on Feb. 3.
PAC-12 SCOREBOARD
Saturday, 12/21
Monday, 12/23
Tuesday, 12/24
Thursday, 12/26
Friday, 12/27
Saturday, 12/28
Monday, 12/30
Tuesday, 12/31
Wednesday, 1/1
Thursday, 1/2
Friday, 1/3
Saturday, 1/4
Sunday, 1/5
Monday, 1/6
Tweets from @ESPNCFB/pac-12