October, 23, 2014
Oct 23
4:00
PM ET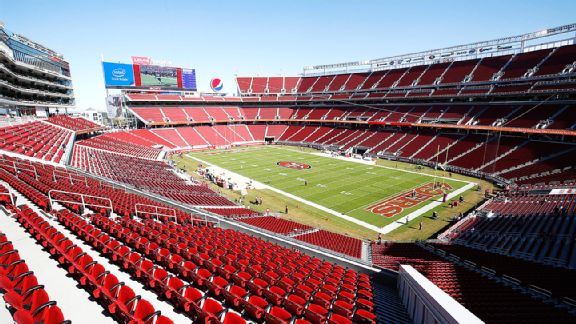 AP Photo/Tony AvelarThe San Francisco 49ers are working to bring several high-profile events to Levi's Stadium.
If things work out the way the San Francisco 49ers are hoping, Friday's game at Levi's Stadium between Cal and Oregon will be the first of many college football games to take place at the new venue.
Levi's will also host the Pac-12 championship game on Dec. 5 and the San Francisco Bowl on Dec. 30, but a few years down the line the lineup could potentially include an early season, neutral-site game and the College Football Playoff championship. At least that's the goal.
The College Football Playoff championship sites are set through the 2016 season, but when the request for proposal process begins for the three games after that, the 49ers plan to participate, according to the team's director of business operations, Chris Giles.
"Myself and the leadership over at the playoff group have had multiple discussions," Giles said. "I think we can make a very compelling case that the national championship should be at Levi's Stadium."
Located about an hour south of San Francisco in Santa Clara, the stadium is to host Super Bowl 50 following the 2015 NFL season, WrestleMania in February 2015, and is actively pursuing other high-profile events, including international soccer matches and concerts, to fill the rest of the calendar.
"The intention all the way to completion [of construction] was to make the venue a 365-day-a-year venue," 49ers chief revenue officer Ethan Casson said. "We absolutely wanted the focal point to be on our football team and the 49ers, but we just believe a venue like this with what we are doing specific to technology, green and fan experience, it would be phenomenal to program this building with high-profile events above and beyond the NFL games. That's where college football has really resonated."
Pac-12 commissioner Larry Scott, who is on the Board of Managers for the College Football Playoff, said part of the criteria for the championship game is to rotate it among several sites and the West region "will get its fair share of games." This year's game will be played at AT&T Stadium in Arlington, Texas, followed by University of Phoenix Stadium in Glendale, Arizona, next season and Raymond James Stadium in Tampa, Florida, after that.
"All the fan amenities really do distinguish Levi's as a special place to play," Scott said. "It's a new venue that a lot of people will want to see. Media, sponsors, alumni of our schools ... it's a big attraction, and undoubtedly it would be highly successful in the championship game mix."
Scott was impressed enough with the venue's offerings to
ditch the conference's home-hosting model
for the Pac-12 championship game and move it to Santa Clara for at least three seasons.
For Giles, who worked closely with Scott at the Pac-12 before going to work for the 49ers, the pairing between Levi's and the Pac-12 seemed like a natural fit.
"The game is worthy of being played on the biggest stage, and now it is. It's not just another home game," he said. "It allows us to build a festival atmosphere. Having run that game for the Pac-12 before coming here, it's very difficult to do things that are typically associated with a game of that magnitude from a fan-engagement and auxiliary events standpoint."
The Pac-12 had operations teams on site for at least two 49ers games this season, and Scott said it will have a large contingent present on Friday. He said they also expect feedback from both Cal and Oregon to be helpful for the game's planning process.
An announcement of a title partner for the San Francisco Bowl, which was known as the Fight Hunger Bowl last year, is expected to be made in the next couple weeks, according to Casson.
Casson, who has worked closely with the San Francisco Bowl Game Association to find a title sponsor, said the bowl's move from AT&T Park in San Francisco, where the game has been played since 2002, and its new pairing with the Big Ten has helped drum up significant interest. He said there were about six companies that seriously looked into the title partnership and either made a bid or wanted to.
The bowl will get the fourth pick among Pac-12 teams -- after the Rose/Playoff Group, Alamo and Holiday Bowls -- and at least five different Big Ten teams will play in the game over a six-year period.
The 49ers are also interested in developing an early season series -- comparable to the Cowboys Classic in Arlington -- that would ideally create an intriguing nonconference game early in the year, but it's unclear what the timetable is for that to become a reality.
"I'm talking with [athletic directors] on a weekly basis, and lot of what we're talking about is 2019, 2020, 2021," Giles said.
Because of how far in advance teams schedule nonconference games, Giles said it's easier -- at least for now -- to have a team relocate one of its home games to the stadium. That was the case for Cal-Oregon, which came about after discussions to bring this year's Big Game between Cal and Stanford broke down late last August.
Giles said potential home games at Levi's aren't limited to the Bay Area's three FBS schools -- Cal, Stanford and San Jose State -- but he wouldn't pursue a home-game relocation from a school that wasn't a "reasonable driving distance from the stadium."
That presumably leaves Fresno State, which is about 150 miles away, as another option. The Bulldogs played Cal at the 49ers' previous home, Candlestick Park, in 2011.
May, 9, 2014
May 9
6:00
PM ET
Happy Friday.
Follow the Pac-12 blog on Twitter
.
To the notes!
Nick from Washington, D.C., writes:
Okay So
Marcus Mariota
is obviously the man in college football. Heisman front-runner, keys to the Oregon offensive castle, clearly an A-list athlete. As an Oregon fan, I have loved the progression from Harrington, Clemens, Masoli, Thomas, and now Mariota. However, as awesome as watching Oregon's continuous progression has been ... I am terrified of the future. With no heralded spread option QBs committing to Oregon, and no real news of Oregon hunting them down, have we become Running Back U of the Pac-12 and no longer the destination of choice for hardcore quasi-under-the-radar quarterbacks? Is
Jake Rodrigues
really the next in line? If so, should we be worried?

Ted Miller
: You are terrified of the future? You should be. Two words: Giant Asteroids.
Run … run! Save yourselves!
Well, Nick -- mind if I call you Chicken Little? -- I would say that, no, you shouldn't be worried.
I recall the panic of 2008:
Nate Costa injured! Justin Roper … injured! Who the heck is Jeremiah Masoli?
And then there was the panic of 2010:
Masoli gets the boot? Who the heck is Darron Thomas?
And, of course, few saw Mariota coming when he beat out
Bryan Bennett
, who some fans had been clamoring to replace Thomas.
It does appear that Jake Rodrigues is the favorite to be Mariota's
backup this year
, and that projects him as the starter in 2015 as a junior.
He was a pretty touted recruit
, by the way.
As for present recruiting worries, I would only point to what everyone was saying in February 2011: "
Who the heck is
Marcus Mariota, a two-star recruit and the
nation's 123rd best QB
?"
Now, stop reading and get out of the way of that GIANT ASTEROID!
---
John from Dublin, Calif., writes:
Regarding scheduling: Ted, you do know the fix is simple, don't you? Just pass a rule that to be included in the playoffs (or any major bowl) you cannot play an FCS team that season, and one-third or more of your nonconference games must be played in the opponents home stadium. Schedules will equalize overnight, or at least within a year or two.
Ted Miller
: I hear you. I think the folks promoting the laissez-faire attitude that each conference has a right to schedule as it sees fit are either compromised or naive.
I actually don't care if teams play an FCS team any given year. What I do think is reasonable is to demand teams aspire toward comparable schedules across the Big Five conferences: nine conference games plus an A, B, C plan in nonconference scheduling.
That means play the same number of conference games as everyone else, one other team from a Big Five conference and one other team with a discernible pulse. Then, fine, write yourself in a win over a patsy. A lot of FCS teams need those payout games to survive.
You'd think the home-road differences would even out with Big Five conference teams signing home-and-home series, but that probably isn't likely because teams with 100,000-seat stadiums can offer an alluring payout to teams with smaller stadiums for a single-game series. I suspect we're going to see going forward SEC teams offering big checks to teams like Virginia, Purdue and Kansas to come visit, thereby satisfying the demands -- if not the spirit -- of a plan to upgrade nonconference scheduling.
The present system -- schedule however you want! -- is both illogical and unfair, and the SEC is 100 percent gaming the system for one reason: because it believes it can.
It will be interesting to see how things stack up with the selection committee. If the SEC gets penalized -- as it should -- for its clear effort to make its path to the College Football Playoff easier, then you can expect a quick adjustment.
---
Tim from Salt Lake City writes:
I like the idea of having the Pac-12 championship game in Levi's Stadium but it's not really a neutral site game is it? It's pretty much in Stanford's backyard (yeah, sure, Cal's too, but I don't see them as much of a threat to come out of the North). Is this going to be a permanent thing or is the league looking to rotate this around the region through a bid process?
Ted Miller
: My understanding is that the Pac-12 championship game would be based in Levi's Stadium in Santa Clara -- it's notable the Pac-12 offices are in the Bay Area -- but nothing is ever set in stone with the conference, considering it's exploring a move from the home-hosted model after just three years.
There are pluses and minuses for keeping a neutral site game in one place. On the plus side, it could establish a new tradition (see the SEC title game in Atlanta) and thereby become logistically easier to operate. One the negative side, it's not a neutral site. Yet Atlanta isn't truly a neutral site, either (Georgia).
My guess is the Pac-12 wouldn't become too fixated on playing the game long term in one stadium if, say, Los Angeles or Phoenix decided to ante up a pile of cash to host the game.
As in most things in college football, this is about revenue -- both present and future. The Pac-12 will follow the money.
---

Matt from Bellevue, Wash., writes:
Teddy ball game. Quick!
WSU is killing it right now in recruiting
, just got another four-star recruit. This is uncharted territory for the Cougs. I know its early. so give them a little shine before anyone decommits!!!
Ted Miller
: Mike Leach and the Cougs are surging, no doubt, with two of five commitments ranked in the ESPN 300. That's a function of folks buying into the future under Leach, as well as shiny new facilities on campus.
The challenge, of course, is getting the letters of intent on signing day. Some of you Cougs might recall that a guy name
Bishop Sankey
was once a longtime commitment to Washington State.
And, yes, I feel bad for even mentioning that.
---
Scott from Mound, Minn, writes:
You know Ted just when I think you turned a corner you say something ignorant like "
any clear-thinking person sees the SEC as the best conference
." Maybe it is more of any clear-thinking person realizes that there is no way to really see what conference is the "best." But you work for ESecPN and the SEC is the cash cow so I get why you talking heads would say that. As you so often say Ted, if you repeat a line over and over and shout down other opinions eventually it becomes accepted as truth. Thanks again Ted for demonstrating how biased ESecPN is in their coverage and news reporting. Go back to the South where you belong.
Ted Miller
: This is for the Pac-12 blog's SEC friends. See: Pac-12 fans don't like me either.
Scott, I'm not going to even mention the SEC winning seven of the past eight national titles.
Or recruiting rankings
.
I will only note that the SEC on Thursday led all conferences with 11 first-round picks in the NFL draft, more than twice as many as any other conference.
Of course, that is somewhat disappointing because the SEC had 12 first-round picks last year, when it ended up with 63 draft picks, more than double that of any other conference.
I know the SEC has 14 teams, but the SEC East had more draft picks in 2013 -- 32 -- than any other conference.
Would you describe the NFL business model as being biased toward the SEC?
While the Pac-12 blog often speaks up for Pac-12 causes, it also believes in credibility. This is not a PR instrument. We are not going to be disingenuous or be free and easy with "facts" in order to support a cause.
.
The Pac-12 blog is that way because it wants folks to know that when it takes a position, it does so because it actually believes said position to be true.
So, Scott, it is simply credible to assert that clear-thinking people out there believe the SEC, in general, is the best college football conference.
---
Chris from Seattle writes:
Ted, as a member of the Husky Faithful, I'm a devout reader of the blog. In my day job, I spend my time helping others visualize and understand their data. ESPN recently released the college athletic revenue/expense data, and I found it hard to make sense of. Given the nature of the debate around money in college athletics, I think it's more important than ever to make sure people really understand the data. In an attempt to fix that,
I've created an interactive visualization
that allows you to pick your conference and teams and see where the money comes from and where it goes. I also added in Director's Cup performance data, so people can see what the outcome of all this money is.
Ted Miller
: That is pretty cool. I'm sure many readers will be fascinated.
May, 7, 2014
May 7
8:35
PM ET
PHOENIX -- The overriding message coming out of Pac-12 meetings is that major changes in college football governance are now inevitable, even if the details and long-term consequences of those changes remain unclear.

The Big Five conferences will meet in August and almost certainly obtain a new autonomy level within the NCAA structure. At that point, major rules changes, including those that significantly bolster the support and benefits provided to athletes, will start to be formulated. Pac-12 commissioner Larry Scott intimated that things could move fairly quickly thereafter, so his message to conference coaches and athletic directors was basically to buckle up.
"Quickly is a relative concept, but deadlines are good," Scott said. "I think if we get the autonomy that we've asked for, the commissioners will be setting out a very aggressive timetable to put proposals out ... I expect we'll have a very intensive process over the next four months -- September through December -- where practitioners from our campuses are working on different agendas, including those with a deadline of January, specific proposals that can be voted upon by the 65 schools [in the Big Five]."
So "quickly" might mean?
"The goal is to implement whatever changes we're going to implement for the 2015-16 year," Scott said.
Chief among those would be cost of attendance scholarships, which could vary significantly by team and conference. Scott, however, noted that doesn't create a massive change of direction and complication because the pure value of tuition scholarships also vary by team and conference.
What does need to be implemented to prevent any fudging is a clear formula that all 65 schools apply to calculate the new value of their cost of attendance scholarships.
"I don't think it will that big of a deal, but there will be issues to work through in terms of a common method of determining the full cost," Scott said.
There is a significant degree of consensus within the Big Five conferences for adopting the cost of attendance scholarships, and it appears there is unanimity within the Pac-12.
"These are a lot of things that are going to be costly for us but I think are necessary and in line with what I believe we should be doing for our student-athletes," said Washington State athletic director Bill Moos, echoing other conference ADs.
While Scott was unwilling to admit that the Northwestern football union challenge and Ed O'Bannon lawsuit against the NCAA were driving the oncoming changes, he did concede the legal challenges to the NCAA governance structure and the publicity surrounding them weren't too far from administrators' minds.
"Is it some of these external challenges driving it? I would say no. There's been a recognition for some time [about these issues]," Scott said. "But I'd say external pressures bring a helpful focus and helpful push to get these things done."
[+] Enlarge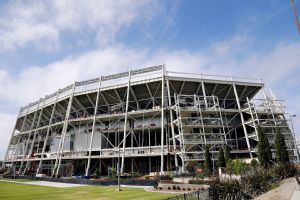 AP Photo/Marcio Jose SanchezLevi's Stadium, the new home of the San Francisco 49ers, could be the new home of the Pac-12 championship game as well.
As for the other major item on the Pac-12 agenda, it was more based on the West Coast: The location of the 2014 Pac-12 championship game. There were earnest discussions over the two days about changing it from a game hosted by the conference's top team to a neutral site, specifically the San Francisco 49ers' new home, Levi's Stadium, in Santa Clara, California.
While the potential move was an intriguing idea, it also isn't a done deal.
"I think there was a lot of positive feeling about it," Scott said. "Some objected. There are some pros and cons."
Said Moos: "Personally, I think [Levi's Stadium] is the way to go."
Said USC athletic director Pat Haden: "I think the current model has actually worked pretty well, the home host. I know the CEOs are debating that and discussing that. I don't think any decision has been made. Quite honestly, at USC, we don't mind the home-host model because we think we've got a chance of hosting."
Shrugged Washington's Scott Woodward: "I'm ambivalent. I trust the league and what they want to do. I have no problem one way or the other."
If the title game is going to be played in the new 49ers stadium on Dec. 5, a decision almost certainly would be announced in June, when the Pac-12 presidents meet.
"If we are going to make the move, it wouldn't be later than that," Scott said.
So it appears that the summer, once a quiet time for college football news, will be anything but that this year.
PAC-12 SCOREBOARD
Wednesday, 12/24
Saturday, 12/20
Monday, 12/22
Tuesday, 12/23
Friday, 12/26
Saturday, 12/27
Monday, 12/29
Tuesday, 12/30
Wednesday, 12/31
Thursday, 1/1
Friday, 1/2
Saturday, 1/3
Sunday, 1/4
Monday, 1/12
Tweets from https://twitter.com/ESPNCFB/lists/pac12