May, 29, 2014
May 29
12:15
PM ET
Arizona and Arizona State don't like each other, but they share one commonality. They both like their current football coaches. That's good for everyone, both inside and outside the battle for the heart and soul of the Southwestern desert. It means their bitter battle -- the Territorial Cup -- might be on the cusp of something that makes a rivalry truly great: national relevance.
[+] Enlarge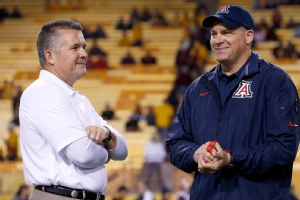 AP Photo/Ross D. FranklinArizona State's Todd Graham (left) and Arizona's Rich Rodriguez are all smiles after their new deals.
It should inspire grins that both schools announced contract extensions and raises for their football coaches on Wednesday. Neither, apparently, wanted to yield the news cycle to the other.
Arizona State gave Todd Graham a
one-year extension and a $300,000 raise
, his $2.7 million salary now ranking in the top half of the Pac-12. The contract will run through June 30, 2019.
Meanwhile, Arizona is giving Rich Rodriguez less but is being more creative
.
Rodriguez's base salary will get a boost of
$220,000 to $2 million annually
, but the university also is considering a
significant retention bonus based on a $17.68 million stock offering from a booster
.
From the Arizona Daily Star:
The proposal, which will be voted on by the Arizona Board of Regents next week, offers [athletic director Greg] Byrne 20 percent share of the stock, while [basketball coach Sean] Miller and Rodriguez will get 35 percent each if they meet the retention criteria: Each needs to stay at UA at least four years and cannot leave voluntarily before eight years in order to receive it.

Under the stock's current value, Byrne would receive a bonus of $3.536 million while Miller and Rodriguez would each earn $6.2 million if they met the retention criteria. At the end of eight years, the three could keep the stock or sell it.
But let's not get bogged down in the numbers, other than to at least note that Graham and Rodriguez should pick up the tab the next time they take you to dinner.
Graham is 18-9 after two seasons. He led the Sun Devils to the South Division title last fall and a final national ranking.
He's recruiting well
. But it's just as notable that a program long known for lacking focus and discipline -- both on and off the field -- has become among the best at both within the conference. Academics and citizenship are up. Penalty flags and arrests are down.
Graham has his critics. He's probably not ever going to win everyone over. But he's doing it right in Tempe.
Rodriguez, with a lot less talent, has nearly matched Graham, going 16-10 with a pair of bowl victories. He, however, is 0-2 head-to-head in the rivalry, something that makes Wildcats fans a bit grumpy.
Rodriguez is widely considered within the business to be one among a small handful of true offensive innovators. While some dwell on his failed tenure at Michigan -- a hopeless mismatch that was aggravated by a dysfunctional athletic department and a sabotaging Lloyd Carr -- Rodriguez's track record speaks for itself. He's one of the 10 or 15 best coaches in the nation.
Both schools have good coaches who fit, and administrators and boosters know it. They want them to stick around. Both programs seem headed for consistent spots in the Top 25. While the South Division is rugged, particularly with a rising UCLA and USC emerging from NCAA sanctions, both should be in the thick of the divisional race most seasons.
When both teams are good, a rivalry is better. That appears to be where these two are headed. That means more national relevance and, therefore, more national attention. That is good for both schools, at least as long as one or the other doesn't establish a strong pattern of dominance.
Finally, this Pac-12 blogger truly enjoys that every time he's in Tucson or Tempe he's rapturously surfeited with snipes and gripes about the other program. We expect this joy only to increase as this pair moves up in the national pecking order, thereby marinating traditional bitterness with meaningful stakes to wrestle away from each other.
March, 23, 2012
3/23/12
12:00
PM ET
Folks like rankings, which is why a lot of you had opinions on both
Athlon Sports and our rankings of Pac-12 coaches this week
.
There are very few naysayers to the idea that Oregon's Chip Kelly is an obvious No. 1. In fact, I'm not even sure how you gainsay that.
[+] Enlarge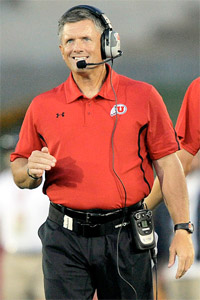 AP Photo/Mark J. TerrillKyle Whittingham is 7-1 in bowl games, including a BCS victory.
But who's No. 2?
That's the question before your faithful Pac-12 bloggers.
Kevin Gemmell
: Since you went first last week, and I used it as an opportunity to take a shot at you about
Darron/
De'Anthony Thomas
Top 25 incident, I'll take the lead this week and suffer whatever ribbing comes from it.
To be honest, I was pretty torn when trying to figure out who I would put at No. 2 in the conference. I think you can easily make an argument for three or four different guys. But I've also seen what Kyle Whittingham has done at Utah from the very beginning when I used to cover the Mountain West Conference.
His résumé is stellar, and his credentials are without question. He has an undefeated season to his credit and two BCS bowl game victories (I believe the NCAA credits him and Urban Meyer both for the Fiesta Bowl win). If I'm wrong on that, he still has a BCS bowl victory at a then mid-major program.
He's 7-1 all-time in bowl games. That means he's a closer. The only bowl loss was in 2010 to Boise State -- the Broncos' second football game following the Nevada field goal debacle. There weren't many that thought Boise would lose that one.
What I think is the most impressive thing about Whittingham, though, is that he's proven to be his own man. He easily could have fallen into the trap that David Shaw now finds himself in at Stanford. Critics will constantly question Shaw about if he can do it outside of Jim Harbaugh's shadow and without
Andrew Luck
on the roster. Whittingham faced similar charges in the face of Meyer's departure.
In that time, he's gone 66-25 and stewarded the program into the Pac-12, where the Utes went 8-5 last season, including a come-from-behind win over Georgia Tech in the Sun Bowl. Sustained success means several things. He can recruit. He can reinvent himself and the team with each new generation of players. And he makes good hires.
We all know one bad recruiting class can set a program back several years. Bad hires can have an even longer impact. Whittingham is not afraid to take gambles -- and the latest one is naming former quarterback-turned quarterbacks coach Brian Johnson his offensive coordinator. At least some see it as a gamble. But Whittingham has given us no reason over his career to think it's not going to be a great hire.
The fact is, Whittingham wins year after year. Can't ask for much more out of your coach.
Ted Miller
: I deserved the snark over the twin No. 12s. That was a moment of clumsy compensation for a boneheaded oversight on my part. Of course,
you did steal my No. 2 coach
, which I will write off to your savvy and your foreknowledge you got to go first this week.
[+] Enlarge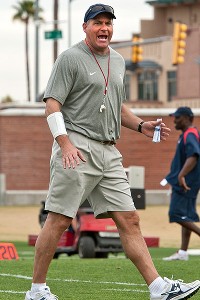 Courtesy of J&L PhotoRich Rodriguez led West Virginia to two BCS games, but struggled considerably at Michigan.
And it gives me a chance to tout a guy who might shortly challenge for the top-spot on this list: Arizona's Rich Rodriguez. In fact, if we could make Rodriguez's ill-fated, three-year tenure at Michigan magically disappear, and then view Rodriguez as arriving in Tucson after a brilliant run at West Virginia, you would be able to make a case for him against even Kelly.
Before the disaster in Ann Arbor, Rodriguez was widely viewed as among the nation's best coaches. He'd been successful everywhere he went, and was considered one of the nation's truly great offensive minds -- not unlike Kelly. He went 60-26 at West Virginia and, after going 3-8 his first year, never won fewer than eight games. He also won a Sugar Bowl over Georgia, and his team won the Fiesta Bowl over Oklahoma after he bolted for Michigan. The Mountaineers won 33 games his final three seasons. According to this high-powered calculator, that's an average of 11 wins per season.
But what about Michigan? Well, as we've said before and surely will say again, his failure at Michigan was
more about Michigan than Rich Rodriguez
. It was a bad fit from the get-go in terms of his personality versus the "Michigan way"; Rodriguez wasn't able to hire his defensive coordinator, as he has done at Arizona with Jeff Casteel; he was shamefully betrayed and undermined by a Machiavellian Lloyd Carr; and it's not unreasonable to question the agendas of some of the media coverage he received.
Some Michigan fans take issue with that perspective on Rodriguez's Michigan tenure, much of which is detailed in John Bacon's book "Three and Out." But only because they love the Wolverines more than the truth, at least in this instance.
Rodriguez repeatedly has said he's not a quick-fix guy -- he, by the way, told the folks hiring him at Michigan exactly that -- and that it will take three years for his systems and recruiting to truly take hold. I doubt Wildcats fans are exciting about waiting that long, but the smart money is on Rodriguez finding a way to get it done in Tucson.
And, yeah, that means it's legitimate to dream about a first Rose Bowl within five years.
Wouldn't it be fun if it were against the Wolverines?
February, 17, 2012
2/17/12
7:00
PM ET
By
ESPN.com staff
| ESPN.com
Happy Friday.
Anyone miss me? Anyone? Anyone? Bueller?
I appreciate the notes of support in the mailbag. Blog Baby 2 and Blog Mother 1 are doing well. Blog 3-Year-Old and Blog Baby 2 have already engaged in a heated "Pac-12!" versus "SEC!" debate, with one of them punctuating his point with a "Roll Tide!" I blame his Alabama-born mother for that.
But enough about me. What about the mail?
Oh, and you can
follow me on Twitter here
, where I figure to be far more active next week.
To the notes!
Tyler from Minnesota writes
: What elite defenses did Luck ever play against? I'm probably the only non believer when it comes the Luck hype. The % of QB's the NFL misses on is staggering. Why believe the talking heads?
Ted Miller
: Luck played against -- and mostly lit up -- nine top-50 defenses over the past two seasons. He's played against many very good defenses and a lots of NFL draft choices -- past, present and future. Further, the reason many of the defenses he's played against don't rate as "elite" with some folks is because those defenses faced a horribly unfair burden.
They played against Luck and other Pac-12 offenses.
Why the hype for Luck? Well, he's got a good arm. He's extremely athletic at 6-foot-4, 237 pounds. He's accurate. He's bright. He's a humble team guy but is also highly competitive. He's a good leader. He's had no off-field issues. And no QB since Peyton Manning has entered the NFL draft with as high a football IQ.
In fact, if you wanted to make a good comparison, I'd call Luck pretty much Peyton Manning, only with much better mobility.
Of course, there are no guarantees with QBs. For one, being the No. 1 overall draft pick typically means you're going to be immediately starting for a terrible team.
But if I were a betting man, I'd set the over-under on his Pro Bowl selections at 10.
Dan from Irvine, Calif., writes
: Do you think Rich Rod can actually deliver what has eluded my Wildcats ever since they entered the Pac back in 1978; a Pac-12 championship? Also, will my kitties make it to a bowl game with Mr.
Matt Scott
at the helm next year? My heart tells me "yes" for both but my head says probably not.
Ted Miller
: Rich Rodriguez has been successful everywhere he has coached. He was a dynamic offensive innovator at Glenville State, Tulane and Clemson. He led West Virginia to a 60-26 record in seven years, including a pair of BCS bowls.
Michigan? Well, if you read the book, "
Three and Out
," by John Bacon -- and I'd recommend it -- you learn that Rodriguez was pretty much doomed from the start. He was left with a lousy team, a dysfunctional athletic department and a bitter former coach in Lloyd Carr, who was anything but supportive of Rodriguez, despite playing a key role in his getting the job instead of LSU's Les Miles. Further, Bacon's book does a convincing job of deconstructing Rodriguez's treatment by the Detroit media and mostly discredits the news story that provoked the NCAA investigation into practice time rules violations.
And Rodriguez's players looked pretty good this past season, going 11-2 and winning the Sugar Bowl.
So, yes, based on his pedigree, I think Rodriguez can deliver a first Rose Bowl to Arizona.
As for this year, the pieces seem to be in place for a fairly strong turnaround, though one of Rodriguez's refrains in "Three and Out" is how it takes a few years of teaching and recruiting for his systems to take hold. If Scott gets hurt, the Wildcats complete void behind him at QB will be a huge issue, so that fact likely will limit how much Scott will be asked to run the football in Rodriguez's spread-option.
So, sticking with a theme of over-under, I'd rate Arizona's at six wins in 2012.
Greg from Philo, Calif., writes
: Lane Kiffin's
picks for db, lb and wr coaches
were totally out of the box. Genius or incompetence?
Ted Miller
: I don't call coaches geniuses. Beethoven was a genius. Einstein was a genius. Louis C.K. is a genius. But I like these hires.
Marvin Sanders, who will coach the secondary, has a strong reputation, though his sudden departure from Nebraska a year ago was a bit strange -- the official explanation was "
for personal and family reasons
."
By the way, this came in the mailbag from Pete from Omaha:
As a Nebraska fan, USC fans should be absolutely thrilled about the Marvin Sanders hire. He coached arguably the best secondary in the nation two years in a row in 2009 and 2010 and in that time frame produced four NFL draft picks, including first rounder Prince Amukamara. Not to mention, he is also the guy who brought Alfonso Dennard to Nebraska and coached him up, another future first or second rounder. His secondaries embarrassed QB's like Colt McCoy, Jake Locker, and Blaine Gabbert (ALL were NFL starters this year). Gice credit to Bo and Carl for those defenses too, but Marvin is arguably the best secondary coach in college football. USC fans should be ecstatic. Nobody will be able to throw on USC once Marvin gets it going.
The one you might consider "outside the box" is Scottie Hazelton, who was hired a LBs coach after building a defensive power at North Dakota State, which won the FCS national championship this year. To that I say: "Chip Kelly." And then there should be silence (Kelly was New Hampshire's offensive coordinator before taking over the Oregon offense in 2007). This, in fact, feels like an inspired hire by Kiffin, one in which he clearly did a bit of homework.
Consider this from the FCS title game story on the Bison whipping top-seeded Sam Houston, 17-6:
Sam Houston (14-1) had its lowest-scoring game of the season, 33 points below its FCS-best average, and was denied an undefeated season and its first Football Championship Subdivision title. The Bearkats had only 210 total yards.
That should raise your eyebrows.
As for Martin, he talked to Kelly about a job at Oregon in 2009. Kelly and I actually chatted about Martin because I used to cover him back when he was the quarterback of Williamson High School in Mobile, Ala. He led Tennessee to the 1998 national championship the year after Peyton Manning left for the NFL. My sense is he's an up-and-coming coach with good recruiting skills, one who knows that coaching or playing under the warm and salubrious glow of the Pac-12 blog is a feeling like no other.
Dan from San Francisco writes
: I'll risk a [Willie] Lyles question given that it's a downtime in the football calendar. In my understanding, the Lyles scandal has the potential to hurt Oregon the most in recruiting, both in terms of lost scholarships and in scaring players away. But given that USC has managed to do great in recruiting and on the field despite looming and already in effect sanctions, to what extent can Oregon coaches use USC as a blueprint to follow and as an example to show recruits should Oregon be hit by sanctions? In other words, to what extent could Chip Kelly tell recruits that sanctions aren't such a big deal, because "look at USC, they got hit and they're doing fine"? I realize that USC has much more going for it in recruiting than Oregon does, but I'm guessing that might be offset somewhat by more lenient sanctions for Oregon.
Ted Miller
: I continue to believe that Oregon won't face severe sanctions for
Le Affair de Willie Lyles
. Oregon ranked 18th in the nation in recruiting this year, so it doesn't seem like recruits are terribly worried, either.
It's never good to lose scholarships as it reduces a program's margin for error in recruiting. Based on simple math, it's easier to be good with 85 scholarship players than with 75 scholarship players. But the Ducks aren't likely to lose 30 scholarships -- 10 out of three recruiting classes -- like USC.
Whatever the endgame is with Oregon and the NCAA on this, I don't anticipate the Ducks getting smacked in a way that substantially hurts their standing in the Pac-12 pecking order.
But the USC comparison doesn't work here for me. For one, this was USC's first of three recruiting classes under scholarship limitations, so the impact of those won't really hit until a year or two from now. We don't know how the Trojans will weather the restrictions, even if it does seem that Lane Kiffin has a vision of how to do it with minimal damage.
Further, as you note Dan, Oregon doesn't work from the same recruiting point A, both in terms of geography and tradition. So if Oregon did get hit hard -- even if it were just half as hard as what USC is presently dealing with -- the damage likely would be worse. A star player in recruiting-rich Southern California might go to USC just so his parents can see him play, and that would outweigh, say, a bowl ban. There are very few A-list recruits around Eugene, and said star from Southern California is less likely to head North to Oregon -- the rain! the chill! -- if the Ducks have NCAA issues.
Even though he'd still experience the warm and salubrious glow of the Pac-12 blog.
January, 20, 2012
1/20/12
6:09
PM ET
By
ESPN.com staff
| ESPN.com
It is Friday. Can we get some emergency college football tomorrow? How about a USC-Alabama scrimmage? Anyone? Anyone?
No. Drat.
Follow me on Twitter
.
To the notes!
Shawn from Albany, Ore., writes
:
You recently stated
, "USC just became the strong front-runner in the Pac-12."... Why? You can't tell me you really think that just because Thomas is bolting for the NFL, that its going to make the Ducks any less competitive in the PAC-12 next year... Apparently you didn't pay much attention when True Freshman
Bryan Bennett
played this last year... Yes it will be his first year as our starter, but if you recall, Thomas took us to the National Championship game his FIRST year as starter... And if you ask me, Bennett's not only faster than Thomas, but has a better arm... That kid can sling a pigskin! Anyway... I'd be careful about stating anything that has to do with USC being somehow more dominant than us based simply on the fact we'll no longer have Thomas at the helm... It's time for a new era of Oregon Football... The Bennett Era!
Ted Miller
: Well, I had USC as a slight front-runner in the Pac-12 in any event based largely on the fact that Oregon must play at USC on Nov. 3 and not vice versa. The Ducks' loss of Thomas just makes the Trojans front-runner status clearer.
With or without Thomas, Oregon is the clear front-runner in the North Division. I will be shocked if the Ducks don't play in the 2012 Pac-12 championship game. And I'd be more than a little surprised if they have more than two losses when they do so.
And yet the loss of Thomas does change things, whether Oregon fans want to admit it or not. Thomas is a given. You know what you will get from him. And, more important, so does Chip Kelly. When a coach
really knows
his quarterback, particularly a
Dr. Strange
offensive savant like Chip Kelly, it helps him engineer the offense to suit him in every detail. Kelly knows what Thomas likes and dislikes. He knows how he will react to just about every situation. He won't know that about Bryan Bennett.
Heck, we don't even know that Bennett will be the starter, though I feel strongly he will be. It seems
some are intrigued
by redshirt freshman
Marcus Mariota
.
Bennett played well coming off the bench when Thomas got hurt against Arizona State. And he did a good job in his start at Colorado. But, well, the
Buffs' defense
wasn't exactly LSU.
How will Bennett -- or whoever starts -- react to adversity? Or prosperity even? Will he be durable? Will he protect the football? Will he be able to make consistent reads? Will he get overwhelmed by the spotlight? Can he digest the entire offense? Will be be able to counterpunch on his own when defensive coordinators start to get a feel for him?
How will be react to 94,000 fans at the Coliseum on Nov. 3?
These are questions Thomas already answered. Sure, he wasn't the perfect quarterback. But he was 23-3 as a starter, including 1-1 in BCS bowl games. If he started in the Coliseum on Nov. 3, he'd be smirking and eyeballing
Matt Barkley
thinking, "I'm better than him."
It's perfectly reasonable to have high expectations for Bennett. My hunch is he'll play well, perhaps even match or exceed Thomas' numbers. He, particularly, looks like a better runner.
Still, when you remove a starter who was 23-3, you insert unknowns. There's no way around that.
To Chip Kelly this: Bennett is a hypothetical. And we don't do hypotheticals.
---
Ken from Portland writes
: Ted First off, I think Mike Leach is going to be a fantastic coach in Pullman. I think he is just what the Cougs need, and I don't really look forward to playing them in the future. My question though is this: Pullman does not have all that different of weather than the Midwest. Every analyst and their mom, it seems like, always points to the "weather" as the reason a pass heavy offense wouldn't work in the Big10 (and Big 10 fan's #1 excuse for losing to teams from the South, "well hey buddy, come try that offense in Ohio in November!") But everyone loves the Leach hire in Pullman? Would they be saying the same thing if he were hired at say, Indiana?
Ted Miller
: Pullman's weather has never stopped the Cougars from being pass-heavy before, why would it be different for Leach's offense? The Cougars, with a long tradition of elite quarterbacks who fling the ball all over the place, ranked ninth in the nation in passing last season. If you look at this list of top passing offenses, you'll see
plenty of teams that play in the snow and cold
.
There are two reasons the Big Ten hasn't become more pass-heavy through the years. The first does involve geography: It seems like there are more big-time athletes -- offensive playmakers -- in the Southeast, Southwest and West Coast than in the Midwest. Recruiting lists tend to bear that out.
But, just as important: A deeply ingrained Midwest football culture. Michigan and Ohio State, the two flagships of the Big Ten, have long traditions of playing great defense and running the ball. You could say the same for their "new" flagships, Penn State and Nebraska. And that was Barry Alvarez's blueprint for building Wisconsin into a Big Ten power.
By the way, it's also notable that when Wisconsin signed up quarterback
Russell Wilson
, a highly capable passer transferring from N.C. State, it became a very good passing team, which helped it become an even better running team.
That deeply ingrained culture was a big reason Rich Rodriguez failed at Michigan. Many Michigan insiders -- most specifically former coach Lloyd Carr -- couldn't stand Rodriguez's spread offense, and that motivated them to undermine him at every turn.
Think about the Northwest: Rain, not cold, is the most difficult condition for passing the football. But Northwest teams have strong traditions of throwing the football. The culture of West Coast football wins out over the weather.
I'm not sure if anyone can build a consistent winner at Indiana. But if Mike Leach were hired at Michigan State -- or Penn State or Michigan -- and fans and administrators were 100 percent supportive, he'd build a highly successful passing offense. For better or worse, the Big Ten continues to play old-school, run-first offense mostly by choice.
---
Will from Novato, Calif., writes
: I just saw the
video you posted
on Tosh's departure from Cal. You nailed it on the head. You will probably be lambasted on our fan boards, but oh well. You state it correctly when you say that it is a business. It's deeply painful for Cal fans. We haven't gone to the Rose Bowl for what now seems like forever and a day. What's more, these past few seasons have, well, been less than hopeful. Whatever hope we had when Tedford first came on the scene has started to dissipate, and fast. With Chip Kelly and Oregon on the rise; with USC seemingly always having our number, and with Stanfurd suddenly looking rock solid, the hope is diminishing. EXCEPT, we had Tosh. With Tosh, we felt that we were finally going to get the kind of recruiting studs that would help propel us forward. With a front four of Moala, Jalil, Armstead and McCarthy, I don't think opposing OL's would know what to do. So hope emerged...and then was squashed. You've followed the sport longer than I, but yes, all of the rancor that's out there is perhaps explained though this. Anyway, thought compelled to shoot you this comment. Thanks for laying things out with a unbiased view. I'm sure you get enough hate mail from angry fans, perhaps a "good job" email would be nice evey so often.
Bret from Washington D.C., writes
: If Cal's recruiting class falls apart due to Lupoi's departure, how much blame does Jeff Tedford shoulder? Shouldn't the recruits want to play for him, not the D-Line coach? After all he is the head coach and is responsible for the health of his program. I wonder how Cal fans will treat him if we turn in another sporadic 7-5 season and a disgraceful bowl performance on National TV. I was a freshman for the 1-10 Holmoe season, and sat through every blow out. But I have to admit I'm starting to turn on Tedford, who can't seem to take the team to the next level
Ted Miller
: Cal fans, meet Chicken Little.
Chicken Little: The sky is falling.
Cal fan: I know. Tosh just left for Washington. WAAAAAAA!
Chicken Little: Are you going to eat that seed?
Cal fan: Only if it's a Prozac. We're DOOOOOOOOMED.
Chicken Little: I think you might be overreacting.
First off, as of today, Cal is still ranked
No. 1 in the Pac-12 in recruiting
, and the only recruit who decommitted after Lupoi left said his decision had
nothing to do with Lupoi
. We might want to hold off on the mass harakiri until, you know, signing day on Feb. 1.
Further, Tedford has long felt the intense celebration of Lupoi as a recruiter was overblown. That might explain that ridiculously low -- by industry standards -- $164,000 salary. Now that will be tested. If the Bears finish strong and maintain a top-20 class, you'd have to give credit to Tedford and his staff. Of course, next year will probably be a bigger measure of the Lupoi Effect.
As for the big picture with Cal, as we've previously stated, this is a big season for Tedford. Scattered pockets of impatience the past few years have solidified. He's officially on the hot seat. And losing two coaches to Washington, including one who fans celebrate -- rightly or wrongly -- such as Lupoi, doesn't help the mood around the program.
---
Erick from Seattle writes
: I recall hearing a few months ago that the UW game at LSU was going to be a night game in Death Valley. Any truth to this? I can't find anything online about the game time being announced.
Ted Miller
: While it's still a "
TBA
," my guess is it will be a night game. Night games in Tiger Stadium are fun for two reasons: 1. Incredible, intense atmosphere; 2. That incredible, intense atmosphere is brought on by perhaps the nation's best tailgate.
Yes, there's a good deal of lubrication, but the food at an LSU tailgate rates as good as any in the nation.
Here's one for any LSU fans reading this: The last game I covered in
Tiger Stadium was the Cecil "The Diesel" Collins vs. Dameyune Craig showdown
. Great game.
---
Champ from California writes
: Your hatred and prejudice of Stanford is not hidden in your writing. Typical jealous sportswriter... hates people with the courage to have brains.
Ted Miller
: I just included this because, with this note, I have now received hate mail from all 12 Pac-12 teams.
Of course, Champ,
if you are referring to this
, then I might be taking credit for something from my colleague, Kevin Gemmell.
December, 6, 2011
12/06/11
2:30
PM ET
By
ESPN.com staff
| ESPN.com
Most men, even in this comparatively free country, through mere ignorance and mistake, are so occupied with the factitious cares and superfluously coarse labours of life that its finer fruits cannot be plucked by them.
PAC-12 SCOREBOARD
Saturday, 12/20
Monday, 12/22
Tuesday, 12/23
Wednesday, 12/24
Friday, 12/26
Saturday, 12/27
Monday, 12/29
Tuesday, 12/30
Wednesday, 12/31
Thursday, 1/1
Friday, 1/2
Saturday, 1/3
Sunday, 1/4
Monday, 1/12
Tweets from https://twitter.com/ESPNCFB/lists/pac12