July, 9, 2014
7/09/14
12:40
PM ET
Kickers are football players, too ... and the ones listed on the Lou Groza and Ray Guy watch lists are some of the best in the country.
Lou Groza (kicker)
Ray Guy (punter)
Tom Hackett, Utah: Led the Pac-12 in just about every punting metric last season when he was named first-team all-conference.
Cole Leininger, California: Leininger was a member of the watch list last year when he dropped 14 punts inside the opponents' 20-yard line with only two touchbacks.
Other watch lists
July, 11, 2012
7/11/12
12:30
PM ET
By
ESPN.com staff
| ESPN.com
The Lou Groza and Ray Guy Award watch lists have been announced, and there's a strong Pac-12 presence.
The Groza Award is given to the nation's best kicker, and the Guy goes to the best punter.
You can see the entire
Groza list here
.
Here are the Pac-12 players on the list.
You can see the entire
Ray Guy list here
.
And here are the Pac-12 players on it.
Guessing the Guy folks didn't know that Arizona's
Kyle Dugandzic
led the Pac-12 with a 46.0 yard per punt averaged but fell just short of the 3.6 punts per game -- he was at 3.3 -- to qualify for the national statistical rankings.
November, 12, 2010
11/12/10
6:15
PM ET
By
ESPN.com staff
| ESPN.com
Who's running with a bull market? Who's battling the bears (not the Golden ones)?
Stock up
Richard Brehaut
: UCLA may have a quarterback controversy this spring. Brehaut, of whom expectations were not high when he stepped in for the injured
Kevin Prince
, has responded with poise. In the win over Oregon State, he completed 13 of 19 passes for 127 yards and -- most surprising -- ran for 61 yards and a touchdown on 18 carries.
Cameron Jordan
: The California defensive end had a career-high 12 tackles -- with a career-high three coming for a loss -- at Washington State. He also was projected as a first-round NFL draft pick this week by ESPN's Todd McShay.
Stanford's defense
: While the Cardinal gave up some yards in the win over Arizona, it held the Wildcats to just 17 points. And that came a week after pitching a second shutout of the season at Washington. In its first year with coordinator Vic Fangio, the defense ranks third in the Pac-10 in scoring (20.8 points per game) and fourth in total defense (339.7 yards per game).
UCLA's defense
: The Bruins defense has been hot and cold this year, but it heated up against Oregon State. They held the Beavers to just 267 total yards, the fewest the Bruins have allowed this season, in a 17-14 victory.
Omar Bolden
: The Arizona State cornerback returned an interception 66 yards for a touchdowns vs. USC. It was his third interception of the season, which is tied for third in the conference. Bolden has bounced back from a mid-career slump and now looks like an NFL draft pick.
Stock down
Arizona's defense
: The Wildcats went to Stanford ranked among the nation's elite on the mean side of the ball. But
Andrew Luck
and the Cardinal had their way, and piled up 510 yards and 42 points. Ends Brooks Reed and Ricky Elmore, the best pass-rushing combination in the Pac-10, didn't record a sack.
Allen Bradford
: Bradford's peculiar career -- the Pac-10 blog believes he's going to end up an NFL starter -- took a downturn with just one carry versus Arizona State. He's fallen behind
Marc Tyler
and true freshman
Dillon Baxter
in the pecking order, apparently, and
ball security was the chief explanation
given by coach Lane Kiffin.
Oregon State
: The Beavers entered last weekend controlling whether or not they will appear in the Rose Bowl. Win out, and they were in. But after a shockingly feckless performance at UCLA, the 4-4 Beavers now face a challenging road to just get bowl-eligible. They must win two of their final four games, and the schedule isn't terribly forgiving: Washington State, USC, at Stanford and Oregon.
Thomas Weber
: Weber missed what could have been a game-winning field goal at USC and had a PAT blocked and returned for a critical two points in a one-point loss. The former Lou Groza Award winner as the nation's best kicker has connected on just 10 of 17 field goals this season and has had two PATs blocked.
Pac-10 bowl contracts
: The conference started the season with only nine eligible teams for six contracted bowl slots because USC is ineligible for the postseason due to NCAA sanctions. Washington State is already assured of a losing record. Washington and Arizona State needs to win-out to become bowl eligible. UCLA and Oregon State need two more wins. California needs one. It's almost certain that the conference won't produce six bowl-eligible teams. And if Oregon plays for the national title and Stanford manages to get a Rose Bowl invitation -- or at-large berth to another BCS bowl game -- then a number of contracted bowls could end up scrambling for replacement teams.
August, 24, 2010
8/24/10
9:33
AM ET
By
ESPN.com staff
| ESPN.com
Six Pac-10 kickers are on the 30-man Lou Groza Award watch list, including 2009 winner Kai Forbath of UCLA and 2007 winner Thomas Weber of Arizona State.
Forbath could become the second kicker to earn back-to-back awards. The only previous Groza winner to repeat is current Oakland Raiders kicker Sebastian Janikowski, who received the honor in 1998 and 1999, while playing for Florida State.
You can view the
complete watch list here
.
In addition to Forbath and Weber, the Pac-10 kickers on the list are:
Erik Folk, Washington
Justin Kahut, Oregon State
Nate Whitaker, Stanford
Alex Zendejas, Arizona
July, 23, 2010
7/23/10
10:57
AM ET
By
ESPN.com staff
| ESPN.com
Second in a series of Pac-10 thoughts that might come from unusual angles (you can see Arizona State's
2009 prediction here
).
Don't be surprised if ... Arizona State's offensive numbers are significantly better in 2010
[+] Enlarge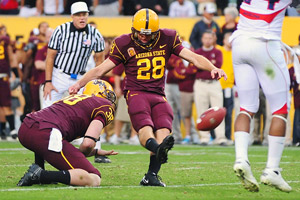 Mark J. Rebilas/US PresswireHaving a healthy Thomas Weber all season could make a difference in the Sun Devils' record.
Let's just get this out of the way: Arizona State's offense was terrible last year. It averaged just 18.1 points per game against Pac-10 foes, which ranked ninth in the conference (another moment for a team to say, "Thank God for Washington State").
Oh, and heading into 2010, that unit must replace seven starters, including its quarterback, best lineman, leading rusher and two best receivers.
So how could anyone be optimistic about the Sun Devils' offense?
Start with this factoid: Arizona State scored 34 touchdowns last year. UCLA went to a bowl game despite scoring just 25 in the regular season.
What was the difference between the Bruins and Sun Devils? Field goals. UCLA connected on 28, Arizona State just 11.
The Bruins had All-American Kai Forbath. The Sun Devils had former Lou Groza Award winner Thomas Weber sitting on the bench hurt. Weber kicked five field goals in the opener but was healthy enough to only contribute three more the rest of the way.
The Sun Devils, who finished 4-8, lost four games by a combined 13 points. Think a few more field goals would have helped? How about 51 more points, which is the difference in that department between the Bruins and Sun Devils?
But it's not just about the healthy return of an outstanding kicker. The Sun Devils will be substantially better at quarterback, no matter who wins the competition between
Steven Threet
and
Brock Osweiler
. While it's an indelicate thing to say,
Danny Sullivan
was simply not a Pac-10-level QB. Threet and Osweiler both are impressive physical specimens who have talent.
The Sun Devils' receivers and running backs won't wow anyone, but as groups they are reasonably solid. New offensive coordinator Noel Mazzone has skill to work with and he brings a fresh set of eyes and new ideas.
Of course, the offensive line, particularly after the loss of guard Jon Hargis to a knee injury, is a huge question. But if the Sun Devils get lucky with health issues up front going forward -- they certainly are due --then they should be OK.
And OK might be pretty darn good. Combined with a stingy defense, a mediocre offense -- instead of a terrible one -- will get the Sun Devils to a bowl game.
June, 3, 2010
6/03/10
5:38
PM ET
By
ESPN.com staff
| ESPN.com
At what position is the Pac-10 deep? At what position in the Pac-10 thin? Here's the third of three parts taking a look at just that.
Deep: Specialists
[+] Enlarge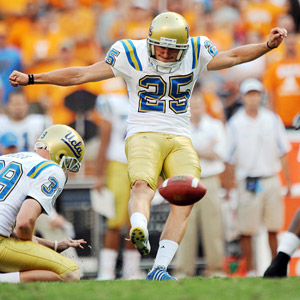 Jim Brown/US Presswire Kai Forbath of UCLA is one of two Lou Groza Award winning kickers returning to the Pac-10 this season.
Why is it deep
? Eight teams welcome back both their punter and kicker, and many of them are quite happy about that. Three conference kickers ranked among the top-20 in field goals per game, while three punters ranked in the top 21. No team is replacing both specialists. Oregon is replacing kicker Morgan Flint and USC is replacing kicker Jordan Congdon, who ranked fifth and seventh, respectively, in field goals per game in 2009.
The big names
: Start with two Lou Groza Award winning kickers: UCLA's Kai Forbath (2009) and Arizona State's Thomas Weber (2007). Then there's Oregon State's Justin Kahut, who made 22 of 27 field goals with a long of 50, and Washington's Erik Folk, who was 18 for 21 with a long of 48. As for the punters, Arizona State's Trevor Hankins ranked No. 1 in the Pac-10 and 10th in the nation in punting (44.2 yards per punt), while UCLA's Jeff Locke (43.6) was 16th in the nation and Washington State's Reid Forrest (43.2) was 21st. Oh, and California's Bryan Anger might have the biggest foot of everyone; he dropped a conference-high 24 punts inside the 20 last year.
Thin
:
Linebacker
Why is it thin
? Four of the six linebackers who made up the first and second All-Pac-10 teams are gone as are five of the 11 LBs who earned honorable mention. Only two teams -- USC and Oregon -- welcome back all of their starting LBs from 2009, and a big story this spring was the Trojans lack of depth at the position, while the Ducks moved Eddie Pleasant to safety (in large part because of depth at the position). Arizona is replacing all three starting linebackers, while Arizona State, Oregon State and UCLA only have one returning starter at the position (though the Beavers outside linebacker platoon of Dwight Roberson and Keith Pankey probably should count as more than one starter).
Fill the void
? This is not a "strength" position, but the cupboard is hardly empty: UCLA's Akeem Ayers, California's Mike Mohamed and Arizona State's Vontaze Burfict are All-American candidates, while Oregon's Casey Matthews earned second-team All-Pac-10 honors in 2009 and Washington's Mason Foster is a likely breakout player. The Ducks, in particular, are fast and deep at linebacker, while the Sun Devils aren't far behind in terms of young talent.
May, 7, 2010
5/07/10
4:00
PM ET
By
ESPN.com staff
| ESPN.com
Everyone loves "best of" lists. Here's one for the Pac-10 after spring practices concluded.
Best spring game performance, offense
: USC senior fullback
Stanley Havili
caught three long touchdown passes -- 28, 33 and 50 yards -- in the Trojans spring game.
Best spring game performance, offense II
: With Jacquizz Rodgers chilling on the sidelines, Oregon State's backup running backs made a statement. Sophomore
Jordan Jenkins
rushed for 112 yards on 26 carries, while junior
Ryan McCants
had 74 yards on 24 attempts.
Best spring game performance, defense
: UCLA's Datone Jones had two sacks, recovered a fumble and, according to the
LA Times
, "spent a good portion of the evening in the backfield."
Best spring game performance, defense II
: Washington State defensive tackle Brandon Rankin, a JC transfer, had two sacks and a tackle for a loss as the No. 1 defense dominated the No. 2 offense.
Best spring game performance by a kicker
: UCLA's Kai Forbath, the defending Lou Groza Award winner, was 4-for-4 on field goal attempts, making kicks of 44, 34, 51 and 57 yards.
Best competition heading into fall, offense
:
Nate Costa
vs.
Darron Thomas
to be Oregon's quarterback.
Best competition heading into the fall, defense
: Chris Galippo vs. Devon Kennard to be USC's middle linebacker.
Best "who's the best" competition
: Let the debate begin between Washington QB Jake Locker and Stanford QB Andrew Luck. Wait.
It already has
.
Best new marketing campaign
: Stanford's new "
What's your deal
?" ticket plan is a homage to the
prickly exchange
between Cardinal coach Jim Harbaugh and USC's Pete Carroll after Stanford
ran up the score
on the Trojans. Funny methinks.
Best new playmaker
: USC's true freshman running back Dillon Baxter became a YouTube sensation with
a spectacular run
during a scrimmage, but
other spectacular runs
made it clear he wasn't a one-hit wonder. The Reggie Bush comparisons have already begun.
Best impression of dear old dad
: Freshman quarterback Nick Montana capped an 80-yard drive with a
short touchdown pass
on the final play to give his team the win in Washington's spring game. You may recall that Nick's dad, Joe, was a fairly good NFL quarterback with a penchant for the dramatic -- and
noticing John Candy in the stands
.
Best position change
: Oregon switched Dion Jordan from tight end to defensive end, where his athleticism suggested he could become a dangerous pass rusher. Jordan was going no where at tight end. He may end up in the NFL as a defensive end.
Best performance by a backup quarterback
: Senior
Mitch Mustain
, the most written-about QB to never start a game for USC, passed for five touchdowns and 299 yards in the Trojans' spring game. Quarterback controversy? Naaaa. Might Mustain become the next
Matt Cassel
? Maybe.
Best comeback by a quarterback
: Many were ready to crown Michigan transfer
Steven Threet
as Arizona State's starting quarterback, but sophomore
Brock Osweiler
was
more consistent
much of the spring and could end up running the Sun Devils offense in the fall.
Best offensive threesome you've never heard of
: Here's a guess that receivers Gino Crump,
Travis Cobb
and fullback/H-back
Taimi Tutogi
make a lot of plays for Arizona next fall.
Best refusal to go away
: No player in the Pac-10 has been more analyzed -- criticized -- than California quarterback
Kevin Riley
. Well, Riley again held on to the starting job this spring and heads into his senior year trying to put a successful cap on a career that has featured
just a bit of everything
.
Best physical freak of nature
: Oregon State defensive tackle Stephen Paea is not only the strongest college football player, he may be the
strongest football player in the nation
.
Best new acquisition
: Arizona State adopted Kyle Oden, 3, who has a
pediatric brain tumor
and is nearly blind in one eye.
Best quote
: Lane Kiffin, who was an USC assistant from 2001-06, on Trojans he inherited, "It's not what it was when we left here."
Best quote II
: Norm Chow on whether the UCLA offense breaks through in 2010: "I have no idea, but we have to be better or you'll be talking to somebody else next year."
Best quote III
: Mike Riley on Oregon State's offense: "Athletically, it's as good as we've ever been."
Best quote IV
: Oregon quarterback Costa on redundant questions about suspended quarterback Jeremiah Masoli: "I'm not tired of answering the questions. If there is someone who should answer the questions, it should probably be me. The public has a right to know what we are thinking and our thoughts on this whole process. So I'm happy to answer those questions."
Best quote V
: Washington coach Steve Sarkisian on leading the Huskies to a 5-7 finish in his first season: "I've never been congratulated so much for a five-win season."
April, 26, 2010
4/26/10
3:01
PM ET
By
ESPN.com staff
| ESPN.com
End Datone Jones and the defense
ruled UCLA's spring game
.
Jones had two of the Bruins' eight sacks and recovered a fumble as the new "revolver" offense failed to find a consistent rhythm. Offensive coordinator Norm Chow told the LA Times that the Bruins "didn't play with any fire."
While quarterback
Kevin Prince
had mostly
shown improvement this spring
, he struggled on Saturday, completing just 5 of 13 passes for 72 yards with an interception. There were
lots of three-and-outs
by the offense.
The offensive star was kicker Kai Forbath. The 2009 Lou Groza Award winner was 4 for 4 on field goal attempts, connecting from 44, 34, 51 and 57 yards.
Also on the plus side was running back
Derrick Coleman
, who emerged from spring practices ahead of
Johnathan Franklin
and
Milton Knox
. Coleman rushed for 64 yards and a TD on six carries. Franklin had 18 carries for 47 yards and a touchdown.
Here's some
video from the game
.
Celebrities on hand watching the game included soccer superstar David Beckham, New England Patriots stars Tom Brady and Wes Welker, NFL Hall of Famer Jerry Rice, whose son plays receiver for the Bruins.
You can review
spring game stats here
.
December, 10, 2009
12/10/09
8:00
PM ET
By
ESPN.com staff
| ESPN.com
Stanford's
Toby Gerhart
won the Doak Walker Award, which honors the nation's best running back, on the the Home Depot ESPNU
College Football Awards
on Thursday night.
UCLA's Kai Forbath won the Lou Groza Award honoring the nation's best kicker.
Forbath made 26 of 29 field goals this season, including 23 of 23 inside 40 yards.
The junior won the award over finalists Leigh Tiffin of Alabama and Blair Walsh of Georgia.
Gerhart led the nation with 1,736 yards rushing and 26 touchdowns.
Gerhart had more yards rushing (1,736) and touchdowns (26) than any player in the country. He led Stanford (8-4) to a second-place finish in the Pac-10 and its first bowl bid in eight years.
Gerhart scored touchdowns in all but one game, topped 100 yards 10 times and 200 yards three times, and averaged at least 4.4 yards per carry in every game this season.
The other nominees were Alabama's
Mark Ingram
and Clemson's
C.J. Spiller
.
December, 10, 2009
12/10/09
12:00
PM ET
By
ESPN.com staff
| ESPN.com
The two-hour Home Depot ESPNU College Football Awards on ESPN
is tonight
(7 p.m. ET), and two Pac-10 players are up for awards.
Here they are, along with the competition.
Lou Groza Award (best kicker)
Kai Forbath (UCLA), Leigh Tiffin (Alabama), Blair Walsh (Georgia)
Doak Walker Award (best running back)
Toby Gerhart
(Stanford),
Mark Ingram
(Alabama),
C.J. Spiller
(Clemson)
November, 23, 2009
11/23/09
7:31
PM ET
By
ESPN.com staff
| ESPN.com
Stanford's
Toby Gerhart
is one of three finalists for the Doak Walker Award, which is presented annually to the nation's top college running back, while UCLA's
Kai Forbath
is a finalist for the Lou Groza Award, which goes to the nation's best kicker.
The other two finalists for the Doak Walker award are Alabama's
Mark Ingram
and Clemson's
C.J. Spiller
.
The other two for the Groza are Alabama's Leigh Tiffin and Georgia's Blair Walsh.
The winner of both awards will be announced on Dec. 10 as part of The Home Depot ESPNU College Football Awards Show, which will originate from the Atlantic Dance Hall at Disney's Boardwalk at the Walt Disney World Resort in Lake Buena Vista, Fla. It will be televised on ESPN beginning at 4:00 p.m. PT.