May, 23, 2014
May 23
2:30
PM ET
May, 8, 2013
5/08/13
7:00
AM ET
Utah Utes
2012 record:
5-7

2012 conference record:
3-6 (Fifth in South Division)
Returning starters
: Offense: 6; Defense 6; kicker/punter: 0
Top returners:
WR
Dres Anderson
, TE
Jake Murphy
, QB
Travis Wilson
, RB
Kelvin York
, LB
Brian Blechen
, LB
Trevor Reilly
.
Key losses:
RB
John White
, LT Sam Brenner, DT Star Lotulelei, DE Joe Kruger, DT Dave Kruger, KR Reggie Dunn, P Sean Sellwood, K
Coleman Petersen
.
2012 statistical leaders (*returners)
Rushing
: John White (1,085)
Passing
: Travis Wilson* (1,311)
Receiving
: Dres Anderson* (365)
Tackles
: Trevor Reilly* (69)
Sacks
: Joe Kruger (6)
Interceptions
: Ryan Lacy (2)
Spring answers
Identity found: Sort of. The addition of co-offensive coordinator Dennis Erickson has given the Utes the identity on offense that they were sorely missing last season. The Utes will join the ranks of several other spread teams in the conference with the hopes of improving the passing game. Head coach Kyle Whittingham said the team had previously been transitioning to the spread, but the addition of Erickson to the staff has hastened the process. Last year Utah ranked last in the Pac-12 in passing, averaging 190.7 yards per game.
Shoring up the line: For now, it looks like Utah has found its starting five on the offensive line. And it's a big, big bunch with an average weight of 320 pounds. Jeremiah Poutasi (345) is in at left tackle, Jeremiah Tofaeono (320) is in at left guard, Vyncent Jones (305) is in at center with Junior Salt (guard, 325) and Siaosi Aiono (305) on the right side. A lot of folks are excited to finally see Salt in action and the coaching staff has been singing his praises for more than a year.
Backing up the back: It's no secret that the Utes lost a talented runner in John White -- a two-time 1,000-yard rusher. Kelvin York, who sits atop the depth chart, showed promise in limited work last year. And this spring the coaching staff was able to develop some depth behind him with James Poole, Lucky Radley and Karl Williams all in contention to be the first back off the bench.
Fall questions
No. 2 QB? Travis Wilson, who started the second half of last season, did a good job entrenching himself as the starter and creating some separation from the pack. But any Utah fan worth their salt knows how important quarterback depth can be -- especially after the past few years. And the race will be on this fall to see if Adam Schulz or Brandon Cox will be Wilson's primary understudy.
Looking for something special: The Utes have to replace a kicker and a punter in 2013. As of now, it looks like kicking duties fall to Andy Phillips while Tom Hackett takes over at punter. Speaking of special teams, there's also the departure of All-American kick returner Reggie Dunn to consider. The top candidates to return kicks are Quinton Pedroza and Charles Henderson.
D-line in transition: Utah lost 75 percent of a very talented defensive line crew -- including first-round draft pick Star Lotulelei and the Kruger brothers. And it looks like a lot remains unsettled. Nate Orchard and Jason Whittingham are separated by an "or" at left end, one of the two tackle spots is up for grabs between LT Tuipulotu and Sese Ianu and Whittingham and converted linebacker Trevor Reilly are both up for that right end spot. Kyle Whittingham has said he's still not sure how he'll play Reilly -- who could spend more time with his hand down, working in a hybrid DL/LB role.
March, 15, 2013
3/15/13
12:00
PM ET
You might have noticed a theme this week. We kicked off the "
Biggest Shoes
" series and had two polls (
North
and
South
) on replacing departed players. So that means it's now time for your Pac-12 bloggers to weigh in on which two players we believe leave the biggest holes. Given our penchant for quarterbacks, you might find our two choices surprising. Read on.
Ted Miller:
I do not know what size 6-foot-3, 320-pound Utah defensive tackle
Star Lotulelei
's shoes are, but I'd bet they are among the biggest in the Pac-12 -- in more ways than one.
The thing about replacing a dominant interior defensive lineman is that it's difficult to measure what you're losing. An All-America receiver or running back or even cornerback leaves, and you feel fairly comfortable quantifying what is lost and must be replaced. Lotulelei, however, was more than the sum of his stats -- 42 tackles, 10 tackles for a loss, five sacks, four fumble recoveries, three forced fumbles and a very important blocked kick.
Lotulelei changed what an offense could do. He changed blocking schemes. He demanded specific attention from an offensive coordinator and a line coach. He made sure the interior of the opposing offensive line -- even if the offense was winning the overall battle -- wanted to ask for its check.
He was a unique presence. An anomaly. A college center could start 48 games in his career and face a guy like him just once. That's why Lotulelei will be a first-round NFL draft pick, even with a heart condition. He could get picked in the top five if a team deems him healthy.
But his shoes are even bigger because Utah, after a disappointing defensive campaign in 2012, is replacing three of four defensive linemen. Moreover, the Utes were unhappy with their linebacker play last fall, even with all the protection Lotulelei provided. Opposing offensive lines, unencumbered by the need to double-team Lotulelei every play, will get a lot more hats on those linebackers in 2013. Not what coach Kyle Whittingham wants.
[+] Enlarge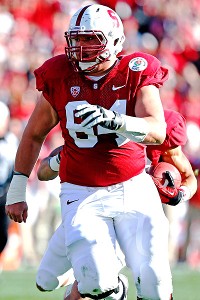 Charles Baus/CSMCenter Sam Schwartzstein was a huge piece of Stanford's recent offensive success.
The cupboard isn't empty. The Utes are high on
Tenny Palepoi
, a 305-pound senior who played well as the backup to defensive tackle
Dave Kruger
last season. And there are other big bodies:
LT Tuipulotu
, Stevie Tu'ikolovatu, a 320-pound redshirt freshman, and
Viliseni Fauonuku
will be in the mix.
Yet the Utes defensive coaches won't even pretend one of those guys will fill Lotulelei's shoes. They are just too big.
Kevin Gemmell:
This is a tough one. I've been going through a bunch of players all week long trying to come to a conclusion on which one I wanted to write about (and Lotulelei was already taken). All of them are important --
Matt Barkley
,
Khaled Holmes
,
Robert Woods
,
Jordan Poyer
,
Travis Long
,
Markus Wheaton
,
Brandon Magee
,
Desmond Trufant
,
Stepfan Taylor
,
Johnathan Franklin
,
Zach Ertz
,
Dion Jordan
and … (insert name I unintentionally omitted and now you feel wildly offended).
There really is no wrong answer here. Each player is a major contributor to his team in his own way. But the one name that kept coming back to me is Stanford center
Sam Schwartzstein
. I know, not as exciting as
Kenjon Barner
or glamorous as
Matt Scott
. But in terms of sheer contributions to the team that will be tough to replace, Schwartzstein has to be in the conversation.
In 2011, he was regarded as having the second-best football mind on the team -- behind only Andrew Luck. And he didn't lose any of that in 2012.
After the quarterback, there is no more important position on Stanford's offense than the center. He makes all of the scheme and protection calls at the line of scrimmage. He even calls plays in the huddle when the Cardinal go into the Wildcat.
Schwartzstein started every game since taking over for All-American Chase Beeler, and twice he blocked for a 1,000-yard rusher in Taylor. The Cardinal played 14 games in 2012 and allowed just 20 sacks. In the 12-game regular season, they had allowed a conference-best 17. The year before that? Just 11 in 13 games. I know for a fact that there were zero quarterback-center exchange fumbles in 2011. And none comes to mind in 2012.
Khalil Wilkes
, who started almost every game last year at left guard (one start at left tackle) moves over to compete with
Conor McFadden
for the gig. Maybe the transition from Schwartzstein to one of those guys will go as smoothly as the handoff from Beeler to Schwartzstein. After all, the new center will have one bona-fide All-American at his side and potentially a couple more on the line.
But they won't be the ones making the calls. That falls on the center -- and Schwartzstein was outstanding at it. He was second-team all-conference and honored with the school's leadership award. Not Taylor, not Ertz. Not
Shayne Skov
nor
Ryan Hewitt
nor the aforementioned All-American
David Yankey
. The center … the most crucial position in Stanford's offense that you never hear about.
Tough shoes to fill, indeed.
February, 22, 2013
2/22/13
9:00
AM ET
Here are some keys and storylines to watch this spring in the South Division. Yesterday Ted looked at
the North Division.
ARIZONA WILDCATS

Start date:
March 3
Spring game:
April 13
What to watch:
New battery: The Wildcats are looking to replace a top-notch quarterback-center combo in Matt Scott and Kyle Quinn. The rock-solid duo helped produce one of the top offenses in the league. Jesse Scroggins and B.J. Denker are among those in the mix to run the offense and several returning offensive linemen are versatile enough to move around. Chris Putton and redshirt freshman Beau Boyster could be in the mix at center.
Many happy return(er)s: Arizona returns a big chunk of its offensive production -- including running back Ka'Deem Carey and receiver Austin Hill. Both should be on all sorts of preseason teams and awards watch lists. But behind the big names, there's also David Richards, Johnny Jackson, Tyler Slavin and Garic Wharton back in the mix.
No learning curve: Last spring, the talk was about Rich Rodriguez calling out his team for its lack of physical conditioning. The fact that the majority of the team understands what is expected -- and they don't need to spend the whole spring learning new systems, should be a huge help. Consider that the Wildcats return their entire defense from a group that was, at times, shaky, but will certainly benefit from another full season of playing in the 3-3-5 scheme.
ARIZONA STATE SUN DEVILS

Start date
: March 19
Spring game:
April 13
What to watch:
Plugging the middle: One of the few losses to ASU's roster is middle linebacker Brandon Magee -- a leader on and off the field and an all-around heck of a player. Carlos Mendoza looks to be a good fit -- though he's likely to miss spring while continuing to recover from a shoulder injury suffered against Illinois. Folks might remember his two interceptions before going down for the year.
Catching on: Unlike last spring, the Sun Devils have their quarterback. And he's a good one. Now, they need to find folks he can throw to. JC transfers De'Marieya Nelson (H-back, 6-3, 230) and Jaelen Strong (WR, 6-4, 205) are both big bodies who could step in and contribute immediately.
Wait and see: The kicker here is a lot of these players who are expected to compete won't arrive until the fall. So in the meantime, a lot of the younger players and redshirts will get a ton of reps in the system. And speaking of kicker, don't underestimate how much of an impact Josh Hubner made at punter. Iowan Matt Haack, who arrives in the fall, is a rugby-style kicker who can kick with either foot. That's just cool.
COLORADO BUFFALOES

Start date:
March 7
Spring game
: April 13
What to watch:
Meet your QB: Whomever it will be. There are five on the roster and a sixth coming in. Safe to say, quarterback play was extremely inconsistent last season for the Buffs. With an entirely new coaching staff coming in and installing the pistol, this could be one of the more interesting and wide-open position battles in the league.
Curious defense: One needs only to review Colorado's national rankings last year to realize they struggled. As one Buffs insider mentioned to me, they were ranked No. 1 in a lot of categories. Unfortunately, that "1" was followed by two more numbers. Only three defensive ends have playing experience. However a secondary that lacked experience in 2012 has a lot more looking into 2013.
Receiver options: The Buffs welcome back Paul Richardson, who missed all of last season with a knee injury. Colorado's premier offensive playmaker will be a nice veteran presence to whomever wins the quarterback job. Grayshirt Jeff Thomas also is back. An improved passing attack should help give the quarterback some confidence and open up the running game.
UCLA BRUINS

Start date:
April 2
Spring game
: April 27
What to watch:
Life after Franklin: The Bruins say goodbye to the best statistical back in school history -- leaving a huge void in the backfield. Johnathan Franklin was a great presence for young quarterback Brett Hundley, but now someone has to step up to fill that role, either solo or along with a committee. Look for Jordon James, Steven Manfro and Damien Thigpen to all get looks.
New No. 1: The Y-receiver, aka hybrid tight end, was filled wonderfully by Joseph Fauria -- Hundley's favorite red zone target. Darius Bell and Ian Taubler both had looks last year, but Fauria too will be tough to replace. Shaq Evans, Devin Fuller, Jordan Payton and Devin Lucien round out a pretty good receiving corps.
Secondary solutions: The Bruins must replace two corners and a safety -- Sheldon Price, Aaron Hester, Andrew Abbott -- and there isn't a ton of starting experience. Randall Goforth has five starts, but veterans such as Brandon Sermons and Anthony Jefferson have more special-teams experience than actual secondary play. Keep an eye on the secondary too when the Bruins start fall camp to see if any freshmen jump into the mix immediately.
USC TROJANS

Start date
: TBD
Spring game
: April 13
New defensive scheme: The Trojans will move to a 5-2 defensive scheme under Clancy Pendergast, and the spring drills will be the first opportunity to see the defense in action. The Trojans will have an experienced front seven, but four new starters are expected in the secondary.
Replacing Barkley: Max Wittek got the first extended audition in the battle to take over for Matt Barkley, but he didn't do enough in two late-season starts to claim the job. Cody Kessler and freshman spring enrollee Max Browne also will be looking to take the reins at one of the glamour positions in college football.
Lane Kiffin on the hot seat: The Trojans are coming off a disappointing season, and the fans are howling in protest, but so far his boss Pat Haden has maintained full support for his coach. Now is the time for Kiffin to show why that support is warranted. -- Garry Paskwietz, WeAreSC
UTAH UTES

Start date
: March 19
Spring game:
April 20
What to watch:
Erickson impact: The biggest question was what sort of role Dennis Erickson would play in the offense once he arrived. We'll know sooner than later. He already has talked about putting an identity on the Utah offense. That starts in spring when routines are established and expectations are set. And with Erickson on board to give the offense a push, the expectations will be much higher.
Wilson maturing: That leads us to the presumptive starting quarterback -- Travis Wilson -- who jumped in midseason after Jordan Wynn got hurt and Jon Hays struggled to produce. Wilson went from OK to pretty good in just a few weeks. A nice jump considering his experience level. With an entire offseason knowing he'll be the starter -- and with Erickson and Brian Johnson molding him -- it will be interesting to see what progress he makes this spring.
D-line makeover: The Utes lose some talent on the defensive line -- specifically All-American defensive tackle Star Lotulelei. Look for DE/LB Trevor Reilly to spend more time with his hand down. Tenny Palepoi, LT Tuipulotu and JC transfer Sese Ianu could all see time in the mix at defensive tackle.
June, 6, 2012
6/06/12
7:00
PM ET
Every team has a strength -- that one position group that can make a play on offense or make a big stop on defense when needed.
Based on what happened this spring, we're going to look at the strongest position group for each school. It could be on either side of the ball -- and it could be subject to change after fall camp goes into full swing.
We're going in reverse alphabetical order.

Utah
Strongest position group
: Defensive line
Headliner
:
Star Lotulelei
(44 tackles, 9 tackles for a loss, 1.5 sacks)
Supporting cast
:
Joe Kruger
(35/5/3);
Dave Kruger
(22/1.5/1);
Nate Fakahafua
(4/0/0);
Thretton Palamo
(6/0/0); LT Tuipulotu (6/0/0)
The skinny
: With an average weight across the projected starting four of 284 pounds, there isn't a lot of skinny to be found. And it starts in the middle with Lotulelei, the sitting Morris Trophy holder and All-America candidate. The 325-pounder feasts on double-teams. His job isn't to put up mind-blowing stats, it's to take multiple offensive linemen out of the play and allow his linebackers to mop up, and there is no defensive lineman in the conference that does it better. It's why he's being projected as a top five pick in next year's NFL draft.
He's got some pretty good experience alongside him as well with Dave Kruger, a three-year starter at defensive tackle who has 27 starts since his freshman year and has played in 38-of-39 games.
LT Tuipulotu missed spring ball with a knee injury, but should be good to go in the fall and he'll spell Lotulelei and Kruger along with redshirt freshman
Seni Fauonuku
.
On one defensive end spot, Joe Kruger returns and added some weight. He's up to about 275. Fakahafua will be the only first-time starter, but he saw some time as a true freshman so nothing should really be all that daunting. JC transfer Niasi Leota, true freshman Hunter Dimick and Palamo, a converted running back, add good depth to an already nasty group.
July, 11, 2011
7/11/11
9:00
AM ET
No team in the Pac-12 wows you at defensive tackle. No team is a sure thing. There is a lot of "maybe" at the position. And probably some maybe not.
The uncertainty of quality -- both in terms of returning stars and depth -- made this a difficult position to rank. For example, Washington has a nice foursome at tackle, led by Alameda Ta'amu, who might be the best tackle in the conference.
That's great. Good for the Huskies. But they ranked 97th in the country in run defense last year. You sort of pause over that, you know?
So a lot of this ranking is feel thing, a projection of potential. And "great shape" here is relative to the conference. Nebraska, for example, wouldn't exchange its tackles -- Jared Crick and Baker Steinkuhler -- for any Pac-12 tandem.
Some of this figures to inspire a bit of debate.
Great shape
USC
: This may be in some part based on fumes from the Trojans reputation at the position. It definitely includes a vote of faith that they will get a 100 percent Christian Tupou back from the knee injury that killed his 2010 season. If so, the threesome of Tupou, George Uko and DaJohn Harris is strong. And if you toss in Armond Armstead -- who missed spring with an undisclosed medical condition that threatens his career -- you'd have a clear No. 1.
Washington
: Ta'amu seemed to find himself during the second half of last year, and the 330-pounder could end up getting some All-American consideration if he consistently plays like he did against Nebraska in the Holiday Bowl. Sione Potoa'e and Semisi Tokolahi are both experienced, and Lawrence Lagafuaina a space-grabbing, 344-pound redshirt freshman.
Colorado
: The Buffaloes are sneaky good here, even though they only ranked 48th in the nation in run defense in 2010. Both starters, Will Pericak and Curtis Cunningham, are back, but Conrad Obi was a revelation this spring. He looked like a future NFL draft choice, not a player who'd mostly been a bust. Nate Bonsu, who missed spring with a knee injury, also should help.
Good shape
Utah
: The Utes, who ranked 11th in the nation in run defense in 2010, lost Sealver Siliga, but they believe they have a budding star in, er, Star Lotulelei, while James Aiono, LT Tuipulotu and Joape Peta are solid. Also, Dave Kruger, who played end this spring, is 280 pounds and can play inside.
Arizona
: The loss of backup Willie Mobley to a knee injury hurts depth, but Justin Washington figures to take a step forward after an impressive true freshman season, Sione Tuihalamaka started four games in 2010. Depth is a question. The Wildcats ranked 33rd in the nation in run defense last fall.
Oregon
: On the one hand, Oregon lost both starting defensive tackles in Brandon Bair and Zac Clark from a unit that ranked 27th in the nation in run defense. On the other, they played so many guys last fall, the new starters are experienced players. Further, Ricky Heimuli, Taylor Hart, Wade Keliikipi, Isaac Remington and Jared Ebert played well enough this spring to suggest the position will be a strength in the fall.
Arizona State
: If Lawrence Guy didn't make his ill-fated decision to enter the NFL draft, the Sun Devils, who were 16th in the nation against the run last fall, would be in great shape here. As it was, Will Sutton had a great spring and looks like a potential All-Conference guy. Grinder Bo Moos is listed as the starter at the other tackle, though he could be eclipsed by Corey Adams. Toa Tuitea saw limited action last year.
UCLA
: The Bruins defensive line was terrible last year, ranking 108th in the nation against the run, but the talent is there for a significant turnaround. Cassius Marsh, Nate Chandler, Justin Edison, Donovan Carter and Seali'i Epenesa should do a much better job plugging the middle.
California
: Cal is actually fine here, despite the loss of NG Derrick Hill. For one, when you run a 3-4 defense, it's hard to rate your DTs, even if your DEs often operate like them. The Bears have two solid options at NG in Aaron Tipoti and Kendrick Payne, and it's also possible that touted 350-pound incoming freshman Viliami Moala will eclipse both of them.
We'll see
Oregon State
: Dominic Glover moves inside from end and Kevin Frahm has experience, but this unit didn't play well last year -- 89th in run defense -- even with one of the best DTs in the nation in Stephen Paea. 340-pound Castro Masaniai could help but he missed spring after shoulder surgery and has off-field issues. There's also Mana Tuivailala and Ben Motter.
Stanford
: Like Cal, Stanford runs a 3-4, so it naturally it is going to suffer a bit in DT rankings. More important: The loss of Sione Fua is significant. Terrence Stephens and Henry Anderson had solid springs but neither has much experience.
Washington State
: Brandon Rankin, a returning starter, was listed No. 2 on the depth chart behind Anthony Laurenzi after spring practices, with redshirt freshman Toni Pole No. 1 at the other tackle. Justin Clayton, Steven Hoffart and Xavier Cooper provide depth. It's not unreasonable for Cougars fans to expect improvement, perhaps significant improvement. But a team that ranked 115th in the nation in run defense the previous season is automatically a "We'll see" here.