December, 23, 2014
12/23/14
3:00
PM ET
Barring any surprises, seven Pac-12 teams will welcome back starting quarterbacks in 2015. Though the list isn't as glittering as it was last year, when 10 starters returned, including eventual Heisman Trophy winner
Marcus Mariota
, it's a strong crew, as good a group any other Power 5 conference will offer up.
That does mean five teams will feature new starters next fall, though that doesn't necessarily mean there will be five wide-open competitions. For example, senior
Mike Bercovici
is probably more locked into Arizona State's starting job than a couple of returning starters. His potential is a big reason the Sun Devils will be counted among the conference favorites next fall.
[+] Enlarge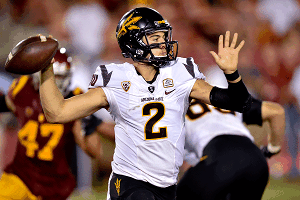 AP Photo/Gus RuelasMike Bercovici threw 12 TD passes with four interceptions this season, and flashed plenty of potential for Arizona State.
Not only is Bercovici a senior competing with four freshmen -- two redshirts -- he came off the bench this season for
Taylor Kelly
and played well in three starts. He knows coordinator Mike Norvell's offense and owns a big arm that should add a significant downfield passing component.
"I see [playing this season] as a big learning experience," Bercovici said. "Being here for four seasons and, in my fourth season, I finally get to see the field as a backup. I always wanted to prove to my teammates that I've been prepared."
He added, "Some of the success I had this year and some of the mistakes I made are all going to help me move on to the 2015 season."
Utah and Washington both welcome back returning starters in
Travis Wilson
and
Cyler Miles
, but there figures to be some intrigue this upcoming spring and fall as they try to hold onto their jobs, with Wilson most notably embroiled in a on-going, two-season competition with
Kendal Thompson
.
Like Bercovici, Washington State's
Luke Falk
gained valuable experience this season when he replaced an injured
Connor Halliday
, and he is a heavy favorite to win the Cougars starting job. Oregon, Oregon State and UCLA appear to have wide-open competitions, with the Bruins featuring touted incoming freshman Josh Rosen taking on an incumbent field led by
Jerry Neuheisel
this spring.
Bercovici was in a tight competition with Kelly heading into the 2012 season, but Kelly won the job and went on to become one of the most successful quarterbacks in program history. That could have sown the seeds of a rivalry between the two, or Bercovici could have transferred. Instead, he and Kelly became close friends.
That is why Bercovici had mixed feelings when he replaced a struggling Kelly in the Territorial Cup loss to Arizona.
"It was definitely tough to see him come off the field as a senior and for myself to come in, but we didn't really have time to think about that during the game," he said. "Some times you have bad days when things aren't going your way. It just sucks I couldn't lead us to victory in that fourth quarter."
That said, he sees the Hyundai Sun Bowl against Duke on Dec. 27 as being "Taylor's game."
"This is the last time he'll be in a Sun Devils uniform," he said. "I know he's going to go out with a bang."
After that, though, Bercovici will be eager to fill the ensuing vacancy behind center for a Sun Devils team expected to be in the South Division and national mix.
"This team knows this is my job moving forward," he said.
Here is how the Pac-12 sets up at quarterback for 2015, pending any unexpected NFL early entries.
2015 RETURNING STARTERS
Arizona
:
Anu Solomon
The skinny:
Though Solomon was impressive as a redshirt freshman first-year starter, he wasn't terribly efficient, ranking 61st in the nation in Total QBR and 55th in standard passing efficiency. So there is plenty of room to get better. The good news is 1,000-yard rusher
Nick Wilson
will be back, as will a strong crew of receivers. The offensive line has some notable holes.
California
:
Jared Goff
The skinny:
He threw for 331 yards per game with 35 TD passes and just seven interceptions as a true sophomore. If you are looking for a player who could breakout as a national name next fall, Goff might be your man. He has an NFL future. He also has a strong supporting cast coming back on offense -- nine returning starters -- including a deep and talented group of receivers.
Colorado
:
Sefo Liufau
The skinny:
He passed for a school-record 28 touchdowns, but also led the Pac-12 with 15 interceptions and was briefly benched late in the season. That said, the true sophomore has talent and will likely improve as a third-year starter as the young players around him grow up. It also would help him and the Buffs if receiver
Nelson Spruce
returns for his senior year instead of entering the draft.
Stanford:
Kevin Hogan
The skinny:
Hogan ranked sixth in the Pac-12 in QBR, despite being a third-year starter with a strong group of experienced receivers. Though the Cardinal running game and offensive line was a disappointment, there were plenty of times when Hogan was inconsistent in terms of both throwing and decision-making. What Stanford wants is for Hogan to return for his senior year and play like he did against California and UCLA for an entire season. Coach
David Shaw
said Hogan, who was
dealing with tough family situation
during the season, would be the starter if he returned and wouldn't face a challenge from touted freshman
Keller Chryst
.
USC:
Cody Kessler
The skinny:
If he opts to return for his senior season, Kessler will be an All-American candidate after throwing for 36 TDs with just four interceptions and ranking sixth in the nation in QBR. If there is one criticism of Kessler, it is that he feasted on inferior foes, but didn't turn in an A-list performance against ranked teams, most notably an ineffective showing against UCLA. He should greatly benefit from the maturation of a number of young but talented players forced into action this fall, most notably on the offensive line.
Utah:
Travis Wilson
The skinny:
This might be the Pac-12's most interesting quarterback situation. Wilson is set to become a four-year starter, but
he also might not return to the Utes
for his final season. That's because coaches might want to go with Kendal Thompson, who briefly replaced Wilson in the starting lineup before getting hurt. If that's the case, Wilson can transfer with no penalty, because he is set to graduate in 2015. Utah looks like it's going to be stacked on both sides of the ball next fall -- 16 other position-player starters are set to return -- but quarterback remains the issue, as it has since Utah joined the Pac-12.
Washington:
Cyler Miles
The skinny:
Miles also could face a challenge for his starting spot, though the rising junior also flashed ability at times while doing a good job of protecting the football -- see just three interceptions -- and played better the second half of the season. And who might provide a legitimate challenge, as no other quarterback on the roster appears capable of unseating him. It will be interesting to see how quickly touted incoming freshman Jake Browning picks things up this spring.
2015 COMPETITIONS*
Arizona State
: Mike Bercovici, Sr;
Manny Wilkins
, RFr; Coltin Gerhart, RFr.; Brady White, Fr.; Bryce Perkins, Fr.
The skinny:
Bercovici is more certain here than a couple of the conference's returning starters. He gained valuable experience this season replacing an injured Kelly, throwing 12 TDs with four interceptions, and flashed plenty of potential, including A-list arm strength. Though the Sun Devils have stocked up on young quarterbacks, including a pair of touted incoming freshmen, Bercovici is almost a certainty here.
Oregon:
Jeff Lockie
, Jr.;
Ty Griffin
, RSo.;
Taylor Alie
, RSo.;
Morgan Mahalak
, RFr., Travis Waller, Fr
The skinny:
Lockie was Mariota's backup this season and has thrown 30 passes in his career -- one TD! -- which means he will have more experience than Mariota did when he took over as a redshirt freshman. It also was a strong indicator of a pecking order when
Jake Rodrigues
and
Damion Hobbs
opted to transfer after spring practices, as they were both behind Lockie. Both Alie and Mahalak, however, have skills, and Waller is expect to be around this spring to join the fray. And perhaps there will be a wild-card transfer?
Oregon State:
Luke Del Rio
, So.;
Brent VanderVeen
, Jr.,
Nick Mitchell
, RFr.;
Marcus McMaryion
, RFr.,
Kyle Kempt
, RSo.
The skinny:
This one is wide open. Not only is there no clear leader, but you also have a new coaching staff under Gary Andersen with new schemes. VanderVeen started the season as
Sean Mannion
's backup, but Del Rio took over that spot about three game into the season. He threw 18 passes in mop-up duty, making him the only Beavers quarterback with any game experience. Might Andersen try to lure away Austin Kafentzis, a four-star quarterack from Sandy, Utah, from his commitment to Wisconsin, where Kafentzis originally planned to enroll early to play for Andersen? And what about James Pensyl, a 6-foot-7 hurler from Land O'Lakes, Florida, who committed to Mike Riley?
UCLA:
Jerry Neuheisel, Jr.,
Asiantii Woulard
, RSo.;
Mike Fafaul
, RJr.,
Aaron Sharp
, RFr., Josh Rosen, Fr.
The skinny
: Neuheisel was
Brett Hundley
's backup this season, and came off the bench to lead the Bruins past Texas. He is a capable, charismatic guy who probably relishes the idea of being counted out by many due to the arrival of Rosen. Rosen, however, is the guy many will be watching. Perhaps the best quarterback in the 2015 recruiting class, he will participate in spring practices when he can immediately put himself into the mix.
Washington State:
Luke Falk, RSo.;
Peyton Bender
, RFr.; Tyler Hilinski, Fr.

The skinny:
Falk started fast then faded a bit after coming off the bench to replace the injured Connor Halliday, but he is the overwhelming favorite here. In four games, he threw for 1,859 yards with 13 touchdowns and seven interceptions, with six of those picks coming in his last two games. Still, he didn't look like a walk-on. He looked like an A-list redshirt freshman suddenly thrust into action who was struggling against good teams. Coach Mike Leach won't make it seem like Falk is locked in during spring practice, but it's his job to lose.
*Listed year in school is for 2015
November, 23, 2014
11/23/14
2:47
AM ET
A few things we learned this week in the Pac-12.
South Division picture clearer
: With UCLA's
38-20 whipping of USC
and Arizona's
42-10 bludgeoning of Utah
, the Trojans and Utes are out of the South Division race. So it comes down to UCLA, Arizona and Arizona State on the final weekend of the regular season to see who plays North Division champion Oregon on Dec. 5 for the Pac-12 title. UCLA controls its fate: It wins the South if it beats Stanford on Friday. If UCLA loses to Stanford, the winner of the Territorial Cup on Friday is the Pac-12 champion. Funny thing: Both games are 12:30 PT kicks, so they will be contested simultaneously, which means the Sun Devils and Wildcats likely will be doing some scoreboard watching during their rivalry game.
[+] Enlarge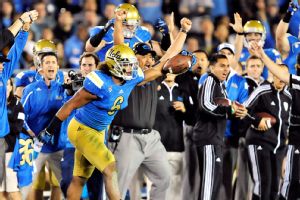 Gary A. Vasquez/USA TODAY SportsUCLA rolled over USC 38-20, which gave the Bruins three straight wins in the cross-town rivalry.
Battle for L.A. goes to UCLA
: UCLA has now won three in a row against USC for the first time since it won eight in a row from 1990 to 1998, so Bruins third-year coach Jim Mora has officially established a trend, even if this was Steve Sarkisian's first go-around over the Victory Bell. This was a big one, with both teams ranked and the South Division still available for the taking. UCLA, by the way, also keeps its hopes for a berth in the College Football Playoff alive -- hopes that will be pretty good if they win out and take the conference crown over Oregon. Next big question: Who wins the L.A. recruiting battle? By the way, USC has a lot of guys coming back in 2015, while UCLA will be breaking in a new QB with
Brett Hundley
likely heading to the NFL after he provided Bruins fans a troika of L.A. rule during his tenure. With UCLA rising under Mora and USC now free of NCAA sanctions, this rivalry should only get better -- as in, more nationally relevant.
This is the biggest Territorial Cup in a long time
: Arizona and Arizona State, both 9-2 overall and 6-2 in the Pac-12, will meet in the Territorial Cup as ranked teams for the first time since 1986. The most recent time both teams had at least nine wins was 1975 (ASU 10-0, Arizona 9-1). The South Division is still undecided. Next Friday, with everyone stuffed with turkey, this will be great fun in Tucson. Big question, though: Will Arizona QB
Anu Solomon
, who left the Wildcats' win over Utah with a lower-leg injury, be available?
Newly bowl eligible
: Stanford's
38-17 win
over Cal and Washington's
37-13 win
over Oregon State made each team bowl-eligible and gave the Pac-12 eight eligible teams. Cal and Oregon State still can become bowl-eligible on the final weekend. Cal needs to beat BYU at home on Saturday, while the Beavers need to end their six-game losing streak in the Civl War against state Oregon.
Cal is much better, but Stanford still rules the Big Game
: Cal and Stanford entered the Big Game with matching 5-5 records, but the Cardinal made a dominant statement and won their fifth in a row in the series. That means no Stanford senior will experience life without The Axe. Entering the game, it was a matchup of a good offense (Cal) versus a good defense (Stanford) and a bad offense (Stanford) versus a bad defense (Cal). We learned Stanford's good defense is better than Cal's good offense, and its bad offense is better than Cal's bad defense.
Washington State's freshman QB Luke Falk has lots of potential, but he hasn't yet arrived
: Falk was impressive coming off the bench to replace an injured
Connor Halliday
against USC and had a brilliant starting debut at Oregon State and a strong start at Arizona State, when the Cougs jumped ahead 21-7 against the Sun Devils. But things went haywire thereafter, and Falk started looking like a freshman. He committed five turnovers (four picks and a fumble) in a game the
Cougars lost 52-31
. He threw for 601 yards and three TDs, and he has shown plenty of good things that point to a strong future running Mike Leach's offense. But the performance in Sun Devil Stadium showed he's still got ways to go, which really shouldn't be surprising.
November, 12, 2014
11/12/14
5:50
PM ET
Luke Falk
will always be referred to as a former walk-on.
It's accurate, but deceiving, and after the redshirt freshman threw for 471 yards and five touchdowns in his debut as Washington State's starting quarterback, there are probably plenty of coaches around the country wondering how they missed on him.
There was a time when it was hard for Falk to understand, too. Especially after the way the recruiting process began.
When he boarded a plane from Utah headed for Tallahassee, Florida, during the summer of 2012, Falk was anxious to get back on campus at Florida State. A year prior, he sat in the office of Dameyune Craig, the Seminoles' quarterbacks coach at the time, and received his first scholarship offer.
"He told me, 'We want to be the first to offer you,'" Falk said. "I thought the offers would roll in after that."
[+] Enlarge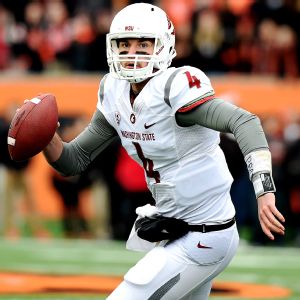 Steve Dykes/Getty ImagesLuke Falk completed 44 of 61 passes for 471 yards with 5 touchdowns and no interceptions in his debut as Washington State's starting quarterback.
But because Falk played in just two games as a junior after transferring from Logan (Utah) High to Oaks Christian in Southern California, and then back to Logan, they didn't. He was off the recruiting radar.
It was disappointing for Falk, but at least he had Florida State. Or so he thought.
"I went down for the camp thinking I still had the offer and they pretty much said, 'No, you don't have the offer anymore. You didn't have junior year film,'" Falk said. "It was kind of surprising. It was a bad plane ride for me back home, but it only motivated me more."
The junior season is without question the most important for a quarterback looking to get recruited, so even after Falk threw 3,618 yards and 36 touchdowns as a senior, most schools were already set. He received offers from Idaho and Wyoming, but those weren't as appealing as the opportunity to receive an Ivy League education and play without an athletic scholarship at Cornell. He settled on the Big Red, but things changed once coach Kent Austin left to become the coach of the Hamilton Tiger-Cats in the Canadian Football League.
His options remained limited.
"I kind of got my offer pulled from Idaho with the new staff, so that's kind of embarrassing," Falk said. "Recruiting was real rough."
Luckily Washington State coach Mike Leach came into the picture late with an offer to walk on with the Cougars. Falk liked that Logan ran a similar system to Leach's Air Raid and felt comfortable after meeting with Leach that he'd have a fair chance to compete with the Cougars' scholarship quarterbacks.
"When I first came up [to Pullman] on that visit as a walk on, I met with Coach Leach," Falk said. "He said, 'I promise you, we'll give you an equal opportunity to compete for the job.' Really right there, looking in his eye, I knew he was telling me the truth and he stayed true to his word. I got equal reps and equal opportunity."
Falk arrived in the same class as
Tyler Bruggman
, the country's No. 22-ranked quarterback in the Class of 2013, but largely outplayed him during the spring. His emergence played a role in Bruggman's decision to transfer in July, leaving Falk as the primary backup to
Connor Halliday
after last year's No. 2, Austin Apodaca, also transferred in February. Shortly before the season began -- more than three years after Florida State offered -- Falk was put on scholarship.
He'd have preferred that his opportunity for playing time came under different circumstances, but once Halliday, WSU's all-time leading passer, was lost for the season with a broken ankle on Nov. 1, Falk stepped in without any noticeable drop-off.
That came as no surprise to Leach, who'd seen enough in practice to expect as much.
"I thought he definitely would [succeed right away]," Leach said. "We saw that in camp, but then I also think that mentally he was probably further along than we expected even."
In that department, Leach said Falk stacks up well against the long list of high-profile quarterbacks to play in his system.
"As far as being calm and taking the reigns of things, he might be ahead of all of them," Leach said. "He's way up there with that."
Color Oregon State coach Mike Riley impressed, as well. The Beavers had no answers as Falk played his way to Pac-12 Player of the Week honors.
"I thought he was really poised and very, very sharp," Riley said. "He got the ball out of his hands quickly so his reads were decisive and he put the ball in a great location. Very efficient. I thought he ran their offense really, really well for a guy that hadn't played too much."
Leach stopped short of calling Falk the Cougars' starting quarterback of the future, citing other talented players in the program, but if one start is any indication of what's the come, the Cougars have no reason to worry.
June, 19, 2014
6/19/14
5:30
PM ET
It's only the middle of June, but the familiar sound of the Heisman buzz has already started.
The Pac-12 is no stranger to preseason Heisman buzz.
Andrew Luck
had it. So did
Matt Barkley
.
Marcus Mariota
had it for a while last season. And, along with reigning Heisman winner
Jameis Winston
, Mariota is again in the spotlight.
Earlier this week ESPN.com Insider Phil Steele started looking at
potential Heisman candidates
for the 2014 season. And Mariota's name is at the top of his list.
[+] Enlarge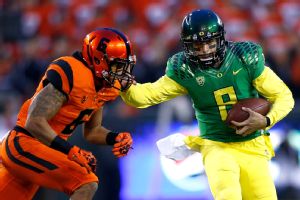 Jonathan Ferrey/Getty ImagesMarcus Mariota accounted for more than 4,000 yards last season, even as he was hampered by a knee injury.
Steele made his case for the Oregon quarterback Wednesday when he wrote:
Last year, Mariota became the first Oregon quarterback to top 4,000 yards of total offense (4,380) while accounting for 40 total touchdowns and just four interceptions. He accomplished this despite wearing a knee brace for much of the second half of the season, which limited his mobility. With added rest for the bowl game against Texas, he ran for a season-high 133 yards. Now 100 percent healthy, he has a solid shot to top last year's remarkable statistical totals while leading a Ducks team that figures to play a huge role in the first College Football Playoff.
If you're an Oregon fan, all of those things have to make you feel awful giddy. But Mariota isn't the only Pac-12 quarterback getting some love. UCLA quarterback
Brett Hundley
should also see his fair share of hype, and he checks in at No. 6 on Steele's list of top-10 candidates.
Writes Steele:
It is dangerous putting Hundley this low, as I think the Bruins have a great shot at making the College Football Playoff. Last year, despite playing behind a questionable offensive line that allowed 36 sacks, Hundley threw for 3,071 yards, completed 67 percent of his passes, posted a 24-9 TD-INT ratio and became the first UCLA QB to lead the team in rushing (748 yards) since 1964. This year, Hundley has a healthier offensive line and a strong supporting cast with 16 returning starters that not only has Bruins fans thinking Pac-12 title, but also their second Heisman in school history (Gary Beban in 1967).
Steele also looked at
the top-15 quarterback units
in college football, examining the depth of the position groups. One-third of his teams come from the Pac-12, including UCLA, Oregon, Arizona State, Oregon State and Washington State. This should come as no surprise. The conference is as quarterback-heavy as it's been in recent memory -- maybe ever.
Here's what Steele had to say about the Cougs' QB depth.
Last year Connor Halliday set Pac-12 single-season records for completions (449), attempts (714) and passing yards (4,597) while leading the Cougars to their first bowl game since 2003. He also tied a NCAA bowl record with six touchdown passes and had a solid 16-5 TD-INT ratio in his last five games. Now in his third year of head coach Mike Leach's pass-happy offense, he could even top last year's outstanding numbers. His backup Tyler Bruggman (PS No. 29) was highly regarded coming out of high school and Lucas Falk had a solid spring.
May, 5, 2014
5/05/14
9:00
AM ET
Spring ball is a lovely little dose of football that gets us all through the year, but it's a far stretch from what we know and see in the fall. For the most part, it gives the young guys solid snaps and lets the older guys tune their skills.
But the coach who put it best this spring was Oregon coach Mark Helfrich who said, "In spring ball, you're panning for gold a little bit. There's a bunch of crap and one fleck of gold. You grab it and build on that and try to fix the other parts."
So, here's a look at who or what those flecks of gold were for the Pac-12 North:

Cal:
If the Bears had been even adequate on defense a year ago, Andy Buh would still be in charge of the defense. Of course, that didn't happen, but as a result coach Sonny Dykes was able to bring in Art Kaufman -- a man with a much more extensive list of success coordinating defenses. With Kaufman on board, Cal got back to basics, upped the amount of hitting it did in practice and took steps toward getting back to respectability. And, oh yeah, it remained healthy throughout the process.

Oregon:
Offensively, if there's any kind of gold/silver lining to the fact the Ducks lost
Bralon Addison
, it's that they lost him early in the spring, which gave the younger, less experienced receivers more reps. Obviously, you never want to see a guy go down, but the timing of this injury gave other guys the time to step up and bring along the learning curve. Defensively, the silver lining is that the pass rush definitely improved. Between
Arik Armstead
and
DeForest Buckner
, Oregon is going to have two really solid defensive linemen on its hands.

Oregon State:
The Beavers lost Biletnikoff Award winner
Brandin Cooks
and with him about 1,700 yards of receiving. They spent the spring trying to figure out where they'd find it. The fleck of gold in this season for Oregon State is that it might be on the right trail with two young receivers -- sophomore
Victor Bolden
and redshirt freshman
Hunter Jarmon
. They're both players to keep track of next fall as quarterback
Sean Mannion
will certainly continue his gun-slinging ways.

Stanford:
The two-time defending Pac-12 champion's blueprint has long been in place. Now the program is in the rinse-and-repeat state among college football's elite -- and for Stanford that starts with the offensive line. With four new starters up front, the talented group needs time to mesh, but it showed enough throughout spring to encourage the coaching staff it can remain a strength of the team. Center
Graham Shuler
and left guard
Joshua Garnett
also displayed leadership traits.

Washington:
Whenever there's a coaching change before a spring season, the fleck of gold is always going to be the fact that for both the coaches' and players' benefit, there was a period of time to get acquainted with one another. For Chris Petersen, he was installing a new system, bringing UW an overhaul in the coaching staff and implementing new rules and ways of doing things. Hopefully the spring period moves this group from Petersen's program with Steve Sarkisian's players to more of Petersen's program.

Washington State:
Ask any WSU fan about the future at quarterback beyond
Connor Halliday
and there is no worry in the world. It has been that way since
Tyler Bruggman
signed his letter of intent as part of the Class of 2013. What few counted on was that a walk-on could end up challenging the heir apparent -- but that appears to be the case.
Luke Falk
, who at one time was committed to Cornell, split reps with Bruggman and outperformed him in the Cougars' spring game.
May, 2, 2014
5/02/14
5:30
AM ET
What we learned about
Washington State
in the spring as it prepares for the third season under Mike Leach.
Three things we learned in the spring:

1. Offensive line will have some beef.
When Leach arrived, the offensive line simply didn't match up physically against teams in the Pac-12. The Cougars will replace three starters on the line, but for the first time in Leach's tenure, the unit will average more than 300 pounds across the board.
2. Falk, Bruggman competition will be good.
There was a general sense that QB
Tyler Bruggman
was the heir apparent to
Connor Halliday
, but that perception isn't the same after a strong spring from
Luke Falk
, who was nowhere near the caliber of recruit. The two splits the reps with the second unit throughout the spring.
3. Depth on the DL.
Ioanee Gauta
is gone, but the Cougars return
Toni Pole
,
Xavier Cooper
and
Destiny Vaeao
, which presents the obvious strength of the defense. With
Darryl Paulo
,
Robert Barber
,
Daniel Ekuale
and
Emmitt Su'a-Kalio
the team should have improved depth up front.
Three questions for the fall:
1. Who will be the top two running backs?
Marcus Mason
and
Teondray Caldwell
, the team's top two backs from a season ago, are back, but that guarantees nothing. On Thursday, Leach told reporters
Theron West
and
Jamal Morrow
would be the primary backs.
2. How will young group of defensive backs develop?
Only time will tell, but if the Cougars expect to take another step forward, it'll hinge on the ability of this group to develop quickly.
Deone Bucannon
is among five players gone from last season, and only safety
Taylor Taliulu
and cornerback
Daquawn Brown
saw extensive playing time last season.
3. Can Darryl Monroe be an all-conference caliber player?
The unquestioned leader of the defense, Monroe was a steady force for the Cougars as a sophomore and has a chance to make a name for himself this season. With
Cyrus Coen
also back, the linebacker play should be improved.
One way-too-early prediction:
WSU will start 3-0. It begins with: Rutgers in Seattle; at Nevada; Portland State at home. It's an opening slate the Cougars will expect to navigate through without a loss before Oregon travels to Pullman in Week 4. A 3-6 Pac-12 record would be disappointing for the team and fanbase, but in this scenario it would still qualify the program for a second straight bowl.
April, 8, 2014
4/08/14
5:30
PM ET
This is my mailbag. There are many like it, but this one is mine.
Cory in Phoenix writes
: Kevin, on
Athlon's coaches rating
it seemed that much of the ratings for new coaches are based on the talent in place before they arrived. Is Todd Graham really a better coach than Rich Rod or is Jim Mora really better than Mike Leach? So my question, if you were the AD of Generic University, a hypothetical university in the Pac-12 that finished 6-6 (i.e., this is an average team with average talent), and could steal one Pac-12 coach to rebuild your program, which coach do you hire to lead your program to the Rose Bowl?
Kevin Gemmell
: I get this question a lot in chats. And if I were running the show for the Generic U Fighting Millers, I would probably select David Shaw as my head coach for one very simple reason: We believe the same thing philosophically.
[+] Enlarge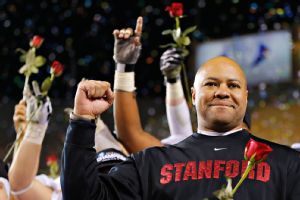 AP Photo/Matt YorkIf you prefer a power game and a 3-4 defense, then your outlook is rosy with David Shaw.
I grew up in the Bay Area in the heyday of Joe Montana and Steve Young to Jerry Rice. I grew up watching Tom Rathman block for Roger Craig and Bar None Floyd blocking for Ricky Watters. I believe in the West Coast offense. So does Shaw.
I've been a beat writer for football teams that have run the spread and the option and the pro style. And the pro style is what I would run if I were a coach. Because I believe that a strong, power-based rushing attack wears teams downs over a 60-minute game; that 3-yard carries in the first quarter become 6-yard carries in the fourth. The ability to run power up and down the field is demoralizing to an opposition. It's not just X's and O's. It's a mentality.
Defensively, I believe in the 3-4, especially in the Pac-12, where talented edge rushers are invaluable and perimeter speed is critical.
Of course, that's what makes this such a fun debate. Say what you want about Utah's offensive inefficiencies the last few years, Kyle Whittingham can coach up an even front as well as any coach in the country. If I were running a 4-3, I'd snag Whittingham in a heartbeat. If I wanted uptempo, I'd tap Mark Helfrich. If I wanted to raid, I'd go with Mike Leach.
You get where I'm going with this. It's a question of personal preference. It has less to do with the man and more of what the man believes and whether that's simpatico with what you believe.
---

Gerry in Elko, Nevada writes
: This isn't really a question, but rather giving praise to the blog. Year after year I hear Oregon State "fans" calling for the firing of Mike Riley because Oregon State doesn't achieve the same success that Oregon does. You all at the blog always seem to praise him for the job he has done for OSU. Anyway, I just got done reading the Athlon Coaches list and [Chris] Petersen at No. 2 sounds a bit high, but I'm OK with that. I expect him to drop a bit because I don't see him having much success in Year 1. The list for the most part is sound in my opinion, though. Keep up the good work!
Kevin Gemmell
: Thanks for the kind words, Gerry. I had a great talk with Rick Neuheisel a couple of months back about Mike Riley and one of the things he said was that "Corvallis isn't getting any closer to the best athletes." And yet Riley has recruited a quarterback who is on pace to become the league's all-time leading passer and a receiver who was last year's Biletnikoff winner. That ain't bad. Anyone question whether he's still got "it?" I might be biased (oh wait, I am) because I've known Riley since I was covering the Chargers pre-Y2K. But the guy is one of the most respected coaches in the country for a reason. And I hope OSU fans will always appreciate what he has done for that program.
As for Petersen, as I noted in the piece, my first thought as well was that he was a bit high on the list for having never coached in the conference. But when you look at his resume, it's as strong as anyone else and a good reminder for just how deep the roster of coaches is in this conference.
Consider the current Pac-12 coaches who have won BCS bowl games:
Petersen: 2 (2006 Fiesta, 2009 Fiesta)

Whittingham: 2 (2004 Fiesta, 2008 Sugar)

Rich Rodriguez: 2 (2005 Sugar, 2007 Fiesta)

Shaw: 1 (2012 Rose)
Others have won as coordinators or assistants. You can argue that Leach got hosed out of a BCS bowl game at Texas Tech in 2008 (and he'd agree with you). Ask Bob Stoops if he thinks Petersen is a good coach.
As someone who covers the conference, I talk to a lot of folks about other folks. Comes with the job. And so far I've yet to hear someone say anything other than glowing about Petersen and what he brings. Oh yeah, don't forget about that whole two-time national coach of the year thing.
Now, will that translate to a playoff berth in Year 1? Probably not. But the guy has a proven system, and I think the rest of the Pac-12 coaches realize that while it was tough before to go to Seattle, it's about to get a lot tougher.
---
Justin in Denver writes:
What is the deal with Stanford not showing interest in ESPN No. 1-rated QB
Josh Rosen
? It appears he wanted to go there and then decided on UCLA because Stanford was giving him no love. Does Stanford feel they have too many quarterbacks or did Rosen simply want to know too early from a school that takes its time? Any chance Stanford lures him out of his commitment?
Kevin Gemmell:
There is so much insider baseball that goes on with recruiting that, honest answer, I have no clue what happened. Coaches aren't allowed to talk about players they are recruiting, so we're only getting one side of the story. Here's what we got from Erik McKinney's story
when Rosen committed to UCLA last month
.
While Rosen began his recruitment as a strong lean to Stanford, Cal actually emerged as the team to beat for a moment after Rosen's relationship with the Cardinal faded due to him not receiving an offer. But a poor season by the Golden Bears allowed UCLA to jump into the picture.
In the interest of giving you the best answer possible, I talked to McKinney this morning. Essentially Stanford looked at Rosen and
Ricky Town
and opted to offer a scholarship to Town (who has since committed to USC). Simple as that. One seemed like a good fit for the school. Another didn't.
Just because a recruiting service (yes, even ours) ranks a quarterback as the No. 1 guy, that doesn't mean he's right for your program. And sure, you'd like to have a quarterback in every class. But Stanford brought in
Ryan Burns
two years ago and
Keller Chryst
last year, so it's not like the cupboards are completely empty.
And let's also remember this very important point. It's only April! A lot can happen between now and next February. Stanford could decide to offer Rosen after all and he might swing back. UCLA could win the national championship and Rosen could be the Bruins QB of the future. Jim Mora, Steve Sarkisian and David Shaw might all quit the business and form a middle-aged boy band called West Coast Pro $tyle (their first single, "TempOh," is gonna be huge). A lot can change between now and signing day -- especially when we're talking about fickle teens. So while it's nice to have feathers in your cap in April. It's better to put ink to quill in February.
---

TNT in Los Angeles writes:
WSU QB recruiting. I would have thought it would be easier to get a quality QB to commit to the Cougs, considering Leach's air-raid system being so stat friendly. We were on two four-star guys and one committed to UW and the other then went to BSU. People are trying to write it off as no problem. When
Jake Browning
committed to UW, they said we would rather have
Brett Rypien
. When Rypien committed to BSU, they said he was afraid of the depth we have. Is any of that true?
Kevin Gemmell:
Again, because coaches can't talk about it, we'll never really know the whole story.
As for depth, after incumbent
Connor Halliday
, you've got a pair of redshirt freshmen in
Tyler Bruggman
and
Luke Falk
. And
Peyton Bender
is set to arrive in the fall. Then you've got a few other quarterbacks behind them jockeying for a seat at the table. Bruggman and Bender were both rated as top-30 pocket passers nationally. I would think Leach could work with that.
Nick Nordi of All Coug'd Up had a good summary on the QB situation this morning which
you can check out here
. His take: Don't stress about it. I tend to agree.
And I'll go back to what I said in the previous mailbag. It's April, folks. Suppose Washington State goes 9-4 with a bowl in win in Las Vegas or San Diego? That would make a lot of QBs think twice about their commitments. Let's not stress too much about commitments in the spring. As with most things in life, it matters how you finish.
March, 27, 2014
3/27/14
12:00
PM ET
As Washington State kicks off spring ball Thursday, head coach Mike Leach isn't focusing on one particular theme or message. In his mind, the message should be universal: get better every day, regardless of the calendar. And if he has to remind his guys of that, then, well, they aren't his guys.
"We don't have a lot of guys looking for ways to get out of work," Leach said. "They are all collectively working pretty hard. Those looking for the easy way are quickly getting outnumbered."
As Leach enters his third spring as the Cougars' head coach, the team has taken on more of a "his guys" personality. Gone are the days of whiny receivers and bellyaching over workouts. He believes everyone on his roster is committed to his way of thinking … at least, he hopes so.
And his guys know that heading into spring, nothing is certain.
"Everything is a competition," Leach said. "People have the opportunity to beat one another out and you earn your job every day. The reps will be split up. The guys who are ahead or performing better will get more reps to try and further develop their skills. How you perform will impact the number of reps you get. But that won't declare anything necessarily. Once you get to camp you have to do it all over again."
[+] Enlarge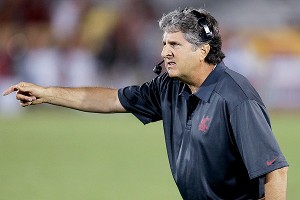 AP Photo/Chris CarlsonMike Leach is stressing competition this spring.
That shines an extremely bright spotlight on a few position groups: the secondary, the offensive line and possibly running back. The Cougars have to replace All-American safety
Deone Bucannon
and both corners,
Damante Horton
and
Nolan Washington
. Several spots on the line are up for grabs -- returning starters included. And even the running back position, where
Marcus Mason
returns as the team's leading rusher, isn't a sure bet. Leach praised the potential of
Theron West
and
Jamal Morrow
.
"That whole position is chopping at his heels," Leach said. "Mason was a steady guy last year. He did some good things. At the end of last year, the hottest running back we had was West. A lot of that took place in the bowl workouts and he had a pretty good game in the bowl game. Then Morrow has looked pretty good. He redshirted and did a lot of good things there. It will be a very competitive position."
The spring depth chart -- the very definition of a living document -- lists a lot of youth in the secondary, including redshirt freshman
Charleston White
and sophomore
Daquawn Brown
as the corners and sophomore
Isaac Dotson
and junior
Taylor Taliulu
as the safeties.
"There are plenty of jobs open there," Leach said. "The corner positions are open. The safety positions are open. It will be interesting to see. It's a bunch of people who haven't played a lot so they'll be fighting it out to see who gets more playing time."
Notes
Leach said he believes backup quarterbacks Tyler Bruggman and Luke Falk will get enough work to put some pressure on incumbent starter Connor Halliday: "I think Bruggman and Falk are both capable of pushing him. Both have a really good skill sets. Connor has the advantage in experience. We're going to have the opportunity to rep a lot of them. We'll run two pass skills throughout spring and rotate guys around. They'll all have a lot of reps."

The depth in the secondary might be complicated by the recent legal trouble of Brown. While he's still officially listed on the depth chart, Leach said they are taking a wait-and-see approach with him: "We're going to have to wait and see how everything unfolds. Right now what's come out has been greatly embellished so we'll have to see how all of that comes out."

Leach was asked his thoughts on the news Wednesday that Northwestern football players qualify as employees and could unionize: "If these guys are professionals and they want everything to be like it is in the NFL, that means that shortly we're going to be having a draft and I for one would be pretty excited about having a whole nation full of quality athletes to draft from. So I'm looking forward to that … That means if somebody doesn't perform well, you pay them less. If somebody performs real well, you pay them more. Although obviously every team should have the same salary cap. In addition to that, you have the opportunity to draft anybody you want. And maybe I'm wrong, but it follows if we're going to professionalize this kind of stuff. It follows that you handle it like professionals do."