July, 31, 2013
7/31/13
4:30
PM ET
Cornerback, at least from a preseason perspective, is not a strong position across the conference in 2013.
Three of the four corners on the 2012 All-Pac-12 first- and second-teams -- Oregon State's Jordan Poyer, Washington's Desmond Trufant and USC's Nickell Robey -- are now in the NFL. Only Arizona, Colorado, Oregon and Washington State welcome back both starting corners, and of those, only the Ducks ranked in the top eight in the conference in pass efficiency defense last year.
So how do things stack up?
GREAT SHAPE
[+] Enlarge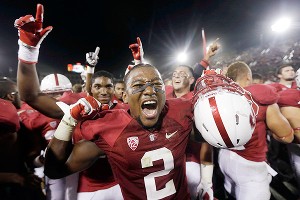 AP Photo/Marcio Jose SanchezWayne Lyons, along with experienced safeties, gives Stanford one of the conference's top secondaries.
Oregon
: The Ducks have the nation's best corner tandem in All-American
Ifo Ekpre-Olomu
and
Terrance Mitchell
. In fact, their backups,
Dior Mathis
and
Troy Hill
, probably would rate as one of the better tandems in the conference if they were starting. The Ducks welcome back the entire two-deep from their 2012 secondary, as well as safety
Avery Patterson
, an All-Conference talent who was hurt last year. This is probably the best secondary in the nation.
Stanford
: While the Cardinal's star power is at safety, they are also strong at corner with
Alex Carter
,
Wayne Lyons
,
Barry Browning
and
Usua Amanam
giving them an experienced, athletic foursome.
GOOD SHAPE
Arizona
: If
Jonathan McKnight
and Shaquelle Richardson are healthy -- and get supported by any sort of pass rush -- they have the potential to be an elite cover tandem.
Derrick Rainey
is also in the mix.
Oregon State
:
Rashaad Reynolds
is now the lead dog with Poyer gone. There's and interesting competition on the other side between veteran
Sean Martin
and juco transfer
Steven Nelson
, who had a strong spring showing. It helps that things are good at safety -- and that the Beavers gave up just 14 TD passes last year.
Arizona State
:
Osahon Irabor
, a four-year starter, is back and senior
Robert Nelson
has experience, including a notable interception in the win over Arizona.
Rashad Wadood
, who redshirted last year due to injuries, is a third option who had a strong spring. The Sun Devils ranked first in the Pac-12 in pass efficiency defense in 2012.
Washington
: Like Oregon State's Reynolds,
Marcus Peters
now moves out of a big shadow -- Trufant -- and gets an opportunity to show what he can do. While Greg Ducre and
Tre Watson
, backups last year, are back, watch out for junior college transfer
Travell Dixon
, a former Alabama signee.
Washington State
: The Cougars welcome back three corners with significant experience:
Damante Horton
,
Anthony Carpenter
and
Nolan Washington
. On the downside, the pass defense struggled last year, ranking 11th in pass efficiency defense, yielding a 65.5 percent completion rate.
WE'LL SEE
USC
:
Josh Shaw
has moved back to safety, so this position is in flux for the Trojans. Senior
Torin Harris
has nine career starts but his play has been uneven, while
Anthony Brown
has two.
Kevon Seymour
,
Devian Shelton
and freshman
Chris Hawkins
are in the mix.
California
: While the Bears lost both starters -- Steve Williams and Marc Anthony were a strong tandem --
Kameron Jackson
has plenty of experience and
Stefan McClure
has plenty of pure talent. Depth is a question.
UCLA
: The Bruins are replacing their entire secondary, and that might not be a bad thing considering they gave up 27 TD passes in 2012.
Anthony Jefferson
and
Ishmael Adams
are the leaders to start, with
Fabian Moreau
also in the mix. It will be interesting to see if true freshmen Priest Willis and Johnny Johnson make a move. It hurt to lose sophomore
Marcus Rios
to a serious sinus infection.
Utah
: The Utes lost their top three corners from a fair-to-middling 2012 pass defense, one that grabbed just eight interceptions.
Keith McGill
is a likely starter, while redshirt freshman
Justin Thomas
and JC transfer Davion Orphey are competing on the other side. Lots of inexperience here.
Colorado
: The Buffaloes welcome back essentially their entire 2012 depth chart at corner, including intriguing young talents
Kenneth Crawley
,
Greg Henderson
and
Yuri Wright
. But the Buffs ranked last in the nation in pass efficiency defense in 2012 -- just three interceptions -- which must be accounted for here.
You can see previous previews here:
Quarterback
Running back
Receiver
Tight end
Offensive line
Kicker
Linebacker
Defensive line
February, 27, 2013
2/27/13
12:00
PM ET
If Washington defensive back
Desmond Trufant
was on the first-round fence prior to the NFL scouting combine, he might have swung the other leg over. After posting impressive measurables, Trufant has climbed from first-round possibility to legitimate contender.
Writes Bucky Brooks of NFL.com
:
Trufant had been considered a fringe first-round prospect following the Senior Bowl, but a strong showing in Indianapolis now has him firmly entrenched in the conversation. He blazed a 4.38 40, displaying exceptional speed and acceleration. Additionally, Trufant popped impressive measurements in the vertical (37.5 inches) and broad jump (10-foot-5). Scouts were already convinced Trufant possesses the requisite cover skills to be a solid starter as a pro; the rest of the workout confirmed his movement skills as a borderline blue-chip talent.
Unfortunate headliner
ESPN's John Clayton recapped the top five stories of the combine. And
Star Lotulelei
made the list for
unfortunate reasons
.
[+] Enlarge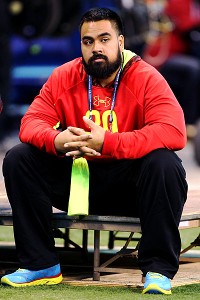 Brian Spurlock/USA TODAY SportsUtah's Star Lotulelei wasn't allowed to work out at the NFL combine after doctors discovered an issue with his heart.
Writes Clayton:
The second-biggest story was Star Lotulelei. The Utah defensive tackle came to the combine as a star. Mel Kiper had him in the top five. He was considered the best defensive tackle in the draft. But an echocardiogram determined that his left ventricle was pumping only at 44 percent, so doctors wouldn't let him work out. He is trying to find out if this is a serious heart problem or just the byproduct of losing about 10 pounds in three days. Still, his uncertainty caused a panic toward the top of the draft. The hope is that he can get a clean bill of health and then work out for teams at Utah next month. The good news is that doctors found a problem that he wouldn't have known about had he not been tested at the combine. College football teams don't provide echocardiograms because of the cost. NFL teams spare no expense to check out prospects.
In No. 5 at that link, Clayton notes that Oregon's
Dion Jordan
has also bumped his already-high draft stock. Speaking of Jordan, some of you might be shocked to see an Oregon player
leading a poll
. I know, doesn't happen often. Say this for Ducks fans, they know how to get out the vote.
RBs unimpressive
Football Outsiders uses a formula to calculate "Speed Scores," which are a player's time on the 40-yard dash based on his weight. And it wasn't an impressive crop of running backs,
writes Danny Tuccitto
.
Turning to more heralded running backs in this draft class, consensus No. 1 back Eddie Lacy (Alabama) did not participate because of a hamstring injury, and Speed Scores shouldn't affect the rankings much for those who did participate. Michigan State's Le'Veon Bell (102.7) and UCLA's Johnathan Franklin (100.9) were the only ones to break 100, albeit barely, and the worst result among potential Day 1 or Day 2 selections was the 83.4 Speed Score posted by Stanford's Stepfan Taylor. Otherwise, backs such as Mike Gillislee (Florida), Giovani Bernard (North Carolina), Kenjon Barner (Oregon), Montee Ball (Wisconsin), Joseph Randle (Oklahoma State) and Andre Ellington (Clemson) all finished in a group one would classify as "slightly below average."
Measurables from the secondary
40-yard dash
Desmond Trufant, DB, Washington: 4.38 (seconds)
Steve Williams
, DB, Cal: 4.42
Nickell Robey
, DB, USC: 4.53
Jordan Poyer
, DB, Oregon State: 4.54
Keelan Johnson
, S, ASU: 4.54
T.J. McDonald
, S, USC: 4.59
Aaron Hester
, DB, UCLA: 4.62
Marc Anthony
, DB, Cal: 4.63
Jawanza Starling
, S, USC: 4.64
Bench press
John Boyett
, S, Oregon: 27 reps
T.J. McDonald, S, USC: 19 reps
Jawanza Starling, S, USC: 17 reps
Desmond Trufant, DB, Washington: 17 reps
Marc Anthony, DB, Cal: 12 reps
Steve Williams, DB, Cal: 12 reps
Keelan Johnson, S, ASU: 12 reps
Nickell Robey, DB, USC: 10 reps
Jordan Poyer, DB, Oregon State: 8 reps
Vertical jump
Steve Williams, DB, Cal: 40.5 (inches)
T.J. McDonald, S, USC: 40
Nickell Robey, DB, USC: 37.5
Desmond Trufant, DB, Washington: 37.5
Keelan Johnson, S, ASU: 36.5
Jawanza Starling, S, USC: 36
Marc Anthony, DB, Cal: 35
Jordan Poyer, DB, Oregon State: 30.5
Aaron Hester, DB, UCLA: 29
Broad jump
T.J. McDonald, S, USC: 131 (inches)
Steve Williams, DB, Cal: 128
Nickell Robey, DB, USC: 127
Keelan Johnson, S, ASU: 125
Desmond Trufant, DB, Washington: 125
Jawanza Starling, S, USC: 122
Jordan Poyer, DB, Oregon State: 118
Marc Anthony, DB, Cal: 118
Aaron Hester, DB, UCLA: 112
3-cone drill
Jawanza Starling, S, USC: 6.68 (seconds)
Marc Anthony, DB, Cal: 6.74
Nickell Robey, DB, USC: 6.74
Keelan Johnson, S, ASU: 6.77
Jordan Poyer, DB, Oregon State: 6.87
T.J. McDonald, S, USC: 6.89
Steve Williams, DB, Cal: 6.89
Aaron Hester, DB, UCLA: 7.26
20-yard shuttle
Desmond Trufant, DB, Washington: 3.85 (seconds)
Marc Anthony, DB, Cal: 4.07
Keelan Johnson, S, ASU: 4.07
Nickell Robey, DB, USC: 4.09
Steve Williams, DB, Cal: 4.10
Jordan Poyer, DB, Oregon State: 4.18
T.J. McDonald, S, USC: 4.20
Aaron Hester, DB, UCLA: 4.33
Jawanza Starling, S, USC: 4.34
60-yard shuttle
Jordan Poyer, DB, Oregon State: 11.51 (seconds)
Keelan Johnson, S, ASU: 11.53
Jawanza Starling, S, USC: 11.62
February, 8, 2013
2/08/13
10:00
AM ET
The official list of college players invited to the NFL combine is out and 38 from the Pac-12 made the cut. At least one player from every team in the conference was invited. A total of 333 players were invited and workouts begin Feb. 23. You can see
the complete list here
.
January, 24, 2013
1/24/13
1:00
PM ET
It appears that Jim Mora was very good for
Datone Jones
.

Jones, who belatedly broke through as a senior for the Bruins under Mora, earning second-team All-pac-12 honors, is having a great week at the Senior Bowl in Mobile, Ala., and his draft stock is surging, according to multiple reports.
First from ESPN's
Todd McShay, Kevin Weidl, Steve Muench

:
UCLA's Datone Jones (6-4[, 280) had another good day. Talk about explosive upper body power -- this guy has it. He played hard and is a disciplined backside defender. He blew up a play on nine-on-seven with his quickness and ability to get inside. He also has the ability to work his hands and disengage when he's locked up in a tight situation.

He's had a good week. There's a buzz in the stands about him.
CBS Sports
rated Jones one of the Senior Bow's top "risers."
After an impressive practice on Monday, Datone Jones kept the momentum going on Tuesday, standing out as one of the best defensive stars on the North squad. He is very strong from head to toe and does a nice job using his powerful arms and hands to rip past blockers. He wasn't overly productive as a pass rusher at UCLA, largely due to the fact that he was moved all over the Bruins' hybrid 3-4 scheme, but he did make 19 tackles for loss as a senior with his impressive blend of burst and power to dispose of blockers at the point of attack. Jones is a name that will start to appear in first-round mock drafts moving forward.
It also appears that two Pac-12 running backs, UCLA
Johnathan Franklin
and Oregon's
Kenjon Barner
, also are doing well.
That said, McShay, Weidl and Muench had some questions about Franklin's speed, and that "makes him more of a third- or fourth-round prospect instead of a second."
Another Pac-12 player on the North, Colorado tight end
Nick Kasa
, has distinguished himself.
From CBS
:
While tight end Vance McDonald has impressed on the South squad, Colorado tight end Nick Kasa has stood out on the North team. A former defensive end, he didn't make the move to offense until late last season, entering the 2012 campaign with just one career catch on his resume. Kasa plays a bit tight and bulky, but he is an intriguing athlete and has really impressed as a blocker this week. He obviously needs some more seasoning, but the tools are there for Kasa to be an interesting developmental draft choice early on the third day.
As for South practices

, where California and Stanford players are, the Bears seem to be doing well. Cornerback
Marc Anthony
and offensive lineman
Brian Schwenke
have impressed:
Cal CB Marc Anthony had the best Wednesday. He turned and ran with Georgia's Tavarres King. I think he runs well, showed the ability to turn and run with guys, and he can break on balls thrown in front of him. He almost had a pick, and he can get physical.
And here's a take
on Schwenke:
While Jenkins has shown the ability to dominate lesser opponents, California center Brian Schwenke has proven surprisingly effective when taking on the massive defender. While perhaps not the most aesthetically-pleasing blocker, Schwenke shows good quickness, functional strength and understands leverage. He sinks his hips on contact, anchoring well despite being significantly lighter at 6-3, 307 pounds than many of his opponents.
Another player whose speed is being questioned is Stanford outside linebacker
Chase Thomas
. While he's been impressive on the physical side, Thomas apparently has struggled in coverage.
From CBS
:
Speaking of looking the part, no linebacker was as physically imposing as Chase Thomas (6-foot-3 1/8, 241 pounds). The outside linebacker practiced and played with a lot of effort, throwing around fellow linebackers in a tackle-shed drill, and that helped make up for a lack of burst and speed that a lot of high-profile outside linebackers tend to have. On Tuesday, Thomas was beaten a number of times on a quasi-race from a two-point stance to a tackling dummy. Ultimately, he seemed a half-step behind receivers in practice and a bit slower than his teammates in drills.
January, 23, 2013
1/23/13
1:00
PM ET
Todd McShay, Kevin Weidl and Steve Muench had plenty of plaudits for Pac-12 players during Day 2 of Senior Bowl practices in Mobile, Ala., most particularly a UCLA duo.
The ESPN draft gurus seemed to be most impressed with UCLA DE Datone Jones in their review of
North team practices

, calling him "the most consistently disruptive defensive lineman on the field."
For those of us who wrote about Jones
as a potential star for the Bruins
, this continues a certain degree of vindication.
Another former Bruin stood out: RB Johnathan Franklin, whom McShay, Weidl and Muench called, "the best of the backs, mostly because he was good in pass protection." The also said his quickness stood out.
This take was
seconded by an observer from CBS
, by the way, which called Franklin "the consensus top back on the North squad."
Not far behind, though, was Oregon's Kenjon Barner, who also had a good day.
Two other Pac-12 players impressed at North practice: Oregon State WR Markus Wheaton and Washington CB Desmond Trufant.
On Wheaton: "You can see his extra gear, though, and he also has caught the ball well the first two days here after struggling late in the year."
On Trufant, "his ability to recover and short-area quickness are good."
Here's another positive take
on both Trufant and Wheaton. Wrote CBS' Rob Rang on Trufant:
"...[I]t might seem strange that a few days of practice could vault cornerback Desmond Trufant into the first round but after two impressive days at the Senior Bowl, that is precisely where some believe the athletic pass defender could be headed.
Over at South practice

, where the California and Stanford players are, former Bears CB Marc Anthony stood out as the "best defensive back of the day."
As for Stanford RB Stepfan Taylor, the reaction was lukewarm. "Taylor's a one-speed back who does a good job following his blocks and he didn't have any drops, but his ball skills are average and he has no real burst."
August, 8, 2012
8/08/12
11:30
AM ET
The worst part of preseason practices is watching injuries pile up.

California's defense has taken a
couple of hits
, though not to projected starters.
Talented sophomore cornerback
Stefan McClure
, who suffered a major knee injury on Nov. 25 against Arizona State, may redshirt because his knee is still far from 100 percent. According to the Contra Costa Times, "McClure had his anterior cruciate and medial collateral ligaments surgically repaired and also underwent microfracture surgery to repair his meniscus."
McClure, who saw extensive action in 2011 before getting hurt, including starting two games, was listed No. 2 behind
Marc Anthony
at one corner on the post-spring depth chart.
Further, LB
Khairi Fortt
, a transfer from Penn State, is at least a couple of weeks away from practicing because he's still recovering from knee surgery. Also at linebacker, redshirt freshman
Jason Gibson
, who was in the mix to see action, though he wasn't on the post-spring depth chart, broke his right foot Monday and will be out for about three months, according to the Times.
June, 22, 2012
6/22/12
5:30
PM ET
Welcome back to the road trip. We're taking a week-by-week look at the entire Pac-12 schedule and picking out the game we feel is the marquee game of the week. If you have the time and means this is the game you want to see.
Week 4
Saturday Sept. 22
Colorado at Washington State
Utah at Arizona State
Arizona at Oregon
Cal at USC
Oregon State at UCLA
My choice
: Cal at USC
Why
:
Braxton Miller
's poorly-timed bootleg was the difference last week. He rolled right into a salivating
Deandre Coleman
who jarred the ball loose and
Marc Anthony
scooped it up and went 54 yards the other way to lock up the 31-24 win for the Bears. A frustrated Urban Meyer, whose team is now 0-3 but somehow still ranked No. 6, says to heck with the $4 million and calls Kyle Whittingham to inquire about any openings on his staff.
Meanwhile,
Matt Barkley
-- no worse for the wear -- survived four sacks by Stanford's front seven but managed 375 yards passing and three touchdowns to get the Tree off his back in a 35-21 win over the Cardinal.
That brings us to the Biletnikoff Bowl. Three of the conference's top wide receivers will be on display in a game USC won 30-9 last year. Cal's
Keenan Allen
and USC's
Marqise Lee
and
Robert Woods
are the marquee playmakers -- and of course -- Barkley, whose Heisman campaign is off to a glowing start.
But he faces another elite defense this week that had Barkley's and USC's number last season. The Bears, which held Barkley to a season-low 195 yards, also held the Trojans to their lowest total yardage of the season (313) and limited them to 118 yards on the ground (third lowest last year).
But as is the case with most games, turnovers were the difference. And Cal had five of them last season. Three
Zach Maynard
interceptions, a fumble by Maynard and a fumble by Allen produced 13 points for the Trojans.
While this is a cross-division game, it still has plenty of implications. For starters, it's one of the league's top offenses going against what's expected to be one of the league's top defenses. That in itself makes this a quality draw. The Bears, after their win at The Horseshoe, should be overflowing with confidence. But USC owns the series of late, winning eight in a row by an average score of 29-10. Cal's last win over the Trojans came in 2003 -- when Tyler Fredrickson's 38-yard field goal locked up the triple-overtime win over the No. 1 Trojans.
With Stanford and Washington both on bye gearing up for their big Thursday night showdown (hint, hint for Week 5), this game provides the most intrigue.
You can check out the rest of the road trip
here
.
January, 13, 2012
1/13/12
11:00
AM ET
Our All-Pac-12 bowl team has two quarterbacks and a position we made up. And it wasn't easy to pick the defense, because many of the conference defenses underwhelmed during a 2-5 bowl run.
[+] Enlarge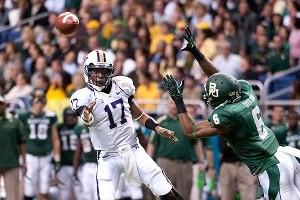 Brendan Maloney/US PresswireEven Andrew Luck would admire Washington QB Keith Price's seven-touchdown effort in the Alamo Bowl.
Offense
QB Andrew Luck, Stanford
: Luck completed 27 of 31 passes for 347 yards with two touchdowns and one interception in the Fiesta Bowl loss to Oklahoma State.
QB II Keith Price, Washington
: It's impossible to leave Price or Luck out. Price completed 23 of 37 passes for 438 yards with four TDs and zero interceptions in the Alamo Bowl loss to Baylor. He also rushed for 39 yards and three scores. Those numbers typically would eclipse what Luck did, but Baylor might have the worst defense in the Football Bowl Subdivision.
RB LaMichael James, Oregon
: James rushed for 159 yards on 25 carries with a TD in the Rose Bowl win over Wisconsin.
RB Stepfan Taylor, Stanford
: Taylor rushed for 177 yards on 37 carries with two touchdowns in the Fiesta Bowl.
WR Gerell Robinson, Arizona State
: Robinson caught 13 passes for 241 yards with a TD in the Las Vegas Bowl loss to Boise State.
WR Lavasier Tuinei, Oregon
: Tuinei caught eight passes for 158 yards and two scores in the Rose Bowl victory.
TE Zach Ertz, Stanford
: Ertz caught four passes for 38 yards and a touchdown in the Cardinal's Rose Bowl loss.
OL David DeCastro, Stanford
: The unanimous All-American dominated Oklahoma State's D-linemen in the Fiesta Bowl. The Cardinal rushed for 243 yards.
OL Mark Asper, Oregon
: Asper is the senior cornerstone of a line that led the way for 345 yards rushing in the Ducks' Rose Bowl victory.
OL Tony Bergstrom, Utah
: The senior tackle helped RB
John White
gain 115 tough yards against Georgia Tech in the Sun Bowl.
OL Hroniss Grasu, Oregon
: The Ducks freshman center made all the right line calls against Wisconsin.
OL Senio Kelemete, Washington
: The Huskies gained 620 yards and didn't allow a sack in the loss to Baylor.
Freak
: Our special position for
De'Anthony Thomas
, who scored TDs on runs of 91 and 64 yards in the Rose Bowl against Wisconsin. The Black Mamba also caught four passes for 34 yards and returned five kickoffs for 125 yards.
K: Giorgio Tavecchio, California
: Tavecchio capped a strong senior season with a 47-yard field goal in the Holiday Bowl loss to Texas.
RET: Rashad Ross, Arizona State
: Ross returned the third-quarter kickoff 98 yards for a TD against Boise State in the Las Vegas Bowl.
Defense
DL Josh Shirley, Washington
: While it's difficult to recognize anyone from the Huskies defense against Baylor, Shirley did sack Robert Griffin, the Heisman Trophy winner, three times.
DL Trevor Guyton, California
: Guyton had five tackles, with two coming for losses, and a sack in the Bears' loss to Texas in the Holiday Bowl.
DL Star Lotulelei, Utah:
The Utes DT had six tackles and a fumble recovery and generally blew up the middle of the Georgia Tech line in the Utes' Sun Bowl victory. He was named Most Valuable Lineman.
LB Jordan Zumwalt, UCLA
: Zumwalt had 10 tackles, including two for a loss, and an interception in the Bruins' loss to Illinois in the Kraft Fight Hunger Bowl.
LB Kiko Alonso, Oregon
: The Ducks LB had five tackles, including 2.5 for a loss, with a sack and a key interception in the Ducks' Rose Bowl win. He was named Defensive MVP.
LB Michael Clay, Oregon
: The Ducks LB had 13 tackles, including two for a loss, and a critical fumble recovery in the Rose Bowl victory.
LB Mychal Kendricks, California
: Kendricks had 10 tackles, including 1.5 for losses, in the Bears' loss to Texas in the Holiday Bowl.
DB Terrance Mitchell, Oregon
: Mitchell had five tackles in the Rose Bowl, but his most important contribution was forcing a Wisconsin fumble on the Ducks 27-yard line with four minutes left in the game. Perhaps even more important than that, he inspired coach Chip Kelly to jump up and down in a wonderful -- and slightly goofy -- show of spontaneous emotion (search YouTube for "Chip Kelly jumping").
DB Clint Floyd, Arizona State
: Floyd had seven tackles -- two for a loss -- and an interception in the Sun Devils' loss to Boise State.
DB John Boyett, Oregon
: Boyett had a bowl-high 17 tackles and half a sack in the Ducks' win over Wisconsin.
DB Marc Anthony, California
: Anthony had four tackles, one coming for a loss, and two pass breakups against Texas.
P Sean Sellwood, Utah
: Sellwood averaged 49.5 yards on eight punts against Georgia Tech in the Sun Bowl.
October, 26, 2011
10/26/11
2:30
PM ET
By
ESPN.com staff
| ESPN.com
If you gon' call him Weezy
Then you must say the baby
If you don't say the baby
Then just don't say it at all.
August, 27, 2010
8/27/10
9:42
AM ET
By
ESPN.com staff
| ESPN.com
You can see California's
new depth chart here
.
Jonathan Okanes does a
nice job of explaining the hot spots
.
Some quick observations:
Quick, undersized sophomore Isi Sofele is the backup tailback, eclipsing Covaughn DeBoskie-Johnson, Dasarte Yarnway and Trajuan Briggs. That strikes me as a minor upset, but Sofele is a scatback type who can make plays as a runner and receiver. Coach Jeff Tedford always gives his No. 2 RB plenty of touches.
The starting corners are Marc Anthony and Darian Hagan. Bryant Nnabuife is listed as the backup to both.
Okanes notes that the top four safeties will see extensive action, but it seems notable that Chris Conte and Josh Hill are first team, meaning returning starter Sean Cattouse has dropped in the pecking order.
A veteran -- Ernest Owusu -- held off a hard-charging youngster -- Deandre Coleman -- at one defensive end. Another hard-charging youngster -- Kendrick Payne -- eclipsed a veteran -- Derrick Hill -- at noseguard.
QB Kevin Riley's backup is Beau Sweeney.
The only true freshman on the depth chart is receiver Keenan Allen, who is No. 1 opposite junior Marvin Jones.
The Bears will start eight seniors and six sophomores.
August, 20, 2010
8/20/10
10:31
AM ET
By
ESPN.com staff
| ESPN.com
Good information in this
California notebook
from Jonathan Okanes.
Okanes notes that coach Jeff Tedford has been more open about revealing the pecking order at competitive positions, which is a great help when practices are closed.
So there is a lot of choice info here:
On offense, [Tedford] said the definitive starters as of right now are QB Kevin Riley, RB Shane Vereen, WR Marvin Jones, WR Keenan Allen, TE Anthony Miller, LT Mitchell Schwartz and C Chris Guarnero. Allen was the only player he quantified with "as of now."

On defense, Tedford said the only concrete starters are DE Cameron Jordan, ILB Mike Mohamed and OLB Mychal Kendricks.

Tedford also said Giorgio Tavecchio would handle both kickoffs and field goals if the season started today.
Key tidbit there: That's true freshman Keenan Allen at receiver next to Jones, which confirms the scuttlebutt coming out of practices that a number of freshmen are in the mix.
As for defense:
A few days ago, Tedford said Keith Browner was the starter at weakside linebacker. But today he said true freshman Dave Wilkerson is still in the mix there. Tedford also said Kendrick Payne is probably the starter at nose tackle, but it is still competitive with Derrick Hill and Aaron Tipoti in the mix.

Tedford said both corner positions are still up in the air, with Darian Hagan, Steve Williams, Bryant Nnabufie and Marc Anthony competing for the two spots.
Another true freshman in Wilkerson. Payne ahead of Hill is a bit newsy, too, but that's three pretty good nose tackles, which is a key position to keep fresh in a 3-4 defense. As for cornerback, my money is on the first two -- Hagan and Williams -- but it's not like I've seen them practice this month.
August, 5, 2010
8/05/10
2:09
PM ET
By
ESPN.com staff
| ESPN.com
The good news for all those big-name Pac-10 quarterbacks? Every conference team has questions at cornerback.
And, for the first time in Pac-10 blog history, no one earns a "Great shape" tag.
Only one cornerback who earned All-Pac-honors is back: Arizona's second-teamer Trevin Wade. Only one other returning corner, Washington's Desmond Trufant, even earned honorable mention.
Three teams welcome back both starting corners from 2009: Oregon, Stanford and Washington. But the Ducks have moved Javes Lewis to rover, and a pair of true freshmen -- Terrance Mitchell and Avery Patterson -- are battling for the starting job opposite Talmadge Jackson. Stanford and Washington? They ranked eighth and ninth in the conference in pass efficiency defense last season.
USC and Arizona State are replacing both starting cornerbacks, but both actually look fairly strong at the position with plenty of returning experience and athleticism.
A number of teams might end up pretty good at the position. But no one looks like a sure-thing during the preseason. (Heck, we thought California was
a sure thing in 2009
and things
didn't exactly go according to plan
).
So how do things stack up?
Great shape
Good shape
Arizona: Wade is an All-American candidate, and Marcus Benjamin showed he can play with a good performance against USC in 2009. And Mike Stoops always has good cornerbacks, so we won't dwell on the questionable depth.
Oregon: Probably not a lot of worry here for the Ducks. Injuries in 2009 earned young players experience, and Oregon did rank third in the Pac-10 in pass efficiency defense. Still, it remains uncertain who will start opposite Jackson, with the freshmen outplaying the more experienced Cliff Harris and Anthony Gildon during the spring.
Arizona State: On the one hand, both starters are gone from a unit that ranked second in the conference in pass efficiency defense. On the other, Omar Bolden would have been a starter if he didn't get hurt, and Deveron Carr, Osahon Irabor and LeQuan Lewis give the Sun Devils a nice mix of talent and experience.
USC: Shareece Wright was academically ineligible last season, but he might end up first-team All-Pac-10. He might, in fact, be the conference's best cover cornerback. Torin Harris and T.J. Bryant are battling for the other spot in a secondary replacing all four 2009 starters.
Washington: Trufant is an up-and-comer, Quinton Richardson is experienced, and backups Vonzell McDowell and Adam Long have starting experience, so the Huskies should be much improved here in 2010. The operative word, though, is "should."
UCLA: It isn't easy to replace an Alterraun Verner. Sheldon Price returns at left cornerback after a good freshman season as a starter, and Aaron Hester has potential on the opposite side. Undersized junior Courtney Viney is an experienced third option.
Oregon State: James Dockery is solid and new starter Brandon Hardin is big -- 6-2, 215 pounds. There's respectable depth. But the Beavers gave up 23 touchdown passes in 2009, tied for the most in the conference. Of course, the Beavers cornerbacks suffered last season because of an anemic pass rush. That might change in 2010.
We'll see
Stanford: If the Cardinal is going to take another step forward, it must get better in pass coverage. Three players who started last seaon are back: Richard Sherman (who's a sure-thing at left corner), Corey Gatewood and Johnson Bademosi. But opponents completed 63 percent of their passes with 23 touchdowns against those guys. Might redshirt freshman Terrence Brown make a move?
California: Syd'Quan Thompson is gone; is Darian Hagan back? As in the 2008 version, not the one who lost his job and got buried on the depth chart in 2009. After being touted as one of the best secondaries in the country, the Bears finished 111th in the nation in pass defense in 2009. Bryant Nnabufie, who started four games in 2009, is listed No. 1 opposite Hagan, but Josh Hill (a five-game starter) and Marc Anthony and redshirt freshman Steve Williams are in the mix.
Washington State: The Cougars feel pretty good about junior Aire Justin and sophomore Daniel Simmons, who was the defense's best cover corner before he got hurt midway through last season. But it's hard to ignore that the Cougars ranked 112th in the nation in pass efficiency defense with opponents completing nearly 67 percent -- 67 percent! -- of their passes.
December, 22, 2009
12/22/09
10:58
AM ET
By
ESPN.com staff
| ESPN.com
California's All-Pac-10 cornerback Syd'Quan Thompson
may miss
the San Diego County Credit Union Poinsettia Bowl against Utah on Wednesday because of a nagging sprained ankle, Jonathan Okanes of the Contra Costa Times reported.
That's not good news in any event, but it's particularly worrisome because Thompson was likely going to focus his efforts on neutralizing the Utes top receiver, David Reed.
Further complicating things in the secondary is a shoulder injury to No. 3 cornerback Josh Hill.
That means if Thompson can't go, he would be replaced by redshirt freshman Marc Anthony, who will be making his first career start. According to Okanes' report, defensive coordinator Bob Gregory said Anthony has passed junior Darian Hagan in the pecking order. Hagan began the year as the starter opposite Thompson.
Thompson is a four-year starter, so missing practice time isn't critical. His availability figures to be a game-time decision.