April, 13, 2011
4/13/11
3:08
PM ET
BERKELEY, Calif. -- Quarterbacks are always a big story. Quarterback competitions are typically bigger stories. But quarterback is an almost singular story this spring at California.
For one, no one has any idea who the 2011 starter will be, an uncertainty that has been rare since coach Jeff Tedford took over in 2002. Tedford announced last week that he'd reduced the candidates list from five to three -- senior
Brock Mansion
, junior Buffalo transfer Zach Maynard and sophomore
Allan Bridgford
-- but it's unlikely that troika will be winnowed to one until late in preseason camp.
[+] Enlarge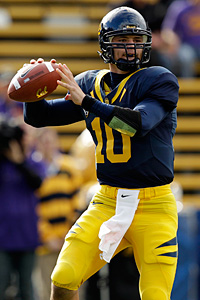 AP Photo/Marcio Jose SanchezBrock Mansion threw for 646 yards and a pair of TDs last season.
Finally, more than a few critics are questioning Tedford's once impeccable bona fides for developing quarterbacks. Sure, Tedford has mentored six who became first-round NFL draft picks: Kyle Boller, David Carr, Trent Dilfer, Joey Harrington, Aaron Rodgers and Akili Smith. But in our "what-has-he-done-lately?" world, folks are asking, well, what has Tedford done lately with quarterbacks, with an incriminating finger-pointing at the less-than-stellar production from Joe Ayoob, Nate Longshore and
Kevin Riley
.
Tedford will call plays this fall and he has been heavily involved with the quarterbacks this spring. He attends all position meetings and spends plenty of practice time with the QBs and new assistant Marcus Arroyo.
Tedford is as aware as anyone that bouncing back from a down campaign -- his first losing season in nine years in Berkeley -- will require at least solid play at quarterback.
"For us to get back to 10- or 11-win seasons, we have to have better play at the quarterback position," he said.
So far, no quarterback has asserted himself.
Mansion, due to experience, would in most situations be considered the front-runner. But he didn't do well in four starts after replacing Riley. His efficiency rating ranked last in the Pac-10 by a wide margin, and he threw five interceptions with just two TDs.
Said Tedford: "You can tell that Brock is better because of the experience he had last year. He's more comfortable. And he's even learned some things physically. You can see the maturity there a little bit. Still not where we need to be."
More than a few folks believe Maynard, the best athlete of the three and half-brother to standout receiver
Keenan Allen
, to be the front-runner. As a sophomore starter at Buffalo in 2009, he completed 57.5 percent of his passes for 2,694 yards and 18 touchdowns with 15 interceptions and added 455 yards rushing and one TD.
Said Tedford: "He does have some athleticism. He can make plays with his legs. He throws the ball accurately. He can throw all the balls on the field. He's a lefty. He can throw the deep ball. He's got zip on the ball. His main thing is just going to be the mental part of understanding our offense and understanding what we're looking for."
Tedford also said that the Bears' offense has some spread-option elements it could adapt for Maynard.
Bridgford is reputed to be a strong pure passer, but he's coming back from shoulder surgery and his mobility also is an issue. The scuttlebutt is he's presently in third place and could be challenged by redshirt freshman
Austin Hinder
, who Tedford said was a strong No. 4.
Said Tedford of Bridgford: "Smart guy. Can throw the ball. He can throw all the balls on the field. Escape dimension? Haven't seen that yet. That's a concern, but he's not a lead foot by any means."
Trying to figure out where things stand isn't easy. Even Allen clings to neutrality, at least publicly. And players appear to be as in the dark as fans about who will prevail.
"I know you guys all want to know that -- we all want to know as well," offensive tackle Mitchell Schwartz said. "I have a lot of confidence in the coaching staff. They are going to put the right guy on the field."
It's been a while since Tedford and Cal found the "right" guy to put behind center. The Bears' success in 2011 probably hangs on Tedford rediscovering his inner QB Yoda.
March, 2, 2011
3/02/11
11:00
AM ET
By
ESPN.com staff
| ESPN.com
Only Oregon and Washington
didn't experience any staff turnover
this offseason, so we're running through the staff changes for the other 10 Pac-12 teams.
Next up is California, which had considerable turnover on both sides of the ball but particularly on offense.
Team in parenthesis is where the departing coach ended up.
Out

Andy Ludwig, offensive coordinator/QBs (San Diego State)
Steve Marshall, offensive line (Colorado)
In

Jim Michalczik, offensive coordinator/O-line
Marcus Arroyo, quarterbacks
Out

Kevin Daft, receivers
In

Eric Kiesau, receivers/passing game coordinator
Out

Al Simmons, secondary
In

Ashley Ambrose, secondary
Reaction
: This is a lot of turnover, and seeing that coach Jeff Tedford has gone through offensive coordinators like Charlie Sheen through, er, girlfriends -- himself, George Cortez, Mike Dunbar, Frank Cignetti, Andy Ludwig and now himself, Michalczik, Kiesau and running game coordinator Ron Gould -- it's not unreasonable for Cal fans to wonder what the heck the problem is. Shoot, Tedford even changed strength coaches (Out: John Krasinski; In: Mike Blasquez). If you wanted to paint a dark picture, you could go for "Desperation & Instability" after the first losing season of the Tedford era. But there is this small comfort for Bears fans: This is a good staff, certainly better than 2010. Michalczik and Kiesau are known quantities: They know Tedford and coached with him when things were clicking in Berkeley. Michalczik might be the best line coach in a conference that has a lot of good line coaches. After signing an outstanding recruiting class, Tedford remarked to me. "It's like reassembling the band." The real test, though, is the quality of music that is played this fall.
February, 6, 2011
2/06/11
11:40
AM ET
By
ESPN.com staff
| ESPN.com
California's offense will feature a lot of chefs in the kitchen this fall as the Bears attempt to rediscover their mojo following the first losing season under coach Jeff Tedford.
As expected, Jim Michalczik
has been announced
as the offensive coordinator and line coach. Marcus Arroyo, an offensive coordinator or co-offensive coordinator at Wyoming the past four years, has been hired as quarterbacks coach. Associate head coach and running backs coach Ron Gould has been promoted to the team's run game coordinator. Receivers coach Eric Kiesau will serve as passing game coordinator.
It is not yet clear who will have final word on play calls. That might be Tedford, who has said he will be more involved with the quarterbacks -- the competition starting this spring is wide open -- and he also said Wednesday that it's "possible" he will call plays.
Michalczik and Kiesau previously coached with Tedford when the Bears' offense was rolling up big numbers, on the ground and through the air. Michalczik spent seven seasons coaching the Bears' line from 2002-08. He has been the offensive line coach for the Oakland Raiders the past two seasons after 19 previous campaigns in the collegiate coaching ranks.
"We had a tremendous amount of success in our offensive line play during Jim's previous tenure at Cal and we plan to resume and surpass that level of success in the future," Tedford said in a statement.
Cal was 59-30 (.663) record during Michalczik's tenure and ranked in the nation's top 30 in scoring offense in six of his first seven seasons in Berkeley. Cal's rushing attack produced 1,000-yard rushers in each of Michalczik's first seven seasons and also did well in pass protection. Over the 2006 and 2007 seasons, the Bears allowed only a combined 24 sacks in 26 games -- the fewest in the Pac-10 and third best in the nation during that period.
Arroyo, a former San Jose State quarterback, has spent the past eight seasons coaching at the collegiate level.
During his two seasons at Wyoming, Arroyo developed 2009 true freshman quarterback Austyn Carta-Samuels into the Mountain West Conference Freshman of the Year and the offensive MVP of the 2009 New Mexico Bowl. In 2009 he installed a new spread offense that helped the Cowboys score 30 or more points five times, winning all five of those games. Arroyo's offense displayed an ability to come from behind in his first season, recording five fourth-quarter comebacks. His offensive unit did an outstanding job of protecting the ball as well. Wyoming ranked No. 7 in the nation in fewest turnovers lost (14) and was No. 15 in the NCAA in both fewest fumbles lost (7) and fewest interceptions thrown (7).
Arroyo coached San Jose State's quarterbacks from 2005-2008, where he turned Adam Tafralis into one of the nation's most prolific and efficient passers. Tafralis set school records for career passing yards (7,548) and career total offense (8,111) and went on to sign a free-agent contract with the Indianapolis Colts in the spring of 2008.
Now what can these guys do to rebuild an offense that has fallen on mostly trended down since Aaron Rodgers departed in 2004? Tedford thinks the collective wisdom and familiarity among the coaches will lead to beautiful music.
"There's so much familiarity between coach Gould, Keisau and Michalczik, it's like reassembling the band," Tedford said after he signed a highly ranked recruiting class on Wednesday. "We are all back together. There are no hidden agendas. Everybody understands what's going on."