January, 23, 2013
1/23/13
9:00
AM ET
Before we focus forward, we're going to look back with team-by-team season reviews.
We continue today in reverse alphabetical order.
OREGON STATE (9-4, 6-3)

Grade
: A-minus
MVP
: Receiver
Markus Wheaton
ranked third in the Pac-12 in receiving yards per game (95.7) and second in receptions per game (7.0). His 11 TD catches tied for second in the conference, and he also had two rushing TDs -- 142 yards on 20 carries overall. Wheaton put up numbers that earned him first-team All-Pac-12 honors with USC's
Marqise Lee
, despite the Beavers having a QB carousel with
Sean Mannion
and
Cody Vaz
. An honorable mention goes to CB
Jordan Poyer
, who led the Pac-12 with seven interceptions.
What went right
: Going from 3-9 in 2011 to 9-4 in 2012 is a dramatic transformation. In fact, it's the biggest improvement in wins in Oregon State history. The six-win improvement is tied for the best in the nation in 2012 with Middle Tennessee (2-9 to 8-4) and Ohio State (6–7 to 12–0). That's the ultimate measure of the season's success, and that's important to hold on to because the season ended in a way that bothered many Beavers fans. The Beavers posted a number of quality wins: Wisconsin, UCLA, Arizona, BYU and Arizona State. They played well on both sides of the ball, but most notably on defense, where they ranked second in the conference and 22nd in the nation in scoring defense (20.6 points per game) and third in the conference and 30th in the nation in total defense (354 yards per game). Wheaton, Poyer and DE
Scott Crichton
earned first-team All-Pac-12 honors. It's impossible to not call the season a success after the Beavers posted losing records the previous two years.
What went wrong:
This season would have been an A, despite the odd QB situation, if the Beavers had simply taken care of business in the fourth quarter against an inferior Texas team in the Alamo Bowl. The Beavers blew a 10-point lead that should have been 20, and there were a variety of odd coaching decisions in that game that had fans fuming, starting with coach Mike Riley not giving Mannion a chance to avoid getting sacked when Vaz clearly couldn't figure that out. Or ... the Beavers just could have kept running the ball against a defense they were pushing around when not backpedaling in pass protection. We thought about giving the Beavers a major deduction just for the bowl game and giving them a "B-plus" but the six-win improvement prevailed. Other disappointments: Another blowout loss to rival Oregon and a flat performance at Northwest rival Washington, which ended a 6-0 start. Further, there were plenty of "What could have beens" in the loss to Stanford. The bowl performance and the QB questions will cause the Beavers to be dropped in the 2013 preseason top 25.
2013 outlook
: The Beavers have some nice players coming back and some big questions heading into 2013, starting with the Vaz-Mannion question at QB. Going back and forth between the two doesn't feel like a recipe for taking another step forward in the Pac-12's North Division. Further, the Beavers must replace their best two players -- Wheaton and Poyer -- and their two most underrated players in 354-pound DT
Castro Masaniai
and DT
Andrew Seumalo
. When you toss in the loss of MLB
Feti Taumoepeau
, the up-the-middle defense is a huge question, one that can't be answered in the offseason by the "We've got a bunch of JC guys coming in!" that seems like a popular refrain among hopeful fans. Again, that means nothing until we see them hit someone. On the plus side, WR
Brandin Cooks
looks like an All-America candidate, there are four starters coming back on the offensive line and
Storm Woods
broke out as the first choice at RB. On defense, there's experience in the secondary coming back, as are ends Crichton and
Dylan Wynn
and outside linebackers
D.J. Alexander
and
Michael Doctor
. That's a nice core group. If the questions at QB and DT get answered, this team will be a threat to win 10 games and finish in the top 15.
September, 30, 2012
9/30/12
3:35
AM ET
TUCSON, Ariz. -- On the night Oregon State coach Mike Riley became the Beavers' all-time winningest coach, Beavers running back
Storm Woods
made a pertinent observation about the accumulation of victories for the program.
"It took us an entire year last year to get where we are today," he said.
Yep. Last year, Oregon State was in the dumps, going 3-9. This year, it's 3-0 after
outlasting Arizona 38-35
. It surely will move up a click or two from the No. 18 perch in the national rankings it found itself in this week.
All three of those wins were different. All three came against teams that have been ranked this year. Two were on the road. The Beavers, by the way, haven't been 3-0 since 2002.
What made this game different is the defense struggled more than it had before, surrendering 545 yards after pitching a shutout in the first quarter. And the Beavers trailed for the first time this season. After jumping ahead 17-0 in the first half, they yielded the next 21 points.
The Beavers, in fact, yielded the lead twice more during a back-and-forth second half, including after a Woods fumble. Down 35-31 with 5:34 left, they took over on their 25-yard line.
[+] Enlarge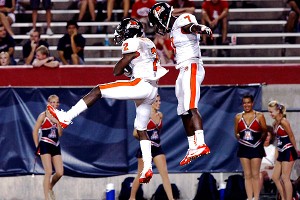 Rick Scuteri/US PresswireA win over Texas would surely give Oregon State receivers Markus Wheaton, left, and Brandin Cooks a reason to get excited.
It was a big moment. The game hung in the balance. It's the sort of time when a quarterback either steps up or doesn't. And
Sean Mannion
did. He went 6-for-6 for 52 yards on the drive, including the game-winning 9-yard TD pass to backup tight end
Connor Hamlett
, a play that Riley admitted he'd been saving for the right moment.
"Sean had a look in his eyes that I have never seen before," Woods said. "Sean is our leader; when he says we are going to score, we are going to score."
Said Riley, "Some really good quarterbacking."
Mannion completed 29 of 45 throws for a career-high 433 yards with three touchdowns. Last year, he threw 18 interceptions, most in the conference. He threw none against the Wildcats and has tossed just one this season.
His top targets,
Markus Wheaton
and
Brandin Cooks
, both eclipsed the 100-yard receiving mark for the second consecutive game. They both also caught passes of more than 50 yards. Wheaton finished with two touchdowns and 166 yards on 10 receptions. Cooks hauled in nine passes for 149 yards.
But the element that most suggests that the Beavers are legitimate contenders in the Pac-12 North is the rejuvenated running game. Woods rushed for 161 yards and a touchdown on 29 carries, and the Beavers finished with 180 yards on the ground. It's been more than two years since Oregon State has been consistent running the ball, and the lack of a running game has put pressure on the quarterback to throw. A lot. That pressure also included getting hit. A lot.
"It's really big," Riley said of the improved ground attack. "We haven't seen that for a little while."
On this night, the Beavers needed all the offense they could generate. Arizona clearly wore down their defense, which yielded 142 rushing yards, 88.5 yards more than their average entering the game. Wildcats quarterback
Matt Scott
completed 31 of 53 passes for 403 yards.
But Scott tossed two interceptions, including one grabbed by cornerback
Rashaad Reynolds
that iced the game.
"It was hard on our defense," Riley said. "Sometimes that's how football is. One side has to pick the other up."
Riley has again picked up Oregon State. With the win, he moved past Lon Stiner with his 74th victory as the Beavers' coach. He entered the season amid grumbling from some Beavers fans that the game had, perhaps, passed him by.
He's been around long enough to know a 3-0 start doesn't guarantee much, other than a shot at 4-0, which they get with a visit from Washington State next weekend.
"That proverbial rug, boy, when the pull it out from under you, your head hits hard," Riley said.
But the Beavers still have both feet firmly planted on this seeming magical carpet. They have the look of a team with staying power. It's been a heck of a transformation that perhaps we should have seen coming from the program's winningest coach.