August, 19, 2014
Aug 19
9:30
AM ET
Boston College coach Steve Addazio remembers an era when players wanted to redshirt as true freshmen to better prepare them for the final four years of their college career.
"Now it's 'I want to play,' " Addazio, 55, said. "If you're talking about not playing them early, the majority are like 'What do you mean?'"
So, the ability to play or possibly even start as a true freshman has become a regular sales pitch for coaches from the Power Five to the Group of Five. It's certainly a tool in the belt for Florida State coach Jimbo Fisher. Last week, Fisher alluded to the number of freshmen All-Americans he's coached the last four seasons. Twenty-four hours later, it was on the program's official recruiting Twitter page.
"The last [four] years we've had 14 freshmen All-Americans," said Fisher, condensing multiple outlets' freshmen award teams into one, concise Florida State propaganda poster. "If you come in ready to play, we're willing to put you on the field. It's critical for guys to come in saying 'When I'm the best, I'll play.'"
Fisher has the goods to back up his claims, even if the numbers are obviously skewed to best represent his program. But how does his résumé compare to those coaching some of the country's other top programs?
I tried to come up with a way to accurately discern which schools play the most freshmen and decided true freshmen letterwinners was the simplest and most effective way to crunch the numbers. To earn a letter, a player has to actually play consistently through the season. The disclaimer is each program can use different benchmarks when awarding letters, but there is never going to be a perfect way.
I began with Florida State's, looking back at the 2011-2013 classes. To properly quantify the data from Florida State, I decided I'd look at the five schools ranked highest in the preseason polls that have had its coach in place at least five seasons. Oregon's Mark Helfrich was offered an exemption because he was promoted from within and is in his sixth season with the Ducks. Coaches in place at least five years was the stipulation since an incoming coach might be susceptible to playing the prospects he recruited or having a number of transfers that could open up starting or rotational spots.
The criteria: Each class was looked at and the total number of signees was pared down to just those who enrolled as members of the football team in the fall. Junior college signees were excluded, as were any recruits who were academically or medically disqualified before playing a game. That explains why the total number of freshmen for our purposes might look different than what might be seen on RecruitingNation. Any true freshmen who spent a year at a post-graduate or prep school was also excluded. Redshirt freshmen were disqualified, too.
Bottom line is if the player was not a part of the football team the fall following his high school graduation, he was excluded.
Nearly all of the data was collected after poring through media guides and archives, although the communications departments at some of the schools were also helpful providing numbers and deserve recognition.
So, here is the actual data:
It is hardly a coincidence that Fisher and Alabama's Nick Saban, who mentored Fisher at LSU, have identical percentages of true freshmen earning a letter. Fisher and Saban arguably have been the two best recruiters over the last few cycles, and, the data shows those two are not going to keep young talent off the field simply because of age. Nearly half of the true freshmen at Alabama and Florida State lettered over the last three seasons.
Mark Dantonio has built Michigan State into a national title contender in a different manor, relying on experience. Only 12 percent of true freshmen lettered over the last three seasons. Recruiting to Michigan State is not the easy task it is at some other top-10 programs, and the Spartans are not recruiting as many ESPN 300-level players as the likes of Alabama and Florida State.
It should be noted Michigan State, Oklahoma and Oregon don't have quite the recruiting base Alabama and Florida State do.
Inquiring minds want to see how that 45 percent stacks up to some of the other top programs in the country, so even though they did not fit the criteria I looked at a few other schools with coaches in place at least five seasons and lately in the top half of the rankings. LSU was worth a look considering it's Les Miles' 10th season in Baton Rouge and, like Fisher and Saban, has recruited exceptionally well for a long period of time. Mark Richt is in his 14th season at Georgia and, like Miles, usually has a highly-regarded recruiting class. Steve Spurrier is in his 10th season at South Carolina and has steadily improved the Gamecocks' class to the point that the 2015 class is No. 5 nationally. Dabo Swinney has turned Clemson from a perennial disappointment into a two-time BCS bowl participant. And Ohio State and Texas A&M, mainly because it's worth seeing how third-year Buckeyes coach Urban Meyer fares considering he frequently voices his preference to avoid redshirting. Kevin Sumlin is also in the process of trying to build an SEC power that can compete with Alabama and LSU in the SEC West.
For the Buckeyes, out of the 69 true freshmen to land in Columbus, Ohio, from 2011-2013, 31 lettered -- the same 45 percent. Looking at just Meyer's two seasons, however, he is decimals ahead of Fisher and Saban at 46 percent (21 out of 46), thanks in large part to 14 freshmen letterwinners in his first season.
Georgia's Mark Richt has a percentage of nearly 50 percent, but the Bulldogs' numbers might be the most skewed. Along with South Carolina, the Bulldogs had several recruits that either did not qualify or spent time at a prep school or junior college. Also, Georgia's long list of dismissals and transfers is well documented, and all of the departures has opened up spots for freshmen to earn immediate playing time.
It is Miles, though, who plays a higher percentage of freshmen than all of the others. Twelve true freshmen lettered for LSU in both 2012 and 2013, and another nine earned a letter in 2011. There were a total of 65 applicable freshmen to enter LSU during that span and 33 of them lettered. That's a percentage of 51 percent.
Certainly the numbers will fluctuate year to year, and coaches at every single program are playing freshmen more frequently than ever before. When taking into account the timeline is over three years, LSU averages just one more freshman letterwinner per season than Alabama and Florida State. For our intents and purposes, though, the data shows which top programs consistently play the most freshmen in this new era of freshmen phenoms.
And, uh, FYI, Alabama has 19 ESPN 300 players prepping for their freshmen season this fall. LSU has 16, and Florida State isn't far off with 13 of their own.
August, 19, 2014
Aug 19
9:00
AM ET
When
Michigan State Spartans
athletic director Mark Hollis first told football coach Mark Dantonio about his plan to schedule a home-and-home series with the
Oregon Ducks
, Dantonio did not wrestle his boss to the ground, scream obscenities or start updating his résumé.
As Hollis recalls, Dantonio simply smirked, shrugged his shoulders and said, "Why not?"
The reasons not to schedule Oregon -- especially at eardrum-splitting Autzen Stadium, where the Spartans go in Week 2 -- of course include the Ducks' tornadic offense, their dominance at home (92-17 since 1997) and the Big Ten's historic struggles in Pac-12 country. So why would Michigan State saddle itself with such a challenging matchup so early in the season?
"I've never really said, 'Oh, no, I don't want to play those guys,'" Dantonio told ESPN.com. "I just feel like, if you're going to be a champion, you have to be willing to take on all comers."
[+] Enlarge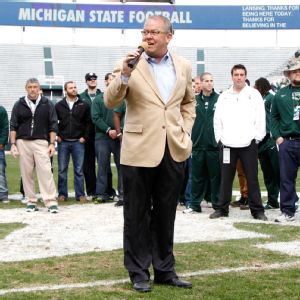 AP Photo/Al GoldisMichigan State athletic director Mark Hollis has upgraded the football schedule with the College Football Playoff in mind, beginning this season with a road game at Oregon.
The Spartans arrived in the ranks of the elite in January by beating Pac-12 champ Stanford in the Rose Bowl, capping a 12-1 season. Now they get a chance to prove they can stay there with another trip to the West Coast on Sept. 6. This early-season showdown of conference heavyweights -- Oregon is ranked No. 4 in the ESPN preseason power rankings; Michigan State is No. 7 -- carries key implications for the inaugural College Football Playoff.
"If we play well in that game, it can definitely bounce us up to the four-team playoff," Spartans defensive end
Shilique Calhoun
said.
The playoff was exactly what Hollis had in mind when he added Oregon to the schedule in March 2012. He also signed future home-and-home deals around the same time with Miami (Fla.) and Alabama, the latter of which has since been canceled. Hollis said arranging the Oregon series was made easier by his close relationship with Oregon athletic director Rob Mullens; the two became friendly when Mullens was at Kentucky and the Spartans and Wildcats put together a basketball series.
"We don't want to be stupid in our scheduling, but at the same time, we were anticipating the playoff system and anticipating the strength-of-schedule [component]," Hollis told ESPN.com. "As we were having these conversations, it seemed right, it fit right. They're a top-five program, and with us coming off a Rose Bowl championship, kind of by freak of luck this turned into a pretty nice game."
(The fact that both schools are Nike-sponsored and wear green doesn't hurt, either. "It's always nice to see Phil [Knight]," Hollis joked, "even though I'm sure he'll be on the other sideline.")
Michigan State sees little downside to the game. Even if the Spartans lose in Eugene, as long as they are reasonably competitive, they would have plenty of time to rebound and still win a Big Ten title. They recall last year, when they lost at Notre Dame but went on to capture their final 10 games and finish No. 3 in the polls.
"It's not an end-all either way," Dantonio said. "It's going to be a measuring stick for us -- where are we at, what do we have to do, who are we? It will give us a little more of a sense of identity early in season."
The on-field matchup itself is incredibly intriguing.
Oregon, with its fast-paced, no-huddle spread offense, leads the nation in scoring the past four seasons combined at 47 points per game. In that same time span, Michigan State's ferocious defense ranks fourth in the FBS in points allowed and third in yards allowed. The Spartans finished No. 2 in total defense in 2013; the Ducks were No. 2 in total offense.
Michigan State has fielded a top-10 defense in each of the past three years, but it is replacing six key starters from last year's unit.
"This should give us an early indication of how things can go for us, if our team is tight-knit or if we have loose ends," Calhoun said. "It will be nice to see how they play and see if we match up with them."
The wise guys say it will be difficult, as Michigan State opened as nearly a two-touchdown underdog in the betting lines. That's not much respect for a defending Rose Bowl champ.
"We're used to it," Michigan State quarterback
Connor Cook
said. "We were underdogs last year against Ohio State and against Stanford. So we're used to playing with a chip on our shoulders, and we're not going to let that affect us."
Regardless of the outcome, the game should provide significant national buzz for the Spartans, as well as heavy local interest. Hollis said the school received more than 8,000 requests for its 3,000-ticket allotment to the game. Oregon's return visit to East Lansing on Sept. 12, 2015, will be a scalper's dream.
"For the general fan, it's one of those games that, no matter who you cheer for, this is one you want to watch," Hollis said.
Dantonio will make sure his team doesn't put too much focus on this one game, as Michigan State must first deal with its opener on Aug. 29 against Jacksonville State, not to mention the 10 regular-season contests after Oregon. But it's impossible to ignore the magnitude of what awaits in Week 2.
"It's been in the back of our minds all offseason," Cook said. "If we win, it will be a statement game that can turn a lot of heads, and it could put us on the way to a national championship."
May, 13, 2014
May 13
4:30
PM ET
The scheduling partnership between the Pac-12 and Big Ten might have
ended before it started
, but teams in both leagues continue to end up on each other's schedules.
The latest matchup features Michigan State and Arizona State, which Tuesday
announced a home-and-home series in 2018 and 2019
. Arizona State will host the first matchup on Sept. 8, 2018, and the Sun Devils will visit Spartan Stadium on Sept. 14, 2019.


Pay attention,
SEC
and
ACC
. This is called a solid nonleague matchup. If the playoff selection committee has a backbone, you'll need these to make the top four after recently voting to remain at eight conference games. Both leagues are requiring their members to play at least one nonleague game against a major-conference foe, but the quality of those contests, aside from annual rivalries like Clemson-South Carolina and Florida State-Florida, remains to be seen.
Fans of both Arizona State and Michigan State, meanwhile, get nine league games plus this appetizing intersectional gathering. The Pac-12 already plays nine league games, and the Big Ten will go to nine in 2016.
MSU adds ASU to a slate of nonconference games that features Oregon this season and next, Notre Dame in 2016 and 2017, Miami in 2020 and 2021 and Boise State in 2022 and 2023. The Spartans also had a home-and-home series scheduled with Alabama, but
the Tide opted to cancel it
.
Arizona State has upcoming games against Texas A&M (2015), Texas Tech (2016, 2017) and LSU (2022 and 2023).
Bottom line: Both teams are in good shape, schedule-wise, for the playoff.
These games are a long way off, but if coaches Todd Graham (ASU) and Mark Dantonio (MSU) remain in their positions, it creates an intriguing offense vs. defense matchup. The teams have met just twice before, as Michigan State won on its home field in 1985 and Arizona State defended its turf the following year.
Some Big Ten fans will wonder why Michigan State scheduled Arizona State after
what happened to Wisconsin last season at Sun Devil Stadium
. It will be interesting to see if Michigan State asked for Big Ten officials -- customary for the road team at most venues -- for the 2018 game. Arizona State is 9-0 at home against Big Ten foes.
After the scheduling alliance dissolved, there was some concern the historic ties between the Big Ten and Pac-12 would fray. It has been just the opposite, as the leagues this year will begin playing two more bowl games (Holiday and Fight Hunger) and have several upcoming series like Michigan State-Oregon, Nebraska-Oregon and Wisconsin-Washington. Northwestern is set to play Stanford six times between 2015-22, and Michigan plays two Pac-12 teams in 2015 (Utah and Oregon State) and another (Colorado) in 2016.
Another good matchup has been added. Will it help or hurt the Spartans and Sun Devils in their quest to make the playoff? Time will tell, but fans of both teams should be excited about the series.
January, 2, 2014
Jan 2
12:15
AM ET
PASADENA, Calif. -- The advance billing for the 100th edition of the Rose Bowl Game presented by VIZIO played the Stanford-Michigan State matchup as a battle of shared football philosophies: two physical, line-of-scrimmage teams that run the ball and play to their stout defenses. In some ways, the media saw this as twin brothers going eyeball to eyeball for a potentially captivating barroom donnybrook.
The general feeling also was that Stanford was the more formidable brawler, mostly because it was more proven and battled tested, having emerged from the rugged Pac-12 as a BCS bowl participant four consecutive seasons.
Yet it was Michigan State that took control, made poised adjustments and imposed its will in a 24-20 victory. Stanford got, well, out-Stanford-ed. It's likely more than a few Pac-12 coaches, players and fans thought, "See … now you know what it feels like to get pushed around."
[+] Enlarge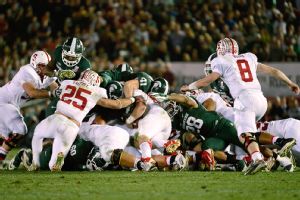 Kevork Djansezian/Getty ImagesStanford's Ryan Hewitt is stopped on fourth down by the Michigan State defense.
Stanford has now lost eight games over the past four years, but only a couple of times could you say its offensive line lost the battle at the point of attack.
"Push came to shove, we sort of started shoving back a little bit really," Michigan State coach Mark Dantonio said.
The Cardinal jumped out to early 10-0 and 17-7 leads, but the Spartans scored a touchdown just before the break, capping a 75-yard drive, and then dominated the second half. Stanford rushed for 162 yards, twice what the Spartans yielded this season, but 47 yards of that came on one play and the Cardinal had just 71 yards rushing on 27 carries over the final three quarters.
Stanford was 0-for-2 on fourth-and-short plays. Both times, it tried to run right at Michigan State and failed to get a decisive push, the most notable being fullback
Ryan Hewitt
getting stopped for no gain on fourth-and-1 at the Cardinal 34-yard line on its final possession.
There's no more straightforward measure of contesting teams' physicality than an up-the-middle run on fourth-and-short, and the Spartans won that battle. This was a point, by the way, Stanford's locker room repeatedly and graciously acknowledged.
"Fourth-and-1 is what we preach on, what we do, what Stanford football is all about," said running back
Tyler Gaffney
, who was stopped earlier on a fourth-and-3 run. "You have to give it to Michigan State for stuffing that because everybody in the building knew exactly what was coming -- a run was coming up the middle -- and it was a test of wills, and they got the better of us."
Stanford couldn't run the ball after the first quarter, and it had little intermediate passing game. The tight-end-centric passing attack of the previous three years was sorely missed. It had completions of 43 and 51 yards, but
Kevin Hogan
passed for only 143 total yards. The Spartans load the box and play man coverage with their outstanding cornerback combination, led by Thorpe award winner
Darqueze Dennard
, and dare you to consistently complete downfield passing plays.
"It's a nine-man front," Stanford coach David Shaw said. "There's a whole bunch of guys in there. There's a lot of slants and twists and pinches and sometimes [running back Tyler Gaffney] snuck out a couple, made a couple of great runs, and a couple of them he didn't have an opportunity. They're that good up front. But to beat a team like that, you've got to hit more than a couple deep balls, because it's one-on-one outside."
The Cardinal repeatedly faced second- and third-and-long, ending up just 4-of-13 on third downs.
As for Stanford's defense, it mostly shut down the Michigan State running game, holding the Spartans to just 65 yards, but it yielded 332 yards passing and two touchdowns to quarterback
Connor Cook
, who was sacked four times but mostly eluded an aggressive pass rush.
There certainly was some "what might have been" with Cook and the Stanford defense. Though
Kevin Anderson
's pick-six gave the Cardinal a 17-7 lead in the second quarter, two easy interceptions were dropped, including one by Anderson. Another interception was killed by a pass-interference call.
"Michigan State played their game and we tried to play ours," Stanford defensive coordinator Derek Mason said. "I give them all the credit. We didn't get off the field enough when we needed to. We had opportunities. Two missed picks. When you don't make those plays, those lead to scores. But we don't deal in 'What ifs.' We deal in reality."
The reality of the 100th Rose Bowl is that, in a battle of twin brothers in terms of physical football, Michigan State proved the more rugged brawler this night.
Stanford played its game. It went mano-a-mano with the Spartans, but it ended up getting counted out while the Big Ten champs celebrated their first Rose Bowl victory in 26 years.
January, 1, 2014
Jan 1
8:43
PM ET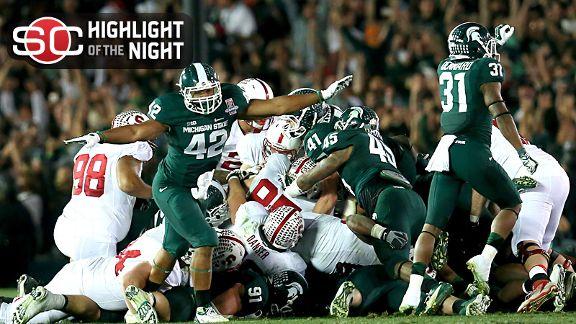 PASADENA, Calif. -- Michigan State
rallied from an early 10-point deficit
to dominate the final three quarters against Stanford in the 100th edition of the Rose Bowl Game presented by VIZIO.


Here's a quick recap of the Spartans' victory.
It was over when:
Middle linebacker
Kyler Elsworth
, replacing the suspended
Max Bullough
, stuffed Stanford fullback
Ryan Hewitt
(along with help from
Shilique Calhoun
and others) on fourth and-1 with 1:34 left and the ball at Stanford's 34-yard line. Stanford had used its final timeout, so Michigan State ran out the clock.
Game ball goes to:
MSU quarterback
Connor Cook
. He had several heart-stopping throws, including one of the worst pick-sixes you'll ever see in the second quarter. But Cook once again didn't let a mistake faze him, and he displayed his tremendous skill in attacking Stanford's secondary. He recorded his second consecutive career-high passing performance (332 yards) on his second mega stage, completing 22 of 36 attempts with two touchdowns. His first two career 300-yard passing performances come in the Big Ten championship game and the Rose Bowl. Not too shabby.
Stat of the game:
Stanford recorded a 43-yard pass to
Michael Rector
on the game's second play from scrimmage and a 47-yard
Tyler Gaffney
rush late in the first quarter. The Cardinal had a 51-yard pass play in the third quarter. Those three plays accounted for 141 of Stanford's 305 total yards. The Cardinal ran only nine plays for 23 yards in the second quarter, excluding a kneel-down on the final play of the half.
Stat of the game II:
Michigan State became the first team to rally from a halftime deficit to win a Rose Bowl since the 2000 game, when Wisconsin erased a 9-3 Stanford lead and won 17-9 behind
Ron Dayne
.
What Stanford learned:
The Cardinal still struggle to beat teams that can match them physically, especially up front. All those big linemen and creative formations didn't make much difference against a swarming Michigan State defense that surrendered only 11 first downs and 305 yards (mostly on three plays). Stanford learned that it wasn't a true national title contender, losing three games to teams that mirrored its style of play. And while David Shaw remains an elite coach, his conservative play calls seemed to cost his team down the stretch.
What Michigan State learned:
The Spartans are an elite program led by an elite coach in Mark Dantonio and an elite staff. They have an elite quarterback in Cook. They can overcome the loss of an elite player in Bullough. Michigan State learned it can play on the biggest stages with the best teams in the country and beat them with power football. The Spartans never went off track, even after a shaky start, and made enough plays in all three phases to record one of the biggest wins in program history.
January, 1, 2014
Jan 1
10:00
AM ET
Why is Stanford going to best Michigan State in the Rose Bowl Presented by Vizio? Here are 10 reasons.
Stanford has the better quarterback: Stanford QB Kevin Hogan is 15th in the nation in total QBR (80.2). Michigan State's Connor Cook is 59th (61.9). And Hogan put up those numbers against a much tougher schedule.

[+] Enlarge

Steve Dykes/Getty ImagesMichigan State hasn't faced a pass rusher as talented or relentless as Stanford LB Trent Murphy.

Michigan State hasn't faced a pass rusher like Trent Murphy: The Spartans only yielded 13 sacks this year, which ranked 11th in the nation. But Michigan State didn't face any pass rusher as good as Murphy -- none ranked in the nation's top 15. Murphy had 14 sacks on his own, which ranked second in the nation.

Stanford has played in four consecutive BCS bowls: The Cardinal are accustomed to a big stage. This is their second consecutive Rose Bowl and fourth consecutive BCS bowl. Michigan State hasn't played in a BCS bowl game or a Rose Bowl in 26 years. Experience matters. Nerves certainly won't be an issue for Stanford.

The Pac-12 is better than the Big Ten: The Pac-12 went 3-2 versus the Big Ten this year, and was widely viewed as -- at least -- the nation's second best conference behind the SEC. Playing a nine-game Pac-12 schedule means Stanford has been more battle tested against A-list foes.

Michigan State doesn't have its top leader on defense: Michigan State might have the nation's best defense, and All-Big Ten linebacker Max Bullough is its unquestioned leader. But Bullough was suspended for undisclosed reasons and won't play in the Rose Bowl. That leaves a huge hole in the Spartans defense in terms of talent, experience and leadership.

Michigan State hasn't faced an O-line as good as Stanford's: The Spartans own the nation's No. 1 rush defense, but it hasn't faced an offensive line as big and bad -- and NFL ready -- as Stanford's. Ohio State has a good offensive line, and it produced 273 rushing yards against the Spartans in the Big Ten championship game.

The transitive property! Notre Dame beat Michigan State 17-13. Stanford beat Notre Dame 27-20. So Stanford beats Michigan State! While it should be noted that Notre Dame was at home and far more healthy against the Spartans than it was at Stanford, this is a 10-point list, and sometimes you cut corners.

Shayne Skov will deliver an inspiring pre-game speech: Skov is a great player, but a nearly as important contribution to the Cardinal is his fiery leadership. He is the Cardinal's designated player for an emotional pregame speech. As a fifth-year senior, this will be his last. Count on it being highly motivating.

David Shaw is an elite coach: There's a reason you keep hearing Shaw's name come up in discussions about coaching vacancies, whether at Texas or in the NFL. He's considered an elite coach who has yet to reach his ceiling. Michigan State's Mark Dantonio might well be headed in that same direction, but you'd have to give Shaw and Stanford the edge on the sidelines.

The Big Ten doesn't win Rose Bowls: Since the 2000 season, Big Ten teams have gone 1-9 in the Rose Bowl. While there were a couple of guest appearances in the Pac-12's spot -- Texas, TCU -- the Big Ten's biggest problem is the Pac-12 -- Washington, USC, Oregon and Stanford. The Big Ten's last Rose Bowl win was Ohio State over Oregon following the 2009 season, and that required Buckeyes QB Terrelle Pryor playing the best game of his career.
December, 29, 2013
12/29/13
5:00
PM ET
LOS ANGELES -- Michigan State's defense is preparing vigorously for Stanford's offense as well as for life without its leader, middle linebacker
Max Bullough
.
Despite Bullough's shocking suspension, the standards haven't changed for the "Spartan Dawgs," who, as linebacker
Denicos Allen
noted Sunday, want to show everyone why they're the nation's No. 1 defense.
[+] Enlarge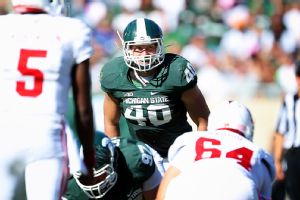 Mike Carter/USA TODAY SportsHow will Michigan State's defense adjust without Max Bullough?
But before the Rose Bowl Game presented by VIZIO, MSU's defenders might want to set aside some time to examine Stanford's defense, specifically the way the unit adjusted without one of its best players. The Cardinal lost defensive end
Ben Gardner
to a season-ending torn pectoral muscle in late October.
Like Bullough, Gardner is a captain and one of the defense's top performers, racking up 4.5 sacks, 7.5 tackles for loss and eight quarterback hits, the most on the team at the time. He's so good that he earned first-team All-Pac-12 honors despite missing Stanford's final five games.
Twelve days after Gardner's injury, Stanford held Oregon's dynamic offense scoreless for three quarters in a 26-20 win. The Cardinal surrendered just 62 rush yards and 312 total yards and recorded three sacks.
Stanford's defensive statistics without Gardner weren't dramatically different than they were with Gardner. The Cardinal allowed less than 75 rush yards in four of the final five games and finished with an outstanding effort against Arizona State's explosive offense in the Pac-12 championship. Arizona State had just 14 points and 311 yards, well below its season averages (41.0 ppg, 460.8 ypg).
"You feel for your teammates, but at the same time, you have to keep your vision on what the team goal is," Stanford linebacker
Shayne Skov
said. "You recognize that, unfortunately, somebody is gone, is no longer an active participant, but you have to keep moving forward.
"Whenever you lose someone as talented and as important a leader and integrated into your team, as I'm sure Max was and Ben [are], you have to find ways to, not replace them, but work and make an adaptation."
The circumstances of the losses are different -- Gardner was injured and remains with his teammates for the Rose Bowl; Bullough was suspended right before the team left for California and will not attend the game. But the realities are the same: There's shock and disappointment, and then there's another tough game to play.
"I kept a coldblooded approach," Stanford linebacker
Trent Murphy
said, "and kept moving forward and knew there were still games to be played and work to be done. Then, at the senior banquet, [Gardner] spoke and got everyone choked up a little bit and then it was like, oh man.
"Other than that, I kept moving forward."
Stanford benefited from replacing Garnder with
Henry Anderson
, a senior who had earned second-team All-Pac-12 honors in 2012. Anderson suffered a knee injury in September but returned for the Oregon showdown, Stanford's first game without Gardner.
Michigan State's
Kyler Elsworth
isn't as decorated as Anderson, but the fifth-year senior who could start in Bullough's place brings experience and familiarity to the role. He's not Bullough in terms of system knowledge and communication -- no one is -- but he understands the scheme and the personnel around him.
"We've won because of chemistry here," Spartans coach Mark Dantonio said Sunday. "There's an opportunity for somebody else to lead."
Elsworth, primarily a special-teams player during his career, embraces that opportunity "ten-fold."
"[Stanford] lost a player, and that's an adverse situation, that's something you've got to overcome," Elsworth said. "Our team has been doing that for a while now."
He mentioned safety
RJ Williamson
stepping in for safety
Isaiah Lewis
because of injury and a targeting ejection against Northwestern, and the way the coaching staff handled Dantonio's health-related absence during the 2010 season.
"There's countless times where our team has rallied around everybody," Elsworth said, "stepped up and came into the game with the mind-set that, 'Hey, no matter what is thrown at us, we can handle it.'
"This is no different. It's another curveball. Guys have stepped up their leadership, I'm stepping up my leadership, and we're very prepared for this game."
December, 20, 2013
12/20/13
9:00
AM ET
We continue
our look at each of the Pac-12's opponents
during the bowl season.


Rose Bowl Game presented by Vizio
Pasadena, Calif., Jan. 1, 2 p.m. PT, ESPN
Stanford (11-2) vs. Michigan State (12-1)
Michigan State Spartans
Coach
: Mark Dantonio (seventh season)
Record
: 12-1, 8-0 Big Ten
Combined opponent's record
: 77-80 (.490)
Common opponents
: Notre Dame handed Michigan State its only loss of the year, a 17-13 defeat in September. Stanford beat the Irish 27-20 in its regular season finale.
Leading passer
:
Connor Cook
, 201-344 (58.4 percent) for 2,423 yards with 20 touchdowns and five interceptions.
Leading rusher
:
Jeremy Langford
, 269-1,338 with 17 touchdowns.
Leading receiver
:
Bennie Fowler
, 34-525 with six touchdowns.
Leading tackler
:
Denicos Allen
, 91 tackles (15 tackles for a loss).
What to know
: The Spartans enter the Rose Bowl riding a nine-game winning streak that includes a convincing win over then-No. 21 Michigan and one of the biggest upsets of the season in their 34-24 win over then-No. 2 Ohio State. The win over the Buckeyes in the Big Ten championship game snapped OSU's streak of 24 straight wins and threw all sorts of wrenches into the BCS standings.
Michigan State is relatively healthy heading into Pasadena with little more than the run of the mill bumps and bruises.
For obvious reasons, this game is being billed as a clash of defensive titans. And it is. Michigan State has the No. 1 rush defense in the nation. Stanford is No. 3. Michigan State has the No. 4 scoring defense. Stanford is 10th. One team has a 1,300-yard rusher. The other a 1,600-yard rusher. Both value disciplined, physical line play with an emphasis on field position, ball control and ball security.
Plenty more will be written about this game from both the Pac-12 and Big Ten blogs, but the takeaway you're going to hear is defense, defense, defense.
One thing to note offensively for the Spartans, per Big Ten blogger Adam Rittenberg, is that their wide receiving corps has improved significantly this year in reducing the number of drops. That's helped contribute to a plus-14 turnover margin -- which is tied for seventh nationally.
Key matchup
: This is the kind of game that should make Stanford head coach David Shaw all giddy. Line up one of the best offensive lines in the country against one of the best front sevens and have at it. Allen is the leader. You recall his stop on OSU's
Braxton Miller
on fourth down in the conference title game, but he's got an outstanding supporting cast around him. Both teams will try to establish a rushing attack. As far as line play goes, this one should be the highlight of the entire bowl season.
March, 20, 2012
3/20/12
6:39
PM ET
Oregon and Michigan State have agreed to play a
home-and-home football series in 2014 and 2015
, with the Spartans visiting Autzen Stadium in 2014 and the Ducks providing a return trip a year later.
The game in Eugene is scheduled for Sept. 13, 2014. The Ducks will head to East Lansing on Sept. 12, 2015.
The two football programs engaged in a similar series in the late 1990s, with Oregon winning in Autzen Stadium 48-14 in 1998. The Spartans prevailed at home, 27-20, in 1999.
"I have tremendous respect for the program that Coach [Mark] Dantonio and his staff have built at Michigan State," Oregon coach Chip Kelly said in a statement. "There is little doubt a game of this magnitude will present an early-season challenge for us but one that hopefully will make our team better as the season progresses."
Oregon concludes a home-and-home series with Tennessee in 2013 when the Volunteers are scheduled to visit Eugene on Sept. 14.
"We look forward to adding Oregon to our future football schedule," Michigan State athletic director Mark Hollis said in a statement. "The series provides MSU alums on the West Coast with an opportunity to see the Spartans compete against one of the nation's outstanding football programs. The relationship between the Big Ten and Pac-12 is built on common values and the Rose Bowl. We also look forward to bringing the Ducks back to Spartan Stadium, as we continue to compete for championships and national exposure."
December, 6, 2010
12/06/10
5:18
PM ET
By
ESPN.com staff
| ESPN.com
Chip Kelly's head coaching career has begun fairly well. In his first season, he led the Ducks to the Rose Bowl. In his second, he guided them to the national title game opposite Auburn.

And now Kelly has been named the Eddie Robinson Coach of the Year award by the Football Writers Association of America.

Kelly was a finalist for the award last year,when he was named Pac-10 Coach of the Year. He's 22-3 in two years in Eugene, including a 17-1 record in Pac-10 play.

Kelly is the second Oregon head coach to receive the award named for Grambling's legendary coach, joining 1994 winner Rich Brooks.

The other finalists for the award were Gene Chizik (Auburn) -- who Kelly will face on Jan. 10 in Glendale, Ariz., -- Bret Bielema (Wisconsin), Mark Dantonio (Michigan State), Mike Gundy (Oklahoma State), Jim Harbaugh (Stanford), Gary Patterson (TCU) and Chris Petersen (Boise State).

Kelly also has been named named regional co-coach of the year along with Stanford's Jim Harbaugh by the American Football Coaches Association. The AFCA selects its national coach of the year following the bowl season.
November, 23, 2010
11/23/10
11:53
AM ET
By
ESPN.com staff
| ESPN.com
The Football Writers Association of America, in conjunction with the Tostitos Fiesta Bowl, has announced eight finalists for the 2010 Eddie Robinson Coach of the Year Award, and two are from the Pac-10: Oregon's Chip Kelly and Stanford's Jim Harbaugh.

The other finalists are: Wisconsin's Bret Bielema, Auburn's Gene Chizik, Michigan State's Mark Dantonio, Oklahoma State's Mike Gundy, TCU's Gary Patterson and Boise State's Chris Petersen.

The winner will be revealed on Dec. 6 at the Waldorf-Astoria Hotel in New York City.

The FWAA coaching award is named after the late Robinson, a coaching legend at Grambling State University for 55 years. He has more Division I victories (408) than any other coach in the history of college football. The FWAA has presented a national coach of the year award since 1957 and named the award in Robinson's honor in 1997.

Robinson, who passed away on April 3, 2007, won 70.7 percent of his games during his illustrious career. Robinson's teams won or tied for 17 Southwestern Athletic Conference (SWAC) championships after joining the league in 1959. His Tigers claimed nine Black College Football Championships during his career spent all at the same school.
August, 29, 2008
8/29/08
1:30
PM ET
By
ESPN.com staff
| ESPN.com
Posted by ESPN.com's Ted Miller
Here's a few notes from some Michigan State fans concerning this blog post.
Coach Dantonio never uttered those words. And his pressers are available for you to review, and they were there for you to review before you made up the bull crap you wrote. Will you issue a retraction, will you tell people you make it up as you go along? You suck, but it won't matter one whit. Journalistic integrity is better than lies.

I think it is very irresponsible to fabricate bulletin board material like you did. The crowd noise comment was made by a reporter and not coach Dantonio, Nice journalism....

I'm disappointed in your article. Creating statements and putting quotations around them as if someone else said them is just one step above plagiarism. A retraction would be appropriate, but considering your lack of attention to details the first go around leads me to believe you won't take the time to correct a mistake. Again, disappointed in your work.

When/where did the quote you reference regarding coach Dantonio come from? I have heard nothing in the local media to that effect? Please retract it if it is not accurate. Thanks, Rob
Get their point?
Sigh.
This is what I wrote:
Cal fans: You have been called out. Here's a question from Michigan State coach Mark Dantonio's press conference: "Folks from Cal have told us that they're expecting probably 15,000-16,000 Spartan fans. It's not traditionally a loud stadium. How do you use that in recruiting?" "Not a traditionally loud stadium.' Ouch."
Note the bold term "question." Also, not sure why Dantonio would 1) Talk to folks from Cal about attendance; 2) Comment on a stadium he's never coach in; 3) Conclude a quote with, "How do you use that in recruiting?"
In other words, it's nary impossible to misunderstand this paragraph if the passage actually had been read.
My source for this exchange? Michigan State's official athletic site.
Here is the passage:
Q. Folks from Cal have told us that they're expecting probably 15,000-16,000 Spartan fans. It's not traditionally a loud stadium. How do you use that in recruiting?

COACH DANTONIO: Like I said earlier, when you see that kind of atmosphere 4,000 miles from home, you're at a program that is a nationwide, nationally respected program, whether we go to Florida and play in front of 30,000 people there that come, or whether we play in Texas, there will probably be 10,000 there, or whether we play in the Midwest with 70,000, 80,000. Michigan State University is a nationally recognized University with alumni across the entire nation. And that's what makes this place special.

I think as a recruit who's trying to decide whether to come to school here or not, I think that sends a message, that there are job opportunities, there are people throughout that will help them, and they will be known throughout the country.
Hope this helps.
August, 27, 2008
8/27/08
5:35
PM ET
By
ESPN.com staff
| ESPN.com
Posted by ESPN.com's Ted Miller
| | |
| --- | --- |
| | |
| | Kevin C. Cox/Getty Images |
| | Michigan State tailback Javon Ringer will give California a run for their money. |
While many teams employ spread offenses, or at least have adopted zone blocking schemes -- you know, finesse schemes -- Michigan State is a throwback. California will play host to a true power-running team Saturday, and it will be a test to see of the Bears new 3-4 look on defense avoids getting put through the Ringer.
That's Spartans tailback Javon Ringer.
(Feel free to borrow that line and impress folks at a cocktail party this weekend).
While Ringer, a 5-foot-9, 200-pound spark plug with outstanding speed, finds himself obscured by the massive Big Ten shadow of Ohio State's Chris "Beanie" Wells, he's an All-American-type talent after rushing for 1,447 yards in 2007, with an impressive 5.9 yards per carry average.
"He's a guy who has great balance, vision and he's tough," Cal coach Jeff Tedford said. "He'll run between the tackles, and you better make sure you rack him up or he can bounce out of there and make some great plays. He's an elusive guy. It's going to take gang tackling, it's hard to bring him down with just one guy."
He also runs behind a line that averaged 308 pounds and features with three returning starters. The Spartans blocking style is engage and knock over.
"We're going to get a true test," Tedford said. "When you line up, they're not a spread team. You're playing a downhill, physical football team, we better be ready for it."
That means Cal's corps of linebackers will need to live up to its preseason hype.
If the Bears manage to stop -- or slow down -- Ringer, it will be interesting to see how Spartans senior QB Brian Hoyer responds. He was solid in 2007, but tossed four interceptions in a 24-21 loss to Boston College in the Champs Sports Bowl.
Notes
Tedford was asked about the Bears 46-22 win at then-No. 15 Michigan State in 2002, his first season in Berkeley. "We've had some big wins here over the years but I think that was one of the biggest," he said. "We jumped out to a lead and they responded and came back with a couple touchdowns. And at that point right there, I thought it was very important how are we going to respond to this? Are we going to let them go or are we going to respond to their challenge and we did. I felt like when we left the field that day, there was a different confidence, a difference belief that our guys had. I felt that that was a big, big game in our time here." It's worth noting that Cal, 1-10 the season before, earned a No. 23 ranking after that win -- and then promptly lost consecutive games to Air Force and Washington State.
Cal fans: You have been called out. Here's a question from Michigan State coach Mark Dantonio's press conference: "Folks from Cal have told us that they're expecting probably 15,000-16,000 Spartan fans. It's not traditionally a loud stadium. How do you use that in recruiting?" "Not a traditionally loud stadium." Ouch.