August, 19, 2014
8/19/14
9:00
AM ET
When
Michigan State Spartans
athletic director Mark Hollis first told football coach Mark Dantonio about his plan to schedule a home-and-home series with the
Oregon Ducks
, Dantonio did not wrestle his boss to the ground, scream obscenities or start updating his résumé.
As Hollis recalls, Dantonio simply smirked, shrugged his shoulders and said, "Why not?"
The reasons not to schedule Oregon -- especially at eardrum-splitting Autzen Stadium, where the Spartans go in Week 2 -- of course include the Ducks' tornadic offense, their dominance at home (92-17 since 1997) and the Big Ten's historic struggles in Pac-12 country. So why would Michigan State saddle itself with such a challenging matchup so early in the season?
"I've never really said, 'Oh, no, I don't want to play those guys,'" Dantonio told ESPN.com. "I just feel like, if you're going to be a champion, you have to be willing to take on all comers."
[+] Enlarge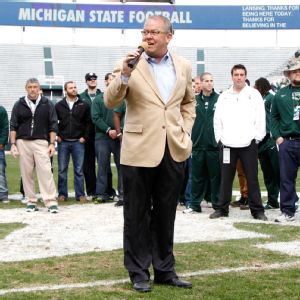 AP Photo/Al GoldisMichigan State athletic director Mark Hollis has upgraded the football schedule with the College Football Playoff in mind, beginning this season with a road game at Oregon.
The Spartans arrived in the ranks of the elite in January by beating Pac-12 champ Stanford in the Rose Bowl, capping a 12-1 season. Now they get a chance to prove they can stay there with another trip to the West Coast on Sept. 6. This early-season showdown of conference heavyweights -- Oregon is ranked No. 4 in the ESPN preseason power rankings; Michigan State is No. 7 -- carries key implications for the inaugural College Football Playoff.
"If we play well in that game, it can definitely bounce us up to the four-team playoff," Spartans defensive end
Shilique Calhoun
said.
The playoff was exactly what Hollis had in mind when he added Oregon to the schedule in March 2012. He also signed future home-and-home deals around the same time with Miami (Fla.) and Alabama, the latter of which has since been canceled. Hollis said arranging the Oregon series was made easier by his close relationship with Oregon athletic director Rob Mullens; the two became friendly when Mullens was at Kentucky and the Spartans and Wildcats put together a basketball series.
"We don't want to be stupid in our scheduling, but at the same time, we were anticipating the playoff system and anticipating the strength-of-schedule [component]," Hollis told ESPN.com. "As we were having these conversations, it seemed right, it fit right. They're a top-five program, and with us coming off a Rose Bowl championship, kind of by freak of luck this turned into a pretty nice game."
(The fact that both schools are Nike-sponsored and wear green doesn't hurt, either. "It's always nice to see Phil [Knight]," Hollis joked, "even though I'm sure he'll be on the other sideline.")
Michigan State sees little downside to the game. Even if the Spartans lose in Eugene, as long as they are reasonably competitive, they would have plenty of time to rebound and still win a Big Ten title. They recall last year, when they lost at Notre Dame but went on to capture their final 10 games and finish No. 3 in the polls.
"It's not an end-all either way," Dantonio said. "It's going to be a measuring stick for us -- where are we at, what do we have to do, who are we? It will give us a little more of a sense of identity early in season."
The on-field matchup itself is incredibly intriguing.
Oregon, with its fast-paced, no-huddle spread offense, leads the nation in scoring the past four seasons combined at 47 points per game. In that same time span, Michigan State's ferocious defense ranks fourth in the FBS in points allowed and third in yards allowed. The Spartans finished No. 2 in total defense in 2013; the Ducks were No. 2 in total offense.
Michigan State has fielded a top-10 defense in each of the past three years, but it is replacing six key starters from last year's unit.
"This should give us an early indication of how things can go for us, if our team is tight-knit or if we have loose ends," Calhoun said. "It will be nice to see how they play and see if we match up with them."
The wise guys say it will be difficult, as Michigan State opened as nearly a two-touchdown underdog in the betting lines. That's not much respect for a defending Rose Bowl champ.
"We're used to it," Michigan State quarterback
Connor Cook
said. "We were underdogs last year against Ohio State and against Stanford. So we're used to playing with a chip on our shoulders, and we're not going to let that affect us."
Regardless of the outcome, the game should provide significant national buzz for the Spartans, as well as heavy local interest. Hollis said the school received more than 8,000 requests for its 3,000-ticket allotment to the game. Oregon's return visit to East Lansing on Sept. 12, 2015, will be a scalper's dream.
"For the general fan, it's one of those games that, no matter who you cheer for, this is one you want to watch," Hollis said.
Dantonio will make sure his team doesn't put too much focus on this one game, as Michigan State must first deal with its opener on Aug. 29 against Jacksonville State, not to mention the 10 regular-season contests after Oregon. But it's impossible to ignore the magnitude of what awaits in Week 2.
"It's been in the back of our minds all offseason," Cook said. "If we win, it will be a statement game that can turn a lot of heads, and it could put us on the way to a national championship."
March, 20, 2012
3/20/12
6:39
PM ET
Oregon and Michigan State have agreed to play a
home-and-home football series in 2014 and 2015
, with the Spartans visiting Autzen Stadium in 2014 and the Ducks providing a return trip a year later.
The game in Eugene is scheduled for Sept. 13, 2014. The Ducks will head to East Lansing on Sept. 12, 2015.
The two football programs engaged in a similar series in the late 1990s, with Oregon winning in Autzen Stadium 48-14 in 1998. The Spartans prevailed at home, 27-20, in 1999.
"I have tremendous respect for the program that Coach [Mark] Dantonio and his staff have built at Michigan State," Oregon coach Chip Kelly said in a statement. "There is little doubt a game of this magnitude will present an early-season challenge for us but one that hopefully will make our team better as the season progresses."
Oregon concludes a home-and-home series with Tennessee in 2013 when the Volunteers are scheduled to visit Eugene on Sept. 14.
"We look forward to adding Oregon to our future football schedule," Michigan State athletic director Mark Hollis said in a statement. "The series provides MSU alums on the West Coast with an opportunity to see the Spartans compete against one of the nation's outstanding football programs. The relationship between the Big Ten and Pac-12 is built on common values and the Rose Bowl. We also look forward to bringing the Ducks back to Spartan Stadium, as we continue to compete for championships and national exposure."
February, 9, 2012
2/09/12
4:30
PM ET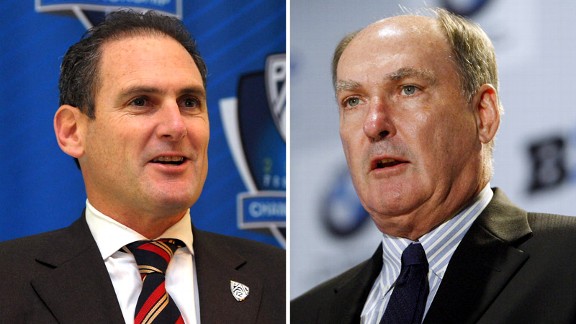 US PresswireThe Rose Bowl needs commissioners Larry Scott (Pac-12, left) and Jim Delany (Big Ten) in its corner.
Every Big Ten administrator who has commented on the league's four-team playoff proposal also has made sure to acknowledge the Rose Bowl in the same breath.
"The Rose Bowl is extremely important to Michigan State just as it is to every school in the Big Ten and Pac-12," Michigan State athletic director Mark Hollis told the
Associated Press
.
"Any talk of a limited playoff needs to keep the tradition of the Rose Bowl and the bowl system in play," Iowa AD Gary Barta wrote to the
Des Moines Register
in an email.
"My concern -- first and foremost -- is maintaining our relationship with the Rose Bowl," Wisconsin AD
Barry Alvarez wrote in his monthly letter to fans
.
Perhaps there's some little-known Big Ten bylaw requiring league officials and administrators to pay homage to the Rose Bowl whenever discussing the future of college football. Commissioner Jim Delany always makes a point to acknowledge the Rose Bowl as the league's most important external relationship.
Kevin Ash, the Rose Bowl's chief administrative officer, enjoys hearing this from one of the game's conference partners. He hopes the pledges continue, as the Rose Bowl needs both the Big Ten and Pac-12 to be in its corner.
One of the big questions with any playoff model is how it would impact the current bowls, including the Rose. Would the Rose Bowl remain a premier sporting event on New Year's Day, or would the game start seeing drops in attendance and ratings like some of the other major bowls?
The Big Ten plan would remove the top four teams from the BCS bowl pool and have semifinal games played on the college campus of the higher seed. The championship game then could be bid out, like the Super Bowl.
The Rose Bowl's fate largely rests with Delany and his Pac-12 counterpart Larry Scott.
"We rely on them heavily to lead on our behalf, because we don't sit at the table with them," Ash told ESPN.com on Thursday. "We're not an active party. We know they have our best interest at heart, and we're a huge part of who they are in the postseason."
Like many, Ash senses the momentum building toward a college football playoff. He understands that the next BCS cycle, beginning in 2014, could bring changes for the Rose Bowl.
"It's going to be interesting to see some of the proposals," he said. "There could be variations that could be OK for the Rose Bowl game. If the commissioners feel we need to move in a different direction, which is best for college football, we've got to be a part of that."
The desire to maintain the traditional Big Ten-Pac-12 Rose Bowl matchup has been viewed as one of the primary impediments to a college football playoff.
Like the Big Ten and, to a lesser extent, the Pac-12, the Rose Bowl has been viewed as an obstruction to a college football playoff. Although the game has loosened its access rules and has had teams from other leagues, most recently TCU in the 2011 game, the desire always has been to have the Big Ten champion face the Pac-12 champion on Jan. 1 in Pasadena, Calif.
Any type of playoff format would decrease the likelihood of having both league champions in the game.
"Whatever system they decide to put forward, we will deal with the access issue as it applies to us, and we will embrace any visitor that comes to our game," Ash said. "But each year, we hope to have a Pac-12 and Big Ten champion playing for the Rose Bowl championship. Simple as that. Does it hurt us to have other teams in here? No. But we're traditionalists. It's a part of who we are."
Some see the Rose Bowl's traditionalist nature as being inflexible. The Big Ten, and, to a lesser extent, the Pac-12, have been viewed this way as well.
Ash said it's not the case.
"Since the BCS, we've learned to evolve, and we still have our tradition," Ash said. "Tradition is a two-sided sword. If you sit on tradition, then you can get left behind, but if you are careful about how you move forward, then you can keep that tradition going. There's possibilities out there, models that can be successful for us. We've got to see what plays out."
And follow Delany's and Scott's lead.
"They're very, very intelligent guys, and their leadership is amazing," Ash said. "We need to evolve in order to stay relevant. I think those are the guys who can take us there.
"They're going to protect us as best they can."