April, 30, 2012
4/30/12
7:00
PM ET
It was a meeting of minds that had never really met. Still, Jim Mora knew that he wanted Noel Mazzone running his offense.
Mora, who has spent virtually his entire career in the NFL, was looking for someone with deep college roots. But he also wanted someone who could give him a mental sparring match.
"In watching his offense, I watched it like a defensive coach would watch it, because I'm a defensive-minded coach," said Mora. "I'm watching his plays and wondering 'How am I going to defend that?' And I thought, I don't know. When it posed those problems to me initially, I thought that's the guy."
[+] Enlarge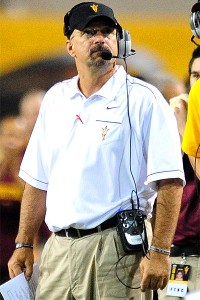 Matt Kartozian/US PresswireJim Mora selected Noel Mazzone (above) to run his offense at UCLA.
And Mazzone jumped at the chance -- even though he only knew Mora by reputation.
"It was sort of the four degrees of Jim Mora separation," Mazzone said. "That's how coaching is anyway. There is always a little bit of a tie because you know a guy who knows a guy who worked with that guy. I didn't even really know him. A good friend of his was someone I worked with at the Jets."
Mora, who had been in broadcasting since being fired as head coach of the Seattle Seahawks, had spent a lot of time watching college football. And he kept a close eye on what was happening at Arizona State, where Mazzone had served as offensive coordinator to Dennis Erickson.
"I love his personality," Mora said. "I love his energy. I love his experience. I know he's great with quarterbacks. Now I'm watching his offense and I don't know how I'm going to stop it. With all of the experience I have -- going against [Bill] Belichick and [Mike] Martz and Bill Walsh. Man, I thought, this guy is special."
And that's how Mora and Mazzone came together. And both feel it's going to be a mutually beneficial relationship.
"Well, I haven't missed on a third-and-short to keep the defense off the field yet," Mazzone said. "So we'll see what happens the first time that happens."
Mazzone's up-tempo spread offense comes from years of picking and grabbing what other offensive minds have done for more than three decades. His first influences were Jack Elway, Joe Gibbs and Don Coryell. Then he became friends with Mike Leach and Dana Holgorsen and spent time with Mark Richt. Through the years, he's molded his own philosophy and approach to the game from watching others.
"There's not a lot of earth-shattering, unique, new ideas out there because a lot of this stuff was being done in the '30s," Mazzone said. "But an old coach once told me, it's not the plays, it's the presentation. That's how I think of offense. It's not the plays, but how do you present it. How do you present your team to the defense. I've just taken from my past experiences and built something."
And the results have been undeniable. He completely revamped a struggling Arizona State offense into one of the better attacks in the country in just a couple of years. Now Mora is hoping he'll do the same with the Bruins, a team that's been in the bottom half of the national offensive rankings the past few years.
"I watched a lot of college football these last two years," Mora said. "I knew Noel briefly and we'd competed against each other when he was at the Jets. We had common friends. And I always enjoyed his personality and approach. I think it's going to work out great."
December, 5, 2011
12/05/11
9:53
AM ET
Some become college football fans to root for someone. Some become fans to root against someone.
This blog entry intends to help the latter.
You can find USA Today's
graphic here
on how the coaches voted in their final poll. It allows you to be outraged at the coaches who think the least of YOUR team.
Prepare your angry face.
Here's a neat one. Remember how Georgia ran --
quivering like a cornered kitten
-- from a game contract with Oregon? Guess who voted the Ducks eighth, lower than any other coach? That would be Georgia's Mark Richt.
I bet he cackled when he did it ... and said, "Go Huskies."
And the coach of the Ducks' Rose Bowl opponent doesn't think too highly of Oregon. Wisconsin's Bret Bielema ranked the Ducks seventh, as did Baylor's Art Briles and San Diego State's Rocky Long.
As for Stanford, it was ranked sixth by three coaches: Fresno State's Pat Hill, Boise State's Chris Petersen and Buffalo's Jeff Quinn.
Stanford was fourth in the coaches' poll and Oregon was fifth.
Be angry. It's a great way to start off a Monday morning.
November, 13, 2010
11/13/10
10:57
AM ET
Former Oregon coach Mike Bellotti has talked to Colorado about its coaching vacancy,
the Denver Post reported
.
"We had some initial talks, nothing more than that," Bellotti told the newspaper.
The Post also said that current Georgia coach Mark Richt, who's considered a coach on the hot seat -- as nutty as that sounds -- is also a possibility.
The report further said that former Texas Tech coach Mike Leach is not a candidate.
November, 10, 2010
11/10/10
3:00
PM ET
It's time for a blogger debate! And it doesn't get much better than when we match the SEC and Pac-10.
Our topic: No. 1 Oregon and No. 2 Auburn. Who's better and why?
Both are unbeaten, and if the season ended today, they'd play for the national title.
We've got lots of football left, and probably many more plot twists in the hunt for the national title, but there's no reason we can't engage in a hypothetical, is there?
So the Pac-10 blog -- Ted Miller -- and the SEC blog -- Chris Low -- have decided to meet for some civilized debate on Auburn versus Oregon.
Ted Miller
: Chris, since things are so quiet in the sleepy SEC, I think we should spice things up with a Pac-10-SEC blogger debate! It seems like a long time since we last had a debate between our two conferences. How'd that one go? Let's see I championed Taylor Mays and you celebrated Eric Berry. Wait.
Why did I bring that up
?
Anyway, our topic is Oregon and Auburn: Who's better and why.
[+] Enlarge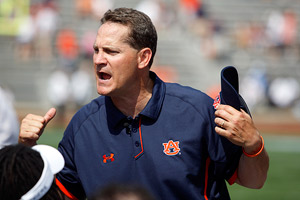 John Reed/US PresswireGene Chizik has silenced those critical of his hiring last year but getting Auburn off to a 10-0 start this season.
This is a potential national title game between the No. 1 Ducks and No. 2 Tigers, who are both unbeaten and feature Heisman Trophy candidates leading high-powered offenses.
You get first blood. Tell me about Auburn. It seems like it wasn't too long ago that Jay Jacobs was getting hounded for hiring Gene Chizik. Guessing that's died down a wee-bit.
Chris Low
: No doubt, Ted. I wonder where that obnoxious guy is now, the one yelling at Jacobs as he was leaving the airport after finalizing the deal with Chizik? Maybe Jacobs knew what he was doing after all. The guy with the 5-19 record at Iowa State has done all right by himself on the Plains. He has a Heisman Trophy-caliber quarterback and the SEC's leading rusher in Cam Newton, a 6-foot-6, 250-pound freak of nature who runs like Bo Jackson and also has an NFL arm. Keep your eyes, too, on freshman running back Mike Dyer, who they haven't had to lean on much this season, but is oozing with talent and has fresh legs for this stretch run. The Tigers' defensive numbers are nothing to write home about, but they do have the kind of dominant interior defensive lineman, Nick Fairley, who can take over games. Georgia coach Mark Richt said Fairley's the closest thing he's seen to Warren Sapp. Auburn's calling card defensively has been making plays at key times in the fourth quarter. The Tigers have been a serviceable defense through three quarters this season, but they've been a championship-caliber defense in the fourth quarter -- which is why they're 10-0.
So tell me about Oregon?
[+] Enlarge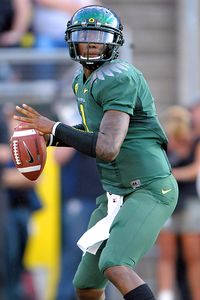 Kirby Lee/Image of Sport/US PresswireSophomore Darron Thomas was thrust into the starting quarterback job and has performed admirably.
Ted Miller
: Speaking of coaches: How about Oregon's Chip Kelly? How could he possibly expect to top winning the Pac-10 and playing in the Rose Bowl his first season? How about contending for a national title in his second? The Ducks, however, expected to be here when the 2009 season ended because just about everybody was coming back from the Pac-10 champions. That is until a guy you are now familiar with -- quarterback
Jeremiah Masoli
-- got caught up in some off-field issues and eventual got himself booted from the team. That seemingly left a void behind center, but sophomore
Darron Thomas
has not only filled Masoli's shoes, he's gone up a few sizes: He's 15th in the nation in passing efficiency and 21st in the nation in total yardage. Meanwhile, speedy running back
LaMichael James
is the top Heisman alternative to your guy, Newton. As for the defense, it's like the offense: Extremely fast. It ranks 13th in the nation in scoring defense and it has forced 28 turnovers, second-most in the nation. Folks often underestimate the Ducks' defense because it gives up some yards -- it ranks 29th in the nation in total defense -- but that's because the offense scores so quickly: The nation's No. 1 offense ranks 115th in the nation in time of possession. But the Ducks only give up 4.45 yards per play. Our factoid of the day is that number would rank No. 1 in ... wait for it ... the SEC!
Obviously, we're talking about two very good teams that have done impressive things on their way to remaining unbeaten. I know we both have Oregon ahead of Auburn in our power rankings, but give me the case for Auburn.
Chris Low
: Ted, I think what separates Auburn is Newton. Nobody has been able to stop him. If you commit to taking away the run, he's proved he can beat people throwing the ball. And if you come after him and/or don't have enough people in the box, he's been magic running the ball. Keep in mind, too, that we're not talking about a 220-pound guy running the ball. We're talking about a 250-pound guy who's physical, tough and doesn't run out of bounds. In the red zone, he's the great equalizer, because he gains 3 yards when he falls forward and has the size and the strength to push the pile. On top of it all, he's always a threat to throw the ball. Similar to Oregon, Auburn doesn't flinch if somebody puts 30-plus points on the board, because the Tigers' mentality is that they're going to score 50. Their offensive coordinator, Gus Malzahn, will make you defend everything -- reverses, throwback passes, passes to the backs, even passes to Newton. He caught a touchdown pass two weeks ago against Ole Miss. The Tigers also play at a tempo on offense that has opposing defenses gasping for air in the fourth quarter. But when they have to, they can put teams away and finish games by running the ball. They're fourth nationally (one spot ahead of Oregon) this week in rushing offense with an average of 307.2 yards per game. Auburn's top four rushers -- Newton, Dyer,
Onterio McCalebb
and
Mario Fannin
-- are all averaging at least 6.4 yards per carry. Do the Ducks have any answers for that running game?
[+] Enlarge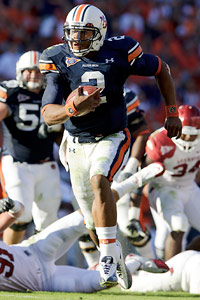 Paul Abell/US PresswireAuburn's Cam Newton is just as dangerous with his arm as he is on his feet.
Ted Miller
: That's what's so interesting about this as a potential national title game match -- there's an odd familiarity that both teams will have with each other despite never crossing paths. My guess is Malzahn and Kelly already have studied each other, just in terms of mutual admiration. And both defenses will be familiar with up-tempo, no-huddle, spread-option offenses that can power you and finesse you and throw downfield. Further, the Ducks have played against a number of big, fast, capable quarterbacks with NFL futures: Washington's
Jake Locker
, Ohio State's
Terrelle Pryor
and Stanford's
Andrew Luck
. The results have been mixed. Last year, Luck and Pryor got them. Luck beat the Ducks with uncanny downfield accuracy, which is why he'll go No. 1 in this spring's NFL draft. Pryor shocked them with the best passing game of his career in the Rose Bowl. Locker missed this year's game, but he's never had much luck against Oregon. In general, Oregon has a good run defense: Opponents are averaging 3.38 yards per rush. But the Ducks are undersized. A physical Stanford team had some success, rushing for 177 yards. But one thing about Oregon on both sides of the ball: It is masterful with halftime adjustments. They shutout Stanford, owners of the nation's No. 5 scoring offense, in the second half, and have given up just 48 points in the second half this year -- just seven in the fourth quarter!
Obviously, two very good teams that have done impressive things on their way to remaining unbeaten. I know we both have Oregon ahead of Auburn in our power rankings, but give me the case for Auburn if it played Oregon in the national title game. How do you see it going?
Chris Low
: Well, if that happens, the first thing we all better make sure we have is a calculator. That and make sure there's no danger of a power surge to the scoreboard. You're right about Oregon. Nobody in the country has been better in the second half. The Ducks' ability to score points in bunches is amazing, but the Tigers are equally adept at going on head-spinning scoring sprees. Just ask Arkansas, which saw Auburn roll up 28 points in the fourth quarter in Xbox-like fashion. I have no doubt that an Auburn-Oregon matchup would be played in the 40s. I think the difference, though, would be Auburn's ability to put the breaks on the track meet and run the football in the fourth quarter, especially with Newton being so good at converting on third down. So I'm going Auburn 45, Oregon 41 in a game that rates up there with the Texas-USC classic to decide the 2005 national title.
Ted Miller
: That's clearly something we can all agree on: This likely would be a highly entertaining, offensively driven national title game if these two teams manage to get themselves there. Further, I think, after never getting a USC-SEC title game, folks on both coasts would enjoy an SEC-Pac-10 matchup. No trash-talking there, right? And I do see a clear advantage for Auburn: It has been tested. It's played five games decided by eight points or fewer, and three decided by a field goal. The Ducks closest game? An 11-point win at Arizona State. But that's also why I'd pick Oregon in this one. Oregon beat the No. 6 team in the nation, Stanford, by 21 points. It shut Andrew Luck out in the second half. And I look at all of Auburn's close games: Mississippi State, Clemson, South Carolina, Kentucky and LSU, and think: None of them would be within 10 points of the Ducks. Maybe LSU, because any game Les Miles touches is surprising. And I think Vegas would agree with me. So if we ended up with an Oregon-Auburn national title game, my guess is the Tigers would go TD for TD with the Ducks in the first half, then the Ducks would pour it on late for a 50-35 win. But I reserve the right to change my mind, particularly because I think the Tigers' toughest test -- Alabama -- is ahead.
Moreover, both teams should be advised: You probably should get to the Jan. 10 date in Glendale before you start trash-talking each other. At least before you use your best stuff.
October, 8, 2010
10/08/10
11:14
AM ET
It's great when a son gets to work with his father, even if the role reversal of the son being the boss is a bit unusual.
But it's not so great when things are going badly and Dad feels like he's letting down Son, which is the situation at USC.
[+] Enlarge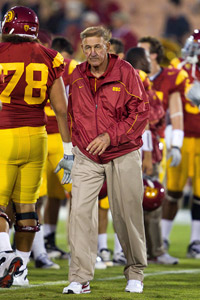 Jeff Lewis/Icon SMIMonte Kiffin's defense is currently ranked No. 99 in the country.
There's no other way to say it: Monte Kiffin's defense is playing poorly, while Lane Kiffin's offense is doing well. If the USC defense had been just solid this season -- instead of ranked 99th in the nation -- the Trojans would be 5-0 and probably ranked in or near the top 10. As it is, they are unranked in the AP poll for just the second time since the start of the 2002 season.
Nice Bill Plaschke
column here on the matter
.
I remember interviewing Bobby Bowden for a story I did on
nepotism in college coaching a few years ago
. You might recall Bowden caught some heat when he promoted his son, Jeff, to offensive coordinator when Mark Richt was hired away by Georgia. And you might recall that he caught even more heat as the Seminoles' offense started a precipitous slide.
Bowden told me he'd never fire his son. "Blood is thicker than water to me," he said. "I'll live and die with my decision."
But, of course, when things got too hot, his hand was forced -- Jeff Bowden resigned late in the 2006 season -- and Jimbo Fisher was hired away from LSU.
And we all know what happened next. Bowden was eventually pushed aside so Fisher could take over. So Bowden, figuratively, "died" by that decision.
Monte Kiffin took a huge pay cut and left the familiarity of the NFL to coach with his son at Tennessee and then USC. It should have been a neat story, but it mostly got lost in the constant flow of Lane Kiffin controversies.
But, at present, it's a painful story. Consider this from Lane Kiffin:
"Can you imagine leaving something you love to take care of your child, and then to feel like you've let him down?" Lane said. "I keep telling my father that it's about all of us, but he's not hearing that."
Two thoughts on Monte Kiffin's defense: 1) It would be a lot better right now if defensive linemen Nick Perry, Wes Horton and Armond Armstead were 100 percent; 2) Don't be surprised if things start to click as the season progresses.
March, 23, 2009
3/23/09
12:00
PM ET
Posted by ESPN.com's Ted Miller
TEMPE, Ariz. -- When college recruiters first saw Dexter Davis in 2004, they didn't think much of him. And when Pac-10 offensive tackles first saw him in 2006, they didn't either.
Davis didn't pass the initial sight test from either party.
Those tackles, in fact, might have observed to Davis that he didn't look like much.
"I got a couple those my freshman year. And some my sophomore year," he said. "I think that's gone away a little bit now. I've earned a little bit of respect."
You think? 27.5 sacks over three seasons tend to make mouthy tackles grow respectful. Modest even. Desperately ingratiating in some cases.
Arizona State starts spring practices Tuesday, and Davis heads into his senior year a solid 6-foot-2, 252 pounds. He's got a shot to be selected on the first day of the 2010 NFL draft.
So give UTEP and ASU credit for seeing something inside the Phoenix product, because those are the only two teams that offered him a football scholarship.
"I don't know if it was my size or my speed," he said. "I don't know what it was. I'd gone to some of the camps and stuff and I didn't test real well. I think I did pretty well in some of the drills."
What sight tests and stop watches couldn't measure was Davis' sense of leverage. He was a two-time Arizona state wrestling champion at 215 pounds for Thunderbird High School.
If you watch him go one-on-one with a much bigger lineman, you might notice that the lineman often seems off-balance and uncomfortable as the smaller Davis controls the confrontation.
Davis knows how to use his hips and his hands. He wins the leverage battle, and then he's on the quarterback.
But opposing offenses wised up. Davis, a three-year starter, rarely was left to one guy. Georgia designed its game plan around stopping Davis, and after the Bulldogs rolled in Tempe, coach Mark Richt quickly noted that success in post-game interviews.
Second-team All-Pac-10 as a sophomore, Davis ended up only as an honorable mention last year, despite 11 sacks and 15 tackles for a loss, both totals leading the Sun Devils for the third consecutive year.
Davis didn't slip so much as the Sun Devils did. They started the season nationally ranked then flopped and finished 5-7, at one point losing six consecutive games.
"That's a huge motivation for the team and me personally," Davis said. "That was embarrassing --- six straight losses. We're a better team than that and we want to prove that to everybody."
If Davis has a big year, he could become the Sun Devils all-time leader in sacks. He presently ranks fourth and needs 16.5 to tie Terrell Suggs' 44.
It's a longshot, but perhaps not as much as it seems. The Sun Devils defense as a whole has a chance to be pretty salty next fall -- coach Dennis Erickson has quietly recruiting some nice talent -- and Davis will likely get some help from the presence of tackle Lawrence Guy, a freshman All-American in 2008.
Guy could force a "pick-your-poison" quandary for opposing offenses.
"They're going to have to pay attention to Lawrence because he's going to be a force to be reckoned with," Davis said. "Across our front four, we're going to have a talented D-line."
Big numbers could raise some NFL eyebrows. Davis rates either a rush linebacker in the 3-4 or a strongside linebacker in the 4-3. His lack of ideal size and mediocre speed with give some pause, but his production is hard to ignore.
Recall Suggs didn't exactly blow folks away with his 40 time and he seems to be doing OK.
Davis claims he's not looking ahead, though. The notion of looking ahead reminds many in the program of the upset loss to UNLV last season before Georgia came to town.
Said Davis, "I've got to take care of business here first."
September, 21, 2008
9/21/08
2:42
AM ET
Posted by ESPN.com's Ted Miller
TEMPE, Ariz. -- I watched USC brutalize Ohio State. And I've now watched Georgia manhandle Arizona State.
| | |
| --- | --- |
| | |
| | AP Photo/Paul Connors |
| | Georgia running back Knowshon Moreno showed once again he is one of the best in the nation Saturday night. |
The obvious question is: Who's better?
Heck if I know.
But if I had to guess, I'd take USC.
That seemed to be the consensus opinion among a couple of other reporters I talked to who had covered both games.
Say what you want about Ohio State, but it's laden with NFL players and few folks would pick the Sun Devils to beat the Buckeyes.
That said: If the Bulldogs go undefeated against a schedule that includes Alabama (next Saturday), LSU, Florida and Auburn, the sight test won't matter because they will have passed the "do test."
That's a big if, which is probably why Georgia coach Mark Richt didn't want to start lobbying for respect just yet, even though his team, ranked No. 1 in the preseason, has dropped two spot in the polls while watching everyone fall in love with the Trojans.
"I wasn't really worried about making a statement," Richt said. "I just wanted to win the game."
Georgia has one of the slickest running backs in the nation in Knowshon Moreno. QB Matt Stafford owns the best arm I've seen since Carson Palmer. Freshman wide receiver A.J. Green looks ready for his close-up, too.
And the defense? Its linebackers are fast and its front four is physical. The secondary is above-average.
The defense is great against the run. It entered the game surrendering 59.7 yards rushing per game and held the Sun Devils to an embarrassing four yards on the ground.
The Bulldogs struggled to pressure opposing QBs, but the one-dimensional Sun Devils made things predictable and Georgia had four sacks.
However, be forewarned Dawgs fans: It's unlikely Georgia will face any more offensive lines with as many issues as ASU, at least not in its marquee games ahead.
Of course, Georgia isn't exactly dominant on its offensive line, and that youth -- two freshmen and two sophomores started -- that played fairly well against ASU, probably will find the going rougher against SEC front-sevens.
Or USC's front seven, should those teams hook in a some sort of game, you know, down the line.
While this game made a statement -- Georgia took care of business a long way from home against a quality opponent -- the Bulldogs don't need to fret about what sort of message they're sending.
Against this schedule, just winning makes a statement.
"We obviously know the prettier it is, the more people are going to look at it," Stafford said. "But we don't look at it like that... We definitely haven't arrived."
September, 21, 2008
9/21/08
1:26
AM ET
Posted by ESPN.com's Ted Miller
TEMPE, Ariz. -- It's not the Two Stooges and it's not the Two Blind Mice and everyone knows that three -- not two -- is the magic number.
So it probably bodes well for Georgia that its talented offensive duo of Matthew Stafford and Knowshon Moreno appears to have found a third big Dawg with which to attack defenses.
"Want to ask about A.J. Green?" Georgia coach Mark Richt queried reporters a few moments into his post-game comments.
| | |
| --- | --- |
| | |
| | Chris Morrison/US Presswire |
| | The combination of true freshman receiver A.J. Green and junior QB Matthew Stafford is working wonders for the Bulldogs. |
Green, a true freshman, hauled in eight passes for 159 yards with a TD in the third-ranked Bulldogs 27-10 beatdown of Arizona State.
Those numbers eclipsed his totals from the previous three games, and announced that Georgia has a new weapon as it begins its SEC schedule next Saturday against Alabama.
What did it mean for Green to slice and dice the Sun Devils coverage and become the Bulldogs first receiver to have more than 100 yards receiving since 2006 and post the team's best tally since 2004?
Well, Stafford, maybe the most physically talented QB in the nation, threw for a career-high 285 yards.
"Y'all [can] say it's a breakout game, but I just try to make plays every game," Green said.
Green, 6-foot-4, 200 pounds, did almost all his damage in the first half, catching seven passes for 150 yards before the break. Richt said that Green exploited soft, man-to-man coverage on the wide side of the field.
"We definitely wanted to make sure we kept it coming his way," Richt said. "He basically changed the game for us."
Added Stafford, "He was alone out there a lot and it's a good matchup."
Arizona State quieted Green in the second half by rolling coverage toward him with extra safety help. But the damage was done.
"My guess is the next team will have a better plan," Richt said.
That might be true, but extra attention for Green means an opposing defense won't be able to focus its efforts on Moreno. And wide receiver Mohamed Massaquoi, no slouch himself, figures to find the going easier.
Green's teammates didn't seem terribly surprised by Green's evening. He's shown flashes in previous games, but he'd already raised more than a few impressed eyebrows in practices.
"What you saw today was what I think a lot of the team was waiting for to come out," cornerback Asher Allen said. "He most definitely changed the game today."
The Bulldogs defenders seemed to take particular relish in the youngster's breakthrough. Perhaps they enjoyed watching an opposing defense look bad trying to contain the Parade All-American from Summerville, S.C.

"He makes crazy catches no matter how bad the pass is," linebacker Rennie Curran said.
That translates to: Green can increase Stafford's margin for error.
Consider the Bulldogs touchdown drive that gave them a 21-3 lead right before the half. The 5-play, 70-yard drive featured passes of 23, 31 and 14 yards to Green, the final one for the score on third-and-8.
It was basically Stafford and Green effortlessly playing pitch and catch.
"He's a special player," Stafford said. "You can see it in practice. We knew he had to get a couple of touches."
Now, with Alabama coming to town with its freshman phenom receiver, Julio Jones, the big question is: Who's the best freshman wide receiver in the SEC?
September, 19, 2008
9/19/08
9:13
AM ET
Posted by ESPN.com's Ted Miller
How does the Pac-10 bounce back after Black Saturday?
1. Georgia is a road warrior: Everyone is now aware that Georgia hasn't been to the West Coast since 1960 or even west of the Mississippi for a regular-season nonconference game since 1967. But the Bulldogs don't figure to be blown away by their trip to Arizona State. In coach Mark Richt's eight seasons at Georgia, the Bulldogs are a 26-4 on the road and are 9-2 against ranked teams. Of course, the Bulldogs are 1-5-1 in games west of the Mississippi since they started playing football in 1892.
2. Autzen Stadium is no place to start your first road game: Boise State, 0-12 vs. BCS teams on the road and 0-7 in Pac-10 stadiums, will try to take down Oregon on Saturday with a redshirt freshman quarterback, Kellen Moore, and four new starters on the offensive line. The Broncos offense has mostly been its regular proficient self thus far, scoring 69 points and averaging 461 yards in two victories. But Oregon isn't Idaho State and Bowling Green and Autzen is different than a home game. Moore and his green line won't be able to communicate. That's a problem when the Ducks high-pressure defense is trying to force a QB to make quick decisions against one of the nation's best secondaries.
3. Rudy isn't afraid of the blitz: Richt must be on the ESPN.com research team's e-mail list, too. He noted repeatedly this week that pressuring ASU QB Rudy Carpenter with extra rushers hasn't been the best defensive tactic. Carpenter actually seems to play better when he has less time to think about where he wants to go. His totals in two games against FBS opponents:
0-4
rushers
5/more
rushers
Comp/Att
23/40
17/19
Comp pct
57.5
89.5
Yds per att
9.2
11.5
TD/Int
3/2
2/0
4. We'll find out who the real UCLA is against Arizona: The Bruins likely will be down five starters from their preseason depth chart Saturday, and, no, that doesn't include QBs Ben Olson and Patrick Cowan. One word: ouch. This isn't a terribly deep team in the first place. Of course, that's only two more injured starters than the shocking Tennessee victory, when three went down, so maybe there's more smoke-and-mirrors with Rick Neuheisel and his crack coaching staff. If the Bruins do beat the Wildcats to open Pac-10 play after going down 59-zip at BYU, it will establish them as a peculiarly dangerous team and -- egad! -- a crew that might scrap out of the bottom third of the conference.
5. We'll find out who the real Arizona is against UCLA: This title should have been "The return of TE Rob Gronkowski will give Arizona a big boost", but we wanted symmetry with our UCLA entry. Gronkowski will provide a huge lift for the Wildcats offense, particularly QB Willie Tuitama, who threw two interception and fumbled twice against New Mexico. Arizona is mostly healthy, which is good, and completely desperate, which is could be good or bad. A loss puts coach Mike Stoops' job in serious jeopardy, while a victory puts him back on track for a breakthrough season. An overstatement? Perhaps. But that's life in a "What have you done for me lately?" business, and Stoops knows that.
6. Tavita Pritchard needs to step up to remain Stanford's QB: Stanford ranks 116th in the nation in total offense (242.3 yards per game) and 112th in passing offense (111 ypg). Not many ways you can dress that up and make it look good, and when an offense is sagging, the QB takes most of the blame. That's why word out of The Farm is true freshman Andrew Luck has been getting more reps with the first-team in practices and may doff his redshirt against San Jose State. If the Cardinal musters any passing threat, that will help a good offensive line create cracks for RB Toby Gerhart, the offense's best weapon. This could be Pritchard's last stand.
7. Expect some fancypants from Boise State and Oregon: Boise State's Chris Petersen and Oregon's Mike Bellotti are two of the best offensive-minded head coaches in the nation. And they like to get cute every once and a while. Everyone saw what the Broncos did to Oklahoma in the Fiesta Bowl, so it's not like they're afraid to take risks in big games. Meanwhile, even though Bellotti is down two QBs and is splitting the ball between first-year players Jeremiah Masoli and Chris Harper, he intimated strongly this week that he and offensive coordinator Chip Kelly may have some tricks up their sleeves, too. Heck, The Oregonian wrote an entire story this week about trick plays.
8. Washington State will take a step forward vs. Portland State: Unless Portland State decided to reinvent itself this week and no longer use the pure run-and-shoot -- highly unlikely
-- then Washington State's beleaguered, nation's-worst run defense will get a break. The pass probably looks good for a team that gives up 330 rushing yards per game. And a FCS opponent also probably looks good to the Cougars, who are still trying to break in first-year coach Paul Wulff's no-huddle spread offense. On the other hand, there's a lot of pressure on them to win Saturday because a loss could suggest a winless season is possible. Don't count on that happening, though. There's too much pride in Pullman for a complete flop.
9. Erickson is a streak buster: Georgia has won 10 games in a row, dating back to last season, the second-longest active streak among FBS schools (BYU, 13). That's the Bulldogs longest streak since winning 11 straight with Heisman Trophy winner Herschel Walker in 1982. But a 10-game win streak shouldn't intimidate Arizona State coach Dennis Erickson. While head coach at Miami, his teams stopped a 14-game streak by Florida State(1990), a 16-game streak by Florida State (1991) and a 23-game streak by Notre Dame (1989).
10. Can the Pac-10 redeem itself? There are only five games this weekend involving Pac-10 teams, and only Arizona State is an underdog. What if the conference wins all five -- it has to win one with UCLA and Arizona playing! -- beating quality opponents like Boise State and Georgia? Will that restore the conference's luster in the college football nation's eyes? We're not even going to ask about another weekend of egg laying.
September, 18, 2008
9/18/08
4:10
PM ET
Harry How/Getty Images
Jason Parkhurst/US Presswire
Saturday's Arizona State-Georgia matchup should be a great quarterback duel between Rudy Carpenter and Matthew Stafford.
TEMPE, Ariz. -- Arizona State QB Rudy Carpenter is a fun guy to interview because he doesn't just spit back rote answers. And if he doesn't like a question, he's incapable of hiding his annoyance.
For example: Rudy, looking at film of No. 3 Georgia, which visits Sun Devil Stadium Saturday, did anything stand out, did they look different than other Pac-10 teams -- faster or bigger or stronger?
"They looked like guys," Carpenter said. "They looked like guys in uniforms."
Fair enough. But surely a senior quarterback as accomplished as Carpenter -- he's made 34 consecutive starts and will surpass 9,000 career passing yards against the Bulldogs -- gets juiced when the opposing quarterback is as celebrated as Georgia junior Matthew Stafford, who might end up being the first quarterback taken this spring if he enters the NFL draft a year early?
"I don't get any juice from knowing he's the No. 1-rated quarterback in the country," Carpenter said. "I get juiced from the fact we have a good team and we're playing Georgia on ESPN. ... I don't care about Matthew Stafford. He's a good player. The No. 1 draft pick? Great. I don't care."
Hmm.
If Carpenter seems a bit testy, he's got good reason. His team fell asleep in the fourth quarter last weekend against UNLV, a 23-point underdog, and let a game that appeared safely in hand slip away in overtime.
"I think they were very angry with themselves," ASU coach Dennis Erickson said. "I was very angry with myself and how I performed. The bottom line falls on me and I think they felt the same way about themselves as I felt about myself, which was pretty angry, probably as angry as some of our fans are with me."