September, 1, 2011
9/01/11
10:15
AM ET
Ten issues to consider heading into the third week of games.
1.
Oregon's biggest issue might not be LSU's D-front
: In Phil Steele's unit rankings, he rated LSU's D-line 10th in the nation and its LBs 15th. There's no individual player as disruptive as Auburn's Nick Fairley, but LSU's Tigers are better across the entire front-7 than those Tigers. The Ducks could again struggle to run the ball. But the big problem is the LSU secondary, which Steele rates the nation's No. 4 unit. Auburn's secondary was weak all through 2010, and Ducks QB
Darron Thomas
picked it apart for 363 yards. But even though LSU lost first-round draft pick CB Patrick Peterson, their defensive backfield is deep and talented. Thomas won't find throwing into it as easy in any event, but particularly without his top-two receivers from a year ago.
[+] Enlarge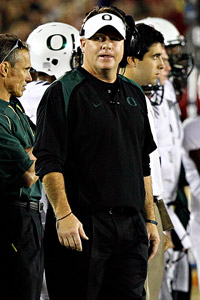 Ric Tapia/Icon SMIOregon coach Chip Kelly will need to scheme around a tough LSU run defense and an even tougher pass defense.
2.
Will UCLA catch a Case of Keenum
? UCLA was dominating Houston last year when it knocked QB
Case Keenum
out of the game in the second quarter, but Keenum remains a guy who is good enough to win a game on his own. Still, the Bruins should be able to win the battle on both lines of scrimmage, and that should make things easier for QBs
Kevin Prince
and
Richard Brehaut
, who both will play. Prince will be on the field to start the game. But will he be on the field to finish?
3.
A Gray day for the USC defense
: USC shouldn't have too many problems with Minnesota, but the biggest question is will the Trojans again show flashes of playing good defense. Golden Gophers QB
MarQueis Gray
is a bit of a mystery. He's being billed as a dual threat -- the sort who has given USC trouble in the past -- but he seems more like a 6-foot-4, 240-pound athlete who can run some option and scramble. His passing is decidedly questionable. The Trojans figure to crowd the line and dare Gray to throw. That means a secondary in man-coverage. Recall that the secondary got beaten a bunch in 2010.
4.
Maynard debut
: You look at California's depth chart and you think, "If these guys are any good at QB, they might be pretty tough." That's the pressure on
Zach Maynard
in his debut against a solid Fresno State team. If Maynard puts up good numbers, the Bears no longer will be so easy to write off in the Pac-12 North.
5.
Buffs
,
hit Moniz
: Hawaii QB
Bryant Moniz
put up huge numbers in 2010: 5,040 yards passing with 39 touchdowns. The Buffs secondary is suspect. Not a great combination. But a good way to protect a suspect secondary is with a good pass rush. While Moniz is a good athlete who can run, the best way for Colorado to end its 18-game road losing streak is to pound on Moniz and not give him time to throw. The good news on that: The Warriors have just three starters back on offense, one of whom is an offensive lineman.
6.
The Price of confidence
: Washington QB
Keith Price
makes his debut as Jake Locker's replacement against Eastern Washington, which is hardly a patsy. Sure, the Eagles are an FCS team. But they also are the defending FCS national champions and they are the preseason No. 1 team in FCS football. Warning! Warning! The key thing here is for the Huskies to show up focused and take care of business. For Price, he wants to play within himself, get comfortable and build his confidence because the competition will ramp up quickly.
7.
Cougars grinning
: Washington State is going to beat Idaho State. Not a big deal. What's a big deal is being 1-0 for the first time since 2005. What is a big deal is a team getting some early momentum, which it hasn't had in in coach Paul Wulff's first three seasons. The Cougs need to go out and pound on Idaho State. They need to walk away feeling good about themselves.
8.
Luck and Shaw
: Stanford is going to pound San Jose State. But the key thing for Cardinal interests is getting Luck some numbers and then sitting him, and letting Shaw get comfortable with his new job fronting the program.
9.
Utah, Arizona State and Oregon State -- just win
: The Utes, Sun Devils and Beavers each face weak, FCS foes. Each is going to win. And each faces a far more formidable foe the next week. The key is taking care of business, staying healthy and getting refocused. Starters eating orange slices in the third quarter is good, too.
10.
Defense wins championships
: OK, so what if LSU's defense thwarts Oregon's offense? The Tigers offense, particularly with
Jarrett Lee
at QB, is hardly scary. One of the often forgotten elements of the 2010 national title game against Auburn is the Ducks did about as good a job as anyone of slowing down QB Cam Newton. Lee is no Cam Newton. There is no law saying Oregon can't win a game 17-13. The LSU defense might stop the Ducks offense, but what if the Ducks defense is even more in control against perhaps the worst offense they will face all season?
August, 31, 2011
8/31/11
11:00
AM ET
In 2008, USC produced one of the all-time great college defenses. It took just two years for the unit to become mediocre-to-bad.
Last fall, the Trojans surrendered 44 plays of 20 or more yards, which ranked 102nd in the nation. By comparison, the 2008 unit yielded just 14, the lowest total over the past three years by six.
So what happened?
[+] Enlarge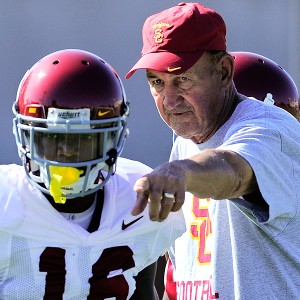 AP Photo/Mark J. TerrillThe Trojans hope the second year in Monte Kiffin's defense yields better results.
Well, for one, Pete Carroll, who'd built one of the nation's premier defensive powers, bolted for the Seattle Seahawks. Next: The talent he left behind for new coach Lane Kiffin wasn't nearly as good as it had been from 2002-2008. Then Kiffin, worried about injuries, significantly limited tackling during preseason camp. Finally, it seemed that the Trojans never fully figured out new coordinator Monte Kiffin's Tampa-2 scheme, which had been so successful in the NFL.
The result? A unit that surrendered a Pac-10-high 30 TD passes (five more than ninth-place Washington State) and wasn't much better against the run, ranking sixth in the conference (140.5).
But if you're wondering why many still rate the Trojans as the favorites in the Pac-12 South Division and believe they will improve upon their 8-5 finish of a year ago, the defense is a good place to start.
"I feel like we know what we're doing a little bit better as far as it being the second year in the system," Lane Kiffin said. "And in scrimmage formats, we're tackling better."
That will be put to its first test Saturday when Minnesota comes calling to the Coliseum.
The Trojans welcome back seven starters from last year's unit. They look strong at end with Nick Perry, Devon Kennard and Wes Horton. And few teams boast a better safety-cornerback combination than All-American T.J. McDonald and Nickell Robey. But there are questions at linebacker, where they will be young around injury-prone Chris Galippo.
The Golden Gophers shouldn't provide too difficult a test. Coming off a 3-9 season in which Tim Brewster got fired and was replaced by Jerry Kill, who rebuilt Northern Illinois, they are replacing three starters on their offensive line and they don't look like a team that will be throwing the ball well. They are, however, intriguing at quarterback. That's where
MarQueis Gray
steps in. He's a 6-foot-4, 240-pound junior who has been primarily a receiver, though he got behind center in "Wildcat" formations. Passing the ball over the past two years, he's just 8-of-23 for 86 yards with a TD and an interception.
Of course, Kiffin went the "oh, no" route and compared him to former Texas quarterback Vince Young.
"It's very scary for us," he said. "We've got our hands full. This is a big-time challenge for our defense."
USC won at Minnesota 32-21 last year, a victory that was part of a 4-0 start. But the Trojans proved inconsistent on both sides of the ball once conference play began, inspiring some questions of motivation because NCAA sanctions made them ineligible for the postseason. That's an issue again this fall, though it's probably not one in the season-opener, when everyone is fired up to play.
"I don't think the motivation shows up as much early in the year," Kiffin said. "It becomes more of an issue towards the end of the year or if you hit one or two losses in a row there."
Still, with
Matt Barkley
at quarterback and a strong crew of receivers, the Trojans should at least be a factor in determining other team's postseasons. As for the South Division, that probably hangs on how much the Trojans' defense reverts back to its old ways. Preseason optimism about knowing the scheme better and improved tackling only goes so far.
Said Kiffin: "That all sounds good but it won't mean anything if come Saturday we don't do it when it really counts."
PAC-12 SCOREBOARD
Saturday, 12/20
Monday, 12/22
Tuesday, 12/23
Wednesday, 12/24
Friday, 12/26
Saturday, 12/27
Monday, 12/29
Tuesday, 12/30
Wednesday, 12/31
Thursday, 1/1
Friday, 1/2
Saturday, 1/3
Sunday, 1/4
Monday, 1/12
Tweets from https://twitter.com/ESPNCFB/lists/pac12