March, 11, 2013
3/11/13
2:30
PM ET
Nick and I fit together. I am a little too much, and he is a little too little. I am a thornbush, bristling from the overattention of my parents, and he is a man of a million little fatherly stab wounds, and my thorns fit perfectly into them.
July, 27, 2012
7/27/12
12:00
PM ET
While the news at Pac-12 media day was scant, your Pac-12 bloggers did come away with an opinion or two. So the question behind today's Take 2 is which team near the bottom of the preseason poll did we leave media day feeling better about than before.
Ted Miller
: While I think a team many are underestimating is UCLA, the team at Pac-12 media day that made me go, "Hmm… maybe?" was Oregon State.
Why? A couple of reasons. For one, a slide like this has happened with Mike Riley before. When he returned to Corvallis in 2002 after his ill-fated tenure with the San Diego Chargers, he went 8-5, 7-5 and 5-6. Folks wondered if the program was going to revert back to its dismal run of 28 consecutive losing seasons. Only Riley and the Beavers would go on to win 36 games over the next four seasons.

Further, there's second-year starting QB
Sean Mannion
, who was OK last year, but wasn't terribly efficient with 18 interceptions and 16 TDs. That sort of feels to me like Sean Canfield throwing 15 picks against just nine TDs in 2007. Two years later, after watching Lyle Moevao mature into a solid QB in 2008, Canfield earned first-team All-Pac-12 honors. And recall the difference in Matt Moore in 2005 -- bad QB, kind of a jerk -- and 2006 -- good QB who grew up and went to the NFL.
Quarterbacks under Riley and offensive coordinator Danny Langsdorf have dramatically improved their second year in the Beavers offense. The unfortunate exception to this rule, of course, is the guy Mannion displaced last fall, Ryan Katz.
But there's more!
Mannion has a strong crew of receivers and tight ends/H-backs. He just needs a running game to keep the opposing defense honest. I actually think there's enough talent in the backfield to make a "running back by committee" approach work. And the offensive line should improve because, well, it can't do much worse than last year.
But there's more!
What about that defense? It stood out to me at media day that Riley talked about the improved conditioning of sophomore defensive ends
Scott Crichton
and
Dylan Wynn
. Those two have a chance to be a heck of a tandem. I like the Beavers back seven, which is sneaky good at linebacker and has cornerback
Jordan Poyer
, a top NFL prospect. The question is can the Beavers cover up an obvious weakness at tackle? Tag that with a firm "maybe."
The key stretch in the schedule runs from Sept. 22 to Oct. 13 when the Beavers play at UCLA, at Arizona, Washington State and at BYU. Those are four winnable games, but the Beavers have to be road warriors. The bad news is they've won just one true road game over the past two seasons.
Of course, that win was at a good Arizona team, when Katz seemed like he was on the cusp of breaking out -- only WR James Rodgers blew out his knee that night. Little has gone the Beavers way since then.
Call this a hunch that the Beavers will trend up in 2012. They might not get to eight wins, but I expect them to return to the postseason.

Kevin Gemmell
: That's not a bad call. But it's the team the Beavers are staring up at in the preseason poll -- Washington State -- that leaves me questioning if there is room for one more in that indecipherable vacuum of second-tier North teams.
Like you, I think UCLA could be dangerous, because the athletes are in place and where Noel Mazzone goes, big offensive numbers usually follow. It seems like they just need a swift kick to the butt-pad to get them going. Jim Mora seems like the guy with the right set of feet.
But until we see what Mora can do at the college level, I'm sticking with the Cougars, because we know what Mike Leach and his teams are capable of.
Anyone who reads this blog regularly knows that I've been dropping WSU in occasionally as a team to watch in the North. And while I'm still not quite ready to elevate them in with those second-tier teams -- Cal, Stanford and Washington (in alphabetical order as not to offend) -- I'm a lot closer now than I was when the week started.
I walked away from media day convinced that Leach was not only the right hire, but that his impact is going to be immediate.
Most impressive was the demeanor and focus of quarterback
Jeff Tuel
. He carried himself with a quiet confidence and poise that stood out to me. I'm not going to compare being up on the stage to quarterbacking a football team -- but let's face it -- sitting up there in front of 100-plus reporters can be daunting. Tuel was loose -- and even cracked wise a couple of times. He carried himself like a mature, veteran, big-time quarterback. That's what you want to see.
The Cougars are going to score points, lots of them. And Tuel is going to put up numbers, big ones. Plus, there is depth at the position. Should Tuel suffer another injury -- he only appeared in three games last year --
Connor Halliday
is waiting in the wings. I can think of a few teams that wouldn't mind having Halliday as a failsafe.
And I don't think the conference is fully prepared for what Leach and Co. are going to unleash each week. In his 10 years at Texas Tech his teams went to 10 bowl games. In 2000, his first year, he re-wrote virtually every Texas Tech passing record -- and then proceeded to re-break them for the next nine years. In his final two seasons his teams won 19 games. Washington State has won nine in the past four.
I'm predicting a 4-0 start (at BYU, Eastern Washington, at UNLV, Colorado). This team should make the postseason and if everything comes together with some haste, seven or eight wins is a very realistic possibility.
June, 1, 2012
6/01/12
2:30
PM ET
April, 10, 2012
4/10/12
7:00
PM ET
Heading into the 2010 season, it was not uncommon for media sorts to volunteer Oregon State as a program that had the best staff of assistant coaches in the Pac-10.
Why? Good numbers without stockpiles of elite recruits. Non-elite recruits becoming NFL draft choices. Thirty-six wins over the previous four seasons. You know, the usual suspects.
Oh, but how two down seasons can change things. After going a combined 8-16 over the past two years, many Beavers fans are either calling for head coach Mike Riley's head, or they are at least calling for the heads of his coordinators: Mark Banker on defense and Danny Langsdorf on offense.
How quickly can things change? Well,
I wrote this heading into 2010
as part of a "Don't be surprised if..." series: "Don't be surprised if ... Beavers offensive coordinator Danny Langsdorf becomes a hot head-coaching candidate when new starting quarterback
Ryan Katz
posts surprisingly strong numbers this fall."
[+] Enlarge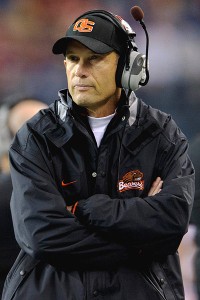 Steven Bisig/US PresswireAfter two straight lowly seasons, Oregon State coach Mike Riley might call offensive plays in 2012.
Katz posted pretty good numbers in 2010 -- 60 percent completion rate, 18 TDs, 11 interceptions -- but he was promptly and surprisingly displaced as the starter by redshirt freshman
Sean Mannion
at the beginning of the 2011 season. And Langsdorf is now fighting for his job instead of presiding over his own program.
In fact, there now appears to be some question as to whether Riley will
take over play-calling responsibilities
from Langsdorf in 2012, which Riley gave to Langsdorf midway through the 2008 season. This question is being -- legitimately -- asked because Riley is calling plays this spring.
Riley was noncommittal -- and a tad uncomfortable -- with this line of inquiry Monday, and you can see
video of his thoughts here
. He called it "not a big deal." He said he was calling plays so he could see how the offense reacted against certain looks from the defense: "It's a way to orchestrate a big-picture look," he said.
When asked if it was for spring only, he said, "For right now, it's only for spring."
That qualifies as a "maybe," not a "Yes" or "No."
So here's my defense of Langsdorf, who also coaches the Beavers QBs. It might not be completely comforting for Beavers fans, but I think it's fair and accurate: The reason the Beavers offense has struggled the past two seasons ... drum roll please ... is a lack of good players.
I know: Thud.
The 2010 season likely would have been different if receiver
James Rodgers
hadn't blown out his knee during an impressive win at Arizona on Oct. 9. And the Beavers would have qualified for a bowl game if typically reliable tight end
Joe Halahuni
hadn't dropped a 2-point conversion that would have beaten homestanding Washington in double-overtime.
2011? Well, that was just pretty lousy. Riley, Langsdorf, Banker, the players -- everyone associated with the program -- surely spent some time wondering where they failed.
Still, as the Pac-12 blog observed while praising Langsdorf just two years ago:
In his six seasons as offensive coordinator, the Beavers have posted five of their top-nine all-time seasons of total offense. Remember the early careers of quarterbacks Matt Moore, Sean Canfield and Lyle Moevao? One word: Yucky. Remember their late careers? Two words: Dramatic transformation. Canfield earned first-team All-Pac-10 honors in 2009 and joined Moore in the NFL.
In 2008, with Langsdorf calling plays, the Beavers ranked 32nd in the nation with 30.5 points per game and 30th in the nation with 407.1 yards per game. In 2009, they ranked 26th in points (31.5 ppg) and 34th in yards (410.6 ypg).
In other words, Langsdorf has been a successful coordinator and playcaller. At least when he's shown up for battle with more than a pillow shield and plastic sword.
Things set up fairly well for the offense heading into 2012. Langsdorf has his returning starter at QB in Mannion. He has a good crew of receivers, led by
Markus Wheaton
. But the offense will struggle if it can't generate a running game, which mostly hinges on improved play on the offensive line, which has been sub-par two years running.
One of the criticisms of Riley has been his loyalty to his assistant coaches, but he's made tough decisions recently, including firing longtime linebackers coach Greg Newhouse in March of 2011 (mostly because of recruiting shortcomings). If Riley takes away play-calling responsibilities from Langsdorf, it will be a painful blow to both men.
But it appears that possibility is at least being considered, so it will be worth asking about in advance of the season opener on Sept. 1 against Nicholls State.
August, 3, 2010
8/03/10
6:06
PM ET
By
ESPN.com staff
| ESPN.com
Seventh in a series of Pac-10 thoughts that might come from unusual angles (You can see Oregon State's
2009 prediction here
).
Don't be surprised if ... Beavers offensive coordinator Danny Langsdorf becomes a hot head-coaching candidate when new starting quarterback Ryan Katz posts surprisingly strong numbers this fall.
If the above line is giving you a sense of deja vu, it should. We
wrote the same
thing about Sonny Dykes last year, and Arizona's offensive coordinator was hired this past offseason as Louisiana Tech's head coach.
Langsdorf, who doubles as the Beavers' quarterbacks coach, will be a head coach within the next two years -- at least he should be -- and if Katz puts up impressive numbers as a first-year starter, a sharp AD somewhere will snatch him away from what many feel is the Pac-10's best collection of assistant coaches before the 2011 season.
Why? In his six seasons as offensive coordinator, the Beavers have posted five of their top-nine all-time seasons of total offense.
Remember the early careers of quarterbacks Matt Moore, Sean Canfield and
Lyle Moevao
? One word: Yucky. Remember their late careers? Two words: Dramatic transformation. Canfield earned first-team All-Pac-10 honors in 2009 and joined Moore in the NFL.
The fly sweep with
James Rodgers
and the "Wild Beaver" formation with
Jacquizz Rodgers
lining up at quarterback? Those innovations were executed by Langsdorf, who took over play-calling duties from head coach Mike Riley midway through the 2008 season.
Langsdorf is young enough -- 38 -- to be young and old enough to be experienced (14 years coaching, with three years in the NFL and CFL). Character? In 2007, he donated a kidney to Laurie Cavanaugh, the wife of Beavers offensive line coach Mike Cavanaugh.
And, really, isn't it time that Riley developed a coaching tree? Is there any college coach who is a better role model for the best way to be?
Langsdorf learned to evaluate talent from Riley, who's built a top-25 program and NFL pipeline without ever ranking in the top 25 in recruiting. He's learned how to gather and cultivate a loyal, accomplished staff from Riley. He's learned how to win under less-than-ideal circumstances from Riley. He's learned how to conduct himself with class from Riley.
He also probably learned a bit from his father, Ed Langsdorf, who coached at Linfield College in McMinnville, Ore., Danny Langsdorf's alma mater, for 20 years before becoming a scout for the San Diego Chargers.
No assistant coach is a sure thing when he makes the leap to head coach. But Langsdorf feels pretty close to it, particularly in the right circumstances.
If Oregon State surges this year on offense, and Katz stands out as another Langsdorf pupil, it's hard to imagine Langsdorf won't raise more than a few eyebrows among ADs looking for a go-getter to jump-start their program.
May, 19, 2010
5/19/10
2:30
PM ET
By
ESPN.com staff
| ESPN.com
Murdock ... I'm coming to get you!
May, 6, 2010
5/06/10
2:30
PM ET
By
ESPN.com staff
| ESPN.com
Is everybody in?
Is everybody in?
Is everybody in?
The ceremony is about to begin.
April, 16, 2010
4/16/10
2:03
PM ET
By
ESPN.com staff
| ESPN.com
CORVALLIS, Ore. -- Oregon State coach Mike Riley is standing beside a dry erase board in his office. He points to his flanker. That's
James Rodgers
. He caught 91 passes for 1,034 yards and nine touchdowns last year. Riley smiles.
He points to his tight end
Joe Halahuni
. He caught 35 passes and became an offensive weapon after the middle of the season. Riley points at his slot receiver,
Jordan Bishop
. The 6-foot-3 sophomore can high jump over seven feet. He points at his split end, where
Darrell Catchings
and
Markus Wheaton
are engaging one of the more spirited competitions this spring.
Then he points at
Jacquizz Rodgers
, who rushed for 1,440 yards, caught 78 passes and scored 22 touchdowns a year after being the Pac-10's Offensive Player of the Year as a true freshman.
Riley agrees with a reporter that Jacquizz should be a top Heisman Trophy candidate.
The main point, however, is the Beavers offense has a lot of guys who can punish a defense.
"Athletically, it's as good as we've ever been," Riley said.
Then Riley circles his quarterback.
"It's our biggest question on offense," he said. "If we can bring our quarterback up to the rest of the offense, then it's going to be good."
That quarterback figures to be sophomore
Ryan Katz
, who's got a big arm but little experience. While Katz officially is competing with Virginia transfer
Peter Lalich
for the starting job, Katz started spring practices with the No. 1 offense and he's yet to yield that perch.
"What stands out about Ryan -- always has -- is he's got really good physical ability. A Great arm," Riley said. "It's one of those deals where you're kind of taken aback by the strength of his arm sometimes. He throws the ball so easily with a lot of velocity. He's got to learn a little bit more about taking something off it every once and a while. I tell him all the time, 'You don't always have to throw a 95 miles per hour ball.'"
The good news is Katz, Riley said, has consistently improved since arriving in Corvallis from Santa Monica (Calif.) High School. But there's a caveat hidden in that positive point, because every recent Oregon State quarterback has improved steadily during his career, from Derek Anderson, to Matt Moore, to
Lyle Moevao
, to
Sean Canfield
.
But each of those guys started his career slowly and, well, unimpressively. Anderson completed just 47 percent of his passes his first year as the Beavers starter under then-coach Dennis Erickson. Moore threw 19 interceptions. Moevao and Canfield combined for 21 interceptions in 2007.
The question is how steep Katz's learning curve will be.
"There is a process with us," Riley said.
By all accounts, Katz has embraced the No. 1 role, though he admits it goes against his type to be a vocal leader. As a personality, Katz is closer to the quieter Canfield than the effusive Moevao.
"More than vocal-wise, I tried to lead by example," Katz said.
The Beavers offense has evolved in recent years as Riley yielded control to coordinator Danny Langsdorf. The Beavers have increased the role of running backs and the flanker in the passing game. They added the fly sweep. Canfield's accuracy but lack of a strong arm had the offense looking West Coast-ish for a while in 2009.
Katz brings back the big arm of say an Anderson or Moore and adds some athleticism. Katz will move around in the pocket and there will be more designed bootlegs. And there's an increased emphasis of screen passes in order to build his confidence through the air.
And Katz needs to find his rhythm quickly. The opener is vs. TCU in Cowboys Stadium -- a top-10 team playing in a friendly stadium that is far bigger than its home field.
"When the time comes, it's definitely going to be eye-opening," Katz said. "But I'm just going to take it and run with it. I can't stand out there and be star struck."
After TCU, the Beavers play host to Louisville, then visit Boise State, a likely top-five team.
So there's no soft schedule that allows Katz to acclimate himself to the speed of the game. He's bound to make mistakes, which means criticism. Katz is aware that is an inescapable part of playing the position.
"That's definitely in the back of your mind, but if I just work day by day and get better that will play it self out," he said. "I know that comes with the job."
But he said he learned a lot from watching Canfield and Moevao weather the storm and come out strong on the back end.
But if Katz plays well from the start and minimized the growing pains, then Beavers should become a major player in the Pac-10 race.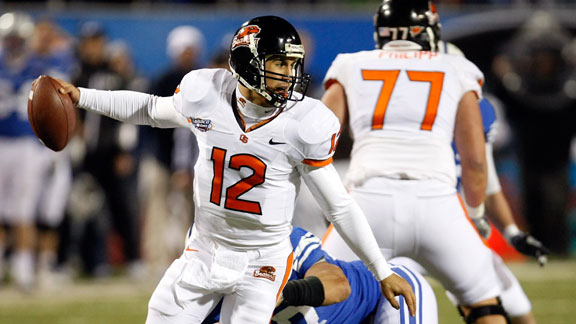 January, 6, 2010
1/06/10
2:24
PM ET
By
ESPN.com staff
| ESPN.com
USC offensive coordinator Jeremy Bates
is a candidate
for the same position with the Chicago Bears, according to ESPN NFL Insider Adam Schefter.
There was intense speculation when USC's disappointing season ended that Bates might be headed back to the NFL. Bates didn't seem comfortable with college coaching, and the Trojans offense, which had nine returning starters from 2008, underachieved most of the season.
Chicago would be a good destination for Bates because he was close to Bears quarterback Jay Cutler when they worked together in Denver.
If Bates does leave, it will be interesting to see which direction coach Pete Carroll might go to fill the vacancy. It's certain to be an appealing job based on USC's talent, and Carroll's assistants are paid well.
Carroll's typical route is to hire someone who's connected to his inner-circle, but after this year's offensive woes he might want to expand his search to include the best available candidates.
Just to inspire some discussion: What about Oregon State's Danny Langsdorf?
Carroll has always had a lot of respect for Mike Riley, and the Beavers (mostly) pro-style offensive scheme -- Riley's creation, though Langsdorf
called the plays
this year -- isn't that far from the Trojans. Only more creative. And Langsdorf's work with quarterbacks Matt Moore,
Lyle Moevao
and
Sean Canfield
has been outstanding.
As for why Langsdorf would leave Corvallis -- other than money -- success at USC likely would line him up more quickly for a head coaching job.
But don't get too worked up, Beavers fans. The odds are long Carroll would go in that direction.