September, 9, 2010
9/09/10
10:15
AM ET
Ten issues to consider heading into the second week of games.
1.
UCLA's run defense needs to bounce back
: UCLA surrendered 313 yards rushing at Kansas State, including 234 yards on 28 carries to
Daniel Thomas
. Thomas is a quality back, but that's pretty freaking porous. While Stanford visits the Rose Bowl on Saturday without Toby Gerhart, the Cardinal offensive line is more talented than the Kansas State crew. If the Bruins front seven doesn't buck up, Stanford will use a its new backfield-by-committee to run over them. While
Andrew Luck
is the star, Jim Harbaugh would be perfectly content to run it 40 times. And, of course, if the Bruins can't stop the run, their obsession with it will provide plenty of big downfield opportunities for Luck.
2.
Jake Locker and the Washington offense need to play better at home
: Washington scored just 17 points and got shut out in the second half at BYU. Twice in the second half, drives deep in Cougars territory ended after failed fourth-down conversion attempts. Locker's numbers weren't bad, but no player shoulders more responsibility for his team's success as he does. The fifth-year senior who spent much of the summer being touted as a Heisman Trophy candidate when pundits weren't talking about his NFL prospects. Syracuse won't be a push-over on defense -- 10 starters are back from 2009. But Washington plays better in Husky Stadium, and the guess here is Locker and his supporting cast on offense will be far sharper.
[+] Enlarge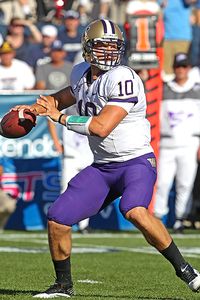 AP Photo/George FreyExpect Jake Locker and the Washington offense to be more sharp against Syracuse than it was against BYU.
3.
Does Oregon QB Darron Thomas start fast or get rattled
? Thomas' first career road start will be in Tennessee's Neyland Stadium, which means there will be 105,000 or so orange-clad fans riding his case. There's no way to know how a young man will react to that. He might come out smooth and poised and lead a dominant offensive effort by distributing the ball to all of his weapons. Or he might make an early mistake or two and get rattled and down on himself. Just as Autzen Stadium gives the Ducks a big advantage, so does Neyland do the same for the Volunteers.
4.
Did USC's defense just have a bad day at Hawaii
? It's possible that USC just had a bad night at Hawaii, that the poor tackling and flat effort weren't indicative of the capabilities of a seemingly talented crew. It's possible that Monte Kiffin and Ed Orgeron will correct mental and physical mistakes, make a few personnel decisions, and USC will show Virginia that it's back to its stingy ways. But there's also enough available evidence now -- see terrible performances vs. Oregon and Stanford in 2009 -- to support the notion that the Trojans' defense has lost its swagger and isn't actually as talented as its recruiting rankings suggest. Virginia shouldn't be able to keep up with USC on Saturday. But if the same defense from Hawaii shows up, the Cavaliers will do just that.
5.
Cal's Kevin Riley completes 60 percent of his passes
: Riley owns a career 54 percent completion rate. Accuracy has long been his bugaboo. Of course, he also hasn't benefited from great receivers during his tenure. Last weekend, he completed 70 percent -- 14 of 20 -- of his throws, though it's worth noting that UC Davis is an FCS team. What was most notable, however, were the impressive performances by his receivers, particularly true freshman
Keenan Allen
. There was a reasonable theory in the preseason that Riley would breakthrough as a senior, because that's when the light goes on for many QBs. It will be a lot easier with a dangerous group of playmakers at receiver, guys who can go and get the ball -- even when it's not perfectly thrown -- and boost a completion percentage. Colorado is strong at cornerback, so it will offer a good test as to whether Riley and his receivers are truly in sync and ready for Pac-10 play.
6.
Washington State buries Montana State from the get-go
: It's fairly simple. Washington State needs to go out and whip Montana State. It needs to start quickly, establish dominance and allow its fans to feel good about the program. The Bobcats are a quality FCS team, but the Cougars should have restocked their talent enough in year three with coach Paul Wulff to take them to the woodshed. Jumping to a big lead will boost the confidence in the locker room. Struggling and playing a tight game into the fourth quarter won't. Losing? Let's not even go there.
7.
Arizona's rebuilt defense posts another dominant performance
: The Wildcats defense was surprisingly stout at Toledo, a team that piled up big numbers on offense in 2009. Things should be even easier on Saturday against The Citadel in front of the home crowd. Still, another game of experience is another game of experience, no matter the quality of the opponent, and smoothing out any wrinkles will be valuable leading into the Sept. 18 visit from Iowa. Arizona needs to jump on The Citadel hard and then get its starters to the bench early in the third quarter.
8.
Arizona State QB Steven Threet is cool, efficient vs. Northern Arizona
: Threet played well in the opener vs. Portland State, and the Sun Devils offense as a whole looks substantially more skilled than the anemic unit from 2009. Threet and his mates need to duplicate that performance in another "preseason" game vs. an FCS program. The idea is to be as confident as possible before heading to Wisconsin on Sept. 18. It also would be nice to get all the starters on the bench as soon as possible so they will be rested and healthy.
9.
Andrew Luck vs. Rahim Moore
: If UCLA's run defense proves stout, that means Stanford will have to throw. And that means a showdown between these two All-American talents. Luck has uncanny downfield accuracy. That's one of the big reasons NFL scouts love him. Moore led the nation with 10 interceptions a year ago, so his ball skills qualify as uncanny, too. Will Luck be able to beat Moore and the Bruins over the top? Or will Moore bait Luck into an ill-advised throw that could be a game-changer?
10.
Will Tennessee be able to run against Oregon
? If the Vols can't run vs. Oregon, the Ducks are going to deliver a butt-kicking. No way Matt Sims, a junior JC transfer, will be able to pass them to victory. But Tennessee rolled up 332 yards rushing in its opener -- albeit vs. Tennessee-Martin -- and its got a strong stable of running backs, topped by
Tauren Poole
, and a big, talented, if inexperienced, offensive line. The Ducks defense is as fast as they come, but it also is undersized. If the Vols power-running game is consistently effective, then Oregon will be in for a highly competitive test.
June, 25, 2010
6/25/10
4:54
PM ET
By
ESPN.com staff
| ESPN.com
Just posted this on the
SEC blog
. Sorry for acting as a double-agent.
This is annoying: The SEC and Pac-10 only play one game in 2010 and, on paper, it doesn't look like much of a game.
Oregon, which figures to be ranked in or near the preseason top 10, visits a Tennessee team on Sept. 11 that is on its third coach in three years and is clearly rebuilding.
(Volunteers fans: Release your Lane Kiffin curses ... now!)
And yet.
While Ducks fans over on the
Pac-10 blog
seem to believe this is going to be a butt kicking, I'm not so sure. Maybe it's because I was covering Auburn during the Phillip Fulmer glory days and can't imagine the Vols ever being anyone's patsy (in fact, I was covering preps and recruiting for the Mobile Register when a guy from Williamson High School by the name of Tamaurice Martin -- some called him "Tee" -- picked the Volunteers over Auburn).
Or maybe it's because the last time a highly ranked Pac-10 team thought it was going to deliver a whipping in Neyland Stadium, California face planted in 2006.
My hunch is this will be a competitive game. So, with that said, here are three keys for Tennessee to score the upset over the Ducks.
Tauren Poole & Luke Stocker: The Volunteers are completely -- completely as in all five 2009 starters are gone -- rebuilding their offensive line. Oh, and their QB, whoever that ends up being between junior college transfer Matt Simms and true freshman Tyler Bray, will be seeing his first college action the previous weekend vs. UT-Martin. That's not good. But Poole at running back and Stocker at tight end are good. Perhaps even very good. The Ducks' defense is a veteran unit and extremely fast. They also run a lot of stunts, which can confuse a young O-line. But they aren't very big. So keep it simple on offense and get the ball to your money guys. Word on the street is Poole can make plays even when the blocking isn't perfect. And when the Ducks start obsessing about Poole, that would be the perfect time to dump it to the 6-foot-6, 253-pound Stocker and see what he can do in the secondary. A big target like Stocker could help a young QB gain some confidence, at which point he can start looking for his wideouts.
Boise State & Ohio State: QB Jeremiah Masoli running coach Chip Kelly's spread-option offense was often a thing of beauty. But, you may have heard, Masoli won't be a problem in Knoxville. Further, it seems like defenses that have more than just one week to prepare have more success against the Ducks' spread-option -- see a pair of early-season losses to Boise State and the Rose Bowl defeat to Ohio State. The Vols will have the entire summer to familiarize themselves with Oregon's misdirection, as well as to get accustomed to the Ducks' extraordinary pace (their no-huddle is as fast-paced an offense as you will see). Ohio State often won one-on-one matchups up front. The Vols have some solid talent, experience and depth with their front seven, though it won't match the Buckeyes. Boise State often out-flanked the Ducks with an outstanding game plan. Wait a second! Where did that new, hotshot defensive coordinator Justin Wilcox come from? Boise State! Wilcox has faced the Ducks each of the past two seasons. He knows their scheme and their personnel. That's a huge advantage.
Atmosphere: Before Cal's 2006 visit, the Bears downplayed the experience of playing in front of 100,000-plus fans. Southern humidity? Who cares! And then the Bears wilted, mentally and physically. One Cal player told me later that Neyland was such a "freak show" -- his term -- that it was a significant distraction. My guess is Vols fans thought their trip to Berkeley, where student protesters were living in trees, was a bit of a "freak show," too. But the Ducks won't be used to the atmosphere -- both the stadium size as well as the weather (summers in Eugene often demand a sweater at night). Aggravating matters, they will be sending out a mostly green QB to handle the pressure on the road. Senior Nate Costa has started only one game: at UCLA in 2009. Sophomore Darron Thomas came off the bench as a true freshman vs. Boise State in 2008 and led a stunning comeback, but he redshirted last year. In other words, instead of a two-year starter leading the Ducks' complicated offense in a hostile environment, they will be relying on an unproven guy. A couple of early mistakes, and that atmosphere could prove a significant factor.
March, 2, 2010
3/02/10
4:09
PM ET
By
ESPN.com staff
| ESPN.com
Matt Simms, a former Oregon walk-on, was sentenced Tuesday to 40 hours of community service after his misdemeanor assault charge was
reduced to harassment
.
Oregon coach Chip Kelly kicked Simms of the team for an undisclosed team rules violation on Feb. 3.
Sims was arrested for allegedly retaliating against a man he believed was part of a brawl in which Oregon kicker Rob Beard was knocked unconscious and suffered serious facial injuries.
Misdemeanor assault charges against Beard are still pending.
February, 17, 2010
2/17/10
1:57
PM ET
By
ESPN.com staff
| ESPN.com
Oregon coach Chip Kelly's first year leading the Ducks should be viewed as the rough equivalent of a coaching dog year, so let's go ahead and call Kelly a seven-year veteran.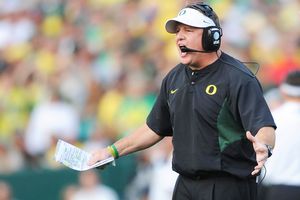 Christopher Hanewinckel-US PRESSWIREOregon coach Chip Kelly's Ducks need to fall in line before the season starts.
Talk about extremes of
good
and
bad
. Post-game punches, a Pac-10 championship, a Rose Bowl and a stack of police reports.
Talk about packing a career of thrills and embarrassments into a calender year.
The latest -- running back
LaMichael James
' arrest on domestic violence charges -- extends a recent streak of disturbing off-field incidents.
A couple of Ducks kickers were involved in a major brawl on Jan. 24. One, Mike Bowlin, left the team this week. The other, Rob Beard, was knocked unconscious in the melee, required serious facial surgery and was charged with
misdemeanor assault
. A walk-on defensive end, Matt Simms, previously was kicked off the team after Eugene police cited him for misdemeanor assault for allegedly retaliating against someone from the brawl.
And, of course, there are rumors that more troubles could be ahead for the Ducks.
This isn't boys-will-be boys stuff. Each off-field incident, based on available information, included serious allegations. The sort of stuff that gets folks put in jail, not to mention kicked out of school.
So it's only a sidebar that poor judgement by Ducks players could potentially ruin a 2010 season that holds such promise.
That was the salve that was supposed to heal the wound of an upset loss to Ohio State in the Rose Bowl: Oregon should be even better next year.
Ten starters were scheduled to return from one of 2009's best offenses. Sure, there were questions on defense, but not enough to prevent
most prognosticators
from ranking the Ducks in the 2010 preseason top-10.
The Ducks not only were projected as Pac-10 favorites, they were viewed as darkhorse national title contenders.
They still might be. But there is now the ominous prospect, due to these off-field incidents, that high hopes could shrivel up and be replaced by worrisome upheaval and controversy.
Not to mention that these young men are putting their futures at risk.
So how does this fall to Kelly?
Here's a guess that Kelly delivered a stern message about personal conduct in a team meeting in late-January. That message, however, may not have sunk in, at least based on the allegations against James.
One of the tough things about being a college coach is you are held accountable for things which you have little to no control over. But that's part of the job. Guys get
paid very well
to win and run a clean program, and the buck ultimately stops on the coach's desk.
Here's another guess. Kelly, now a wizened coaching veteran, will again deliver a stern message to his team. This one may go up to 11 on the volume, too.
Oregon fans surely will hope this time the message resonates as if it were coming from the Oval Office.