January, 29, 2013
1/29/13
1:00
PM ET
Arizona's biggest question heading into 2013 is at quarterback. Not only are the Wildcats replacing
Matt Scott
, who earned second-team All-Pac-12 honors and was sixth in the nation with 343.8 yards of total offense per game, but the options on hand this spring are decidedly unproven.
There's 2012 backup B.J. Denker, a JC transfer who was a late addition last summer. And there's Jesse Scroggins, another JC transfer who had academic issues at USC after signing in 2010.

Both have some skills. Neither, however, would be considered a sure-thing, particularly when you consider how valuable Scott was in 2012.
It's possible then that coach Rich Rodriguez might consider a third, youthful option, and it turns out that he's received a commitment from a quarterback that Sports Illustrated believes might have an "instant impact": Anu Solomon.
SI ranks Solomon
No. 1 among incoming freshmen QBs
in terms of potential "instant impact":
Solomon was a four-year starter at Bishop Gorman. Over that span, the Gaels went 57-3 and won four state championships. Solomon passed for 10,112 yards and 138 touchdowns to just 17 interceptions throughout his career, and he participated in nationally televised showcases against high school powerhouses from California, Florida, Arizona, New Jersey and Maryland. He told Rivals.com analyst Dallas Jackson in October, "The coaches have told me that they want me to come in and compete for the starting job."
Arizona fans are rightfully excited about Solomon, who seems like a nice fit for Rodriguez's spread-option offense.
But the Pac-12 blog would like to insert a "Be Careful What You Wish For." The Wildcats might be better off if Solomon ends up redshirting. At the very least, it would be better for Solomon to see spot action rather than take over the starting job.
Why? Well, the history of true freshman QBs is pretty spotty, other than Jamelle Holieway, who won a national championship as a true freshman at Oklahoma in 1985. And, of course, Holieway's best season was his first for the Sooners.
Few true freshmen QBs start from Day 1, and most are forced into action, rather than winning the job outright. Holieway only stepped in due to an injury to Troy Aikman. Same with Peyton Manning at Tennessee. Ohio State's Terrelle Pryor, Notre Dame's Jimmy Clausen and Georgia's Matt Stafford all became the starters when more senior players faltered.
Chad Henne went 9-2 as a true freshman leading Michigan in 2004, but he was surrounded by a lot of talent. We can all agree Robert Griffin III became a spectacular player, but Baylor went 4-7 with him as a true freshman QB.
The best recent example of a true freshman QB in the Pac-12 is USC's
Matt Barkley
in 2009. He was the first true freshman to start at QB for a top-five team since Michigan's Rick Leach in 1975. That USC team finished 9-4, losing three of its final four regular season games. The Trojans had lost seven games the preceding six seasons. Barkley threw 14 interceptions and 15 TD passes.
We've seen a number of freshmen QBs play really well of late. Texas A&M's
Johnny Manziel
became the first freshman to win the Heisman Trophy, and in the Pac-12 Oregon's
Marcus Mariota
and UCLA's
Brett Hundley
posted outstanding seasons this past fall, with Mariota winning first-team All-Pac-12. And, of course, there's Andrew Luck. He turned out OK.
But they all were redshirt freshmen when they became starters.
It's also notable that a lot of true freshmen QBs, such as Barkley, enroll early and participate in spring practices. That gives them a significant advantage in terms of getting use to the speed and complexity of the college game.
Solomon won't report until fall camp.
Solomon might indeed become a revelation for the Wildcats next fall. He could win the job, play admirably and three years later become an All-American.
But history suggests he won't be immediately ready, and that the best course is patience. It seems like at least a year of seasoning really helps create a tastier quarterback.
March, 27, 2012
3/27/12
9:00
AM ET
The Pac-12 is the conference of quarterbacks. The SEC is all about defense.
Oh, and winning national championships.
But as good as the defenses are in the SEC, what role does poor-to-middling offense play in that perception? As in, what would happen if those defenses played against a series of future NFL quarterbacks, as Pac-12 (and Big 12) defenses do?
The question before us is this: How would USC quarterback
Matt Barkley
do against those rough-tough SEC defenses?
Ted Miller
: It's sort of a chicken and the egg question. Are SEC defenses so good because they rarely play against A-list quarterbacks? Or do Pac-12 quarterbacks pile up eye-popping numbers because they don't play against SEC defenses?
[+] Enlarge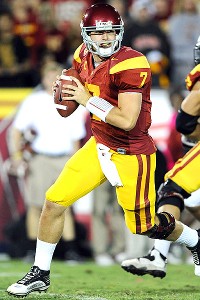 Harry How/Getty ImagesWould Matt Barkley be as successful if he played against SEC defenses all season?
Is it more notable that four of the top 11 quarterbacks in the nation in terms of passing efficiency in 2011 were from the Pac-12, compared to none in the top 20 from the SEC? Or is it more important that six SEC defenses ranked in the top 17 in pass efficiency defense compared to zero for the Pac-12?
It's hard to say. It's likely a person's home -- Los Angeles or Baton Rouge -- has a large influence on his or her opinion.
Pac-12 fans would be prone to point out: In 2005, LSU ranked No. 3 in the nation in passing efficiency defense. But in the Tigers' trip to Tempe that season, Arizona State's Sam Keller completed 35 of 56 passes for 461 yards with four touchdowns and no interceptions in a 35-31 defeat.
Or this: LSU's defense did a nice job against Oregon's offense in the 2011 season opener. Of course, the Ducks scored more points on LSU than ANY OF THE OTHER 13 TEAMS LSU PLAYED.
Apologies for the caps lock. Reckless typing.
While we can all acknowledge the SEC -- at least the elite teams -- play better defense than the rest of the nation, it is also worth noting that when future first-round NFL draft picks played quarterback in the SEC, they put up good numbers, whether we're talking about the Manning brothers, Matt Stafford or Cam Newton. And I'm sure, one day in the future --perhaps this decade! -- we'll be able to add a name to that list.
There are some nice quartebacks in the SEC:
Tyler Wilson
,
AJ McCarron
and
Aaron Murray
. All three seem like they'd have a good chance of winning the backup job at USC. Maybe.
Chris Low
: No way am I going to argue that Barkley wouldn't have success in the SEC.
He's a future pro and probably the front-runner to win the Heisman Trophy in 2012.
The question is: How much success would he have, and would he hit the proverbial wall going against SEC defenses on a weekly basis?
My feeling is that all quarterbacks hit that wall. Any coach will tell you (ask your buddy Lane Kiffin) that what separates SEC defenses is the speed in the front seven, particularly in the defensive line. There are fast players all over the country in college football, but the SEC has cornered the market on fast, explosive defensive linemen and pass-rushers who also have the size and strength to overpower people.
That's the difference, and that's where Barkley would notice the greatest difference.
It wasn't a banner year for quarterbacks in the SEC last season. And, yes, I realize that's an understatement. But it was a banner year for premier defensive players. That's why the first round of the NFL draft next month is going to look like an SEC who's who. As many as 10 SEC defensive players could go in the first round.
Don't sleep on the SEC's quarterback class this coming season, either. Wilson may be a future first-rounder. Murray has thrown nearly 60 touchdown passes in his first two seasons, and we all saw what McCarron did in the BCS title game against an LSU defense that was outstanding.
Barkley's a big-time talent, no question. But it's a different game when you're trying to throw from your back.
And in this league, ALL QUARTERBACKS (sorry, my caps tend to lock up, too) encounter that problem.
Ted Miller
: Truth is, Wilson, Murray and McCarron are good quarterbacks who look like guys with NFL futures. Loved how McCarron handled the pressure of the title game, and Murray has Pac-12-type talent.
[+] Enlarge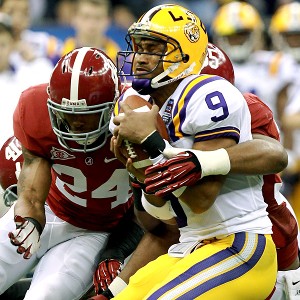 Ronald Martinez/Getty ImagesAlabama's defense smothered Jordan Jefferson and the LSU Tigers in the BCS championship game.
We're trash talking here, but if you can't acknowledge what is real, well, then it's just noise.
And the reality of this debate is this: Barkley would be more challenged on a weekly basis by SEC defenses than by Pac-12 defenses -- which I believe are underrated but still a step behind the SEC for the reasons the Inimitable Low mentioned above. If Barkley played at Vanderbilt, Mississippi State or Kentucky, he'd just be the best quarterback in the history of those programs while leading those teams to "historic" seasons. Like a third-place finish in their divisions.
Yet what makes Barkley, Barkley is not just Barkley. It's USC. It's his supporting cast. It's receivers
Robert Woods
and
Marqise Lee
, who will both have NFL careers. And two tight ends who will also. And a good offensive line, and a 1,000-yard rusher who averaged 6.9 yards per carry in 2011 (
Curtis McNeal
).
By the way, if you wonder where USC's true potential Achilles heel is this year, it's the defensive line. The Trojans have three A-listers -- guys who would be touted in the SEC -- but are thin thereafter. That's a problem for a team that views itself as a national title contender.
That's ultimately the rub here, too. If all goes according to plan, Barkley and USC should be in position to play for the national title. It's hard to imagine that wouldn't be against another SEC team.
Now, Chris, wouldn't it be fun if it were USC and LSU? Recall that in 2003, LSU won 1/16 of the national title when no one in the entire world thought LSU was better than USC, other than computers obviously loaded with all sorts of viruses.
Or USC-Alabama? Great history, and Saban versus Barkley & Co. would certainly attract plenty of eyeballs.
Chris Low
: One of the most compelling things that could happen to college football next season would be for USC and Barkley to take their shot at an SEC defense in the money game.
Then, we could quit debating and let it play out on the field. As much as I knew that Alabama and LSU were the two best teams in the country last season, there was a part of me that wanted to see Oklahoma State against either the Alabama or LSU defense in the BCS title game.
It's the matchup we all want to see: A high-powered offense versus a suffocating defense.
Maybe that's what we'll be treated to this fall.
Of course, I go back to the 2010 national title game, and Oregon had been short-circuiting scoreboards all season long. The Ducks go up against an Auburn defense that had been opportunistic, but wasn't one of the best in the SEC that season statistically. But in that game, Auburn put the clamps on Oregon and won 22-19.
The Tigers won because the Ducks couldn't block Nick Fairley.
And that's what the Trojans would run into if they find themselves up against an SEC team next January in Miami.
It won't come down to Barkley. Sure, he'll make a few plays. He's legit. But what it will come down to is the group of guys blocking for Barkley, and that's where it always gets ugly against SEC defenses.
In the meantime, just make sure the Trojans get there. They've been known to stumble along the way, and what we're left with is a bunch of hollow chatter about what they would have done (or could have done) had they made it to the party.
We'll check the guest list in December and chat again then.
September, 22, 2009
9/22/09
1:44
PM ET
By
ESPN.com staff
| ESPN.com

Posted by ESPN.com's Ted Miller
TEMPE, Ariz. -- Arizona State has been utterly dominant while winning its first two games. The Sun Devils' defense is ranked No. 1 in the nation. The offense ranks ninth with 44 points a game.
Now, take that information, crumple it up and throw it out the window. Coach Dennis Erickson knows that pounding on Idaho State and Louisiana-Monroe means little.
| | |
| --- | --- |
| | |
| | Matt Kartozian/US Presswire |
| | Saturday's game at Sanford Stadium will be Danny Sullivan's first start on the road. |
A trip to No. 17 Georgia on Saturday? That's a bit of an upgrade in competition.
"We'll find out a little bit more about what we are as a team, that's the bottom line," Erickson said. "It doesn't matter who they are or what their rank is. We're [asking] right now, 'where are we at as a football team?'"
Erickson repeated variations of those sentiments to a variety of questions: Georgia will be a measuring stick for the Sun Devils.
If they manage to win, or least keep things competitive into the fourth quarter, they might become a top-half of the Pac-10 team, though the Bulldogs probably aren't in the class of California or USC this season.
If they can't keep up, then Arizona State likely falls in with the gaggle of teams scrapping for six wins and bowl eligibility in the lower-middle, bottom-third of the conference.
Of course, one game, win or lose, doesn't a season make. It's possible the Sun Devils in Athens, Ga., won't be anything like the Sun Devils in November. Still, this is the first chance to evaluate Arizona State against a first-rate BCS conference team.
Georgia opened a can of whup butt on the Sun Devils last year, the 27-10 count not doing justice to the Bulldogs dominance.
Georgia took a 21-3 lead into halftime and mostly coasted home. They outrushed the Sun Devils 176 yards to 4 and outgained them overall 461-212.
"They pretty much dominated us," Erickson said. "We didn't play very well and they played well."
The first question is how Arizona State quarterback
Danny Sullivan
will handle his first start on the road in one of the nation's tougher venues -- "Between the Hedges" at Sanford Stadium.
That's impossible to say. Sullivan is a senior, but the last time he faced a fast, elite defense, he crumbled after coming off the bench in 2008 at USC.
While the Georgia defense doesn't compare to USC -- it's given up 34 points per game -- two of those games were on the road, so the home crowd should help.
"Until you go in there and experience it, you just don't know," Erickson said.
On the other hand, this is a different group of Sun Devils. The defense is deeper and faster than last year's and, while there's lots of experience, a youth movement led by tackles Lawrence Guy, a sophomore, and William Sutton and
Corey Adams
as well as linebacker Vontaze Burfict -- all true freshmen -- is most intriguing.
Yet the biggest difference might be on the offensive line.
In 2008, the Sun Devils started converted defensive lineman Jon Hargis at left tackle and 289-pound redshirt freshman Adam Tello at right tackle. Things didn't go well for either.
A far more experienced Hargis is now the left guard, while Tello is his backup. NFL prospect Shawn Lauvao moved out to left tackle, while guard Matt Hustad and tackle Tom Njunge give the Sun Devils far more athleticism on the right side. Neither was healthy last year.
Is it a great offensive line? No. But last year's unit didn't have a chance -- the Sun Devils ranked 113th in the nation in rushing and surrendered 34 sacks (109th in the nation). This time around, it might.
"We're much more solid, we have more depth," Erickson said. "We're playing a little bit better, technique-wise and so forth. We made some moves to get our best players in the right positions. As we go through the next 10 weeks, if we lose a guy or two, we'll put people out there who play pretty well. I like where we're at. Are we a great offensive line? No, but we're getting better all the time and we're better now than we were at this time last year."
Georgia, meanwhile, entered the season having to replace running back Knowshon Moreno and quarterback Matt Stafford, NFL first-round picks who dominated the action in last year's game. The Bulldogs seem to be getting their legs under them after opening with a loss at Oklahoma State. They had just 257 total yards against the Cowboys but piled up 530 yards Saturday in their win over Arkansas.
"
Joe Cox
is playing extremely well at quarterback," Erickson said. "The last two weeks, I didn't see any drop-off."
A key matchup will be Bulldogs sophomore receiver
A.J. Green
against the Sun Devils secondary, particularly cornerback Omar Bolden. Last year, Green dominated Bolden, catching eight passes for 159 yards and a touchdown.
Erickson's advice to his team on handling the frenzy of a road game in an SEC stadium? Have fun.
"You talk to our players about it and they're excited to go down there and experience [that]," he said. "It's going to be fun; they're looking forward to it."
Sounds like the Sun Devils are eager to find out who they really are in 2009.
September, 21, 2008
9/21/08
2:42
AM ET
By
ESPN.com staff
| ESPN.com
Posted by ESPN.com's Ted Miller
TEMPE, Ariz. -- I watched USC brutalize Ohio State. And I've now watched Georgia manhandle Arizona State.
| | |
| --- | --- |
| | |
| | AP Photo/Paul Connors |
| | Georgia running back Knowshon Moreno showed once again he is one of the best in the nation Saturday night. |
The obvious question is: Who's better?
Heck if I know.
But if I had to guess, I'd take USC.
That seemed to be the consensus opinion among a couple of other reporters I talked to who had covered both games.
Say what you want about Ohio State, but it's laden with NFL players and few folks would pick the Sun Devils to beat the Buckeyes.
That said: If the Bulldogs go undefeated against a schedule that includes Alabama (next Saturday), LSU, Florida and Auburn, the sight test won't matter because they will have passed the "do test."
That's a big if, which is probably why Georgia coach Mark Richt didn't want to start lobbying for respect just yet, even though his team, ranked No. 1 in the preseason, has dropped two spot in the polls while watching everyone fall in love with the Trojans.
"I wasn't really worried about making a statement," Richt said. "I just wanted to win the game."
Georgia has one of the slickest running backs in the nation in Knowshon Moreno. QB Matt Stafford owns the best arm I've seen since Carson Palmer. Freshman wide receiver A.J. Green looks ready for his close-up, too.
And the defense? Its linebackers are fast and its front four is physical. The secondary is above-average.
The defense is great against the run. It entered the game surrendering 59.7 yards rushing per game and held the Sun Devils to an embarrassing four yards on the ground.
The Bulldogs struggled to pressure opposing QBs, but the one-dimensional Sun Devils made things predictable and Georgia had four sacks.
However, be forewarned Dawgs fans: It's unlikely Georgia will face any more offensive lines with as many issues as ASU, at least not in its marquee games ahead.
Of course, Georgia isn't exactly dominant on its offensive line, and that youth -- two freshmen and two sophomores started -- that played fairly well against ASU, probably will find the going rougher against SEC front-sevens.
Or USC's front seven, should those teams hook in a some sort of game, you know, down the line.
While this game made a statement -- Georgia took care of business a long way from home against a quality opponent -- the Bulldogs don't need to fret about what sort of message they're sending.
Against this schedule, just winning makes a statement.
"We obviously know the prettier it is, the more people are going to look at it," Stafford said. "But we don't look at it like that... We definitely haven't arrived."
August, 7, 2008
8/07/08
8:27
PM ET
By
ESPN.com staff
| ESPN.com
Posted by ESPN.com's Ted Miller
Second in a series looking at potential dream and nightmare scenarios for all Pac-10 teams, starting from the top of our preseason Power Rankings and working down.
Up next: Arizona State.
Best case
Arizona State didn't look terribly good rumbling to a 3-0 start -- including a 28-24 win over pesky Stanford -- but it turns out Dennis Erickson was keeping his cards close to his chest.
Then the Devils came down on Georgia, thumping the nation's No. 1 team, 38-24.
Using four and five receivers almost the entire game, the Sun Devils spread the Bulldogs out, and Rudy Carpenter went to work, completing 25 of 35 for 320 yards and three touchdowns. Most surprising: He was only sacked once, as the maligned offensive line kept the Bulldogs in check.
Georgia quarterback Matt Stafford wasn't so lucky. ASU end Dexter Davis had two sacks, and safety Troy Nolan returned one of his two interceptions for a 35-yard touchdown.
Of course, the work was hardly over. After a bye, the Sun Devils faced a brutal gauntlet -- at California, at USC, Oregon and at Oregon State. They emerged 3-1 from that stretch, losing only to USC by a late field goal.
The season concludes with a showdown with arch-rival and 15th-ranked Arizona, one of five Pac-10 teams in the top 25. In front of a packed house in Tucson, the No. 4 Sun Devils escape with a 27-24 victory as Thomas Weber connects from 55 yards with four seconds left.
That leaves the Sun Devils in a three-way tie atop the Pac-10 with USC and Oregon, which beat USC for the second-consecutive year, but ASU wins the tie-breaker and goes to the Rose Bowl -- with some fans ranting about the BCS system leaving them out of the national title game.
In Pasadena, Rudy Carpenter, back from New York after finishing third in Heisman Trophy balloting, leads the Sun Devils to a 45-17 stomping of overmatched Wisconsin.
And, in February, the recruiting rankings come out: 1) Arizona State; 2) USC.
The giant awakes.
Worst case
Some tried to write off the three sacks Northern Arizona recorded in the opener, but it became abundantly clear that Arizona State's offensive line was even more dubious than even the most pessimistic preseason outlooks predicted.
Stanford's six sacks pretty much made that manifest in the Cardinal's shocking 24-27 victory in Sun Devils Stadium.
A two-touchdown win over UNLV briefly raised hopes that perhaps Dennis Erickson would work some game-plan magic to hold No. 1 Georgia back, but the Bulldogs came West to prove their legitimacy.
A 41-10 victory did just that.
The question became could the uncannily durable Carpenter make it through the season.
Carpenter's heroics keyed a tough win at California, but any hope that the Sun Devils were headed back to the top-third of the conference were quickly dispelled by consecutive, decisive defeats to USC and Oregon.
Both the Trojans and Ducks were able to exploit the soft middle of the Sun Devils' defense, which slowed down ends Davis and Luis Vasquez. When injuries hit the secondary, the defense started to lose its mojo.
Consistency became a problem. A nice win at Oregon State was followed by an upset loss in the pouring rain at Washington, with Huskies quarterback Jake Locker accounting for 400 yards of total offense.
After splitting with Washington State and UCLA, the Sun Devils headed south to face hated rival Arizona, needing a victory to earn a sixth win necessary for a bowl berth.
But the 15th-ranked Wildcats, surrounded by newly enthused fans with "In Stoops We Trust" T-Shirts, shock the Sun Devils by running right at them. Two hundred-fifty yards rushing and a physical, 30-20 victory later, and Arizona notches its 10th victory and boots ASU from bowl eligibility.
Stoops, shortly thereafter, is named Pac-10 Coach of the Year, which goes down even easier when his Wildcats bury Texas in the Holiday Bowl -- and their fans can't help but recall ASU's embarrassing performance in the 2007 game against the Longhorns.