April, 17, 2014
Apr 17
12:00
PM ET
BERKELEY, Calif. -- Headed into his second season at Cal, there's still a lot coach Sonny Dykes needs to learn about his team. Seemingly left with more questions than answers at the end of Year 1, it was clear the spring would be a fact-finding mission as much as anything.
Except at receiver.
There has been some minor tweaking going on during the first two-thirds of spring practice, but it's clear that the coaching staff is confident in the receivers -- perhaps more than any other group on the team.
[+] Enlarge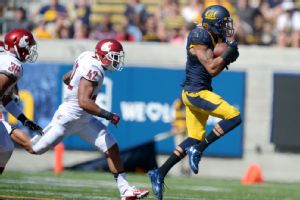 Kirby Lee/USA TODAY SportsChris Harper had 70 catches for 852 yards and five touchdowns in 2013.
'There's some [Pac-12 teams that] probably return, maybe more productive guys than we did, but we've got a lot of guys who can play," Dykes said. "I think our depth has got to be probably as good as anybody's in terms of guys who have played and guys who are starting to to come into their own."
It starts with the duo of
Chris Harper
and
Bryce Treggs
, who combined for 147 catches for 1,603 yards a year ago, but
Kenny Lawler
also was productive (37 catches, 347 yards, 5 TD) -- especially late in the season -- and several others are fighting for playing time.
Assistant head coach Rob Likens, who is responsible for the outside receivers, doesn't hesitate to call the receivers the team's strongest unit -- and that he tells them that every day.
"They have to put it on their shoulders," Likens said of the group's importance to the team. "Experience breeds confidence, and that's the thing we were lacking last year.
"Obviously, when you're running a new offense, that first year they don't know what to expect in a game, how its all going to work out. So we've gone through that process already, so they know coming into the spring how [the rest of the conference] is going to play."
The most notable change has been Treggs' move from outside to inside receiver. The move was done as part of an effort to get him the ball more often and engineer more matchups against safeties and linebackers. Making the same position change is 6-foot-6
Drake Whitehurst
, who provides the closest look to what the Bears had from
Richard Rodgers
a year ago.
On the right side,
Stephen Anderson
and
Darius Powe
are battling at the inside spot, but Likens said both struggled with too many drops last fall. With Treggs inside, the left outside receiver spot is a competition between Hawaii transfer
Trevor Davis
and junior
Maurice Harris
. They are splitting time with the first team.
With such a talented group of receivers and a promising young quarterback in
Jared Goff
, Cal certainly has the potential to evolve into a dangerous Pac-12 offense, but other deficiencies need to get cleaned up. Namely the running game.
"And we know that. We stressed that this spring," Likens said. "[Last year,] we got into games and we realized that everybody realized that we couldn't run the ball, so it is a lot of pressure on some very young skill guys."
Likens said Cal will "rely heavily on" a pair of incoming freshman running backs,
Tre Watson
and
Vic Enwere
.
Cal will plays its spring game on April 26, at which point the coaching staff will turn the responsibility over to the players to get better. Most, if not all, are expected to be around for a majority of the summer.
"In this offense, that's crucial," Likens said. "If you don't do that, you don't have a chance."
It's an expectation Lawler said the players have bought into, and only partially because of the 1-11 season.
Lawler doesn't believe the lack of success had anything to do with last offseason's effort -- "We actually worked out really hard," he said -- but admitted he's willing to work harder and give more things up this time around.
May, 9, 2013
5/09/13
12:00
PM ET
On the low end of the bell curve, California's wide receivers will probably be productive. But youth, packaged with a new offensive system, might mean they'll need another year to get up to speed.
On the high end of the bell curve, California might have one of the most explosive wide receiving corps in the Pac-12.
It's that wide open when you measure the depth and potential of the youngsters.
Chances are, they'll probably fall somewhere in the middle. But there is no disputing that new coach Sonny Dykes has some very good talent at the position that can't wait to break out in the new "Bear Raid" system.
[+] Enlarge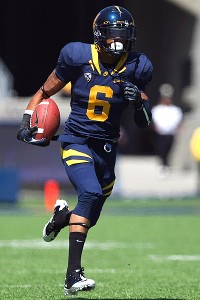 Kelley L Cox/USA TODAY SportsChris Harper is expected to be part of a deep Cal receiving corps.
"It's an interesting group," Dykes said. "We've got a lot of different kinds of guys. We've got longer guys with great ball skills. We've got big guys. Fast guys. A lot of range."
In the pro-style attack of former head coach Jeff Tedford, Keenan Allen was
the
guy -- totaling 205 catches, 2,570 yards and 17 touchdowns in a three-year career. It didn't hurt that his brother was the quarterback. But relations aside, Allen was the kind of talent that it didn't matter who was throwing the football, he was going to be the primary receiver.
In the new system, there is room to spread the wealth. Sophomore
Bryce Treggs
(5-foot-11, 175 pounds) is fast, shifty and good in space. Redshirt freshman
Kenny Lawler
might be the most complete of the bunch at 6-3, 185, with the ability to stretch the field.
"We didn't know at first what we were getting with him," Dykes said. "But he came in and had as productive a spring as anybody. He was really good at going to get the football and he has some outstanding ball skills. He still needs to learn to play the position. But he's been a pleasant surprise."
Sophomore
Chris Harper
(6-0, 165) was second only to Allen last year, catching 41 balls for 544 yards and two touchdowns. Injury, however, limited him this spring.
"We didn't get a great chance to evaluate him," Dykes said. "But we're starting to get a sense now for how he moves and we're pleased. Athletic, quick guy.
Then there is sophomore
Darius Powe
(6-3, 212), sophomore
Maurice Harris
(6-3, 205), sophomore
Maximo Espitia
(6-2, 215), former tight end, sophomore
Richard Rodgers
and about five or six other players who could be impact guys.
It's a unit loaded with youth -- which also means it will grow up together and might eventually emerge as one of the top receiving corps in the league.
But first things first.
"We still need a quarterback," Dykes said.
Oh yeah, details.
"From a talent standpoint, the ingredients are all there," Dykes said. "Maurice Harris has a chance to do some good things. Richard Rodgers has lost about 25 pounds. If he's good at inline blocking, we'll stick him out there and let him block. But that's not really his strength. His strength is being able to run routes and cover people up with his body."
There is room for cautious optimism that personnel is a silky fit for what Dykes wants to bring to the Bears.
"I think we have the makings of having a pretty good offense," he said. "There are question marks at spots. We have to stay healthy at running back. We probably need to get some depth from a true freshman, which is never a good thing. But there are reasons to be optimistic."
August, 24, 2012
8/24/12
9:00
AM ET
You missed my Thursday chat? Strange. That makes no sense.
If you are overcome with understandable regret, and need to read it in its entirety,
go here
.
But here are some highlights. (And, yes, it kills me that I missed the "
Judge Holden
" reference here).
Al (Los Angeles) Is [Brett] Hundley a game changer for Bruins at QB?
Ted Miller (3:02 PM)
Maybe.. difficult to say before his first college snap. But he's a charismatic guy with leadership skills and he can run and pass well. I really like his pairing with OC Noel Mazzone, who did wonders with Brock Osweiler at Arizona State. I will say Bruins fans are justified in being excited about their QB for the first time in a while.
Jim (SF) Best secondary in the Pac-12?
Ted Miller (3:06 PM)
first impulse is USC, even with mediocre numbers a year ago... two legit stars in S
T.J. McDonald
and CB
Nickell Robey
. And lots of depth... Ducks also should be very good in secondary. Maybe better. Question might be who gets a better pass rush. That always makes a secondary look good.
Judge Holden (Nacogdoches, TX) How about [Bryce] Treggs being named a started at Cal? Would seem to be a group with complementing skill sets when you look at him, KA21 [Keenan Allen], [Chris] Harper and [Maurice] Harris.
Ted Miller (3:13 PM)
Tedford basically said during the spring that he figured at least 2 of the freshmen and probably 3 would play, and he strongly intimated to me that he thought it a good possibility that his No. 2 behind Allen would be a frosh. Thing with freshmen: You must wait until games to see what they will do. A big stadium can paralyze a young man. I've seen plenty of camp heroes wilt in the spotlight. Tedford obviously feels he's got some guys who are ready for their close ups.
Eric (Albany, OR) Ted, anything I see about the Beavs is that they have the potential to be a good team, but are consistently picked to be last in the conference. Are the Beavers a last-place team this year?
Ted Miller (3:23 PM)
Colorado is consistently picked last in the conference. Phil Steele picked the Beavers to finish ahead of Washington in the North. If the Beavers stay healthy, they are a bowl team.
Aidan Smith (Portland, Oregon) any chance DAT [De'Anthony Thomas] could get into Hiesman discussion?
Ted Miller (3:27 PM
) Absolutely... he might post more spectacular plays than any player in the nation... if he can get the 1,000 yards rushing/1,000 yards passing number, that would get him to New York, no doubt.
John (Salem, OR) Jump forward a season. Matt Barkley is now gone. Does USC have a difficult time for say another two seasons starting in 2013?
Ted Miller (3:36 PM)
Define difficult. I don't think USC is a top-5 team in 2013. But there's lots of young talent, which is good enough for 9-10 wins. It you pencil things out, the the Trojans should set up nicely for 2014, even with just 75 scholarships.
Sark (Huskyland) How much longer do I have before fans consider the team's improvement to have stalled?
Ted Miller (3:39 PM)
If the Huskies win 7 games vs. their schedule, and then win a bowl game, that's a successful season. I like how things set up for 2013. If the Huskies are still hovering around .500 then, I would suspect there will be some grumbles.
Erik (Vancouver, WA) What are the chances that USC or Oregon will NOT win the pac 12? If not who?
Ted Miller (3:48 PM)
I would be very surprised if Oregon and USC don't play in the Pac-12 title game... I hate to act like things are a done deal because they are not, but both are top-five teams for a good reason.
I
PM (Park City, UT) How much will the utah defense miss Brian Blechen for the first three games? Also, is there any chance that he won't earn his position back.
Ted Miller (3:51 PM)
He's one of their best and most versatile players, so he leaves behind a hole. I'd expect, if he gets back on [coach Kyle] Whittingham's good side, that he will quickly rejoin the starting lineup.
Kevin (Reno, NV) With the need for playmakers in Tempe, does D.J. Foster make a huge splash as a freshman, and challenge for national Freshman of the Year honors?
Ted Miller (3:57 PM)
Maybe... but
Cameron Marshall
is a horse. Will Foster get enough touches? i doubt Foster will get national honors, but he could get some Pac-12 attention... it seems like Arizona State fans are eager to write in all these Frosh and JC guys. I'd advise patience. Preseason practices more often than not don't reveal much. Let's see how things look after three or four games.
Rett (Oregon...) How long do you think Utah fans are going to ride the wave of beating Bama in the Sugar Bowl?
Ted Miller (4:02 PM
) for a while... the amusing re-writeing of history -- "Alabama didn't want to be there" is completely absurd... that was the Tide's first Sugar Bowl since 1993... and no body thought the Utes had a chance. They absolutely and without question or qualification physically dominated that game. There is no reason to believe if the teams played 10 times, Utah wouldn't win 7. Tide fans' unwillingness to admit this truth allows Utah fans to dwell on the game for a long while. College Football Rules: 10.7.9.3.
May, 25, 2012
5/25/12
6:30
PM ET
By
ESPN.com staff
| ESPN.com
In advance, I hope everyone has a safe and enjoyable Memorial Day weekend. Please, remember to take a moment to think about
what it's all about
.
And then have a great cook out.
You can follow me on Twitter
.
To the notes.
Scott from Honolulu writes
: My question is with rumors of Florida St. talking with the Big 12 and the new college football playoffs being put into place in the near future, do you foresee another round of conference realignment? And if so, what are possible schools could we see in this new Pac 12, 14, 16 or whatever numerically correct conference?
Ted Miller
: Pac-12 commissioner
Larry Scott
has long held that further contraction in college football is inevitable. As you know, he's the all-knowing
Dr. Strange of college football
. And I agree with Scott. I used to think we'd reduce the FBS field to about 60 teams, and that crew would break away from the NCAA and form its own governing body. Now I think it might end up being an even smaller number.
First, so far there's been a lot of smoke (chatter) with little fire (an actual move) as it pertains to ACC teams with wandering eyes. Further, emotionally, I don't know how I feel about the notion of college football reducing itself to four super-conferences. Part of me winces, but I'm not sure if that's just my age showing. More than a few of you think my affection for the Rose Bowl is dated. When I hear such talk, I always see the baffled reaction of another sportswriter when I say, "But I'd really rather not eat at Applebee's."
On a Machiavellian level, I think the Pac-12 presidents made a mistake when they blew off Oklahoma, Texas, Oklahoma State and Texas Tech last September. While Scott won't say this on the record, my feeling from talking to him these past three or so years is he agrees. The Pac-12 had an opportunity to become the Pac-16, the first superconference, and thereby guarantee itself the most powerful seat at the table when the new look of college football is hashed out this summer.
Said Scott at the time,
while defending the decision to remain at 12
: "An opportunity was turned down that could have generated more money for the schools but potentially could have torn apart the fabric of the culture of the conference."
Culture, you might have noticed, is losing its traction during college football's money grab.
That move, of course, would have torn the Big 12 asunder. By the Pac-12 not doing so, the Big 12 was allowed to regroup and now it is threatening to do that very thing to the ACC. Yeah, all is fair in love, war and conference realignment.
And where does the Pac-12 turn if the SEC and Big 12 were to split up the prime teams of the ACC? Hard to say. Texas has always been the big prize in that it offered a huge market, a stellar sports program and strong academics. But that bull has walked, so to speak, and there are few teams within, oh, 1,500 miles of Pac-12 country that make much sense for expansion. Or that aren't spoken for.
The number that makes the most sense is 16. That's why few believe the SEC will stay at 14. But which four programs could add value to the Pac-12? The pickings are slim, unless Scott tries to raid the Big 12, which at present is surging and unified, or he gets really creative, outmaneuvers the Big Ten, grabs Notre Dame and uses that coup to go national and lures three more teams from outside the West region.
As it stands, I don't see an ideal 16-team scenario for the Pac-12, though I don't have one of those all-knowing Dr. Strange brains like Scott and Chip Kelly do.
Michael from Seattle writes:
Do you buy into the hype of
Desmond Trufant
? I've seen him in a "top 100 players headed into 2012" list and I was fairly shocked. I hope I'm wrong, but I don't see him having a monster senior year. Thoughts?
Ted Miller:
Trufant is an NFL prospect. He's going to be a four-year starter for Washington. He's got good measurables -- 6-0, 185, good speed -- and good bloodlines being the younger brother of NFL cornerback Marcus Trufant. He was honorable mention All-Pac-12 last year, so at least two Pac-12 coaches think he can play.
But, yes, there have been a few times when he's been notably beaten. I'm aware that some Huskies fans are doubters. I also think NFL draft projections before a player's final year are fluid and often uniformed. Guys who appear in the first round of mock drafts in the summer often disappear by the following spring. And other players on nobodies' mock draft radar soar into the early rounds.
My feeling is Trufant has plenty to prove. I also think it's hard to measure him because the Huskies have been so awful on defense. It's difficult to be a good cornerback behind a weak pass rush. Or when you're consistently left on an island because the defensive coordinator is consistently rushing six or seven because of that weak pass rush.
I think the Huskies defense will be much better under new coordinator
Justin Wilcox
. And that will make Trufant look more like an NFL corner.
Kym from Los Angeles writes:
Which redshirt freshman will have the biggest impact this season?
Ted Miller
: If he wins the starting QB job,
Michael Eubank
at Arizona State would be a good guess. Same with QB
Brett Hundley
at UCLA.
California really needs
Maurice Harris
to step up at receiver. Utah has a redshirt freshman No. 1 at right offensive tackle after spring practices:
Daniel Nielson
. USC has several redshirt freshmen on its D-line --
Antwaun Woods
,
Cody Temple
,
Christian Heyward
and Greg Townsend -- who could really help if they stepped up.
This will be a better question -- or at least one that's easier to answer -- when we get a solid idea of depth charts in mid-to-late August.
Tim from Salt Lake City writes
: Why is it that, though I've seen them mentioned as a possible pre-season top 25 more than once, Utah hasn't warranted so much as an honorable mention in any of the offseason lists? As you are fond of asking us, who would you exclude in their favor?
Ted Miller
: Barring any major, presently unforeseen issues, Utah will be in my preseason top-25 vote for the ESPN.com.
Here's Mark Schlabach's
most recent top-25
. I think you could clip the team that the Utes beat in the Sun Bowl and thereby find a spot.
Michael from Stockton, Calif., writes:
Will oregon really be that big of threat to the explosive and very talented USC
?
Ted Miller:
Yes.
Steve from Fort Myers, Fla., writes
: A while back you made a list of places to eat in the Pac 12 cities, this summer I will be traveling to Seattle, Corvallis, and Eugene. I was hoping you could either email me the list, or tell me where to find it, so I can check them out?
Ted Miller
: If you
click here
, it will magically appear.
And if you read some of the comments below, you undoubtedly will find more options.
April, 23, 2012
4/23/12
11:00
AM ET
Catching you up on the spring games and scrimmages from over the weekend.
Arizona State

All three of Arizona State's quarterbacks did some good things during Saturday's spring games. ASU didn't keep official stats, but Doug Haller of the Arizona Republic kept
his own unofficial stats here
.
Michael Eubank
completed 8 of 15 passes for three touchdowns,
Mike Bercovici
went 12-of-21 for a pair of scores and
Taylor Kelly
was 10-of-12 with a touchdown and an interception. Eubank also rushed for a touchdown to go with 52 yards on the ground.
But the highlight might have been the performance of running back
James Morrison
, who carried 13 times for 83 yards and a score.
"I thought 'Tank' Morrison had an incredible spring," Graham said
following Saturday's game
. "... I think Tank is a guy that's going to contribute, no doubt about it."
Haller reports it was a pretty vanilla showing from the defense -- adding that linebacker
Jason Franklin
and cornerback
Joe Eason
logged interceptions.
"Once they started grasping and understanding the vision and our philosophy, the football part of it started to come along faster," defensive coordinator Paul Randolph said of implementing the system. "We threw the whole kitchen sink at them. We got everything in."
California

Zach Maynard
completed 6 of 10 passes and tossed a 29-yard touchdown to
Maurice Harris
to open the scoring of the Cal Football Spring Experience. He also added a 1-yard touchdown run that put his team ahead 14-3. But his "Blue" team would ultimately fall to the "Gold" squad as a pair of long
James Langford
field goals, a
C.J. Anderson
touchdown run and a 40-yard touchdown pass from
Zach Kline
put the Gold team in front for good.
With the Blue team trailing 21-14,
Austin Hinder
connected with
Stephen Anderson
on a 75-yard touchdown as time expired. But the 2-point conversion failed and the Gold team held on 21-20.
"It was a good game, a hard-fought game and a good practice overall," Maynard said. "Unfortunately, we got beat by one point."
Kline, who threw a 40-yard touchdown to tight end
Spencer Hagan
in the fourth quarter and also completed the 2-point conversion, is off limits to the media. But Maynard said after the game that
he thought Kline played well
.
"Zach did very well today," Maynard said. "He's progressed since he's been here. He's one of those high-caliber type of guys so he's going to perform quickly and early."
Anderson looked particularly strong, rushing for 85 yards on 14 carries, which included a 15-yard touchdown run.
John Crumpacker of the San Francisco Chronicle
noted strong defensive performances
from
Mustafa Jalil
and Cecil Whiteside.
Puka Lopa
, Whiteside and
Nick Forbes
shared game-high honors with seven tackles apiece.
UCLA

Following Saturday's scaled-down scrimmage, head coach Jim Mora said he was "encouraged, but not satisfied."
And it doesn't look like there is much clarity in the way of the quarterback competition, either.
Richard Brehaut
,
Kevin Prince
and
Brett Hundley
all threw interceptions. Though Prince and Brehaut both threw touchdowns to
Steven Manfro
.
Due to injuries and a lack of depth at several key positions, Mora made Saturday more about situational scrimmaging rather than a full experience.
"We are moving closer to the kids understanding my expectations," offensive coordinator Noel Mazzone
told Chris Foster of the L.A. Times
. " … It's hard for me to get mad at them for trying to run stuff they have never run before. We're getting to the point where these guys should have a handle on it. It's like a Rubik's Cube; you have to keep turning it until the colors line up."
Utah

Jordan Wynn
completed 8 of 11 passes for 124 yards and a score, but two of the incompletions were interceptions in the annual spring game in front of more than 13,500 at Rice-Eccles Stadium.
Wynn's touchdown was a 48-yarder to
Dres Anderson
. It looked like he had touchdown No. 2, but a holding call negated the 21-yard pass to
Westlee Tonga
and Wynn was picked off in the end zone on the next play by Tyler Cahoon.
Naturally, head coach Kyle Whittingham isn't thrilled with turnovers in the end zone.
"You can't turn the ball over," he told
Mike Sorenson of the Deseret News
. "That's job one for the offense. You have to take care of the ball and we didn't get that done. That was one of the negatives, but the flip side is, the defense was making plays and they came up with two interceptions."
Running back
Jarrell Oliver
ran for a pair of scores and 24 yards on five carries.
Defensively,
Dave Fagergren
also had an interception and
Joape Pela
, running-back-turned-defensive end
Thretton Palamo
and
Cameron Taylor
all logged sacks.
"A lot of progress was made in many areas," said Whittingham. "Always, the most critical thing for us is to get fundamentals and technique sound during spring football. There is some scheme we will also put in with the change of coordinators. But overall, this was a very positive spring. We stayed very healthy, which is always something in question. It is still a work in progress, but with each successive recruiting class we have been able to add to the depth."
Washington State

Jeff Tuel
was a crisp 19-of-21 for 285 yards two touchdowns as the first team offense had its strongest showing of the spring.
"Guys kind of let it go and we just played,"
Tuel said
. "There wasn't a lot of hesitation from the first-team offense which was good to see. ... It's easy to come into a scrimmage and not be 100 percent focused. Today we really treated it like a game so guys came real focused and were real sharp with their routes and my reads and the receivers and myself were really on the same page and I felt good about it."
Marquess Wilson
and
Dominique Williams
both had monster receiving days. Wilson caught four balls for 149 yards and a score and Williams had five catches for 122 yards to go with his touchdown.
Logan Mayes
continued to be a terror on the defensive side, notching 4.5 touch sacks.
"I was pretty happy with our play, especially the D-line,"
Mayes said
. "I feel like we've been getting after it all spring and we really proved it here. ... People are thinking of us as an offensive team right now, but we have some good defensive players out there. It's going to be an exciting year I think."
March, 22, 2012
3/22/12
1:00
PM ET
By
ESPN.com staff
| ESPN.com
There are plenty of stars back in the Pac-12 this spring. And there are plenty of interesting competition and young guys about to break through.
But here's a team-by-team list of the Pac-12's most intriguing players this spring. These are guys who could be ready to emerge, redeem themselves or are simply critical for their team's success.
Arizona
: LB
Brian Wagner
The senior transfer was a tackling machine at Akron and he's likely to start for a rebuilding Wildcats defense. But can he keep up with Pac-12 offensive skill?
Arizona State
: QB
Michael Eubank
The redshirt freshman was recruited by new Sun Devils coach Todd Graham when Graham was at Pittsburgh, so Graham obviously believes Eubank has what it takes to run his no-huddle, spread offense. Impressive athlete.
California
: WR
Maurice Harris
The redshirt freshman is the top candidate to become the No. 2 receiver behind All-American candidate
Keenan Allen
.
Colorado
: OT
Stephane Nembot
Recruited as a defensive end, the redshirt freshman has an NFL frame -- 6-foot-8, 310 pounds -- and tons of athletic ability. He's green, but that might not stop him from earning a starting spot.
Oregon
: WRs
Devon Blackmon
,
B.J. Kelley
and
Tacoi Sumler
All three are redshirt freshmen. All three were touted recruits. At least one needs to step up at a position that is questionable for the Ducks.
Oregon State
: OT
Michael Philipp
Philipp was a touted recruit -- everybody in the Pac-12 wanted him -- and he won the starting left tackle spot as a true freshman in 2009, earning Freshman All-American honors. But, in large part due to injuries, his career has regressed. Will he take a step forward this spring? It would be huge for the Beavers if he did.
Stanford
: CB
Wayne Lyons
While coach David Shaw said Lyons was only about "85 percent" during the Cardinal's first of two spring sessions due to his on-going recovery from the broken foot that ruined his freshman season, Shaw also said he believes Lyons is a future All-American.
UCLA
: QB
Brett Hundley
While
Kevin Prince
and
Richard Brehaut
both are back with significant starting experience, it wouldn't be surprising if Hundley, a redshirt freshman, won the starting job. Or at least earned playing time next fall.
USC
: LB/RB
Tre Madden
Madden is a beastly good athlete who is going to play on one side of the ball or the other. Maybe both. He backed up
Dion Bailey
at strongside LB last year, but the 6-foot, 220-pounder may end up bolstering the backfield depth.
Utah
: DE
Thretton Palamo
Palamo flashed potential in the running back competition last preseason, but that same athletic ability might make the 6-foot-2, 250 pounder a dangerous pass-rusher. No question about ability to tackle, seeing that he's a former rugby star.
Washingto
n: DT
Danny Shelton
The 6-1, 334-pound sophomore looks like a nice fit at nose tackle if the Huskies move to a base 3-4 with new D-coordinator Justin Wilcox. But whatever the defense is, Shelton showed signs during his true freshman season that he can be an All-Pac-12 defensive lineman.
Washington State
: DE/OLB
Travis Long
Long is a three-year starter at defensive end, and during that span has mostly been the Cougars' best defensive player. It's interesting, however, because new coach Mike Leach said he's intrigued with Long playing outside linebacker in a new 3-4 scheme. Can the 6-foot-4, 256-pounder make that transition work?
March, 6, 2012
3/06/12
11:00
AM ET
Keenan Allen
is going to get a breather this spring. It will give some of the younger guys a chance to develop while allowing Cal's top receiver to come into the 2012 season with fresh legs. But what about after that? Will this year be his Cal swan song?
Coach Jeff Tedford has no idea. And judging from his comments during yesterday's conference call with the media, it's something he doesn't really want to worry about right now.
[+] Enlarge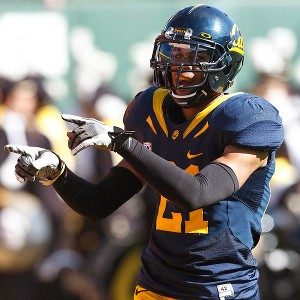 Jason O. Watson/US PresswireKeenan Allen led Cal in receptions, yards and touchdowns last season.
"I don't know," Tedford said, "we haven't talked about that. Obviously, he's played very well for us the first two years. He caught 98 balls last year and he's one of the top receivers in the country, but we haven't talked about it."
So there you have it ... or you don't.
The conference is going to be loaded at the position with five of the top six statistical receivers returning next season. Allen, who was first-team All-Pac-12, finished second in total catches for 1,343 yards, six touchdowns and an average of 103.3 receiving yards per game. With another strong season, his draft stock should be trending up. And consider, if
Zach Maynard
starts all of next year before Zach Kline presumably takes the job in 2013, you'd think Allen would be more inclined to come out early rather than come back for another season with a first-time starter throwing him the ball.
But Tedford said there is plenty of time to worry about that in the future.
"I think he's focused on what needs to happen now," Tedford said. "We haven't really gone into that topic. I'm sure we'll have that discussion sometime through the summer, just to make sure that I know what's on his mind and he's able to handle it properly, whatever it may be.
"I know that one of the things his family is really eager about is to have him graduate, so we'll just have to see how it plays out. But right now, he's doing great, happy and working hard. We'll see what happens."
Like many of the veteran players on Cal's roster, he'll be taking it easy when the Bears get their spring practices underway next week. Spring will be an opportunity for Tedford to hopefully develop some depth around Maynard so that his primary weapons don't have to completely shoulder the load -- specifically at tailback where
Isi Sofele
carried 252 times last season.
"It's going to be a big spring for
Brendan Bigelow
, it's going to be a big spring for
Daniel Lasco
,
Darren Ervin
," Tedford said. "You have those young guys there that really need lots of work. We're pretty sure what Isi can do. He's played a whole year; he's a 1,300-yard ruhser. Not that he can't improve, he can ... the young guys need to step up and get some turns. Bigelow, Lasco and Ervin are all guys there that need to do that."
Finding some depth at wide receiver is also a priority, Tedford said.
"We scholarshipped five guys this year that are freshman coming in and obviously they are not here yet," Tedford said. "But
Maurice Harris
is a big one [that needs to get reps this spring]. Some of our guys like [Ross] Bostock and [Jackson] Bouza,
Stephen Anderson
is a guy who I'm really anxious to see what he can do as well. Keenan will get very limited reps."
January, 26, 2012
1/26/12
4:00
PM ET
It's a beautiful thing to be able to recruit in the Golden State -- and even sweeter to be based there. But let's face it, almost every school in America wants to wet their beak and drink from California's recruiting fountain,
one of the top four recruiting states in the union
, where players of all positions are in abundance.
Interesting then, that cross-bay rivals Cal and Stanford both landed as two of the top five out-of-state recruiters,
as described in a piece by ESPN The Magazine's LaRue Cook
.
Cook and the folks at RecruitingNation teamed up to see which 10 programs land the most blue-chip recruits from outside of their home states.
Stanford checked in at No. 2 behind Auburn, and Cal is No. 5 behind Clemson and Alabama.
Cook on Stanford:

The Cardinal just can't compete with USC and UCLA for California's top talent, signing only two of the state's 73 ESPNU 150 recruits from 2007-11. But when Jim Harbaugh landed [Andrew] Luck, it proved that top prospects will travel to Palo Alto. After Harbaugh left for the 49ers, new head coach David Shaw convinced 2011's No. 2 ILB James Vaughters (Tucker, Ga.) to stick with Stanford, and the Cardinal currently have three out-of-state ESPNU 150 preps committed for 2012, including top-25 overall prospect OLB Noor Davis (Leesburg, Fla.).
Shaw has gone out of his way numerous times in his first year as head coach to talk about Stanford as one of the countries true national recruiters.
Cook on Cal:

When we calculated how many miles on average ESPNU 150 recruits traveled to attend their programs, Cal was second (1,179 miles) only to Stanford (1,466) in terms of distance. For that distinction, you can thank [Keenan] Allen, whose signature helped land his high school teammate, WR Maurice Harris, in 2011. (No. 6 S Avery Walls from McDonough, Ga., also added to the mileage.)

While this out-of-state trend is on hiatus in 2012, Jeff Tedford doesn't mind an off year that includes three in-state ESPNU 150 preps (S Shaq Thompson, QB Zach Kline, WR Darius Powe) and a possible top-10 class ranking.
Cal, of course,
recently lost Tosh Lupoi to Washington
. It will be interesting to see what kind of impact that has on the Bears in the coming classes. Though with a heralded class less than a week away from signing, the immediate impact seems minimal, and there don't appear to be any major defections.