October, 17, 2011
10/17/11
7:00
PM ET
PULLMAN, Wash. -- It happened ... again. And the defense responded ... again.
That's three straight games where the Stanford defense had to make a play -- or a few -- in the opening minutes of a football game.
Against UCLA, it was a four-down, goal-line stand that netted zero points for the Bruins despite a first-and-goal from the Stanford 4-yard line on the UCLA opening possession.
Against Colorado, it was a fumble on the opening kickoff that put the defense in their own territory. A blocked field goal returned for a touchdown by Max Bergen swayed the momentum back in Stanford's favor.
And again against Washington State, Andrew Luck was intercepted on his first pass of the game. The defense tallied two of their six sacks on that first possession and forced a five-and-out.
"Wherever they get the ball, it's our job to stop it," said co-defensive coordinator Jason Tarver. "We don't care where they get the ball, that's what we do. Our job is to keep them from scoring points and get the ball back in the hands of Andrew. That's it. That's what we do."
It was an unusual first 30 minutes from the Stanford offense, which unsuccessfully shied away from its tight ends in lieu of getting the wide receivers more involved in the offense. And there was a rare fumble from running back
Stepfan Taylor
-- his first in 219 carries.
"I was surprised to see our offense turn the ball over, but not fazed," said defensive lineman Ben Gardner, who forced a fumble, broke up a pass and had three tackles, including one for a loss. "We remained confident the whole game. We know how hard it is to stop our offense and we know how they wear on your through four quarters. Our offensive line is big and physical. As a D-lineman taking on those double teams, by the third and fourth quarter, you're not having too much fun out there. We remained confident in our offense and we know if we get them the ball, they're going to put points on the board."
And that's exactly what happened. Washington State did score off Taylor's fumble in the second quarter, but they were blanked the rest of the way. The defense held Washington State to 48 yards rushing and limiting WSU quarterback
Jeff Tuel
to just 145 yards in the air.
Meanwhile, the offense exploded in the second half behind four touchdown passes from Luck and a big second half from tight ends
Levine Toilolo
,
Coby Fleener
and
Zach Ertz
. Even if it hadn't, Stanford's minute-man defense said they would have been up to the challenge.
"We're always ready," said cornerback Johnson Bademosi, who had five tackles and forced a pair of fumbles. "Whether the ball is on our side of the half or their side of the half. It's an opportunity for greatness. We can be backed up on our 1-yard line. Whatever. We have to show up. But we knew our offense would get going and they did."
October, 10, 2011
10/10/11
3:00
PM ET
Taking stock of the sixth week of games in the Pac-12.
Team of the week
: Oregon State finally notched its first win of the season, beating Arizona 37-27. The Beavers jumped to a big lead then watched the Wildcats storm back. But instead of yielding in the fourth quarter in front of their nervous home fans, the Beavers made plays on offense, defense and special teams to win.
[+] Enlarge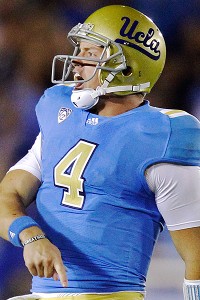 AP Photo/Jae C. HongBackup QB Kevin Prince led the Bruins over Washington State.
Best game
: UCLA 28, Washington State 25. Beleaguered UCLA QB
Kevin Prince
came off the bench for an injured
Richard Brehaut
-- he was booed by his home fans as he entered the game -- and led the Bruins back from an eight-point fourth quarter deficit. He threw a go-ahead 7-yard touchdown pass -- his second of the game -- to
Shaq Evans
with 3:26 to play.
Biggest play
: Oregon State saw its 30-6 lead almost disappear. Leading just 30-27 in the fourth quarter, the Beavers faced a fourth and goal on Arizona's 2-yard line. Instead of taking the easy field goal, coach Mike Riley went for the jugular. And QB
Sean Mannion
found TE
Joe Halahuni
for the touchdown that gave Oregon State breathing room with 5:22 remaining.
Offensive standout
: Oregon RB
LaMichael James
rushed for 239 yards and a touchdown on 30 carries before dislocating his elbow in the fourth quarter of a
victory
over California.
Defensive standout
: Despite being banged up, Oregon State safety Lance Mitchell rolled up seven tackles, an interception and a fumble recovery in a
victory
over Arizona.
Special teams standout
: After Stanford fumbled away the opening kickoff, Colorado lined up for a short field goal. But Stanford LB Max Bergen blocked the attempt and returned it 75-yards for a touchdown.
Special teams standout II:
Oregon State's
Clayton York
blocked a second-quarter Arizona punt, picked up the loose ball at the Wildcats' 5-yard line and ran it in for a score (officially, it was a 41-yard return).
Special teams standout III:
Oregon State punter Johnny Hekker averaged 46.3 yards on four punts, killing three inside the Arizona 20-yard line. But none was more important than his 63-yard boot that pinned the Wildcats on their 5-yard line early in the fourth quarter. Arizona had just cut the Beavers' lead to 30-27, but the field position change brought on by this punt changed the game's momentum -- and led to the big play described above.
Smiley face
: Just about everything had gone wrong for Oregon State and UCLA this year. But both the Bruins and Beavers kept fighting and overcame fourth-quarter adversity to record wins that could change the trajectory of their seasons.
Frowny face
: Arizona special teams. A blocked punt for a TD. A missed 28-yard field goal. A fumbled kickoff. A missed extra point. Just terrible. The Wildcats are 2 of 6 on field goals this year and have missed four PATs.
Thought of the week
: No. 18 Arizona State's visit to No. 9 Oregon is the first matchup of ranked Pac-12 teams this year. ESPN's College GameDay will be on hand, and this is a big opportunity for both teams. If the Sun Devils were to pull the upset, they'd announce themselves nationally. And they'd be in position to host to the Pac-12 championship game, which most projected in the preseason as a certainty for the North champ. If the Ducks win impressively, they could start to repair their national image, which was hurt by the national championship and LSU games, and maybe re-enter the periphery of the national title hunt.
Questions for the week
: What's up with California, which plays a second consecutive Thursday night ESPN game against USC? The Trojans visit the Bears -- the game is at Cal's home-away-from-home, AT&T Park -- after a bye week, so they've had extra time to prepare. Last year, USC bludgeoned Cal 48-14, with QB
Matt Barkley
throwing five first-half TD passes. Trying to end a two-game conference losing streak should be motivation enough for Cal, but the memory of that embarrassing whipping also should be in the corner of the Bears minds.
October, 9, 2011
10/09/11
1:40
AM ET
PALO ALTO, Calif. -- Considering the score and considering the field position, there really wasn't much need for Stanford to go for it on fourth-and-2 at the Colorado 13. The Cardinal were up by 20 coming out of the locker room and were more than in control on their opening drive of the second half. A field goal would have made it a three-possession game against a team that was hardly moving the ball.
But in David Shaw's eyes, a field goal wasn't enough. It wasn't going to make the point that the Stanford head coach wanted to make. It would have been a comma. He wanted an exclamation point.
"Attitude. Attitude. Our attitude is that if it's close, with the line that we have, with the fullbacks we have, with the tight ends we have, with the backs that we have we should pick up anything that's less than fourth-and-3," Shaw said. "We should pick it up. We don't bat an eyelash. We don't think about it. We don't even talk about it on the headset. We just get the next call ready. That's the kind of mentality we need to have up front in order for us to play games the way we want to play them."
The Cardinal exerted their will -- and their attitude -- on Colorado in a
48-7 win
at Stanford Stadium. No. 7 Stanford (5-0, 3-0) has won nine straight games at home while extending the nation's longest winning streak to 13.
For all the funky formations and misdirection motions on offense; for all the exotic looks and blitz packages on defense; at its core, Stanford is very simplistic in its approach to the game: smash-mouth. Hit first, ask questions during film.
"Everything starts with being physical," said co-defensive coordinator Jason Tarver. "We start with three things; alignment, angle departure and vision progression. We get aligned right, we go in the angle we're supposed to, we look where we're supposed to look and we hit whatever is on those lines."
It's an attitude thing.
[+] Enlarge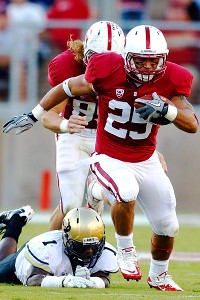 Jason O. Watson/US PresswireStanford is hoping that Tyler Gaffney can return to his 2011 form, where he averaged 6.1 yards per carry.
From the opening kickoff, the Cardinal were in a hole but dug themselves out.
Jeremy Stewart
fumbled the kickoff and Colorado recovered at the Stanford 36. Suddenly the defense found itself on the field sooner than expected.
"When there is a sudden change, we don't see it as a momentum swing, we see it as an opportunity," said safety Michael Thomas, who nabbed Stanford's first interception of the season later in the game. "Opportunity is knocking and it was time for us stand up."
And they did, yielding to their own 12 before forcing Colorado into field goal formation. Linebacker Max Bergen came plowing through the line untouched, blocked the kick, picked up the one-hopper and returned it 75 yards for the game's opening score. The Cardinal are yet to trail a game this season.
The Cardinal continued to mix up their looks on offense. They ran the no-huddle for the second-straight week, motioned tight ends in and out and piled on 553 yards of total offense -- their second highest total of the season (567 at Arizona).
"We want the [opposing] defense to move," Shaw said. "We want them to move and communicate. We try to put them at a disadvantage to a certain degree … we've got personnel that we can do those things. We've got three tight ends that are NFL tight ends that are athletic and can run all kinds of routes and we can flex them out and then we can bring them back in and pound the rock. We've got a guy like
Ryan Hewitt
that was recruited as tight end but playing fullback. We can flex him out and play like a tight end. The guys we have allow us to do the thing we do."
And they've got quarterback
Andrew Luck
-- who turned in another sensational performance on 26-of-33 passing for 370 yards and three touchdowns. The lone stain on his stat sheet was an interception off the hands of wide receiver
Chris Owusu
that fell right into the hands of Colorado defensive back Terrel Smith.
Luck was liberal with the football, connecting with 10 different receivers. Hewitt had touchdown catches of 1- and 10 yards and receiver
Griff Whalen
added four catches for 92 yards and a score.
"Luck's the best quarterback, no doubt," said Colorado head coach Jon Embree. "He's got a good enough arm that he can throw the ball down the field without putting a lot of air on it. Not a lot of kids at college can do that like that. Like I said, he runs their offense to a tee."
Stanford's running game started slowly, netting just 19 yards on eight carries in the first quarter. That was to be expected, Shaw said.
"We knew it was going to be tough sledding early on," Shaw said. "We know a lot of games it's going to be like that running the ball because we will put a lot of bodies in the box and we will cram it in there. We're going to run the ball between the tackles a whole lot. And we do it early in games to establish who we are."
It's an attitude thing.
Eventually, those 1- and 2-yard runs gave way to bursts of 21 and 18 yards.
Tyler Gaffney
led all Stanford rushers with 61 yards on nine carries. He rushed for a score, as did
Stepfan Taylor
(13-58) and Stewart (4-12). The Cardinal finished with 161 rushing yards, averaging 4.6 per carry.
Colorado, meanwhile, struggled on the ground, as teams tend to do against Stanford. Through three quarters, it had just 38 yards on 19 carries. The Buffs (1-5, 0-2) totaled 264 yards. A huge chunk came on a 76-yard screen pass to
Rodney Stewart
. Safety Devon Carrington sniffed out the play and was in position, but failed to make the tackle.
"We need to make sure we put our face on guys and not lunge and dive," Shaw said. "… there is no credit for almost making a play."
It's an attitude thing.
Still, Stanford's players were dissatisfied with their effort.
"We need to pick it up on the physical end," said Bergen.
"I think we need to improve. It wasn't good enough," Luck said.
"When we look at the film, we'll see some plays we left out there," said Thomas.
Shaw gave a devilish smile when informed none of his players were satisfied with the 41-point victory.
"They better have said that," Shaw said. "It's the truth. We can't let the scoreboard dictate our feeling about how we played. If we can play better, we should know it and we should play better."
It's an attitude thing.
September, 7, 2010
9/07/10
4:50
PM ET
Oregon running back Kenjon Barner, Oregon State safety Lance Mitchell and Oregon punt returner Cliff Harris have been named Pac-10 Players of the Week.

Barner, a sophomore from Riverside, Calif., carried the ball 17 times for a career-high 147 yards and four touchdowns covering 1, 25, 10 and 41 yards. He also added one reception for 60 yards and a touchdown in Oregon's 72-0 win over New Mexico. He posted 225 all-purpose yards in the game's first 21 minutes and nine seconds before taking the bench for the remainder of the game. Barner's five TDs tied a school record and he currently leads the nation in scoring (30.0 points per game). Oregon rolled up a school record 720 yards in the victory.

Mitchell, a junior from Pasadena, Calif., collected a career-high 18 tackles, the eighth most in Oregon State history, in the 30-21 loss to TCU. He also added his second career interception which set up the Beavers' first touchdown of the game.

Harris, a sophomore from Fresno, Calif., set a school record, and matched a Pac-10 record, with two punt returns for touchdowns that covered 61 and 64 yards, respectively. The two other times that was accomplished in the Pac-10 was in 1965 by Mike Garrett, USC vs. California; and 1954 by Sam Brown, UCLA vs. Stanford.

Also nominated for offensive player of the week honors were wide receiver Juron Criner of Arizona, running back Cameron Marshall of Arizona State, wide receiver Keenan Allen of California, quarterback Andrew Luck of Stanford and quarterback Matt Barkley of USC. Also nominated on defense were linebackers Paul Vassallo of Arizona, Colin Parker of Arizona State, Mike Mohamed of California, Casey Matthews of Oregon and Max Bergen of Stanford. Also nominated for special teams play were kickers Thomas Weber of Arizona State, Kai Forbath of UCLA and Nico Grasu of Washington State, and punt returners Jeremy Ross of California and Ronald Johnson of USC.