August, 26, 2011
8/26/11
6:41
PM ET
By
ESPN.com staff
| ESPN.com
Ninth in a series looking at potential dream and nightmare scenarios for all Pac-12 teams.
Understand: These are not predictions. They are extreme scenarios and pieces of fiction. You can read
last season's versions here
.
We're going in reverse order of my
post-spring power rankings
(which might not be identical to my preseason power rankings).
Up next
: USC
Best case
In the bowels of the Coliseum, USC gathers before taking the field against Minnesota.
"I want to read you something," coach Lane Kiffin says, flicking open a one-page letter
"President Nikias. I appreciate your grace last week when announcing that USC would not pursue any further redress against the NCAA. What I find unconscionable is where this leaves the NCAA. I have personally reviewed the facts of USC's case before the Committee on Infractions, and I can tell you that I am not the only one inside these walls who has long been troubled by the Committee's findings and the resulting severe sanctions against your football program. USC was wronged well before news broke of the massive scandal at Miami under former athletic director Paul Dee, who was not fit to sit judgment of USC as the Committee chair. The combination of a poorly reasoned and unjust ruling and Dee's hypocrisy simply cannot stand. That is why I am taking the unprecedented action of ruling sanctions against USC null-and-void. Sincerely, NCAA president Mark Emmert."
That was not good news for the Golden Gophers, who go down 52-3.
"I'll tell you what it means," says linebacker Chris Galippo. "It means that the rest of college football hears one thing echoing in its collective head right now, 'They're baaaaaaack!'"
A rumor starts to float that SEC commissioner Mike Slive was found locked in his office closet, repeatedly murmuring, "But I don't want USC to be eligible. It's not fair!"
Poll voters immediately promote USC to No. 10 in the polls.
The Trojans batter Utah in the first Pac-12 game, 41-17.
"I know it's the new Pac-12," says ESPN's Chris Fowler. "But it seems a lot like the old Pac-10, circa 2002-2008."
The Trojans bludgeon Syracuse, 60-6 and rise to No. 5.
"Arizona State is going to test USC," says ESPN's Kirk Herstreit. "The Sun Devils have already manhandled a two good teams in Missouri and Illinois."
USC rolls the Sun Devils 38-10, with quarterback Matt Barkley throwing his ninth and 10th TD passes on the year. He throws 11, 12 and 13 in a 41-17 victory over Arizona and two more in a 44-7 win at California and a 33-17 win over Notre Dame.
"Barkley has 17 touchdown passes in seven games; Stanford's Andrew Luck has 16," says Fowler. "Fair to say the winner Saturday becomes the Heisman Trophy frontrunner?'
Stanford nips the Trojans 30-27, with Luck scrambling for 20 yards on third and 8 to set up the game-winning field goal.
The Trojans bounce back with blowout wins over Colorado and Washington, setting up a showdown with top-ranked Oregon, which is coming off a 33-30 overtime win over Stanford.
LaMichael James rushes for 154 yards and two scores in a 33-24 Ducks victory.
The Trojans batter UCLA, 45-20, beating the Bruins for the 12th time in 13 years.
The No. 8 Trojans face the top-ranked Ducks (again!) for the inaugural Pac-12 crown.
They gather before running into Autzen Stadium. Kiffin begins: "What a ride. We've seen a lot of stuff together these two years, huh? Stuff that was out of our control. Stuff that didn't let the Trojans be what Trojans truly are: Champions. But we're in control again, aren't we? It's about us again. And we've got a chance tonight to reclaim what has been taken from us. What is ours. Understand: Our victory will be remembered. It will become an important part of Trojans history. No, we're not going to get an opportunity to play for the national title like a lot of 'SC teams, though I'd like our chances in a playoff. But USC fans and former Trojans are going to remember you as the team who took back our championship identity, which was stolen from us. They will say, 'That was the team that reestablished the tradition.' And they will remember your names. The rest of college football is watching tonight, rooting against us, worried about the return of USC. Well, let's go out there and show them that their worries are 100 percent justified."
James is stuffed by Galippo on a fourth-and-goal inside the USC 1-yard line with 45 seconds left. Three Barkley sneaks later, and USC is a 29-23 winner, headed back to the Rose Bowl as Pac-12 champions.
USC stuffs Wisconsin 35-17 in the Rose Bowl to finish 12-2 and ranked fourth.
"I'm coming back for my senior year," Barkley announces. "because I want to win a national championship before I leave."
The Trojans signed the nation's No. 1 recruiting class.
"I'd like to announce a home-and-home series with USC," says a grim-faced Alabama athletic director, Mal Moore.
"Mr. Moore, over here," shouts an uncommonly stylish reporter. "Is this a reaction to the rumored reality series for the Pac-12 network this fall, 'See what SEC athletic directors do when USC calls!'"
"Shutup Miller," a grim-faced Alabama athletic director says.
Worst case
Quarterback Matt Barkley throws three touchdown passes in a 30-23 season-opening win over Minnesota.
"Yeah, I think everyone is curious what Utah will bring to the table," says Barkley. "Our job is to give them a rude welcome."
The game is tied 28-28 late in the fourth quarter. On a third and 3 from its own 15, Utes QB Jordan Wynn finds
DeVonte Christopher
for an 85-yard, game-winning touchdown after USC cornerback Nickell Robey fell down.
The Trojans bounce back by whipping Syracuse 33-10, but Arizona State sacks Barkley four times in a 24-10 victory. USC improves to 3-2 with a home win over Arizona, but gets drubbed at California 35-20 and gives up a late TD in a 30-24 loss at Notre Dame after another coverage breakdown. Andrew Luck throws three TD passes in a 40-24 Stanford win over the Trojans.
USC shows some fight, winning at Colorado and at home over Washington, but it looks lethargic while taking a 48-20 whipping at Oregon.
"We play a faceless opponent every week," Ducks coach Chip Kelly says when asked if it still feels special to stomp USC, which Oregon has done three years in a row.
"Is it easier selling that to your players now than it was in 2008?" asks an uncommonly stylish reporter.
Kelly smiles, "Shutup, Miller."
"We still have plenty to play for," Kiffin says. "For one, we always want to beat UCLA. That can make a season. Finishing .500 is certainly better than the alternative. And we can stop the Bruins from winning the South Division."
UCLA defensive end Datone Jones sacks Barkley three times as the Bruins roll over the Trojans 33-17.
"Do I feel sorry for USC?" Bruins coach Rick Neuheisel says. "A little."
The Bruins lose to Oregon in the Pac-12 title game but they whip Texas A&M in the Alamo Bowl and finished 10-4 and ranked 14th.
UCLA's 31-player class -- six elite prospects are brought in early to count against the 2011 class -- ranks sixth in the nation, two spots behind Notre Dame.
"It was great to cherry-pick Southern California recruiting," says Neuheisel. "So much talent. Glad we had a full allotment of scholarships."
USC's class of 15 ranks eighth in the Pac-12.
"Tough times don't last, tough people do," says Kiffin. "Wait...
where did I hear that
?"
Murmurs USC athletic director Pat Haden, "Not for long if they go 5-7 as USC's head coach."
Barkley, offensive tackle Matt Kalil, defensive end Nick Perry, defensive end Devon Kennard and safety T.J. McDonald each announced they are entering the NFL draft.
Ring! Ring!
"Pat, hiya! Mal Moore down here at the University of Alabama," says Mal Moore to Haden. "How you? Good, good. You want to bring your boys down here for a football game? We'd love to see 'ya!"
August, 24, 2011
8/24/11
8:00
PM ET
When news of the Miami
scandal broke
, USC fans immediately connected former athletic director Paul Dee's name to the man who chaired the NCAA Committee on Infractions hearing for the Reggie Bush case.
And they had a completely rational thought: How could Dee have any credibility as the judge of whether an athletic program is operating within the rules, seeing that his was allegedly awash in wrong-doing? Those USC fans then wondered -- again, rationally -- if there would be a way for USC to make another run at getting its sanctions reduced.
While there were many whispers about some sort of new, special-case appeal, it appears that the Trojans will not take action. The school released a statement from president C. L. Max Nikias:
"I have determined that the university's mission is best served by moving forward at this time, without pursuing further redress ... This decision followed an extensive review of all of our options and after consultation with many sources. We ask that the Trojan Family offer its utmost support to the student-athletes and coaches of the Trojan football team, confident that USC's commitment to the highest level of excellence in academics and athletics will not waver in the coming years."
Some Trojans fans will be angry with this, and not unreasonably. It's through-the-looking-glass unfair that Dee led the assault on USC, which concluded with what some consider unjustifiably harsh penalties, a position most familiar with the case held well before Dee was unmasked.
But word on the street is there was an earnest effort made by USC administrators to evaluate options. This decision was not arrived at without a lot of thought about potential outcomes.
With the NCAA assessing no penalties against coach Lane Kiffin today in connection to his year at Tennessee, the Trojans finally know where they stand going forward: another year out of the postseason, 30 scholarships docked over the next three years.
The message from Nikias is really the only thing USC fans can do: move on.
Oh, and they can root for former assistant coach Todd McNair to take the NCAA
to the cleaners in his lawsuit
.
March, 21, 2011
3/21/11
5:49
PM ET
By
ESPN.com staff
| ESPN.com
Spring is supposed to be a time of renewal and hope, but USC coach Lane Kiffin seemed to be suffering a prolonged case of the winter blahs Monday. And for good reason. He said 20 players -- many of them projected starters or key contributors -- won't be available for full-contact work when the Trojans begin spring practices Tuesday.
[+] Enlarge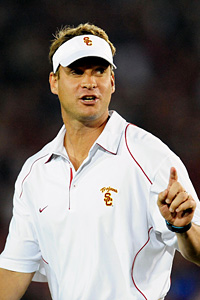 Gary A. Vasquez/US PresswireLane Kiffin is concerned about his team's spring injuries, particularly on the offensive line.
Rebirth and renewal of the Trojan empire after a middling 8-5 finish in 2010? Humbug.
"There's too many questions," Kiffin said. "I think it would be a little tough to say this team is better than last year."
Most of these injuries are not expected to be issues when preseason practices begin in August. But you never know. And there were some
troubling additions
to the already
long injury list we noted last week
, including linebacker Chris Galippo, whose back is giving him trouble again. Toss in injuries to Devon Kennard (hip) and Shane Horton (hip), and none of the projected starting linebackers are ready to practice. In fact, when you toss in an injury to backup Ross Cumming, the only available linebacker from last year's depth chart is redshirt freshman Will Andrew.
Few position groups have been spared the injury bug. Defensive linemen are out: end Armond Armstead, tackle Christian Tupou and end Wes Horton. Offensive linemen are out: Khaled Holmes, tackle Kevin Graf and center Abe Markowitz. Defensive backs are out: safety Drew McAllister and cornerbacks T.J. Bryant and Torin Harris. And a receiver is out:
Kyle Prater
.
So while, officially, 13 starters are back -- 6 on offense; 7 on defense; no specialists -- there will be plenty of opportunities for young players to shine. Of the 86 players on the spring roster (that includes walk-ons), just 38 saw action in 2010 and 47 have never taken a college snap, so there will be a bit of "Hello, my name is..." this spring. Just 14 returning Trojans have started at least 10 games.
Further, because of the lack of bodies -- particularly on the lines -- Kiffin said that much of the work this spring will be 7 on 7 -- "You're not going to be able to have normal practices," he said.
What's Kiffin's chief concern? The offensive line, which he calls "a gigantic issue."
There is some good news in terms of continuity on Kiffin's coaching staff. The only change is the departure of receivers coach John Morton, who joined Jim Harbaugh's staff with the San Francisco 49ers. He was replaced by
Ted Gilmore
, who was at Nebraska last year.
The spring game is April 23 in the Coliseum.
Some other notes:
Spread?
Kiffin talked last year about adopting some spread elements to his offense going forward, but that was more about one-back, four receiver sets, not a spread-option similar to what Oregon runs. The reasoning is largely about personnel. The Trojans lose the versatile
Stanley Havili
-- perhaps the best fullback in the nation -- and have little experience ready to step in at the position. And there's lots of intriguing young talent at receiver.
Position changes
: Redshirt freshman Dion Bailey moved to linebacker from safety.
Robert Woods
takes over at "Z" receiver -- flanker -- the position
Ronald Johnson
played last season.
Positions to watch
: Obviously, injuries all over the depth chart mean youngsters will get plenty of reps this spring, which means plenty of opportunities to impress. Here are some spots Kiffin made specific note of, other than the injury-riddled lines:
Tight end: Rhett Ellison is back, but what will be the pecking order between Xavier Grimble, Randall Telfer and Christian Thomas? The Trojans would like to run more two tight end sets.

Running back: Marc Tyler is the returning veteran, but he struggles to stay healthy. What will the pecking order end up between Dillon Baxter, Curtis McNeal and D.J. Morgan?

Backup QB: Matt Barkley is the starter (duh), but with the departure of Mitch Mustain, who's his backup? Redshirt freshman Jesse Scroggins would seem to have an inside track, but touted true freshmen Cody Kessler and Max Wittek will both participate in spring practices.

Linebacker: Great opportunity for guys to catch their coaches eyes: Bailey, Andrew, Dallas Kelly, Marquis Simmons, Simione Vehikite, Hayes Pullard, etc.
What about Barkley
? Barkley, a true junior, took a step forward last season as a second-year starter, but he still missed too many throws, 12 of which ended up as interceptions. Kiffin said he expects Barkley's next step to be playing at a consistently elite level. "He's competing against the best in the country," Kiffin said. "He's competing against the Andrew Lucks. He's got to take that mindset in every practice."
What about that NCAA appeal
? On Saturday, it will be nine weeks since USC president Max Nikias, athletic director Pat Haden and four other university representatives spent more than four hours talking with the NCAA infractions appeals committee in Indianapolis. Most appeals take four to eight weeks. Ah, but nothing in the USC case has moved quickly. Kiffin said he had no idea when USC would learn if the appeals committee will reduce the penalties that appear more draconian by the day, as other schools end up in headlines about alleged rules violations that appear far worse than the findings against USC.
February, 8, 2011
2/08/11
12:20
PM ET
By
ESPN.com staff
| ESPN.com
If any school knows about the pratfalls of dealing with agents -- and would-be agents -- it's USC. So it makes sense that the school is holding an "Agent Awareness, Education and Eligibility Summit" Tuesday at the Galen Center.
The purpose of the summit is "to better understand the challenges that universities, student-athletes and coaches face when dealing with agents and in hopes of exploring ways to improve a situation that has been newsworthy both on its campus and nationally," according to a news release on the event.
Among those making presentations at the invitation-only event will be representatives of the NCAA, Pac-10, SEC, NFL and NFL Players Association, as well as athletic directors from every Pac-10 school and several prominent agents. USC's participants will include president C.L. Max Nikias, athletic director Pat Haden, vice president for athletic compliance Dave Roberts and senior associate athletic director Mark Jackson.
"Obviously, the issue of college student-athletes dealing with agents is a hot-button topic," Haden said in a statement. "We at USC know that firsthand. We decided to organize this summit so that all of us at USC can pick the brains of our peers throughout the Pac-10 and also hear from those on the firing lines at the NCAA and Pac-10, at the NFL and within the agent community. Our goal is to gain valuable input in this area as we move forward here at USC, and also to provide a constructive dialogue and exchange of ideas between all of the participants."
If I were Haden, I'd take all the NCAA folks
here for dinner
. And pick up the tab.
You know, just from the goodness of his heart.
January, 21, 2011
1/21/11
8:00
AM ET
USC will meet with the NCAA Infractions Appeals Committee on Saturday, and if the Appeals Committee is fair and reasonable it will significantly reduce sanctions imposed on the football program when a ruling is made public in four to six weeks.
[+] Enlarge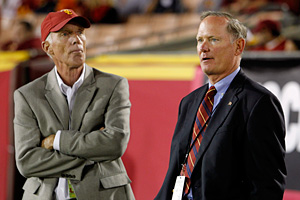 AP Photo/Alex GallardoUSC's athletic director Pat Haden, right, and associate AD J.K. McKay will meet with the NCAA Infractions Appeals Committee on Saturday.
Of course, seeing that the NCAA Committee on Infractions was unfair and unreasonable when it clobbered USC in June, Trojans fans would be well-advised to not hold their breath.
It doesn't appear new athletic director Pat Haden is. While he turned down an opportunity to talk to the Pac-10 blog this week -- I know; why would anybody do that? -- he's repeatedly told people he's not optimistic because
he's realistic
.
Why? Because, in 2008, the NCAA changed its bylaws to make it incredibly difficult to win an appeal. From the
NCAA website
:
An appeal is not a new hearing or a second chance to argue the case. The Infractions Appeals Committee does not consider evidence that was not presented to the Committee on Infractions. The Infractions Appeals Committee will reverse or modify a ruling of the Committee on Infractions only if one of the following standards is proven:

The ruling by the Committee on Infractions was clearly contrary to the evidence.

The individual or school did not actually break NCAA rules.

There was a procedural error that caused the Committee on Infractions to find a violation of NCAA rules.

The penalty was excessive and is an abuse of discretion.
Contrary to evidence? While there's
scant evidence
that supports the notion that former USC running backs coach Todd McNair knew what
Reggie Bush
, his parents and a couple of would-be agents were up to, that scant evidence, nonetheless, became the club with which the NCAA bludgeoned USC, imposing a two-year bowl ban and a loss of 30 scholarships over three years, penalties that were worse than even the most
egregious pay-for-play cases
in recent years. It would be a massive repudiation of the Infractions Committee to reverse course on said evidence, and it appears USC isn't even going to venture in that direction.
NCAA rules? They were absolutely broken. Bush and his parents took all kinds of extra benefits that were not allowed by NCAA rules.
Procedural errors? That appears to have
happened multiple times
, but mostly with the treatment of McNair, whose case the NCAA separated from USC's. Don't expect USC to venture in that direction, either.
Penalty was excessive and is an abuse of discretion? Bingo.
"Our primary contention is given what we were found to have done, these are the harshest penalties ever handed out," USC's associate athletic director J.K. McKay told the
LA Daily News
.
That is the case that Haden, McKay, new USC President Max Nikias, David Roberts -- the school's vice president for athletic compliance -- and a university lawyer are expected to make in a brief presentation.
The reason Haden is not optimistic is that only one appeal out of the past 11 has been successful since the Appeals Committee bylaws were changed. The odds are not good, at least based on recent cases.
Haden also has told reporters he doesn't believe recent controversies involving preseason
agent cases
centered on North Carolina and other schools, the
Auburn and QB
Cam Newton
imbroglio and the
oddly ruled
Ohio State case will have any affect on USC's appeal. He said it was like comparing "
apples and oranges
."
With all due respect to Haden, I'm not sure that's correct, particularly with the Trojans going with the "harshest penalties ever handed out" defense. Members of the Appeals Committee will be well-aware of the current climate as USC pleads its case. There's a lot of sordidness out there that makes using USC as a benchmark for serious violations dubious and problematic.
The Trojans are going to ask that the scholarship penalties be reduced from 30 to 15 -- so five per season over three years -- and the bowl ban be reduced to one year, which means the Trojans would be eligible for a bowl game in 2011.
Again, not likely. But not impossible. And there could be a middle ground, where the Appeals Committee splits the difference.
What it will take for USC to get its sanctions reduced is simple: A fair and reasonable assessment.
July, 20, 2010
7/20/10
5:37
PM ET
By
ESPN.com staff
| ESPN.com
In June, the NCAA ruled running back Reggie Bush retroactively ineligible when he won the Heisman Trophy in 2005 because he was breaking rules by receiving extra benefits from would-be sports agents, so USC is
giving back the tainted trophy
as part of its plan to disassociate the university from Bush, now with the New Orleans Saints.
That plan of action was made public shortly after USC president-elect Max Nikias announced that Pat Haden would replace Mike Garrett as athletic director,
one of a number of other moves
intended to improve athletic department oversight.
Nikias also said USC would take down murals featuring Bush and former basketball player O.J. Mayo, who also broke rules when he received extra benefits, at the Galen Center, Heritage Hall and the Los Angeles Memorial Coliseum.
In other words, USC is cleaning house. And showing a bit of contrition.
Many might say this: About time.
July, 20, 2010
7/20/10
2:57
PM ET
By
ESPN.com staff
| ESPN.com
Mike Garrett's eventful 17-year tenure as USC's
athletic director is over
. He will be replaced by Pat Haden, a former USC quarterback, the
Los Angeles Times reported Tuesday
.
Garrett, 66, was a former Heisman Trophy winner for the Trojans. The highlight of his tenure was his hiring of Pete Carroll in 2001 -- at first a controversial decision -- and the subsequent success of the football program, which included consecutive national championships in 2003 and 2004. The lowlight was the
severe sanctions the NCAA pounded the football program with in June
.
Haden, 57, led the Trojans to three Rose Bowls as a player before an NFL career. He also was a two-time academic All-American and Rhodes Scholar. He has been a member of the USC board of trustees for 19 years. The Times reported that Haden will give up his job as a Notre Dame football analyst for NBC.
It's been clear for some time that Garrett's tenure was at an end, particularly with new school president, Max Nikias, taking over for a retiring Steven Sample on Aug. 3.
Haden obviously knows football and college athletics and is very bright. This seems like a good move toward getting the USC athletic program back on track.
Of course, for coach Lane Kiffin, it means the AD who hired him is no longer around. Haden won't have any professional stake in how Kiffin is evaluated going forward.
That's not necessarily a big deal at present, but it could be in the future if the program struggles and/or there are any off-field problems.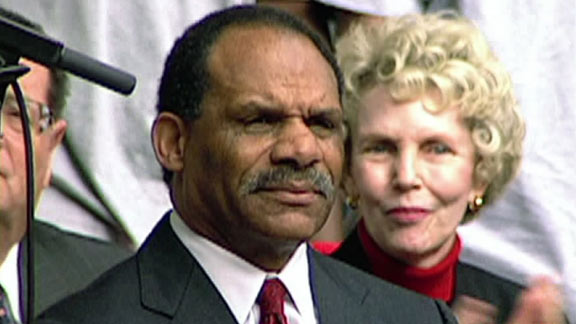 PAC-12 SCOREBOARD
Saturday, 12/20
Monday, 12/22
Tuesday, 12/23
Wednesday, 12/24
Friday, 12/26
Saturday, 12/27
Monday, 12/29
Tuesday, 12/30
Wednesday, 12/31
Thursday, 1/1
Friday, 1/2
Saturday, 1/3
Sunday, 1/4
Monday, 1/12
Tweets from https://twitter.com/ESPNCFB/lists/pac12