July, 14, 2014
Jul 14
12:00
PM ET
The watchlist roll out continues this week with the announcement of the Rotary Lombardi preseason list.
Of the 123 players on the list, 15 are from the Pac-12 representing six schools.
Eligibility for the Lombardi Award includes offensive or defensive "down" linemen or linebackers "who set up no farther than five yards deep from the line of scrimmage."
Here are the Pac-12 players.
July, 10, 2014
Jul 10
11:35
AM ET
As much talk as there has been (including here at the Pac-12 blog) about how good the offenses in the conference will be this season, Thursday's release of the watch lists for the Bronko Nagurski Trophy, given to the nation's best defensive player, and Outland Trophy, given to the nation's best interior lineman, shows the Pac-12 measures up well against other conferences in defensive talent, too.
The Pac-12 led all conferences with 18 players on the Nagurski list, edging out the SEC (16), Big 12 (13), ACC (12) and Big Ten (10). For the Outland Trophy, which includes a mix of defensive and offensive players, the Pac-12 ranked second with 11 players behind the SEC (19).
Stanford's
Henry Anderson
, USC's
Leonard Williams
and Washington's
Danny Shelton
are on both.
Here are the Pac-12 players that were included:
Nagurski (defensive player)
Danny Shelton, Washington, DT
Henry Anderson, Stanford, DE
Hau'oli Kikaha, Washington, DE
Tony Washington, Oregon, DE
Leonard Williams, USC, DE
Myles Jack, UCLA, LB
Eric Kendricks, UCLA, LB
Derrick Malone, Oregon, LB
Hayes Pullard, USC, LB
A.J. Tarpley, Stanford, LB
Shaq Thompson, Washington, LB
Alex Carter, Stanford, CB
Su'a Cravens, USC, S
Ifo Ekpre-Olomu, Oregon, CB
Steven Nelson, Oregon State, CB
Marcus Peters, Washington, CB
Jordan Richards, Stanford, S
Jared Tevis, Arizona, S
Outland Trophy
Henry Anderson, Stanford, DL
Jake Brendel, UCLA, C
Andrus Peat, Stanford, OT
Isaac Seumalo, Oregon State, C
Jamil Douglas, Arizona State, OT
Danny Shelton, Washington, DL
Hroniss Grasu, Oregon, C
Max Tuerk, USC, C
Leonard Williams, USC, DL
Tyler Johnstone, Oregon, OT
Other watch lists
March, 27, 2014
Mar 27
9:00
AM ET
Starters in, starters out. That's college football. Players' eligibility expires and they leave for the rest of their lives, which might include the NFL or not. And they leave behind shoes of various sizes that need to be filled.
In alphabetical order, we will survey each Pac-12 team's most notable void. Today we look at
USC
.
[+] Enlarge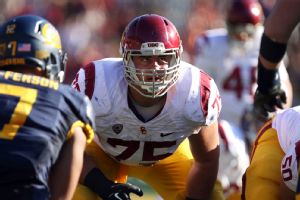 Kelley L Cox/USA TODAY SportsMax Tuerk is the favorite to start at center for the Trojans in 2014.
Biggest shoes
: C
Marcus Martin
While you could make a case USC's biggest question concerns who will generate an edge pass rush on defense, Martin was as underrated a player as a first-team All-Pac-12 center could be. Not only was he a force as a blocker, he was an important leader, which is one of the reasons he was often trotted out in front of reporters when the Trojans sports information staff needed an articulate voice -- see the news conference after Lane Kiffin was fired. He was the only Trojans O-lineman who started every regular season game in the same position, that "regular season" qualifier being required because he suffered a knee injury in the finale against UCLA that prevented him from playing in the Royal Purple Las Vegas Bowl against Fresno State.
Abe Markowitz
gamely filled in against the Bulldogs, but he also is gone, as is 2013 depth chart reserve
Cyrus Hobbi
, who left the team. Finally, Martin's decision to enter the NFL draft a year early was a bit of a surprise, at least in terms of how he was perceived at the beginning of the 2013 season.
Stepping in
: Junior
Max Tuerk
Tuerk is the
easy, safest answer
, and some observers
rate it almost as a done deal
. The smart, versatile lineman has already started games at guard and tackle. It's not a matter whether Tuerk will start on the line, it's where. And it might be more important to go with an experienced junior such as Tuerk at center rather than have him move outside to right tackle to replace
Kevin Graf
and ask a youngster to quarterback the O-line. That said, redshirt freshman
Khaliel Rodgers
and freshman
Toa Lobendahn
, who enrolled early and has been impressive this spring, also are options. In the fall, touted freshman
Viane Talamaivao
arrives, and fifth-year senior
Giovanni Di Poalo
is a dark horse option. It just seems more likely that Rodgers, Lobendahn and Talamaivao will be competing for playing time at the less demanding guard spots than center.
Previous big shoes
March, 12, 2014
Mar 12
12:00
PM ET
LOS ANGELES -- Through a crush of digital cameras and recorders, new USC head coach Steve Sarkisian was given the requisite initial questions following his first official practice as USC's head coach.
"What's it like being back?"
"How was the walk onto the practice field?"
"What's it like coaching some of the guys you recruited at Washington?"
Yada, yada, yada.
It didn't take long, however, for the queries to turn to the quarterbacks. Much like last season, anytime USC has a quarterback competition it's going to be in the national spotlight. For now, save the cards -- score, report or otherwise -- because to speculate on the quarterbacks after one practice barely scratches the surface of superficial. Particularly since, as Sarkisian noted, "we were practicing in our underwear."
[+] Enlarge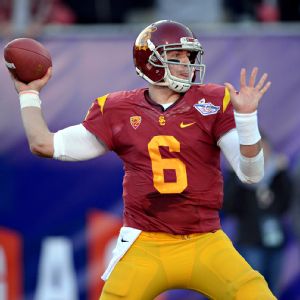 Kirby Lee/USA TODAY SportsCody Kessler led USC to 10 wins last season, but his status as starting quarterback is not guaranteed.
To be clear, the Trojans wore shorts and helmets. But the lingering question throughout spring and into the fall will be whether
Cody Kessler
will retain his starting job, or give way to
Max Browne
.
Neither quarterback seemed particularly thrilled to be talking about a competition on Day 1.
"I'm just trying to get better every practice," Kessler said. "I'm going to keep working. I've been competing my whole life. And even if (there wasn't a competition) I'd keep competing. It is what it is and I'm just going to keep trying to get better."
At first glance, the assumption is that Kessler has the inside edge given his experience. Last season he completed 236 of 361 passes for 2,968 yards with 20 touchdowns to seven interceptions. He posted a raw QBR of 59.7 with an adjusted QBR of 66.7 in guiding the Trojans to a 10-4 record and a victory in the Las Vegas Bowl, where he was named the game's MVP.
"I thought they both did some good stuff," Sarkisian said. "They both had some moments they'd love to have back. We have to look at the film. We're moving at a pretty fast clip out there, and you're trying to assess everything at once, and it's hard to do that. There's plenty of stuff for both of them to learn from."
Then again,
Max Wittek
had more experience than Kessler heading into spring last season. So as far as Browne is concerned, it's wide open.
"Since the day I got here we've all competed each and every day," said Browne, who redshirted last season. "My mindset hasn't changed. Even last year when it was a Week 7 game and I knew I was redshirting, I was still competing ... It's no secret he led us to 10 wins last year. We had a lot of success. But we're both going to come out and compete each and every day and see where the chips fall."
Max in the middle
Those in attendance for the open practice might have noticed big No. 75 playing center. You might recall that
Max Tuerk
spent about a week at center last spring but couldn't quite get the quarterback-center exchange figured out -- mostly because Tuerk's arms are so long.
But with
Marcus Martin
departing -- and the new scheme being installed by Sarkisian working almost exclusively out of the shotgun -- the versatile Tuerk could be the primary guy in the middle.
"We didn't snap any over the quarterback's head," Sarkisian said. "So knock on wood. And there were no grounders. That was the first thing I was concerned about coming out today."
Tuerk is obviously a fan of the shotgun. As a consummate team player, he's happy going wherever the team needs him, as he started 13 games at left guard and one game at right tackle last season. In his freshman season he started five at left tackle.
"He could probably play three different positions," Sarkisian said. "We have to see how we evolve. At some point we'll get
Aundrey Walker
back and
Zach Banner
and
Jordan Simmons
. We have some versatility on this front. But it is comforting to know you have an experienced player at center when you are operating at this pace."
Speaking of pace
The hot buzz word at practice was "tempo" because of the fast-paced offense that Sarkisian is installing. The Trojans ran approximately 120 offensive plays with little time to rest in between.
The upside is that the pace boosts conditioning and gets the Trojans more prepared for a game situation. The downside is it doesn't allow for much in-practice instruction.
"If you make a mistake, you're glad you're going right back," Browne said. "If you throw a touchdown, like I did today to
George Katrib
, you don't get to time to celebrate either. It works both ways. But it allows you to get into a rhythm. You can dink-and-dunk your way down the field and never really get time to breathe."
January, 24, 2014
Jan 24
9:00
AM ET
The Pac-12 has 26 of the 98 early entrants in the NFL draft. That's impressive. Some players are locks to get drafted. Others might have jumped the gun a bit and find themselves on practice squads or brushing up on their Canadian. We'll see.
What we're more concerned about here is who is going to replace them. Some answers are clearer than others. Some teams might have to alter their schemes just to account for a departed player.
Here's a look at the possible replacement players in the Pac-12 South. We'll look at the North later this morning.
Leaving:
Ka'Deem Carey
, RB, Arizona.
The replacement:
Jared Baker
should be in the mix, though an injury will keep him out of spring ball. He's expected to return in time for fall camp.
Pierre Cormier
and
Zach Green
will also get looks. Speaking with folks at Arizona, the word right now is that it's wide open. One player could emerge, or it could end up being a by-committee approach. Nothing is off the table at this point.
Leaving:
Carl Bradford
, LB, Arizona State
The replacement:
There really isn't anyone who has Bradford's skill set in the program yet, so the position is wide open.
Viliami Latu
has potential. So does
Chans Cox
, who was hurt a lot last season. They are also excited about incoming freshman
Ismael Murphy-Richardson
. He might not be ready to jump in immediately, but he could be the Devil backer by 2015.
[+] Enlarge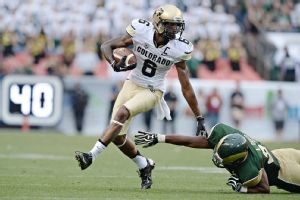 Ron Chenoy/USA TODAY SportsColorado will have a hard time replacing the explosive plays that Paul Richardson provided.
Leaving:
Paul Richardson
, WR, Colorado
The replacement:
It was probably going to be
Jeff Thomas
before he transferred. Now it's probably going to be a rotation of
D.D. Goodson
,
Devin Ross
, or redshirt freshmen
Bryce Bobo
or
Elijah Dunston
.
Nelson Spruce
has been solid, but he's not the breakaway threat Richardson was. This will be a key spring battle to watch.
Leaving:
Xavier Su'a-Filo
, OL, UCLA
The replacement:
Simon Goines
should be back after starting six games at left tackle before an injury forced him out.
Scott Quessenberry
stepped in and played five games at left guard, which is where he'll likely be next season with Goines back at tackle.
Leaving:
Dion Bailey
, LB, USC
The replacement:
Leon McQuay III
saw some playing time and is very highly regarded by the coaching staff. His contributions last season were mostly on special teams, but he'll take on a larger role with Bailey's departure.
Leaving:
Marqise Lee
, WR, USC
The replacement:
Remember
George Farmer
? He's still around and could be in for a big season if healthy.
Darreus Rogers
and
Steven Mitchell
both are promising, but both have missed time with injury. You never truly replace a Biletnikoff winner, but playing opposite a surging
Nelson Agholor
could help boost the production of whoever gets in the regular rotation.
Leaving:
George Uko
, DT, USC
The replacement:
Transfer
Delvon Simmons
is coming off a redshirt season, as is freshman
Kenny Bigelow
. Both should get some serious looks, as this will be one of the hot position battles this spring. Someone will ultimately win the job, but expect a rotation with both next season.
Leaving:
Marcus Martin
, C, USC
The replacement:
Lots of ifs here. It could be
Max Tuerk
moving over from guard, but he'll also be in the mix for right tackle to replace
Kevin Graf
.
Khaliel Rodgers
redshirted and is an option at guard or center.
Giovanni Di Poalo
could also get a look.
Leaving:
Xavier Grimble
, TE, USC
The replacement:
Grimble and
Randall Telfer
were basically co-starters, so all this probably means is Telfer's workload increases as he becomes the clear No. 1.
Jalen Cope-Fitzpatrick
is the only other scholarship tight end on the roster.
Leaving:
Jake Murphy
, TE, Utah
The replacement:
Westlee Tonga
seems like the logical fit. He has been around for a few years and has some experience, but was injured most of last year. He'll get another opportunity to be the lead tight end in the newest installment of Utah's offense.
April, 16, 2013
4/16/13
12:00
PM ET
Lane Kiffin and Co. have released their official post-spring two-deep depth chart. And not surprisingly, there aren't a lot of surprises.
One of the most watched quarterback competitions in the country lists
Max Wittek
OR
Cody Kessler
OR Max Browne. Leaving us with what we knew a month ago. It's going to be Wittek OR Kessler OR Browne.

Steve Bisheff of WeAreSC
makes his case
-- and a compelling one at that -- for Kessler, who clearly had the strongest spring of all three quarterbacks.
Despite Kessler's clear advantage coming into the (spring) game, Kiffin had Max Wittek starting with the first unit at the Coliseum on Saturday. And even after Kessler outplayed his main competitor, throwing for 242 yards and three touchdowns with no interceptions compared to Wittek's 145 yards, two touchdowns and two interceptions, Kiffin insisted that no quarterback had emerged as a front-runner for the position and that he won't name a starter until the fall.
Sticking with the offense, there was already an assumed pecking order at wide receiver, but it's more solidified now. Darreus Rogers and
Victor Blackwell
are behind Biletnikoff winner
Marqise Lee
.
Nelson Agholor
will start opposite Lee with
De'Von Flournoy
and
George Katrib
backing him up.
Some intrigue at running back with
Silas Redd
at the top, but the starting gig is listed as Redd or Justin Davis or
Tre Madden
. Same for the fullback, which lists
Soma Vainuku
or
Jahleel Pinner
as the starter.
So while the entire offensive backfield is a grab bag of "ors," there is at least some solidarity on the offensive line, where four of the five starters appear to be in place.
Aundrey Walker
and
Max Tuerk
make up the left side with
Marcus Martin
at center and
John Martinez
at right guard. The only spot still in doubt is at right tackle between
Kevin Graf
or
Chad Wheeler
.
The new-look 52 defensive front has
Devon Kennard
and
Morgan Breslin
at the outside linebacker spots (that's going to be a scary combination, by the way) with
Leonard Williams
and
George Uko
(also a darn good tandem) at the ends. Nose tackle is still up for grabs between
Antwaun Woods
or
Cody Temple
.
In the secondary, where there are almost as many holes as there are questions -- little has been determined. Three of the four starting spots have an "or" attached to them. Only
Anthony Brown
looks like the inked-in starter.
Torin Harris
and
Kevon Seymour
are battling for the other corner spot and
Demetrius Wright
or Leon McQuay III are battling for free safety.
Josh Shaw
and touted freshman Su'a Cravens -- who missed a significant portion of spring drills -- will head into fall battling for strong safety.
April, 3, 2013
4/03/13
5:00
PM ET
There has been plenty of attention on the USC offensive line this spring, almost all of it pointed in three directions -- the battle for the vacant center position,
Aundrey Walker
's bid to nail down the starting left tackle job, and the impact of Mike Summers, the newly hired assistant who has joined James Cregg as one of what is now two offensive line coaches on the Trojans staff.
Over on the right side of the line, meanwhile, guard
John Martinez
and tackle
Kevin Graf
have each quietly had a more-than-productive March and April. Two redshirt seniors set to start alongside each other for the third straight year, there's nothing particularly glamorous about the hard-nosed duo, but as the unquestioned veteran leaders of an offensive line unit that is still very much a work in progress, they figure to play a vital part in determining how the group ultimately performs in the fall.
"We're the right side, we have the most experience and we plan on leading these guys to wherever we need to go," Martinez said.
[+] Enlarge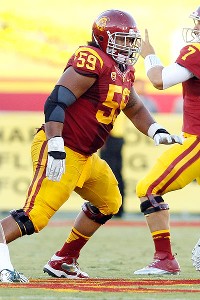 Ric Tapia/Icon SMIWhile parts of the offensive line remain in flux, John Martinez will start at right guard for the third consecutive season.
Graf and Martinez are hoping that means a more consistent level of play for the offensive line next season. Because although it performed solidly for the most part in 2012 -- allowing just 17 sacks on the year -- it also struggled against some of the more physical defensive fronts, most notably Stanford's and Notre Dame's. Throw in the loss of
Khaled Holmes
-- the team's starting center for the past two years -- and it becomes apparent just how crucial this spring is.
With a change in philosophy set in place by Summers, however, in addition to the two seasoned vets paving the way, it's safe to say that the offensive line has its sights set high for 2013.
"One thing Coach Summers has brought in this spring is that we talk about being the best offensive line in the country, and that's what our goal is," Graf said. "We're here to be the best. We're here to be the greatest offensive line in the country, and that's what we need to work harder towards."
In Graf, the Trojans have a prototypical tackle with 6-foot-6, 300-pound size to go along with deceptive athleticism and a unique football IQ that comes with growing up in a football family. His father, Allan, and brother, Derek, both played for the Trojans on the offensive line.
Martinez, at 6-2 and 305 pounds, is more of a brawler on the interior with a strong build and quick feet. Like Graf, he has football in his genes, with a number cousins having played collegiately, and a brother,
Keni Kaufusi
, currently on the California roster.
Both arrived at USC as members of the Class of 2009 during the Pete Carroll era. Graf, from Agoura Hills (Calif.), and Martinez, a Salt Lake City (Utah) Cottonwood, product actually first met at the Under Armor All-American Game that year and became fast friends.
That bond has transferred over to the field where, having made a total of 25 starts next to each other, the two share a unique familiarity and comfort in the knowledge that they can always count on one another.
"We have trust," Graf said. "I know that he's going to have my back, and he knows that I'm going to have his, and that's the most important thing."
In particular, it's the relative ease with which they can communicate with each other on the line in the heat of battle that works not only to their own benefit, but to that of the entire offense.
[+] Enlarge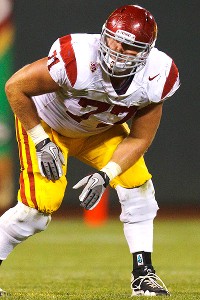 Jason O. Watson/US PresswireRight tackle Kevin Graf will start alongside John Martinez for the third year in a row this fall.
"He knows what needs to happen if I need help, and I know what needs to happen if he needs help on certain assignments with pass protections and everything like that," Martinez said. "So I definitely feel like familiarity and the sense of communication that we have with each other really helps out a lot during the games."
"We'll have full-on conversations on the line, because we know that we need to be able to communicate with each other -- we need to be able to see everything, and that definitely helps," added Graf. "And when you've been training with someone next to you for three years, it's almost easy."
But their synchronicity on the field isn't the only reason for their success. Having made names for themselves both in the weight room and on the practice field for the determined way in which they go about their work, they continue to strive to improve.
"We're still getting better," Graf said. "When we first started, we were just sophomores, and by the time you're a senior, you've grown a lot in terms of your maturity, and you've grown up as a player and a person, but you can still get better every day, and that's what we do."
With a work ethic like that, their emergence as leaders over the last year has developed naturally. This spring, however, they've each taken that responsibility up a notch.
"I definitely think that I've stepped up as a leader, because now that Khaled is gone it's our turn," Martinez said. "You have to have someone fill that role on a team, and I feel like that's what me and Kevin have done on the offensive line. We have the experience to lead them and to show them the path to take."
"I'm not going to be here forever, and John isn't going to be here forever, so when the time comes for us to leave, the younger guys need to be ready," Graf said.
Following the lead of Graf and Martinez, there are signs the offensive line is slowly starting to come together. The two vets are part of a starting unit that features
Marcus Martin
at center,
Max Tuerk
at left guard and Walker at left tackle. Over the past two weeks of practice, there has been a noticeable improvement in the group's level of play.
"It's been a roller-coaster ride, but I feel like everything is starting to come together now," Martinez said. "Spring break is over, we've got all of the jitters out and everyone is here to play ball. That's what we need to do, because the offensive line had a decent season last year, and now we need to make a point to everyone else that we're the foundation of the offense."
If the offensive line does fulfill Martinez's goal in establishing that mindset, it's not far-fetched to imagine both he, as well as Graf, capping their USC careers off on the right note in 2013.
"Finishing off strong is important for us as seniors," Martinez said. "I definitely think that we're going to make a point to everybody that we mean business, and we're going to hold down that right side."
March, 25, 2013
3/25/13
8:00
PM ET
By
ESPN.com staff
| ESPN.com
DuckNation
From Brandon P. Oliver

: Oregon's national recruiting approach continues to pay dividends, as the Ducks make serious inroads in the South.
HuskyNation
From Mason Kelley

: After a 2013 recruiting class that focused on quality over quantity, the Huskies are looking for both in 2014.
WeAreSC
From Greg Katz

: Versatile OL
Max Tuerk
is on the move again, this time to center, his third position on the offensive line.
From Garry Paskwietz

: As USC returns to the practice field after spring break, finding a consistent rotation for the offensive line will be crucial.
November, 26, 2012
11/26/12
5:50
PM ET
The Pac-12 conference has announced its 2012 individual honors and all-conference first and second teams as voted on by the coaches.
Offensive Player of the Year
:
Marqise Lee
, WR, USC.
Pat Tillman Defensive Player of the Year
:
Will Sutton
, DE, Arizona State.
Freshman Offensive Player of the Year
:
Marcus Mariota
, QB, Oregon.
Freshman Defensive Player of the Year
:
Leonard Williams
, DE, USC.
Coach of the Year
: David Shaw, Stanford.
FIRST-TEAM OFFENSE
QB
Marcus Mariota, Fr., Oregon
RB
Kenjon Barner
, Sr., Oregon
RB
Ka'Deem Carey, So., Arizona
WR
Marqise Lee, So., USC
WR
Markus Wheaton
, Sr., Oregon State
TE
Zach Ertz
, Sr., Stanford
OL
Hroniss Grasu
, So., Oregon
OL
Khaled Holmes
, Sr., USC
OL
Brian Schwenke
, Sr., California
OL
Xavier Su'a-Filo, So., UCLA
OL
David Yankey
, Jr., Stanford
SECOND-TEAM OFFENSE
QB
Matt Scott
, Sr., Arizona
RB
Johnathan Franklin
, Sr., UCLA
RB
Stepfan Taylor
, Sr., Stanford
WR
Austin Hill
, So., Arizona
WR
Robert Woods
, Jr., USC
TE
Austin Seferian-Jenkins
, So., Washington
OL
Jeff Baca
, Sr., UCLA
OL
David Bakhtiari
, Jr., Colorado
OL
Sam Brenner
, Sr., Utah
OL
Kevin Danser
, Sr., Stanford
OL
Sam Schwartzstein
, Sr., Stanford
FIRST-TEAM DEFENSE
DL
Scott Crichton
, So., Oregon State
DL
Dion Jordan
, Sr., Oregon
DL
Star Lotulelei
, Sr., Utah (2)
DL
Will Sutton, Jr., Arizona State
LB
Anthony Barr
, Jr., UCLA
LB
Trent Murphy
, Sr., Stanford
LB
Chase Thomas
, Sr., Stanford (2)
DB
Ifo Ekpre-Olomu
, So., Oregon
DB
Jordan Poyer
, Sr., Oregon State
DB
Ed Reynolds
, Jr., Stanford
DB
Desmond Trufant
, Sr., Washington
SECOND-TEAM DEFENSE
DL
Henry Anderson
, Jr., Stanford
DL
Morgan Breslin
, Jr., USC
DL
Ben Gardner
, Sr., Stanford
DL
Datone Jones
, Sr., UCLA
LB
Kiko Alonso
, Sr., Oregon
LB
Michael Clay
, Sr., Oregon
LB
Brandon Magee
, Sr., Arizona State
DB
Deone Bucannon
, Jr., Washington State
DB
Alden Darby
, Jr., Arizona State
DB
T.J. McDonald
, Sr., USC
DB
Nickell Robey
, Jr., USC
FIRST-TEAM SPECIALISTS
PK
Vince D'Amato, Jr., California
P
Jeff Locke
, Sr., UCLA
RS
Reggie Dunn
, Sr., Utah
ST
Jordan Jenkins
, Sr., Oregon State
SECOND-TEAM SPECIALISTS
PK
Andrew Furney
, Jr., Washington State
P
Josh Hubner
, Sr., Arizona State
RS
Marqise Lee, So., USC
ST
David Allen
, Sr., UCLA
ALL-PAC-12 HONORABLE MENTION
NOTES
By School: OREGON and STANFORD placed the most players on the first team with five selections each, followed by OREGON STATE with four.
By Class: Of the 26 first-team selections, 14 are seniors, five are juniors, six are sophomores and one freshman.
Unanimous: Only one player was named on the first-team ballot of all 12 head coaches--WR Marqise Lee of USC.
Two-time selections: Two players are repeat first-team selections from last year--DT Star Lotulelei of Utah, LB Chase Thomas of Stanford.
All-Academic: Two players were named to the first team on both the All-Pac-12 Team and the Pac-12 All-Academic Football Team--P Jeff Locke of UCLA, OL Khaled Holmes, USC. In addition, OL Kevin Danser of Stanford, DL Ben Gardner of Stanford and Michael Clay of Oregon were named second-team All-Academic and second-team All-Pac-12.
October, 5, 2011
10/05/11
12:01
PM ET
By
ESPN.com staff
| ESPN.com
We Are SC touches on recruiting and the Trojans' bye-week approach:
Kyle Williams writes

: Still-growing USC commit Max Tuerk could see early playing time at either tackle or guard, adding valuable versatility to the O-line.
Erik McKinney writes

: Everett (Wash.) Mariner running back KeiVarae Russell excels on the field, in the pool, on the track and as student council president.
Garry Paskwietz and Kyle Williams discuss USC's
bye-week approach
.