July, 10, 2012
7/10/12
6:15
PM ET
By
ESPN.com staff
| ESPN.com
There have been whispers that California's Memorial Stadium renovation won't be complete in time for the Bears' season-opener against Nevada on Sept. 1.
That's probably true. But that doesn't mean the game will be rescheduled for elsewhere in the Bay Area.
Cal sent out a release Tuesday afternoon saying the renovation will have the stadium, "game ready" by opening day.
In other words, game-on. But pardon the the mess.
From the release:
On Nov. 27, 2010, California closed out its final season in the original configuration of Memorial Stadium. Now, less than 21 months later, the venerable facility is on track to be "game ready" for the 2012 campaign.

But what, exactly, does "game ready" mean?

"I think it means different things to different people," said Brian Main, senior project manager with campus Capital Projects. "My goal for the project is to have everything done so that when people come into the stadium, they won't recognize the little things here and there that are not complete. To the general public, it means that we're going to have the place ready to play a football game. The stadium will be completely functional not only for the game, but also for the fans."

Bob Milano Jr., Cal's assistant athletic director for capital planning and management, echoed those sentiments: "Game ready means that we're going to invite 63,000 of our closest friends to come to the stadium and watch Cal football play Nevada, enter safely, have a great time and go home safely."

When fans arrive at Memorial Stadium for the Sept. 1 opener against the Wolf Pack, some of the new elements, such as decorative signs and banners, may not be finished, but just about everything else appears to be right on schedule, according to both Main and Milano.

Construction impacted about 60 percent of the stadium, primarily on the west side where the structure was above the ground and needed to be improved to meet modern seismic standards, but all fans will certainly benefit from the enhancements being made to the building.
You can read the
entire release here
.
June, 28, 2012
6/28/12
1:00
PM ET
By
ESPN.com staff
| ESPN.com
Welcome back to the road trip. We're taking a week-by-week look at the entire Pac-12 schedule and picking out the game we feel is the marquee game of the week. If you have the time and means, this is the game you want to see.
Week 8
Thursday Oct 18
Saturday Oct. 20
Washington at Arizona
Colorado at USC
Utah at Oregon State
Stanford at California


My choice:
We're Big Gaming -- in October, no less.
Why
? Why? You ask why? Because it's the Big Freaking Game! In October, no less. And in brand spanking new Memorial Stadium, which I can attest after touring it this spring is going to be fairly righteous.
Further, the Bay Area in mid-October is pretty righteous, too. If you review our
Best Restaurants & Bars in the Pac-12 here
, you can get some good ideas for kicking it around Berkeley. If you want to run into me before the game -- and, you know, give me a piece of your mind (and if you went to Cal or Stanford, I'd take it) -- it's become
nearly impossible for me to avoid this place on game day
. I don't eat a lot of hot dogs, but Top Dog just isn't fair. Bring the dog up to the
Bear's Lair
, the on-campus pub, to soak up some local color.
As for the night before,
my suggestion is to call this place on Sept. 20
. You can make reservations at Chez Panisse up to one month in advance, and my sad, sad experience is you probably will need it to eat at one of the landmark U.S. restaurants. If the hoity-toity stuff isn't your bag, Berkeley is overbrimming with outstanding cheap eats. Right now, a bunch of Cal fans are jumping up and down chanting
Zachary's Pizza
, which is quite good, but I'm not sure you shouldn't go ethnic, because the choices and range of flavors around campus are pretty extraordinary --
including this
.
Oh, and then there's this little football game, which comes at a critical time for both programs.
Stanford is trying to prove it can excel post-Andrew Luck. Another top-25 season also would put distance between coach David Shaw and the shadow of former coach Jim Harbaugh. And continued dominance in the Bay Area is at stake.
Over at Cal, coach Jeff Tedford is trying to win back the confidence of his fanbase, and he enters the season sitting on a fairly warm seat. After winning seven of his first eight Big Games, he's lost two in a row and watched the Cardinal play in a pair of BCS bowl games and finish ranked in the top 10.
Just about everyone projects Stanford as the North Division's No. 2 team behind Oregon. It obviously would be far more likely the Bears could eclipse the Cardinal for that spot with a win here. Fair to say that Tedford could really use a win, instead of a third straight Big Game defeat inside his remodeled stadium.
The Big Game is always a big game, but it might just be a little bigger this season. In October, no less.
June, 21, 2011
6/21/11
3:45
PM ET
By
ESPN.com staff
| ESPN.com
California fans: Are you dying to check out the progress of the Memorial Stadium construction? Now you can... live!
Cal has set up a publicly accessible vista point along the east side of the facility. If that doesn't fully explain things, well,
here are some photos
.
The vista point, which will be open during construction hours, is located near the northeast corner of the facility off Stadium Rim Way and just below Tightwad Hill. Normal construction hours for the project are 7 a.m. until 7 p.m. weekdays (PDT), and 9 a.m. to 8 p.m. on Saturdays and numerous Sundays. Hours may by adjusted without notice by the construction team.
While Memorial Stadium is under construction, the Bears will move to AT&T Park for their home games this fall, in addition to playing a neutral-site game vs. Fresno State in the TicketCity Battle by the Bay at Candlestick Park on Sept. 3.
April, 13, 2011
4/13/11
1:00
PM ET
BERKELEY, Calif. -- California coach Jeff Tedford hears the negative chatter but he's trying not to listen. The operative word there being "trying." He understands why some Golden Bears fans are grumbling, but such talk nonetheless frustrates him.
Tedford rebuilt a lousy program and created a high standard to which Cal fans happily became accustomed. Yet over the past few seasons, he has not consistently met that high standard.
"All of a sudden, you have an eight-win season and it's not good enough," Tedford said. "Then, all of the sudden, you have a [losing season] and it's, 'Wow, what happened here?'"
[+] Enlarge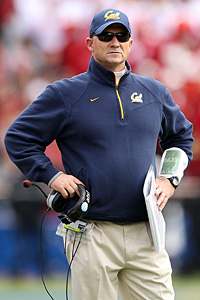 Ezra Shaw/Getty ImagesAn imposing front seven on defense should help coach Jeff Tedford and Cal be competitive against elite teams in 2012.
Things turned sour in Berkeley in 2010; a 5-7 finish that was Tedford's first losing season (fewer than seven wins) in nine years leading the program. Meanwhile, on the south side of the Bay Area equation, archrival Stanford won a BCS bowl game and appears poised to start 2011 ranked in the top 10. That juxtaposition doesn't sit well with the Old Blues.
It no longer matters where Tedford started, taking over a 1-10 program in 2002 that had won seven or more games just four times in the 24 previous seasons. Forget that from 1978 to 2001 Cal won three or fewer games nine times. Sure, back then a couple of seven-win seasons -- heck, even 5-7 -- would have seemed pretty nice.
No longer.
But it's more than that, Tedford's critics will tell you.
What happened to Tedford, the quarterback guru? Tedford transformed Kyle Boller from a five-star recruiting bust into a first-round NFL draft pick. He then discovered Aaron Rodgers out of nowhere and made him into a first-round pick. Nate Longshore appeared poised to join them after he led the Bears to a 5-0 start and No. 2 national ranking in 2007. But really, since Longshore sprained his ankle during a marquee win at Oregon on Sept. 29, 2007 -- Cal fans just fainted recalling the memory of
what happened next
-- the Bears haven't benefited from consistent play at quarterback.
It's not just losing, either. It's the nature of the defeats. In Tedford's first seven seasons, the Bears suffered only two defeats by more than two touchdowns. Over the past two seasons, they've lost eight games by 17 or more points and six by 27 or more.
Further, the staff turnover, particularly at offensive coordinator, has been notable. Not including himself, Tedford has gone through four offensive coordinators before arriving at his present, complicated configuration, with offensive line coach Jim Michalczik returning as coordinator, running backs coach Ron Gould set as running game coordinator, receivers coach Eric Kiesau set as passing game coordinator and Tedford (again) helping with the quarterbacks and (again) calling plays.
A couple of years ago, Tedford listened to the nattering nabobs of negativism and he wanted to smack them. Now, he's trying to be philosophical about criticism. Trying.
"I have it back in focus now, not to worry about the external things," he said. "That one year [2009] we went [8-5] and it felt like we went [5-8], it felt like people were real irritable about that. I was irritable, too. About their reaction to [8-5]. Now, I'm just back to focusing on what it takes to get us back on the upward trend again."
If you're the sort who prefers optimism, there's grounds for that, too. For one, Michalczik and Kiesau were with Tedford during the "glory years." There's history and comfort there. And Michalczik is widely considered an elite line coach, perhaps the best in the Pac-12. The play of the Bears' O-line wasn't as good the past two seasons while Michalczik was with the Oakland Raiders.
Further, Tedford is reengaging on the offensive side, and not only by calling plays, as he did during his early years at Cal. He's also working extensively with the quarterbacks, even to the point of sitting in on all QB meetings.
"Consistency at quarterback has been something that has hurt us at times," Tedford said.
Another big-picture item for Cal fans to be upbeat about: An uptick in recruiting that, perhaps not coincidentally, began when stadium and facilities renovation projects began in earnest after protesters -- old school Berkeley! -- were forced
out of the trees
. The Bears are nomads this spring, traveling from site to site in search of good grass to practice on, and they will play "home" games in AT&T Park this year. But when Memorial Stadium reopens in 2012, the structure will match the grandeur of its Strawberry Canyon home.
As for hot-seat talk (it's probably more accurate to call Tedford's chair lukewarm) the players are aware of said chatter. They don't live in a protective bubble. And they are aware that pointed observations about the blowout defeats also fall on them, whether those embarrassments were about poor preparation, a lack of mental toughness in the face of adversity or (gulp) a propensity to quit when an opponent asserts itself.
"We all love Coach," offensive tackle Mitchell Schwartz said. "His past record of success, that's why we are all here. There's no grumbling [in the locker room]. We're more disappointed in ourselves. We feel like we let the coaching staff down."
And of late, Cal fans feel let down. When the Bears were controversially blocked from playing in their first Rose Bowl since 1959 by Texas and the BCS computers following the 2004 season -- Cal fans just fainted for a second time while reading this story -- the consolation was a confident belief that it was just a matter of time before a Tedford squad ended that lengthy, painful Rose-less run.
The clock is still ticking -- 52 years and counting -- on that one, though.
March, 30, 2011
3/30/11
12:19
PM ET
There's lots of change going on at California this spring, starting with the Bears becoming nomadic.
Cal will practice at six different sites due to renovations at Memorial Stadium and problems with the team's temporary practice facility on Witter Rugby Field. And, of course, home games this fall will be played in AT&T Park, not in Memorial Stadium, the team's home for the past 88 seasons.
Beyond the grass under their feet, the Bears have plenty of issues. Most folks know there's as wide open a competition at quarterback between
Brock Mansion
,
Beau Sweeney
, Zach Maynard,
Allan Bridgford
and
Austin Hinder
. But that's not the only question.
[+] Enlarge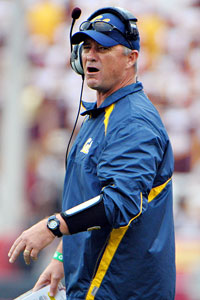 Kirby Lee/US PresswireJeff Tedford is going to have an expanded role in the offense this season.
The offensive line underachieved in 2010 and now must replace two starters. What's the pecking order at tailback (and, by the way, who's healthy enough to compete)? There are four voids on the defensive front seven -- two on the line, two at linebacker -- and two in the secondary. And what about improving the special teams?
Further, coach Jeff Tedford is taking a bigger role with the offense, though that role hasn't been defined, other than him coaching quarterbacks. It seemed he
said he was going to call plays this fall
, but then he apparently backtracked on the
first day of spring practices Tuesday
.
There are a lot of chefs in the offensive kitchen. In addition to Tedford, who is looking to reclaim his title as quarterback guru, there's offensive coordinator/line coach Jim Michalczik, passing game coordinator/receivers coach Eric Kiesau and running game coordinator/running backs coach Ron Gould. While they are all familiar with each other -- Michalczik and Kiesau are returning to Berkeley after stints elsewhere -- those lines of communication will need to be worked out.
Further, in terms of personnel, the Bears have recruited well the past two years. It's likely a number of younger players -- redshirt freshmen, sophomores as well as incoming players this fall -- will immediately compete for playing time.
So Cal's spring practices are as much about transition as they are renewal after a disappointing 5-7 season.
Some notes:
Injuries
: This is fresh from Jonathan Okanes of the
Contra Costa Times
after the first practice:
Several players will practice only in limited fashion this spring because of injuries/surgeries: Among them are left tackle Mitchell Schwartz (back), center Dominic Galas (shoulder), fullback Will Kapp (shoulder) and nose tackles Kendrick Payne (shoulder) and Aaron Tipoti (shoulder). All of these players were there and in their gear today doing individual drills. But they won't be involved in team drills.
Running back pecking order
? Also out is running back
Dasarte Yarnway
(knee), and fellow running backs
Covaughn DeBoskie-Johnson
and
Trajuan Briggs
are coming back from injuries -- though both are
reportedly ready to go
-- so it's difficult to project how the competition will go with
Isi Sofele
, whom Tedford designated as the No. 1 guy before spring practices. Brandon Bigelow, Daniel Lasco and junior college transfer C.J. Anderson join the fray in the fall. It's more than likely that the ultimate depth chart at the position won't be resolved until mid-to-late August.
As for the QBs
: Tedford almost certainly won't name a starter after spring practices, though he would like to narrow the
field of five (or so) to three
. If you were a betting Pac-12 blog reader -- and you probably are -- you should put your money on Brock Mansion, junior Zach Maynard and sophomore Allan Bridgford being the top troika heading into the offseason. The basis of that, it must be noted, is pure hunch -- Tedford's veneer of vague has been admirably tenacious on the matter. It's possible he truly doesn't have much sense of a pecking order in his own head at this point.
Youngsters to watch
: Youngsters and new players who might challenge for starting or key roles include wide receivers
Tevin Carter
and
Kaelin Clay
; linebackers Nick Forbes, Dave Wilkerson, Chris McCain and Cecil Whiteside; defensive end Gabe King; O-linemen Mark Brazinski and Matt Williams; and safety Avery Walls.
February, 16, 2011
2/16/11
1:30
PM ET
By
ESPN.com staff
| ESPN.com
California is relocating. The football team, not the state. And just for a single season. And the Bears want to show off their temporary digs.
After playing the last 88 seasons and every home game at Memorial Stadium since the facility opened for the 1923 Big Game, Cal will host its home games outside of Berkeley for the first time -- San Francisco's AT&T Park -- while Memorial Stadium undergoes an extensive renovation and retrofit. The Bears will return to Memorial Stadium for their 2012 home schedule.
So on Feb. 26, they will host a "Cal Football Open House" at AT&T Park. The park will be open from 12 p.m. to 5 p.m., allowing Cal fans to get a view from the seats in the park prior to selecting their season ticket locations.
All levels of the stadium, from the Field Level to the Club Level to the View Level, will be open and available for fans to experience the views and sightlines from the various areas. Cal Athletics Staff will be on hand to assist fans and answer questions. There will also be opportunities to learn more about the Endowment Seating Program with the amenities that will be offered at AT&T Park as well as when the team returns to then-renovated Memorial Stadium in 2012.
Spirit groups will be in attendance with a 2:30 scheduled performance. At 3 p.m., the Cal men's basketball game against Oregon State will be shown live on the stadium scoreboard. Select concession stands will be open on the Club Level.
Fans will enter through the Club Entrance off of Willie Mays Plaza, taking the elevator up to the Club Level to the Cal Welcome Booth.
The event is free, but fans are requested to RSVP for the event at
CalBears.com
.
And if you want to watch the progress at Memorial Stadium,
check out this webcam
.
August, 7, 2010
8/07/10
12:33
PM ET
By
ESPN.com staff
| ESPN.com
California opens preseason camp today. Here's a quick look.
Who's back
: Eight starters on offense, six on defense and both specialists.
Big names
: RB
Shane Vereen
, LB Mike Mohamed, DE Cameron Jordan, P Bryan Anger
What's new
: Bob Gregory, who had been Jeff Tedford's defensive coordinator since 2002, left for Boise State, and NFL veteran Clancy Pendergast replaced him. Pendergast is expected to bring a more aggressive approach that emphasizes pressure on the quarterback. Also, Jeff Genyk replaced Pete Alamar as special teams coach. Genyk will also coach tight ends.
Key competition
: Three spots in the secondary beside safety Sean Cattouse are wide open, though Bryant Nnabuife and Darian Hagan are listed first at the corners and Chris Conte is No. 1 at safety. Things also are unclear at outside linebacker, left offensive guard and a pecking order at tailback behind Vereen must be established. Will any young receivers step up?
Breaking out
: Is
Marvin Jones
ready to become a go-to receivers? And will touted freshman receiver Keenan Allen make an immediate impact and perhaps also play in the secondary? Kendrick Payne and Deandre Coleman figure to provide some quality depth on what could be a very good defensive line.
Quote
: Tedford on quarterback
Kevin Riley
: "We are going to have great competition at the quarterback position, but Kevin is the guy who takes the first snaps. Kevin is the active leader in the Pac-10 in wins, touchdown passes and starts. We are really hoping that his experience will really help us and translate to more success on the football field. The team has a lot of confidence in him. He has worked very, very hard and he feels that this is his team."
Notes
: Two key recruits won't be on the team this fall, one permanently. Linebacker Cecil Whiteside will grayshirt due to academic issues; he won't enroll until January. Defensive end Chris Martin was released from his letter of intent and opted to sign with Florida ... Because of the renovation of Memorial Stadium, the team is using temporary locker rooms. Practices also have been moved to the morning instead of the afternoon ... Cal was picked seventh in the preseason media poll.
August, 6, 2010
8/06/10
6:39
PM ET
By
ESPN.com staff
| ESPN.com
You can feel the season getting closer, can't you. Wheee!
You can
follow me on Twitter
. Doing so will dramatically increase the odds of your team going to the Rose Bowl.
To the notes.
Danny from Los Angeles writes
: How warm is Jeff Tedford's seat in Berkeley? If this Cal team comes in 7th place, as many seem to predict, is his job still secure? As a Cal alumnus, I am forever grateful for Tedford's tenure, but like many other fans, I can't help but think, "Has Tedford peaked with this program?"
Ted Miller
: Déjà vu.
Here's a note from a July 2008 mailbag.
Eric from Turlock writes: Gotta question for you. I am a young Cal fan, but even I can remember the 1-10 days of football mediocrity. Obviously I am very happy with Cal's rebirth under Jeff Tedford. However, I have heard many Cal fans saying that perhaps Tedford isn't the man to take Cal to the next level (i.e. Rose Bowl, BCS). While I disagree, I see that there are some valid points to be made. Do you think that Tedford will be able to take Cal to the "promised land"?
I wrote this:
Eric, go buy a case of yellow post-its. Every time you hear a Cal fan say, "You know, I'm not sure Tedford is the man to take us to the next level," take out a post-it and write this on it: "In Tedford I trust."
You can
read the rest here
.
As you Cal fans know, the Bears bounced back from a 7-6 2007 to go 9-4 2008. Perhaps the grumbling over last fall's underachievement will fuel another surge.
But if Cal, indeed, does finish seventh in the conference this year -- and that includes, say, six losses -- it probably would then be fair to say Tedford enters the 2011 season with some pressure to do better.
I wouldn't say "hot seat" yet, but at that point, I'd say that Bears fans had a right to be frustrated and to expect more. Tedford is paid a lot of money to win -- his $2.8 million salary ranks second in the Pac-10 behind USC's Lane Kiffin, who reportedly makes about $4 million annually (mailbag item for next week: Kiffin makes $4 million!)
That said: Let me again point something out.
Tedford hasn't posted a losing season. His worst season featured seven wins.
From 1978-2001 -- 24 seasons before Tedford -- Cal won seven or more games four times. That included 10 games once and nine games once. Tedford has won 10 games twice and nine games once in eight years.
And during those 24 pre-Tedford years, Cal won three or fewer games nine times.
Cal fans certainly should be eager for the Bears to "take the next step" under Tedford. But if I were a Cal fan, I'd be suspicious of those nagging "grass-could-be-greener" feelings.
And I think Cal's recruiting will get a positive bump after the renovation of Memorial Stadium, which might not have happened without Tedford's success.
---
Michael from Phoenix writes
: I know that USC cannot go to the Rose Bowl this year or any bowl game for that matter but if the Trojans have the best conference record at the end of the season will they still be named the conference champions?
Ted Miller
: No official record will acknowledge USC as the Pac-10 champion, even if the Trojans finish atop the standings. That's part of the sanctions.
But my guess is Trojans fans -- and players and coaches -- would be able to get plenty of mileage out of being the "uncrowned, true champions." Kiffin would probably ante up for rings and T-shirts.
---
Bryan from Tigard, Ore., writes
: I am curious why the Coaches Poll is used as a component in the BCS standings. Whenever I have looked at the voting results from the Coaches Poll they seem very biased. East coast coaches seem to vote east coast schools higher because they know much more about them than west coast programs. The same goes for west coast coaches. Therefore, shouldn't that poll be looked at as an unreliable source for determining BCS standings? I know that any human poll will have its own biases but I see there being the potential for a lot of politics within the coaches poll (for example voting to make your conference look stronger or voting another program down intentionally).
Ted Miller
: The AP withdrew its poll from the BCS standings after the 2004 season. The BCS standings now use the Coaches Poll and the
Harris Poll
, which
is made up of
media members, former players, coaches and administrators.
And your point about the Coaches poll has been made many times. Another issue is that the poll is often consider the "Sports Information Director's" poll because coaches don't have time to study other teams before they vote.
But the poll has been around a long time and it's unlikely it's going anywhere.
---
Baal from Parts Unknown writes
: TED where do get #1 RT-?? Zach [Schlink]. He didn't participate in spring drills--and had 4 surgical procedures in the last 2.5 years. Nobody expected him to contribute. It was more of a hope.
This is like your worst reporting ever
.
Ted Miller
: First of all, I reported him as No. 1 at right guard.
Second, I reported that because that's where he was listed on the depth chart in the media guide.
So, really, your gripe is with Dennis Erickson's and the Arizona State sports information department's reporting on the Sun Devils.
---
Papa Mitch from Kensington, Calif., writes:
You are such a bad influence. I got my plane and game tickets for my son and I to head to Knoxville to see the Ducks crush the Vols because of what you said in the past regarding Neyland Stadium. I figure we need a landmark roadtrip before he gets too grownup. Please give us your best tips for bars and restaurants to hit the night before and the day of the game.
Ted Miller
: The place I always recommend is
Ye Ole Steak House
. It's an institution.
I fired an email to SEC blogger Chris Low, who lives in Knoxville. He added
Calhoun's on the River
and the
Butcher Shop
. Sure you can get some good bar recommendations at any of those places (I haven't been there in more than a decade).
Just make sure you get there soon enough to enjoy the tailgate. It's one of the best places in the country to see a game.
You might not want to bring up Lane Kiffin, though.
---
Michael from Portland writes
: With regard to your House of Pain entry for UO, I think the 2000 Civil War loss was the most painful by a mile. To lose to your arch-rival (OSU) to send your most hated enemy (UW) to the Rose Bowl and set the Beavers up with a sweet Fiesta Bowl trip over a not-great Notre Dame team was PAINFUL. And the way UO lost was even worse--I think Joey Harrington turned the ball over 5 times and the Ducks still only lost by 10. I still get
verklempt
when I just write about it.
Ted Miller
: I mostly published Michael's note because I have a new favorite word:
verklempt
!
But good point. Five picks from Harrington and a lost fumble (the Beavers had just one turnover) didn't help in that 23-13 defeat.
Pain meter: 1. Lose to your state rival, miss out on Rose Bowl; 2. Thereby send your other hated rival to Rose Bowl; 3. Watch both rivals win BCS bowl games while you play in the Holiday Bowl.
Rates pretty high. Of course, that was the best season in NW football history: Three teams finished ranked in the top-7 in the nation.
---
Robert from Superior, Colo., writes
: Hi Ted, looking forward to reading your blog on a regular basis once CU joins the PAC 12. BTW, someone needs to tell Lane Kiffin that CU will not always be bad and that we will
remember this
. Pretty much assumed by CU fans that this is just pettiness on his part.
Ted Miller
: Based on that story, holding up wide receiver
Travon Patterson
's transfer is pretty petty. I agree.
---
Brian from Pullman, Wash., writes
: Hey Ted, what's on the poster behind you in
your videos
?
Ted Miller
: That's Captain Seattle and his loyal mate Raindrop! Together they "fight for the rights of people no matter how weird they are"! Captain Seattle wields a nasty umbrella, by the way.
My now-wife and I bought the poster at Pike Place Market in 1999 when I was in the process of relocating from Mobile, Ala.
---
Zen from Portland writes
: Ted,
pardon my last rant
, I was tired, and angry. I just feel like you don't give Oregon State enough credit. You project them 3rd in the Pac-10, which I guess I can see. But when you put them at 3rd you say reasons for concern are first year starter
Ryan Katz
, what about Oregon? You rank them first, and they are going through the same thing as Oregon State, you then rank 'SC second when they can't even go to a bowl. It's frustrating because you do this every year with Oregon State, I'm not saying they prove you wrong, but playing for a Rose Bowl two years in a row I think you would get the picture by now. This team is really good.
Ted Miller
: No worries.
Both Oregon and Oregon State welcome back a lot of starters -- the Ducks 17 position players, the Beavers 15. Both are replacing quarterbacks.
As for quarterback, I think sophomore Ryan Katz has a chance to be very good. But he's never played a meaningful down of college football.
Nate Costa
is a fifth-year senior who's started a game.
Darron Thomas
is a redshirt sophomore who played impressively in the fourth quarter against Boise State in 2008. I'd give the Ducks a slight edge there.
Oregon has all five starters back on its offensive line. That unit led the No. 1 rushing attack in the conference and only gave up 13 sacks, which was second fewest in the conference. Oregon State has four of five starters back. That unit led the No. 6 rushing attack in the conference and gave up 29 sacks, which ranked seventh in the conference. Edge Oregon.
On defense, the Ducks are replacing three starters from a unit that ranked fourth in scoring and total defense in the conference. The Beavers are replacing four starters from a crew that ranked sixth in scoring and total defense. Edge Oregon.
When you toss in the fact that the Ducks won the conference by two games last year, it seems fair to rate the Ducks ahead of the Beavers in the preseason. (And the value of preseason rankings in December? Not squat).
As for USC: I ranked the Trojans first (though I'm wavering on that one). I know they can't go to a bowl, but their games still count and they will appear in the standings. They were second in the official Pac-10 media poll behind Oregon and ahead of No. 3 Oregon State.
In fact, just about everyone has the Beavers third. So my take wasn't exactly contrarian.
But I appreciate your not giving up on the Pac-10 blog.
---
Todd from Anaheim, Calif., writes
: I was reading your Mailbag:
Does anyone care about USC or Jeremiah Masoli
? and when I read Zen from Portland's post, I was taken back a little. That guy seems to genuinely hate you. Do you get a lot of readers that send comments like that?
Ted Miller
: Yes.
And the Pac-10 blog appreciates all its readers -- even the angry ones -- who make us a part of their day.
May, 10, 2010
5/10/10
2:35
PM ET
By
ESPN.com staff
| ESPN.com
Has he lost his mind
Can he see or is he blind
Can he walk at all
Or if he moves will he fall?
May, 10, 2010
5/10/10
11:21
AM ET
By
ESPN.com staff
| ESPN.com
California
will announce today
that it's playing its 2011 home games in AT&T Park while Memorial Stadium is undergoing a $320 million renovation, according to reports.
Cal coach Jeff Tedford, athletic director Sandy Barbour and San Francisco Giants president Larry Baer are scheduled to be at the 10 a.m. PT news conference in AT&T Park.
The renovation is expected to be completed in time for the 2012 season. Cal will play its home games in Memorial Stadium this fall.
Cal picked AT&T Park over Candlestick Park and the Oakland Coliseum.
January, 20, 2010
1/20/10
2:30
PM ET
By
ESPN.com staff
| ESPN.com
McLovin? What kind of a stupid name is that, Fogell? What, are you trying to be an Irish R&B singer?
August, 12, 2009
8/12/09
12:25
PM ET
By
ESPN.com staff
| ESPN.com
Posted by ESPN.com's Ted Miller
Ninth in a series looking at potential dream and nightmare scenarios for all Pac-10 teams, starting at the bottom and working up from my vote in the Pac-10 media poll.
Up next: California

Best case
Last year, California running back Jahvid Best blew a technicolor pizza on national television at Maryland. This year, he made the Terrapins nauseous.
In a tour de force performance that announced his Heisman Trophy candidacy like a bolt of lightning, Best rushed for 195 yards and two touchdowns and caught three passes for 105 yards and a score -- most of which came on a 58-yard touchdown off a screen -- in a 44-10 victory.
Best produced touchdown runs of 55 and 68 yards but sat out the second half of a blowout victory over Eastern Washington.
The Bears overcame a shaky start at Minnesota and rolled in the second half for a 30-17 win.
That set up a marquee showdown for the No. 8 Bears at No. 5 Oregon with ESPN's College GameDay on location in Eugene.
Lee Corso donned the Duckhead. Kirk Herbstreit tapped the Bears.
"It's fair to say the winner of this game will send a player to New York for the Heisman Trophy ceremony," Chris Fowler said about Best and Oregon quarterback Jeremiah Masoli.
The Bears led 17-10 at the half, a 76-yard run from Best being the difference.
With 3:05 left, the Bears led 24-20. From the Oregon 47, Cal quarterback Kevin Riley did a play-action fake to Best and launched a bomb.
But Ducks safety T.J. Ward didn't bite on the fake, and he out-leapt Marvin Jones for the interception.
Masoli drove the Ducks to Cal's 32, but faced a fourth-and-8 with 0:55 remaining.
Masoli set up to pass, but Bears end Cameron Jordan was on him. Masoli stiff-armed Jordan, and started to backpedal. Jordan was joined by Mike Mohamed in pursuit of Masoli, who reversed the field and started directing receivers downfield.
There was room to run. Masoli tucked and made a break, but just short of the line of scrimmage, he stopped and lobbed the ball into the corner of the endzone.
Tight end Ed Dickson leapt, but the ball was tipped away by safety Brett Johnson.
And onto the turf.
Autzen went silent.
"California might be the best team in the nation," Herbstreit said after the game.
"See you next week in Berkeley," Fowler concluded.
No. 2 USC vs. No. 4 California. Big. Perhaps the biggest game in Cal history.
"People have contemplated the origin and evolution of the universe since before the time of Aristotle," said George Smoot, Cal physics professor and Nobel Prize winner. "Very recently, the era of speculation has given way to a time of science. The advance of knowledge and of scientific ingenuity means that at long last, we can actually test our theories. But no body will be testing anything Saturday because the Bears are going to stomp 'SC. Go Bears! Whoooo! How 'bout another margarita!"
One piece of good news that emerged from the day as a sidebar was that Memorial Stadium, awaiting a major seismic retrofitting, proved it could withstand a minor earthquake.
We know that because the rumble inside Strawberry Canyon probably could have be heard across the Bay in San Francisco when Best went 75 yards for a touchdown on the Bears first possession, having outraced Trojans safety Taylor Mays the final 35 yards.
On the biggest stage, Best and Riley and an inspired defense pushed the Trojans around in a 40-17 victory, the worst loss of the Pete Carroll era.
Cal rose to No. 2 in the rankings. Texas coach Mack Brown complained. According to an ESPN.com poll, 78 percent of the college football nation believed he should quit whining.
When Texas' Colt McCoy and Oklahoma Sam Bradford combined for six interceptions in a 10-7 Sooners victory on Oct. 17, the door opens for the Bears.
"It's the matchup everyone wants to see," Fowler says. "Florida vs. Cal, Tim Tebow vs. Jahvid Best. SEC vs. Pac-10. It's freaking beautiful."
The Bears rolled through their next seven games by an average of 24 points. The offense ranked third in the nation with 41 points per game, the defense fifth with 13 ppg.
On a technicality, however, Cal didn't play in its first Rose Bowl since 1959.
"While disappointed we're not playing in the Rose Bowl, it is some consolation to play for the national title in the Rose Bowl Stadium against a fine team like Florida," Cal coach Jeff Tedford sighs.
Best, already called the best player in the nation by Florida quarterback Tim Tebow, won the Heisman.
During a pre-BCS title game press conference, a reporter asked Best whether he won the Heisman because folks were tired of hearing and reading about Tebow.
"I hope not," Best says. "Because that would mean people are really stupid. Tim Tebow is the greatest college football player in history. And he's a great person. And I use the term 'great' in its true sense, not as a casual compliment. Why would people get tired of hearing about a guy who does so much good? A guy who remains humble despite all the accolades? I don't care if you don't subscribe to his religion. I don't care if you don't like Florida. I certainly don't like Florida this week. But the idea that people are tired of hearing about such an outstanding person bothers me and it should bother you. It's the worst type of cynicism."
Florida nipped Cal 43-42 in triple-overtime when Gators linebacker Brandon Spikes tipped away a Riley pass on a 2-point conversion.
Worst case
California opened 2-0 with wins over Maryland and Eastern Washington, but a team that wanted to contend for championships had to win on the road.
And Cal still didn't prove that it can, which became clear when the Bears fell at Minnesota, 28-24, the program's fifth consecutive road defeat.
That, of course, didn't bode well for a visit to Oregon. This time the Bears were sharp to start, but Ducks quarterback Jeremiah Masoli led a fourth-quarter rally and the Ducks prevailed, 27-24.
A home loss the following weekend to USC left a season that started with such promise on the brink of disaster. Coach Jeff Tedford announced he was benching quarterback Kevin Riley in favor of Brock Mansion.
While the passing offense continued to struggle, running back Jahvid Best and a tough defense led the Bears on a five-game winning streak.
But Best hurt his shoulder in the overtime win over Arizona, meaning he missed the Big Game vs. Stanford.
In the second overtime of the Big Game, needing a field goal to tie, Stanford called a flea flicker, and quarterback Andrew Luck found Richard Sherman, who was uncovered, for the game-winner.
Stanford improved to 9-3 and earned a berth in the Holiday Bow
l.
Cal slipped Washington in the season-finale and headed to the Sun Bowl.
The Bears whipped Notre Dame 38-10.
The following day, Best, Jordan, Mohamed and cornerback Darian Hagan announced they will forgo their senior seasons and enter the NFL draft a year early.
And Tedford was named the Oakland Raiders head coach.
Cal hired John Mackovic.
September, 23, 2008
9/23/08
1:00
PM ET
By
ESPN.com staff
| ESPN.com
Posted by ESPN.com's Ted Miller
Stadium projects are often portrayed as excessive expressions of vanity by athletic departments -- gaudy proliferations due to the big-time football arms race that betray the fundamental mission of universities.
And they sometimes are. Perhaps more often than not.
But California's situation doesn't fit that description (Washington's doesn't much either, but this entry is about Memorial Stadium, not crumbling Husky Stadium).
Strawberry Canyon is one of the best places in the nation to watch a game. Under coach Jeff Tedford, the Bears have become a big-time program, packing the stands every Saturday.
But Memorial Stadium is an absolute mess (this linked story from Sunday's San Francisco Chronicle does a great job of explaining just how much of a mess).
What the story also shows: This project isn't about luxury boxes for fat-cat boosters -- none are planned -- but it will be expensive and time consuming, with a tentative completion date set for 2014 (and we know how firm those things typically are).
The Tree Sitters are down, so the circus is over. But the issues -- and fundraising -- ahead are considerable.
Which means that even though Tedford is the second-highest paid coach in the Pac-10 behind USC's Pete Carroll and the highest paid California state employee, his name will be floated this winter when a handful of marquee jobs -- in and out of the Pac-10 -- open up.