December, 16, 2011
12/16/11
5:15
PM ET
Happy Friday.
Follow me on Twitter
.
To the notes!
Zach from Mesa, Ariz., writes
: Not sure how I should feel about Todd Graham coaching my Sun Devils. Seems like a used-car salesman and he really hasn't done anything.
Mike from Philly writes
: I'm not going to call you an idiot, even though that might help get this published, but you've missed the mark on Graham. Not sure if he can coach, but he's completely full of it. He's a liar. He's spineless. Why would anybody want him to lead their sons?
Ted Miller
: Got plenty of feedback on my admittedly quasi-
Machiavellian takes
--
and here
-- on Todd Graham bolting Pittsburgh after one year for Arizona State and texting his departure to his players instead of meeting with them face-to-face. I have many thoughts on this, but I'd rather not do another 1,000-plus word column. So I'll try to be brief. Briefer, at least.
Let's start with this: Recall just a week ago when Graham said, "I don't know how else I can say it. I've said it on three different occasions. I'm not going to be the Arizona State's coach."
Oh. Wait. That wasn't Graham talking about Arizona State. That was the best coach in college football. That was, gulp, then Miami Dolphins coach Nick Saban, talking about Alabama, not Arizona State, and who just days after saying that became... wait for it... wait for it...
Alabama's coach!
And what did Saban say when he later sat down with ESPN Chris Mortensen, who asked if Saban's disingenuousness would be an issue for him in recruiting going forward?
"The number one thing for me, Nick Saban, whatever anyone thinks, is to be a good person," Saban said. "Honesty, integrity, loyalty, being fair and honest with people is always been the trademark of what I've done."
So know that when Graham talked about how important "relationships" were for him Wednesday, that same forehead slap of indignation over the unintentional irony has happened before. And will again. It's the nature of their business.
You cannot compare Saban's and Graham's resumes, of course. But Saban has long been a climber at the highest level while Graham has been scratching and clawing -- some might suggest scurrying -- to arrive at an A-list job. That means you often leave unhappy people in your wake.
Do any Alabama fans care about Saban's messy departure from Miami? Are you kidding? No coach in America is more beloved by his fan base. Why? Have you looked at Saban's win-loss ledger and trophy case?
Same goes for Bobby Petrino at Arkansas, who didn't even finish his only season with the Atlanta Falcons before bolting for the Razorbacks,
leaving behind only a note for his players
.
Graham, suffice it to say, is not alone in the Hall of Coaching Transition Infamy. Don't gloat Arizona fans. You might recall your new coach, Rich Rodriguez had some issues at West Virginia, too.
Then let's consider this name: Mike Riley.
Riley left Oregon State in 1998 after just two season -- his hometown team! -- for the San Diego Chargers, where things went badly. But he got lucky. The Beavers were willing to re-hire him in 2003, believing he'd learned the proverbial "the grass is always greener lesson." No coach in the nation has been more loyal to his university since then while not getting super-rich. At $1.3 million a year, Riley is now the second lowest paid coach in the Pac-12.
He could have doubled his pay when Alabama came calling. He could have tripled his pay when USC came calling. But he remained loyal. And he's been praised for it. Which is nice.
Yet now, despite averaging nine wins a year from 2006-09 at a program that didn't post a winning season from 1971-98, two consecutive losing seasons have him sitting on the conference's hottest seat heading into 2012. There's a vocal minority of fans who believe he should be fired now. A larger percentage believe he needs to make a staff overhaul. My belief is he won't survive a third consecutive losing season.
If Riley had been "disloyal" to Oregon State and bolted in 2010 for USC -- he was widely seen as then-athletic director Mike Garrett's first choice -- he would have more job security today than he does now and a far more financially-secure future for his family. This side of the story is rarely considered, but such cautionary tales pass by word of mouth among coaches -- i.e., watch your back and look out for No. 1.
Maybe Graham is a double-talking con artist. Or maybe his circumstances and opportunities just have been different than other coaches, particularly in terms of timing. Maybe he felt like he and his family being unhappy at Pittsburgh was a good enough reason to leave for a place they wanted to go.
What Arizona State fans need to know is this: This is a tempest in a teapot. It's the story of the week. If Arizona State wins eight games next year, there will be grins all around in Tempe. And if the Sun Devils go to the Rose Bowl within five years with Graham, his exit from Pitt will, at most, be a curious sidenote.
---
Brian from Pullman, Wash., writes
: In your post "
Imagining the perfect coach
," you said that "There are only 10 or so destination jobs in college football -- places where there really isn't a move up." I'm curious to know which universities you believe are on this list.
Ted Miller
: My list of 13 destination jobs would include (in alphabetical order): Alabama, Florida, Florida State, Georgia, LSU, Michigan, Nebraska, Notre Dame, Ohio State, Oklahoma, Penn State, Texas and USC.
Of course, everyone's
personal
list would be different. I'd rather be the coach at Stanford or California -- Bay Area! -- than Nebraska or Oklahoma. But the quality of area restaurants is more important to me than most coaches.
And immediate circumstances matter. Even before the Penn State scandal, following Joe Paterno would have been an extraordinary challenge. No one likes to be the man after the man.
Factors? Tradition, stadium size, all-time winning percentage, recruiting base and revenue.
---
Lolita from Riverside, Calif., writes
: My name is Lolita Anderson. I am
Dres Anderson
's mother. I am so elated! Thank you so much for
my son's recognition
. You absolutely made our family's Christmas! By the way what rubric do you use when making these decisions? This is Awesome!!! Go Airforce! Go Utes!!
Ted Miller
: Most of it has to do with on-field performance.
But some of it is based on having a cool mom.
August, 19, 2011
8/19/11
4:16
PM ET
Fourth in a series looking at potential dream and nightmare scenarios for all Pac-12 teams.
Understand: These are not predictions. They are extreme scenarios and pieces of fiction. You can read
last year's versions here
.
We're going in reverse order of my
post-spring power rankings
(which might not be identical to my preseason power rankings).

Up next
: Oregon State
Best case
Even the Wisconsin fans couldn't help but notice the crescendo building from the orange and black pie slice in the visitor's section at Camp Randall Stadium.
"Cripes sakes!" says a Wisconsin fan. "What's all that racket?"
"It's for the little guy, don'tcha know," says another. "'That one in the No. 1 jersey. Pass me a brat!"
James Rodgers
takes the opening kickoff 100 yards for a touchdown.
"By golly, I tells ya, sure as God made little green apples, he's a fast one!" says the first.
"Ohh, yaaa...Yoo Betcha!" replies the second.
Wisconsin scores a late touchdown and holds on for a 30-28 victory, but the Beavers matching up well physically with the Big Ten favorites bodes well for the season.
"This bodes well for the season," coach Mike Riley says. "You never like losing, but what I saw today made me optimistic after a tough go with injuries in preseason camp."
Rodgers didn't play in the opening win over Sacramento State and his entry was a bit of a surprise.
"That, yeah, well, James thought it would be fun not to tell any of y'all about that," Riley said. "Our little surprise for the Beaver Nation."
Rodgers catches two touchdown passes in a 28-17 win over UCLA.
The Beavers drop a 28-24 decision at Arizona State to fall to 2-2, which is good news: The only time two early losses didn't auger a good season since 2006 was last fall, and that was due to Rodgers knee injury.
"I know it's a great story, but is he a legitimate Heisman Trophy candidate?" ESPN College GameDay's Chris Fowler asks. "Eight touchdowns in four games. Rodgers is well on his way to 1,000 yards receiving and 500 yards rushing. And he leads the nation in kickoff returns."
"I hear you, but his team needs to win," replies Kirk Herbstreit.
The Beavers win their next four, besting Arizona, BYU, Washington State and, in overtime, Utah.
"Stanford might be looking ahead to its matchup with Oregon," Fowler says.
Nope. The unbeaten Cardinal rolls 35-21.
Oregon State wins at California and nips Washington. The Beavers, at 8-3, are ranked 17th when they head to Oregon for another high stakes Civil War. The unbeaten Ducks are No. 1 in the nation, with many pundits already salivating over a matchup of the Alabama defense and the Oregon offense.
Rodgers stands up in the locker room. The din of Autzen Stadium can be heard -- felt -- through the walls. "I'm from Texas. I had to learn to dislike Oregon. My freshman year, I scored the game-winning touchdown on a 25-yard fly sweep in this damn stadium in double overtime. I never thought that would be my only victory over them. I know this is only a football game. And know what? I like a lot of guys in that other locker room.
LaMichael James
is a good dude. We go bowling together. I kick his butt in bowling [laughter]. But [Rodgers voice rises] I am sick of Oregon. Everything about them. Everybody is sick of Oregon. But we will all -- everyone in this room, my brothers! -- will continue to be sick, to suffer, to have something inside us, biting at us, until we go out there and shut. Them. Up. Until we go out there and beat their butts.
"Know what? @%$@! Oregon!"
As his teammates mob Rodgers moments after he hauled in the game-winning 2-point conversion in triple-overtime, they chant together, "@%$@! Oregon!"
"Well, at least we're still going to the Rose Bowl!" angry Ducks fans shout as the ebullient Beavers head back to their locker room.
Utah beats Oregon 45-42 in the first Pac-12 championship game. The Utes, in their first year in the conference, go to the Rose Bowl. Oregon settles for the Alamo Bowl, where it loses to Oklahoma State.
Oregon State beats Texas A&M 24-17 in the Holiday Bowl and finishes 10-3 and ranked 12th. Oregon finishes 17th.
Chip Kelly becomes Georgia's new head coach.
On July 20, the NCAA docks Oregon 15 scholarships and gives it a one-year postseason ban.
Worst case
Though it was using vanilla schemes, the performance against Sacramento State suggests Oregon State has issues. A 45-17 loss at Wisconsin makes it abundantly clear the Beavers do.
The Beavers, not deep to begin with, are missing too many key starters, most notably receiver James Rodgers, H-back
Joe Halahuni
, cornerback Brandon Hardin, linebacker Cameron Collins and defensive tackle Kevin Frahm.
"I'm hoping we get some guys back," coach Mike Riley says. "James is still a ways away, though."
Frahm and Collins return and the Beavers beat UCLA. Halahuni comes back for the Arizona State game, but the Beavers are overwhelmed 35-20. Arizona takes revenge for a 2010 defeat with an overtime victory in Reser Stadium.
Rodgers returns against BYU. He catches six passes for 80 yards and a TD, and the Beavers win 28-24. But he's clearly not his old self.
Oregon State, highly motivated after losing at home to Washington State in 2010, improves to 4-3 with a win over the Cougars. But all the news isn't good.
"We're shutting James down," Riley says. "He's got an NFL future, and we need to protect that. His knee needs to be cleaned up, and if they do it now he'll be 100 percent before the NFL combine."
Bowl hopes end after four consecutive defeats. The Beavers limp into Eugene to face unbeaten and top-ranked Oregon.
"Chip, a lot of folks are saying this is the best team of all time," Chris Fowler says from the GameDay set in front of Autzen Stadium. "What do you think?"
"Maybe," Kelly replies.
"What are your feelings on the NCAA clearing you and the program of all wrong-doing in the Willie Lyles investigation?" Fowler asks.
"Who?" Kelly replies. "Oh, you mean, Will. My feelings are ... good."
Oregon whips the Beavers 55-10.
The Ducks roll Alabama 48-17 in the BCS national title game.
"That," says Alabama coach Nick Saban afterward, "is the best football team I've ever seen. And that include my tenure with the Miami Dolphins."
Oregon announces it's expanding Autzen Stadium to 100,000 seats and that Nike has figured out a way to get the work done in advance of the 2012 season.
The Ducks sign the nation's No. 1 recruiting class. Kelly signs a lifetime contract. Oregonian columnist John Canzano requests that he be put on the Oregon State beat. His request is granted.
January, 13, 2011
1/13/11
7:43
PM ET
Tim Davis is Utah's new offensive line coach,
the school announced Thursday
.
Davis is a former Ute offensive tackle from 1978-80 and a Utah offensive line coach from 1990-96. Pac-10 fans will remember him from his two years at USC in 2003 and 2004, which some of you might recall as successful seasons. And he worked with Norm Chow when he was there. Hmm.
Davis has spent the past two seasons as the run game coordinator and offensive line coach at Minnesota. Davis has also coached at Wisconsin (1997-2001), and he left USC for the Miami Dolphins in 2005.
"This will be Tim Davis's second time around at Utah and he brings a wealth of knowledge and expertise to our program," Utah coach Kyle Whittingham said in a statement. "Tim is known for developing a strong rapport with his players and he will be a great addition to our staff. He has coached at some of the premier football programs in the country over the course of his career and that experience should prove valuable as we head into the Pac 12 Conference."
Davis left USC to join Nick Saban, then head coach of the Miami Dolphins, as an assistant offensive line coach. He would later go to Alabama with Saban, serving as his director of player personnel in 2008, before returning to the sidelines with the Minnesota.
More here
. As for the Chow-to-Utah talk, the
Deseret News reports
, "Utah sources said 'there have been no developments' as of Thursday afternoon."
January, 6, 2011
1/06/11
9:21
AM ET
Everybody loves Stanford coach Jim Harbaugh (other than Cal fans. And Pete Carroll). It appears the Miami Dolphins really, REALLY love Harbaugh.
Consider
this report
from Chris Mortensen:
Miami Dolphins owner Steve Ross has traveled to the West Coast in an urgent effort to convince Stanford's Jim Harbaugh to become his next coach, according to two sources.

Ross was accompanied by general manager Jeff Ireland and former NFL executive Carl Peterson to make the pitch to Harbaugh to replace Tony Sparano as the team's head coach, the sources said. Ross is willing to make Harbaugh the highest-paid coach in the NFL, which would place his salary in the $7-to-$8-million range, the sources said, after receiving a signal from the Stanford coach that he was now willing to listen seriously to the team's presentation.
The meeting is expected to take place this morning.
Harbaugh met with the San Francisco 49ers on Wednesday, according to Mortensen.
There is substantial evidence that Harbaugh won't take another college job, most notably Michigan. Therefore, it appears it will be Stanford or the NFL.
And at this point you'd have to think -- $8 million! -- that Stanford won't be able to compete with the money the NFL will offer.
October, 8, 2010
10/08/10
4:10
PM ET
California has played dominant defense on Saturdays this season. But as Bears fans know, there is a catch.
The Bears gave up 497 yards at Nevada in a 52-31 loss on a Friday night.
In the other three games, they've given up just 20 total points, and they've been good enough to still rank 15th in the nation in total defense (282.5 yards per game) while yoked with the Nevada numbers.
[+] Enlarge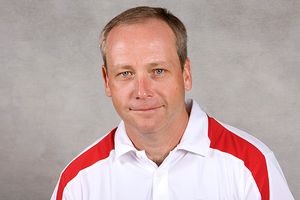 NFL Photos/Getty ImagesClancy Pendergast's defense is ranked No. 15 in the country despite getting gashed by Nevada to the tune of 497 yards.
It's fair to say that new coordinator Clancy Pendergast, a longtime NFL coach, is doing a pretty good job -- other than when he's faced a pistol offense, which isn't terribly popular in the NFL.
And, of course, Pendergast and the Bears get a second crack at the pistol on Saturday when UCLA comes calling.
Seemed like a great time to check in with Pendergast to get his take on "Pistol II: Redemption?"
You guys have had three strong weeks of defense, and one bad one: Was it a case for you of having a short week of practice to prepare for an offense you never game-planned for in the NFL?
Clancy Pendergast
: We are not making any excuses. We didn't play well that night. We didn't play with a good gap integrity. We didn't get off blocks. And we didn't tackle well. So those were most of the shortcomings, things we had wrong that night against Nevada.
I'm not trying to give you an excuse, but there aren't many pistol offenses in the NFL. You had to look at it as something different, right?
CP
: There are some neat things about it. It's very similar to the "Wildcat" offense that was a craze in the NFL two years ago, which started with the Miami Dolphins. I spent a whole offseason and 2009 studying the Wildcat and how to defend it, just because it became so popular in the 2008 season. We looked at how a lot of NFL teams defended it, and looked at some of the college teams that ran it and studied some of them and how teams defended them. But in the true Wildcat, the element of the quarterback not being under center to throw the football is really the biggest difference.
That said: You've guys have been mostly lights out on defense otherwise. Who is playing well for you?
CP
: I think [DE] Cameron Jordan has been our most consistent guy. Linebacker D.J. Holt has played really well, at mike linebacker inside. He's been our most consistent linebacker week in and week out. In the secondary, [safety] Chris Conte has been pretty consistent.
How much will it help to get linebacker Mike Mohamed back healthy?
CP
: Well, he's obviously one of our best players, so having him back in the lineup on a full-time basis will make us a better defense. He didn't play against Nevada because of the (toe) injury. He played part-time against Arizona. We expect to see him a lot on Saturday. That should boost our defense a little bit. Anytime you get one of your better players back, it obviously helps your group.
When you guys have not played well, what goes wrong?
CP
: It's been more the fundamental things -- guys not reading their keys and doing their job. That's the one thing we didn't do against Nevada. We had guys out of position, and guys not doing their job. Generally, when you don't play well on defense, that's what transpires. That night was like no other game.
How is UCLA's pistol different than Nevada's?
CP
: Very similar. It's very similar.
As a competitor, are you excited about getting a second crack at a specific scheme?
CP
: It's just another game plan, but we're excited by the opportunity to play against a very well-coached, talented UCLA team. It's our second week in the Pac-10, and we're just focusing on the next game at hand.
The Bruins have run the ball well this year. What do you see when you look at game film of UCLA?
CP
: It's pretty well-documented that they do a nice job in the running game. They've been able to move the football and control the clock. The line does a good job of working together. I think they work real well in terms of the blocking schemes they use. Both running backs have been a nice one-two punch for them. The quarterback obviously keeps you honest. They can run and throw it. They have a lot of weapons on the offensive side of the ball. They are going to be tough to deal with.
You've got a few games under your belt: How is coaching in college different than in the NFL?
CP
: It's just like I've said from day one: Coaching is coaching. I enjoy the opportunity to teach. You get a chance to do that every day. The biggest thing is the limited meeting time [in college]. So you've got to utilize your time as much as you can. But from a pure coaching standpoint, I've always enjoyed working with young players. In the NFL, that's how you build your team. You develop young players. It's no different at this level. It's just getting the players familiar with the techniques you want to use, the techniques within the scheme, the different calls they need to utilize between the linebackers, defensive line and secondary. That's how you play good defense.
April, 28, 2009
4/28/09
12:11
PM ET
Posted by ESPN.com's Ted Miller
Some more free-agent signings:
California
QB Nate Longshore, invited to Miami Dolphins minicamp
LS Nick Sunberg, Carolina Panthers
Stanford
DE Pannel Egboh, San Francisco 49ers
CB Wopamo Osaisai, San Diego Chargers
C Alex Fletcher, New Orleans Saints
RB Anthony Kimble, Miami Dolphins
OL Ben Muth, San Diego Chargers