August, 14, 2012
8/14/12
7:15
PM ET
This is the second in a series looking at potential dream and nightmare scenarios for all Pac-12 teams.
Understand:
These are not predictions.
They are extreme scenarios and pieces of fiction. You can read
last year's versions here
.
We're going in reverse order of my
post-spring power rankings
(which might not be identical to my preseason power rankings).

Up next
: Arizona State
Best case
While a 40-7 win over Northern Arizona wasn't terribly revealing, it became clear in la ast-second victory over Illinois what new Arizona State coach Todd Graham saw during preseason practices when he lauded quarterback
Taylor Kelly
's scrappiness.
The homestanding Sun Devils lined up fourth-and-goal on Illinois' 7-yard line with 10 seconds left and the Illini leading by four. Kelly took a quick drop but was immediately surrounded by orange helmets. He rolled to his right, reversed field around the pursuit, back-peddled and then, just after delivering a punishing stiff-arm to Illini end
Michael Buchanan
, he lobbed a ball across his body to the far corner of the end zone.
Where
J.J. Holliday
outleaped two defenders for the game-winning touchdown.
"Exactly how we drew it up," Graham quips after the game. "No, that's just a guy making a play on his own. That's what we saw this preseason and, more important, that's also what his teammates saw."
Also important: The Sun Devils have just one turnover and four penalties for 30 yards. None are personal fouls or unsportsmanlike conducts.
"That's still too many mistakes," Graham says.
The Sun Devils produce another thriller at Missouri, which was held to just 45 points in a SEC-debut win over Georgia. With the Sun Devils up 28-24 late in the fourth quarter, the Tigers face a second-and-goal on the Arizona State 1-yard line. Quarterback
James Franklin
tries to sneak it in, but he's met inches from the goal line by linebacker
Brandon Magee
, whose blow knocks the ball loose.
Mike Pennel
, the 340-pound defensive tackle, nimbly scoops up the ball at the 10-yard line, and then takes an amusing minute and a half to rumble the other way for a touchdown -- Tigers bouncing off his rotund 6-foot-5 frame all the way down the field.
It's the ESPN Play of the Day, provided musical accompaniment by Henry Mancini's "Baby Elephant Walk."
The end result is a No. 20 ranking with No. 18 Utah coming to town.
"It's a battle of unbeatens in Tempe, the winner perhaps looking like the top contender against USC in the South Division," says Chris Fowler of ESPN's "College GameDay."
"And with Missouri stomping South Carolina earlier today, you might call the winner the early favorite in the SEC East," adds Kirk Herbstreit.
It proves to be a
Cameron Marshall
-
John White IV
battle, as both running backs eclipse 150 yards and score twice. The difference, however, proves to be Marshall turning a screen from Kelly into a 44-yard TD.
Junior Onyeali
's fifth sack of the season snuffs a late Utes drive and seals the 30-24 victory.
The Sun Devils are flagged just once for five yards.
"Still too much," Graham says.
It's not easy, however, for a program to cure all its bugaboos in a single season. The Sun Devils just don't win in the state of California very often and that holds true during a 20-17 loss to Cal in Berkeley.
The Sun Devils bounce back with a 42-17 victory over Colorado and, at 5-1, move up to No. 19 in the nation, but they get drubbed 44-19 by No. 3 Oregon the following weekend.
"This is about where we lost it last year," Marshall says. "We fell apart like we were Snooki taking the SAT."
A date with UCLA certainly doesn't bring back good memories. This is a different team, with different leadership, though.
Alex Garoutte
kicks field goals of 38, 48 and, with five seconds left on the clock, the winning 56-yarder in a 30-28 victory over the Bruins. That winning drive included the Sun Devils converting on a third-and-29 play.
The Sun Devils slip Oregon State 31-27, but get rocked 45-21 at No. 1 USC. A 44-40 win over Washington State pushes them to 8-3 and back into the top 25.
And so it's off to Tucson to try to take back the Territorial Cup from Arizona. The Wildcats need a victory to become bowl-eligible. An Arizona State win sends the Sun Devils to the Holiday Bowl in San Diego. A loss means El Paso, Texas, and the Sun Bowl.
Magee gathers his teammates.
"We've had a lot of bad times in this program since I've been here," he says. "But I wouldn't trade them for anything because that's how I got here tonight -- this moment -- with you guys. This is the best place to be in the world, right here in this locker room before we open a can of whup-butt. We are the beginning. We are the foundation. And for that, we will always be remembered. When Arizona State wins a Rose Bowl, wins a national championship, we will all celebrate together as Sun Devils. And then everyone that wears our colors will raise their hands and point at us and say, 'But it started with you guys.'
"Now let's go bust those guys to pieces."
Arizona State rolls 38-20 and earns a berth in the Holiday Bowl opposite Texas. A 41-28 victory over the Longhorns earns the Sun Devils a 10-3 finish and final No. 14 ranking.
The Sun Devils lead the nation in fewest penalties per game.
Pittsburgh finishes 3-9, with players taking to Twitter saying how much they miss Coach Graham.
"I've got great news," says Steve Patterson, ASU vice president for athletics. "Now that the economy is rallying and local housing prices are soaring, we are pleased to announced a $200 million anonymous donation that will help finance a $300 million renovation of Sun Devil Stadium."
It turns out that ASU alumni Nick Nolte, Jimmy Kimmel and David Spade pooled their money and gave the school the $200 million.
Says Spade, "Hey, 'Joe Dirt' was huge in France."
Worst case
It takes more than optimism and saying all the right things to transform a program. It doesn't take long for Graham to find out that talking about unity and discipline is one thing. Imposing it in the Arizona State locker room is another.
After whipping Northern Arizona in the opener, things go down hill quickly. Illinois sacks quarterback Taylor Kelly six times in a 28-10 defeat. Missouri QB James Franklin accounts for five touchdowns in a 40-17 loss, with
Michael Eubank
replacing Kelly in the second half but failing to rally the Sun Devils.
Eubank gets the start against Utah, but the Sun Devils turn the ball over three times in the first half and gain just 97 yards against a physical Utes defense. Kelly starts the second half but things don't get any better. Players are seen mouthing, "Put
Mike Bercovici
in!" on the sidelines.
After a blowout loss at California, the Sun Devils are averaging 105 yards in penalties per game.
Bercovici leads the Sun Devils to a 35-30 victory at Colorado, but he gets into a brief skirmish with Graham after he tells the punt unit to get off the field before a fourth-down play from the Buffs' 44-yard line.
It appears the Sun Devils completely surrender in a 52-3 loss to Oregon.
"This obviously isn't going to get fixed overnight," Graham says amid rumors of a post-game locker-room fight between offensive and defensive players. "It takes time to change a program's culture."
Just 24,000 fans show up to watch the Sun Devils fall to 2-6 against UCLA. The season further spirals down the toilet after a loss at Oregon State, a 56-6 evisceration at USC and a 42-21 home defeat to Washington State.
"I know this team will show up with some fight at Arizona," Graham says. "We always fight against the Wildcats."
Arizona whips the Sun Devils 44-24 and advances to the Holiday Bowl, where the Wildcats beat Texas and finish the season 9-4 and ranked 25th.
Tempe's own
Priest Willis
commits to Arizona, as do
Jalen Ortiz
and
Cole Luke
.
Arizona alumni Linda Ronstadt, Geraldo Rivera and Garry Shandling give the Wildcats athletic department $200 million dollars.
"We just want all their stuff to be way better than Arizona State's," Ronstadt explains. "Bear down!"
Pittsburgh wins the Orange Bowl.
Graham texts his players at 4 a.m. on Dec. 25 that he's leaving for the head coaching job at McNeese State.
"It's always been my dream to coach the Honey Badger," he types.
Tyrone Willingham hired to replace Graham.
September, 18, 2011
9/18/11
1:01
AM ET
CHAMPAIGN, Ill. -- Illinois coach Ron Zook has often talked about how his program experienced too much success too soon.
After winning just eight games between 2003-06, Illinois fast-tracked to the Rose Bowl in Zook's third season, finding itself as a surprise participant on college football's grandest stage. Rather than take a step, Illinois skipped about 40.
The Illini tumbled that day against USC and entered a two-year free fall.
No one would describe the 2010 Texas Bowl -- now called the Meineke Car Care Bowl of Texas -- as an iconic college football setting. It takes place in an NFL venue -- Houston's Reliant Stadium -- and was revived only in 2006.
But for Illinois, the Texas Bowl represented a step, a building block for what players and coaches hopes were bigger things ahead. It didn't hurt that the Illini crushed Baylor 38-14.
"A lot of guys hadn't been to a bowl game," sophomore linebacker Jonathan Brown said. "It was kind of good to taste success, but it made us more hungry."
The hunger carried Illinois through the offseason, and the team has been able to retain something it lost following the 2002 Sugar Bowl and the 2008 Rose Bowl.
Momentum.
[+] Enlarge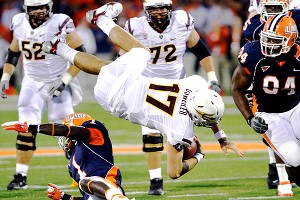 AP Photo/Seth PerlmanThe Illinois defense pressured Arizona State's Brock Osweiler all night -- amassing six sacks and four quarterback hurries.
Illinois announced itself as a team to watch Saturday night against No. 22 Arizona State, rallying behind a ferocious defense for a
17-14 win
. The Illini are 3-0 for the first time since 2001 -- the last year they won a Big Ten championship -- and recorded their first win against a ranked opponent since stunning No. 1 Ohio State in 2007.
For their efforts, the Illini, projected by many to finish at the bottom of the Big Ten, likely will earn a spot in the new polls released Sunday.
"We're taking some steps," Zook said. "We're continuing to get where we're supposed to get. ... It makes everybody understand that, 'Hey, maybe Illinois is a bit better than what people think.'"
Illinois and Arizona State both finished the 2010 regular season with identical 6-6 records. While the Illini went bowling, Arizona State stayed home because two of its victories came against FCS opponents.
Still, the Sun Devils entered this season as a team to watch, a belief strengthened by their overtime win last week against Missouri. Arizona State didn't have
the letdown coach Dennis Erickson feared
, but the Sun Devils couldn't overcome the mistakes (eight penalties, three turnovers) that have plagued them far too often.
Given another chance to turn the corner, Arizona State lost its footing.
"This is gut-wrenching, to be honest with you," receiver
Gerell Robinson
said. "Everyone is sitting in disbelief that it happened the way it did."
It happened because Illinois' defense executed an innovative, pressuring, "crazy" game plan devised by coordinator Vic Koenning. Illinois mixed up fronts, blitzed often and repeatedly made plays in Arizona State's offensive backfield.
The Illini racked up six sacks, 12 tackles for loss and four quarterback pressures. Two of their three takeaways came as a direct result of pressure on Sun Devils quarterback
Brock Osweiler
, who entered the game ranked 10th nationally in passer rating and 11th in total offense.
"We sat up here Sunday night, put the game plan together, kind of looked at each other and said, 'This is crazy,'" Koenning said. "But it all worked."
Brown had a breakout performance with 3.5 tackles for loss, 1.5 sacks and an interception. Defensive ends Whitney Mercilus and Michael Buchanan combined for 3.5 sacks and a forced fumble.
"They brought a lot of pressure tonight," Osweiler said. "Shoot, it seemed like almost every snap."
What was pegged as an offensive shootout turned into a defensive tussle, and for much of the game, neither team seemed willing to take control. The teams combined for five turnovers in the first three quarters but converted none for points.
Illinois finally ended the trend when, trailing 14-10 in the fourth quarter, Mercilus sacked Osweiler, forcing a fumble. An Illini offense that hadn't recorded a first down in the second half then marched to the end zone in only four plays.
"You've got to capitalize," Zook said. "You've got to make something happen when you get the ball back."
Arizona State couldn't do so nearly enough. The Devils had eight possessions end in Illinois territory, but only two culminated in points.
"Very disappointing," Erickson said. "It's two steps forward and one step back."
Who knows how a bowl appearance in the winter would have impacted Arizona State for the 2010 season. But there's little doubt about the positive effect it had on the Illini.
"It changed the culture," Buchanan said. "It changed how guys think about playing on the big stage. ... We got a taste of being on top."
Illinois sits atop the Big Ten as one of just four remaining undefeated teams. The league looks extremely vulnerable, and Illinois has three of the next four games at home with the only road trip to Indiana.
Leaders division foes Wisconsin and Ohio State both must visit Memorial Stadium later this fall.
"We're not shooting for the Texas Bowl," Buchanan said. "We're shooting for a big bowl."
September, 17, 2011
9/17/11
9:54
PM ET
CHAMPAIGN, Ill. -- After neither team turned five combined takeaways into points, Illinois finally made Arizona State pay.
The Fighting Illini offense rewarded its defense for a night of huge plays as
Nathan Scheelhaase
found
A.J. Jenkins
for a 16-yard touchdown on a crossing route. Defensive end Whitney Mercilus, who is having a terrific night rushing the passer, set up the score by leveling
Brock Osweiler
and forcing a fumble that Ian Thomas recovered.
Illinois' defense certainly has played well enough to win this game, forcing three Osweiler turnovers. From Mercilus to Jonathan Brown to Michael Buchanan, Illinois has had a ton of contributions.
The Illini lead 17-14 with about 10 minutes to play.