February, 9, 2012
2/09/12
6:00
PM ET
By
ESPN.com staff
| ESPN.com
Our countdown of the Pac-12's top 25 players continues.
You can see our
preseason top 25 here
.
23. Nickell Robey, CB, USC

2011 numbers
: Robey finished with 63 total tackles, including 3.5 for a loss and two sacks. He also had two interceptions and 11 pass defenses.
Preseason ranking
: Unranked.
Making the case for Robey
: Robey, the Trojans' fourth leading tackler, not only earned first-team All-Pac-12 honors in 2011, he also was the only cornerback to do so (all the other first-team defenders from the secondary were safeties). It's reasonable then to presume that the sophomore was the conference's best cover corner. The USC secondary gave up just 17 TD passes last year, which was tied with two other teams for second-fewest in the conference. Robey, listed at just 5-foot-8, 165 pounds, isn't big, but he's not lacking in toughness and he's typically outplayed bigger receivers, most notably Notre Dame's
Michael Floyd
(6-3, 225), who caught only four passes for 28 yards against Robey and the Trojans. Robey also had a pick-6 against Stanford QB
Andrew Luck
, and he shut down Arizona's
Juron Criner
(three catches for 29 yards). Robey isn't the biggest corner in the Pac-12. But heading into 2012, he'll be considered the best.
24.
Stepfan Taylor
, RB, Stanford
25.
David Paulson
, TE, Oregon
November, 27, 2011
11/27/11
2:20
AM ET
STANFORD, Calif. -- On the volume meter, Stanford head coach David Shaw usually speaks at a three. On Tuesday, he spoke at an 11 (cue the "
This is Spinal Tap
" reference).
Shaw called for the national spotlight -- on his team, on his quarterback and on the entire Bowl Championship Series -- and, for better or worse, he got it.
The question, however, is whether
a 28-14 win
over Notre Dame on Saturday night at Stanford Stadium was enough to change anyone's mind -- either the BCS pollsters or the Heisman voters.
"I wasn't trying to change minds," Shaw said. "I wasn't bashing the BCS. I wasn't bashing any other teams. Just the explanations that I kept getting didn't make sense to me and I'm a common-sense person and I just don't understand the whys of where we were."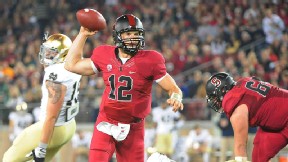 Kyle Terada/US Presswire"I've seen a lot of the other guys and there are a lot of really, really good football players," Stanford coach David Shaw said of quarterback Andrew Luck. "There's nobody like this guy."
As for the Heisman -- as expected --
Andrew Luck
said he doesn't care. You'd sooner get Condoleezza Rice to spill state secrets than to get Luck to talk about Heisman aspirations.
"I don't worry about what kind of impression I make on anybody," Luck said.
That's when tight end
Coby Fleener
interjected.
"Andrew Luck has my vote," Fleener said, raising his hand.
"Mine too," said safety Michael Thomas, raising his hand. "I think he's the best player in college football."
"Me too," said linebacker Chase Thomas, raising his hand.
Luck laughed off the moment, even though it encompassed everything that matters to the quarterback: the respect of his coaches and teammates.
"I don't have a vote," Shaw said. "We'll see what happens. I just know that he's one of a kind. He's one of a kind. It's apples and oranges in my opinion between him and everybody else and I've seen a lot of the other guys and there are a lot of really, really good football players. There's nobody like this guy."
Luck threw four touchdowns against the Irish -- three in the first half to help the Cardinal build a 21-0 lead at the break -- before closing out with a 55-yard touchdown to Fleener. The tight end finished with four catches for 97 yards and two touchdowns.
All three of Luck's touchdowns came against Notre Dame blitzes* and both of Fleener's scores came off of play-action. Against the blitz, Luck was 7-of-8 with three touchdowns, no interceptions and an average of 15.4 yards per completion. He finished the game 20-of-30 for 233 yards and an interception.
"I think, one loss, that's great," Luck said. "We've done a lot of good things. Someone just mentioned that we've been on a 23-2 run. I think that's very impressive. We put ourselves in position to be in a good bowl game and that's something we wanted to do."
Which bowl game remains to be seen. The Cardinal (11-1) needed this win to stay in the conversation for a BCS at-large bid. Stanford could climb into the top 4, assuring it a BCS berth.
"All we can do is play our butts off and prepare and let the voters or whoever else makes the stuff up choose," Fleener said. "All I know is you gotta win. That's all I understand. They want to see 12-0 and win out and that's how you go to the national championship. Other than that, I don't know how everyone else falls in the pecking order."
Speaking of pecking -- the defense spent most of the game pecking away at Notre Dame's quarterbacks. Chase Thomas led a relentless pass rush that sacked Notre Dame's quarterbacks five times. Thomas accounted for two while forcing a fumble and Ben Gardner, Josh Mauro and A.J. Tarpley all added one. In all, the Cardinal had eight tackles for a loss, holding Notre Dame to 57 yards on the ground. Michael Thomas and
Corey Gatewood
also logged interceptions.
"We went out and tried to play our game," Tarpley said. "Maybe [the voters] liked it. Maybe they didn't. You never really know what to think the way those things are. We played a good game. We could have played better. But we got the win. That's all that's important."
Stepfan Taylor
turned in his steady-as-always performance, rushing for 118 yards on 20 carries as the Cardinal accumulated 429 yards of offense.
Notre Dame mounted a minor second-half comeback -- cutting the score to 21-7 after getting a 6-yard touchdown strike from
Andrew Hendrix
to
Michael Floyd
. Notre Dame's big-game receiver had eight catches for 92 yards and the score.
Luck's first touchdown came on a 3-yard jump ball to 6-foot-8 tight end
Levine Toilolo
. The second was a 28-yarder to Fleener -- who pulled his defender into the end zone with him, and
Ty Montgomery
added an 11-yard touchdown reception with 10 seconds left in the first half.
Shaw's comments last week caused a national stir. The timing certainly seemed calculated. Whether his players' actions backed up the coach's words will linger until the BCS bowl games are announced.
"I'm behind coach Shaw 100 percent," offensive guard David DeCastro said. "He knows what he's doing. That's for sure. We don't care what anyone else thinks. We got the win. That's all we care about."
But was the win enough for the team and/or Luck? To be continued ...
*
Courtesy of ESPN Stats & Information.
November, 26, 2011
11/26/11
11:35
PM ET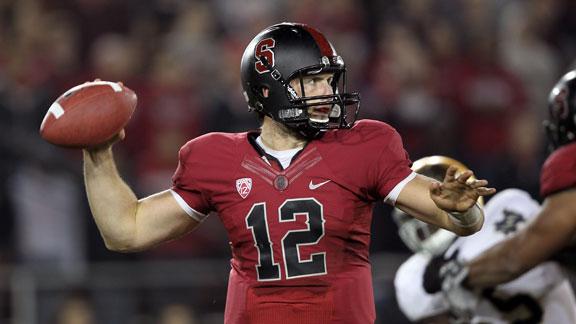 STANFORD, Calif. -- The
Stanford Cardinal
overcame a sluggish second half to top Notre Dame
28-14
in the regular season finale for both teams at Stanford Stadium.


The Cardinal now await the outcome of games next week before finding out their postseason destination -- which more than likely will include an at-large bid to a BCS game.
Quarterback
Andrew Luck
threw four touchdown passes -- three in the first half and then a 55-yarder to tight end
Coby Fleener
late in the fourth to seal the victory.
Luck and Fleener also hooked up for a 28-yard touchdown in the first half.
Senior Night quickly turned into Andrew Luck night as the Heisman Trophy candidate set the Stanford record for most career touchdown passes (80) and the single-season mark (35). Luck finished the game 20-of-30 for 233 yards, four touchdowns and an interception.
Notre Dame turned the ball over three times and never really found a rhythm on offense, switching between quarterback
Tommy Rees
in the first half to
Andrew Hendrix
in the second half. Hendrix and
Michael Floyd
hooked up for a 6-yard touchdown strike in the third quarter.
The Cardinal's relentless pass rush sacked Notre Dame's quarterbacks five times -- it was the fourth time this season Stanford has had five or more sacks in a game.
November, 26, 2011
11/26/11
11:13
PM ET
STANFORD, Calif. --
Andrew Luck
isn't the only one setting school records.
Notre Dame wide receiver
Michael Floyd
caught his 94th ball of the season in the fourth quarter -- breaking Golden Tate's single-season reception mark of 93 set in 2009.
Floyd has seven catches for 86 yards and a touchdown.
Earlier in the night, Luck set the Stanford single-season and career passing touchdown records.
November, 26, 2011
11/26/11
10:43
PM ET
STANFORD, Calif. -- Notre Dame finally got on the board midway through the third quarter when quarterback
Andrew Hendrix
– who appears to have replaced
Tommy Rees
permanently for the second half – connected with
Michael Floyd
on a 6-yard scoring strike.
Heading into the locker room at the half, ESPN sideline reporter Heather Cox asked Notre Dame head coach Brian Kelly if he was going to change quarterbacks at the break.
"Just trying to do anything to get some consistent play at the quarterback position," Kelly said. "... We're not getting enough production right now."
Looks like he's getting the production he wanted from Hendrix – who orchestrated the 7-play, 77-yard scoring drive.
Notre Dame has been solid in the third quarter, outscoring opponents 84-13. The Irish have only allowed one offensive touchdown in the quarter this season.
The Cardinal lead 21-7.
November, 26, 2011
11/26/11
7:16
PM ET
STANFORD, Calif. -- We're about an hour away from kickoff. The Nike Pro Combat uniforms look pretty cool (at least the warm-ups).
A few things to keep an eye on this game:
Michael Floyd, difference-maker: Notre Dame wants to get him the ball, Stanford wants to stop it. He's coming off a 10-catch performance against Boston College. The return of Stanford safety Delano Howell last week was a huge boost to the secondary and seemed to re-inject some confidence into the defensive backfield.
Tight targets: Stanford tight ends Zach Ertz (knee) and Levine Toilolo (shoulder) were both called questionable midweek by Stanford head coach David Shaw. Though both were on the field during the first round of warmups. Ertz hasn't played since the opening kickoff of the USC game. His return would be a big boost to Andrew Luck in his final game at Stanford Stadium. Ertz seems to think he's going to play. He tweeted around 4 p.m.: "It's been too long! It's gametime and #imback."
National spotlight: Lots of attention on Luck and the Cardinal. Shaw made a lot of noise this week about Luck and the BCS. People will be watching, for better or worse.
October, 21, 2011
10/21/11
10:00
AM ET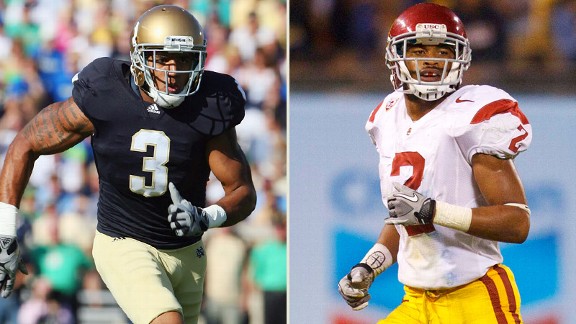 US PresswireCan Michael Floyd and Notre Dame make it two in a row against Robert Woods and USC?
USC-Notre Dame, the nation's best intersectional rivalry, kicks off for an 83rd time on Saturday in South Bend under the lights, and it feels like the Trojans' recent dominance might be at an end.
The Fighting Irish won a tight one, 20-16, last year in the Coliseum, ending an eight-game Trojans' winning streak. While Notre Dame got off to a slow start, it seems to have righted the ship in Year 2 under Brian Kelly. Meanwhile, USC, though 5-1, has as many questions to answer as it plays through its second year under coach Lane Kiffin, yoked with NCAA sanctions, including a postseason ban.
Seems like a good time to check the pulse of the rivalry, so the Pac-12 blog and Notre Dame blogger Matt Fortuna decided to have a little intersectional chat.
Ted Miller:
Matt, there were high expectations to start the season for Notre Dame. Things got off to a slow, and sometimes controversial start -- see Kelly getting red-faced with rage on the sidelines -- but things seem to be on the uptick. First, why did the Irish struggle and, second, what are they doing better now?
Matt Fortuna:
Ted, I think my face would have also turned a couple different colors had I been in charge of this team at the beginning of the season. Ten total turnovers, two quarterbacks and a fourth-quarter collapse at the Big House made this team a must-watch ... for everyone but Irish fans. I'm not convinced we would have seen such complete performances in recent weeks without the sting of those early defeats, though. The defense really took an edge with it, both into press conferences and into games, and it has helped set the tone for a team that knows it cannot afford to slip up any more this season. Offensively,
Tommy Rees
has continued to clean up some sophomore mistakes and the running game is better than anyone could have possibly hoped for at the beginning of the season.
I'm curious about how the Trojans see this rivalry. I know Lane Kiffin called last year's defeat his toughest as a head coach, but then he referred to this game as the Irish's Super Bowl because it comes after a bye. Did last year's game really re-charge this rivalry, or does USC look at that as an aberration to what has pretty much been a one-sided contest for the past decade?
TM:
Well, if USC sees last year as an aberration it may be alone. What a lot of folks see is a re-energized Notre Dame program that finally hired a good coach -- big fan of Brian Kelly here, red face or not -- while the Trojans are about to negotiate the loss of 30 scholarships combined over the next three recruiting classes due to NCAA sanctions.
The feeling in Heritage Hall is they blew last year's game and would have won if QB
Matt Barkley
had played. But woulda, coulda, shoulda, you know? The Trojans have no excuses this year. They have yet to be hit by scholarship reductions. While they got killed last year by transfers, they've had a year to adjust to their new personnel. What I suspect USC fans might see is their best chance to notch a win -- at Notre Dame, no less -- during a period when the Irish look to be rising and the Trojans sagging. Further, with no postseason chances -- also due to NCAA sanctions -- this big rivalry game away from home almost functions as a midseason bowl game.
So I think USC is taking this one very seriously.
I've been hearing about how much better the Notre Dame defense is. What do you think the Irish have planned for Barkley and wide receiver
Robert Woods
, who had an off-game against California and figures to be highly motivated this weekend?
MF:
In Week 4
Michael Floyd
was held to just four catches at Pitt. He responded with a 12-catch, 137-yard performance at Purdue. I think the Irish have that in mind and understand that whatever Cal did to contain Woods this past week, there really is no blueprint for shutting down an elite receiver like that.
Going off the woulda, coulda, shoulda theme, this defense has been very good for 23 of 24 quarters this season, with the fourth-quarter collapse at Michigan being the lone --- albeit gigantic -- blemish. Manti Te'o, who once looked like a sure thing to attend USC, may just be the best inside linebacker in the country, and the rest of the front-seven has been outstanding against the run. The secondary is less established, which is why I think getting to Barkley early and often will make life a lot easier defending the passing game.
OK, prediction time. Who do you got, Ted?
TM:
The Trojans believe Matt Barkley will be the difference this go-around. I don't. I think the Notre Dame defense will do enough to contain him and receiver Robert Woods and the Trojans' inconsistent rushing attack. And the Irish defense looks superior to USC's, which has continued its mediocrity in year two under Monte Kiffin.
So I'm picking the Irish, 28-24.
What about you?
MF:
I think the Trojans have enough offensive firepower to stay within striking distance, but I don't think their defense, despite its progress at Cal, will be able to contain Notre Dame's offense, which was on a tear before the bye week.
I expect more of the same from the Irish this Saturday, and I'm picking them to win, 35-24.
PAC-12 SCOREBOARD
Saturday, 12/20
Monday, 12/22
Tuesday, 12/23
Wednesday, 12/24
Friday, 12/26
Saturday, 12/27
Monday, 12/29
Tuesday, 12/30
Wednesday, 12/31
Thursday, 1/1
Friday, 1/2
Saturday, 1/3
Sunday, 1/4
Monday, 1/12
Tweets from https://twitter.com/ESPNCFB/lists/pac12