May, 17, 2013
May 17
4:00
PM ET
All players are equal, but some players are more equal than others. That's the basis of our Most Important Player series.
First off, quarterbacks are excluded to make things more interesting. It goes without saying, for example, that Oregon's
Marcus Mariota
is the Ducks' most important player.
And most important doesn't necessarily have to be "best." An All-American's backup can be pretty darn good, too.

Our most important guys are players who could swing a win total one way or the other, based on their living up to expectations. Or their absence.
Washington State
: S
Deone Bucannon
2012 production
: Had a team high 106 tackles with three tackles for a loss, one sack and he hauled in four interceptions while also forcing a fumble.
Why Bucannon is so important
: As noted in Washington State's "
One Good Thing
" video, the Cougars are silly with wide receivers. And since that is their primary method of offense, finding just one among a corps of many is difficult simply because of the nature of the offense Washington State likes to run.
So trying to single out the most important player from the wide receivers would be tough.
Defensively,
Logan Mayes
takes over the buck linebacker position for the departed
Travis Long
-- and the extremely high expectations that come with it. I also think defensive tackle
Ioane Gauta
, who has cut about 20 pounds this off season, quietly had a very good season last year. There were some improvements on defense -- especially in the way of sacks and tackles for a loss -- so either of them could certainly qualify.
But Bucannon fills this space because, like most safeties, he'll be called upon to be the leader of the defense. He was the only Washington State player (not counting special teams) to earn all-league accolades above honorable mention, landing on the second-team defense. He was Washington State's first player since 2006 to have more than 100 tackles in a season and his 106 stops were fifth in the conference.
But maybe more importantly, he's grown up. After a late hit on an Eastern Washington receiver last year, he was tagged as a dirty player. Fair or not,
he told me in March
he's learned from his mistakes.
It's tough because you're trying to come with the aggressiveness you need as a defensive player, but you have to be conscious that you are playing within the rules. Things are moving fast and you don't have much time to decide where to hit someone. But it's something I learned.
That's an important step because the Cougars played a lot of youngsters last year (and probably will again this year) and they'll be looking to Bucannon for guidance and how to act on and off the field. As they move into Year 2 of Mike Breske's defense, veterans take on even greater importance.
On several occasions last year, head coach Mike Leach said what the Cougars did in practice during the week needed to translate onto the field on Saturdays. Bucannon was one of those players who listened. He's a hitter -- and his play can inspire a team that is looking for a little inspiration.
March, 20, 2013
Mar 20
7:00
PM ET
Like many, Washington State safety
Deone Bucannon
fell prey to the belief that by simply setting foot on campus, new head coach Mike Leach was going to instantly make the Cougars better. After all, Leach's hiring was deemed by many as the most significant in college football last season. Though, that was before the Cougars went 3-9.
It still might be. But Bucannon and his teammates realize it's less to do with Leach and more to do with themselves.
"I think we were blinded by how much success he's had in the past and we just assumed we would automatically win games because it's Coach Leach and he has a great system," Bucannon said. "But it's up to us to work that system. Football isn't about systems. It's about players and how much effort they put into it. The system complements the players. We can't put the system first. We thought it would be magic and we'd win games. But we have to put in the work."
[+] Enlarge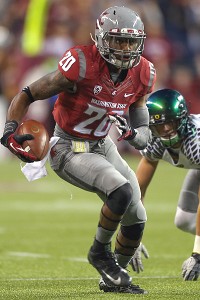 Otto Greule Jr./Getty ImagesWashington State is expecting big things this season from safety Deone Bucannon.
With the Cougars opening spring ball Thursday, Bucannon is now looked to as the unquestioned leader of the defense, taking the crown from the departed
Travis Long
. The second-team all-conference safety, who was fourth in the league in total tackles last year (106) and tied for fifth in the league in interceptions, is ready to put the defense on his shoulders entering Year 2 of Mike Breske's 3-4 scheme.
"Really looking forward to seeing Deone [pronounced DAY-own] this spring," Breske said. "He will have 15 practices to compete and get better each time out. This spring will be an opportunity for him to develop and showcase his leadership, both vocally and by example.
"Deone is one of our best competitors, he loves to compete and wants to win every play. Every day, he will be out there to get better."
Bucannon is a hitter. And hitters hit. But as the rules of college football continue to shift more toward player safety, hitters have to constantly tiptoe the line between being aggressive and being tagged as dirty players. Unfortunately for Bucannon, he picked up the dirty tag last season when he planted a late hit on an Eastern Washington receiver. He owned up to the mistake and served a half-game suspension. But the label stuck with him all last year -- and he's hoping to strip it to regain his reputation in 2013.
"If you knew me or talked to me, I'm not what a lot of people said I was," Bucannon said. "I love this game and I would never disrespect the game or another person. I enjoy going 100 percent on the field. It's tough adapting to the new rules right off the bat. I need to control when to hit the player because that's part of the game. Ask any safety that's played college football and they'll say the same thing. It's tough because you're trying to come with the aggressiveness you need as a defensive player, but you have to be conscious that you are playing within the rules. Things are moving fast and you don't have much time to decide where to hit someone. But it's something I learned."
Those are the kind of acts of leadership he'll need to display as WSU moves to Year 2 under Leach & Co. As the only non-specialist on the Cougars to earn all-conference honors (
Andrew Furney
was second-team kicker), Bucannon has the staff looking for him to do things the right way on and off the field.
The senior has appeared in every game since his freshman season and has ridden the highs and (mostly) lows of the program. But he continues to believe that the Cougars are on the verge of breaking through. He points to last year's come-from-behind win in the Apple Cup as proof of what this team is capable of.
"I remember not one person on the sideline thought we were going to lose that game even when we were trailing in the fourth quarter," he said. "If we can go into every game with that kind of confidence, we can compete with anybody. When we play together and aren't worried about the other team's jerseys, we can beat any team in the country.
"But it was also just one win and we can't live in the past. It was a nice way to end the season, but we need to learn from it and move on and try to win more games next year."
October, 11, 2012
10/11/12
2:30
PM ET
You just better start sniffin' your own rank subjugation jack 'cause it's just you against your tattered libido, the bank and the mortician, forever man and it wouldn't be luck if you could get out of life alive.
October, 3, 2012
10/03/12
2:30
PM ET
You know, Rick, I have many a friend in Casablanca, but somehow, just because you despise me, you are the only one I trust.
August, 28, 2012
8/28/12
11:00
AM ET
Sure, Mike Leach would love to cruise around the old stomping grounds when he brings his
Washington State Cougars
to Provo, Utah to kickoff the 2012 season versus BYU. It might be nice to swing by the old King Henry Apartments where he met his wife when he was a student in the early 80s.
But Leach is going home for business, not pleasure.
"I have great memories there," Leach said. "I met my wife there. It's a great spot. But once the game starts your attention is kind of confined to the field and your sideline ... once it comes to the coaching part, you are occupied with your players and the opponent."


There's been a lot of attention on Leach this offseason. He takes over a program that has won just seven games over the last three seasons (four of them last year) and hasn't been to a bowl game since 2003. By bringing in Leach, Washington State sent out a warning shot to the rest of the conference that it was committed to football and serious about being a major player in the Pac-12.
That starts Thursday, when Washington State opens on ESPN at 7:15 p.m. PT as a nearly two-touchdown underdog.
Naturally, this game presents some mildly amusing confusion when you match the Cougars versus the Cougars. But the similarities between the teams go further than just the mascot.
"I think the argument can certainly be made that offensively -- we may look more BYU than BYU does if you reflect on the LaVell Edwards days," Leach said. " There are plays out there we're running that we got -- and maybe we don't run it exactly -- that we got from the Golden Age back then at BYU when LaVell Edwards was there and we run it just like they did back then except maybe we've adjusted this route or that route."
Leach frequently talks about his time as a student at BYU and how what the Cougars were doing offensively influenced much of what he does now with this high-powered Air Raid offense. He recalls early in his coaching career hanging out at BYU spring practices with Roger French and Norm Chow and watching the way BYU would spread the ball around on offense.
"Football-wise, it's very hard to imagine what football would be like without LaVell Edwards," Leach said. "And then also football in America, what it would be like without LaVell Edwards. I'm not the only person LaVell Edwards influenced on throwing the football ... It influenced me directly and specifically and it's the core of a lot of things we do offensively."
And offensively, Washington State should be just fine. The Cougars boast NFL talent at quarterback (
Jeff Tuel
) and wide receiver (
Marquess Wilson
) and Tuel has a bevy of options behind Wilson. Leach inherited a team that was geared toward a spread passing attack already, so transitioning to his style went smoothly in the spring and fall.
"I thought it went efficiently, I expected it to," Leach said. "Some of our guys have emerged and stepped up in a quicker fashion than I expected. It did install quickly and things went pretty well for us."
At question is whether WSU's shift from a 4-3 to a 3-4 defense under Mike Breske can get up to speed quick enough and keep opponents off the scoreboard. Plus, Leach expects to play more freshmen than he'd prefer. How many?
"Quite a few," he said. "I think by some accounts an alarming number."
We'll know a lot more about the new-look Washington State team following Thursday night's game. And as for BYU's current coach, Bronco Mendenhall? Leach said they are casual acquaintances.
"He's a really good surfer," Leach said. "... I've seen all his football stuff. We've watched 13 games worth to the point where we're really not interested in seeing blue Cougars. We're only interested in seeing red Cougars. Bronco is an interesting guy and he does a lot of interesting things. But I'd be more interested about talking to him about surfing than football at this point."
August, 17, 2012
8/17/12
12:00
PM ET
Did you know that Oregon running back
Kenjon Barner
was recruited as a DB? That position switch has worked out, eh?
Every season, players are moved from one position to another. Sometimes the move is the player's idea. Sometimes it's not. Sometimes he likes the switch. Sometimes he doesn't.
And position switches often don't yield much. But sometimes they do.
So which Pac-12 position switch seems like a "Eureka!" moment this preseason. Here are a couple of ideas.
Kevin Gemmell
: This is an intriguing question. Back when spring started, I probably would have said USC's
Tre Madden
switching from linebacker to running back. As it turns out, Madden got hurt, the Trojans got
Silas Redd
and all is well once again in the USC backfield.
[+] Enlarge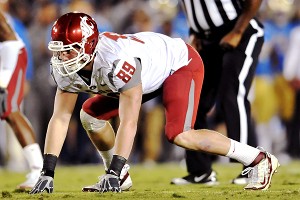 AP Photo/Cal Sport MediaTravis Long will be playing a hybrid defensive end/outside linebacker position this season.
UCLA's
Joseph Fauria
and Washington State's
Andrei Lintz
are also fascinating cases. Both now have "wide receiver" titles and more receiving responsibilities. I'm on record as saying both will flourish in their "new" roles. But they are essentially still just hybrid tight ends.
But it's Lintz's teammate, defensive end-turned linebacker
Travis Long
that strikes me as possibly the most impactful position change in the entire conference.
Washington State had a run defense that was marginal at best last year -- ranking seventh in the conference while yielding 157.2 yards per game. Long ranked in the top five in the Pac-12 in tackles for a loss, racking up an average of one per game last season.
So it stands to reason that you take WSU's best run-stopper, especially now that Alex Hoffman-Ellis is gone, and you unleash him and let him do what he does best.
At 6-4, 243 pounds, Long had good size as a 4-3 defensive end, but was probably on the smaller side of the spectrum. He relied on his speed to make plays in the backfield, and he was good at it. But now that speed is going to serve him better as WSU's "buck" linebacker in the new 3-4 scheme, which is essentially a hybrid defensive end/outside linebacker position.
The Cougars will get the best of both worlds out of Long. He'll have his hand down a few times, hand up a few times, but still be able to use that burst and explosiveness to make plays. Think of how Stanford uses
Chase Thomas
and you'll start to get an idea of what Long is capable of.
The move should create a spike in Long's tackles, tackles for a loss and sacks. But he also has pretty good ball instincts, having deflected three balls as a defensive end. Put that to use a couple of yards off the line and you have a guy who can be an impact player in both the rush and pass defense.
Talking with Washington State defensive coordinator Mike Breske, he told me they plan to be very "multiple" with Long. Meaning they'll move him all over the field. Inside, outside, hand up, hand down and short of being a nickel back, Long will have his fingerprints all over this defense.
Washington State is going to score points. That's a foregone conclusion with the quarterback and receivers they have running Mike Leach's system. At question is if the defense in the new 3-4 look can slow down teams enough. While there will be growing pains, the move is a good one for Long and great one for the Cougars.
Ted Miller
: I'm going to cheat by naming two guys. But since it's two guys making the same switch, it's not so bad. At least that's my story and I'm sticking to it.
Both Arizona senior
Taimi Tutogi
and Utah junior
Thretton Palamo
are running backs who have switched to defense, though Tutogi is still playing RB/FB, so he could go both ways.
They are similar in dimensions. Palamo, a former elite rugby player, is 6-foot-2, 250 pounds. Tutogi is 6-1, 260. So these guys are stocky and built low to the ground and, as former running backs, obviously have above average speed.
Both figure mostly to be pass-rush specialists, using their speed and power to slip around lumbering offensive tackles on the edge.
Arizona's situation is a bit more desperate in terms of pass rush. Last year, the Wildcats finished with a measly 10 sacks, which ranked last in the Pac-12 and 116th in the nation. Making matters worse, they are replacing both starting defensive ends from 2011, C.J. Parish and Mohammed Usman.
You might say good riddance, but keep in mind that no one on the roster was good enough to unseat them. Parish led the Wildcats with, gulp, three sacks.
Utah had a solid pass rush last year, recording 30 sacks, which ranked fifth in the conference. But its leading sack man, Derrick Shelby, is off to the NFL --
and playing well in the Miami Dolphins camp
. While
Joe Kruger
has moved into Shelby's spot and has a good shot to match his production,
Nate Fakahafua
is unproven on the left side. That's who Palamo is backing up.
The early results with both have been promising, though we won't really know their roll and production until the games begin.
It's unlikely either one of these guys is going to become the primary starter. But here's a guess that one -- or both -- is going to bolster a pass rush this fall.
June, 21, 2012
6/21/12
9:00
AM ET
Just once in his college football career,
Travis Long
wants the opportunity to play a college football game after November. The kind that usually comes with a trip to some sunny location. The kind that rewards the players for their efforts. He's played one football game in December, but it was the regular season finale in 2010 where his Washington State team fell to rival Washington 35-28. But conference games in December don't count.
[+] Enlarge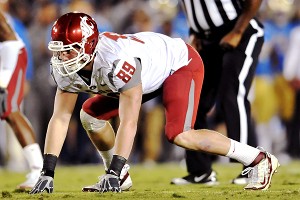 AP Photo/Cal Sport MediaThis year will be Senior Travis Long's last chance to make the postseason.
Recently in Pullman, the changing of the calendar from November to December has signified the end of another frustrating season. That's not how Long, a senior and three-year player, wants to go out.
"I just want to make it to a bowl game," Long said. "That's one of my main goals as a senior. I want to make that trip finally. I haven't looked at the schedule too much. Right now our focus is on the summer program and BYU in the first game. But I don't see any reason why this team shouldn't go to a bowl game."
Are there six wins out there? Probably. Maybe even seven or eight. But let's not get too far ahead of ourselves. After all, Long has seen this program slug through 1-11, 2-10 and 4-8 seasons during his tenure.
But like every other Washington State player, he can't help but gush about the renewed excitement brought on by new head coach Mike Leach. And with a new staff comes a new approach to the game. Long's well-documented move from 4-3 defensive end to 3-4 outside linebacker/DE hybrid is going well. An outside linebacker in a 4-3 scheme in high school, he's re-learning the intricacies of covering the hook-to-curl zone and who to pick up in the flat.
But he also gets to do what he does best -- bring pressure. Long was one of the best defensive ends in the Pac-12 last season, though because the Cougars struggled, many outside of Pullman don't know much about him. But opposing coaches do, which is why they rewarded his 42-tackle season (12 for a loss, four sacks) by naming him to the second-team all-conference squad.
Now as a "buck" linebacker, he'll bounce around on both sides of the line, play with his hand up or down, drop into coverage or simply be a run-stopper. This is new defensive coordinator Mike Breske squeezing every drop of talent out of Long and his defense.
"Right when they came in, about a week or two after, they told me they wanted me to make the move and I was totally fine with it," Long said. "I'd done some of that stuff in the past so I didn't think it would be too hard of a transition.
"I like playing with my hand up. You don't have to run yourself into the O-line the whole time. I played linebacker in high school so I had some experience with my hand off the ground. It was a 4-3, but a lot of the same ideas."
Anytime you play for a Leach-coached team, the offense is going to get the attention. And why not? With quarterback
Jeff Tuel
and wide receiver
Marquess Wilson
predicted to be one of the top connections in the conference this year, it makes sense. Long said he's not worried if the defense doesn't get as much publicity.
"Our job is to play fast and without hesitation," he said. "When we made mistakes last year, it was because we hesitated and that's why we weren't playing fast. Take that out of the equation and we can make some big plays.
"His offense is so prolific. But defense wins games."
May, 21, 2012
5/21/12
11:00
AM ET
Washington State defensive coordinator Mike Breske took a few minutes out of his busy recruiting schedule to answer some questions about WSU's transition to a new coach, a new scheme, some personnel questions and the challenges of facing Mike Leach's offense every day in practice. Here's part one of the two-part Q&A.
How difficult is the switch, fundamentally, from a 4-3 to a 3-4?
Mike Breske
: It's pretty significant, both mentally and physically. Coming in here, we didn't really have a true nose guard so we've had to adapt kids there. We've got a young man coming in from Fullerton JC this fall (Ioane Gauta) that will be a true, 300-pound biscuit in terms of the nose guard position, which will help. But it gives us some more flexibility at the defensive end position. We've asked some guys to do things that they haven't been asked to do before. They've responded. But those 15 practices, it was a struggle in terms of picking up a new system and new coaching. And it works both ways -- coaches learning players and players learning their coaches. But by Practice 15 we were playing fast and that was our goal in spring ball. We're ahead of the curve. The thing on defense, we're not on a one-year, two-year, three-year plan. We're on a six-month plan. We've got to get up to speed by the time we get up to Provo, Utah.
Will you be pretty true to the 3-4 or are you going to be a little more multiple?
[+] Enlarge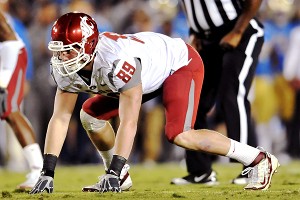 AP Photo/Cal Sport MediaNew defensive coordinator Mike Breske intends to deploy defensive end Travis Long all over the field.
MB
: We'll be multiple. That's going to be based on the game-plan and the type of offense we're going to see each week. We have to have flexibility in our package. Yet, we don't want to put too much in. That type of deal where we overwhelm our kids. We always want to be able to play fast on defense and be able to make plays. Not think, but react. That type of thing. We'll jump into an over scheme and an under scheme and a 3-4 scheme and be very multiple. That's going to be a plus for us because we won't be the biggest, most physical front seven you're going to see in the Pac-12. We have to take advantage of our assets, not our liabilities.
How would you describe yourself as a defensive play caller. Are you fairly aggressive or are you more comfortable sitting in a base and letting the game come to you?
MB
: I'm pretty aggressive. I think that's one of the reasons coach Leach looked at me. He's an out-of-the-box-type head coach. He's saw what we did at Montana the last couple of years -- there we were dabbling in the 3-4 and we were going to move in that direction anyway. I think we want to make things happen and create things on our side of the ball and, obviously, we want to get our offense on the field. We're not into those 12-15 play type drives on defense. And I know coach doesn't want that either. He doesn't want his offense on the sideline.
Travis Long in the "buck" linebacker position. How different is it going to be from his previous job as a 4-3 defensive end?
MB
: I think he's adapted very well. We talked to Travis before we went to spring ball and said this is the plan we're outlining for you. You're going into your senior year and we're going to try to take as much advantage of you as we can. We're going to be very multiple with Travis. Not only at the buck position, but he's going to line up inside too. You're going to see him at all different spots and take advantage of his skills that he brings to the defense. Probably the most difficult challenge Travis had this spring was pass drop. That's something he hasn't had to do and he got better as the spring went on. We're not going to do a lot of dropping with Travis because he's too valuable in the pass rush and around the line of scrimmage. But again, we want to be multiple with him. Bring him from different spots on the field and make sure the offense knows where he's at. Yet, also drop him into coverage. That was his biggest challenge. He got a good head start on it. He'll keep working on it this summer and when two-a-days come around I expect he'll be vastly improved in that part of his football game.
Is multiple positions a characteristic of the "buck" position? Or is it something specific you're trying to do with Travis?
MB
: We're not going to be putting him on the back end. We're just trying to take advantage of his skill level. He's a talented player and we want production out of him. Don't just take up space on the field. If you're out there for 10 plays, how many opportunities did you produce? We just feel strongly that Travis can do that in multiple positions. Give him credit because he's got good football 101. You can think of a plan for a kid, but if he can't handle it mentally, it's not going to work and it will hurt the defense. He has the football 101 skills and relate and adapt and that's why we're doing it.
May, 14, 2012
5/14/12
6:00
AM ET
2011 overall record:
4-8
2011 conference record:
2-7 (6th in North)
Returning starters:
Offense: 7; defense: 7; kicker/punter: 1

Top returners
QB
Jeff Tuel
, WR
Marquess Wilson
, OL
John Fullington
, S
Deone Bucannon
, LB
Travis Long
, WR
Andrei Lintz
.
Key losses
LB Alex Hoffman-Ellis, LT David Gonzales, OL
B.J. Guerra
, WR
Jared Karstetter
.
2011 statistical leaders (*returners)
Rushing
:
Rickey Galvin
* (602 yards)
Passing
:
Marshall Lobbestael
(2,584 yards)
Receiving
: Marquess Wilson* (1,388 yards)
Tackles
: Alex Hoffman-Ellis (88)
Sacks
: Travis Long* (4)
Interceptions
:
Damante Horton
* (4)
Spring answers
1. Tuel steps up:
Remember that whole quarterback-competition thing? While Mike Leach hasn't officially named Jeff Tuel his starter, given the quickness with which he picked up the offense and the numbers he put up during the spring, it's likely that a proclamation that Tuel is the guy will come early in the fall. He's looked very good to date.
2. Plenty of weapons:
Lots of them. Marquess Wilson returns as one of the top wide receivers in the conference -- and he showed in the spring game what he's capable of. Converted tight end Andrei Lintz had an outstanding spring at wide receiver and showed real chemistry with Tuel throughout the 15 practices.
Gino Simone
,
Dominique Williams
and
Blair Bomber
add depth to a very deep group.
3. New role for running backs:
Can you catch? That's what Leach is looking for out of his guys. With the ball in the air 70 to 75 percent of the time, guys like
Marcus Mason
and Rickey Galvin will need to shift their focus from downhill to soft hands. There will be chances to run the football, but most of those will be after the catch.
Fall questions
1. Lineup:
What's the offensive line going to look like? With players like
Wade Jacobson
(missed the final eight games last year with a back injury) and
Matt Goetz
(started nine games at center last season) missing time this spring, the starting five is likely to change. Which five and at what positions remains a question.
2. New-look D:
With the Cougars switching to a 3-4 front, there is more focus on the linebacking corps. Travis Long should flourish in this system (12 tackles for a loss last season), but there are depth and position questions.
Eric Oertel
was a pleasant surprise this spring, as were
Chester Su'a
and
Darryl Monroe
-- though both saw their springs end early with injuries. Expect some growing pains as the group comes together in the odd front.
3. D-line depth:
Xavier Cooper
had a very good spring, but outside of him,
Lenard Williams
and
Anthony Laurenzi
(6.5 tackles for a loss last year), there are a lot of untested players.
Matthew Bock
saw some reps during the spring, but defensive coordinator Mike Breske will have to develop some more guys for the unit to be sound. A pair of Samoans in the recruiting class --
Robert Barber
and
Destiny Vaeao
-- could be forced into action early.
May, 8, 2012
5/08/12
5:30
PM ET
Some quotes from the Pac-12 coaches conference call earlier today.
Arizona coach Rich Rodriguez on how his players grasped his philosophy: "I think they grasped it pretty well from the progress from the first practice to the last. We tried to coach them up and educate them on how practice is going to run and the tempo we were going to go out and the things we wanted to achieve in each and every practice. For the first practice, which was tough on guys, about halfway through they were gassed and done and struggling to the end, to the last practice of spring they were moving around a little better ... I think they saw a whole other level of continuing we have to be in just to get through practice, let alone to play at the pace we want to play at."
ASU coach Todd Graham on the quarterback situation: "Obviously, we're a lot closer than what it appears probably from the outside. It was a great evaluation for us. And to be honest it's very difficult to rep three guys and I was very impressed that we were able to install the amount of the offense that we did install and we did it with three different guys."
Cal coach Jeff Tedford on the progress of quarterback Zach Maynard: "I thought he did a nice job. We were so far ahead of last year when he was new into the system. We were able to do much more on offense this spring and move along and much more efficient. You could really tell his experience from the season had really paid off with the speed of the game and the management of the game. He really improved obviously through a year. Spring was very effective for him."
Colorado coach Jon Embree on splitting quarterback reps this fall: "With two to three going after it you have to be creative. We'll do some different things to make sure they get quality reps. It may be by day, it may be by drill ... if it's a clear cut deal, I'm not going to waste time. I think it's important that the team knows and that quarterback know that they're going to be leading the team."
Oregon coach Chip Kelly on quarterback Bryan Bennett after the spring game: "He was fine. I saw him Monday and he was good. There's not much we can do about the games of the past. He's getting in and watching film on his own because we're in that part of the season. I saw him in there watching tape and getting ready for camp coming up. Everything is a learning experience for everybody in our program. It was a good learning experience for Bryan to go through."
Oregon State coach Mike Riley on Sean Mannion's progress: "To summarize it, I think he had a very valuable freshman year. He's a tremendously hard worker. Conscientious. So what we're looking for is just continued growth. Quarterbacking is a never-ending story of decision making, getting the ball out of your hands. Getting it to the right guy. I thought he had an excellent spring that way. He'll take all of that work into the summertime and be prepared for fall camp so we're just looking for bigger and better things."
Stanford head coach David Shaw on The Big Game in October: "I think the biggest change is all of the activities around the game, it's going to be hard to do all of those because they're not at the end of the season. The last couple of years it's been the second to last game of the regular season. But now, so early in the season, we've got too much work to do. We can't afford to have too many distractions. I've talked to coach Tedford and we're going to try to organize that week to where we can still do some of the traditional things, maybe just earlier in the week. We're just mid-season. We can't have too many other things going on."
UCLA coach Jim Mora on the need to cut scholarships (he said they need to cut three): "Probably a combination of both [grayshirting and current players]. I've talked to all our recruits and all our current players about their futures at UCLA."
USC coach Lane Kiffin said he wants to see improvements in the running game: "I think we did improve in the second half of the season comparable to the first half ... obviously we lost our left tackle Matt Kalil, so that will be tough to replace. But Curtis coming back after a 1,000-yard season. He's coming into his senior year. I'm looking for him to improve with D.J. Morgan going into his second year of playing with us. We aren't very deep, but we would like to definitely improve our rushing stats."
Utah coach Kyle Whittingham on what he learned in the first year in the Pac-12: "I don't know if we learned anything new. We had an idea going in that it was going to be very competitive ... it was very apparent on tape that there was a lot of good athletes in this conference and some great coaching and that was the case. I can't say that anything surprised us."
Washington coach Steve Sarkisian on finding a third wide receiver: "We know who Kasen Williams is. We know who James Johnson is. Who's going to be the third guy that's a consistent contributor. Can Cody Bruns get healthy and do it? Can a young guy? Can a Jamaal Jones, DiAndre Campbell, a Marvin Hall, one of those types of guys, step up. That will be big."
Washington State defensive coordinator Mike Breske on the new system: "Speaking for my first go-around with coach Leach going through spring ball, it was a little bit unusual in terms of 70-75 percent of the balls in the air from a defensive perspective. Growing process, [it was] coaches learning kids, kids learning about their coaches and how to practice, that type of thing. Once we got to practice 15 we accomplished a lot of the things we were looking for going into the spring."
March, 21, 2012
3/21/12
9:25
PM ET
Mike Leach is not afraid of the weather in Pullman, Wash., which could be a bit nippy --
and perhaps snowy
-- for the first day of Washington State's spring practices on Thursday.
Heck, it's not like his first spring practice leading the Cougars could be more inclement than his first leading Texas Tech in 2000.
Cold? Snow? Not as bad as hail.
"It's flying off their helmets like popcorn," Leach said recalling his first practice in Lubbock.
[+] Enlarge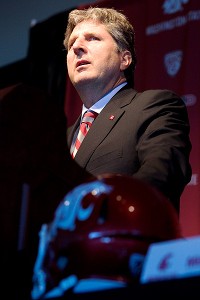 AP Photo/Dean HareTight ends typically don't excel in Washington State coach Mike Leach's system. That could change in 2012.
Or do you know what happens when a hard rain meets a dust storm?
"A couple of times a year there, it rains mud," he said.
Leach the raconteur took control of his chat with reporters Wednesday afternoon and was, as usual, highly entertaining. But getting specifics from him about what he sees with his personnel wasn't part of the plan, and it led to briefer answers. Of course, that makes sense because Leach isn't sure what he's got as he installs his "Air Raid" offense and a 3-4 defense.
Evaluation is obviously a top priority, but Leach used the terms "precise" and "efficient" repeatedly.
Or, as he said, "Getting as good as we possibly can at practicing."
The first order of business is finding a quarterback. Leach said reps will be split 50-50, at least during the early-going, between
Jeff Tuel
and
Connor Halliday
. When asked if Halliday, who suffered a lacerated liver against Utah on Nov. 19, was ready to practice full-go, Leach said, "I assume."
Leach said the top two priorities for his QBs will be decision-making and accuracy. "Those two you really can't compromise on," he said. Quick feet also help, particularly for a team that has some questions on the offensive line.
Leach pointed out that he didn't pursue a JC QB because he's pretty satisfied with what he's seen on tape of Tuel and Halliday. "It's not like you're starting from zero," he said.
He seemed intrigued by his talent at receiver, noting that the crew was taller than what he typically had at Texas Tech. And, yes, he's been impressed by
Marquess Wilson
.
"What I like about him is he always wants the ball," he said.
On the other side of the ball, it will be interesting to see how things develop, particularly if the Cougars want to make new coordinator's Mike Breske's 3-4 alignment their base scheme. After dismissing both
C.J. Mizell
and
Sekope Kaufusi
from the team -- both returning starters -- there's a decided lack of depth at linebacker. Count on there being some position shuffling, both from the backhalf and the line. Leach, in particular, seemed intrigued with
Travis Long
, who has started the previous three years at end. The 6-foot-4, 256-pound senior might be athletic enough to play an outside linebacker spot.
"He can do a lot of things," Leach said. "Moving him around as a player is pretty tempting."
It's obvious there will be a lot going on this spring in Pullman, so the often-challenging weather is not a chief concern. Getting guys into the right spot is.
Said Leach, "There isn't anybody who's not being evaluated."