September, 4, 2013
9/04/13
11:00
AM ET
Mark Helfrich had a simple goal in his first game as Oregon's head coach: self-preservation.
Said the longtime offensive coordinator, "I hadn't been on the sideline for a game since 1996, so that in and of itself was a new experience, trying to not get killed when someone was running on the sidelines."
Of course, against woeful Nicholls State, Helfrich might have won the one-on-one battle. Oregon piled up 772 yards of offense -- 500 rushing -- without really trying that hard in a 66-3 victory.


The contest operated pretty much as a preseason game for Helfrich and his staff, eight of whom remained behind when Chip Kelly bolted for the Philadelphia Eagles. There were some minor logistical issues to get used to -- "Mark, do we want to accept or decline this penalty?" -- but otherwise it was business as usual, Helfrich said.
Expect the intensity to ratchet up a bit for the Ducks' visit to Virginia. For one, Charlottesvile is 2,400 miles and three times zones away. That type of cross-country travel is never easy on a team. Second, Virginia is a solid ACC squad, one that opened with a defensive-minded win over BYU.
The Ducks are a three-touchdown-plus favorite, but the Cavaliers have the size and athleticism to -- at least -- keep things interesting.
"They're very good," Helfrich said. "It's a completely different test."
Virginia is an interesting team. While Mike London's seat isn't necessarily hot after going 16-21 his first three seasons -- his
2014 recruiting class
currently ranks 21st in the nation -- he did massively overhaul his 2012 staff, adding a ton of college coaching experience. He hired former NC State coach Tom O'Brien as associate head coach, former Colorado State coach Steve Fairchild as offensive coordinator and former Georgia Tech and Notre Dame defensive coordinator John Tenuta to lead his defense.
That's a lot of experience going against a first-time head coach. Of course, Helfrich has other things going for him, such as three offensive players who rushed for more than 100 yards last week in QB
Marcus Mariota
, RB
De'Anthony Thomas
and RB
Byron Marshall
, and perhaps the best secondary in college football.
Further, the Pac-12 does pretty well when going east, and Oregon leads the way. Since 2000, the Pac-12 is 26-23 when playing in the Eastern time zone. The Ducks are 3-0 during that span, beating Michigan (2007), Purdue (2008) and Tennessee (2010).
As the Ducks' former offensive coordinator, Helfrich is not like most new head coaches. He knows his school's travel routines. The Ducks will do everything in preparation for this road trip just as they did under Kelly. And, for that matter, under Mike Bellotti.
Still, there are some concerns. The Ducks' opener against Nicholls State didn't produce only bouquets and rainbows during film study. For one, the team's most questionable position -- linebacker -- flashed some ability as well as vulnerability. Helfrich noted too many missed tackles, which means the starting spots are presently written in pencil.
"We're still going to have a competitive situation there," Helfrich said.
Although the Ducks are big favorites, a trip to Virginia will offer a far more substantial test for Helfrich's team than last weekend's walkover. Don't expect Oregon to average 11.1 yards per carry this weekend.
It's so far, so good for Helfrich, but there is so much more up ahead. Or as he volunteered, "I think we'll be tested a little bit differently in future games, but I think we're off to a good start."
June, 24, 2013
6/24/13
7:00
PM ET
We continue our series taking a closer look at each Pac-12 team's nonconference schedule.
Oregon
Nicholls State University, Aug. 31
Coach: Charlie Stubbs (6-27), fourth year
2012 record: 1-10, 0-7 Southland
Returning starters: nine offense, eight defense
Offensive headliner: Running back Marcus Washington, an all-league honorable mention pick last year, led the team in rushing with 598 yards and rushed for six touchdowns. He averaged 76.5 all-purpose yards per game last year.
Defensive headliner: Linebacker Chris Bermond finished second on the team last year with 64 tackles (36 solo) and posted two tackles for a loss with a pair of pass breakups.
The skinny: Assuming there are no acts of God, we'll see NSU in the season opener this year. It has a lot of players returning, but anyone who saw it against Oregon State last year saw the talent differential between the Southland squad and an upper-tier Pac-12 team. And we're going to go out on a limb and call Oregon upper tier.
at Virginia, Sept. 7
Coach: Mike London (16-21), fourth year
2012 record: 4-8, 2-6 ACC
Returning starters: seven offense, seven defense
Offensive headliner: Tailback Kevin Parks returns after leading Virginia with 734 rushing yards and five touchdowns last year. He also caught 24 balls for 189 yards.
Defensive headliner: Defensive end Jake Snyder was tops among the team's defensive linemen with 44 stops last year and second with 2.5 sacks.
The skinny: Virginia is looking for a new quarterback after the departure of both Michael Rocco and Phillip Sims. It also lost leading tackler Steve Greer (122 tackles), so there are some holes to fill on both sides of the ball. The Cavaliers have been up and down in London's tenure, going 4-8 in Year 1, 8-5 in Year 2 and then 4-8 last year.
Tennessee, Sept. 14
Coach: Butch Jones, first year
2012 record: 5-7, 1-7 SEC
Returning starters: five offense, eight defense
Offensive headliner: The Volunteers lost a lot on offense from last year, but running back Rajion Neal returns as the rushing leader after posting 708 yards and five touchdowns.
Defensive headliner: Linebacker A.J. Johnson, who was second-team All-SEC last season, returns after posting 138 stops last year -- tops on the team -- to go with 8.5 tackles for a loss and a sack.
The skinny: A lot of UT's all-league offensive players from last year are gone, including tight end Mychal Rivera and receivers Justin Hunter and Cordarrelle Patterson. Also gone is quarterback Tyler Bray. That said, the Vols do have a fairly experienced offensive line, headlined by tackle Antonio Richardson. This is Tennessee's return trip from the 2010 matchup, which Oregon won 48-13.
Thoughts
: Over/under on the amount of minutes
Marcus Mariota
will play in all three games? Ninety minutes? No real threats here and Oregon's starters should be well rested heading into conference play on Sept. 28 when they host Cal. Nicholls State University has been an under-performing FCS squad, Virginia is rebuilding with new offensive and defensive coordinators and Tennessee is starting anew with Jones (once thought to be the next head coach at Colorado). This provides a nice cushion for the Ducks as they transition to game day under new head coach Mark Helfrich. Anything less than a 3-0 start is almost unimaginable.
You can see the rest of the series
here
.
September, 7, 2010
9/07/10
5:50
PM ET
"Philosophical" is not a term that often appears next to USC coach Lane Kiffin's name, but it accurately describes how he's responding to his Trojans "good news, bad news" performance at Hawaii last Thursday.
The good news was his offense rolling up 524 yards and 49 points, with quarterback
Matt Barkley
turning in a nearly flawless performance with five touchdown passes and no picks.
[+] Enlarge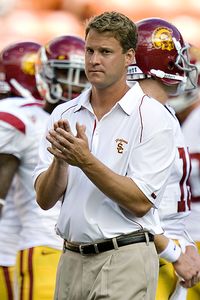 AP Photo/Eugene TannerLane Kiffin's defense has something to prove against Virginia on Saturday.
The bad news was the Trojans yielding an eye-popping 588 yards and 36 points and not tackling worth a spit.
"One game will not define us," Kiffin said. "Just like it will not define Matt on offense. Let's take a couple of games before we evaluate, before we make big statements about sides of the ball."
That said, Kiffin understands the concerns over his defense, which looked to be a strength entering the season, no matter a completely rebuilt secondary. The hand wringing over one bad game that, nonetheless, still ended up being a win is understandable, he said.
"That's who we are right now because it happened," he said.
See: Philosophical! The Trojans defense fell on a island and everyone saw it.
Therefore, that defense will be looking for redemption against Virginia on Saturday in the Coliseum, USC's only home game until Oct. 2. The Cavaliers beat Richmond 34-13 last weekend, the debut for new coach Mike London, but the Cavaliers only welcome back 12 starters from a 3-9 team that got Al Groh fired.
Moreover, Barkley might be working against a secondary minus its two best players: All-ACC cornerback Ras-I Dowling and junior strong safety Rodney McLeod didn't play against the Spiders. Dowling missed much of fall camp with a hamstring injury, while McLeod has a knee injury.
Another boost for the USC offense: The return of freshman running back
Dillon Baxter
from a one-game suspension. Kiffin has called Baxter USC's "most talented player."
The last time these two teams met in 2008, Mark Sanchez and the Trojans bludgeoned the Cavaliers 52-7 in Charlottesville. But the circumstances are much different this time. For one, there are two new head coaches. For another, USC is no longer riding a run of Pac-10 dominance to a certain BCS bowl berth. The rest of the Pac-10 took care of the former last fall, and the NCAA took care of the latter this summer.
Still, London said he doesn't see a neutered team.
"When you look at the game [film], you see athleticism -- from everybody," he said. "Even the water boy is athletic and fast."
So what went wrong at Hawaii on defense? Kiffin cited a number of things. For one, yes, it did hurt that the Trojans didn't do much full-contact work during fall camp in order to avoid injuries. That's an explanation for the poor tackling. Further, the Warriors surprised USC when they tweaked their spread scheme with a "pistol" formation.
Kiffin also gave credit to Hawaii: "That is a really good offense, and I think we'll see that throughout the year... They are going to put up lot of yards and points on people if they stay healthy."
Kiffin seemed excited that Virginia's style of offense will be more in the Trojans' comfort zone. He called the Hawaii game "a wake-up call" and expects his defense to be highly motivated after turning in an embarrassing performance.
And, no, the Trojans defense, which started hemorrhaging last year (though USC still led the Pac-10 in scoring defense at 19.8 ppg), hasn't lost its confidence. At least not yet.
"I look for us to play a lot better this week," Kiffin said. "If we play like that three weeks into the season, yeah, we're going to have a confidence issue. We're going to have a lot of issues. But I don't think that's going to be the case. I think our guys are going to really respond well this week."
Oh, and by the way, overconfidence shouldn't be a problem, either
"How we can be overconfident; we haven't done anything yet," Kiffin said.