March, 21, 2012
3/21/12
9:00
AM ET
Starters in, starters out. That's college football. Players' eligibility expires and they leave for the rest of their lives, whether that includes the NFL or not.
And they leave behind shoes of various sizes that need to be filled.
Our concern with this series? The biggest shoes -- in some cases Shaq-like size 23s.

We continue with Arizona State.
Big shoes
: QB
Brock Osweiler
It's hard to overlook the five-game losing streak the Sun Devils are currently mired in. But during those five games, Osweiler still had nine touchdowns and averaged 352 yards in the air per game. He was a very efficient and talented quarterback, and that's why he's being talked about as a
potential first-round draft pick
following his surprising departure. He tossed 26 touchdowns and was second in the conference with 4,036 yards. His 13 interceptions won't be missed, but he led ASU to some significant wins in 2011, including victories over Missouri, USC and Utah. In those three games he had nine total touchdowns (one rushing) and zero interceptions.
Stepping in
:
Mike Bercovici
,
Michael Eubank
or
Taylor Kelly
.
People are excited to see Todd Graham's high-octane offense. But they are more excited to see who is actually going to be running it. Bercovici was the backup last year, but the question is whether he fits the Graham mold/scheme. Kelly has some experience at running a spread offense and Eubank -- a stellar athlete with a sturdy 6-foot-5, 235-pound frame -- seems to be a fan favorite. This is certainly one of the more intriguing quarterback competitions in the conference and the winner is likely to put up some pretty good numbers in Graham's scheme. It's worth noting that the new guy won't have the benefit of throwing to
Gerell Robinson
,
Aaron Pflugrad
or
Mike Willie
, three of ASU's top-four receivers from last season.
The rest of the "Big Shoes" series can be found
here
.
February, 27, 2012
2/27/12
9:00
AM ET
By
ESPN.com staff
| ESPN.com
A little track and field news to start you off this week.
A couple of weeks ago we told you about Arizona State wide receiver Rashad Ross and his
recent exploits as a budding indoor track star
.
Over the weekend, Ross won the MPSF (Mountain Pacific Sports Federation) 200-meter indoor track championship. He is the first ASU football player to win an MPSF conference indoor track and field championship.
Ross, who has only been running indoor track for about two months (this was just his fourth race), posted a new personal best with a time of 21.16. His previous best was 21.25. He also finished sixth in the 60-meter with a time of 6.72 as the Sun Devils captured their first MPSF championship.
With three of ASU's top four wide receivers gone next season, Ross is expected to be a more significant contributor in the passing game. Last season Ross caught 18 balls for 254 yards and a touchdown -- though his most impressive highlight by far was
a 98-yard kickoff return against Boise State
in the Las Vegas Bowl. Ross and
Jamal Miles
, who was second on the team last year with 60 catches and six touchdowns, are expected to headline a receiving corps that must replace the productive trio of
Gerell Robinson
,
Aaron Pflugrad
and
Mike Willie
.
February, 23, 2012
2/23/12
10:00
AM ET
Pac-12 spring preview: South Division
Spring practice is almost here. Here's a snapshot at what to expect from the Pac-12 South in the coming weeks.

ARIZONA
Spring practice starts
: March 4
Spring game
: April 14
What to watch
:
Hello, my name is ... Like the other two teams in the South Division with new head coaches (Arizona State and UCLA) much of Arizona's first few weeks will be Rich Rodriguez evaluating his personnel and getting to know what he has to work with. Likewise, the players are going to have to figure out what this new coaching staff is about. Everything from how they do pre-practice stretches to how they call the cadence is going to change.
New scheme and a new scheme: A spread option on offense and a 3-3-5 on defense. That's a lot of new material to digest on both sides of the ball. Until Rodriguez can recruit the players he likes into his scheme, he's going to have to make it work with the players he has. Fortunately on the defensive side of the ball, Arizona has good depth in the secondary with Cortez Johnson, Marquis Flowers, Shaquille Richardson, Jourdon Grandon and Tra'Mayne Bondurant. The Wildcats should also get a boost with the return of injured players Jake Fischer (LB), Jonathan McKnight (CB) and Adam Hall (S).
Perfect fit? Former starter Matt Scott, who was beaten out by Nick Folesin 2009, is expected to reprise his starting role under Rodriguez. He redshirted the 2011 season and -- magically -- Foles never got hurt last year despite taking 23 sacks and countless hits. Scott is considered the more versatile quarterback and should fit nicely into the new run-based spread attack.

ARIZONA STATE
Spring practice starts
: March 13
Spring game
: April 21
What to watch
:
QB competition: We know what kind of offense new coach Todd Graham is going to run; now it's a matter of figuring out who is going to run it. Graham has his choice of three players -- Mike Bercovici, Taylor Kelly or Michael Eubank -- to replace NFL-bound Brock Osweiler. Graham said earlier this month that there are no favorites heading into the competition and each one brings his own skill set to the table. Eubank has the size (6-foot-5, 235 pounds), Bercovici (6-1, 205) is a mechanic and Kelly (6-1, 202) is a little bit of everything.
Get the locker room: By the end of the 2011 season, ASU's locker room wasn't just divided, it was completely splintered. Graham's task -- and that of his new coaching staff -- is to pick up the pieces, mend internal fences and find some chemistry on both sides of the ball. Linebacker Brandon Magee, long considered a great locker room leader, should help get the Sun Devils back on track as he returns from a season-ending Achilles injury.
Hands competition: The Sun Devils lose three of their top four wide receivers from last season -- Gerell Robinson, Aaron Pflugrad and Mike Willie. Jamal Miles returns after finishing second on the team last season with 60 catches and six touchdowns. Rashad Ross figures to be the No. 2 guy, but establishing depth in that corps -- especially if Graham wants to be up-tempo -- is key.

COLORADO
Spring practice starts
: March 10
Spring game
: April 14
What to watch:
Momentum, maybe? For as rough as 2011 was for the Buffs, they ended the year on a high note, winning two-of-three down the stretch -- including a 17-14 win over Utah in the season finale. But there is also the possibility that things might get worse before they get better. With just four returning starters on offense, spring in Boulder will likely be more about teaching and less about refining.
Where to start (offense)? Well, quarterback might be a good place. In the court of public opinion, Connor Wood, a transfer from Texas, seems to be the favorite. Nick Hirschman appeared in five games last season, mostly in mop-up time when the game was already out of hand. It's also possible a starter could be named by the end of spring ball. Finding offensive weapons to surround the new quarterback will also be a challenge. Wide receiver Paul Richardson caught 39 balls last season, and running back Tony Jones showed a flare for catching the ball out of the backfield. He'll likely step in as the new workhorse back for the departed Rodney Stewart.
Where to start (defense)? Last in this. Last in that. Last in almost every team statistic the Pac-12 has to offer. But there are some intriguing youngsters on the roster. Cornerback Greg Henderson was all-conference honorable mention as a freshman with a team-high nine passes broken up. Jered Bell also returns from injury after blowing out a knee last preseason. If healthy, he's expected to be a big contributor in the secondary. Linebacker Jon Majorreturns as the team's leading tackler, and if Doug Rippy is fully recovered from his knee injury, he'll look to build on what was a pretty good season last year before getting hurt.

UCLA
Spring practice starts
: April 3
Spring game
: May 5
What to watch
:
QB up for grabs: Like the majority of the conference, UCLA enters spring with a quarterback competition. New offensive coordinator Noel Mazzone said he doesn't care how much experience (or lack thereof) a player has -- if he can play, he wins the job. So don't be surprised if Brett Hundley passes Kevin Prince and Richard Brehautas the new man leading the Bruins. Fans have been clamoring for a change. Hundley might be it.
Attitude adjustment: One of the first things new head coach Jim Mora did was slam the team for its tradition of going "over the wall," a time-honored senior ditch day, saying if they want to jump the wall, they should just keep on going. How's that for sending a message? UCLA has earned a reputation for being soft and underachieving despite good talent. Attitude and toughness is needed -- and so far, Mora appears to be hammering that point home.
Speaking of toughness ... The defense has to get tougher. No two ways about it. It was weak against the run last season, allowing more than 190 yards per game on the ground; couldn't get to the quarterback; and couldn't get off the field almost 50 percent of the time on third down. It's time for potential all-conference players such as defensive end Datone Jones to start living up to the hype and the defense as a whole to stop getting pushed up and down the field. At 6-5, 275 pounds, Jones has the physical makeup to be a major force in the conference and catapult himself into the elite class of collegiate defensive players.

USC
Spring practice starts
: March 6
Spring game
: April 14
What to watch
:
Ignore the hype: Few teams ended last season hotter than USC and returning quarterback Matt Barkley. The Heisman talk has already started, the way-too-early rankings already have the Trojans as national championship contenders, and the public perception is that the offense is unstoppable. Nice to hear, but hype is a double-edged sword. Head coach Lane Kiffin has a knack for deflecting hype. This season will be his toughest test to date.
Insurance? The Trojans are loaded on both sides of the ball with returning players. But after the starting 22, things start to get dicey. Developing depth and keeping the starters healthy is a top priority -- particularly on the offensive and defensive lines and at running back, where experience is thin outside of the starters. The entire back seven returns on defense -- headlined by hard-hitting safety T.J. McDonald. Stopping the pass has been a major priority for Kiffin, and if this group stays healthy it should see the pass-efficiency numbers improve even more.
Other options: Along those same lines, wide receivers Robert Woods and Marqise Lee make up the most feared receiving duo in the conference -- maybe the country. But who are the Nos. 3 and 4 receivers behind them? George Farmer? Victor Blackwell? De'Von Flournoy? Don't overlook the tight end duo of Xavier Grimble and Randall Telfer, which should rival Stanford's Zach Ertz and Levine Toilolo as the best tight end tandem in the conference.

UTAH
Spring practice starts
: March 20
Spring game
: April 21
What to watch
:
Youthful approach: Head coach Kyle Whittingham turned some heads by naming former Utah quarterback Brian Johnson as his offensive coordinator. Johnson, who recently turned 25, said he's not looking to make wholesale changes to the offense, though he wants to put his stamp on it and continue to build around running back John White IV, who had a breakout season in his first year of major college football. Having quarterback Jordan Wynn back healthy should also help as the team transitions to Johnson running the offense.
Fixing the line: Who is going to protect Wynn (if he does indeed win back the starting job) and make holes for White? That's a major concern heading into spring as the Utes have to replace a pair of all-conference linemen in Tony Bergstrom and John Cullen. The Utes should be set at the interior but have to adjust to a new position coach, with Tim Davis leaving for Florida after just one season and Dan Finn -- a former Utah graduate assistant who was brought on to help Davis -- taking over the whole line following a one-year stint at San Diego State.
Work the experience: The defensive line should be one of the best in the conference, especially with the return of Star Lotulelei, who won the Morris Trophy last season as the conference's best defensive lineman. With the Kruger brothers returning to the line -- Joe at defensive end and Dave at tackle -- Derrick Shelby is the lone starter who has to be replaced. There's also some pretty good depth in the secondary that was tops in the conference last season in pass-efficiency defense.
February, 17, 2012
2/17/12
3:00
PM ET
Fortunately for Arizona State wide receiver
Rashad Ross
, starting blocks aren't required for running routes. If they were, the junior might have a hard time getting off the snap. And let's be honest, the shoulder pads and helmet would probably just get in the way.
Yet even on an indoor track, Ross still hasn't really mastered those pesky starting blocks.
"Honestly, I don't really know how to start all that good," Ross said. "But I can end good."
[+] Enlarge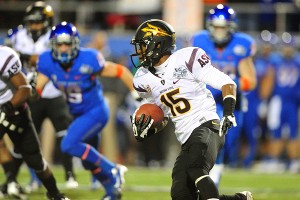 Mark J. Rebilas/US PresswireWith three of ASU's top 4 receivers from 2011 not returning next season, Rashad Ross has a golden opportunity for playing time.
And at the end of the race -- if you're the one crossing the finishing line first -- no one is going to care how you started.
Of all the collegiate football players in the country who also run track, Ross has the fastest time in the nation in the 200-meters indoor with an altitude-adjusted mark of 21.25. That's also the sixth fastest indoor mark in ASU history. Overall, he ranks 24th in the nation among all runners.
"I like the 200 because I know if I screw up the start, I have time to make it up," he said.
That should give you some indication of just how fast this guy is -- slow starter, huge finisher. It's that way on the football field as well. One needs only to look at the opening kickoff of the second half in the Las Vegas Bowl,
when Ross took it back 98 yards
, to see what happens when he gets it going. It was one of the few highlights on an otherwise off night for ASU against Boise State.
The Sun Devils and new head coach Todd Graham are going to need plenty of speed at the wide receiver spot next year. They lose three of the top four receivers from last season;
Gerell Robinson
(77 catches, 1,397 yards, seven touchdowns),
Aaron Pflugrad
(44/665/5) and
Mike Willie
(36/455/3). Which means the fleet-footed Ross could be the next big thing.
Aside from his track training, he's been working out on the side with a couple of the quarterbacks who will be in line to replace
Brock Osweiler
.
Michael Eubank
,
Mike Bercovici
and
Taylor Kelly
are all in competition for the starting gig.
"A lot of people say quarterback is going to be an issue for us next year," Ross said. "We'll see. I have faith in all of them."
Ross knows nothing is going to be handed to him. And
Jamal Miles
returns after finishing second on the team with 60 catches and six touchdowns last year. Ross' track training keeps him in shape for football and if he wants to build on his 18 catches from last season, he's going to have to win over Graham and his new staff.
"When I first met [Graham], I thought he was nice -- not like what everybody else was saying and I didn't see what everybody else was seeing," Ross said. "And then I heard him talk when he was mad and I was like 'OK, he's not playing around.'"
For now, he's focused on getting that 200 time down even further. If he can get to 21 flat, he'll have a good shot at qualifying for nationals and a 20.73 would make him an automatic qualifier. He also has the eighth fastest time in the conference in the 60-meter at 6.82. His slower starts are even more noteworthy in a quick sprint like the 60, because he is still able to make up time on the finish.
April, 27, 2011
4/27/11
10:30
AM ET
It's good to receive, but it's really cool when your team welcomes back a 1,000-yard receiver.
After previously looking at top returning
passers
,
rushers
and
tacklers
, we move on to receivers.
Three teams welcome back receivers who eclipsed the 1,000-yard mark.
1.
Juron Criner, Arizona (1,233 yards):
Even with an outstanding supporting cast -- including Texas transfer
Dan Buckner
-- Criner will be the go-to guy and almost assuredly a 1,000-yard receiver again in 2011.
[+] Enlarge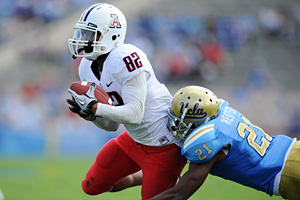 Kelvin Kuo/US PresswireJuron Criner already topped 1,000 yards last season and will likely do so again as the top receiver in Arizona.
2.
Marquess Wilson, Washington State (1,006
): Wilson's situation is not unlike Criner's with a good quarterback plus good supporting crew of receivers likely meaning a big season.
3.
Jermaine Kearse, Washington (1,005):
Much like Criner and Wilson, Kearse has a good supporting cast. Unlike Criner and Wilson, Kearse won't have a proven quarterback throwing his way. Plus, with running back
Chris Polk
returning, the Huskies likely will be run-first.
Five other teams welcome back their leading receiver. A couple of these could reach the 1,000-yard benchmark under the right circumstances.
Robert Woods, USC (786 yards):
If Woods stays healthy, the chances of him not eclipsing 1,000 yards receiving are close to zero.
Marvin Jones, California (765):
Jones will have to share the ball with rising star
Keenan Allen
. And who the heck is going to throw to him? (And if Zach Maynard wins the quarterback job, he's Allen's half-brother).
Markus Wheaton, Oregon State (675):
If
James Rodgers
returns, Wheaton is the Beavers No. 2 receiver. If Rodgers doesn't return -- at least not early in the season -- Wheaton could become a breakout player in the conference.
DeVonte Christopher, Utah (660):
Jereme Brooks
caught more passes but Christopher was the big-play guy, with six touchdowns and a 16.9 yards average per reception. If
Jordan Wynn
comes back healthy, Christopher will be his top target. Of course, new offensive coordinator Norm Chow is a run-first guy.
Taylor Embree, UCLA (409):
It's unlikely the Bruins passing game will improve so much it produces a 1,000-yard receiver. And if it did, that likely would be
Nelson Rosario
.
And here are four candidates from the remaining conference teams.
Gerell Robinson, Arizona State (387 yards):
The Sun Devils spread the ball around. Eight players caught at least 21 passes last year; six of them were between 21 and 29 receptions. Robinson or
Mike Willie
are the top candidates to reach 1,000 yards.
Paul Richardson, Colorado (514):
Richardson is poised for a breakout season as a true sophomore. While quarterback
Tyler Hansen
has never put up big numbers, he's a senior running a pro-style offense as opposed to the spread of previous years.
Josh Huff, Oregon (303):
The Ducks lost their top two receivers, including 1,000-yard receiver
Jeff Maehl
.
Lavasier Tuinei
was the third-leading receiver in terms of receptions in 2010, but he's more of a tall, possession-type guy (see a scant 11 yards per reception). Hard to say who will lead the Ducks receivers in 2011. Tight end
David Paulson
is even a possibility.
Chris Owusu, Stanford
: If Owusu stays healthy, he's one of the conference's best threats downfield and therefore a candidate to reach the 1,000-yard mark. His quarterback is pretty good, too. The question is will Stanford still be as potent running the football. If so, the Cardinal will prioritize balance, which means run to set up the pass.
March, 25, 2011
3/25/11
1:00
PM ET
Last summer, we took a look at "
three-headed monsters
" -- elite combinations of quarterback, running back and receiver in the conference.
Seems reasonable that we revisit the idea this spring. (And we may revisit our revisitation this summer, when some position battles begin to clear up).
Ranking these isn't easy. The challenge is priority and value. What if a team is, say, outstanding at running back and receiver but inexperienced at quarterback? How does that measure up with a team that is merely good but also experienced at all three positions?
The only "pure" three-headed monsters in the Pac-12 are Arizona and USC, in that the Wildcats and Trojans welcome back their quarterback, leading rusher and leading receiver.
Arizona

QB
Nick Foles
, RB
Keola Antolin
, WR
Juron Criner
USC

QB
Matt Barkley
, RB
Marc Tyler
, WR
Robert Woods
California, Utah and Washington get "incompletes" because we have no idea who will be the starter at at least one position, though the Utes and Huskies are pretty strong at two of the spots. This summer, after spring practices have possibly created a pecking order, we'll likely be able to include them in our overall ranking.
Utah

QB
Jordan Wynn
, RB ?, WR
DeVonte Christopher
Washington

QB ?, RB
Chris Polk
, WR
Jermaine Kearse
California

QB ?, RB
Isi Sofele
, WR
Marvin Jones
So, of those nine remaining, here's our ranking:

1. Stanford

QB
Andrew Luck
, RB
Stepfan Taylor
, WR
Chris Owusu
The skinny
: Luck is the best QB in the country. Taylor rushed for 1,137 yards and 15 TDs in 2010. Owusu, when healthy, is the Cardinal's most dangerous receiver.

2. Oregon

QB
Darron Thomas
, RB
LaMichael James
, WR
Lavasier Tuinei
The skinny
: James is the best RB in the country. Thomas is one of the nation's best QBs. Tuinei is a big target who caught 36 passes last year. You could flip the Cardinal and Ducks here and probably not get much argument from neutral observers. (Neutral observers, Ducks fans).

3. Arizona

QB Nick Foles, RB Keola Antolin, WR Juron Criner
The skinny
: Foles and Criner are the best pass-catch combination on the list. Antolin struggled to stay healthy but he rushed for 668 yards last year.

4. USC

QB Matt Barkley, RB Marc Tyler, WR Robert Woods
The skinny
: It's possible Barkley and Woods will challenge Foles and Criner for best pass-catch combination this fall -- Woods, after all, was a true freshman in 2010. Tyler struggles to stay healthy but rushed for 913 yards and nine TDs in 2010.

5. Washington State

QB
Jeff Tuel
, RB
Logwone Mitz
, WR
Marquess Wilson
The skinny
: Lookie here! The Cougs on a list! Wilson ranked second in the conference as a true freshman with 83.8 yards receiving per game, averaging a strong 18.3 yards per catch. Folks who pay attention know Tuel can play. Mitz was the Cougars' second-leading rusher.

6. Colorado

QB
Tyler Hansen
, RB
Rodney Stewart
, WR
Paul Richardson
The skinny
: Hansen is experienced -- 16 starts --and has looked good at times. Stewart rushed for 1,318 yards last season. Richardson, a UCLA transfer, caught 34 passes for 514 yards with six TDs as a true freshman and looks like a budding star.

7. Oregon State

QB
Ryan Katz
, RB
Ryan McCants
, WR
Markus Wheaton
The skinny
: The Beavers would look even better here if WR
James Rodgers
were certain to be healthy. He and Wheaton are a strong combo. Katz flashed plenty of ability last year. The issue is running back: McCants is merely the first in line to replace
Jacquizz Rodgers
.

8. Arizona State

QB
Brock Osweiler
, RB
Cameron Marshall
, WR
Mike Willie
The skinny
: This is a solid threesome that lacks star-power. Osweiler was outstanding at the end of the year when he replace an injured -- and now retired --
Steven Threet
. Marshall led the Sun Devils with 787 yards rushing and nine TDs. Willie was the second-leading receiver with 36 receptions for 442 yards with six TDs.

9. UCLA

QB
Richard Brehaut
/
Kevin Prince
, RB
Johnathan Franklin
, WR
Taylor Embree
The skinny
: The Bruins maybe should have been left off this list with the "incompletes" because we don't know what will happen at QB. But Prince and Brehaut have plenty of starting experience, Franklin rushed for 1,167 yards and eight TDs -- let's not recall the fumbling issues -- and Embree has finished first or second on the Bruins in catches and receiving yards in each of his first three seasons.
March, 1, 2011
3/01/11
3:09
PM ET
By
ESPN.com staff
| ESPN.com
Arizona State has signed two receivers who will be added to a 2011 signing class that now includes 18 players:
Karl Holmes
of Muir High School in Pasadena, Calif., and
Rashad Ross
of Butte College (Calif.).
You can read their
bios here
. And the Sun Devils' 2011
class is here
.
While neither obviously is an elite recruit, it seems clear that coach Dennis Erickson felt the Sun Devils need to bolster their depth at the position.
While ASU only loses
Kerry Taylor
, who led the team with 54 receptions, from its 2010 receiving corps, the Nos. 2, 3, 4 and 5 receivers --
Mike Willie
,
T.J. Simpson
,
Gerell Robinson
and
Aaron Pflugrad
-- as well as
George Bell
are seniors in 2011.
February, 9, 2011
2/09/11
10:11
AM ET
Arizona State quarterback
Steven Threet
still hasn't been cleared to participate in spring practices, which start March 22.
Threet, a senior who started 11 games last year, suffered three concussions this past season, coach Dennis Erickson said.
"I don't know if he'll play spring football," Erickson said.
Threet briefly spoke to the Arizona Republic
about his status at the end of January
.
While Erickson described his quarterback competition as "wide open," it would appear that junior
Brock Osweiler
now owns the inside track to the starting job in 2011.
Osweiler replaced Threet early in the UCLA game -- and threw for 380 yards and four touchdowns in a 55-34 win -- and then led the Sun Devils to a victory over rival Arizona.
Threet completed 62 percent of his passes for 2,534 yards with 18 touchdowns and 16 interceptions in 2010. Osweiler completed 57 percent for 797 yards with five touchdowns and no interceptions. While their efficiency ratings were nearly identical, Threet's tendency to throw interceptions and Osweiler's ability to avoid doing so was a chief reason many saw Osweiler as the favorite to win the job, no matter Threet's health.
Erickson also said four other players will be out or significantly limited this spring due to shoulder injuries: defensive end Junior Onyeali, safety Eddie Elder, safety Keelan Johnson and receiver
Mike Willie
.