June, 10, 2011
6/10/11
5:40
PM ET
By
ESPN.com staff
| ESPN.com
Happy Friday. Welcome to the mailbag.
If you've been thinking, "I wish I could follow the Pac-12 blog on Twitter, only I don't know how!"
Click here
.
To the notes.
Mike from Fullerton, Calif., writes
: What are the chances that Barkley puts up better numbers than Luck this year? Barkley is now in his third year as a starter and second with his offensive coordinator. He has what appears to be a budding college superstar in
Robert Woods
and long list of unproven but talented skill players around him. He obviously needs some help at o-line but if they can even give him some protection he should be able to convert. Luck is coming off a monster year with a new HC and lost his number one WR. i know luck has a dump truck load of good TE but so does SC. With an unproven o-line and talented but raw RB's isn't it foreseeable that Barkley just starts hurling it all over the field?
Ted Miller
: That could happen.
Barkley actually attempted more passes in 12 games last year than Luck in 13 games. Luck passed for more yards -- 257 yards per game compared to 233 -- because he completed 71 percent of his passes compared to 63 percent for Barkley.
Both teams want to be balanced, so the likelihood is neither will abandon the running game. But Stanford is better off on the offensive line, so it might be able to stick its desire to maintain balance more than the Trojans, who are thin and questionable on the O-line. And USC is more talented at receiver.
If I were betting, I'd guess Barkley's numbers are going to be better in 2011 than 2010 while Luck's will remain about the same -- mostly because it's difficult to be much better passing than Luck was in 2010.
---
Eric from Mountain View, Calif., writes
: Ted, your post today about the New Mexico Bowl was the first I heard the Rose Bowl will not be on New Years Day. To whom do I direct my vitriol over this?
Ted Miller
: I understand the tradition of the Rose Bowl always being played Jan. 1, but New Year's Day falls on a Sunday this year, meaning it could be in conflict with the NFL schedule. So no bowl games will be played on Jan. 1.
Here's the BCS release on the scheduling:
As a result of continued uncertainty involving the upcoming National Football League schedule, the Bowl Championship Series (BCS) group today announced a change in dates for three of its upcoming bowl games in order to avoid possible conflicts with NFL Monday Night Football.

The Allstate Sugar Bowl will be played Tuesday, January 3; the Discover Orange Bowl will be played Wednesday, January 4; and the Tostitos Fiesta Bowl will be played Thursday, January 5. The Rose Bowl presented by VIZIO will remain Monday afternoon, January 2, and the Allstate BCS National Championship game remains Monday, January 9th.

"We consulted the involved parties and made a careful decision to choose dates that will ensure a prime-time showcase for our student-athletes while also being mindful of the potential for change in the NFL's schedule," said BCS Executive Director Bill Hancock. "At this point in time, we want to create certainty in a somewhat uncertain scheduling environment."
---
Jeff from Boston writes
: With their new defensive coordinator, how good can UCLA's safeties be? Best tandem in the PAC12? I expect BIG things from Tony Dye and Riley, especially with how good our D-line can be.
Ted Miller
: Tony Dye and Dietrich Riley are a very good tandem, but there are a lot of good safety tandems in the Pac-12. Dye is a proven quantity who should emerge from the Rahim Moore's considerable shadow this fall, while Riley is a touted 2010 recruit who has flashed plenty of ability.
I'd rate Stanford (Delano Howell and Michael Thomas) and Oregon (John Boyett and Eddie Pleasant) ahead of Dye-Riley at this point, in terms of best tandems. And Washington State's Deone Bucannon and Tyree Toomer are pretty good, too.
Keep in mind USC's T.J. McDonald, California's Sean Cattouse, Oregon State's Lance Mitchell and Washington's Nate Felner are back this fall, while talented youngsters not unlike Riley -- Arizona's Marquis Flowers, Arizona State's Alden Darby, Utah's
Terrell Reese
and Washington's Sean Parker -- will be trying to make their marks.
Safety, in fact, seems like a strong position in the conference this fall.
---
Michael from Salt Lake City writes
: When
viewing your entry about ASU's schedule
I noticed there was no mention of having to play a pivotal game at Utah on Oct. 8, one week before ASU plays Oregon. If you over looked the games importance, my hope is that ASU will too? This could be a huge trap game for ASU, as they look ahead to a top ten matchup the following week. My guess is that the winner of the Oct 8th game will represent the south in the Pac 12 title game.
Ted Miller
: I mentioned the game without typing "Utah."
Key stretch: Is Arizona State just a solid bowl team, or something bigger? The Sun Devils will know by Oct. 16, after a six-game stretch that includes two tough nonconference games, two games with top South Division rivals and winds up with a trip to Oregon.
The "two games with top South Division rivals" would be USC and Utah.
As for the game being a "trap," I'd expect not. To me, a trap game is one that potentially might be overlooked. The Sun Devils would be well-advised not to overlook the Utes and I don't think they will.
---
Jim from Bellevue, Wash., writes
: I've been reading your articles since you were at the Seattle PI. Normally I think you do great work, but I've noticed lately a lack of OSU info on your "lunch links". Is that because there is just no news of late from OSU, or is it because they finished 5-7 last year, or are there too many teams to cover now in the new PAC12 and OSU is getting the slight? What gives?
Ted Miller
: You can blame the Pac-12 blog for a lot of things: the weather, the economy, the inexplicable popularity of "The Situation." But not a lack of links for Pac-12 programs.
I want to find links for every school, every day, but I have to depend on the work of others. When you don't see a link from your school, know that I spent more time looking for -- and failing to find -- one than with the schools that actually get a link that day. Not finding links makes my life harder, not easier.
A lack of Oregon State links? It's because I couldn't find any articles. The present explanation for the lack of Beavers links has to do with this little baseball team of theirs taking up all their beat writers' time.
---
Kona from Phoenix writes
: I have two wonderful questions that your blog followers are dying to know:(i) How many emails do you get in your mail bag per week?(ii) What do you feel the odds are of a person getting their question posted and answered on your blog? A ball park estimate is fine.Bonus Question: Which university in the PAC-12 has the best mascot? It is a tough call with newcomer Colorado in the mix, but I still will not cross the Devil, so my vote is for ASU.
Ted Miller
: ESPN.com is a busy place. I get a lot of mail. Not sure exactly how many. I know it's too many to read each week. I often hear from friends that they sent me a note and I never responded but that's typically because I didn't read their message.
Odds of getting a question posted? Not sure. I give the mailbag a first glance Friday morning and start flagging questions that catch my fancy. Then I start typing. I try to get a handful of diverse topics and tones. My general feeling, depending on the week, is I will review about 50 notes to get five to seven questions.
Mascot?
The Tree
.
---
Tom from Chicago writes
: You sound like a real loser writing a
USC article like an opposing fan
. Just remember, your bosses at ESPN are bigtime USC fans. I'm sure they'll enjoy reading your biased rubbish. Furthermore, I'm sure your measely paycheck reflects your opinions. Enjoy your six pack of cheap bear and deli sandwich. You wish you were a Trojan.
Ted Miller
: You misspelled "measly."
And, yes, I could use a turkey sandwich and a cold Bud right now.
May, 4, 2011
5/04/11
9:00
AM ET
By
ESPN.com staff
| ESPN.com
With so many good quarterbacks returning in the Pac-12 in 2011, it's a good thing to have a ball hawk in the secondary who can at least challenge the swaggering passers.
After previously looking at top returning
passers
,
rushers
,
tacklers
and
receivers
, we move on to the returning players with the most interceptions.
Life won't be easy for the QBs, based on this list. Eight of the players who ranked in the top-10 of the conference in picks are back in 2011 -- cornerbacks James Dockery and Richard Sherman of Oregon State and Stanford are gone -- and Utah brings its own pass pilferer in Brian Blechen, though Blechen has moved from safety to LB.
Here's the list:
1.
Cliff Harris, Jr., CB, Oregon (6 interceptions):
Harris just missed getting his seventh interception in the BCS national title game -- it would have been his second of the game -- against Auburn. Harris also led the Pac-10 by breaking up 17 passes, five more than anyone else.
2.
Delano Howell, Sr., S, Stanford (5
): The biggest area of improvement for Stanford in 2010 was the secondary, which went from a decided weakness to a strength. Howell was a big reason why.
2.
John Boyett, Jr., S, Oregon (5):
Boyett, whose pick-six was a critical play in the Ducks win at Arizona State, makes a lot of plays in the Ducks secondary as well as bringing some toughness.
2.
Nate Fellner, Jr., S, Washington (5):
Not a guy who immediately comes to mind when you list the best defensive backs in the conference, but you can't argue with the number.
5.
Nickell Robey, So, CB, USC, (4):
If you are looking for a breakthrough player at cornerback for 2011, Robey is a good place to start. He got picked on early in the 2010 season. By the end, he was returning the favor. Hard worker.
5.
Brian Blechen, So., S, Utah (4):
Move to LB figures to limit his chances to pick off passes, but it also shows you how highly the Utes coaches think of him that they relocated their only returning player from the secondary.
7.
Omar Bolden, Sr., CB, Arizona State (3):
A unanimous first-team All-Pac-10 selection, Bolden blew out his knee this spring. It's possible he could return by midseason. That would be a significant boost to the Sun Devils.
7.
T.J. McDonald, Jr., S, USC (3):
Should blossom into one of the best safeties in the country this year. Second-team All-Pac-10 in 2010.
7.
Aaron Hester, Jr., CB, UCLA (3):
Hester, while talented, spent some time in the dog house last year. It's one thing to grab an interception, but there's an equal-and-opposite reaction when you get beaten deep or to commit a big pass interference penalty.
March, 28, 2011
3/28/11
9:00
AM ET
On Friday, we looked at offensive three-headed monsters --
the best quarterback, running back, wide receiver troikas
-- so it also makes sense to also look at their defensive counterparts, the best threesomes from each of the three levels of defense: defensive line, linebacker and defensive back.
Here's the
tally from last season
, if you are interested.

1.
Arizona State
DE Junior Onyeali, LB Vontaze Burfict, CB Omar Bolden
The Skinny:
No question on No. 1 here. Onyeali was the Pac-10 Defensive Freshman of the Year. Burfict is the nation's best inside linebacker. Bolden was unanimous first-team All-Pac-10.

2.
Stanford
DE Matt Masifilo, LB Shayne Skov, SS Delano Howell
The Skinny:
Masifilo, the lone returning starter on the Cardinal defensive line, was honorable mention All-Pac-10, as was Skov, who was playing as well as any linebacker in the conference over the final third of the season. Howell was second-team All-Pac-10.

3.
California
DE Trevor Guyton, LB Mychal Kendricks, S Sean Cattouse
The Skinny:
Guyton had 8.5 tackles for a loss and 4.5 sacks despite being a part-time starter. Kendricks was second-team All-Pac-10. Cattouse earned honorable mention.

4.
Oregon
DE Terrell Turner, LB Josh Kaddu, CB Cliff Harris
The Skinny:
Two solid returning starters and a second-team All-Pac-10 cornerback who figures to be a preseason All-American after earning second-team honors from the Associated Press and Walter Camp Football Foundation in 2010.

5.
Washington
:
DT Alameda Ta'amu, LB Cort Dennison, FS Nate Fellner
The Skinny:
Ta'amu earned honorable mention All-Conference honors and seemed to find himself over the latter half of the season. Dennison had 93 tackles, 8.5 tackles for a loss and two interceptions. Fellner tied for second in the conference with five interceptions.

6.
Arizona
DT Justin Washington, LB Paul Vassallo, CB Trevin Wade
The Skinny:
Washington's numbers fell off when he got banged up, but he still had 11.5 tackles for a loss and six sacks as a redshirt freshman. Vassallo was honorable mention All-Conference. Wade had an off year last fall, but was second-team All-Pac-10 in 2009.

7.
USC
DE Armond Armstead, LB Chris Galippo, FS T.J. McDonald
The Skinny:
This actually could be one of the best threesomes in the conference, but Armstead and Galippo have injury issues and only put up middling numbers last fall. McDonald was second-team All-Pac-10 in 2010.

8.
Washington State
DE Travis Long, LB Alex Hoffman-Ellis, SS Deone Bucannon
The Skinny:
Long was honorable mention All-Conference, Bucannon, who started as a true freshman, and Hoffman-Ellis were the Cougars' top two tackles in 2010.

9.
UCLA
DE Datone Jones, LB Patrick Larimore, SS Tony Dye
The Skinny:
A solid threesome that is down here more because it gets an "incomplete." Jones missed all of last season with a foot injury, but, if healthy, he's an All-Conference sort. Larimore was solid in seven games before suffering a shoulder injury. Dye led the Bruins in tackles and earned honorable mention All-Pac-10.

10.
Colorado
NG Will Pericak, LB Jon Major, FS Ray Polk
The Skinny:
Pericak earned honorable mention All-Big 12. Major was the Buffaloes leading tackler before he blew out his knee in Game 7 (a knee injury also killed the junior's true freshman season). Polk was the second-leading tackler.

11.
Utah
DE Derrick Shelby, LB Chaz Walker, CB Conroy Black
The Skinny:
Honestly don't know how to rank the Utes here. Shelby and Walker are returning starters -- Walker earned second-team All-Mountain West honors. Black was the top backup cornerback last season.
But
Star Lotulelei might be the Utes' best defensive lineman, and Brian Blechen has moved from strong safety, where he was very good, to linebacker. How highly do the Utes think of him? They list him as an All-American candidate.

12.
Oregon State
DE Dominic Glover, LB Rueben Robinson, S Lance Mitchell
The Skinny:
Three returning starters, but none of them even earned honorable mention All-Pac-10 honors. Mitchell was the Beavers' third-leading tackler, Glover had 2.5 sacks, and Robinson split time with Tony Wilson.
January, 14, 2011
1/14/11
11:00
AM ET
Who distinguished themselves during the bowl season? Here's our All-Bowl Team.
Offense
[+] Enlarge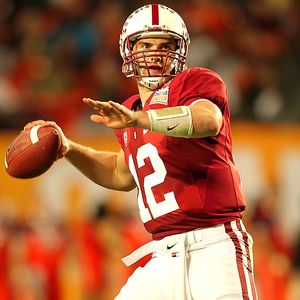 Mike Ehrmann/Getty ImagesAndrew Luck's performance helped key Stanford's blowout win against Virginia Tech.
QB Andrew Luck, Stanford
: Luck completed 18 of 23 passes for 289 yards and four touchdowns in the Cardinal's 40-12 win over Virginia Tech in the Discover Orange Bowl. He also rushed for 15 yards and was sacked just once.
RB Chris Polk, Washington
: Polk rushed for 177 yards on 34 carries with a touchdown in the Huskies win over Nebraska in the Bridgepoint Education Holiday Bowl.
RB Jeremy Stewart, Stanford
: Sophomore
Stepfan Taylor
actually rushed for more yards, but Stewart, a senior who's battled injuries throughout his career, had 99 yards on just five carries, including a 60-yard touchdown against Virginia Tech.
WR Jeff Maehl, Oregon
: Maehl caught nine passes for 133 yards with a long reception of 81 yards in the Tostitos BCS National Championship Game.
WR David Douglas, Arizona
: Douglas caught six passes for 91 yards in the Valero Alamo Bowl.
TE Coby Fleener, Stanford
: Fleenor had a career night in the Orange Bowl, catching six passes for 173 yards and three touchdowns.
OL Jonathan Martin, Stanford
: Stanford rushed for 247 yards and allowed just one sack. Martin will be an All-American candidate in 2011.
OL Chase Beeler, Stanford
: Beeler, the consensus All-American center, is the brains behind the bullies, leading one of the nation's best lines.
OL David DeCastro, Stanford
: The first-team All-Pac-10 performer had a number of key blocks against the Hokies.
OL Senio Kelemete, Washington
: Kelemete has a chance at All-Conference honors as a senior.
OL Cody Habben, Washington
: The Huskies rushed for 268 yards and allowed no sacks versus Nebraska. A nice way for the senior right tackle to go out.
Defense
LB Mason Foster, Washington
: Foster had a game-high 12 tackles, including two sacks in the Huskies win over Nebraska.
LB Shayne Skov, Stanford
: Skov had a game-high 12 tackles, with three sacks and another tackle for a loss against the Hokies. He also broke up a pass.
LB Casey Matthews, Oregon
: Matthews had six tackles, split a tackle for a loss and, most important, forced the late fumble from
Cameron Newton
that set up the Ducks touchdown that tied the count 19-19 late against Auburn.
LB Victor Aiyewa, Washington
: Aiyewa had three tackles for a loss and two forced fumbles in the Holiday Bowl.
DT Alameda Ta'amu, Washington
: Ta'amu dominated inside, recording a sack and recovering a fumble against the Cornhuskers.
DE Hau'oli Jamora, Washington
: The true freshman had three tackles for a loss and a sack versus Nebraska.
DE Kenny Rowe, Oregon
: Rowe was second on the Ducks with nine tackles, four of which came for a loss. He also had a sack and a forced fumble.
CB Cliff Harris, Oregon
: Harris had three tackles, two pass breakups and an interception. A second interception was not upheld by replay officials.
CB Richard Sherman, Stanford
: Sherman had just one tackle against Virginia Tech. It appears that the Hokies, who completed just 16 of 31 passes, decided not to throw his way.
S Delano Howell, Stanford
: Howell had an interception, a sack and four tackles in the Orange Bowl.
S Nate Felner, Washington
: Felner had four tackles and an interception in the Huskies win over Nebraska.
Special teams
K Rob Beard, Oregon
: There wasn't a lot of great kicking this bowl season in the Pac-10, but Beard connected on a 26-yard field goal against Auburn and scored a 2-point play on an option pitch.
P David Green, Stanford
: Green didn't punt much in the Orange Bowl, but he did average 46 yards when he did (three times).
KR Travis Cobb, Arizona
: Cobb returned five kickoffs for 179 yards, with a long of 64 yards.