September, 1, 2013
9/01/13
11:00
AM ET
PASADENA, Calif. -- The
UCLA Bruins
passed a crucial test in Week 1, which was (mostly) containing a dual-threat quarterback. Nevada's
Cody Fajardo
spent the first half of Saturday night's 58-20 Bruins' victory at the Rose Bowl dodging over-pursuing outside linebackers and escaping edges that were thought to be contained.

In the second half, not so much. Fajardo rushed for 79 yards in the first half, but was limited to just 27 after halftime. In total, Fajardo rushed for 106 yards and two scores. There were valuable lessons learned, and they will carry the Bruins through a schedule that includes some of the nation's top dual-threat QBs. And getting to see a versatile quarterback like Fajardo in the first game gives the Bruins a framework for what they did right and what they need to correct moving forward.
"I think it's invaluable," said UCLA coach Jim Mora. "(Nebraska's)
Taylor Martinez
, who we see next, to me is one of the top running quarterbacks in football – at any level. For us to play a guy like we did today and for him to have the success he had and learn from it is really going to help us. To see it on film is really going to ingrain the learning in our young men. And it's a chance for us to say what are we doing right, what are we doing wrong? What do we need to adjust? What do we need to do better?
"We can't let quarterbacks do that to us. That's what interesting about this college game. These quarterbacks are such threats running the football. I'm still adjusting to it. I better adjust darn quickly."
Indeed, because after Martinez, Oregon's
Marcus Mariota
, Stanford's
Kevin Hogan
, Arizona State's
Taylor Kelly
and Washington's
Keith Price
– among others – loom.
"At the college level, everyone has a guy who can tuck and run, whether it's designed or not," said UCLA defensive coordinator Lou Spanos. "They are all threats. Most colleges have dual-threat guys. You have to adjust accordingly. Every call you have, someone who has to be responsible for the quarterback. It's a great challenge every week."
The Bruins finally got through to Fajardo in the second half with a pair of sacks -- a considerably low total for a team that ranked eighth in the country in 2012 at sacks per game -- but understandable considering the scrambling ability of Fajardo.
Keenan Graham
tallied both of UCLA's sacks, one of which led to a game-changing blocked punt and touchdown that swung the momentum toward the Bruins in the second half.
It also helped that -- at least in the first half -- the Wolfpack pushed back. With a schedule that includes four teams ranked in the preseason Top 25 (and now likely a fifth after Washington's win over No. 19 Boise state), rolling over an FBS team probably wouldn't have been that beneficial to a Bruins team with Rose Bowl aspirations.
"In our preparation for Nevada, we knew they were going to come hard," said UCLA offensive lineman Xavier Su'a-Filo. "That's a good team. They pushed us in the first half and forced us to make some adjustments. That's a good thing for our team. That was really good preparation for us as we start to get ready for Nebraska."
For veterans like linebackers
Eric Kendricks
,
Anthony Barr
and
Jordan Zumwalt
, running quarterbacks at the college level aren't much of a surprise. But for someone like true freshman linebacker
Myles Jack
, who tallied eight tackles and a tackle for a loss, the experience of seeing a runner early in his career was invaluable.
"I would say it was crucial for us young guys to be exposed to that early -- and not just us, the whole team," Jack said. "Fajardo should be a Heisman candidate. He's a great player. And for us to see someone like that in Week 1 was a good preview of what we're going to see over the next few weeks and for the rest of the season."
September, 1, 2013
9/01/13
1:44
AM ET
PASADENA, Calif. -- The UCLA defense got tested, as expected, by Nevada dual-threat quarterback
Cody Fajardo
. But fortunately for the Bruins, they've got a pretty good dual-threat guy as well in
Brett Hundley
. The second-year starter paced the Bruins with his arm and his legs and the Bruins erupted in the second half
en route to a 58-20 victory
. Here's how it went down at the Rose Bowl.


It was over when
: The Bruins, who led wire-to-wire, started to pull away in the third quarter. Leading 24-13,
Kenny Orjioke
blocked a Nevada punt deep in Wolf Pack territory.
Phillip Ruhl
recovered it on the hop and ran it in four yards for the score, extending the Bruins' lead to 31-13.
Game ball goes to
: Gotta be Hundley, who picked up where he left off last season. Giving 2013 a sense of symmetry, UCLA's first touchdown of the year came on a zone-read from Hundley, who scampered 37 yards for the touchdown. Last year, UCLA's first touchdown of the season came on a 72-yard zone-read from Hundley. As a passer, he missed on a couple of deep balls, but hung in the pocket more than he did last season and made good decisions.
Unsung hero
: Strong performance from running back
Jordon James
, who carried 21 times for 155 yards and a touchdown. The running back spot had been hotly debated following the departure of Johnathan Franklin, who was a finalist last year for the Doak Walker Award and the school's all-time leading rusher. James spearheaded a rushing attack that totaled 345 yards on the ground.
Worth noting (1)
: The Bruins, who were the most penalized team in FBS football last year, were flagged 12 times for 93 yards.
Worth noting (2)
: Fajardo put some pressure on the Bruins by rushing for 79 yards and a score in the first half. But UCLA buckled down in the second half, holding him to just 27 yards on the ground and one touchdown.
What we learned about UCLA
: The potential is there to be extremely explosive. Hundley looked sharp -- save a couple of deep throws -- and the running game didn't look like it missed a beat. Granted, there are tougher opponents ahead, but Nevada is no pushover, and the Bruins successfully pushed over them. This was a strong start for the Bruins and should be a good confidence boost as they prep for their next game on Sept. 14 at Nebraska.
June, 28, 2013
6/28/13
4:00
PM ET
We continue our series taking a closer look at each Pac-12 team's nonconference schedule.

UCLA
Nevada, Aug. 31
Coach: Brian Polian, first year
2012 record: 7-6, 4-4 Mountain West
Returning starters: seven offense, five defense
Offensive headliner: Cody Fajardo returns at quarterback after finishing 10th nationally last year in total offense, averaging 325.6 yards per game. He has a career completion percentage of 67.7 percent and accounted for 32 touchdowns last year.
Defensive headliner: Defensive end Brock Hekking returns after earning second-team all-league honors last year. He posted eight sacks on the year and was third on the team with 75 tackles.
The skinny: How dangerous is Fajardo? Against two Pac-12 teams last year (Cal and Arizona) he completed 74 percent of his throws (47 of 63) and rushed for 237 yards and three touchdowns. He can play. It's a new era following the (second) retirement of Chris Ault, father of the Pistol. But if Polian learned anything from his time at Stanford, you don't fix what's not broken. And Nevada knows how to score. Defense, however, is a different story as the Wolfpack allowed more than 33 points per game in 2012.
at Nebraska, Sept. 14
Coach: Bo Pelini (49-20), sixth year
2012 record: 10-4, 7-1 Big Ten
Returning starters: seven offense, five defense
Offensive headliner: Uber-athletic quarterback Taylor Martinez is on pace to become just the second quarterback in FBS history (joining Colin Kaepernick) to throw for 9,000 yards and rush for 3,000 yards in a career. He accounted for 33 touchdowns last year, 23 in the air, 10 on the ground, while throwing for 2,871 yards and rushing for 1,019.
Defensive headliner: Defensive end Jason Ankrah will be called upon to be the leader of the front seven. He's started 18 games the past two seasons and last year he tallied 26 tackles with six for a loss, two sacks and two forced fumbles.
The skinny: The Huskers have enjoyed five straight years of at least nine wins and 10 wins in three of the past four years. The Bruins are a team still learning how to handle success. Last season's home victory was a coup for the Bruins. A win in Lincoln would carry even more weight. The Huskers are 19-2 at home in the past three seasons, falling to Texas in 2010 and Northwestern in 2011.
New Mexico State, Sept. 21
Coach: Doug Martin, first year
2012 record: 1-11, 0-6 WAC
Returning starters: seven offense, seven defense
Offensive headliner: Despite the poor record, wide receiver Austin Franklin was still a semifinalist last year for the Biletnikoff Award -- which says something coming from a 1-11 team. He caught 74 balls for 1,245 yards and nine touchdowns. He was first-team All-WAC and SI.com named him an All-American honorable mention.
Defensive headliner: A second-team all-league selection, linebacker Trashaun Nixon started all 12 games last year, recording 96 tackles with 9.5 for loss and three sacks.
The skinny: The Aggies enter the season on an 11-game losing skid (their only win last year coming against FCS Sacramento State, the same one that beat Colorado) and they have dropped 14 in a row against FBS competition. After a four-year record of 10-40, DeWayne Walker (formerly of Cal, USC, and UCLA among others) opted to return to the NFL where he's the DB coach for Jacksonville.
Thoughts
: There are only three quarterbacks in FBS football who have passed for 4,000 yards and rushed for 1,500 yards over the last two seasons. The Bruins face two of them in Martinez and Fajardo. With the exception of New Mexico State, this is a considerably vigorous nonconference slate. Nevada will test the defense at home in the first week (though it's a test that's passable). Nevada's defensive struggles of late, however, suggest taking the over in this game. Combined rushing yards for
Brett Hundley
and Fajardo? 250? Then the Bruins get a week off to tweak and correct before making the trip to Lincoln, which will provide a stiff test. And for those who love the chess match aspect of scheming, it's probably worth noting that Nebraska will likely be studying that Nevada game film closely to see what the Bruins do to try and contain Fajardo. (I can tell you right now what the game plan is: Unleash
Anthony Barr
. Rinse. Repeat). We'll know exactly how much this team has matured by the time New Mexico State comes to town. 3-0 would be outstanding. 2-1 would be respectable. 1-2 would be viewed as a step backward for a program trying to build its brand under Jim Mora.
December, 19, 2012
12/19/12
2:30
PM ET
Hey! If any of you are looking for any last-minute gift ideas for me, I have one. I'd like Frank Shirley, my boss, right here tonight. I want him brought from his happy holiday slumber over there on Melody Lane with all the other rich people and I want him brought right here, with a big ribbon on his head.
December, 13, 2012
12/13/12
9:00
AM ET
Our assignment is to pose a best-case and a worst-case scenario for every Pac-12 bowl team.
So here goes.

Arizona
Gildan New Mexico Bowl, Albuquerque, N.M., Dec. 15:
Arizona (7-5) vs. Nevada (7-5), 1 p.m. ET, ESPN
Best case:
Arizona rolls 40-28, as quarterback
Matt Scott
goes out with a bang that raises NFL eyebrows, and running back
Ka'Deem Carey
rushes for 195 yards to sew up the national rushing title.
Worst case:
Scott gets knocked out of the game early and backup
B.J. Denker
looks overwhelmed, raising questions about the future at QB. Carey rushes for 35 yards and loses the rushing title as Nevada rolls 42-21. Michigan fans hit the message boards with a litany of "I told you so" about Rich Rodriguez.

Washington
MAACO Bowl Las Vegas, Las Vegas, Dec. 22:
Washington (7-5) vs. Boise State (10-2), 3:30 p.m. ET, ESPN
Best case:
In a "Welcome back!" performance, QB
Keith Price
throws for 295 yards and three touchdowns -- matching the total TD passes the Broncos have yielded all season -- and runs for another score as the Huskies end 2012 with a statement victory that bodes well for 2013. The Huskies' hot offseason topic is how high the preseason ranking will be.
Worst case:
Washington starts slowly as it has much of the season, then gives up a double-digit fourth-quarter lead as Price throws multiple interceptions. Boise State wins going away 38-17, and the Huskies' hot offseason topic is whether coach Steve Sarkisian has plateaued.

UCLA
Bridgepoint Education Holiday Bowl, San Diego, Dec. 27:
UCLA (9-4) vs. Baylor (7-5), 9:45 p.m. ET, ESPN
Best case:
That the Bruins score 45 points is not unexpected. That Baylor is held to just 17 points is unexpected. UCLA dominates on both sides of the ball, and quarterback
Brett Hundley
looks like a budding Heisman Trophy candidate. After the game, linebacker
Anthony Barr
and guard
Xavier Su'a-Filo
both announce they are returning for the 2013 season. Says Barr, "Unfinished business? Naaah. I just like playing with these guys."
Worst case:
Baylor rolls over UCLA in a 55-30 win, as the Bruins' defense can do nothing to slow the Bears, while Hundley throws three picks. Barr and Su'a-Filo opt to leave for the NFL, as does coach Jim Mora, who is hired by the Philadelphia Eagles.

Oregon State
Valero Alamo Bowl, San Antonio, Dec. 29:
Oregon State (9-3) vs. Texas (8-4), 6:45 p.m. ET, ESPN
Best case:
Oregon State throttles the Longhorns 31-13 with stifling defense, but the big story is Cody Mannion -- or is it Sean Vaz? -- throwing four touchdown passes and making a strong case to be the 2013 starter.
Worst case:
The Beavers become the only team that couldn't run on Texas this year, and
Sean Mannion
and
Cody Vaz
both throw two interceptions in a 30-10 defeat. Meanwhile, Oregon State makes both
Case McCoy
and
David Ash
look like superstars. "Well," say all the national commentators. "This makes a strong case for the Big 12's superiority over the Pac-12. But we've still got to see the Fiesta Bowl."

Arizona State
Kraft Fight Hunger Bowl, San Francisco, Dec. 29:
Arizona State (7-5) vs. Navy (7-4), 4 p.m. ET, ESPN2
Best case:
Arizona State uses its superior speed on both sides of the ball to throttle Navy 48-17. After the game, consensus All-American defensive tackle
Will Sutton
announces he's returning for his senior year.
Worst case:
Navy's triple option wears down the Sun Devils in a 28-17 victory. Even worse, the Sun Devils turn the ball over five times and commit 12 penalties for 105 yards, including two personal fouls. They look like the 2011 team, not the 2012 version under new coach Todd Graham.

USC
Hyundai Sun Bowl, El Paso, Texas, Dec. 31:
USC (7-5) vs. Georgia Tech (6-7), 2 p.m. ET, CBS
Best case:
Matt Barkley
looks like, well, Matt Barkley, throwing five touchdown passes as the Trojans roll 40-10. As for the defense, coordinator Monte Kiffin goes out in style, with the Trojans holding Georgia Tech's option to just 225 total yards. Head coach Lane Kiffin announces after the game that he has hired Bob Diaco away from Notre Dame to be his defensive coordinator.
Worst case:
Barkley tries to play but reinjures his shoulder, and the Trojans fold thereafter, ending a horribly disappointing season with a 38-17 loss. After the game, receiver
Robert Woods
, running back
Silas Redd
and cornerback
Nickell Robey
announce they will enter the NFL draft. Lane Kiffin also announces the hiring of Nick Holt to run the Trojans' defense.

Stanford
Rose Bowl Game presented by Vizio, Pasadena, Calif., Jan. 1:
Stanford (11-2) vs. Wisconsin (8-5), 5 p.m. ET, ESPN
Best case:
Stanford dominates on both sides of the ball in a 30-10 victory, holding the Badgers to just 79 yards rushing and 210 total yards. Quarterback
Kevin Hogan
throws two touchdown passes and runs for another, while running back
Stepfan Taylor
rushes for 145 yards and a score. After the game, linebacker
Shayne Skov
, defensive end
Ben Gardner
and tight end
Zach Ertz
announce they will be returning for their senior seasons.
Worst case:
Montee Ball
rushes for 197 yards and two scores as Wisconsin pushes the Cardinal around in a 24-17 win. The Badgers sack Hogan four times, overwhelming the Cardinal's offensive line. After the game, Skov, Gardner and Ertz announce they will enter the NFL draft. Coach David Shaw is hired by the Philadelphia Eagles, and Walt Harris is rehired.

Oregon
Tostitos Fiesta Bowl, Glendale, Ariz., Jan. 3:
Oregon (11-1) vs. Kansas State (11-1), 8:30 p.m. ET, ESPN
Best case:
Oregon starts fast and never lets up in a 51-20 blowout, with running back
Kenjon Barner
rushing for 187 yards and two scores and quarterback
Marcus Mariota
throwing for three TDs. The Ducks sack
Collin Klein
five times and grab two interceptions. "I'm sure glad we didn't play them in the regular season," Kansas State coach Bill Snyder says afterward. Shortly after the game, Ducks coach Chip Kelly signs a lifetime contract, opens practices and promises to be more patient with hypotheticals and other sorts of irritating questions.
Worst case:
The Kansas State defense throttles the Ducks' offense, and Klein throws three TD passes in a 30-13 victory. The Ducks rush for only 101 yards. "Oregon struggles in these big games," say the national commentators afterward. "And this really makes the Pac-12 look bad." Kelly is hired by the Philadelphia Eagles. Mariota quits football to become a professional surfer. John Mackovic is hired to replace Kelly.
December, 12, 2012
12/12/12
2:30
PM ET
The Grinch hated Christmas -- the whole Christmas season. Now, please don't ask why; no one quite knows the reason. It could be, perhaps, that his shoes were too tight. Or it could be that his head wasn't screwed on just right. But I think that the most likely reason of all ... may have been that his heart was two sizes too small.
December, 7, 2012
12/07/12
2:30
PM ET
December, 7, 2012
12/07/12
9:00
AM ET
If you missed my Thursday chat,
you can read it in its entirety here
.
But here's a smattering of brilliance!
Matt (Los Angeles) Ted, Do you think SC can get back to a championship level next year?
Ted Miller (3:01 PM)
I think USC should be competitive in the South Division, though I think UCLA is a clear favorite and Arizona State could be in the mix. USC has a lot to clean up, starting on defense with a new coordinator. But there is plenty of talent coming back, particularly if WR Robert Woods returns. I'd rate the Trojans over-under on wins at 8 or 9.
M
ike Bohn (Boulder, CO) Should I even consider the names of Petrino or Tressel?
Ted Miller (3:02 PM)
No... I think San Jose State coach Mike MacIntyre or Fresno State coach Tim DeRuyter would be good picks.
Chris (LaLaLand) What's your take on the Sonny Dykes hire? Seen some fans complain, saying his teams play no D. But hey this is the Pac 12.
Ted Miller (3:04 PM)
His team played decent defense in 2011, terrible defense in 2012. A big thing for him is getting enough money to hire an A-list coordinator. I'm thinking at least $500,000. As for the hire itself, Dykes is a good choice. I knew when he was at Arizona it was just a matter of time before he got a good job. I think he will be successful.
SSgt Smyth (Afghanistan) With two QB committments at Airzona how will Coach Rod handle the starting postion for next season.
Ted Miller (3:07 PM)
Pretty straight forward: Whoever practices the best will win the job. I think the incoming frosh are longshots, but USC transfer Jesse Scroggins will likely give B.J. Denker a strong challenge
Jason (Eugene) What do you think the chances are that the Ducks get sanctions due to the Will Lyles recruiting incident?
Ted Miller (3:12 PM)
I think they will get sanctioned but I don't think it will be crippling. Nothing that should chase Kelly out of town or prevent him from continuing a run of BCS bowl games.
Brian Johnson (Utah) Whats your grade for me this year
Ted Miller (3:24 PM)
C+... it's clear you're learning a bit on the job. But you also had a tough hand with questions on the O-line and at QB.
Reese (Atlanta) Why do you think the Pac-12 is perceived as so weak in all other regions of the Country other than the west coast? Is it because of weak defensive performances, or repeated disappointments form the leaders, Oregon and USC? Stanford gets some respect, but they tend to play more of a smashmouth style.
Ted Miller (3:28 PM)
Smart people don't think the Pac-12 is weak. It's purely trash talk.
K Whitt (The Hill) The way I see it, I have at lease 2 more year like this last one before my seat gets hot. Thoughts? C'mon, I beat Bama in the Sugar Bowl!
Ted Miller (3:31 PM)
It surprises me hearing folks grumble about Whittingham. The reality is the Utes made a major jump in competition. If Boise State joined the Pac-12, the same thing would happen. Would folks then question Chris Petersen? It's going to take a few years for Utah to look like a top-half Pac-12 team. But, yes, if the Utes have two more losing seasons, I'd say Whittingham's seat would be hot, and justifiably so
Goswami (NYC) Which QB starts for my Golden Bears next year?
Ted Miller (3:36 PM)
I think Zach Kline will prevail. Dykes probably likes the idea of going with a RS FR who can learn the system and play a couple more years.
Go Greyhounds! (Pullman, WA) Do you see any changes to the Oregon State coaching staff this off season?
Ted Miller (3:38 PM)
I think DC Mark Banker might get a few looks... perhaps USC or California.
Beavfann (Denver) Do you have any insights into why the Beavers do not do well in recruiting terms 4 and 5 star guys? I like how Riley can develop guys, but it would be nice to get a couple prospects that come in rated highly.
Ted Miller (3:40 PM)
Are there any schools that are comparable to Oregon State in location, history and stadium size that get 4 or 5 star guys? Oregon has taken a step forward in recruiting due to a deeeeeeep pocketed booster, but its fans also complain about recruiting. Beavers, do you want to be Texas, that disappoints with 5 star recruits? Or Oregon State, which turns boys into men?
Engineer Mike (Switzerland) Ted, quick! Check the rulebook! Isn't there some possible way for ND and AL to both lose the national championship game? I'm so torn in deciding whom to root AGAINST.
Ted Miller (3:45 PM)
We were talking about that on an ESPN conference call the other day. Lots of folks root against Notre Dame. But lots of folks don't want the SEC to win a seventh consecutive title. What do you do? Me... I'm excited about the game. I'm just rooting for a game that goes into the fourth quarter.
Jeremy (Honolulu) Am I the only one who thinks CK leaving for the NFL would be a poor decision? The teams that have slowed his offense are teams with NFL -caliber defensive fronts. I don't see this style of play working at the next level
Ted Miller (3:48 PM)
Kelly isn't married to a scheme. That's what folks are missing. What NFL teams most want is as much his CEO skills as anything. Kelly will use his very big brain to adapt to the NFL. But I hope he stays. I'd miss going back and forth with him.
Julian (Sunnyvale Trailer Park) Do you see the Sun Devils taking another step forward next year with another year with the system? They also got Kelly with more experience and lots of young talent.
Ted Miller (3:54 PM)
Yes... my feeling is the Sun Devils are in a nice place. Some holes to fill, particularly if Sutton bolts, but the future looks bright. It seems like he's recruiting well, too. I love the idea of both Arizona schools doing well.
GreenandGold Duck (Sacramento) If the playoffs were to start this year, how do you think Oregon would fare?
Ted Miller (3:56 PM)
I think Oregon would win the national championship, particularly if the final game only featured a week or two between the semifinal.
Mike (Anaheim) Will Todd McNair take down the NCAA?
Ted Miller (3:59 PM)
I think he's going to win his case, and that it's going to embarrass the NCAA... I like that it's making real what I've long claimed: The NCAA screwed over USC unfairly and knew it was doing so and did so because it could.
December, 5, 2012
12/05/12
7:05
PM ET
Good running backs see holes even before they open, so it should come no surprise that Arizona's
Ka'Deem Carey
immediately recognized holes in a reporter's questions.
So, Ka'Deem, are you thinking about maybe hitting 2,000 yards rushing in 2013?
"Hopefully 2,000 this year!" he said, laughing.
Carey will head into the Gildan New Mexico Bowl against Nevada on Dec. 15 with 1,757 yards rushing. Considering he broke the 28-year-old Pac-12 single-game record rushing record when he pilled up 366 yards against Colorado, Carey getting 243 against the Wolfpack isn't that much of a stretch. He also rushed for 204 yards against a good Utah run defense.
Carey leads the nation in rushing with 146.42 yards per game.
So, Ka'Deem, how does it feel to win the FBS rushing title?
"That is good," he said. "But it's not done yet."
True. Bowl stats now count for official season statistics.
In fact, Carey's closest pursuer will be eyeballing him from across the field in Albuquerque: Nevada's
Stefphon Jefferson
, who averages 141.92 yards per game.
Both should see at least a little daylight in the bowl game. Arizona is 87th and Nevada 110th in the nation in run defense. And both offenses rank in the nation's top-20 in scoring.
Carey, who averages 6.4 yards per carry and has scored 20 touchdowns, may need to find the endzone a handful of times.
"I'll hopefully do that," Carey said. "But I feel like our defense is going to step up and make big plays."
It's smart on Carey's part not to knock the Wildcats' defense, which has probably exceeding low preseason expectations. It also shows him to be a budding leader. He'll need to be next fall. With the graduation of QB
Matt Scott
, the Wildcats offense will face some uncertainty. Carey will be the first and perhaps second option.
The first-team All-Pac-12 performer didn't get an invitation to the Heisman Trophy ceremony -- "I knew I had no chance," he said -- despite his big numbers against A-list competition, but he certainly will make a number of 2013 preseason Heisman lists. He will be the face of the Arizona program, and his leadership will need to take another, more vocal step.
"I'm definitely ready," he said. "I learned a lot from Matt and the other seniors, just the way they led the team."
But first Carey needs to make sure he leads the nation in rushing.
December, 5, 2012
12/05/12
2:30
PM ET
Orr would be crazy to fly more missions and sane if he didn't, but if he was sane he had to fly them. If he flew them he was crazy and didn't have to; but if he didn't want to he was sane and had to. Yossarian was moved very deeply by the absolute simplicity of this clause of Catch-22 and let out a respectful whistle.
December, 4, 2012
12/04/12
11:30
AM ET
The Pac-12 has never before had eight bowl teams. But so what? It's only been a 12-team league for two seasons. Eight bowl-eligible teams should become the standard.
What's more important is the final bowl record. And that should -- emphasis on
should
-- sparkle this bowl season.
While there is no line yet on the Arizona State-Navy matchup in the Kraft Fight Hunger Bowl, the Pac-12 is favored in six of the other seven games, including both BCS bowls (and the Sun Devils figure to be double-digit favorites). The lone underdog is Washington in the Las Vegas Bowl against Boise State, and I wonder if the 5 1/2-point spread is due largely to the Huskies' monumental choke against rival Washington State on Nov. 23.
In other words, 8-0 is a legitimate hope this bowl season. Going 7-1 would be good, too. And anything less than 6-2 will be disappointing.
[+] Enlarge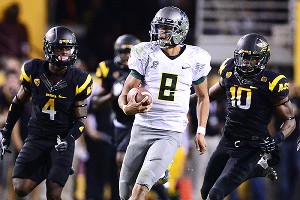 Mark J. Rebilas/US PresswireA bowl win by Marcus Mariota and Oregon over Kansas State would certainly help the Pac-12's national perception.
The first priority is the BCS bowl games. Those are high-profile matchups that everyone will watch. And pass judgment on the Pac-12.
Stanford is in a tough position. Wisconsin certainly looked better than its 7-5 record when it drubbed Nebraska, but the Cardinal won't get much credit for beating the Badgers after the Big Ten suffered through a horrible year. If the Cardinal should get upset, it certainly wouldn't boost the Pac-12's Q-rating.
But Oregon's showdown with Kansas State in the Tostitos Fiesta Bowl is the real measuring stick. The Pac-12 and the Big 12 have been battling all season for the spot of "Second Best AQ Conference" behind the SEC (the SEC could sweep its bowl games, so don't expect there to be much headway in the "SEC is overrated" argument). If the Ducks beat the Wildcats, the Big 12 champs, that would be the biggest step toward establishing supremacy.
Of course, then come two more Pac-12-Big 12 matchups: Oregon State-Texas in the Valero Alamo Bowl and UCLA-Baylor in the Bridgepoint Education Holiday Bowl. The Pac-12 is favored in each, but by less than a field goal in both cases.
If the Pac-12 wins two of three in these matchups, its claim to second-best conference would be legitimate, particularly if Oregon is one of those wins. Lose two of three, particularly if the Ducks take one of those losses, and this purely speculative trophy goes to the Big 12.
A couple more thoughts.
Before losing to Washington State, Washington was setting itself up as a team likely to generate plenty of 2013 buzz. The Huskies can recover considerable mojo and likely reserve a top-20 preseason ranking if they beat Boise State. But, really, it will be far more important for the Huskies to beat the Broncos in the 2013 season opener -- the re-opener for remodeled Husky Stadium -- than on Dec. 22 in the MAACO Las Vegas Bowl.

The Arizona-Nevada over-under started at about 75 points. I like the over.

Baylor averaged 578 yards and 44 points per game this year, totals that ranked Nos. 1 and 5 in the nation. But I'd rather have Arizona's offense (37 points, 522 yards, playing against much better defenses), and UCLA held the Wildcats to 10 points. To me, that's the great matchup in the Holiday Bowl: Coach Jim Mora and defensive coordinator Lou Spanos, longtime NFL guys, against one of the nation's most potent spread attacks.

Arizona State and USC both will be preparing for triple-option offenses. The extra time should help. But here's a guess the Sun Devils will be far more motivated than the Trojans, who certainly didn't anticipate ending up in the Hyundai Sun Bowl. And an unmotivated team trying to stop an option attack, which requires focused discipline, sometimes ends up looking bad. Really bad.

That said: It would be great if USC QB Matt Barkley comes back from the shoulder injury that knocked him out of the Notre Dame game and plays well. It hasn't been the season Barkley and his team imagined, but Barkley is a high-character, standup guy who remains a great ambassador for the game.

While it won't mean much of anything in either locker room, the Oregon-Kansas State scheduling "controversy" -- Kansas State canceled a home-and-home series with the Ducks, thereby killing a scheduled game for this season -- will be meaningful to both fan bases. The Ducks -- and a certain blog -- have trash talked the issue relentlessly, but now it's put-up or shut-up time, with each team's fan base knowing the postgame trash talk will be vociferous and seemingly unending.
And, again, here's the Pac-12 bowl schedule.
Sat., Dec. 15 Gildan New Mexico Bowl, Albuquerque, N.M. (University Stadium)
Arizona (7-5) vs. Nevada (7-5), 1 p.m. ET/10 a.m. PT, ESPN
Sat., Dec. 22 MAACO Bowl Las Vegas, Las Vegas (Sam Boyd Stadium)
Washington (7-5) vs. Boise State (10-2), 3:30 p.m. ET/12:30 p.m. PT, ESPN
Thurs., Dec. 27 Bridgepoint Education Holiday Bowl, San Diego (Qualcomm Stadium)
UCLA (9-4) vs. Baylor (7-5), 9:45 p.m. ET/6:45 p.m. PT, ESPN
Sat., Dec. 29 Valero Alamo Bowl, San Antonio (Alamodome)
Oregon State (9-3) vs. Texas (8-4), 6:45 p.m. ET/3:45 p.m. PT, ESPN
Sat., Dec. 29 Kraft Fight Hunger Bowl, San Francisco (AT&T Park)
Arizona State (7-5) vs. Navy (7-4), 4 p.m. ET/1 p.m. PT, ESPN2
Mon., Dec. 31 Hyundai Sun Bowl, El Paso, Texas (Sun Bowl)
USC (7-5) vs. Georgia Tech (6-7), 2 p.m. ET/11 a.m. PT, CBS
Tues., Jan. 1 Rose Bowl Game presented by Vizio, Pasadena, Calif. (Rose Bowl)
Stanford (11-2) vs. Wisconsin (8-5), 5 p.m. ET/2 p.m. PT, ESPN
Thurs., Jan. 3 Tostitos Fiesta Bowl, Glendale, Ariz. (University of Phoenix Stadium)
Oregon (11-1) vs. Kansas State (11-1), 8:30 p.m. ET/5:30 p.m. PT, ESPN