Pac-12:

new mexico bowl 2013
December, 21, 2013
12/21/13
6:55
PM ET
Washington State… well, as your rivals often joke, you "Couged it."


It was over when:
Colorado State kicker
Jared Roberts
booted a 41-yard field goal as time expired, capping an epic meltdown by Washington State in a
48-45 Rams victory
in the Gildan New Mexico Bowl in Albuquerque. The Cougars (6-7) surrendered 18 points in the final 2:52, fumbling twice to give the seemingly beaten Rams (8-6) new life.
Game ball goes to:
Colorado State running back
Kapri Bibbs
, who was nursing a turf toe injury, rushed for 169 yards on 27 carries with three touchdowns, including a 75-yard effort and a 1-yard burst that tied the game in the waning moments. He averaged 6.3 yards per rush.
Unsung hero of the game:
Colorado State QB
Garrett Grayson
completed 31 of 50 passes for 369 yards and two touchdowns, leading an offense that gained 595 yards against a Cougars defense that was surprisingly hapless and unsound.
Stat of the game:
The Cougars rushed for minus-10 yards. And when they tried to run the ball in order to run out the clock, it became a comedy of errors. Just after replay officials saved the Cougars from a
Connor Halliday
fumble on a peculiar read-option keeper,
Jeremiah Laufasa
fumbled on the next play, setting up the tying touchdown and two-point conversion.
What it means:
It means most of the momentum Washington State gained from playing in its first bowl game since 2003 reverts to frustration. The Cougars will almost certainly make every postseason bowl game review for being the bowl season's biggest chokers.
Instead of finishing 7-6, the Cougs finish with a losing record for the seventh consecutive season.
The final three minutes of the game were devoid of poise and execution. This one will bite at coach Mike Leach and his players for a long time, at least until the 2014 season opener.
It also means the Pac-12 loses its first game in 11 matchups this year against the Mountain West Conference.
Recall this week when Pac-12 fans were irritated
with ESPN.com's Mark Schlabach for picking the Pac-12 to go 3-6 this bowl season? Well, he picked Colorado State to beat Washington State.
To watch the trophy presentation of the Gildan New Mexico Bowl,
click here
.
December, 21, 2013
12/21/13
9:00
AM ET
Washington State will take on Colorado State on Saturday at 2 p.m. ET (ESPN) in the Gildan New Mexico Bowl.


Here's a quick preview:
Who To Watch
: As Washington State quarterback
Connor Halliday
goes, so goes the Cougars' pass-happy offense. The key for Halliday is protecting the football. His 21 interceptions this year were five more than any other Pac-12 QB. For the Rams, it's all about running back
Kapri Bibbs
, who rushed for 1,572 yards and 28 touchdowns this year, averaging a stout 6.2 yards per carry.
What To Watch
: Again, it starts with Halliday and Bibbs. Colorado State ranked 100th in the nation in pass-efficiency defense, so Halliday and his corps of receivers should have a good day. The Cougars ranked ninth in the Pac-12 in run defense, yielding 184 yards per game. Of course, the Cougs played four teams that ranked in the nation's top 23 in rushing.
Why To Watch
: Because it's the first bowl game! Because the Cougars are excited to be playing in their first bowl since 2003. Because Mike Leach might say something amusing to a sideline reporter, before, during or after the game.
Predictions
: Kevin:
Washington State 41, Colorado State 28
. Ted:
Washington State 45, Colorado State 20
.
December, 20, 2013
12/20/13
11:00
AM ET
After correctly predicting a Stanford victory in the Pac-12 title game against Arizona State, Kevin took a one-game lead over Ted, as he stands at 75-17 and Ted is 74-18.
Nine bowl games to rule the season!
GILDAN NEW MEXICO BOWL


Kevin Gemmell:
It has been a long drought for the Cougars -- more than a decade -- since they've been to a bowl game. Don't think they'll let this opportunity pass them by. Washington State should win, because it's the better football team, has a more dangerous offense, a more physical defense and the Cougars are far more battle-tested. They've won high-scoring games and low-scoring games. Plus the Pac-12 has dominated the Mountain West this year. A lot of times the Pac-12 team playing in the New Mexico Bowl feel slighted. That shouldn't be the case. I also like what I've seen out of
Connor Halliday
the last four games. He has done a much better job taking care of the ball, throwing for 10 touchdowns and four interceptions. In the first eight games he had 18 touchdowns and 17 picks.
Washington State 41, Colorado State 28
.
Ted Miller:
There should be no question about focus and motivation for the Cougars. They've gone 6-6 against an infinitely tougher schedule than the one the Rams faced in going 7-6. And Colorado State ranks 100th in the nation in pass efficiency defense. That's not a good place to struggle when playing a Mike Leach team. The Cougs should roll and create momentum for a promising 2014 season.
Washington State 45, Colorado State 20
.
ROYAL PURPLE LAS VEGAS BOWL


Kevin Gemmell:
This is a scary game for the Trojans, no doubt. As noted in the New Mexico Bowl post above, the Pac-12 has been dominant over the Mountain West. But Fresno State's motivation is to show that it isn't just another Mountain West team. The Bulldogs are the Mountain West champs. Obviously,
Derek Carr
and
Davante Adams
are a significant threat. But the Trojans had the top pass defense in the conference. They've yielded only 18 touchdowns through the air, and quarterbacks are completing just 57.3 percent of their throws against the USC secondary, which has 16 picks. Plus, I doubt Fresno State has seen a pass rush like USC's.
USC 31, Fresno State 28
.
Ted Miller:
USC is on its third head coach this season, with Steve Sarkisian waiting in the wings to become No. 4, and former offensive coordinator Clay Helton, the second interim coach, replaced the incredibly popular Ed Orgeron. The Trojans clearly were unhappy that Coach O is no longer around. Fresno State is very good on offense, with Carr particularly adept at getting rid of the ball quickly. Further, the Trojans' offensive line will be without two starters, including first-team All-Pac-12 center
Marcus Martin
. Finally, I can't get the dismal 2012 Sun Bowl out of my head.
Fresno State 35, USC 28
.
December, 17, 2013
12/17/13
12:00
PM ET
Washington State didn't just achieve a 6-6 record and earn its first bowl invitation since 2003 in Mike Leach's second year as coach, it did so despite playing a brutal schedule,
the nation's eighth toughest, according to ESPN's Stats & Info
.
The Cougars played the nation's No. 2 (Auburn), No. 5 (Stanford), No. 10 (Oregon), No. 14 (Arizona State) and No. 25 (USC) teams. They also played three other bowl teams (Oregon State, Arizona and Washington). They beat the Trojans and Wildcats -- on the road, no less -- and held serve when the schedule mercifully yielded weaker foes.
[+] Enlarge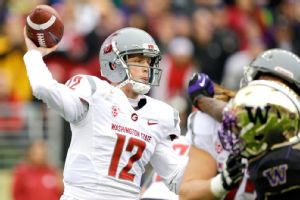 AP Photo/Elaine ThompsonWashington State signal-caller Connor Halliday returns next season, along with several other top playmakers.
Heading into the Gildan New Mexico Bowl opposite Colorado State on Saturday, it certainly feels like the program is on an uptick, particularly after Leach's debut season fell well short of the high expectations he inspired upon his hiring. Year 1, in fact, felt like a disaster, with locker room dissension further tarnishing a 3-9 record, and some Cougars fans were fretting whether the future held much promise.
But Leach, as those who know him well knew he would, maintained his Sinatra and did it his way, insisting the locker room catch up to him, not the other way around.
"A lot of it was establishing expectations, raising expectations and figuring out who wanted to commit and do the work to be the best they could be," he said.
The biggest area of improvement was offense, Leach's chief area of expertise. Last season, the Cougars averaged a meager 20.4 points per game. This season, they averaged 29.8. The biggest improvement? Pass protection. The Cougs surrendered an eye-popping 57 sacks in 2012. This season, they gave up just 27, which ranked seventh in the Pac-12. That is pretty impressive considering they threw 698 passes, 76 more than No. 2 California, which gave up 35 sacks. Seven conference teams didn't even throw 400 passes.
But Leach doesn't point to the numbers when assessing the season. He sees improvement there as a natural result of a team growing up and growing together. Keep in mind that the Cougs were 4-5 on Oct. 31 after a dreary 55-31 loss to Arizona State in front of just 20,617 fans in Martin Stadium, and bowl hopes seemed dim with three tough games to play.
"Nobody took their eye off the path," Leach said. "They kept fighting together and pulling together. We steadily improved."
The Cougars are solid favorites to get a seventh win against the Rams, who didn't beat a team with a winning record, and then head into the offseason expecting to take another step forward in the Pac-12's North Division in 2014.
The first question with fans is quarterback.
Connor Halliday
was decidedly hot and cold this fall. He put up huge numbers, ranking fifth in the nation with 348.9 yards passing per game, but he also threw a conference-high 21 interceptions.
Halliday, however, doesn't appear to be much of a question for Leach.
"Under the best of circumstances, he's going to be hard for anybody to beat out," Leach said.
Halliday needs to not only cut down the interceptions, he needs to improve upon his 62.8 completion percentage. While not horrible by any stretch, particularly considering the Cougs offered little threat to run the ball, Leach's quarterbacks typically eclipse the 70 percent threshold when things are in sync.
Leach said the offseason focus for Halliday is "from the neck up," but he most praised his quarterback's intangibles this season, particularly his leadership, which bodes well for the offseason.
"As we hit hard times during the season, rather than flinching, he always rallied and pulled everybody together and generated an awful lot of presence and enthusiasm among our team," Leach said.
The good news is just about all the Cougs' top skill players are returning next year. The bad news is there are some questions on the offensive line and the secondary, most notably the loss of enforcer
Deone Bucannon
, who has earned All-Pac-12 and some All-American recognition after the season.
Leach sees two young teams in the New Mexico Bowl that should be better next fall. While he's most encouraged by how his team improved during the season, he also saw something he liked after the regular season ended, something afforded to his team for the first time since 2003: More practices.
Said Leach, "We improved this last week, too."
December, 10, 2013
12/10/13
9:00
AM ET
Today we begin a look at each of the Pac-12's opponents during the bowl season. We start with the Gildan New Mexico Bowl and will do one a day through next Friday.
Gildan New Mexico Bowl
Albuquerque, N.M., Dec. 21, 11 a.m. PT, ESPN
Washington State (6-6) vs. Colorado State (7-6)

Colorado State Rams
Coach
: Jim McElwain (second year)
Record
: 7-6, 5-3 Mountain West
Combined opponents' record
: 62-95 (.394)
Common opponents
: None, though Colorado State did lose to Colorado in the season opener.
Leading passer:
Garrett Grayson
, 266-428 (62.2) for 3,327 yards with 21 touchdowns and 10 interceptions.
Leading rusher
:
Kapri Bibbs
, 254-1,572 (6.2 yards per carry), 28 touchdowns.
Leading receiver
:
Rashard Higgins
, 64-795, six touchdowns.
Leading tackler
:
Max Morgan
, 129. Though it's worth noting
Shaquil Barrett
has 20.5 tackles for a loss and 12 sacks.
What to know:
Colorado State is bowl eligible for the first time since 2008. The Rams were worried they might be the odd men out of the Mountain West, which had seven bowl-eligible teams and six contracted agreements. In a six degrees of Kevin Bacon turn of events, it was the
San Jose State Spartans
who were left out. That's Mike MacIntyre's former team, and he picked up his first win as Colorado's coach by beating the Rams in the season opener. So it all comes full circle.
Once regulars in the postseason under Sonny Lubick -- when they went to nine bowl games in a 12-season stretch -- the Rams hit a postseason dry spell.
Their resume isn't particularly sparkling, but it's hard to ignore Bibbs' numbers. They only played one ranked team this season and it was No. 1 Alabama. And they lost 31-6. Their marquee win is probably a 38-17 win at home over Nevada. And they should be plenty familiar with Albuquerque, having won there on Nov. 16 when they topped New Mexico 66-42.
Key matchup
: Stopping Bibbs has to be the top priority. The last time he was in New Mexico he rushed for 291 yards and six touchdowns. He leads the nation in rushing touchdowns and is top 10 in rushing yards and top 15 in carries. That puts the pressure on the Washington State front seven, which has yielded 22 rushing touchdowns and allows 184 rushing yards per game. But playing in the Pac-12, the Cougars are no strangers to elite backs. They gave up 132 yards and a touchdown to Arizona's
Ka'Deem Carey
and 200 yards and a score to Washington's
Bishop Sankey
. Both are Doak Walker finalists.
December, 8, 2013
12/08/13
8:45
PM ET
Dec. 21, 2 p.m. ET, Albuquerque, N.M. (ESPN)
WASHINGTON STATE COUGARS BREAKDOWN
Welcome back, Wazzu.
[+] Enlarge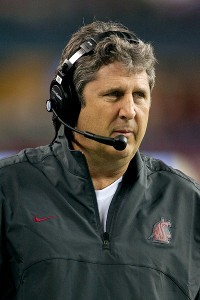 Jesse Beals/Icon SMICoach Mike Leach has taken the Cougars to their first bowl game since 2003.
Not since beating Texas in the 2003 Holiday Bowl have the Cougars been bowling. Their time away from the postseason was a trying time in Pullman, where fans clung to little hope for several years.
Those days are over.
In his second season, coach Mike Leach brought the program back to respectability, re-energized the fan base and now has a chance to take another step forward against Colorado State, which is led by another second-year coach, Jim McElwain. Leach's Air Raid offense, paired with the expectation that WSU will travel well, was enough for bowl officials to select the Cougars instead of Arizona or Oregon State.
The Cougars finished the regular season with a loss in the Apple Cup, but recorded consecutive wins at Arizona and home against Utah in the weeks prior to reach bowl eligibility. Before that, the season saw its fair share of ups and downs.
Looking back, the Cougars' 31-24 loss at Auburn in the season opener looks even better now than it did then. Granted, both teams have changed a lot since August, but WSU -- which finished 4-5 in the Pac-12 -- was a few plays away from beating the eventual SEC champion. The next week, WSU went to Los Angeles where it contributed to coach Lane Kiffin's dismissal by beating then-No. 25 USC despite not scoring an offensive touchdown.

vs.

COLORADO STATE RAMS BREAKDOWN
After four years without a bowl game, the Rams are back in the postseason.
[+] Enlarge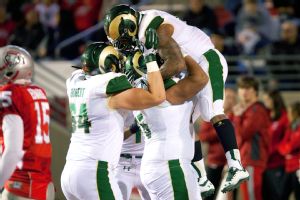 AP Photo/Eric DraperColorado State celebrated touchdowns by Kapri Bibbs on a regular basis in 2013.
Colorado State returns to the New Mexico Bowl, where it beat Fresno State 40-35 in 2008, to play Washington State.
While the Cougars will throw the ball nearly every down, Colorado State, under second-year coach Jim McElwain is the epitome of balance. The Rams rank No. 39 in the country in passing (258.5 ypg) and No. 31 in rushing (202.7).
Despite its seven wins, Colorado State was far from a lock to reach a bowl. The six FBS opponents it beat were a combined 17-55. The Rams best showing of the year might have been their 31-6 loss at then-No. 1 Alabama.