Pac-12:

New Orleans Saints
May, 4, 2012
5/04/12
1:30
PM ET
PHOENIX -- The first reaction was shock: Junior Seau dead at just 43, his death ruled a suicide. Quickly came grief: An all-time USC and NFL great, a good guy known for his accessibility and philanthropy away from the field who didn't want to live anymore.
Then shortly thereafter: Anger. Another football player dead before his time. Surely head injuries -- concussions -- were to blame.
Surely the game is to blame
. These three stages have been repeated too often of late, and their repetition threatens our love affair with a sport that obsesses our country like no other.
We can't make you feel any better about Seau. That's a still-resonating tragedy. We can only note it's premature to arrive at any overriding conclusions as to why he did the unthinkable.
[+] Enlarge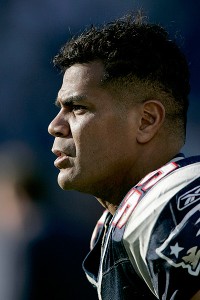 Greg M. Cooper/US PresswireSpecialists are trying to determine whether Junior Seau's suicide could be related to the growing link between football and concussions.
But we might be able to make you feel a little bit better about football.
The takeaway from a timely Fiesta Bowl Summit panel Thursday, "Sports-Related Concussions: Facts, Fallacies and New Frontiers," was twofold: 1. The NCAA and NFL, after the media forced them to pay attention, have been working hard to get their arms around the issue; 2. It's not unreasonable to believe they can.
Of course, there always will be head injuries in contact sports, and repeated head trauma can lead to long-term health problems. This knowledge isn't new. Doctors were aware of boxers becoming punch drunk -- dementia pugilistica -- in the 1920s.
Understanding concussions and how best to prevent and then treat them, however, isn't easy. As Dr. Margot Putukian, one of four panelists at the Arizona Biltmore, said, concussions are "a moving target." Each one is different, and each person is different. They are not anything like a torn ACL.
Yet there has been recent research progress that is particularly meaningful for football. Said Dr. Michael McCrea, "The news is promising."
McCrea's research found that 28 percent of athletes suffering a concussion no longer show symptoms from their injury after 24 hours. Sixty percent are asymptomatic after a week to 10 days. So nearly 90 percent of athletes passed tests that showed their symptoms were gone inside of 10 days. But that's not the good news. Passing tests that show symptoms are gone doesn't mean the brain has fully healed -- achieved full clinical recovery.
The good news is this: Those numbers, it turns out, do indeed run roughly parallel to a full clinical recovery. Using a multi-dimensional approach -- symptoms tests as well as MRI -- for assessing the recovery process can, McCrea said, "take the guesswork out of concussion management."
These numbers should make it easier to convince athletes who are eager to get back on the field and coaches who want them there to be patient. Simply, coming back too early greatly increases the risk of another concussion, and a second concussion almost always requires a far longer recovery time. Waiting the full seven to 10 days -- and missing a game -- greatly reduces the risk of re-injury, McCrea said. Ergo, there are now specific numbers that show it's better for athlete and team not to rush things.
But the issues with concussions extend beyond understanding them, treating them and even preventing them. Every institution needs well-drilled standards and procedures for dealing with them: A concussion management plan. And coaches and training staff need to know them and know them well. Putukian asked a rhetorical question that all parents of athletes should be asking coaches (non-rhetorically): "What medical personnel do you have there, and what do you do in case of emergency?"
How many layers of procedure are involved here? Lots. Here's one you probably didn't think of: Academic accommodation. A player who suffered a concussion on Saturday might have issues taking a test the following Wednesday.
There was a consensus among the four doctors about how the NFL and NCAA can continue to improve their approach to concussions.
Education: Players and coaches need to understand how serious head injuries are, and the potentially harmful long-term consequences for returning to play too soon. This could include, for example, coaches deciding to limit contact during practices.

Equipment: There are no helmets that prevent concussions, and there won't ever be. That doesn't mean some helmets aren't better than others. Virginia Tech has devised a respected helmet ratings system, and the Riddell 360, Rawlings Quantum Plus and Riddell Revolution Speed all achieved five-star ratings.

Rules changes: Obviously, an emphasis on stopping head-to-head collisions has been front-and-center. A lot of attention also is being paid to when concussions are most likely to happen in a football game -- on special teams, in the open field and for specific positions.

Culture change: This might be one of the most difficult to enact -- see the bounty scandal involving the New Orleans Saints. Football is a physical game. That's why it's fun to play and to watch. But there needs to be a recognition that brutality for brutality's sake, a zeal for hurting opponents, can have horrific ramifications after the cartoonish strut and taunt end.
Coaches seem to be taking this issue seriously. Among those who attended the concussion summit, which was presided over by NCAA president Mark Emmert, were Stanford's David Shaw, Wisconsin's Brett Bielema and Texas Tech's Tommy Tuberville. When it was over, UTEP coach Mike Price stood up to say it was the best talk on the subject he'd heard.
This was a sad week for football. A few folks are seriously raising the question of
whether college football should be banned
. Seau's death made it less easy to scoff derisively at such talk.
Concussions are a serious problem in football. The first step toward solving a problem is recognizing it. The concussion panel this week suggested that football now might be taking a second and perhaps third step.
September, 26, 2011
9/26/11
6:39
PM ET
By
ESPN.com staff
| ESPN.com
Is Steve Gleason your favorite Washington State player of all time?
But of course he is.
The scrappy linebacker scrapped all the way to an eight-year NFL career, becoming a New Orleans folk hero in the process.
Who is he? Here's how a story on him in the New Orleans Times-Picayune described him:
His fearless play and free-spirited personality captured the fancy of the team's eclectic and loyal fans. He became the ultimate counterculture hero in a counterculture town.

He grew his hair long to support the Locks of Love charity.

He bought a diesel pickup truck and launched a recycling program at the Saints' practice facility.

His fashion sense tended toward T-shirts and flip-flops, except on chartered team flights when he leaned toward bow ties and seersucker.

He wrote poetry, played the guitar and studied Eastern philosophy.

While his teammates lived in suburban enclaves, he rented a one-bedroom apartment in the heart of Uptown.

While they lifted weights in the offseason conditioning program, he would retreat to the indoor practice facility for a solo yoga routine.
So, now that we all agree that Steve Gleason is our favorite Coug, I'm about to break your heart. He has been diagnosed with amyotrophic lateral sclerosis, or ALS, best known as Lou Gehrig's disease. It's a terminal disease that has taken a toll already on Gleason.
From the Times-Picayune:
Although he disclosed his condition to friends and family after his diagnosis in January, he decided for personal reasons not to go public until now. He believes that through his newly formed Team Gleason organization he'll be able to inspire just as many, if not more, people than he did on the football field. He sees his condition not as a death sentence but as yet another adventure in life.

"It's easy to start questioning whether God has this plan and why the plan would include me getting diagnosed with this disease," Gleason said. "And that's when you can start why-ing yourself to death. More than that, I've thought, what does this mean, how does this help me fulfill my purpose in life? If we have a purpose in life beyond being a cog in the human machine, mine is to help inspire people and that's pretty cool. I would like to motivate the world."
I found Gleason's attitude when he revealed his condition to his close inner-circle particularly moving.
In an email to his inner circle a day later, he admitted his emotions were running the gamut from depression and fear to anger and frustration. Yet, he promised "to fight and believe and expect the extraordinary and smile and laugh and cry and love our lives for every breath that remains in my body."
It's a well-done story by Jeff Duncan. Sad and inspiring.
Go read it
.
June, 10, 2011
6/10/11
10:04
AM ET
At some point USC and Lane Kiffin will get to focus on the football part of football. But not yet.
Kiffin still has his own dirty laundry -- all of it bright orange -- to tend to: He's in Indianapolis this weekend discussing the alleged transgressions that occurred while he Tennessee's head coach with the 10-member NCAA Committee on Infractions.
[+] Enlarge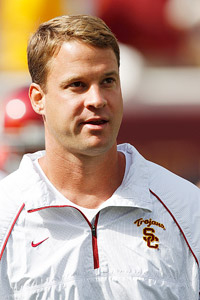 AP Photo/Andy KingUSC coach Lane Kiffin is set to face the NCAA Committee on Infractions this weekend.
Kiffin will try to defend himself against the NCAA and Tennessee, which is trying to heap the entire mess on Kiffin's and, by association, USC's doorstep.
Kiffin was cited with a failure "to promote an atmosphere for compliance within the football program and failed to monitor the activities regarding compliance of several assistant football coaches" as well as two specific violations:
The NCAA alleges between Jan. 3 and Jan. 9 of 2010 Kiffin or his assistant coaches made 16 "impermissible recruiting telephone calls" to three prospects.

The NCAA alleges Kiffin allowed a recruiting intern, Steve Rubio, "to make in-person, off-campus contacts with high school administrators during a recruiting trip" to St. Thomas Aquinas High School in Fort Lauderdale, Fla.
In both of the alleged violations, Kiffin was told in advance by Tennessee not to do what he ended up doing, according to the NCAA. That's good for the Volunteers, not so good for Kiffin. (You can read the complete
Notice of Allegations
here if you so desire.)
Said the NCAA of the calls: "These calls were placed subsequent to the football staff's receipt of information in December of 2009 from the institution's compliance staff that such telephone calls were impermissible."
Said the NCAA of the trip: "This trip and these contacts occurred after David Blackburn, the institution's director of football operations, informed both Kiffin and Rubio ... that Rubio was not permitted to enter a high school's property while accompanying a football coach on a recruiting trip."
So what's going to happen? The short answer is "heck if I know."
Using logic, reason and a sense of fairness last June, I predicted, using Alabama's 2002 pay-for-play case as a precedent, that USC would get hit hard but
not hammered by NCAA sanctions
. The NCAA opted instead to be unfair and arbitrary and pounded the Trojans with a loss of 30 scholarships and a two-year postseason ban.
There was no way to justify what the NCAA did -- good luck coming up with a more severe penalty against Ohio State -- but the organization tried on its
new enforcement web page
: "Each case is unique, and applying case precedent is difficult (if not impossible) because all cases are different. Each case has its own aggravating and mitigating factors, and the committee considers both sides in assessing penalties."
If applying precedent is "impossible," then your enforcement arm can do anything it wants. Imagine if the police and courts operated this way.
Judge: You shot him for jaywalking?

Police: Yes.

Judge: Isn't that little harsh?

Police: He was wearing a Reggie Bush jersey.

Judge: A USC Reggie Bush jersey or a New Orleans Saints Reggie Bush jersey?

Police: USC.

Judge: Oh, aggravating and mitigating factors. Well, then. Good job.
Know this: Kiffin is going to suffer some sort of sanction specific to himself, likely one that limits him in recruiting. While the NCAA doesn't want us to pay attention to precedent, I covered a strikingly similar case in 2002, when then-Washington coach Rick Neuheisel was grounded for eight months for violations he committed while coaching at Colorado.
The interesting difference is the NCAA ruled Colorado failed to properly monitor Neuheisel's activity. It appears the COI -- with the overwhelming support of Tennessee -- has the option here of ruling Kiffin went rogue versus his compliance department. That might cast Kiffin's transgressions in a harsher light.
On the plus side for Kiffin, he's kept his nose clean at USC, which athletic director Pat Haden noted in a statement last February when the notice of allegations was published: "Since his return to USC last year as our head football coach, Lane has been vigilant in making sure he and the football program follow the NCAA's rules and compete the right way. Lane has my support as our head football coach."
USC's exposure here will likely be nothing more than collateral damage resulting from sanctions against its head coach, which might be substantial. Kiffin is an outstanding recruiter -- see his top-five 2011 class, despite the NCAA sanctions shadow -- so removing him from the equation for a period of time will further hurt the Trojans efforts to remain competitive.
Of course, after Kiffin and the NCAA chat this weekend, it will be weeks before the COI publishes its findings.
So -- Fight On!... and on and on -- USC fans can look forward to more embarrassing headlines generated from behind the closed doors of conference rooms.
May, 1, 2011
5/01/11
12:10
PM ET
The Pac-12 provided 37 players to the NFL draft over the weekend, one fewer than the SEC, which led all conferences.
If the six combined picks from Colorado and Utah are taken away from the conference, the old Pac-10 provided NFL teams 3.1 draft picks per team, also just behind the SEC at 3.17.
Here's where the Pac-12 players went:
First round
No. 8
Jake Locker
, QB, Washington: Tennessee
No. 9
Tyron Smith
., OT, USC: Dallas
No. 17
Nate Solder
, OT, Colorado: New England
No. 24
Cameron Jordan
, DE, California: New Orleans
No. 27
Jimmy Smith
, CB, Colorado: Baltimore
Second round

7.
Akeem Ayers
, LB, UCLA: Tennessee
10.
Brooks Reed
, DE, Arizona: Houston
13.
Rahim Moore
, FS, UCLA: Denver
21.
Stephen Paea
, DT, Oregon State: Chicago
24.
Shane Vereen
, RB, California: New England
Third round

13.
Jurrell Casey
, DT, USC: Tennessee
20.
Mason Foster
, LB, Washington: Tampa Bay
25.
Shareece Wright
, CB, USC: San Diego
29.
Christopher Conte
, S, California: Chicago
33.
Sione Fua
, DT, Stanford: Carolina
Fourth round

5.
Jordan Cameron
, TE, USC: Cleveland
19.
Casey Matthews
, LB, Oregon: Philadelphia
21.
Jalil Brown
, CB, Colorado: Kansas City
27.
Owen Marecic
, FB, Stanford: Cleveland
Fifth round

8.
Brandon Burton
, CB, Utah: Minnesota
9.
Gabe Miller
, DE, Oregon State: Kansas City
14.
Jacquizz Rodgers
, RB, Oregon State: Atlanta
23.
Richard Sherman
, CB, Stanford: Seattle
Sixth round

2.
Ryan Whalen
, WR, Stanford: Cincinnati
14.
Caleb Schlauderaff
, OG, Utah: Green Bay
17.
Ronald Johnson
, WR, USC: San Francisco
19.
David Carter
, DT, UCLA: Arizona
22.
Allen Bradford
, RB, USC: Tampa Bay
24.
Mike Mohamed
, LB, California: Denver
32. Ricky Elmore, DE, Arizona: Green Bay
38. Zach Williams, C, Washington State: Carolina
Seventh round

12.
D'Aundre Reed
, DE, Arizona: Minnesota
24.
Scotty McKnight
, WR, Colorado:
New York Jets
30.
Lawrence Guy
, DT, Arizona State: Green Bay
37.
Stanley Havili
, FB, USC: Philadelphia
38.
David Ausberry
, WR, USC: Oakland
39.
Malcolm Smith
, LB, USC: Seattle
By Pac-12 school:

Arizona (3)
Arizona State (1)
California (4)
Colorado (4)
Oregon (1)
Oregon State (3)
Stanford (4)
UCLA (3)
USC (9)
Utah (2)
Washington (2)
Washington State (1)
The final tally by automatic qualifying conferences
:
SEC... 38
Pac-12... 37
Big Ten... 36
ACC... 35
Big East 22
Big 12...19
Nebraska was a big swing to the Big Ten from the Big 12 with seven picks. With Colorado and Nebraska, the Big 12 provided 30 selections.
This was the tally through three rounds
:
SEC: 20
ACC: 19
Pac-12: 15
Big Ten: 13
Big 12: 9
Big East: 4
April, 30, 2011
4/30/11
12:12
PM ET
By
ESPN.com staff
| ESPN.com
Here's where things stand for the Pac-12 through three rounds of the NFL draft.
First round
No. 8
Jake Locker
, QB, Washington: Tennessee
No. 9
Tyron Smith
., OT, USC: Dallas
No. 17
Nate Solder
, OT, Colorado: New England
No. 24
Cameron Jordan
, DE, California: New Orleans
No. 27
Jimmy Smith
, CB, Colorado: Baltimore
Second round
7.
Akeem Ayers
, LB, UCLA: Tennessee
10.
Brooks Reed
, DE, Arizona: Houston
13.
Rahim Moore
, FS, UCLA: Denver
21.
Stephen Paea
, DT, Oregon State: Chicago
24.
Shane Vereen
, RB, California: New England
Third round
13.
Jurrell Casey
, DT, USC: Tennessee
20.
Mason Foster
, LB, Washington: Tampa Bay
25.
Shareece Wright
, CB, USC: San Diego
29.
Christopher Conte
, S, California: Chicago
33.
Sione Fua
, DT, Stanforrd: Carolina
Through three rounds by conference (with Nebraska in the Big Ten and Colorado and Utah in the Pac-12):
SEC: 20
ACC: 19
Pac-12: 15
Big Ten: 13
Big 12: 9
Big East: 4
Note: The old Pac-10 has 13 without two first-round picks from Colorado. Big Ten has 12 without Nebraska. Big 12 has 12 if Colorado and Nebraska are included.
April, 29, 2011
4/29/11
10:11
AM ET
By
ESPN.com staff
| ESPN.com
Five Pac-12 players were picked in the first round, with
Jake Locker
going higher than some projected and
Cameron Jordan
going lower.
Here's the draft order:
No. 8 Jake Locker, QB, Washington: Tennessee
No. 9
Tyron Smith
., OT, USC: Dallas
No. 17
Nate Solder
, OT, Colorado: New England
No. 24 Cameron Jordan, DE, California: New Orleans
No. 27
Jimmy Smith
, CB, Colorado: Baltimore
Here's analysis by Mel Kiper
. And here's
more on the first round
.
Kiper also
projects the second round
, which starts Friday at 6 p.m. ET on ESPN (3 p.m. PT).
Kiper has Arizona DE
Brooks Reed
going first in the second round -- 33rd overall -- to New England. Other Pac-12 players in his second round: UCLA safety
Rahim Moore
to Houston at No. 42, Oregon State DT
Stephen Paea
to Oakland at No. 48 and Utah CB
Brandon Burton
to Philadelphia at No. 54.
Who is missing? Well what about UCLA LB
Akeem Ayers
, who was once considered a sure first-round pick.
Todd McShay also
projects the second round
, and he has Reed going first and Ayers going second, to the
Buffalo Bills
.
The rest of McShay's second round: Paea to Denver at No. 36, Moore to Minnesota at No. 43, Washington LB
Mason Foster
to Denver at 46 and USC DT
Jurrell Casey
to Seattle at No. 57.
Some draft links:
April, 28, 2011
4/28/11
10:48
PM ET
By
ESPN.com staff
| ESPN.com
California defensive end
Cameron Jordan
, who looked like a potential top-10 pick, fell to the
New Orleans Saints
at No. 24 of the NFL draft.
It was bit of a surprise that Jordan, whose well-rounded game and versatility seemed like it would land him in the top-half of the first round, fell a few notches.
Jordan was the fourth Pac-12 pick of the first round.
July, 20, 2010
7/20/10
5:37
PM ET
By
ESPN.com staff
| ESPN.com
In June, the NCAA ruled running back Reggie Bush retroactively ineligible when he won the Heisman Trophy in 2005 because he was breaking rules by receiving extra benefits from would-be sports agents, so USC is
giving back the tainted trophy
as part of its plan to disassociate the university from Bush, now with the New Orleans Saints.
That plan of action was made public shortly after USC president-elect Max Nikias announced that Pat Haden would replace Mike Garrett as athletic director,
one of a number of other moves
intended to improve athletic department oversight.
Nikias also said USC would take down murals featuring Bush and former basketball player O.J. Mayo, who also broke rules when he received extra benefits, at the Galen Center, Heritage Hall and the Los Angeles Memorial Coliseum.
In other words, USC is cleaning house. And showing a bit of contrition.
Many might say this: About time.
July, 20, 2010
7/20/10
2:30
PM ET
By
ESPN.com staff
| ESPN.com
The guy who runs the place is a little temperamental, especially about the ordering procedure. He's secretly referred to as the Soup Nazi.
July, 6, 2010
7/06/10
2:30
PM ET
By
ESPN.com staff
| ESPN.com
Stay calm, okay? Let's not lose our heads. It's... it's a fine ID; it'll... it's gonna work. It's passable, okay? This isn't terrible. I mean, it's up to you, Fogell. This guy is either gonna think 'Here's another kid with a fake ID' or 'Here's McLovin, a 25 year-old Hawaiian organ donor'. Okay? So what's it gonna be?
April, 26, 2010
4/26/10
2:30
PM ET
By
ESPN.com staff
| ESPN.com
Gunter glieben glauchen globen.
November, 18, 2009
11/18/09
3:43
PM ET
By
ESPN.com staff
| ESPN.com
He flipped the switch. A light went on. His cheese just melted. Something clicked. He crossed the road and got to the other side.
There are lots of clichés to describe an athlete transforming from bad to good in a sudden and dramatic way. But today we introduce a term that takes care of it all.
Masoli.
Such as: "Boy, A-Rod really masolied in the playoffs!" Or, "Golly, who thought the Saints would masoli this season?"
One can trace the etymology of this term to a stocky Oregon quarterback named "
Jeremiah Masoli
."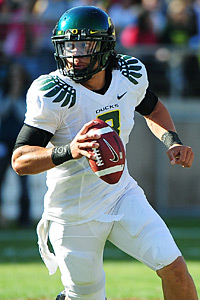 Kyle Terada/US PresswireOregon coach Chip Kelly says quarterback Jeremiah Masoli is doing a better job of managing the game this season.
The term is particularly relevant this week because No. 11 Oregon is visiting Arizona on Saturday for a critical Pac-10 showdown. That's the team that Masoli masolied against last year.
The week before playing the Wildcats, Masoli had been booed in Autzen Stadium by Ducks fans while struggling mightily against Stanford. Sure, Masoli led a clutch game-winning drive in the waning moments, but the key play was a 25-yard scramble on third-and-8.
Arizona came to town expecting to face a spread-option quarterback who was uncomfortable throwing the ball.
Then Masoli completed 21-for-26 -- 80.8 percent -- for 298 yards with two touchdowns and no interceptions and rushed for 89 yards in a 55-45 victory over the Wildcats, who had one of the best defenses in the Pac-10.
Slapping his forehead over that game this summer, Arizona defensive coordinator Mark Stoops noted there was nothing on film to suggest Masoli would pass that well against them. "We didn't see that coming," he said.
You often don't see a masoli coming.
California didn't this year. When the Bears visited Oregon on Sept. 26, Masoli was the conference's lowest-rated passer. He'd thrown two interceptions with no touchdowns in the first three games and was averaging just 126 yards passing per game. The week before, he gone 4-of-16 for 95 yards with an interception in a win over Utah.
But Masoli masolied against the Bears, completing 21-of-25 -- 84 percent -- for 253 yards with three touchdowns and no interceptions in a stunning 42-3 win.
"It's just one of those things when a quarterback kind of has to hit a switch and get out of a lull," said Masoli, choosing not to use the term "masoli," most likely because it had yet to be derived when this conversation took place on Tuesday night.
Over the past seven games, Masoli has 11 touchdown passes and one interception. He's the conference's fifth-rated passer and ranks eighth overall in rushing with 62 yards per game and nine touchdowns. He can beat you with his arm or legs, which, by the way, can squat 475 pounds.
"He's your prototypical quarterback for what they do," Arizona coach Mike Stoops said. "He's played very much in control this year. He's much more consistent than he was a year ago."
Last year's masoli was due to Masoli finding a comfort level with the Ducks' spread-option scheme. While this might be hard to imagine for anyone who's marveled at Masoli's ball skills in the read-option and his elusiveness as a runner, he arrived at Oregon in the summer of 2008 as a typical pass-first quarterback who put up big numbers through the air while leading City College of San Francisco to a JC national title.
This year's masoli happened when Masoli stopped trying to score 11 points on every play.
"Early this season, he tried to take a lot of the load on himself. Now he realizes that we've got some weapons around him," Ducks coach Chip Kelly said. "He's got a better understanding of managing the game and not forcing issues. Just kind of letting things come to him. He made some really smart plays on Saturday [against Arizona State] just throwing the ball away in the red zone."
Of course, Arizona won't be surprised by Masoli this year. And, notably, the Wildcats nearly came back from a 28-point halftime deficit in 2008. They cut Oregon's lead to 48-45 before the Ducks' only second-half touchdown finished things off.
The Wildcats, perhaps using some intelligence gleaned from that comeback, will be looking to create a reverse-masoli on Saturday.
April, 28, 2009
4/28/09
12:11
PM ET
By
ESPN.com staff
| ESPN.com
Posted by ESPN.com's Ted Miller
Some more free-agent signings:
California
QB Nate Longshore, invited to Miami Dolphins minicamp
LS Nick Sunberg, Carolina Panthers
Stanford
DE Pannel Egboh, San Francisco 49ers
CB Wopamo Osaisai, San Diego Chargers
C Alex Fletcher, New Orleans Saints
RB Anthony Kimble, Miami Dolphins
OL Ben Muth, San Diego Chargers