March, 10, 2014
Mar 10
9:00
AM ET
Headed into his fifth year at Stanford this past season,
Josh Mauro
's future as a football player was unclear. The defensive end had never been a starter, wasn't slated to become one and largely represented depth on one of the nation's best defenses.
While not exactly the profile of a future NFL player, Mauro still had hope.
[+] Enlarge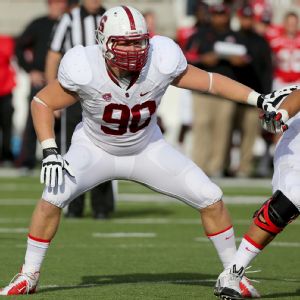 George Frey/Getty ImagesFormer Stanford DE Josh Mauro had a breakout season for the Cardinal in 2013.
"After my redshirt junior year, I heard from different people that I'd have a chance [at the NFL]," he said. "I was told I had the body for the NFL and put some good stuff on film, but just wasn't consistent at times."
While consistency showed up as a potential flaw, it had more to do with opportunity than ability. He was stuck behind
Henry Anderson
and
Ben Gardner
-- two players with NFL futures of their own -- and so long as his playing time came intermittently, consistency was a tough fix.
That changed following the third game of the 2013 season, when Anderson went down with a knee injury that cost him the next five games. It was a minor setback for Anderson's career but provided a major opportunity for Mauro.
He took advantage.
"Once he got more playing time, he actually got better playing in games to the point where I told multiple people in the NFL, 'He's going to play and he's going to be on somebody's team,'" Stanford coach David Shaw said. "He's got the ability to do it, he's got the physical nature to do it. Especially for a lot of these 3-4 teams in the NFL, he's a good fit for those guys."
Mauro's impact was noticeable even before Anderson went down, but when he saw regular playing time, those consistency issues went away. Anderson's return against Oregon on Nov. 7 coincided with a season-ending injury to Gardner, which kept Mauro in the starting lineup the rest of the season.
The Texas native finished the year with 51 total tackles, 12.5 tackles for loss and four sacks and was a midseason add to the watch list for the Bednarik Award, given to the best defensive player in college football.
"I would describe Josh as the anchor of our defense. So much of what guys like [linebacker]
Trent Murphy
and I were able to do was a result of Josh being so disruptive on the line of scrimmage," linebacker
Shayne Skov
said. "He was able to hold the edge and keep guys off of us so we could run free and make plays. On top of that, he made a ton of impact plays himself, especially in big games."
Mauro's season earned him an NFL combine invite, but he left Indianapolis with mixed feelings about his performance. He was happy with his performances in the vertical jump (32 inches), broad jump (116 inches) and three-cone drill (7.43 seconds) but fell short of his goals in the 40-yard dash (5.21) and bench press (21 reps).
The 40-yard dash time and bench press will be two of his priorities at Stanford's pro day on March 20, but the big change will be his weight. Mauro dropped 10 to 15 pounds from his playing weight and tipped the scales at 271 in Indianapolis, but he plans on adding that weight back with a more regular diet. He said he doesn't think it will affect his explosiveness and will feel more comfortable.
Among the coaches Mauro met with at the combine were Raiders defensive coordinator Jason Tarver, who served as the Cardinal's co-defensive coordinator in 2011, and former Stanford coach Jim Harbaugh of the 49ers.
February, 24, 2014
Feb 24
11:00
AM ET
Raise your hand if you thought Stanford running back
Tyler Gaffney
would run a faster 40-yard dash than Oregon's
De'Anthony Thomas
at the NFL combine.
Put your hand down, liar.
Granted, it was still only by a hundredth of a second -- Gaffney ran 4.49 and Thomas 4.50 -- but, still, Thomas built his reputation on speed, while Gaffney's was more on toughness and vision. It ranked as one of the surprise performances among Pac-12 players over the weekend at the NFL combine.
[+] Enlarge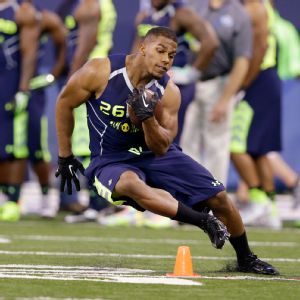 AP Photo/Michael ConroyWashington running back Bishop Sankey made a move up draft boards with his performance at the NFL combine.
Sunday proved to be a great day for Washington running back
Bishop Sankey
, who might have jumped Arizona's
Ka'Deem Carey
on some draft boards,
according to ESPN's John Clayton
.
From Clayton's story:
There may not be a running back who could entice a team to use a first-round pick, but the backs who ran Sunday looked great. Bishop Sankey of Washington may have entered the combine as the No. 3 halfback, but his stock probably rose with a 4.49 40 time along with a good show of lifting strength. Tre Mason of Auburn displayed second-round numbers with his 4.5. Both backs might have jumped ahead of Ka'Deem Carey of Arizona, who had a 4.70.
Sankey ranked No. 2 among running backs with 26 reps on the bench press and his 40-time was tied for No. 9.
Another one of the weekend's big winners was Oregon State receiver
Brandin Cooks
, who turned in the fastest 40 among receivers. His time of 4.33 was second to only to Kent State running back
Dri Archer
, who ran a 4.26.
Cooks, who set Pac-12 single-season records with 128 catches and 1,730 receiving yards this year, also turned in the fastest time registered in the 60-yard shuttle (10.72) at the combine
since at least 2006
. During that same time period, he's
tied for the fastest time
in the 20-yard shuttle (3.81) with Tennessee cornerback Jason Allen from 2006.
Washington tight end
Austin Seferian-Jenkins
, the John Mackey Award winner, has a stress fracture in his foot that is expected to need six to eight weeks to recover,
according to a report from the Tacoma News Tribune
. Due to the injury, Seferian-Jenkins was able to participate only in the bench press. He put up 20 reps, which ranked tied for No. 10 among the 15 tight ends who participated.
See the complete list of Pac-12 invitees.
Here are the Saturday and Sunday results from the Pac-12 players in the 40 and bench press:
Running back
Gaffney, Stanford: 4.49/did not lift
Sankey, Washington: 4.49/26 reps
Thomas, Oregon: 4.50/8 reps
Carey, Arizona: 4.70/19 reps
Silas Redd
, USC: 4.70/18 reps
Ryan Hewitt
, Stanford (fullback): 4.87/did not lift
Marion Grice
, Arizona State: Did not participate
Lache Seastrunk
, Baylor (transferred from Oregon): 4.51/15 reps
Wide receiver
Cooks, Oregon State: 4.33/16 reps
Paul Richardson
, Colorado: 4.40/did not lift
Shaquelle Evans
, UCLA: 4.51/13 reps
Josh Huff
, Oregon: 4.51/14 reps
Marqise Lee
, USC: 4.52/did not lift
Offensive line
Xavier Su'a-Filo
, OG, UCLA: 5.04/25 reps
Cameron Fleming
, OT, Stanford: 5.28/26 reps
David Yankey
, OG, Stanford: 5.48/22 reps
Marcus Martin
, C, USC: did not run/23 reps
Tight end
Colt Lyerla, formerly of Oregon: 4.61/16 reps
Anthony Denham
, Utah: 4.77/did not lift
Jake Murphy
, Utah: 4.79/24 reps
Richard Rodgers
, TE, California: 4.87/16 reps
Seferian-Jenkins, Washington: did not run/20 reps
Xavier Grimble
, USC: did not run or lift
Quarterback
No Pac-12 quarterbacks are at the combine, which is a rarity. The conference has sent at least one every year since at least 1999, which was as far back as we could go to find combine rosters.
February, 20, 2014
Feb 20
7:00
PM ET
Much of the talk about Stanford's
Trent Murphy
leading into the NFL scouting combine has centered around his position.
Is he an outside linebacker or a defensive end?
[+] Enlarge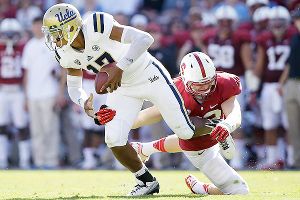 Ezra Shaw/Getty ImagesFormer Stanford DE Trent Murphy is among the Cardinal players at this year's NFL combine.
For Murphy, those questions can really only be answered by whichever team ends up drafting him.
"I'm almost positive I'm doing the linebacker drills [at the combine]," he said. "As far as what teams are looking at me for is probably a little bit of both."
Murphy spent most of his week at the Senior Bowl in January at defensive end before he was switched to outside linebacker, his primary position at Stanford, a day before the game. Despite having played some defensive end at Stanford, he said some of what they had him do was a bit foreign.
Coaches at the Senior Bowl had him line up tighter on the line than he was used to -- sometimes inside the offensive tackles to play against the run. When he lined up as a defensive end at Stanford, it was usually much wider in situations where he was used to rush the passer.
"That was different, but I was getting used to it," Murphy said.
Reviews on his performance were mixed, but Murphy said it was a good overall experience -- especially because he got to meet with NFL teams.
"Teams want to see what kind of character you have and how intelligent you are," said Murphy, who graduated from Stanford with a degree in Science, Technology and Society. "They put that together with your résumé on tape. What they see [at the Senior Bowl and combine] kind of verifies what they see on tape, but what they learn about your character is almost more important."
Murphy, who led the nation with 15 sacks in 2013, is among Stanford's Pac-12-best group of eight players that will be in Indianapolis for the combine. He will participate in every drill, and he said he's hoping to run in the 4.65-second range in the 40-yard dash.
"If I have a good start, which I hope I do, 4.65 should be no problem," he said.
Three days after Stanford's Rose Bowl loss to Michigan State, Murphy departed for Bradenton, Fla., where he has been training feverishly at the IMG Academy with several other highly-touted prospects, including Notre Dame's
Zack Martin
, Michigan's
Taylor Lewan
and Louisville's
Teddy Bridgewater
, among others.
Every morning Murphy wakes up at 4 a.m., heads over to a hyperbaric chamber for a few more hours of sleep, then completes a regiment of working out, stretching, football drills, mock interviews and other assorted activities to prepare for what he'll go through at the combine.
Murphy said he's spoken with former Stanford teammates
Coby Fleener
,
Zach Ertz
and
Levine Toilolo
about what their experiences were like and is confident between those conversations and what he's learned at IMG that he's ready.
"I've been waiting for this day for al ing time now," Murphy said. "I could be more excited to tackle it."
He will return Stanford to participate in the school's pro day on March 20.
February, 10, 2014
Feb 10
6:00
PM ET
Stanford led the Pac-12 with
eight invitations to the NFL Scouting Combine
, but the omission of defensive end
Ben Gardner
has raised some eyebrows.
Gardner, who was named
first-team All-Pac-12
despite playing in just the first eight games of the season, wouldn't have been able to perform at the event later this month but still expected to be invited. As he continues to rehab from an injury to his left pectoral muscle that ended his season in late October, Gardner thought he would have the opportunity to meet with teams and their medical personnel in Indianapolis.
He said no one from the combine or NFL reached out to him or his agent to see if he would be physically ready to participate.
"Who knows if injury had something to do with it," Gardner said. "It's a little disappointing, but the thing for me is that it's just another hurdle."
As a senior at Homestead High in Mequon, Wisc., Gardner received no FBS scholarship offers until Jack Harbaugh recommended to his son, former Stanford coach Jim Harbaugh, that he change that. The elder Harbaugh lives in Mequon and on his recommendation, the Cardinal took a look and extended Gardner its final scholarship in 2009.
It paid off, as Gardner went on to become a second-team All-Pac-12 selection after the 2011 and 2012 seasons and the Pac-12 Blog named him the
conference's No. 25 player overall
heading into this past season.
With the combine not in the picture, Gardner said he expects to be ready for Stanford's Pro Day on March 28. He was initially told the injury would keep him out until late April, but thanks to a stringent rehab program at Stanford that timetable has moved up.
He spends his mornings training at California Strength in San Ramon with Stanford teammates
Tyler Gaffney
,
Shayne Skov
,
Josh Mauro
,
Ryan Hewitt
and USC defensive end
Morgan Breslin
, who also didn't receive a combine invitation. When he's done there, Gardner drives back to Stanford for more rehab.
"Motivation has never been a problem for me," Gardner said.
Stanford's group of combine invitees includes
David Yankey
,
Cam Fleming
,
Trent Murphy
,
Ed Reynolds
, Gaffney, Skov, Mauro and Hewitt.
February, 7, 2014
Feb 7
1:00
PM ET
Here are the Pac-12 players who have been invited to participate at the 2014 NFL Scouting Combine on Feb. 22-25.
Pretty surprised Washington QB
Keith Price
is not on this list., but there are always curious omissions.
See the complete list here
.
Ka'Deem Carey
, RB, Arizona
Tyler Gaffney
, RB, Stanford
Marion Grice
, RB, Arizona State
Ryan Hewitt
, FB, Stanford
Silas Redd
, RB, USC
Bishop Sankey
, RB, Washington
De'Anthony Thomas
, RB, Oregon
Brandin Cooks
, WR, Oregon State
Shaq Evans
, WR, UCLA
Josh Huff
, WR, Oregon
Marqise Lee
, WR, USC
Paul Richardson
, WR, Colorado
Anthony Denham
, TE, Utah
Xavier Grimble
, TE, USC
Colt Lyerla, TE, Oregpn
Jake Murphy
, TE, Utah
Richard Rodgers
, TE, California
Austin Seferian-Jenkins
, TE, Washington
Cameron Fleming
, OT, Stanford
Marcus Martin
, C, USC
Xavier Su'a-Filo
, OG, UCLA
David Yankey
, OG, Stanford
Deandre Coleman
, DT, California
Scott Crichton
, DE, Oregon State
Taylor Hart
, DE, Oregon
Cassius Marsh
, DE, UCLA
Josh Mauro
, DE, Stanford
Tenny Palepoi
, DT, Utah
Will Sutton
, DT, Arizona State
George Uko
, DE, USC
Anthony Barr
, OLB, UCLA
Carl Bradford
, OLB, Arizona State
Khairi Fortt
, LB, California
Devon Kennard
, OLB, USC
Boseko Lokombo
, OLB< Oregon
Trent Murphy
, OLB, Stanford
Shayne Skov
, LB, Stanford
Jordan Zumwalt
, LB, UCLA
Trevor Reilly
, OLB, Utah
Dion Bailey
, S, USC
Deone Bucannon
, S, Washington State
Keith McGill
, S, Utah
Terrance Mitchell
, CB, Oregon
Ed Reynolds
, S, Stanford
Rashaad Reynolds
, CB, Oregon State
February, 28, 2011
2/28/11
2:30
PM ET
By
ESPN.com staff
| ESPN.com
You want a prediction about the weather, you're asking the wrong Phil. I'll give you a winter prediction: It's gonna be cold, it's gonna be grey, and it's gonna last you for the rest of your life.
March, 17, 2010
3/17/10
7:40
PM ET
By
ESPN.com staff
| ESPN.com
OK,
this just blew my mind
.
I've
previously written
about the extraordinary
raw strength
of Oregon State defensive tackle Stephen Paea.
Click the link above to see for yourself.
In the video, Paea bench presses 225 pounds 44 times.
44 times! Are you kidding me!
The NFL
combine record is 45 repetitions
, which is shared by three players, including former Arkansas offensive lineman Mitch Petrus this year.
I got $5 that says Paea gets 50 next spring.
Paea is the 2009 Morris Trophy winner, which is given annually to the most outstanding offensive or
defensive lineman
in the Pac-10.
And it's fair to say that he may be the strongest player in college football.
March, 9, 2010
3/09/10
12:30
PM ET
By
ESPN.com staff
| ESPN.com
This is a quick makeup for missing last Friday while I was doing interviews at Arizona.
Andrew from Syracuse writes
: Regarding your Oregon
strong and weak article
, I agree that the defensive line is the obvious weakness of team but I noticed that you didn't mention incoming freshman
Ricky Heimuli
. I was wondering what kind of impact you think he'll have next year. I know that it's tough for true freshman to make the transition to D1 football but with the state of the D line it seems that he has the size and strength to contribute right away. At least I'm hoping he does because the line (minus Rowe) was awful against Ohio State and needs big bodies.
Ted Miller
: I mostly don't include freshmen who arrive in the fall when assessing the strength of a position for spring practices -- unless the frosh is a spectacular talent at a skill position, where it's easier to contribute early. Line positions are much different animals. When you see true freshmen starting on either line, more often than not it's about a gaping talent void rather than a player beating out veterans.
My guess is Oregon would prefer to redshirt Heimuli but odds are fairly good he'll play because of depth issues and his obvious talent and advanced physical development. Further complicating things, however, is his stated desire to go on a LDS mission after his freshman year (see UCLA offensive tackle Xavier Su'a-Filo, who started at left tackle as a true freshman last fall but opted to go on a mission).
As for the D-line in the Rose Bowl: I disagree.
Ohio State got a
career-best performance
from quarterback
Terrelle Pryor
in the Rose Bowl, while Oregon quarterback
Jeremiah Masoli
reverted to his Boise State passing form -- 9-of-20 for 81 yards with a pick. Quarterback play was the difference in the game, particularly on third down.
Ohio State didn't run the ball well against Oregon, other than Pryor's scrambles. Buckeye backs combined for 87 yards on 28 carries (3.1 yards per carry) with a long run of 11 yards.
The Ducks didn't dominate up front, but they certainly weren't pushed around.
---
Kevin from Scottsdale writes
: I'm a fan of Keaton Kristick's (Oregon State) and I can't figure out why his performance at the combine isn't getting any attention? He finished in the top 10 in 5 out of 6 "field" categories against 36 of the best college LB's in the country? Yet, most of what has been written about him says he's not athletic, too small (since when was 6'3" 234lbs too small?), and CBS Sports went so far as to say his best chance may be the CFL? Here's what what I saw on the NFL combine website shortly after Monday's session. He tied for 4th among LB's in the 40 (4.64), finished 3rd in the BJ (10'), 6th in the 20S (4.21), 3rd in the 60S (11.33) and 9th in the 3 cone (6.96). Find another player at any position that can say that? I'm guessing not very many.
Ted Miller
: I was surprised how well Kristicks's measurables came out -- even his size. I'd have pegged him at about 6-foot-2, 225 when I chatted with him at Pac-10 media day last July.
What stood out to me about Kristick is he tested well in the drills that
measure quickness and change of direction
. Help me out here: Are those good skills for a LB to have?
I have read the same things you have. Little has been written that indicates Kristick will get drafted anywhere before the late rounds.
One thing to keep in mind is much of what is written around draft time is just blather. There's so much misdirection and overanalysis it's hard to measure what's accurate.
My guess -- and it's only a guess -- is that Kristicks's performances, combined with lots of impressive game tape, as well as a good Beavers legacy at the position, will get him drafted.
I expect him to stick on a team. He may not become star or even a starter, but guys like Kristick seem to find their way to solid NFL careers.
---
Andrew from Seattle writes
: Is there any actual truth to the discussion of kicking WSU out of the Pac 10 or are the local sports talk stations trying to fill a really slow period in local sports? It seems to me that while there are negatives WSU brings to the table there are some positives and reasonable recent success Rose bowl 03 Sweet 16 in 06. All the Internet folks are bringing up comments from Sterk from last April. That too seems a bit far fetched for me.
Ted Miller
: At the risk of sounding wishy-washy: No.
There's no chance of kicking Washington State out of the Pac-10.
Zero.
---
Jeremy from Tempe writes
: Why all the Arizona stories? Who cares? Isn't this the Pac-10 blog, not the Arizona blog?
Ted Miller
: Three reasons for the
glut of Arizona stories
.
1. Arizona started spring practices last Friday.
2. I was in Tucson that day.
3. Only Arizona and Stanford are practicing right now.
---
JT from New York City writes
: Ted, I got two weird questions for you. How tall are you and how much do you weigh? It helps give perspective on the
dudes you interview
.
Ted Miller
: I'm 6-foot-10, 280 pounds.
Plus or minus.
No, I'm 5-11, 210. OK, 215. But I'm shooting to drop to two bills by the preseason.
Speaking of which...
---
Andrew from Berkeley, Calif., writes
: I'm headed to Eugene for a non-football related sporting event, I was wondering if you had any suggestions for good food? I noticed you liked
Le Cheval
in Oakland so I can trust your taste.
Ted Miller
: Mmmm. Le Cheval. Made the mistake of
pulling up the menu
. When's lunch?
Most folks in Eugene would start with
Beppe & Gianni's
. You'll probably run into Ducks defensive coordinator Nick Aliotti there. Beppe is a great guy and he's particularly skilled at hiring hostesses.
I've had a handful of good meals at
Adam's Place
, home of the Eugene Martini Association, but some folks accused me of being hoity-toity when I touted the place two years ago.
Fact is, I've always thought there were plenty of good meals to be had in Eugene.
And this inquiry is a good time for a heads up: I'm going to put together a list of Pac-10 restaurants for you road trippers this year and, obviously, we need our loyal readers to participate.
So feel free to send in suggestions.
March, 4, 2010
3/04/10
2:30
PM ET
By
ESPN.com staff
| ESPN.com
What dire offense from amorous causes springs,
What mighty contests rise from trivial things!
March, 3, 2010
3/03/10
2:35
PM ET
By
ESPN.com staff
| ESPN.com
Or, to state his character as it stood in the scale of public opinion, when his friends and critics were in tantrums, he was considered rather a bad man; when they were pleased, he was rather a good man; when they were neither, he was a man whose moral colour was a kind of pepper-and-salt mixture.
March, 2, 2010
3/02/10
7:51
PM ET
By
ESPN.com staff
| ESPN.com
Lots of goings on at the NFL combine with Pac-10 guys. Here are some updates.
From Scouts Inc.
reports on ESPN.com
:
From other sources:
PAC-12 SCOREBOARD
Saturday, 12/20
Monday, 12/22
Tuesday, 12/23
Wednesday, 12/24
Friday, 12/26
Saturday, 12/27
Monday, 12/29
Tuesday, 12/30
Wednesday, 12/31
Thursday, 1/1
Friday, 1/2
Saturday, 1/3
Sunday, 1/4
Monday, 1/12
Tweets from https://twitter.com/ESPNCFB/lists/pac12