Pac-12:

Nick Aliotti 43010
April, 30, 2010
4/30/10
3:00
PM ET
Part II of a Q&A with Oregon defensive coordinator Nick Aliotti.
Read Part I here
.
Let's take it through the three levels: How does the defensive line stack up? Obviously, we know about end Kenny Rowe and tackle Brandon Bair. Who steps in for end Will Tukuafu and tackle Blake Ferras?
NA
: It's a little bit too early to tell but I think that Zac Clark, in my mind, cemented himself as one of the top tackles, probably a starter at this point. And the combination of Dion Jordan and Terrell Turner will take Tukuafu's place. Who will end up starting there? It may be series by series. We'll just have to see what happens when we get back here in the fall. The D-line I feel very good about. I have no worries about where our D-line is, even though we lost some very good football players. I like what we've done. I like how we've progressed. We're on track to be as good as we were last year.
Heard a lot about Dion Jordan as just a pure physical specimen. Tell me what he's done transitioning from a tight end to a defensive end.
NA
: The guy is just relentless. He chases the ball. For a smaller guy -- in that he doesn't weigh a whole lot [listed at 223 though he's likely closer to 240] -- he knows how to use leverage and his body very well and can run like the wind. He can really, really move. He's going to be a surprise. A lot of people are going to say, 'Wow, where did this guy come from?' I think he's the surprise of spring camp. I'm very pleased with him. He's an excellent pass rusher. He's really doing more than I thought he'd do, physically, at the line of scrimmage. So that's exciting.
You guys seem wealthy at linebacker -- a lot of speed -- what's going on there? Spencer Paysinger and Casey Matthews are established guys, what about at strongside linebacker?
NA
: We're still going to have to figure that thing out, but it's not something I don't feel comfortable with. I like where we are there, too. What will happen is, when we get Josh Kaddu back, he and Boseko Lokombo and Bryson Littlejohn will fight that one out. But I feel good about those guys. You're catching me off of spring and not mid-way through the season, but I really like the way our defense played and practiced and I think we've got a chance to be pretty darn good.
I've read a couple of things about linebacker Michael Clay, too. Sounds like he'll see a lot of actions.
NA
: No question. Michael Clay will get a lot of action. He played a lot for us last year, too. That's no surprise really. He came in here not acting like a freshman. He came in acting like he's been doing this all along. He'll help us with a lot of valuable downs next year.
The secondary: You guys had a whole bunch of injuries last year, but it seems like that's going to pay off now because a lot of young guys got playing time.
NA
: Right. You know when I look at our defense, cutting to the chase, I think we are going to be just as talented on the D-line, if not more talented. We'll be faster. You never like to compare one team to the other, but I think we can be just as good and probably faster and obviously more experienced than what we were. The linebacker crew, with Kaddu and Bo at SAM, that gave us an opportunity to move Eddie Pleasant back into the secondary [from starting linebacker]. We'll be just as strong at linebacker, though [backup middle linebacker] Kiko Alonso will be out for the year after tearing his knee. That hurts the two-deep on the inside a little bit. That's a bad injury for us. But we should be just as good there. And with [safety] John Boyett playing a lot of downs last year and [safeties] Javes Lewis and Marvin Johnson all playing because of T.J. Ward going down early that should help. With Pleasant back there, I feel real good about the safeties. When we get a healthy [cornerback] Talmadge Jackson back, he's a guy who's played a lot of football for us, and then we're looking at Cliff Harris, Anthony Gildon, Scott Grady and Terrance Mitchell who are going to be the other corner. We have a chance to be as good if not better than we were last year.
April, 30, 2010
4/30/10
12:39
PM ET
Oregon is on the defensive again.
No, not that way. The on-the-field way. As in: Oregon's defense looks like it might be as good as any in the Pac-10 this fall.
Just like it was last year
.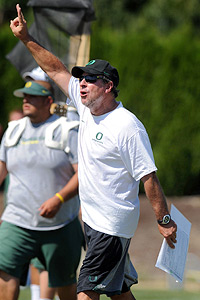 Steve Dykes/Getty ImagesOregon defensive coordinator Nick Aliotti's Ducks had the No. 1 defense in the Pac-10 last season.
Oregon's offense gets a lot of attention, but they say that defense wins championships, and the Pac-10 may have been taken by the Ducks in 2009 as much because of their speedy -- if undersized -- defense as their offense.
And with the loss starting quarterback -- and leading Heisman Trophy candidate --
Jeremiah Masoli
to a season-long suspension, the defense may have to be even stronger for the Ducks to repeat next fall.
The good news for Ducks fans is coordinator Nick Aliotti believes his unit will be "as good if not better than we were last year."
He had a lot to say during a Q&A this week, including discussing the disappointing performance in the Rose Bowl.
Here's Part I. Part II will run this afternoon.
First of all, you guys had the No. 1 defense in the Pac-10 in conference games last year. Didn't seem like you got much credit for that. Why was I surprised when Chip Kelly told me you guys had the No. 1 defense?
Nick Aliotti
: Why were you surprised? I don't know if I could answer that question. You have to tell me.
It sometimes seems like the offense at Oregon overshadows the defense.
NA
: That's a tough one for me to answer, obviously, though I appreciate the compliment. It seems like since I've been here the main focus is our offense. Forever and ever, not just in the Chip Kelly era, but our offense has always gotten all the pub.
Why did the defense play as well as it did last year?
NA
: First of all, we practiced fast. I know you hear us talk about that a lot, but we practice fast and we play fast. We play hard. The first thing I'd attribute it to was when we got to the games, the games seemed slower for us, because there's no way -- you've seen us practice -- the ball can't possibly be spotted as quickly as we spot it when we practice. The games became slower, which helped our guys. Second, the fact that we stuck to what we do. We didn't change too much but had enough wrinkles that we kept people off guard. But in the long run we just stuck to what we do and did it over and over and over every week. We didn't game plan in the sense that you throw something out and everybody is learning a new defense every week, which at times that can happen during the season. And the kids really bought in. Everybody is looking for some magical answer. We just had great kids who played hard and bought into what we were doing.
Taking you back to one thing that's probably not the most pleasant memory: The Rose Bowl. If you knew you were going to hold Ohio State's running backs to 87 yards rushing, wouldn't you think you were going to win that football game?
NA
: What disappoints me about that game -- and you hate to talk like this -- but I felt like that was a team we should have been able to hold to about 13 points. We didn't get that done. And that's disheartening. It's not a sore subject. That doesn't bother me you brought that up. That's just the way it was. It's disappointing because I thought we had a very good chance to win that football game. They earned what they got. They played better than us on that particular day. I really felt like if [quarterback Terrelle] Pryor had to throw the ball and we kept him in the pocket, we were going to win that football game. Now what's interesting is that very first play of the game could have turned a whole lot of things around. If we had picked that ball off that hit [linebacker Casey Matthews] right in the hands to start the game, maybe that changes their thinking quite a bit. You never know what would have happened. But we didn't.
Obviously you watched a lot of film of Pryor before the game. Do you kind of feel you got his breakout performance in the Rose Bowl?
NA
: A lot of credit should go to the young man. I never like to take anything from a young man. But I think we made him look better -- he deserved what he got -- but we made him look better than he should have. We just didn't play our game.
I've heard good things about the defense this spring: What's your assessment of how things have gone?
NA
: Very well I think. When you go against each other, it's one day you win, the next day they win. It's hard to know on a day-to-day basis who got the upper hand. But in a final analysis we've had a very good spring. We're coming out of this with the things we wanted to get accomplished, which is primarily finding out who are going to be our prominent starters going into the fall and who are the young guys we can feel have grown, who have learned the system and can be prominent backups. And just [learning] the scheme. We try to accomplish that every spring and I feel good about that.
In Part II, Aliotti breaks down his defense, position by position
.