October, 5, 2012
10/05/12
2:30
PM ET
May, 11, 2012
5/11/12
12:00
PM ET
Our topic today: Which team that has a TBA at quarterback is in the best shape?
The choices: Arizona State, Colorado, Oregon, Stanford and UCLA. (We're leaving Washington State out because
Jeff Tuel
is a heavy front-runner, no matter how coy Mike Leach is about things).
Kevin Gemmell
: Oregon -- by far -- is in the best shape of the teams yet to name a quarterback. For starters, they have the most exciting player in the conference in
De'Anthony Thomas
. Regardless of whether
Bryan Bennett
or
Marcus Mariota
wins the job, Thomas is going to take a 2-yard swing pass and turn it into a 50-yard touchdown. Probably a few times. He's going to make the new guy look really, really good.
[+] Enlarge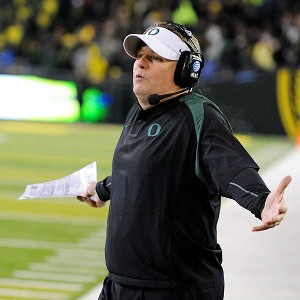 Steve Dykes/Getty ImagesChip Kelly might not know who Oregon's starting QB will be, but he can be sure that he'll have a talented supporting cast on offense.
And it's not like the Ducks have a history of rebuilding projects whenever Chip Kelly needs a new quarterback. How'd
Darron Thomas
work out? A berth in the national championship game and a Rose Bowl victory. Not bad. Same could be said for obscure JC transfer Jeremiah Masoli, who only led the Ducks to the 2010 Rose Bowl.
The offensive line should be fine protecting him with key returners like
Hroniss Grasu
,
Carson York
and
Nick Cody
. Plus, Oregon rotates offensive linemen so liberally the quarterback is going to have fresh bodies flanking him.
There are plenty of weapons already in place for the starter-to-be. Be it
Josh Huff
(status pending), tight end
Colt Lyerla
, who is a star on the rise, and
Kenjon Barner
to carry the load on the ground.
When you look at the rest of the teams sans starting quarterbacks, there are just too many questions to confidently say it's going to be a smooth transition. UCLA and ASU are starting from scratch with new coaches and new systems. Colorado is probably headed for a long season and
Andrew Luck
's successor has to replace -- well -- Andrew Luck. Good luck with that (pun, definitely not intended).
Oregon's transition might not be silky-smooth, but it's going to be a lot easier than the other four teams trying to replace a starter. The schedule works to the Ducks' favor with the first four games at home, which should give the new guy plenty of time to get comfortable. They might find themselves in a shootout at Washington State in the fifth game, but they don't even need to leave the Pacific Northwest until mid-October.
This offense is plug-and-play and whoever gets the job is going to be just fine.
Ted Miller
: Sometimes you're screwed on a Take 2 when you go second. Kevin states a strong case. Does anyone really believe the Ducks' quarterback will be a liability this year? The answer is no.
Of course, that level of certainty could be burden, as could taking over the starting job for a top-five team. No team in the nation with uncertainty at QB this spring will be ranked higher in the preseason. Know what a disappointing regular season now looks like in Eugene? 10-2. In other words, this Ducks QB job brings a lot of pressure and high expectations. Being "pretty good for a first-year starter" will rate a fail with many fans.
None of that will be the case at UCLA. Bruins fans are starved for quarterback play that is just north of mediocre. The good news is that they will get at least that this fall. And they may be pleasantly surprised.
Start with this: Offensive coordinator Noel Mazzone. He transformed
Brock Osweiler
from a basketball player playing football to a second-round NFL draft pick. Mazzone is a charismatic guy -- though a follically challenged one -- who knows how to teach. He's been called a
QB guru
. Guys like
Tim Tebow
,
Philip Rivers
and
Christian Ponder
seek him out.
[+] Enlarge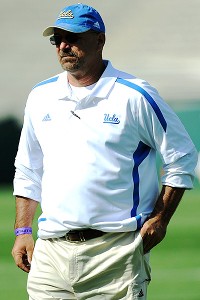 Chris Williams/Icon SMISophomore QB Ricky Town received an offer from UCLA and offensive coordinator Noel Mazzone.
Then there are the three guys competing. You have the quarterback of the future in redshirt freshman
Brett Hundley
, and you have two seniors who have seen just about everything in
Kevin Prince
and
Richard Brehaut
. Hundley has tons of potential. He's an athletic guy who's pass-first. Sort of like Osweiler, only 4 inches shorter.
Prince and Brehaut have been maligned by Bruins fans, and not entirely without justification. Both have produced strong games. And both have played poorly. Inconsistency is not a good thing for a quarterback. But both have nothing to lose in their final year of college football. If both are healthy, they can be solid QBs. They certainly are better suited for Mazzone's spread than the pistol they've been running the past two years.
The talent around them isn't bad. There's a good stable of running backs with
Johnathan Franklin
,
Malcolm Jones
and the rising
Steven Manfro
. TE/WR
Joseph Fauria
is going to be a high NFL draft pick next spring. The offensive line has a chance to be, well, OK.
Mazzone has options here, too. He can hand the job to Hundley, knowing he's got two experienced guys who can play if he needs them. Or he can start one of his veterans and bring Hundley in for special packages, perhaps steadily increasing his reps as the season goes on. (Mazzone, like most coaches, has always said he prefers just one guy, so know that second scenario is mostly me throwing a speculative thought into the air).
Further, whoever wins the job won't be operating under the microscope like the Oregon starter will. Expectations for the Bruins aren't high. If the QB is just solid -- say, ranking sixth or seventh in the conference in passing efficiency -- then he will be widely viewed as succeeding. And if he can get seven or eight wins, Bruins fans will extend new coach Jim Mora's honeymoon a season.
March, 12, 2012
3/12/12
2:30
PM ET
By
ESPN.com staff
| ESPN.com
Before you make those kinds of demands you should put a note on your door that says, "Do not come into my room and read my diary and wear my clothes."
October, 5, 2009
10/05/09
5:49
PM ET
By
ESPN.com staff
| ESPN.com

Posted by ESPN.com's Ted Miller
A few weeks ago, some Oregon fans were clamoring for a quarterback change. Now, they may get it when they no longer want it.
Ducks quarterback
Jeremiah Masoli
, who's been masterful over his last six quarters,
didn't practice
Monday due to a knee injury he suffered in the second quarter against Washington State and may not be ready for the visit to UCLA on Saturday.
Oregon coach Chip Kelly said Masoli is "day-to-day," which is his standard answer for any injured player. The nature of Masoli's injury also is unclear. The Eugene Register-Guard reported that Masoli was "moving around with a stiff limp and had an ice wrap at one point" on Monday.
If Masoli can't play at UCLA, junior
Nate Costa
would start.
Costa was slated to be the starter in 2008 before he suffered a major knee injury during the preseason that required season-ending surgery -- the third such knee injury he's suffered.
Costa played well after replacing Masoli against the Cougars. He completed 7 of 9 passes for 80 yards and ran for 26 yards and a touchdown. For the year, he's 11 of 16 for 115 yards with 38 yards rushing.
Kelly said he believes Costa has put his injury history behind him.
"He's over it," Kelly said. "He's taken some hits in the two games he's played. He's scrambled around the pocket and done a nice job. If we have to go with Nate, I've got all the confidence in the world in him."
The Ducks No. 3 quarterback is sophomore
Darron Thomas
. Thomas saw some quality action last year as a true freshman, most notably while leading a late comeback against Boise State, but the goal is to redshirt him.
Losing Masoli would be a big hit. After a slow start -- a really slow start -- he's completed 35 of 43 passes -- 81.4 percent -- for 369 yards with four TDs and no interceptions over the past six quarters. He's also rushed for 73 yards and a score during that span.
Masoli isn't the only wounded Duck. Right tackle C.E. Kaiser suffered a shin injury against the Cougars and also is questionable for this weekend. If he can't play, Darrion Weems or Nick Cody would replace him -- both of whom are in a regular rotation on the offensive line.
Running back Kenjon Barner (shoulder) and receiver
Jamere Holland
(knee) also didn't practice Monday, according to the Regiser-Guard, while safety T.J. Ward (ankle) did conditioning drills. Ward hasn't played since the Boise State game but could be ready for UCLA.
August, 19, 2009
8/19/09
4:01
PM ET
By
ESPN.com staff
| ESPN.com
Posted by ESPN.com's Ted Miller
EUGENE, Ore. -- Chip Kelly has to be himself, so he's going to figure out a way to change the job of head Oregon football coach so it fits him, not the other way around.
Administrative tasks bogging him down? He'll spend all summer carefully planning out every detail of the Ducks -- and his -- schedule so that won't be an issue during the season.
"Our schedule is set until after the bowl game, whatever bowl game we go to," he said. "I could tell you what time our meeting is on Oct. 26... I can tell you what day we start spring practice. Our spring game is on May 1. We've got the whole year planned out."
A jones to continue directly coaching players not getting satisfied? Kelly created the "tazer" position, a hybrid running back-receiver, which he now coaches just like any other position coach. Kelly has daily meetings with his tazers, Ed Dickson -- formerly known as one of the nation's best tight ends -- and LaMichael James and Kenjon Barner, who once were backup running backs.
A football practice with a million things going on still missing something? Hey, let's play music during practice, from James Brown to Pearl Jam to Eric Clapton to the new stuff that the kids like.
(Kelly's eclectic tastes get a tip of the cap from the Pac-10 blog. He even likes the Dropkick Murphys, whose version of "I'm Shipping Up To Boston" is the best part of the movie, "The Departed.")
"As long as the songs don't have any profanity," he notes.
In the old days, head coaches climbed towers to lord over practices. Most head coaches these days linger on the periphery, giving only occasional pieces of sage advice or offering bits of intimidation as motivation.
Kelly starts coaching at the first whistle and doesn't stop until the last.
He barks: "Finish!" "Aggressive!" "Where are you supposed to be?"
Five quarterbacks throw the ball into the air at the same time during a drill. One ball hits the ground. Kelly knows exactly who and what went wrong.
At any moment, he could be explaining nuances to a player who catches his eye or debriefing with an assistant.
"That's the fun part. You have to coach the way you know how. Some guys are great at being CEOs," he said. "I want to stay involved."
He's also willing to do some things that seem strange but may soon be better described as "innovative." Quarterbacks wear helmet cams, so coaches can look through their eyes. Stand-ins for defensive linemen strap onto their shoulders what look like large black fans in order to obscure the vision of the quarterback.
If there was any question that Kelly might wait to put his imprint on a program that thrived for 14 years under Mike Bellotti, well, the answer is no. These Ducks are now Kelly-green.
While former backup quarterback Justin Roper's decision to transfer shouldn't be termed "a good thing," it's clear watching practices that Kelly has three capable quarterbacks who perfectly fit into his spread-option system: Jeremiah Masoli, Nate Costa and Darron Thomas. All three are good runners and passers. If Roper had remained with Oregon and had been needed for whatever reason, his skill set -- he's not much of a runner -- would have required some tweaks to the game plan. Said Kelly, "That's what we're looking for -- a quarterback who can really run. Those guys are ideal for what we're looking for. I feel better about our quarterback depth this year than I did last year ... I wouldn't hesitate to play any of those three guys."
Oregon is tall at receiver. At any given time it could split out wide Dickson (6-foot-5), Dion Jordan (6-foot-7), Rory Cavaille (6-foot-3), Lavasier Tuinei (6-foot-5) or Tyrece Gaines (6-foot-3). "That's kind of by design in recruiting," Kelly said.
A flu bug has run through the Ducks. Kelly said that around 15 to 20 players have missed practices -- almost always two days -- including four on Wednesday.
New defensive line coach Jerry Azzinaro isn't a huge guy but my initial impression is you'd want him on your side in a bar fight. "Our defensive line is playing great right now. They really have caused some problems in camp," Kelly said. "I think [Azzinaro] is as good as any D-line coach in the country. I think it's showing."
The Ducks seem close to set on the offensive line with Jordan Holmes at center, Bo Thran at left tackle and C.E. Kaiser opposite him on the right side. Mark Asper is the right guard and Carson York leads at left guard. Kelly said he felt confident with Nick Cody and Darrion Weems in terms of depth.