August, 16, 2013
8/16/13
10:30
AM ET
We continue our day-by-day snapshots of each Pac-12 team heading into the 2013 season in reverse alphabetical order with the
Colorado Buffaloes
.
Colorado
Coach
: Mike MacIntyre (16-21, 0-0 at Colorado)
2012 record
: 1-11, 1-8 Pac-12 South
Key losses
: OT
David Bakhtiari
, TE
Nick Kasa
, OLB Jon Major, DT
Will Pericak
, FS
Ray Polk
.
[+] Enlarge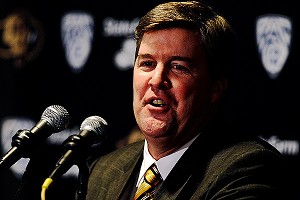 AP Photo/Brennan LinsleyMike MacIntyre is charged with turning around Colorado after making a winner out of San Jose State.
Key returnees
: C
Gus Handler
, TB
Christian Powell
, WR
Tyler McCulloch
, S
Marques Mosley
, DE
Chidera Uzo-Diribe
, P
Darragh O'Neill
, WR
Paul Richardson
,
Derrick Webb
.
Newcomer to watch
: It's too early to tell which one, but three freshmen wide receivers --
Elijah Dunston
,
Devin Ross
and
Bryce Bobo
(ironically numbered 1, 2 and 3) -- are all making a case to be in the rotation and two-deep.
Biggest games in 2013
: The season opener against Colorado State (Sept. 1) is always a big one, and the rivalry with Utah (Nov. 30) is starting to take shape.
Biggest question mark
: While no official word has come down on who will start at quarterback, it's looking more and more like
Connor Wood
will at least begin the season as the starter. So we can at least put a partial check mark there. The biggest question is really what sort of progress -- if any -- we'll see in Mike MacIntyre's first season as the new head coach. He comes in with solid credentials and was Mr. Fix-It at San Jose State. But with the new job comes a new set of challenges. Chief among them, the proverbial challenge of "changing the culture." MacIntyre made it clear that he wants to win and compete immediately, and he believes that his players have bought in. We'll see how much on Sept. 1.
Forecast
: The media
doesn't have much faith
in the Buffs, picking the team that went 1-11 last season to finish last again in the Pac-12 South. This might be one of those situations in which the team shows improvement -- just not in the win department. Remember, San Jose State appeared to take a step back in MacIntyre's first season, going 1-12, but it was during that time that he was establishing his schemes and philosophies, and in Year 2 they went 5-7. By the third season, the Spartans were 11-2 (10-2 under MacIntyre) and ranked in the top 25. No one is saying the Buffs will be ranked in three seasons, and most people probably aren't expecting it. The Pac-12 is a different animal than the now football-less WAC, but it's not wrong to hope for a postseason berth in the next 3-5 seasons.
And this season, the Buffs are loaded with young players who gained a ton of experience last season. They return 17 starters (eight offense, nine defense) including a young secondary that took its licks last season. Mosley,
Kenneth Crawley
and
Yuri Wright
all started last season, and
Greg Henderson
and
Parker Orms
are the veterans of the group. Up front defensively, Uzo-Diribe is a talented pass-rusher, and linebackers
Derrick Webb
and
Paul Vigo
should be the anchors on defense.
Offensively, they lose Bakhtiari to the NFL and Alex Lewis announced a transfer, which was followed by
some bizarre and unfortunate circumstances
. But they get Richardson back after he missed all of 2012 with a knee injury. When he's healthy, he's one of the most explosive wide receivers in the country and should give the Buffs a stretch-the-field threat they were lacking.
Powell also quietly put together a strong second half last season, posting a pair of 100-yard games and four touchdowns over the final five. If they can plug the left side of the line (it's looking like veteran
Jack Harris
at left tackle and
Kaiwi Crabb
at left guard), he could inch closer to 1,000 yards on the ground after posting 691 and a 4.4 yards per carry average last season.
There is talent on Colorado's roster, but, as what's becoming a trend with Colorado, fans are going to have to be patient until the new staff figures out how best to use it.
June, 19, 2013
6/19/13
1:00
PM ET
On Monday we looked at what each team in the Pac-12 had returning in terms of the rushing game. Here's the breakdown for the
South
and the
North
.
Today we turn our attention to the wide receivers. We're looking at returning receiving yards, returning receptions and returning receiving touchdowns. First up is the South.
As a reminder, here's how the teams ranked last year in passing offense:
Washington State
Oregon State
Arizona
USC
UCLA
Arizona State
Oregon
Washington
California
Stanford
Colorado
Utah
Here's what the teams in the Pac-12 South have coming back.
Arizona
Note: Was torn on whether or not to include Austin Hill. Technically, he's not off the team and he's a returning player. But it's also unlikely he'll play in 2012. So above are his the numbers -- since he's still on the team. Without him, the numbers obviously dip significantly: 41 percent yards returning; 52 percent catches returning; 40 percent touchdowns returning.
Arizona State
Colorado
UCLA
USC
Note: Like Austin Hill, I included
George Farmer
's numbers. Though he's expected to miss the year, he's still technically a "returning" player. Though his numbers, one catch for 7 yards, don't alter the landscape like they do with Hill.
Utah
May, 28, 2013
5/28/13
2:30
PM ET
Alright, Mr. Smart Reporter, showing off. You figured how to work the Google on the internet machine.
May, 8, 2013
5/08/13
10:00
AM ET
COLORADO BUFFALOES
2012 record
: 1-11
2012 conference record
: 1-8 (Last in South Division)
Returning starters
: Offense 9; Defense 7; Kick/punt 2

Top returners:
WR
Paul Richardson
, WR
Nelson Spruce
, LB
Derrick Webb
, RB
Christian Powell
, C
Gus Handler
, DE
Chidera Uzo-Diribe
, CB
Kenneth Crawley
.
Key losses
: TE Nick Kasa, OL David Bakhtiari, LB
Jon Major
, DB Ray Polk.
2012 statistical leaders (*returners)
Rushing
: Christian Powell* (691)
Passing
:
Jordan Webb
* (1,434, out indefinitely with knee injury)
Receiving
: Nelson Spruce* (446)
Tackles
: Derrick Webb* (88)
Sacks
: Chidera Uzo-Diribe (7)
Interceptions
:
Jered Bell
*, Jon Major,
Marques Mosley
* (1)
Spring answers
1.
He's back
: After missing all of 2012 with a torn ACL, wide receiver Paul Richardson is back and healthy. This is a huge boost for an offense that was lacking an explosive playmaker. In four Colorado scrimmages this spring, he had eight catches for 294 yards and three touchdowns. It's not the greatest barometer, but the fact he's on the field and running by defenders is a very positive sign.
2.
Starting from scratch
: Colorado has an entirely new coaching staff for the first time since 1979. So a good chunk of spring was spent reading name tags. It was also spent getting the team used to running a no-huddle offense. New coach Mike MacIntyre noted that the 15 practices were simply about introducing concepts -- which was accomplished. Translating those concepts into progress on the field will be a bigger task this fall.
3.
Filling holes
: Obviously, nothing is set in stone. A new coaching staff means a complete evaluation of every position. But there were some names that jumped out as candidates.
D.D. Goodson
made the move from tailback to wide receiver -- giving them a little more speed and depth at the position. January enrollee Addison Gillam jumped to the top of the depth chart at linebacker and cornerback
John Walker
made a big push in the secondary -- probably Colorado's deepest and most hotly contested position group.
Fall questions
1.
QB questions
: Last year there were three -- Jordan Webb,
Nick Hirschman
and
Connor Wood
. This year there are three -- Wood,
Shane Dillon
and incoming freshman Sefo Liufau. There are rumblings Webb might make it back by October -- but even then you have to wonder if he'll be close to 100 percent. Still, there are lots and lots of question about who will be running the new offense.
2.
Sorting out the line:
Just when it seems like the Buffs are starting to get a little continuity on the offensive line, right guard
Daniel Munyer
breaks his fibula during a fumble drill. It's not all completely up in the air -- and they do have a solid returning center in Gus Handler -- who should again be on the Rimington Trophy watch list. But there is still a lot of evaluation to be done.
3.
Time to grow up
: By now we all know about Colorado's youth in the secondary. A lot of freshmen played last year (1,476 snaps between a trio of freshmen defenders) and they learned the hard way what it's like to guard Pac-12 receivers. The maturation of this group is critical because improved secondary play will trickle down and take some of the pressure off of the front seven. This group has the athleticism and potential to be very good. The question is, will they?
April, 25, 2013
4/25/13
2:30
PM ET
I'll have a scotch on the rocks, please. Any scotch will do, as long as it's not a blend, of course. Single malt, Glen Livet, Glen Galley, perhaps, any Glen.
February, 25, 2013
2/25/13
11:00
AM ET
Some tough news coming out of the scouting combine this weekend for Utah defensive tackle
Star Lotulelei
. ESPN's Chris Mortensen first reported that Lotulelei -- a projected top-five pick --
would not be allowed to work out today
with the rest of the defensive lineman after an echocardiogram revealed a heart condition that requires additional testing.
From Mortensen's story:
Lotulelei was discovered to have an abnormally low Ejection Fraction, detecting that the left ventricle of his heart was pumping at only 44 percent efficiency, sources said. The normal range is between 55-70 percent efficiency.

The 6-foot-2, 311-pound Lotulelei will undergo further testing in Salt Lake City in an effort to seek more clarity with the condition, a source said. If it's a confirmed chronic condition, medical experts consider it an indication of possible heart damage.
The All-American posted 42 tackles in 2012, including 10 tackles for a loss and five sacks. He's expected to visit a specialist this week and plans to participate in Utah's Pro Day on March 20.
Scouts Inc. ranks Lotulelei as the No. 1 overall player in the draft.
Schwenke rising
Former Cal offensive lineman
Brian Schwenke
, longtime
friend of the Pac-12 blog
, had a strong combine performance. He was among the top performers in the 3-cone drill and 40-yard dash (see results below). Daniel Jeremiah of NFL.com said Schwenke's stock is
trending up
.
Writes Jeremiah:
I really liked Schwenke on tape and he continued to impress with an excellent week at the Senior Bowl. On Saturday, his draft stock received another boost. Schwenke posted a great 40 time (4.99) and enjoyed a fine field workout. I could see his name being called in the early portion of the third round.
Zach Ertz versus Tyler Eifert
One was a unanimous All-American. The other won the Mackey Award for the nations' best tight end. The battle for the top tight end taken in the draft might be too close to call at this point.
Per ESPN's Todd McShay
,

Ertz had a good day, but Eifert may have closed the gap.
Depending on who you ask, there are varying opinions on which of the two is the best tight end. If you took a poll, it would probably come out even at this point. So, of the two who are jockeying for position as the top TE in this class, Eifert won the day. It doesn't mean he'll be the first TE drafted, and if he is, it doesn't mean he's going to be the better NFL player. But for what it's worth, he had the better Saturday. At 6-foot-5½, 250 pounds, he's slightly bigger and longer. He ran an unofficial 4.6 in the 40 and had an impressive 35-inch vertical leap.
Here's John Clayton's take
:
Notre Dame's Tyler Eifert and Stanford's Zach Ertz were considered the top two tight ends in the draft, and it's starting to look like it will be a good battle for the top spot. Eifert may have challenged for the lead after running a 4.68 compared to Ertz's 4.76.
40 times/bench
For complete workout results, you can check out the
NFL.com combine page
. Here's some of the top results for the fleet-footed and pectorally gifted (per NFL.com).
Running backs

Johnathan Franklin
, UCLA: 4.49/18 reps
Kenjon Barner
, Oregon: 4.52/20 reps
C.J. Anderson
, Cal: 4.60/17 reps
Stepfan Taylor
, Stanford: 4.76/17 reps
Wide receivers

Markus Wheaton
, Oregon State: 4.45/20 reps
Marquess Wilson
, formerly of Washington State: 4.51/7 reps
Robert Woods
, USC: 4.51/14 reps
Quarterbacks

Matt Scott
, Arizona: 4.69/Did not lift
Offensive line

Kyle Long
, Oregon: 4.94/Did not lift
Brian Schwenke, Cal: 4.99/31 reps
Jeff Baca
, UCLA: 5.03/ Did not lift
David Bakhtiari
, Coloraod: 5.09/28 reps
Khaled Holmes
, USC: Did not run/13 reps
Tight end

Nick Kasa
, Colorado: 4.71/22 reps
Zach Ertz, Stanford: 4.76/24 reps
Levine Toilolo
, Stanford: 4.86/17 reps
February, 8, 2013
2/08/13
10:00
AM ET
The official list of college players invited to the NFL combine is out and 38 from the Pac-12 made the cut. At least one player from every team in the conference was invited. A total of 333 players were invited and workouts begin Feb. 23. You can see
the complete list here
.
January, 25, 2013
1/25/13
4:00
PM ET
COLORADO (1-11, 1-8)
Grade
: D-minus

MVP
: As voted by the Colorado players and coaches, defensive end
Will Pericak
quietly put together a very consistent season and ended his career having started all 49 games. He set the school record for most career starts despite being a Type I diabetic. He posted 62 tackles, eight stops on third down with a pair of sacks, and four tackles for a loss. He was also tied for second in the conference with four forced fumbles.
What went right
: Colorado's three-touchdown outburst and come-from-behind win at Washington State back in September was certainly a bright spot in a season lacking them. There was no lack of effort, and that kept them from an 'F.'
Nick Kasa
emerged as one of the more steady tight ends in the conference, and running backs
Christian Powell
and
Donta Abron
combined for 947 rushing yards and nine touchdowns -- giving the Buffs a good-looking, young tandem to keep an eye on as the team transitions into the pistol. It's worth noting, too, that they cut the total number of penalties from 103 to 73 -- which was fifth in the league. And as far as we know, Ralphie didn't break a leg or sprain a hoof.
What went wrong
: Besides the 11 losses? It started early when they couldn't hold double-digit leads against Colorado State and FCS Sacramento State, and it snowballed. If you want, you could really go back even earlier with the loss of wide receiver
Paul Richardson
in the preseason with a knee injury. Colorado ranked 100th or lower in 19 major statistical NCAA categories. The Buffaloes turned the ball over 34 times, which teams turned into 22 touchdowns and 160 total points. There was inconsistency at quarterback, which led to the worst third-down percentage in the league (29.9 percent). There's no need to pile on all of the things that went wrong statistically for the Buffs (which led to the firing of Jon Embree). It was a bad season. Plain and simple.
Outlook for 2013
: With a new head coach comes the promise of optimism. And Mike MacIntyre certainly has the resume needed for rebuilding a program. He turned San Jose State into a 10-win program. In 2012, Colorado's true freshmen combined to start more games than any other team in the nation (57). No one has transferred or left the program (except
David Bakhtiari
, who declared early for the NFL draft) so there is continuity across the board, and some youth that gained a lot of experience -- albeit the hard way. The bulk of Colorado's new staff has worked together for three seasons, so there is continuity and familiarity there as well. Don't expect six wins and a bowl game in 2013, but hoping for three or four wins shouldn't be too much to ask for.
November, 26, 2012
11/26/12
5:50
PM ET
The Pac-12 conference has announced its 2012 individual honors and all-conference first and second teams as voted on by the coaches.
Offensive Player of the Year
:
Marqise Lee
, WR, USC.
Pat Tillman Defensive Player of the Year
:
Will Sutton
, DE, Arizona State.
Freshman Offensive Player of the Year
:
Marcus Mariota
, QB, Oregon.
Freshman Defensive Player of the Year
:
Leonard Williams
, DE, USC.
Coach of the Year
: David Shaw, Stanford.
FIRST-TEAM OFFENSE
QB
Marcus Mariota, Fr., Oregon
RB
Kenjon Barner
, Sr., Oregon
RB
Ka'Deem Carey, So., Arizona
WR
Marqise Lee, So., USC
WR
Markus Wheaton
, Sr., Oregon State
TE
Zach Ertz
, Sr., Stanford
OL
Hroniss Grasu
, So., Oregon
OL
Khaled Holmes
, Sr., USC
OL
Brian Schwenke
, Sr., California
OL
Xavier Su'a-Filo, So., UCLA
OL
David Yankey
, Jr., Stanford
SECOND-TEAM OFFENSE
QB
Matt Scott
, Sr., Arizona
RB
Johnathan Franklin
, Sr., UCLA
RB
Stepfan Taylor
, Sr., Stanford
WR
Austin Hill
, So., Arizona
WR
Robert Woods
, Jr., USC
TE
Austin Seferian-Jenkins
, So., Washington
OL
Jeff Baca
, Sr., UCLA
OL
David Bakhtiari
, Jr., Colorado
OL
Sam Brenner
, Sr., Utah
OL
Kevin Danser
, Sr., Stanford
OL
Sam Schwartzstein
, Sr., Stanford
FIRST-TEAM DEFENSE
DL
Scott Crichton
, So., Oregon State
DL
Dion Jordan
, Sr., Oregon
DL
Star Lotulelei
, Sr., Utah (2)
DL
Will Sutton, Jr., Arizona State
LB
Anthony Barr
, Jr., UCLA
LB
Trent Murphy
, Sr., Stanford
LB
Chase Thomas
, Sr., Stanford (2)
DB
Ifo Ekpre-Olomu
, So., Oregon
DB
Jordan Poyer
, Sr., Oregon State
DB
Ed Reynolds
, Jr., Stanford
DB
Desmond Trufant
, Sr., Washington
SECOND-TEAM DEFENSE
DL
Henry Anderson
, Jr., Stanford
DL
Morgan Breslin
, Jr., USC
DL
Ben Gardner
, Sr., Stanford
DL
Datone Jones
, Sr., UCLA
LB
Kiko Alonso
, Sr., Oregon
LB
Michael Clay
, Sr., Oregon
LB
Brandon Magee
, Sr., Arizona State
DB
Deone Bucannon
, Jr., Washington State
DB
Alden Darby
, Jr., Arizona State
DB
T.J. McDonald
, Sr., USC
DB
Nickell Robey
, Jr., USC
FIRST-TEAM SPECIALISTS
PK
Vince D'Amato, Jr., California
P
Jeff Locke
, Sr., UCLA
RS
Reggie Dunn
, Sr., Utah
ST
Jordan Jenkins
, Sr., Oregon State
SECOND-TEAM SPECIALISTS
PK
Andrew Furney
, Jr., Washington State
P
Josh Hubner
, Sr., Arizona State
RS
Marqise Lee, So., USC
ST
David Allen
, Sr., UCLA
ALL-PAC-12 HONORABLE MENTION
NOTES
By School: OREGON and STANFORD placed the most players on the first team with five selections each, followed by OREGON STATE with four.
By Class: Of the 26 first-team selections, 14 are seniors, five are juniors, six are sophomores and one freshman.
Unanimous: Only one player was named on the first-team ballot of all 12 head coaches--WR Marqise Lee of USC.
Two-time selections: Two players are repeat first-team selections from last year--DT Star Lotulelei of Utah, LB Chase Thomas of Stanford.
All-Academic: Two players were named to the first team on both the All-Pac-12 Team and the Pac-12 All-Academic Football Team--P Jeff Locke of UCLA, OL Khaled Holmes, USC. In addition, OL Kevin Danser of Stanford, DL Ben Gardner of Stanford and Michael Clay of Oregon were named second-team All-Academic and second-team All-Pac-12.
September, 28, 2012
9/28/12
2:30
PM ET
Happy Friday (Guessing you Huskies are well into the weekend already).
September, 25, 2012
9/25/12
2:30
PM ET
No, sir! I didn't see you playing with your dolls again.
August, 8, 2012
8/08/12
2:30
PM ET
By
ESPN.com staff
| ESPN.com
I am slashing a path through the rank vegetation of American popular culture with the warped machete of my mind.