January, 14, 2014
Jan 14
10:00
AM ET
Today we put a bow on the 2013 season (almost -- a few more review posts are coming up, and then probably a few more after that). But today across the blogosphere, we're categorizing some of the top moments and individuals from the Pac-12 season. These are set in stone and in no way open to argument or interpretation.
Best coach
: Arizona State's Todd Graham was voted as the league's coach of the year by his peers. And it's hard to argue with that, given the fact that the Sun Devils had the best league record and won their division. But you can't discount the job of the L.A. coaches (interim or otherwise). Ed Orgeron did a phenomenal job in relief at USC before Steve Sarkisian was hired, and Jim Mora shepherded his team through a difficult time early.
Best player, offense
:
Ka'Deem Carey
was named the Pac-12 offensive player of the year. And the Pac-12 blog agrees. Certainly, cases can be made for Oregon quarterback
Marcus Mariota
, who was on the Heisman Trophy track before being derailed by a knee injury. And there is the debate between Carey and Washington running back
Bishop Sankey
,
which will rage until the end of days
.
Best player, defense
: The coaches went with Arizona State defensive tackle
Will Sutton
. And there's nothing wrong with that selection. But cases certainly can be made for outside linebackers
Trent Murphy
(Stanford) and
Anthony Barr
(UCLA).
Best moment
: Lots of them. Shocking upsets (see below) and stellar individual performances dusted the landscape of the 2013 Pac-12 season. But in terms of moments that were seared into our memories, it's tough not to think about UCLA's come-from-behind win at Nebraska way back on Sept. 14, following the death of Nick Pasquale. Specifically,
Anthony Jefferson
recovering a red zone fumble and then sprinting off the field to give the ball to Mora, followed by a big hug. It was as authentic and genuine a moment as you'll find in sports.
[+] Enlarge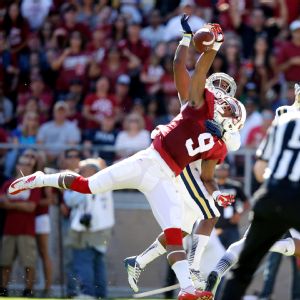 Ezra Shaw/Getty ImagesStanford's Kodi Whitfield had a highlight touchdown grab against UCLA.
Biggest upset
: Take your pick between Utah topping Stanford or Arizona topping Oregon. Both were road losses for the favorites and both shook up the national and league landscape. Granted, Utah's win over Stanford came earlier in the season, and early-season losses are easier to rebound from. Oregon's loss to Arizona came at the end and cost the Ducks all kinds of postseason possibilities.
Best workhorse performance
: It's a tie between Stanford's
Tyler Gaffney
and Carey -- both of whom put in the work in their teams' victories over Oregon. Carey rushed for 206 yards and four touchdowns on 48 carries; Gaffney carried 45 times for 157 yards and a touchdown.
Best play:
One of the most subjective categories, for sure, but
Kodi Whitfield
's
one-handed touchdown catch
against UCLA was nothing short of spectacular. He elevated between two Bruins defenders and backhanded the ball out of the air for a 30-yard touchdown. Something about UCLA-Stanford brings out the one-handed catches. Recall in 2011,
Andrew Luck
hauled in a one-handed catch against the Bruins, and a few plays later,
Coby Fleener
snagged a one-handed dart from Luck for a touchdown.
Best performance, offense
: Again, wildly subjective. Take your pick from
Ty Montgomery
's five-touchdown day against Cal,
Marion Grice
's four touchdowns against USC or Wisconsin, or
Myles Jack
's four touchdowns against Washington.
Brandin Cooks
had a pretty nice day against Cal with his 232 receiving yards. There were games with seven touchdown tosses from Mariota and
Taylor Kelly
.
Connor Halliday
's losing effort against Colorado State was spectacular. In terms of impact, it's hard not to go back to Carey's effort against Oregon.
Best performance, defense
: As in every other category here, plenty to go around. But think way back to Washington State's win over USC.
Damante Horton
had a 70-yard interception return that tied the game at 7-7 in the second quarter. Then, after
Andrew Furney
's 41-yard field goal put the Cougars ahead 10-7 with 3:15 left in the game, Horton picked off
Max Wittek
, which allowed WSU to run out the clock.
October, 15, 2013
10/15/13
7:30
AM ET
The first half of the season has been anything but routine for the
UCLA Bruins
. Tragedy struck early with the death of wide receiver Nick Pasquale, forcing the Bruins to come together in a way football can't replicate.
Head coach Jim Mora handled the situation with honor and class, being emotionally available for his players while letting football serve as a necessary distraction, but not a priority. As a result, the Bruins are 5-0 with a marquee road win over Nebraska.

Quarterback
Brett Hundley
looks more polished than he did last season, a clear indication that he has a fuller understanding of Noel Mazzone's offense. And the questions in the running game appear to have been cleared up by
Jordon James
, who despite missing last week has rushed for 463 yards and five touchdowns in four games with an impressive per-carry average of 6.3 yards per handle.
The second half sets up as a tough haul for the Bruins, who have already gone through both bye weeks. They close with seven straight games -- four of them on the road -- including back-to-back road trips starting this week with No. 13 Stanford and then at No. 2 Oregon. A two-game stretch at home vs. Washington and Arizona State will go a long way toward finalizing the league pecking order before they close out the year with a trip to USC.
With a 5-0 mark and a top-10 ranking, the season couldn't have started any better for UCLA on the field. Off the field, Mora has done an admirable job of celebrating the life of a beloved player while giving his team some lessons about character that the players will carry far beyond their college days.
Offensive MVP: Brett Hundley.
He looks like a much more efficient quarterback than last season. Hundley is more poised in the pocket, going through all of his progressions and is making better decisions. He's completing 68.1 percent of his throws with 12 touchdowns to 4 interceptions, and he's also rushed for 260 yards and three scores.
Defensive MVP: Anthony Barr.
As expected, Barr has emerged as a front-runner for the Pac-12's defensive player of the year. He's posted 26 tackles in five games with 4 sacks and a league-high 10 tackles for a loss.
October, 11, 2013
10/11/13
11:00
AM ET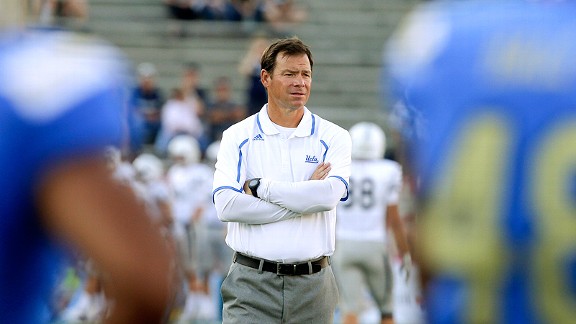 AP Photo/Chris CarlsonJim Mora blames himself for not properly preparing his team for last year's game at Cal.
It's always interesting to hear a football coach be contrite. But to hear a coach shoulder the blame more than a year after a loss -- even after he openly shouldered it immediately afterwards -- is even more interesting.
UCLA coach Jim Mora was extremely candid this week when talking about last year's matchup with Cal that ended with a 43-17 thumping from the Bears. He'd talked about in the past. But from his comments this week, it's evident the loss still haunts him.
"It's a memory that needs to be remembered, and I brought it up to myself internally, the staff and the team many times already," Mora said. "What I remember is, I did a poor job getting this team prepared mentally and emotionally to play a football game against a really good team on the road, and we paid dearly for it. They took it to us every way you could. We learned a really, really difficult lesson. But an important lesson. Every week you have to be dialed in to the opponent you are playing. You have to be mentally and emotionally ready to play. It's been a constant reminder to me, not just this week, but really through the whole offseason and these first four games. I revisit my approach that week and what I did wrong and try to make sure that it doesn't happen again.
"That one was on me."
Since that game, the Bruins have won nine of their last 12, and Saturday night they get a shot at revenge when California comes to Pasadena. The Bruins are 4-0 for the first time since 2005, when they started 8-0. And with back-to-back showdowns on the road against No. 5 Stanford and No. 2 Oregon looming, it would be easy for the Bruins to dismiss Cal, which has lost nine straight games to FBS teams. But that's not how Mora is looking at it. Not after what happened last year.
"Cal took it to us pretty good last year," Mora said "Our focus is on Cal and only Cal. We don't operate that way. That's just part of our culture is to focus on the game we're playing. Their skill players are outstanding, as good as we've faced to this point. The receiving group is fantastic. The backs are outstanding. The young quarterback is playing very well. They are a dangerous group with a ball in their hands."
[+] Enlarge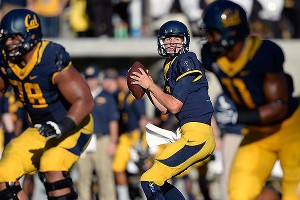 Thearon W. Henderson/Getty ImagesFreshman Jared Goff and the Cal offense have moved the ball but struggled to score.
Moving the ball hasn't been the problem for the Bears. They rank fourth in the conference in total offense with more than 515 yards per game and second in the league with 88 first downs. But they are 11th in scoring offense and 10th in red zone offense, converting just 80 percent of the time they get inside the opponent's 20.
Defense has also been an issue -- mostly because 10 of 11 expected starters have gone down with injury. You can add cornerback
Stefan McClure
to that list -- he was officially ruled out for the season on Thursday with a knee injury.
"There is always a lot of work that needs to be done when you're building a program," said Cal coach Sonny Dykes. "In some ways I think we're ahead of where we ought to be and in others we're behind. The thing we want to do is play well on Saturday, and that's something that we haven't done. That's the most important thing is to put a product out there that is good and gives us a chance to win. I believe in building the foundation and the floor up, and sometimes those things don't show up."
It would behoove them to show up Saturday against a UCLA team that is averaging 48 points per game and allowing just 20.
It's been well-documented that this has been a trying year for the Bruins -- specifically the death of wide receiver Nick Pasquale. But from that, Mora believes his team has gained strength and unity.
"This team has had to develop character and mental toughness very, very quickly this year," Mora said. "Going on the road and playing a tough Nebraska team in the wake of the death of one of our teammates was really hard. But we gained strength from it. Going to Utah and playing what I think is a tough team ... that's a character builder. These are all lessons that serve you well as you go through the season. I'm proud of the way our guys have handled it. That being said, we have to keep handling it. We have to keep going. We have to keep getting better. We can never be satisfied."
September, 19, 2013
9/19/13
2:30
PM ET
And when they've given you their all some stagger and fall;
After all it's not easy, banging your heart against some mad buggers' wall.
September, 18, 2013
9/18/13
12:00
PM ET
In a career that has spanned nearly three decades, there aren't many firsts left for UCLA coach Jim Mora. Hopefully the first he experienced last week will be the last of its kind.
Coping with the death of wide receiver
Nick Pasquale
, Mora said he did his best to prepare his team for the trip to Nebraska while also doing everything he possibly could for the emotional health of his players.
[+] Enlarge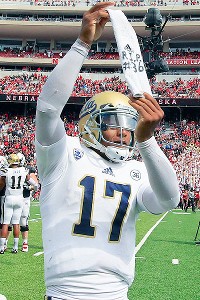 AP Photo/Nati HarnikUCLA quarterback Brett Hundley pays homage to teammate Nick Pasquale after the Bruins' win.
"It was very unique. I've never been in that situation before. I'm hopeful I'll never be in it again, and I wouldn't wish it on anybody," Mora said. "I just tried to do the best I could to balance being their coach, a sounding board for them, someone they could come and talk to and get prepared for Nebraska while coping with the contrasting emotions that they felt. It was nothing I would ever wish for anybody. But I will say this. The people, to me, that are really impressive in this is the Pasquale family. They are the ones who are really feeling the pain. They have been a pillar of strength."
The team attended Pasquale's memorial service in San Clemente on Sunday, which serves as an important step in the healing process.
"It was a beautiful ceremony," Mora said. "I think it helped our players to be there. They are still dealing with their emotions. But I think they are handling things very, very well, and this morning they seemed very focused on the task at hand, which is preparing for New Mexico State University."
After falling behind 21-3 in Lincoln, the Bruins erupted for 38 unanswered points en route to a 41-21 victory over No. 23 Nebraska. Despite the early deficit, Mora said no one was panicked at halftime. And he made zero adjustments to the game plan.
"I think what happened is we were extremely tight," Mora said. "I think our kids all wanted to do so well, and I think we were pressing. We weren't playing like we typically play, which is loose and fast with a lot of passion. I think there was something that was holding us back. We were able to put together a nice drive at the end of the first half and score a touchdown, and we kind of relaxed at that point.
"We went in at halftime, and there was a really good feeling in the locker room amongst our players. I think they recognized the fact that we weren't playing like we typically play. I'm not talking about execution. I'm talking about our mindset. We settled down, and we relaxed, and we put a smile on our face and we went out and played. There were no adjustments in terms of Xs and Os. It was just a mindset."
With a signature road win under their belts, the No. 13 Bruins return home this week to face a slumping Aggies squad that gives up a lot of points (47.3) and doesn't score many (16.3). That then begs the requisite "hangover" question.
"I think about it," Mora said. "I think it's our responsibility as a coaching staff to push these kids out of any hangover effect there might be. I think it's human nature when you come off something as emotional as we came off of last week. Obviously the death of Nick and dealing with those emotions, trying to balance that with preparing for Nebraska. Then going into Nebraska and getting a big win for this team, and then yesterday the service, which was very emotional for a lot of our kids. To come back and play a game, you can certainly understand where there might be a hangover, but we can't let that happen. Not if we're going to be the kind of team that we want to be."
September, 14, 2013
9/14/13
10:13
PM ET
By
ESPN.com staff
| ESPN.com
LINCOLN, Neb. -- As the final seconds ticked off the scoreboard at Memorial Stadium, UCLA quarterback Brett Hundley grabbed the towel that had been hanging near his hip during the game and raised it above his head before placing it over his heart.
He had written "R.I.P #36" on it before the game in honor of UCLA wide receiver Nick Pasquale, who was hit by a car and killed while walking along a street near his home in San Clemente, Calif., last week.
Hundley wanted everyone to know UCLA's 41-21 win over Nebraska, in which the Bruins outscored the Cornhuskers 38-0 in the final 31 minutes, was dedicated to Pasquale.
"There was so much emotion in this game," Hundley said, still clinging to the game ball nearly an hour after the game. "I felt like we needed to get this win for him and we had to honor him. We showed that with our play. We realized this game is bigger than just us now. Everybody is always so worried about themselves, but this game is so much bigger and we understand that now."
It had been an unimaginably difficult week for UCLA players as they tried to cope with the loss of Pasquale, a popular walk-on player who made an impact on every player and coach on the team. He was UCLA's version of "Rudy," with a heart and story to match.
Pasquale didn't look like a football player. He was a 5-foot-7, 170-pound wide receiver who never saw the field last season as a member of the scout team. He grew up a UCLA fan, always dreamed of playing for the school and acted like it every time he walked onto the practice field. It was a dream that wasn't lost on his teammates at the end of their 58-20 win over Nevada two weeks ago.
While other players were celebrating late in the fourth quarter on Aug. 31, Jordan Payton and other receivers were reminding wide receivers coach Eric Yarber to put Pasquale in. "Hey, we got to get Pac-Man in," they said. "Don't forget about Pac-Man. Get Pac-Man in."
While it would make sense for a tragedy like this to put football in perspective, in the case of Pasquale, it can also show how much the sport can help a grieving family heal.
To read more of Arash Markazi's story,
click here
.
September, 12, 2013
9/12/13
10:15
AM ET
A few storylines to keep an eye on in Week 3.
[+] Enlarge

Gary A. Vasquez/US PRESSWIREUCLA's Brett Hundley threw for four TDs and the Bruins celebrated a win over Nebraska last year. Can they do it again this season?

B1G tests: The Pac-12 faces the Big Ten four times this week. The league went 4-1 last season against its Rose Bowl partners, including Stanford's win over Wisconsin in the Grand Daddy. This week, UCLA travels to Nebraska, Arizona State hosts Wisconsin, Ohio State travels to Cal and Washington takes on Illinois in Chicago. The Big Ten is already up 1-0 this year after Northwestern beat Cal in Week 1. Over the past five seasons, the leagues are nearly even, with the Pac-12 going 11-10 (including 2013).

Getting defensive: Last week the Pac-12 had five interceptions returned for touchdowns -- including two by Colorado, two by Arizona and one by Washington State. Utah also returned a fumble for a touchdown.

Speaking of defensive: Stanford has the longest streak in the nation with 25 consecutive games with a takeaway. Safety Ed Reynolds kept it alive last week with an interception. Oregon has 40 takeaways since the start of the 2012 season, the most of any team in the country. The Ducks already have six this year (three interceptions, three fumbles).

Rematches: Three of the nonconference games this week are rematches from last season. In 2012, the Bruins topped Nebraska in Pasadena, Cal hung tough against the Buckeyes but ultimately lost and Colorado was blown out by Fresno State on the road.

Heavy hearts: The Bruins travel to Lincoln this week with the memory of wide receiver Nick Pasquale still very much on their minds. The Bruins will wear Pasquale's "36" on their uniforms. In a very classy act, the Huskers will do the same with a "36" decal on their helmets, along with a moment of silence before kickoff.

Off and running: Through two games, Oregon has already produced five 100-yard rushing performances: two from De'Anthony Thomas, two from Marcus Mariota and one from Byron Marshall. Of their 17 touchdown drives, 15 of them have come in less than two minutes.

League play continues: For the first time this season, all 12 teams will be in action in the same week -- all on the same day, for that matter, with no Thursday or Friday night games. One week after USC and Washington State kicked off conference play, Oregon State (1-1) and Utah (2-0) open their league play with the Beavers heading to Rice-Eccles. Not to put too much into one game, but this one could be huge for the trajectory of each team. The Utes face BYU next week and then have back-to-back home games against UCLA and Stanford. Four of their final six are on the road, so the Utes are looking to take advantage of a schedule that is front-loaded with home games.

Are you for real? If last week was the Pac-12's cupcake week, this week is all about measuring sticks. All four of the Pac-12/Big Ten showdowns feature at least one ranked team (No. 4 Ohio State; No. 16 UCLA and No. 23 Nebraska; No. 19 Washington; No. 20 Wisconsin). Eight of the nonconference opponents are 2-0. Fresno State might be the best non-AQ team in college football. Teams such as ASU and UCLA can certainly make a splash on the national stage. And a team like Colorado can take a huge step forward in terms of its perception. Cal beating the No. 4 team in the country couldn't hurt, either.

North vs. South: For those keeping track at home, the Pac-12 North features three of the league's four ranked teams. But through the first two weeks, the North Division is a combined 7-3 while the South is 9-1 with five of its six teams undefeated. The North is 2-1 against ranked teams (including a win over then-No. 25 USC), while the South has yet to play a ranked opponent. That of course changes this week with ASU and UCLA. Not making any statements, just an observation.

QBs on the move: Last season, four Pac-12 quarterbacks accounted for 10 rushes of at least 30 yards each, with half of those coming from Mariota. Through two weeks this season, five Pac-12 quarterbacks have accounted for eight rushes of at least 30 yards. Among them are Arizona's B.J. Denker (30, 35) and Javelle Allen (61); Mariota (46, 71); UCLA's Brett Hundley (37); and Utah's Travis Wilson (38, 51). Each of the eight rushes resulted in a touchdown.
September, 10, 2013
9/10/13
2:30
PM ET
In my younger and more vulnerable years my father gave me some advice that I've been turning over in my mind ever since.
"Whenever you feel like criticizing any one," he told me, "just remember that all the people in this world haven't had the advantages that you've had."