October, 5, 2010
10/05/10
7:18
PM ET
By
ESPN.com staff
| ESPN.com
Some numbers that might interest you.
In four games last weekend, Pac-10 teams averaged 487 yards and 34.4 points per game. No conference team scored fewer than 28 points.
Three conference running backs rushed for more than 200 yards: Oregon's LaMichael James (257 yards vs. Stanford), USC's Allen Bradford (223 vs. Washington) and UCLA's Johnathan Franklin (216 yards vs. Washington State).
A conference of QBs? Four Pac-10 teams rank among the nation's top-25 in rushing: No. 2 Oregon, No. 10 UCLA, No. 15 USC and No. 24 Stanford. But only two are among the top-25 in passing: No. 9 Arizona State and No. 11 Arizona.
Arizona is the only conference team that ranks in the top-25 in rushing and pass defense. The Wildcats are No. 2 in the nation in total defense (230.75 yards per game). The Wildcats have not allowed a TD in three of four games. They've surrendered zero rushing TDs.
USC QB Matt Barkley is No. 1 in the Pac-10 and 14th in the nation in passing efficiency.
Three Pac-10 kickers have yet to miss a field goal attempt: Stanford's Nate Whitaker (9 for 9, long of 46 yards), Washington's Erik Folk (7 for 7, long of 54 yards) and Oregon's Rob Beard (5 for 5, long of 42 yards). The longest field goal so far this year came from Washington State's Nico Grasu, who connected from 56 yards (vs. Oklahoma State).
Washington LB Mason Foster leads the conference with 48 total tackles and 12 tackles per game.
Oregon DT Brandon Bair leads the conference with 8.5 tackles for a loss.
Oregon CB Cliff Harris leads the conference with four interceptions and eight pass breakups.
Four Pac-10 teams rank among the top-15 in the nation in turnover margin. Oregon is No. 1 (2.20), Oregon State is No. 2 (2.0), California is No. 12 (1.0) and Stanford is 15th (0.80). The Beavers are the only team in the country that hasn't turned the ball over.
Four Pac-10 punters rank among the top-14 in the country. Arizona State's Trevor Hankins is No. 1, UCLA's Jeff Locke is No. 10, Washington's Kiel Rasp is No. 12 and Washington State's Reid Forrest is 14th.
On the downside for punters, five conference punt returners also rank among the top-14 in the country: Oregon's Harris is No. 1, Oregon State's James Rodgers is No. 4, USC's Ronald Johnson is No. 6, Oregon's Kenjon Barner is No. 11 and Cal's Jeremy Ross is 14th.
September, 10, 2010
9/10/10
9:00
AM ET
Some quick notes to get you through the hours until Saturday.
Five Pac-10 players accounted for at least three TDs last weekend: California's Shane Vereen, Oregon's Kenjon Barner (5 TDs), USC Ronald Johnson (4 TDs), Arizona State's Deantre Lewis and Arizona State's Cameron Marshall.
Three Pac-10 QBs rank among the nation's top seven in passing efficiency: Stanford's Andrew Luck at No. 3, USC's Matt Barkley at No. 4 and California's Kevin Riley at No. 7.
Seven different Arizona receivers caught at least three passes last week at Toledo.
Arizona State kicker Thomas Weber is 3 for 3 from beyond 50 yards in his career after booting a 52-yard field goal vs. Portland State. He was one of three conference kickers to connect from beyond 50 yards (Washington's Erik Folk, 54 yards, and Washington State's Nico Grasu, 56 yards).
Cal is 2-2 all-time with Colorado, but this is its first meeting since 1982.
Oregon is one of eight teams nationally that produced shutouts last weekend.
Ducks CB Cliff Harris returned two punts for TDs -- for 61 and 64 yards -- in the win over New Mexico. Two punt returns for TDs has only been accomplished twice before by Pac-10 players: USC's Mike Garrett in 1965 vs. Cal; UCLA's Sam Brown in 1954 vs.Stanford.
Oregon State safety Lance Mitchell leads the conference in tackles after recording 18 vs. TCU. Fellow safety Suaesi Tuimaunei is tied for third with 14.
UCLA leads its series with Stanford 45-32-3.
UCLA kicker Kai Forbath tied two NCAA records after going 3 for 3 vs. Kansas State. His 27 games with at least two field goals ties Georgia's Kevin Butler and his 13 with at least three ties Arizona State's Luis Zendejas. Forbath has made 40 consecutive field goals inside of 50 yards. His 75 career field goals are just 12 short of the NCAA record of 87.
USC has won 31 consecutive night games (USC-Oregon kicked off at 5 p.m. last year).
Washington QB Jake Locker made his college debut as a redshirt freshman at Syracuse in 2007. The Huskies won 42-12.
Dating back to the last part of the 1975 season, the Huskies have gone 35-14 when playing at home the game after a loss on the road.
Washington State is trying to snap a 10-game losing streak Saturday vs. Montana State. The Cougars are 6-0 all-time vs. the Bobcats.
September, 7, 2010
9/07/10
4:50
PM ET
By
ESPN.com staff
| ESPN.com
Oregon running back Kenjon Barner, Oregon State safety Lance Mitchell and Oregon punt returner Cliff Harris have been named Pac-10 Players of the Week.

Barner, a sophomore from Riverside, Calif., carried the ball 17 times for a career-high 147 yards and four touchdowns covering 1, 25, 10 and 41 yards. He also added one reception for 60 yards and a touchdown in Oregon's 72-0 win over New Mexico. He posted 225 all-purpose yards in the game's first 21 minutes and nine seconds before taking the bench for the remainder of the game. Barner's five TDs tied a school record and he currently leads the nation in scoring (30.0 points per game). Oregon rolled up a school record 720 yards in the victory.

Mitchell, a junior from Pasadena, Calif., collected a career-high 18 tackles, the eighth most in Oregon State history, in the 30-21 loss to TCU. He also added his second career interception which set up the Beavers' first touchdown of the game.

Harris, a sophomore from Fresno, Calif., set a school record, and matched a Pac-10 record, with two punt returns for touchdowns that covered 61 and 64 yards, respectively. The two other times that was accomplished in the Pac-10 was in 1965 by Mike Garrett, USC vs. California; and 1954 by Sam Brown, UCLA vs. Stanford.

Also nominated for offensive player of the week honors were wide receiver Juron Criner of Arizona, running back Cameron Marshall of Arizona State, wide receiver Keenan Allen of California, quarterback Andrew Luck of Stanford and quarterback Matt Barkley of USC. Also nominated on defense were linebackers Paul Vassallo of Arizona, Colin Parker of Arizona State, Mike Mohamed of California, Casey Matthews of Oregon and Max Bergen of Stanford. Also nominated for special teams play were kickers Thomas Weber of Arizona State, Kai Forbath of UCLA and Nico Grasu of Washington State, and punt returners Jeremy Ross of California and Ronald Johnson of USC.
July, 30, 2010
7/30/10
10:36
AM ET
By
ESPN.com staff
| ESPN.com
A good kicker solves a lot of problems. An inconsistent one makes everyone anxious, particularly late in tight games.
The Pac-10 will feature two of the best kickers in the nation -- two Lou Groza Award winners, no less -- in 2010, but for a handful of schools, the position is questionable.
So, who stands where?
Great shape
UCLA: Kai Forbath is the best kicker in the country. The first-team All-American and 2009 Groza Award winner is practically automatic, even outside 50 yards.
Arizona State: Thomas Weber suffered through a lost 2009 season because of injuries, but when healthy the 2007 Groza Award winner is a potential All-American.
Oregon State: Justin Kahut earned second-team All-Pac-10 honors in 2009 after converting 22 of 27 field goals with a long of 50 yards.
Washington: Erik Folk bounced back from two injury-plagued years to connect on 18 of 21 field goals in 2009.
Good shape
Stanford: Nate Whitaker made 16 of 22 field goals last year, which is solid, but his 54-yarder against Wake Forest was the longest in the conference last season.
Arizona: As a sophomore, Alex Zendejas was true on 17 of 22 field goals with a long of 47 yards.
We'll see
California: Cal used two kickers last season -- Giorgio Tavecchio and Vincenzo D'Amato -- but neither was consistent.
Washington State: Nico Grasu was solid in 2008 -- booting the game-winner in the "Crapple" Cup against Washington -- but he faded in 2009, missing the final four games with a thigh injury.
Oregon: The Ducks are replacing the reliable Morgan Flint. Rob Beard and incoming freshman Alejandro Maldonado are the top candidates for the spot.
USC: Unproven seniors Joe Houston and Jacob Harfman are competing to replace Jordan Congdon, the seventh-best kicker in the conference in 2009.
July, 12, 2010
7/12/10
9:00
AM ET
By
ESPN.com staff
| ESPN.com
First in a series looking at potential dream and nightmare scenarios for all Pac-10 teams, starting at the bottom and working up from my vote in the Pac-10 media poll.
Understand: These are not predictions. They are extreme scenarios and pieces of fiction.
Up first:
Washington State
Best case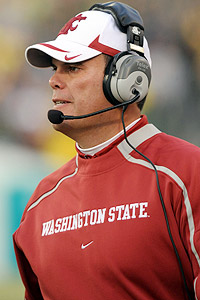 Steve Dykes/US PresswirePaul Wulff's Cougars will finish the season with a losing record.
People have long wondered if anything could silence Oklahoma State's mouthy billionaire booster T. Boone Pickens. Well, Washington State waltzing into Stillwater, Okla., and whipping his beloved Cowboys 24-20 seems to do the trick.
The Cougars use five turnovers from a young Cowboys team to notch the upset.
"We're young but this team is growing up," coach Paul Wulff tells reporters.
The Cougars actually get a vote in the AP poll after whipping Montana State, but it becomes clear they aren't a finished product when they lose at 35-24 at SMU and get clobbered 44-10 by USC.
But instead of crumbling after being brought back down to earth, the Cougars shock UCLA when Nico Grasu boots a 51-yard field goal as the clock expires.
"No way did that just happen," stunned UCLA coach Rick Neuheisel says after losing to the Cougars for the first time.
Still, Washington State is young and the Pac-10 is deep. It loses five of its next six games, managing only a last-second win at Arizona State.
The Cougars have two weeks off before the Apple Cup, and they used the time well. First, they get healthy. Second, let's just say there are lots of wrinkles in the game plan.
Washington arrives in Pullman needing a victory to secure its first bowl berth since 2002. Oh, and it's zero degrees and there's three feet of snow on the ground when the Huskies walk out for the opening kickoff.
Neither team can score a TD, and Washington leads 9-3 late. But an errant shotgun snap in the fourth quarter gets by Huskies quarterback
Jake Locker
and is recovered at the 1-yard line by Cougars defensive end Travis Long. On fourth down, quarterback
Jeff Tuel
runs a naked boot and runs smack into linebacker Mason Foster. The ball gets away. It rolls into the endzone.
James Montgomery
recovers for the touchdown, and the PAT gives the Cougars a 10-9 lead with two minutes left.
Locker isn't done, though. He drives the Huskies to the Cougars 10-yard line. But the snap for the potential game-winning field goal goes over the holder's head.
Cougars win. They finish 5-7. Same record as the Huskies.
"We've come a long way," Tuel says. "But as my favorite band, 'The Carpenters,' sing so sweetly, 'We've only just begun.'"
Worst case
Thank God for Montana State. The FCS foe provides the Cougars their only victory in 2010.
Oh, there are some close calls. Solid showings at Oklahoma State and SMU. Near misses versus UCLA and Arizona State. A surprisingly competitive game with Oregon State.
But the Cougars are too young and too thin to compete in the rugged Pac-10, particularly when the injury bug returns. Oregon crushes them with speed. Stanford with power. USC with a little of both.
Most galling is the tour de force performance produced in Pullman by Washington quarterback Jake Locker in the Apple Cup. Locker's 310 yards passing, 135 yards rushing and seven total touchdowns earns the Huskies an invitation to the Holiday Bowl and Locker an invitation to the Heisman Trophy ceremony.
Further, the 1-11 campaign forces athletic director Bill Moos' hand. Coach Paul Wulff has won only one conference game in three seasons. While the Cougars are far better in 2010 than they were in 2008 and 2009, the results haven't shown up in the record book.
Wulff agrees to resign. "I'll always be a Cougar," he says. "My only regret is we didn't win more games."
May, 8, 2009
5/08/09
9:00
AM ET
By
ESPN.com staff
| ESPN.com
Posted by ESPN.com's Ted Miller
Washington State Cougars
2008 overall record: 2-11

2008 conference record: 1-8

Returning starters

Offense 8, defense 5, kicker/punter 2

Top returners
C Kenny Alfred, RB Dwight Tardy, FS Xavier Hicks, LB Louis Bland, LB Andy Mattingly, P Reid Forrest, K Nico Grasu
Key losses
OT Vaughn Lesuma, TE Devin Frischknecht, WR Brandon Gibson, LB Greg Trent, CB Romeo Pellum, DT A'i Ahmu
2008 statistical leaders (*returners)
Rushing: Dwight Tardy* (481)
Passing: Marshall Lobbestael* (571)
Receiving: Brandon Gibson (673)
Tackles: Greg Trent (88)
Sacks: Toby Turpin* (3)
Interceptions: Romeo Pellum, Xavier Hicks* (2)
2009 Schedule
Sept. 5 Stanford
Sept. 12 Hawaii (in Seattle)
Sept. 19 Southern Methodist
Sept. 26 at USC
Oct. 3 at Oregon
Oct. 10 Arizona State
Oct. 24 at California
Oct. 31 vs. Notre Dame
(in San Antonio, Texas)
Nov. 7 at Arizona
Nov. 14 UCLA
Nov. 21 Oregon State
Nov. 28 at Washington
Spring answers
1. Culture change: Big injury issues within many position groups limited a lot of definitive depth chart moves, so what the Cougars' coaches talked most about at the end of spring was establishing a better team culture, which includes practice tempo, trust among players and staff and off-field responsibilities, both in the classroom and weight room.
2. Tardy and Montgomery running: The Cougars feel good about their depth at running back, with senior Dwight Tardy and California transfer James Montgomery leading the way. If the offensive line can stay healthy -- depth is a big issue -- the running game has a chance to improve dramatically.
3. New faces' chance to shine: The injuries allowed youngsters and newcomers to make statements, and a handful did, including redshirt freshman defensive ends Dan Spitz and Cory Mackay, redshirt freshman tight end Skylar Stormo and junior transfer receivers Johnny Forzani and Jeffrey Solomon.
Fall questions
1. Get healthy: The spring injury list was a who's who of likely starters, and some of the issues will be worrisome. For example, Bernard Wolfgramm was practically penciled in as a starting defensive tackle, but he had back surgery this winter and back problems are tricky. The Cougars suffered epidemic injuries last year; they need to avoid that if 2009 is going to be any better.
2. Is Lobbestael the man? While senior Kevin Lopina showed significant improvement passing this spring, the general feeling is sophomore Marshall Lobbestael will be the quarterback when Stanford comes to town on Sept. 5. But, again, Lobbestael is coming back from a knee injury and didn't get to do any full-go action this spring. He still needs to win the job on the field.
3. Not to be defensive, but ... Washington State lost six starters from a defense that gave up 43.8 points and 443 yards in 2008, and the departed include mainstays such as linebacker Greg Trent, end Matt Mullennix and tackle A'i Ahmu. The Cougars are set at safety with Xavier Hicks and Chima Nwachukwu, and they feel good about linebackers Andy Mattingly and Louis Bland, but there are a lot of questions here that need to be resolved during preseason practices.
November, 24, 2008
11/24/08
5:48
PM ET
By
ESPN.com staff
| ESPN.com
Posted by ESPN.com's Ted Miller
California tailback Jahvid Best of California, Oregon State safety Greg Laybourn and Washington State kicker Nico Grasu are the Pac-10 Players of the Week.
Best, a sophomore rushed 19 times for a career-high 201 yards (10.6-yard average) and two
touchdowns in the Bears 37-16 Big Game win over Stanford. He added three receptions for 35 yards, including a 14-yard touchdown. It marked his second offensive player of the week honor this season.
Laybourn, a senior from Portland, Ore., had a team-high 11 tackles, eight solo, including 1.5
tackles for loss in the Beavers 19-17 comeback win over Arizona that kept their Rose Bowl dreams alive. This is the third defensive player of the week honor for Laybourn this season.
Grasu, a sophomore from Encino, Calif., was three-for-three on field goal attempts in the Cougars 16-13 double-overtime victory over Washington in the Apple Cup. His first field goal came from 28 yards as time expired to send the game into overtime. He kicked a 19-yarder in the first overtime period and nailed the game-winner from 37 yards in the second overtime.
Also nominated for offensive player of the week honors was Oregon State wide receiver Sammie Stroughter. Also nominated on defense were linebackers Zack Follett of California and Louis Bland of Washington State. Kicker Justin Kahut of Oregon State and punter Bryan Anger of California were nominated for special teams play.
November, 22, 2008
11/22/08
9:30
PM ET
By
ESPN.com staff
| ESPN.com
Posted by ESPN.com's Ted Miller
| | |
| --- | --- |
| | |
| | AP Photo/Ted S. Warren |
| | Washington State Head Coach Paul Wulff holds the Apple Cup trophy in the locker room after Washington State beat Washington, 16-13, in double overtime Saturday. |
PULLMAN, Wash. -- Wearing flushed faces and disbelieving grins, they leaped over the railing at Martin Stadium and stormed the field, a spontaneous and joyous crimson tide flowing over the turf and meeting in a pulsating mass for a raucous celebration.
"Wooooooo! No. 1 baby!" bellowed a middle aged man as he flung himself into the swirl of humanity.
Victory. So sweet.
It looked and felt like the scene at Texas Tech a few weeks back, when the Red Raiders announced themselves as national title contenders.
Only this was Washington State, and the team trudging off the field with grim and nearly catatonic faces was Washington.
Washington State had triumphed in the 101st Apple Cup, 16-13, in double-overtime, overcoming a 10-0 halftime deficit.
The Cougars and Huskies entered the game with a combined 1-20 record, the lone victory being Washington State's win over Portland State, a mediocre FCS team.
The stakes were simple, thereby earning this train wreck of a game national attention. The loser would be known as the nation's worst BCS conference team.
"That's really disrespectful but there's really nothing you can do about it," Washington State cornerback Romeo Pellum said. "We are one of the worst teams in the nation."
Still, that the Cougars, a touchdown underdog at home to a winless team, hung that dubious distinction over the mantle of their archrival, well, that's the greatest thing in the world.
"It's the best feeling I've had in my life -- ever," Pellum said.
Amid the craziness, the Huskies slouched off the field. Some raced up the tunnel, looking for quick escape. Others walked slowly, seeming to purposefully take in the scene as if they were picking at a wound.
Tears streamed down senior offensive guard Jordan White-Frisbee's face. Limping badly, he required the assistance of tackle Cody Habben and defensive lineman De'Shon Matthews to get off the field. The threesome, arm in arm, wandered into the darkness of the stadium tunnel.
The game was the Huskies to lose. And they found a way to do so for an 11th time this season and 13th time in a row overall.
The short explanation is they couldn't make a field goal. Ryan Perkins missed from 37 yards in the second overtime and from 28 yards in the fourth quarter. Jared Ballman, the long kicker, missed from 40 yards, also in the fourth.
October, 10, 2008
10/10/08
9:25
AM ET
By
ESPN.com staff
| ESPN.com
Posted by ESPN.com's Ted Miller
Ten things to consider, underline or anticipate heading into the weekend.
1. USC's backfield rotation is getting simpler: With Allen Bradford suffering a hip injury that has imperiled his season, and Joe McKnight battling a sore knee -- not to mention inconsistency -- the Trojans backfield rotation likely will feature Stafon Johnson and C.J. Gable as options Nos. 1 and 2, with McKnight used as a change of pace guy who doubles as a receiver.
2. Can a freshman tackle handle an All-Pac-10 defensive end?: If UCLA's offense is going to have any success at Oregon, it's going to have to account for end Nick Reed, who was first-team All-Pac-10 in 2007 and is presently leading the conference with six sacks. That falls to freshman tackle Jeff Baca, a former teammate of Reed's at Mission Viejo High School -- and by teammate we mean Baca used to admire Reed from afar. Baca figures to need some help (sliding protection or even a tight end with a max-protection scheme), but the less he needs the better for the Bruins.
3. Welcome to opportunity, Danny Sullivan: Folks didn't give Arizona State much chance at USC even with marquee quarterback Rudy Carpenter, so it is reasonable to assume that if Carpenter can't go the Sun Devils are pretty much doomed. Well, plenty of inexperienced or unknown athletes have stepped up and turned in clutch performances, so why not Danny Sullivan? Let's remember: Stanford, a 41-point underdog a year ago at USC, was led by Tavita Pritchard, an emergency, first-time starter because T.C. Ostrander had suffered a seizure the previous week. What happened in that game?
4. Will Justin Roper retake his spot as Oregon's starting quarterback?: The latest word is that Oregon coach Mike Bellotti and offensive coordinator Chip Kelly are still cogitating over who will start at quarterback for the Ducks against UCLA -- either Jeremiah Masoli, who has started the past three games, or former starter Justin Roper, who hurt his knee at Purdue on Sept. 13. Masoli has been solid in Roper's stead, and there's a possibility he holds onto the job, but Roper should have a lot more knowledge of the offense compared to the first-year juco transfer.
5. Arizona's defense needs to show it can stop a physical running back: It's been mostly roses and rainbows for Arizona during a 4-1 start, but the face plant at New Mexico is still why some doubt the Wildcats and attribute their early success to an easy schedule. For example, Arizona ranks No. 2 in the nation in total defense, but Lobos running back Rodney Ferguson, a 6-foot, 234-pound bowling ball, bullied the Wildcats for 158 yards and two touchdowns. So there is reason to be concerned about Stanford's power running game led by 230-pound Toby Gerhart and a physical offensive line.
6. Is a true freshman the best running back in the Pac-10?: It might be premature to hail Oregon State's Jacquizz Rodgers as such but he presently leads the Pac-10 with 110 yards rushing per game, which also ranks 14th in the nation. On Saturday, he faces a Washington State run defense that yields 241 yards rushing per game. If Rodgers hangs up huge numbers to pair with his red-letter performance against USC, he'll become a front-runner to earn First-Team All-Pac-10 honors.
7. USC quarterback Mark Sanchez will announce that he's joining the X-Men this weekend: Know how the X-Man Wolverine heals really quickly? Well, so does USC quarterback Mark Sanchez, who appears ready to add a bone bruise to the dislocated knee cap as injuries that failed to keep him from starting a game. Come to think of it, has anyone ever seen Sanchez and Wolverine in the same room? Hmm.
8. Gronkowski and Thomas should run wild against Stanford's secondary: Stanford ranks 112th in the nation in pass defense after giving up 347 yards and three touchdowns to Notre Dame and quarterback Jimmy Clausen. Arizona has a better offense and a lot more weapons than Notre Dame, namely receiver Mike Thomas and tight end Rob Gronkowski. Both of those guys should post huge numbers Saturday.
9. If it comes down to a kicker, Washington State wins: Washington State has notoriously struggled with special teams over the past few years, but kicker Nico Grasu is one of the few bright spots for the Cougars. Meanwhile, Oregon State, which featured former Groza Award winner Alexis Serna for four years, is now floundering with Justin Kahut. Grasu is 5-of-7 with a long field goal of 47 yards and is perfect on his PATs. Kahut is 3-of-7 with a long of 37 and missed a critical PAT at Utah last week.
10. Is there anything else to say about Rick Neuheisel's and Mike Bellotti's relationship?: The first stories of the week were about how Oregon fans and Mike Bellotti hate Rick Neuheisel. But then it turned out that Bellotti and Neuheisel get along well, even play golf together ("Drat!" said reporters). Oregon fans, of course, do dislike Neuheisel for what he did at Colorado and Washington -- you know, compile a 4-1 record against the Ducks. UCLA should be outmanned at Oregon, but don't be surprised if a few coaching tricks keep the Bruins close.
PAC-12 SCOREBOARD
Saturday, 12/20
Monday, 12/22
Tuesday, 12/23
Wednesday, 12/24
Friday, 12/26
Saturday, 12/27
Monday, 12/29
Tuesday, 12/30
Wednesday, 12/31
Thursday, 1/1
Friday, 1/2
Saturday, 1/3
Sunday, 1/4
Saturday, 1/10
Monday, 1/12
Tweets from https://twitter.com/ESPNCFB/lists/pac12