Pac-12:

Northern Colorado Bears
July, 5, 2012
7/05/12
9:00
AM ET
Across the blog network and in conjunction with Blue Ribbon's previews today, we're taking a look at the impact game in each conference. We'll start with the South Division and hit the North a little later this morning.


Impact game
: USC at Utah, Oct. 4
Significance
: This is a game we've written about a few times already and will continue to write about until it's played because the Utes represent the biggest roadblock to USC sweeping through the Pac-12 South. And much of that roadblock has to do with the Utes' average starting weight of 284 pounds across the defensive line.
The Pac-12 blog believes that Week 3 at Stanford will be a statement game for USC, considering the quality of Stanford's defense and its recent success over the Trojans. But even if USC wins, the rest of the nation probably won't give it much credence because it's an Andrew Luck-less Cardinal squad -- even though it would be a win over a top-20 team on the road. Those who follow the conference closely know what kind of defense Cal will throw at the Trojans in Week 4 -- a formidable one -- but Cal lacks the national reputation, so only people in the know will understand that beating Cal is also a quality win.
Utah, however, is catching some national buzz as a team on the rise because of standout defensive tackle
Star Lotulelei
-- a potential top-five pick in next year's draft.
From the Utah perspective, this is all about making a splash. It's a Thursday night game on national TV, and if the folks in Park City can't hear the noise from Rice-Eccles, then something is wrong. The Utes can't do much to help their national credibility with wins over Northern Colorado, Utah State, BYU or Arizona State. But I expect them to be 4-0 and a Top 25 team by the time USC comes to town. A victory for the Utes doesn't completely derail USC's national title hopes, but it puts a healthy dent in them. It's a chance for the Utes to not only say they've arrived in the conference, but that they are ready to be a national player.
Or the Trojans can just tear them apart with their passing game, and all of this hype would have been for nothing. But I don't see that happening, and I don't think Lane Kiffin or Kyle Whittingham see that happening either.
The Trojans certainly have it tougher the first four weeks than Utah. So either they'll be beaten up or battle-hardened. If it's the latter, expect this to be one of the best games on the Pac-12 docket this season.
July, 3, 2012
7/03/12
12:00
PM ET
Week 1 can't get here soon enough. Every team plays an out-of-conference opponent in the first two weeks of the season, so we thought we'd take a quick look at who is coming up in Week 1. We'll go into greater detail as the start of the season draws closer. This is just a primer for those who need their beaks moistened and whistles whet. We'll take a look at the North later today.
TOLEDO
Game
: at Arizona, Saturday, Sept. 1
Coach
: Matt Campbell (1-0, first full season)
2011 record
: 9-4 (7-1 MAC)
Did you know
: Even though the Rockets lose seven starters on offense, quarterbacks (yes, plural)
Terrance Owens
and
Austin Dantin
both ranked in the top 20 nationally last year in passing efficiency. Fun fact: Owens
was also drafted by the San Diego Padres
in the 40th round (pick 1,215), even though he has almost no baseball experience. (Wisely, he turned down the offer and as someone who used to be on the Padres beat, can't say I blame him).
NORTHERN ARIZONA
Game
: at Arizona State, Thursday, Aug. 30
Coach
: Jerome Souers (76-82, 15th season)
2011 record
: 4-7 (3-5 Big Sky)
Did you know
: Running back
Zach Bauman
returns after posting 1,435 rushing yards and 15 touchdowns in 2011. He's joined by returning quarterback
Cary Grossart
, who completed almost 66 percent of his passes for 2,745 yards with 16 touchdowns to seven interceptions. ASU downed the Lumberjacks 41-20 in 2010, pulling away in the fourth quarter after NAU drew to within 27-20 at the end of the third.
COLORADO STATE
Game
: at Colorado, Saturday, Sept. 1
Coach
: Jim McElwain (first year)
2011 record
: 3-9 (1-6, MWC)
Did you know
: Last year Colorado State ranked 116th in rush defense and Colorado ranked 106th in rush offense. Something's gotta give, and since Colorado's offensive line is fairly solid this year, I'm banking on the Buffs and
Tony Jones
. The Rams also need to break in a new quarterback after
Pete Thomas
, a two-year starter, opted to transfer following the firing of Steve Fairchild.
RICE
Game
: UCLA, Thursday, Aug. 30
Coach
: David Bailiff (23-38, sixth year)
2011 record
: 4-8 (3-5 Conference USA)
Did you know
: Canadian-born tight end
Luke Willson
played in the Toronto Blue Jays extended spring training and was drafted by the Toronto Argos of the CFL. The running joke around campus is that the Maple Leafs will draft him next (yes, he played hockey in high school). This is someone Jim Mora & Co. will have to worry aboot.
HAWAII
Game
: at USC, Saturday, Sept. 1
Coach
: Norm Chow (first season)
2011 record
: 6-7 (3-4 WAC)
Did you know
: Chow spent four years at USC. Of course you knew that. Everyone knows that, which is what makes his return to Southern California such a fascinating reunion. Though it's not entirely novel because he spent time at UCLA prior to Hawaii. But now he's coming back as a head coach. This will be Hawaii's first year in the Mountain West Conference and they return seven starters on offense, four on defense.
NORTHERN COLORADO
Game
: at Utah, Thursday, Aug. 30
Coach
: Earnest Collins Jr. (0-11, second year)
2011 record
: 0-11 (0-8 Big Sky)
Did you know
: The Bears only lose three offensive starters and those who return accounted for 94.5 percent of their total offensive yards. However, returning quarterback
Seth Lobato
(Buffs fans might remember the name) loses his favorite receiving threat in
Patrick Walker
, who had 84 catches last year for 1,171 yards and 10 touchdowns.
June, 19, 2012
6/19/12
5:30
PM ET
What if the Mayans got it right? Or worse ... what if John Cusack got it right? That means there is only one season left of college football before civilization gets a facelift (and we won't even get to see the national championship game, bummer). So every week has got to count. We're taking you on the ultimate week-by-week road trip in the Pac-12.
Welcome to Week 1.
Thursday Aug. 30
Northern Colorado at Utah
UCLA at Rice
Northern Arizona at Arizona State
Washington State at BYU
Friday, Aug. 31
San Jose State at Stanford
Saturday Sept. 1
Nevada at Cal
Nicholls State at Oregon State
Colorado State at Colorado
Hawaii at USC
San Diego State at Washington
Arkansas State at Oregon
Toledo at Arizona
My choice:
Washington State at BYU


Why
: Who isn't excited to see Mike Leach return to his roots in Provo, Utah? As we talked about in our most-important-game series, this is going to be a good first measuring stick to see how far Washington State has come in Leach's short tenure.
There is a good vibe coming out of Pullman right now with the potentially explosive combination of
Jeff Tuel
to
Marquess Wilson
and a quality road victory to start the year -- and the new era -- would keep that momentum going.
BYU is replacing at least one starting cornerback and one safety, so the Cougars will be tested by WSU's passing onslaught. Should make for an exciting first game.
If that game is sold out, my backup would be San Diego State at Washington. First, Ryan Katz makes his return to the Pac-12 since transferring out of Oregon State. Second, a lot of folks are curious to see what Washington's overhauled defense is going to look like outside of a scrimmage situation. (But we'll get to the Huskies in Week 2).
May, 18, 2012
5/18/12
12:00
PM ET
In case you haven't noticed, we've got a bit of a theme going on this week -- important games in the Pac-12. Obviously, everyone is circling the Nov. 3 showdown between USC and Oregon in Los Angeles. But there are other games to enjoy along the way. So this week we're looking at games we're most excited about.
Ted Miller:
I like measuring-stick games, games that perhaps reveal the talent and heart of a team, as well as, of course, where they rank in the Pac-12 pecking order. We have a perfect example Sept. 27 (a Thursday) in Seattle: Stanford's visit to Washington, which will be played in CenturyLink Field, the Seahawks' stadium.
[+] Enlarge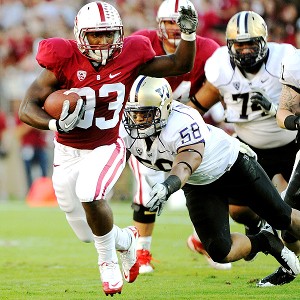 Thearon W. Henderson/Getty ImagesStanford has trampled Washington in recent seasons; the Huskies can turn the tide Sept. 27.
The obvious measure of this game's importance is this: The winner steps up in the Pac-12 North Division pecking order, the loser steps back. The winner can imagine challenging Oregon for the division title, while the loser's attention likely turns to more attainable quarry. But it's more than that. For one, it's likely both teams already will have suffered a defeat. The Huskies visit LSU on Sept. 8, while Stanford hosts USC on Sept. 15. Those opponents likely will rank Nos. 1 and 2 in the nation. This game, therefore, can serve to redirect one team's early-season trajectory. It's much better to head into October with one loss than with two.
For Stanford, this is about announcing the program's health in the post-Andrew Luck Era. Beating the Huskies on the road likely would re-establish the Cardinal as a top-25 team, where, based on the schedule, they could remain all season.
But, really, the weight falls more heavily on Washington. Why? For one, Stanford has beaten the Huskies four games in a row. But that's not the biggest issue. It's not even that the three most recent games have been blowouts. It's the nature of those blowouts. Stanford has unmanned Washington during that winning streak. Huskies fans, cover your eyes. You don't want to read this. Stanford has averaged 322 yards rushing in those four victories. 322! Last year, the Cardinal set a school record with 446 yards rushing in a 65-21 victory. The Cardinal only had 278 in 2010, but, of course, the final count was 41-zip. At Husky Stadium!
It hurts to lose no matter what. And it hurts to get blown out. But for a football team to get physically manhandled ... that's humiliation. It's hard to describe the recent turn in this series any other way. The Huskies' pride is on the line. New defensive coordinator Justin Wilcox was brought in to make sure no opponent rushes for 322 yards against Washington. It will be interesting to see if he can deliver in this early conference test. Or if post-Luck Stanford keeps churning along, winning with character and cruelty.
Kevin Gemmell:
I too enjoy a good measuring-stick game -- and I don't think there is a bigger one early in the season than USC's trip to Utah on Oct. 4. First, it's a Thursday night game, which means a national TV audience. It's at Rice-Eccles Stadium -- one of my favorite venues -- and the place should be going crazy.
[+] Enlarge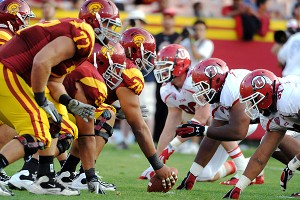 Kirby Lee/Image of Sport/US PRESSWIREThe Oct. 4 visit from USC gives Utah a chance to prove it belongs in the Pac-12 elite.
For the sake of argument, I'm going to work off the assumption that both USC and Utah are 4-0 heading into this game. If any Hawaii, Syracuse, Stanford, Cal, Northern Colorado, Utah State, Brigham Young or Arizona State fans take exception to that argument, I know Ted would love to hear about it in his
mailbag
.
In terms of measuring-stick games, there is none bigger on the 2012 schedule than this one for Utah -- which is desperate to find its way into the conversation as one of the Pac-12's elite. A victory over the Trojans -- who presumably will be one of the top-ranked teams in the country (if not No. 1) on Oct. 4 -- would go a long way toward achieving that.
Both teams will be coming off a bye week, so there is a good chance they will be rested and healthy. But the Trojans have the tougher road through the first four weeks. USC will have been put through the meat grinder against two top-rated defenses in Stanford and Cal before their bye. Then they come to Salt Lake City against -- arguably -- the best defensive front in the conference.
That makes this a pretty significant measuring-stick game for the Trojans, too. Three consecutive wins over three of the top front-sevens in the Pac-12 will likely answer any questions about the Trojans' toughness. By the way, they're on the road again the following week at Washington. This is just step three in an awfully difficult four-game stretch.
USC has the stronger offense -- even Utah fans won't dispute what the Trojans bring to the table with
Matt Barkley
and Co.-- but Utah's defensive line is as good as it gets. And one cannot throw the ball if one's face is buried in the turf.
This projects to be a brutal, physical game with the winner taking decisive command of the Pac-12 South.
A victory for Utah would catapult the Utes into conference legitimacy and mark that they have arrived. A USC victory re-affirms its status as the team to beat in the South and will likely leave the rest of us licking our chops for Nov. 3.