November, 21, 2014
Nov 21
10:00
AM ET
After two weeks on a diet, a jam-packed Pac-12 slate is back Saturday. Here's the rundown:
10 a.m.
Washington State at Arizona State, Pac-12 Network
One word: early. This game kicks off at 11 a.m. local time, but keep in mind that the Cougars' body clocks will still be set to the Pacific time zone.
Mike Leach
said that Washington State's hotel pregame routine will start between 5 and 6 a.m. It'll be a chance for fans to watch the Pac-12 while munching on pancakes, French toast, or -- my favorite -- crab Benedict. And it'll be a chance for ASU to wash away the horrible memory of last week's 35-27 loss at Oregon State as quickly as possible.
12:30 p.m.
Arizona at Utah, ESPN
By lunchtime, there should be a craving for a good dose of backfield pressure. #SackLackCity should be a fun place for the Wildcats' Scooby Wright to visit:
He's ranked in the top three
nationally in sacks and tackles for loss, so why not put him on the same field as the Utes'
Nate Orchard
, who's currently at the top of the sack heap? Defensive star power is the name of the game here, but keep an eye on Arizona's
Anu Solomon
: He must step up to the challenge of the Rice-Eccles crowd.
1 p.m.
Stanford at Cal, Fox Sports 1
Stanford's offense has been bad, but the Cardinal have found a way to score against shaky defenses this season (they've been terrible in games against ranked teams, averaging only 11.4 points per regulation in those contests). Well, good news for the Cardinal: The Golden Bears are worse than shaky on defense (39.2 points, 518 yards per game). Bad news for Stanford: Cal is at home, and it is
smelling blood
. Let's see what gives in the 117th Big Game. Oh, and that matchup between
Jared Goff
and Lance Anderson's top-ranked Cardinal defense isn't too shabby, either.
1:30 p.m.
Colorado at Oregon, Pac-12 Network
The best team in the conference meets the worst team in the conference. Prediction-wise, that's about all that needs to be said about this one. Some extra, slightly unrelated food for thought: Colorado coach Mike MacIntyre asserted that
the Pac-12 South was the best division in college football
, better than even the SEC West. Imagine how absurdly strong the South would be if Oregon were in it, too (I bring this up only because the SEC's top team, Alabama, happens to reside in the powerful West).
5 p.m.
USC at UCLA, ABC
Statues have been vandalized, airports have received
photogenic lighting
decorations, and
statues have been arguably vandalized some more by duct tape
(intended to protect them, but still, that's going to be a pain to remove, right?). The pregame rituals of rivalry week were fun, but it's time for some actual football with Pac-12 championship hopes on the line. The
matchup
of
Brett Hundley
and
Cody Kessler
is fascinating one, as is the battle between USC's frontline explosiveness and a UCLA machine that appears to be peaking at the right time.
7:30 p.m.
Oregon State at Washington, ESPN
The Beavers need one more win to earn bowl eligibility for
Sean Mannion
in his senior season. It's amazing what one good week (paired with a bad one) can do: Both of these teams have lost four of their past five games, but the feeling surrounding Oregon State is much more positive than the one in Seattle. The Beavers notched a huge 35-27 upset win over ASU last weekend, while the Huskies dropped a bitter 27-26 decision to Arizona. Both have a chance to finish forgettable seasons on a high note.
May, 7, 2014
May 7
8:35
PM ET
PHOENIX -- The overriding message coming out of Pac-12 meetings is that major changes in college football governance are now inevitable, even if the details and long-term consequences of those changes remain unclear.

The Big Five conferences will meet in August and almost certainly obtain a new autonomy level within the NCAA structure. At that point, major rules changes, including those that significantly bolster the support and benefits provided to athletes, will start to be formulated. Pac-12 commissioner Larry Scott intimated that things could move fairly quickly thereafter, so his message to conference coaches and athletic directors was basically to buckle up.
"Quickly is a relative concept, but deadlines are good," Scott said. "I think if we get the autonomy that we've asked for, the commissioners will be setting out a very aggressive timetable to put proposals out ... I expect we'll have a very intensive process over the next four months -- September through December -- where practitioners from our campuses are working on different agendas, including those with a deadline of January, specific proposals that can be voted upon by the 65 schools [in the Big Five]."
So "quickly" might mean?
"The goal is to implement whatever changes we're going to implement for the 2015-16 year," Scott said.
Chief among those would be cost of attendance scholarships, which could vary significantly by team and conference. Scott, however, noted that doesn't create a massive change of direction and complication because the pure value of tuition scholarships also vary by team and conference.
What does need to be implemented to prevent any fudging is a clear formula that all 65 schools apply to calculate the new value of their cost of attendance scholarships.
"I don't think it will that big of a deal, but there will be issues to work through in terms of a common method of determining the full cost," Scott said.
There is a significant degree of consensus within the Big Five conferences for adopting the cost of attendance scholarships, and it appears there is unanimity within the Pac-12.
"These are a lot of things that are going to be costly for us but I think are necessary and in line with what I believe we should be doing for our student-athletes," said Washington State athletic director Bill Moos, echoing other conference ADs.
While Scott was unwilling to admit that the Northwestern football union challenge and Ed O'Bannon lawsuit against the NCAA were driving the oncoming changes, he did concede the legal challenges to the NCAA governance structure and the publicity surrounding them weren't too far from administrators' minds.
"Is it some of these external challenges driving it? I would say no. There's been a recognition for some time [about these issues]," Scott said. "But I'd say external pressures bring a helpful focus and helpful push to get these things done."
[+] Enlarge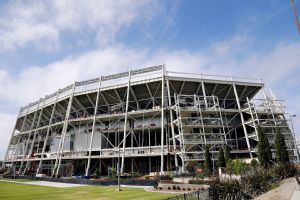 AP Photo/Marcio Jose SanchezLevi's Stadium, the new home of the San Francisco 49ers, could be the new home of the Pac-12 championship game as well.
As for the other major item on the Pac-12 agenda, it was more based on the West Coast: The location of the 2014 Pac-12 championship game. There were earnest discussions over the two days about changing it from a game hosted by the conference's top team to a neutral site, specifically the San Francisco 49ers' new home, Levi's Stadium, in Santa Clara, California.
While the potential move was an intriguing idea, it also isn't a done deal.
"I think there was a lot of positive feeling about it," Scott said. "Some objected. There are some pros and cons."
Said Moos: "Personally, I think [Levi's Stadium] is the way to go."
Said USC athletic director Pat Haden: "I think the current model has actually worked pretty well, the home host. I know the CEOs are debating that and discussing that. I don't think any decision has been made. Quite honestly, at USC, we don't mind the home-host model because we think we've got a chance of hosting."
Shrugged Washington's Scott Woodward: "I'm ambivalent. I trust the league and what they want to do. I have no problem one way or the other."
If the title game is going to be played in the new 49ers stadium on Dec. 5, a decision almost certainly would be announced in June, when the Pac-12 presidents meet.
"If we are going to make the move, it wouldn't be later than that," Scott said.
So it appears that the summer, once a quiet time for college football news, will be anything but that this year.
April, 4, 2014
Apr 4
6:40
PM ET
Pac-12 commissioner Larry Scott joined "The Herd with Colin Cowherd" Friday to discuss the National Labor Relations Board's ruling that
Northwestern's football players can unionize
.
Scott and Cowherd touched on a variety of topics, including the potential negative effects on women's athletics, whether the athletes currently have enough time to devote to studying and redefining amateurism.
Listen to the full interview here
, or read some of the highlights below:
[+] Enlarge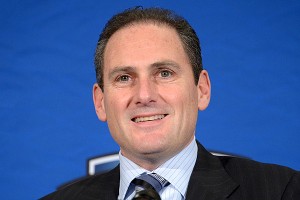 Kirby Lee/USA TODAY SportsPac-12 commissioner Larry Scott, like other college athletics leaders, is concerned about unionization affecting smaller sports.
On the Northwestern ruling:
"Really surprised that student-athletes would be in a NLRB director's view 'employees.' It so radically changes the relationship between student-athletes and their universities in a way that I don't see as positive.
On if all Pac-12 football programs make money:
"Certainly. Football is very, very popular. Men's basketball is as well. There's no doubt about it. I think the same could probably be said for most of Division I from a football perspective, but those resources are being used to support lacrosse and women's volleyball and soccer and is completely tied to the educational mission."
On what the surplus money from football and men's basketball is used for:
"The money that is generated is invested back in student-athletes and programs and enhancements for fans and making sure the programs are successful going forward. What would happen -- in my view -- if this unionization effort or these pay for play lawsuits are successful and you had to go down this path with football student-athletes and men's basketball student-athletes, what it would do is take all the resources that are available for these other sports away and that would be a big concern from my perspective. You think about women's sports and the advancements that have been made under Title IX. You think about the importance of college sports for the Olympic movement and how these kids are working just as hard as football players and basketball players and they really value the opportunity and the access it gives them to unbelievable educations. That would really be the real shame of all of this if it would up, in our conference for example, being able to support 7,000 student-athletes across 35 sports to some amount dramatically less."
On how Title IX would be affected:
"It's hard to say exactly how Title IX would apply in an employee-employer relationship or if it would apply at all, but -- and again I don't want to paint an extreme example, when I don't really know where it'll go -- there's only two sports that people would consider successful with the revenues that it generates. Any unionization effort that I've ever seen in pro sports, it's not just about health care and work conditions, I mean they're going for a big slice of whatever's available and I just can't envision any scenario under which the unionization of athletes is going to benefit women's athletics at all. I don't know what Title IX will protect and won't protect under this new regime. What I do know is very few government policies have been as successful as Title IX has been in terms of creating access and opportunity for women and I am sure that women are going to suffer greatly in terms of access and opportunity if this unionization effort is successful."
On if athletics prevents student-athletes from pursuing challenging majors:
"That's not our experience, not my experience. We've got student-athletes graduating with chemistry, and engineering and architecture. I really don't subscribe to that … there's no question there's significant time demands and commitments if you want to be the best at anything that you do, but that's not just about football players and basketball players."
On if amateurism needs to be redefined:
"I agree with that and I think that's where this needs to go. I think we need to redefine what amateurism is as part of an educational or collegiate model. I've been an advocate for reform within the NCAA system. There is room to do more for student-athletes and health -- stronger restrictions on time demand, covering the full cost of attendance. But what amateurism is, it shouldn't exceed what's the full cost of actually attending. They should not be paid compensation to play. They shouldn't be seen as pros. They're there as amateurs, they're there as students and athletics are a really important part of what they're doing, but they are students primarily and we absolutely should do more and I'm going to continue to push for us to do more. It just can't cross that line of starting to get paid a salary or negotiating through collective bargaining. That's a pro model, completely different."
May, 2, 2011
5/02/11
9:57
AM ET
By
ESPN.com staff
| ESPN.com
Stanford has landed a big-time commitment on its defensive line.
ESPNU 150 Watch List defensive tackle
Aziz Shittu
of Buhach HS (Atwater, Calif.), one of the top players on the West Coast, has become the Cardinal's third commitment for the 2012 class.
Shittu (6-foot-2, 275 pounds) picked Stanford over an array of other suitors, including Arizona, Arizona State, California, Colorado, Florida, Michigan, Northwestern, Oregon State, Tennessee, UCLA, Southern California, Washington and Washington State.
ESPN's Craig Haubert said of Shittu, "Stanford picked-up a verbal from one of the top defensive line prospects in the state of California. Aziz Shittu is a big man who can be tough against the run, but also can help rush the passer. He is capable of firing out low and knocking blockers back to help collapse the pocket, but the big man can also attack blockers as well and use his weapons to work past them to apply pressure. Shittu looks to give effort and can be a disruptive defender and is a nice in-state pick-up for the Cardinal."