October, 21, 2013
10/21/13
5:00
AM ET
1. We are fooled easily in the excitement of the moment. Yet Florida State so dominated at Clemson that the 51-14 victory will be one of the seminal moments of the season. It will mark the emergence of redshirt freshman quarterback
Jameis Winston
in prime time, literally and otherwise. As good as Winston played, the Florida State defense played better. The Seminoles are back, and what better time? The university that dumped Hall of Fame head coach Bobby Bowden four years ago will honor him this Saturday.
2. The one complaint against the makeup of the College Football Playoff Selection Committee that has merit is that West Virginia athletic director Oliver Luck, at age 53, is the youngest member. It makes sense that the commissioners wanted gravitas on the committee, and with the presence of members such as Tom Osborne, Mike Tranghese and Pat Haden, they have it. But they made room for a woman and a retired sportswriter. However hard they searched for a member under 40, they should have looked again.
3. The old protocols are butting heads with the new spread offenses, and everyone is groping for the right way to act. Should the offense throw when it's way ahead? Baylor is averaging 64.7 points per game, and judging by the Bears' No. 8 ranking, no one is holding that against them. Should the offense throw if it's way behind? Oregon defensive coordinator Nick Aliotti ripped Washington State head coach Mike Leach for throwing 89 times, then apologized last night. No one knows what the rules should be any more.
October, 8, 2013
10/08/13
5:00
AM ET
1. No. 7 Georgia lost two receivers and a tailback to knee injuries Saturday, which is something to which the Dawgs' next opponent, Missouri, can relate. The Tigers had so many injuries during last season's 5-7 SEC debut that head coach Gary Pinkel revamped his entire practice and training regimen, eliminating two-a-days and reducing contact drills. Missouri is 5-0, ranked No. 25 and its starters have a missed a total of three games because of injury.

2. Here's what I noticed about the 13 names reported to be on the College Football Playoff Selection Committee. Three people have won a national championship (Pat Haden as a player, Tom Osborne as a coach and Barry Alvarez as an assistant). There are more former quarterbacks (four) than former head coaches (three, and Ty Willingham is on both lists). If Stanford comes up for discussion, Willingham and Condoleezza Rice would have to leave the room, but what would West Virginia athletic director Oliver Luck do?

3. No. 11 UCLA should move to 5-0 this week by defeating a Cal team that is 0-4 against FBS opponents. That would set up not only a showdown the following week at No. 4 Stanford but it would put the Bruins on the cusp of returning to the top 10 for the first time in eight seasons. Since the glory days under Bob Toledo, when the Bruins appeared in the top 10 in four of five years from 1997-2001, UCLA has appeared in the top 10 for a total of three weeks. A long drought appears to have ended in Westwood.

April, 11, 2011
4/11/11
12:25
PM ET
STANFORD, Calif. -- The media often falls for polite and polished and humble. It doesn't require a gaggle of publicists to know that a superstar athlete doing polite, polished and humble charms reporters and therefore the public. And, of course, it's often a con, or a least a public persona that doesn't match the reality of said superstar athlete.
[+] Enlarge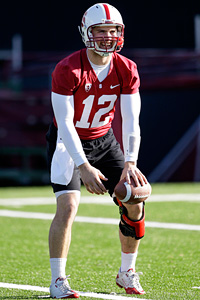 AP Photo/Paul SakumaStanford's Andrew Luck is a front-runner to win the Heisman Trophy next season.
Stanford quarterback
Andrew Luck
is a superstar athlete, even if trying to get him to engage the topic is like playing dodgeball with
Plastic Man
. He was the Heisman Trophy runner-up last season and he almost certainly would have been the No. 1 overall pick in the NFL draft on April 28 had he not opted to return for his redshirt junior season, in large part, he said, because he wanted to finish up his degree in architectural design.
This story, however, must now pause because Luck has walked away from an interview to help a woman open a door to the Stanford athletic building. She needs to use the restroom, and it doesn't require Woodward & Bernstein to ascertain that this might be a pressing need. Luck points her in the right direction but warns her that they might be cleaning up inside.
Where were we? Yes, moments before becoming a hero to a woman who had perhaps imbibed too much afternoon coffee, Luck walked past a ballroom dancing class and, making small talk, noted, "I don't think I'm coordinated enough for ballroom dancing."
Luck is a buffed-up, 6-foot-4, 235 pounds and, besides ranking third in the nation in passing efficiency in 2010, he rushed for 453 yards. But ballroom dancing students, now those folks are athletes.
Actual exchange once the interview starts again:
Hyperventilating reporter [Me]: "Now, everybody in the country knows who you are."
Luck: "I don't think everybody knows."
Said former Stanford coach Jim Harbaugh, now with the San Francisco 49ers, last fall: "He's almost embarrassed if somebody compliments him or wants to talk about him. He's very quick to deflect it to his teammates. He's someone people want to follow, want to emulate. It's a unique quality to be the sort of anti-celebrity quarterback, the anti-big-man on campus."
More than a few folks were stunned Luck opted to return, no matter how much he enjoyed college or wasn't burdened by financial need -- his father, Oliver, is a former NFL quarterback and presently the athletic director at West Virginia.
Said Stanford linebacker Shayne Skov, "Anybody's logic would have been to leave. We were all stunned."
There is a potential red flag here, though, on the football side of things. Some might observe that NFL coaches prefer the singular focus of the football obsessed over a Renaissance man who enjoys college. Further, the best quarterbacks are often swashbuckling sorts -- Tom Brady, Brett Favre (without the text messages), Joe Namath and Kenny "The Snake" Stabler -- so if Luck seems too much the Boy Scout, might that make it difficult for him to lead a locker room that includes an array of edgier personalities?
Ah, but not unlike Peyton Manning, Luck doesn't do Ned Flanders on the football field. Just ask former USC cornerback Shareece Wright and California safety Sean Cattouse, who both ended up on the losing end of a Luck hit when they stood between the quarterback and something he wanted during a game.
"My dad calls it 'crossing the white line,'" said new Stanford head coach David Shaw, whose father, Willie Shaw, was a longtime college and NFL coach.
"You can be the greatest human being on the planet, but once you cross that white line, it's whatever it takes to win football games. Andrew has started to remind me of another guy who was like that: [former Cardinal and nine-time Pro Bowl safety] John Lynch. John Lynch was an all-time human being -- a phenomenal person. One of those guys you say you want your daughter to grow up and marry. That's the way Andrew is. But once he crosses that white line, he's such a competitor. He doesn't care who you are, he's going to try to knock you out. Andrew flips that same switch."
While Stanford practices are closed, the scuttlebutt is that Luck has been masterful this spring. Quipped offensive coordinator Pep Hamilton with a straight face, "He was able to complete 70 percent [71 percent actually] of his passes last year. Our goal is for him to complete 100 percent of his passes."
When asked about this, Shaw pointed out that Luck, indeed, missed a throw -- a 6-yard out -- at practice the previous day.
"You'd have thought it was the Super Bowl," Shaw said. "With a guy like this, you shoot for the moon. You see how far you can push him. And Andrew loves it. He wants to be pushed every day. He wants to be coached, he wants to be coached hard and he wants to be coached specifically. He doesn't know what his ceiling is. So let's not set it."
The high ceiling for Luck is a big reason the national perception is there's a high ceiling for Stanford. The Cardinal will be ranked in the preseason top 10, and Oregon's visit on Nov. 12 is likely the Pac-12 North game of the year, one that might have national championship implications. And if the Cardinal again surges a year after turning in its best season of the modern era, it's almost certain that Luck will be a Heisman Trophy front-runner.
That means even more celebrity for Luck. While Stanford's pristine campus and academically elite student body present a less football-obsessed environment that allows him some privacy, Luck's future is under the klieg lights. It's unavoidable and it will test him.
Luck is told a story about an early Ben Affleck interview with Jay Leno when Affleck tells of pulling out the "I'm Ben Affleck" for the first time to get a restaurant reservation. Luck's asked if he's had a similar moment when waiting for a table.
At first, he seems to be honestly baffled by the inquiry, then replies: "There are enough good restaurants in Palo Alto. We could leave. No, I haven't tried to do that. I don't think it's worth it."
December, 28, 2010
12/28/10
12:27
PM ET
By
ESPN.com staff
| ESPN.com
Stanford fans have two significantly bigger issues on their minds than the Discover Orange Bowl, which is saying something for a program that last played in a BCS bowl game after the 1999 season.
No. 1: Will coach Jim Harbaugh return to the Farm in 2011?
No. 2: Will QB
Andrew Luck
return to the Farm in 2011?
Most would say both will leave -- Harbaugh to Michigan or an NFL job; Luck to the NFL draft, where he's almost certain to be the top overall pick.
Of course, both could stay. Or one could stay and the other could go.
Sports Illustrated's Peter King has a report that might make Stanford
fans hopeful about Luck
, and it includes on-the-record comments from Harbaugh on the matter. Writes King:
I said to Harbaugh Sunday that I'd heard the Luck family (his dad, Oliver Luck, is a former NFL quarterback) was concerned with the fact that drafted players, because of the prospect of a protracted work stoppage, might not even see their playbook or start practice 'til Labor Day -- or later. If that's the case, why wouldn't Luck stay for his fourth year at Stanford and play, whether Harbaugh (who is rumored to be a candidate for both pro and college head-coaching jobs after turning around the Cardinal) is there to coach him or not?

"I don't think that's the correct logic,'' Harbaugh told me from his home in northern California. "But I do think it's more likely he'd come back. If I had to bet one way or the other, I'd bet he's coming back. He loves college. He loves the college life. He's such a good kid -- and so smart. He's got a 3.5 GPA in Architectural Engineering, and all along his plan has been to go to college for four years, get his degree, then figure out what to do with his life. This is a kid who has a plan. And he's a kid who's not the big-man-on-campus type. He just fits in.''
As for Harbaugh, it's clear that more than a few folks believe the San Francisco 49ers are going to make a run at him. This column from Tim Kawakami
makes the case
for Harbaugh and the 49ers. Writes Kawakami:
If Stanford's Jim Harbaugh is on the 49ers' list of prospective coaches, he should have a neon circle drawn around his name, and probably a few exclamation points, too.

He picked, recruited and coached quarterback Andrew Luck, already 10 times more polished than any quarterback the 49ers have had (and screwed up) for a half-decade.

Harbaugh runs a smart, powerful, pro-style offensive system. He is local. He is an NFL veteran. By most indications, he eventually wants to join his brother, John, in the NFL head-coaching fraternity.

And, a little over 30 years ago, the 49ers made out OK when they plucked an offensive-minded coach from Stanford — a guy named Bill Walsh — to save the day.

If there is a list, Harbaugh should be at the top of it.
Harbaugh figures to be on top of a number of lists, and probably not just the 49ers and Michigan. But Stanford fans are keeping their fingers crossed that Harbaugh's list is topped by the Cardinal.
And, just imagine, if Harbaugh and Luck came back in 2011? Hello preseason top-10 ranking.
Heck, hello dark horse national title contention.
April, 22, 2010
4/22/10
2:50
PM ET
By
ESPN.com staff
| ESPN.com
High expectations, meet Stanford quarterback
Andrew Luck
.
[+] Enlarge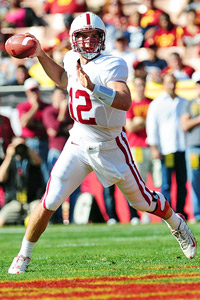 Gary A. Vasquez/US PresswireAndrew Luck tries to block out speculation over his future in the NFL.
Luck, by the end of the 2010 season, could become an All-America candidate. The sophomore, in fact, is already generating NFL draft hype --
and questions
.
There are a couple of reasons for this: 1. He's a major talent; 2. He led the Pac-10 in passing efficiency as a redshirt freshman. In other words, potential and production.
He's 6-foot-4, 234 pounds and he moves well. He's got an outstanding arm. He's smart. He's grounded. His father, Oliver, is a former NFL quarterback.
Red flags? None, other than the Stanford banners being waved by folks who are starting to imagine that Luck can lead the Cardinal back to the Rose Bowl.
The obvious challenge for him going forward into 2010 -- other than managing his growing stardom -- will be leading an offense that is only replacing college football's best running back:
Toby Gerhart
, who produced 28 touchdowns last fall.
That's a lot of production walking out the door into the NFL.
Stanford finished spring practices last weekend, so it seemed like a good time to check in with Luck as he heads into his offseason.
Last year you were a green-around-the-gills redshirt freshman: Do you feel like a veteran quarterback now?
Andrew Luck
: A little bit. One year does make a whole lot of difference.
How tough was it to sit out the Sun Bowl last year due to a broken finger?
AL
: It was tough. If you asked any athlete who goes through the entire regular season and doesn't get to partake in the postseason or the bowl game, it's not going to be fun. It was tough. But that being said, I was happy for Tavita [Pritchard] to get a chance to play because he had done so many great things for me during the season and helped me out so much. I was excited for him.
Tell me how you feel spring practice went: What went well and what do you guys still need to work on?
AL
: Overall, I thought spring was extremely competitive. There were a lot of physical practices. A lot of guys flying around, getting better. Personally, I felt like I improved on my grasp of the offense and sort of evolving into being a leader on the team. As far as the fall, we've just got to keep working on getting ourselves in good position to run a good play and take care of our assignments.
Toby Gerhart was a workhorse. He scored 28 touchdowns. How does the offense evolve without him? How will you look different?
AL
: Toby was special. He did a lot of great things. I think we'll probably have to throw the ball more. The running backs will be a little bit more by committee as opposed to one workhorse shouldering the load. People are going to have to step up at different positions. It will be exciting though.
When you have a Heisman Trophy candidate in your backfield, it takes the attention off you, the pressure off you. Do you feel like now your role has changed and you are now the center of attention, the guy with the pressure on him to carry the load, not to mention all the chatter about your being a future No. 1 NFL draft pick?
AL
: It's definitely different. Toby was definitely the man for the whole team last year. I try not to pay much attention to all that [draft talk]. I can easily get myself in trouble if I start getting into all that. I tried to put more pressure on myself this spring to step up and shoulder the load of the team more.
Everybody has a different style of leading: How do you plan to become more of a leader that fits in with your personality?
AL
: I think I need to work on being more vocal. I tend to be quiet sometimes, even when I do have something to say. I've been working on that a little more. Honestly, we have a bunch of great leaders on the offense, like [receiver]
Ryan Whalen
and the older guys on the offensive line, Andy Phillips and Chase Beeler. It's not like one guy has to motivate everyone else to come out and do extra work. People want to do it any way. In that regard, it's almost easy being a quarterback on this team. But I do need to work on being a little more vocal.
Are you able to block out the NFL speculation, or are you at least curious about the draft gurus already talking about you?
AL
: I honestly try to block it out as much as possible. I don't think about it. It's a long way off for me. If I do start thinking about it, I know I'll get myself in trouble.
You know people mention that you, as a third-year player, could conceivably leave for the draft after this season?
AL
: I honestly haven't thought about it. My only priority right now is next season and hopefully winning the national championship.
Speaking of the offense: Who else stepped up this spring, other than the guys like Whalen and receiver Chris Owusu, who everybody knows about?
AL
: A couple of young receivers did a heck of a job this spring.
Jamal-Rashad Patterson
and
Drew Terrell
really stepped their game up a lot. And the running backs,
Jeremy Stewart
, who played two years ago but hurt his foot last year, did a heck of a job this offseason, as well as
Stepfan Taylor
and
Tyler Gaffney
.
You get to play against them every day in practice: It sounds like the defense showed some spark this spring with new coordinator Vic Fangio.
AL
: Definitely. They are a little saltier than they were last year. [Sophomore inside linebacker] Shayne Skov is doing a heck of a job. It's really fun to see him grow after going up against him last year. You could tell during training camp last year that he was a great athlete and a great football player but maybe he didn't have his whole head wrapped around the scheme they were trying to run. You could tell he was running around not knowing what he was doing. Now he's flying around making plays all over the field. The secondary is doing a heck of a job, making a lot of plays and really putting pressure on our receivers to step their game up and putting pressure on me to step my game up. It's been very competitive.
PAC-12 SCOREBOARD
Friday, 12/26
Saturday, 12/20
Monday, 12/22
Tuesday, 12/23
Wednesday, 12/24
Saturday, 12/27
Monday, 12/29
Tuesday, 12/30
Wednesday, 12/31
Thursday, 1/1
Friday, 1/2
Saturday, 1/3
Sunday, 1/4
Monday, 1/12
Tweets from https://twitter.com/ESPNCFB/lists/pac12