April, 19, 2011
4/19/11
1:00
PM ET
TUCSON, Ariz. -- Before we engage our topic -- Arizona quarterback
Nick Foles
-- let's pause for a moment and consider the Wildcats' NFL history at Foles' position. It will only require the briefest of pauses, however, so don't worry about your eyes glazing over.
In 1985, the Seattle Seahawks used their 10th-round selection -- the 277th overall pick in the NFL draft -- to select Arizona quarterback John Connor. Connor would later save the world from evil computers and
indestructible robots
that looked not unlike the former governor of California, so we should give him a break for not making much of a mark in the pro ranks.
In 1972, six years before the Wildcats joined the Pac-8, the Buffalo Bills used their first pick... of the 16th round (391st overall)... on Arizona quarterback Brian Linstrom. In 1962, quarterback Eddie Wilson went to the Detroit Lions with the 10th pick of the second round, 24th overall.
And so ends our history lesson entitled, "The NFL draft and Arizona Quarterbacks."
[+] Enlarge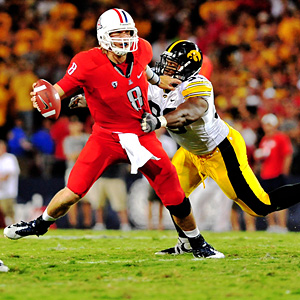 Chris Morrison/US PRESSWIRE"Nothing rattles him," offensive tackle Adam Grant said of quarterback Nick Foles following a dramatic win over Iowa. "I've seen guys with fear in their eyes on the field. He was completely calm."
If Foles were in this class, he'd probably yawn. He's not much into history, even though he could have made it for the Wildcats if he'd opted to
enter the draft instead of returning for his senior season
. Heck, he's not much into the future either because he says -- convincingly, by the way -- that he's not thinking about the NFL.
"I grew up going to college football games and I wanted to play college football. I'm in a wonderful place because I'm living my dream right now," he said. "I know there is money and fame or whatever, but I love where I'm at. I love the University of Arizona. The most important thing right now is to focus on that. I think too many people get caught up in the, 'NFL this, NFL that,' and they don't focus on where they are now, the present moment. The most precious time you have is right now in the present. I don't want to think about a year down the road."
In the present time, Foles is headed into the 2011 season -- spring practices ended over the weekend -- on the cusp of becoming the best quarterback in program history, even if he doesn't break all of Willie Tuitama's records. After all, Tuitama, a four-year starter, wasn't drafted and didn't get invited to an NFL training camp. As for those records, Foles needs 3,478 yards passing to eclipse Tuitama's career record of 9,211 yards. Considering the talent Foles has surrounding him at receiver, it's possible that he could break Tuitama's single-season passing record (3,683 yards) and even reach his career TD mark (67; Foles has 39 touchdowns in two years as a starter).
Of course, stats aren't the only thing that matters. The Wildcats split the job between Keith Smith and Ortege Jenkins in 1998, and their middling numbers were nonetheless good enough to front a 12-1 team that finished ranked No. 4 in the nation.
The Wildcats don't look at first glance like a team that could go 12-1. All five starters must be replaced on the offensive line, while the defense loses premier pass-rushing ends Brooks Reed and Ricky Elmore, both of whom figure to be drafted. Further, the Wildcats are presently riding a five-game losing streak that took the shine off a 7-1 start in the 2010 season.
For Arizona to be a factor in the Pac-12 South's first season, Foles needs to be out front posting big numbers.
"He's grown a lot each year. I think you'll see a more polished player," coach Mike Stoops said. "He's going to be an elite player at the next level if he can continue to grow."
Foles, who missed two games last season with a dislocated knee cap, said he sees plenty of room for improvement when he watches game tape. While he completed a strong 67 percent of his passes, his 2:1 TD to interceptions ratio -- 20 TDs, 10 picks -- won't blow anyone away. Foles also was streaky. He seemed to often break out of lulls while running the two-minute offense in high-pressure situations -- see clutch drives produced in wins over Iowa and California and in a heart-breaking loss to Arizona State.
So while Foles talks about improving his recognition skills, his knowledge of opposing defenses and building consistency, he also finds a less cerebral area in which to improve.
"When I just play the game and don't think as much, and let it just come to me, that's when I play my best," he said. "When I'm trying to over-analyze a play or I am thinking too much, I play mechanically and that's just not where I'm good."
Stoops and Foles have talked about another area in which Foles needs to focus: Leadership. As a quarterback who could receive All-American consideration, Foles is the centerpiece of the Wildcats. Everyone in the locker room will turn to him this fall.
"I wish at times he showed more emotion," Stoops said. "But you don't want that to be forced. That has to be natural. Nick has to pick and choose. He should know when those times are."
Said Foles, "There's a time and place to be loud and emotional but I also think it comes with knowing your teammates. The most important thing with anything you do is being natural. There will be times when I need to be vocal, but it has to come naturally. When it doesn't come naturally, it's just doesn't feel right."
In other words, leaderships is complicated. Consider: In the Wildcats 34-27 win over Iowa, Foles led by being loose and saying
just enough to make his team confident
.
"Nothing rattles him," offensive tackle Adam Grant said after that game. "I've seen guys with fear in their eyes on the field. He was completely calm."
Foles said he talked to his parents about potentially entering this spring's draft, but also said he told them in advance that he wanted to return. By returning, he almost guaranteed that -- barring injury -- he will become the greatest quarterback in school history.
Ah, but that's all history and the future and destination talk. Foles is more focused on the present, on the process.
"I'll watch film and go, 'Man, I've got a lot to work on,'" he said. "But that's exciting to me. I love working on that stuff. It's a continual process."
October, 13, 2009
10/13/09
8:00
PM ET
By
ESPN.com staff
| ESPN.com
Posted by ESPN.com's Ted Miller
After the "
Immaculate Deflection
/Interception/Deception" decided the Arizona-Washington game, my first thought was "Wow."
Then I realized we shouldn't be surprised.
It might be one of the great secrets in college football that the Arizona-Washington series has produced as many wild, weird, meaningful and controversial finishes as any with which I'm familiar.
Consider.
1992: End of an Era
Top-ranked Washington, riding a 22-game winning streak and seeking its second consecutive national championship, is stunned -- first by quarterback Billy Joe Hobert's suspension after he admitted accepting a $50,000 loan from an Idaho businessman -- and then by Arizona, 16-3.
The extraordinary Don James Era would ingloriously and controversially end three games later -- after the Huskies lost the Rose Bowl to Michigan -- amid NCAA and Pac-10 investigations into the Hobert affair and recruiting violations.
The program went to six Rose Bowls and one Orange Bowl in 18 seasons under James.
It's been to one Rose Bowl since he "retired" 17 years ago.
1998: The Leap by the Lake
.
Arizona quarterback Ortege Jenkins, in a desperation scramble with the clock ticking down its final seconds, met three Washington defenders at the 2-yard line.
Jenkins leaped toward them, flipped over them and landed on his feet in the endzone, which gave Arizona a 31-28 victory.
It became one of the great all-time highlight-reel plays.
The Wildcats would lose the next weekend at home against UCLA, 52-28, which would be their only defeat in the greatest season in school history.
Arizona beat Nebraska in the Holiday Bowl and finished 12-1 and ranked No. 4 in the country.
Washington fired Jim Lambright at the end of the season.
1999: The Drive
Washington produced one of the best drives in team history, going 80 yards in 17 plays -- knocking 9:13 off the clock in the process -- on its way to a 33-25 victory over the homestanding Wildcats, who began the season ranked No. 4 but ended up a disappointing 6-6.
A wild, post-game celebration breaks on the field out among Huskies players, coaches and fans. Roses are handed out. A fan produces a sign, "Rose Bowl Bound."
All the Huskies had to do to win their first Pac-10 championship since 1992 was beat a horrible, injury-ravaged UCLA squad and a horrible Washington State team.
Washington lost 23-20 in overtime at UCLA, inspiring more than a few snide comments about the premature post-game celebration.
Stanford went to the Rose Bowl.
2000: 22 points for Curtis Williams
A week after Washington safety Curtis Williams suffered a spinal cord injury at Stanford that would render him a quadriplegic -- and eventually kill him -- the then-seventh-ranked Huskies overcame a 12-point fourth-quarter deficit with a 22-point scoring barrage.
Running back Willie Hurst, a forgotten man much of the season, posted a pair of highlight-reel TD runs, and quarterback Marques Tuiasosopo scored the winning points from two yards out with 1:10 left.
Washington went on to win the Rose Bowl and finished ranked third in the country.