July, 10, 2014
Jul 10
12:00
PM ET
We're continuing our preseason position reviews. Please, hold your applause until we are finished.
Here's how we do this. We provide three evaluative categories: "Great shape," "Good shape" and "We'll see."
Hint: You'd prefer your team to be in "Great shape."
"We'll see" doesn't mean you're going to stink at said position. It means just what it says -- we'll see, because there's no way at present to know.
You can review
last year's rankings here
.
Up next: Cornerbacks. Considering the talent pool of quarterbacks in the Pac-12, each team's secondary is going to be tested more and more this season. Teams are really (read:
really, really, really
) going to want to be good here in 2014.
GREAT SHAPE
Oregon:
All-American
Ifo Ekpre-Olomu
is back, and considering how much opponents want to throw (though, who knows how much they will actually throw at him), he's looking at what could be a really, really impressive final season. Through the spring, fellow senior
Dior Mathis
emerged as the other starter, though
Troy Hill
could make this an intriguing position battle to watch. Backing up these guys will be
Chris Seisay
, junior college transfer
Dominique Harrison
and
Stephen Amoako
. Elite talent and excellent depth make this one of the best position groups for the Ducks.
Stanford:
The Cardinal have a new defensive backs coach in Duane Akina. In his 13 years with Texas he developed two Thorpe Award winners and 14 all-conference defensive backs, and he inherits a stocked pantry at Stanford.
Alex Carter
-- who sat out this spring -- and
Wayne Lyons
are both very, very good players who will anchor the secondary.
Ronnie Harris
will play the outside when Lyons shifts over to cover the slot.
UCLA:
Last year at this time, UCLA's cornerbacks were in the "we'll see" category. Well, we saw. We liked. The Bruins return
Fabian Moreau
,
Ishmael Adams
and
Anthony Jefferson
-- they combined for 201 tackles, six interceptions and 11 pass breakups in 2013. With an offseason to gel as a unit, mature and condition, expect those numbers to grow. If need be,
Randall Goforth
could play some cornerback, and early enrollee
Adarius Pickett
and 2014 signee
Jaleel Wadood
(younger brother of Arizona State cornerback
Rashad Wadood
) could also contribute.
GOOD SHAPE
Oregon State:
Steven Nelson
has one of the cornerback spots locked down. He recorded 62 tackles, six interceptions and eight pass breakups last season. Opposite him,
Larry Scott
and
Dashon Hunt
are vying for the starting spot. Scott has more game experience but spent half of the spring on the sideline nursing a hamstring injury, giving Hunt more and more reps as the spring season went on. And considering these guys go up against quarterback
Sean Mannion
every day in practice, their learning curves are going to be expedited.
Washington:
In
Marcus Peters
(55 tackles, five interceptions, 14 PBR in 2013) the Huskies have a very, very good cornerback on their hands. Opposing quarterbacks probably aren't going to throw at him a ton, which brings the second starter into question. The starter opposite Peters will be the one put in bigger situations (at least until he proves himself as a lockdown cornerback. If he doesn't, the passes will keep coming). Redshirt freshman
Jermaine Kelly
and former Alabama transfer
Travell Dixon
had the first shot at the job in spring ball, and the Huskies will get four freshman cornerbacks in the fall to add to that group. It is a young group, but expect Peters -- who we think could be one of the best defensive backs in the Pac-12 this season -- to pull along whoever plays the opposite spot.
Colorado:
Senior
Greg Henderson
is the most experienced defensive player returning to the Buffs this season, and his history of steadily improving through his Colorado career is a good sign that this season will be his best. On the other side, Colorado is still going through a position battle with junior college transfer
Ahkello Witherspoon
(who had an interception three pass breakups in the spring game) and
Kenneth Crawley
(who played in 11 of 12 games last season for the Buffs).
Chidobe Awuzie
also returns, making cornerback one of Colorado's deepest positions.
WE'LL SEE
USC:
A coaching change and a lot of questions about players made this a hard decision between Good Shape and We'll See. With the pure talent the Trojans have, it will be surprising if this is not a productive group, but that potential doesn't necessarily mean anything.
Kevon Seymour
has one starting spot. He ended last season on a high note and played well in the spring, but has had a very up-and-down career. Can he sustain this recent production? We'll see. Opposite Seymour, there is a battle brewing between
Josh Shaw
,
Chris Hawkins
and possibly
Adoree' Jackson
. This might be the group with the most upside and the most downside (basically, the most unknowns) of any cornerback corps in the conference.
Arizona:
Earlier this spring, head coach Rich Rodriguez said he wasn't as excited about his secondary's depth as he wanted to be. Considering the Wildcats play with a five defensive back system, that is not great. But, they have
Jonathan McKnight
to anchor one side. He started all 13 games for the Wildcats last season and led the team with eight pass breakups. The other side is still a question mark as the team tries to replace Shaquille Richardson.
Utah:
Expect to see a lot of nickel from the Utes as they prepare for life-after-Trevor-Reilly.
Eric Rowe
-- the team's third-leading tackler in 2013 -- is back and has secured one of the starting spots. He is the fastest defensive back on the team (4.39 seconds in the 40-yard dash) but the other starter remains a question. Utah likes sophomore
Reginald Porter
(10 tackles in 2013) and senior
Davion Orphey
(eight starts, 33 tackles in 2013) but they could see competition from incoming players like
Travonne Hobbs
and
Casey Hughes
.
Arizona State:
ASU lost both cornerback starters in
Osahon Irabor
and
Robert Nelson
following the 2013 season. Nelson accounted for 57 tackles, six interceptions and six pass breakups, and Irabor tallied 54 tackles, three interceptions and five pass breakups. Their backups --
Lloyd Carrington
and
Rashad Wadood
-- finished the spring atop the depth chart. Those two combined for just 32 tackles in 2013. There is always the argument that these two will step right into their mentors' shoes as they have had time to learn, but the verdict is still out on how effective these two will be.

Washington State:
The Cougars have taken major steps forward under head coach Mike Leach. At some point the cornerbacks need to follow suit (especially considering what they face in practice every single day). The Washington State secondary is in a major rebuilding period after losing cornerbacks
Nolan Washington
and
Damante Horton
. The only player with any kind of experience is
Daquawn Brown
, but beyond him it could be a lot of youth in the secondary.
Cal:
The Bears have new defensive backs coach Greg Burns, who helped USC win national titles in 2003 and 2004 (in those two seasons the Trojans gave up just 239 passing yards per game) so there is certainly not a lack of talent and experience on the coaching end. But on the field, it's a different matter.
Cameron Walker
-- who had to play safety last season because of injuries -- will return to cornerback and start alongside
Stefan McClure
. Both have experience at safety, which should help the defense be more dynamic, but again, that alone doesn't necessarily propel the group into good or great shape this season.
Other position reviews:
January, 20, 2014
Jan 20
7:00
PM ET
The Pac-12 has seen a flurry of defensive coordinator movement over the last couple of weeks -- starting with the
power struggle for former Washington defensive coordinator Justin Wilcox
to the recent exoduses of Stanford's
Derek Mason to Vanderbilt
as head coach and UCLA's
Lou Spanos to the Tennessee Titans
as linebackers coach. Oregon's promotion of
Don Pellum to defensive coordinator
to replace Nick Aliotti will also shine a spotlight on the Ducks' defense in 2014 and beyond.
And then there is, of course, former USC defensive coordinator Clancy Pendergast, who mysteriously continues to be out of work.
[+] Enlarge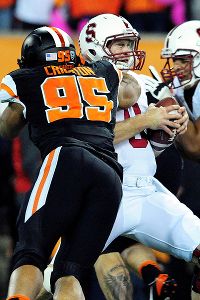 Steve Dykes/Getty ImagesOregon State defensive end Scott Crichton is among the Pac-12 defensive stars entering the NFL in 2014.
Look at the top five scoring defenses in the Pac-12 in 2013: Stanford, Oregon, USC, Washington and UCLA, respectively. All five have had defensive coordinators in flux in the young offseason.
That makes for an interesting transition period for the Pac-12. Defenses had closed the gap in recent years with several teams ranking in the top 25 nationally in scoring defense. That in itself is an achievement considering the level of offensive skill players and the diversity of offenses in the conference.
But when you look ahead to 2014, there are a lot of quarterbacks coming back to man the league's high-powered offenses --
Marcus Mariota
,
Brett Hundley
,
Taylor Kelly
,
Sean Mannion
,
Connor Halliday
, etc. You combine that with a massive talent drain of defensive players graduating or declaring for the NFL, plus all of the shifting within the defensive coaching ranks, and you have to wonder if 2014 is going to be the Year of Offense in the Pac-12.
Consider a few of the defensive standouts leaving:
Anthony Barr
(UCLA),
Will Sutton
(ASU),
Shayne Skov
(Stanford),
Dion Bailey
(USC),
Terrance Mitchell
(Oregon),
Scott Crichton
(Oregon State),
Trent Murphy
(Stanford),
Carl Bradford
(ASU),
Deone Bucannon
(Washington State),
Trevor Reilly
(Utah). There are a couple dozen others who aren't mentioned who were high-impact guys like Stanford's
Ben Gardner
and
Ed Reynolds
,
Jordan Zumwalt
and
Cassius Marsh
from UCLA and
Alden Darby
,
Osahon Irabor
and
Robert Nelson
from ASU.
In total, 19 of the 25 all-conference defensive players from 2013 will be gone next year -- including 10 of 12 from the first team. Plus about a dozen more that were honorable mention are leaving or graduating. That is a major hit to the defensive talent in the league.
The Pac-12 is rarely appreciated nationally for its defensive prowess, either from a player or coaching perspective. And now three of the best coordinators in the conference are gone, one has moved from Washington to USC and another is looking for a gig.
Pac-12 offenses are going to be loaded in 2014 while the defenses have huge question marks. There is plenty of young talent. Guys like
Myles Jack
(UCLA),
Addison Gillam
(Colorado) and
Su'a Cravens
(USC) have all made names for themselves early in their careers. There are also some very notable returners like
Ifo Ekpre-Olomu
(Oregon),
Henry Anderson
(Stanford),
Shaq Thompson
(Washington) and
Hayes Pullard
(USC).
But a lot more is gone than is coming back.
That opens the door for all sorts of comparison storylines. Wilcox did an outstanding job re-tooling the defense at Washington. And now Pete Kwiatkowski will be measured against what Wilcox was able to accomplish. Likewise, Pendergast probably should have been USC's MVP for what he did with the Trojans in one season. Now Wilcox has to take over an outfit that is losing a lot of playmakers to the NFL. No doubt, he'll be compared to his predecessor. Just as Pellum will be compared to Aliotti, and whoever fills the seats at Stanford and UCLA will be compared to what Mason and Spanos were able to accomplish.
The guard is changing, as it does every year in college football. This year it might be the Pac-12 defenses that take a step back.
January, 13, 2014
Jan 13
12:00
PM ET
We continue our
team-by-team review
of the Pac-12 with Arizona State.

Offense
: With 63 total touchdowns and an average of 39.7 points per game, the Sun Devils were one of the most explosive offenses in the country. They eclipsed at least 50 points in half of their games and were very balanced, ranking in the top half of the league in rushing and passing offense. A lot of that has to do with quarterback
Taylor Kelly
, who really came into his own in his second season as a starter. His numbers weren't as great as 2012, but from a leadership and control standpoint, you could see him making this "his team." His adjusted QBR was seven points higher than last season -- which speaks volumes because the schedule in 2013 was much tougher than in 2012.
Chris Coyle
was the league's first-team all-conference tight end and Kelly,
Marion Grice
and
Jaelen Strong
all earned second-team honors. And offensive coordinator Mike Norvell was one of the most sought-after assistants in college football. The name of the game is scoring points and the Sun Devils were 11th nationally and second only to the Ducks in the Pac-12.
Grade: A
Defense
: The one area the Sun Devils really wanted to improve in 2013 was their rushing defense. And they did. After allowing 182.8 yards per game in 2012, they cut the yards allowed to 137.6. But they allowed more points per game and had fewer sacks and fewer tackles for a loss per game than in 2012. The change in scoring defense wasn't dramatic, they went from 24.3 ppg in 2012 to 26.6 ppg in 2013. But it was still right in the middle of the national average. Where they did excel, however, was in the turnover department. ASU boasted a plus-15 turnover ratio, including a league-high 21 interceptions. They were aggressive and opportunistic, landing three players on the first-team all-league squad (
Will Sutton
,
Alden Darby
,
Robert Nelson
) and three more on the second team (
Carl Bradford
,
Chris Young
and
Osahon Irabor
). Plus Sutton was the league's defensive player of the year for the second straight season. Head coach Todd Graham personally oversees the defense and in some aspects there was legitimate improvement. In others, minor setbacks. But not enough to really ding them for a pretty good year.
Grade: B
Special teams
: Freshman kicker
Zane Gonzalez
was a very solid 83.3 percent on his field goals, converting 25 of 30 kicks -- including 4 of 6 from beyond 40 yards. The punt team was a mess and the Sun Devils were last in the league in net punting. They didn't return any punts or kickoffs for touchdowns and they allowed one kick off returned for a score -- in the bowl game against Texas Tech. They were middle of the road in terms of coverage, though Grice was one of the better kick returners in the league with an average of 24.1. But Gonzalez was really the strength and Graham went out of his way to note that special teams are an area of concern moving forward.
Grade: C-
Overall
: The loss to Texas Tech -- particularly the way the Sun Devils lost -- naturally leaves a sour taste on what should otherwise be viewed as a very good season. The Sun Devils started the year outside of the top 25 and finished 21st. They did win 10 games, won their division and had the best record in Pac-12 league play. If you're able to look beyond the disappointment of the bowl game, it was a very strong season given the schedule they played. Graham, rightfully, shouldered all of the blame for the Holiday debacle. But he was also named the league's coach of the year for the job he did. Perhaps the Sun Devils didn't achieve their full potential. But they didn't collapse down the stretch, either, and they proved they deserved to be a top 25 team.
Grade: B+
September, 16, 2013
9/16/13
6:00
PM ET
The Pac-12 conference has announced its players of the week. Offensive honors go to Oregon State quarterback
Sean Mannion
, with the defensive honors going to UCLA linebacker
Anthony Barr
. Mannion's teammate, kicker
Trevor Romaine
, was named special teams player of the week.
Here are the details, per the Pac-12's release:
Mannion, a junior from Pleasanton, Calif., completed 27 of 44 passes for a career-high 443 yards in a 51-48 overtime win over Utah. His five touchdown passes tied a school record while his yard total is the fourth most in team history and the highest total for a Beaver since 2003. Mannion currently co-leads the nation in touchdown passes (12) and ranks second in the country in total yards (1,237) and total offense per game (404 ypg).

Barr, a senior from San Pedro, Calif., led the Bruins' defense in a come-from-behind 41-21 win over No. 23-ranked Nebraska on the road. He collected a career-high 11 tackles, including two for a loss, as the Bruins held the Cornhuskers scoreless for the final 37 minutes of the contest. Barr forced three fumbles on the day, with the third one ending Nebraska's best chance to score in the second half on the 12 yard-line. The Barr-led Bruins held the then ninth-ranked rushing team in the nation to 128 yards on 42 attempts.

Romaine, a junior place-kicker from Corona, Calif., made all three of his field goal attempts in Oregon State's overtime win over Utah in the first Conference game of the season for both squads. His three kicks sailed through the uprights from 20, 36, and 49 yards, the latter being a career-high. The Beaver's kicker has made five of six attempts on the season and now ranks ninth in team history with 184 career points.

Also nominated for offensive player of the week honors were quarterbacks B.J. Denker of Arizona, Jared Goff of California, Marcus Mariota of Oregon, Brett Hundley of UCLA, Cody Kessler of USC, Travis Wilson of Utah and Connor Halliday of Washington State; and running backs Marion Grice of Arizona State, Tyler Gaffney of Stanford and Bishop Sankey of Washington. Also nominated for defensive player of the week honors were safeties Demetrius Wright of USC and Deone Bucannon of Washington State; linebacker Jourdan Grandon of Arizona, cornerback Osahon Irabor of Arizona State, defensive end Josh Shirley of Washington and Taylor Hart of Oregon's defensive line. Also nominated for special teams player of the week honors were kickers Zane Gonzales of Arizona State, Vincenzo D'Amato of California and Andy Phillips of Utah; and punters Drew Riggleman of Arizona, Sean Covington of UCLA and Kris Albarado of USC.
August, 20, 2013
8/20/13
7:00
PM ET
The Senior Bowl released its watch list for the 2014 game and 38 players from the Pac-12, representing 11 of the 12 schools, are on the list.
Arizona State leads the way with seven players, followed by Stanford and UCLA with six each. Arizona is the lone Pac-12 school not represented.
The SEC
dominated the list
with 72 players, followed by the ACC (48), Big Ten (46) and then the Pac-12.
The list, which is made up of more than 400 players vying for 110 roster spots, isn't set in stone. Additional players can be added throughout the year.
You'll note some players are listed out of position -- mostly because they are expected to fluctuate back and forth. For example, USC's Morgan Breslin is listed as a DE, but he'll spend just as much time at OLB this season in USC's new scheme.
You can see
the complete watch list here
. And here's the breakdown from each Pac-12 team.
Arizona State (7)
Chris Coyle, TE
Alden Darby, S
Marion Grice, RB
Osahon Irabor, DC
Kevin Ozier, WR
Will Sutton, DT
Chris Young, OLB
California (1)
Colorado (2)
Gus Handler, C
Parker Orms, S
Oregon (5)
Taylor Hart, DT
Josh Huff, WR
Wade Keliikipi, DT
Boseko Lokombo, LB
Avery Patterson, DC
Oregon State (1)
Stanford (6)
Tyler Gaffney, RB
Ben Gardner, DE
Ryan Hewitt, FB
Trent Murphy, LB
Shayne Skov, LB
David Yankey, OG
UCLA (6)
Anthony Barr, LB
Seali'i Epenesa, DT
Shaq Evans, WR
Cassius Marsh, DE
Owamagbe Odighizuwa, DE
Jordan Zumwalt, LB
USC (5)
Morgan Breslin, DE
Kevin Graf, OT
Devon Kennard, LB
John Martinez, OG
Silas Redd, RB
Utah (2)
Tenny Palepoi, DT
Trevor Reilly, LB
Washington (2)
Sean Parker, DC
Keith Price, QB
Washington State (1)
July, 31, 2013
7/31/13
4:30
PM ET
Cornerback, at least from a preseason perspective, is not a strong position across the conference in 2013.
Three of the four corners on the 2012 All-Pac-12 first- and second-teams -- Oregon State's Jordan Poyer, Washington's Desmond Trufant and USC's Nickell Robey -- are now in the NFL. Only Arizona, Colorado, Oregon and Washington State welcome back both starting corners, and of those, only the Ducks ranked in the top eight in the conference in pass efficiency defense last year.
So how do things stack up?
GREAT SHAPE
[+] Enlarge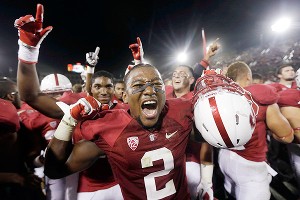 AP Photo/Marcio Jose SanchezWayne Lyons, along with experienced safeties, gives Stanford one of the conference's top secondaries.
Oregon
: The Ducks have the nation's best corner tandem in All-American
Ifo Ekpre-Olomu
and
Terrance Mitchell
. In fact, their backups,
Dior Mathis
and
Troy Hill
, probably would rate as one of the better tandems in the conference if they were starting. The Ducks welcome back the entire two-deep from their 2012 secondary, as well as safety
Avery Patterson
, an All-Conference talent who was hurt last year. This is probably the best secondary in the nation.
Stanford
: While the Cardinal's star power is at safety, they are also strong at corner with
Alex Carter
,
Wayne Lyons
,
Barry Browning
and
Usua Amanam
giving them an experienced, athletic foursome.
GOOD SHAPE
Arizona
: If
Jonathan McKnight
and Shaquelle Richardson are healthy -- and get supported by any sort of pass rush -- they have the potential to be an elite cover tandem.
Derrick Rainey
is also in the mix.
Oregon State
:
Rashaad Reynolds
is now the lead dog with Poyer gone. There's and interesting competition on the other side between veteran
Sean Martin
and juco transfer
Steven Nelson
, who had a strong spring showing. It helps that things are good at safety -- and that the Beavers gave up just 14 TD passes last year.
Arizona State
:
Osahon Irabor
, a four-year starter, is back and senior
Robert Nelson
has experience, including a notable interception in the win over Arizona.
Rashad Wadood
, who redshirted last year due to injuries, is a third option who had a strong spring. The Sun Devils ranked first in the Pac-12 in pass efficiency defense in 2012.
Washington
: Like Oregon State's Reynolds,
Marcus Peters
now moves out of a big shadow -- Trufant -- and gets an opportunity to show what he can do. While Greg Ducre and
Tre Watson
, backups last year, are back, watch out for junior college transfer
Travell Dixon
, a former Alabama signee.
Washington State
: The Cougars welcome back three corners with significant experience:
Damante Horton
,
Anthony Carpenter
and
Nolan Washington
. On the downside, the pass defense struggled last year, ranking 11th in pass efficiency defense, yielding a 65.5 percent completion rate.
WE'LL SEE
USC
:
Josh Shaw
has moved back to safety, so this position is in flux for the Trojans. Senior
Torin Harris
has nine career starts but his play has been uneven, while
Anthony Brown
has two.
Kevon Seymour
,
Devian Shelton
and freshman
Chris Hawkins
are in the mix.
California
: While the Bears lost both starters -- Steve Williams and Marc Anthony were a strong tandem --
Kameron Jackson
has plenty of experience and
Stefan McClure
has plenty of pure talent. Depth is a question.
UCLA
: The Bruins are replacing their entire secondary, and that might not be a bad thing considering they gave up 27 TD passes in 2012.
Anthony Jefferson
and
Ishmael Adams
are the leaders to start, with
Fabian Moreau
also in the mix. It will be interesting to see if true freshmen Priest Willis and Johnny Johnson make a move. It hurt to lose sophomore
Marcus Rios
to a serious sinus infection.
Utah
: The Utes lost their top three corners from a fair-to-middling 2012 pass defense, one that grabbed just eight interceptions.
Keith McGill
is a likely starter, while redshirt freshman
Justin Thomas
and JC transfer Davion Orphey are competing on the other side. Lots of inexperience here.
Colorado
: The Buffaloes welcome back essentially their entire 2012 depth chart at corner, including intriguing young talents
Kenneth Crawley
,
Greg Henderson
and
Yuri Wright
. But the Buffs ranked last in the nation in pass efficiency defense in 2012 -- just three interceptions -- which must be accounted for here.
You can see previous previews here:
Quarterback
Running back
Receiver
Tight end
Offensive line
Kicker
Linebacker
Defensive line
November, 26, 2012
11/26/12
5:50
PM ET
The Pac-12 conference has announced its 2012 individual honors and all-conference first and second teams as voted on by the coaches.
Offensive Player of the Year
:
Marqise Lee
, WR, USC.
Pat Tillman Defensive Player of the Year
:
Will Sutton
, DE, Arizona State.
Freshman Offensive Player of the Year
:
Marcus Mariota
, QB, Oregon.
Freshman Defensive Player of the Year
:
Leonard Williams
, DE, USC.
Coach of the Year
: David Shaw, Stanford.
FIRST-TEAM OFFENSE
QB
Marcus Mariota, Fr., Oregon
RB
Kenjon Barner
, Sr., Oregon
RB
Ka'Deem Carey, So., Arizona
WR
Marqise Lee, So., USC
WR
Markus Wheaton
, Sr., Oregon State
TE
Zach Ertz
, Sr., Stanford
OL
Hroniss Grasu
, So., Oregon
OL
Khaled Holmes
, Sr., USC
OL
Brian Schwenke
, Sr., California
OL
Xavier Su'a-Filo, So., UCLA
OL
David Yankey
, Jr., Stanford
SECOND-TEAM OFFENSE
QB
Matt Scott
, Sr., Arizona
RB
Johnathan Franklin
, Sr., UCLA
RB
Stepfan Taylor
, Sr., Stanford
WR
Austin Hill
, So., Arizona
WR
Robert Woods
, Jr., USC
TE
Austin Seferian-Jenkins
, So., Washington
OL
Jeff Baca
, Sr., UCLA
OL
David Bakhtiari
, Jr., Colorado
OL
Sam Brenner
, Sr., Utah
OL
Kevin Danser
, Sr., Stanford
OL
Sam Schwartzstein
, Sr., Stanford
FIRST-TEAM DEFENSE
DL
Scott Crichton
, So., Oregon State
DL
Dion Jordan
, Sr., Oregon
DL
Star Lotulelei
, Sr., Utah (2)
DL
Will Sutton, Jr., Arizona State
LB
Anthony Barr
, Jr., UCLA
LB
Trent Murphy
, Sr., Stanford
LB
Chase Thomas
, Sr., Stanford (2)
DB
Ifo Ekpre-Olomu
, So., Oregon
DB
Jordan Poyer
, Sr., Oregon State
DB
Ed Reynolds
, Jr., Stanford
DB
Desmond Trufant
, Sr., Washington
SECOND-TEAM DEFENSE
DL
Henry Anderson
, Jr., Stanford
DL
Morgan Breslin
, Jr., USC
DL
Ben Gardner
, Sr., Stanford
DL
Datone Jones
, Sr., UCLA
LB
Kiko Alonso
, Sr., Oregon
LB
Michael Clay
, Sr., Oregon
LB
Brandon Magee
, Sr., Arizona State
DB
Deone Bucannon
, Jr., Washington State
DB
Alden Darby
, Jr., Arizona State
DB
T.J. McDonald
, Sr., USC
DB
Nickell Robey
, Jr., USC
FIRST-TEAM SPECIALISTS
PK
Vince D'Amato, Jr., California
P
Jeff Locke
, Sr., UCLA
RS
Reggie Dunn
, Sr., Utah
ST
Jordan Jenkins
, Sr., Oregon State
SECOND-TEAM SPECIALISTS
PK
Andrew Furney
, Jr., Washington State
P
Josh Hubner
, Sr., Arizona State
RS
Marqise Lee, So., USC
ST
David Allen
, Sr., UCLA
ALL-PAC-12 HONORABLE MENTION
NOTES
By School: OREGON and STANFORD placed the most players on the first team with five selections each, followed by OREGON STATE with four.
By Class: Of the 26 first-team selections, 14 are seniors, five are juniors, six are sophomores and one freshman.
Unanimous: Only one player was named on the first-team ballot of all 12 head coaches--WR Marqise Lee of USC.
Two-time selections: Two players are repeat first-team selections from last year--DT Star Lotulelei of Utah, LB Chase Thomas of Stanford.
All-Academic: Two players were named to the first team on both the All-Pac-12 Team and the Pac-12 All-Academic Football Team--P Jeff Locke of UCLA, OL Khaled Holmes, USC. In addition, OL Kevin Danser of Stanford, DL Ben Gardner of Stanford and Michael Clay of Oregon were named second-team All-Academic and second-team All-Pac-12.
April, 9, 2012
4/09/12
7:00
PM ET
Todd Graham can throw all kinds of diagrams and playbooks and chalk talks at his players until their heads spin. But if they don't believe in what the Sun Devils are trying to do, then it doesn't really matter how much of the playbook they do or don't retain.
So more important than the Xs and Os, Graham is stressing the dos and don'ts of being in his program and the challenges that come from making a culture change. And after a few months on the job, he's pleased to report that, in his mind, Arizona State is headed in the right direction.
"The thing I'm most proud of is how they responded to such a drastic change," said Graham. "In terms of accountability -- we expect them to go to class every day, we check every class, we drug test every kid in the program. We're trying to install this structure and discipline and I'm proud of the way this team has responded to that and embraced that. The guys have bought in."
[+] Enlarge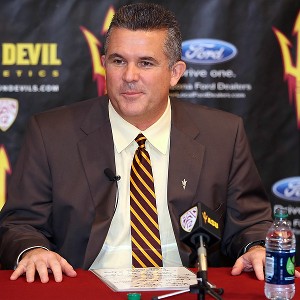 Christian Petersen/Getty ImagesNew ASU coach Todd Graham said his team has responded well to his direction this spring.
Before the start of the spring session, Arizona State's players were little more than images on film to Graham. He could read bios, track workouts and see what they did last season. But that didn't really give him a sense of what he had to work with as he and his staff are trying to install new systems on both sides of the ball. Now that he's seen them do some live work, he's starting to get a sense of the team's identity.
"Those first six practices, you know how it is when you are trying to change things up, you just want to beat your head against a wall," Graham said. "But on the seventh practice, I got the impression that they were finally getting it."
Graham said he's been impressed with the offensive line play -- which he thought was going to be a question mark heading into the spring. He was complimentary of returning starters
Evan Finkenberg
and
Andrew Sampson
, but also noted that
Brice Schwab
and
Jamil Douglas
"have really been impressive."
"I think the strength of our defense is the defensive line so those guys [on the offensive line] are playing against some pretty good competition," Graham said. "Every day those guys get a little better. That has been a real bright spot."
Graham didn't add much to what offensive coordinator
Mike Norvell said last week about the quarterback competition
, but he did single out the springs of running back
Cameron Marshall
, safety
Alden Darby
, cornerback
Osahon Irabor
, defensive tackle
Corey Adams
and wide receivers
Jamal Miles
and
Rashad Ross
.
"Miles has really started to master his craft," Graham said. "He's been very disciplined in his route running. Marshall is at the front of a stable that I think is going to be very good.
"The reality is that we still have a long way to go. But I've got confidence because I think this team is coming together because of each one of them buying in and working as a team. We are making great progress in developing that trust that it takes to be a family and a team and a team that wins. I remind them every day that we're going to be a team that wins championships and you can't do that without winning every day in everything that you do."
October, 20, 2010
10/20/10
2:30
PM ET
By
ESPN.com staff
| ESPN.com
I'm a limousine ridin', jet flyin', kiss stealin', wheelin' dealin' son of a gun. WOOOO!!
August, 5, 2010
8/05/10
2:09
PM ET
By
ESPN.com staff
| ESPN.com
The good news for all those big-name Pac-10 quarterbacks? Every conference team has questions at cornerback.
And, for the first time in Pac-10 blog history, no one earns a "Great shape" tag.
Only one cornerback who earned All-Pac-honors is back: Arizona's second-teamer Trevin Wade. Only one other returning corner, Washington's Desmond Trufant, even earned honorable mention.
Three teams welcome back both starting corners from 2009: Oregon, Stanford and Washington. But the Ducks have moved Javes Lewis to rover, and a pair of true freshmen -- Terrance Mitchell and Avery Patterson -- are battling for the starting job opposite Talmadge Jackson. Stanford and Washington? They ranked eighth and ninth in the conference in pass efficiency defense last season.
USC and Arizona State are replacing both starting cornerbacks, but both actually look fairly strong at the position with plenty of returning experience and athleticism.
A number of teams might end up pretty good at the position. But no one looks like a sure-thing during the preseason. (Heck, we thought California was
a sure thing in 2009
and things
didn't exactly go according to plan
).
So how do things stack up?
Great shape
Good shape
Arizona: Wade is an All-American candidate, and Marcus Benjamin showed he can play with a good performance against USC in 2009. And Mike Stoops always has good cornerbacks, so we won't dwell on the questionable depth.
Oregon: Probably not a lot of worry here for the Ducks. Injuries in 2009 earned young players experience, and Oregon did rank third in the Pac-10 in pass efficiency defense. Still, it remains uncertain who will start opposite Jackson, with the freshmen outplaying the more experienced Cliff Harris and Anthony Gildon during the spring.
Arizona State: On the one hand, both starters are gone from a unit that ranked second in the conference in pass efficiency defense. On the other, Omar Bolden would have been a starter if he didn't get hurt, and Deveron Carr, Osahon Irabor and LeQuan Lewis give the Sun Devils a nice mix of talent and experience.
USC: Shareece Wright was academically ineligible last season, but he might end up first-team All-Pac-10. He might, in fact, be the conference's best cover cornerback. Torin Harris and T.J. Bryant are battling for the other spot in a secondary replacing all four 2009 starters.
Washington: Trufant is an up-and-comer, Quinton Richardson is experienced, and backups Vonzell McDowell and Adam Long have starting experience, so the Huskies should be much improved here in 2010. The operative word, though, is "should."
UCLA: It isn't easy to replace an Alterraun Verner. Sheldon Price returns at left cornerback after a good freshman season as a starter, and Aaron Hester has potential on the opposite side. Undersized junior Courtney Viney is an experienced third option.
Oregon State: James Dockery is solid and new starter Brandon Hardin is big -- 6-2, 215 pounds. There's respectable depth. But the Beavers gave up 23 touchdown passes in 2009, tied for the most in the conference. Of course, the Beavers cornerbacks suffered last season because of an anemic pass rush. That might change in 2010.
We'll see
Stanford: If the Cardinal is going to take another step forward, it must get better in pass coverage. Three players who started last seaon are back: Richard Sherman (who's a sure-thing at left corner), Corey Gatewood and Johnson Bademosi. But opponents completed 63 percent of their passes with 23 touchdowns against those guys. Might redshirt freshman Terrence Brown make a move?
California: Syd'Quan Thompson is gone; is Darian Hagan back? As in the 2008 version, not the one who lost his job and got buried on the depth chart in 2009. After being touted as one of the best secondaries in the country, the Bears finished 111th in the nation in pass defense in 2009. Bryant Nnabufie, who started four games in 2009, is listed No. 1 opposite Hagan, but Josh Hill (a five-game starter) and Marc Anthony and redshirt freshman Steve Williams are in the mix.
Washington State: The Cougars feel pretty good about junior Aire Justin and sophomore Daniel Simmons, who was the defense's best cover corner before he got hurt midway through last season. But it's hard to ignore that the Cougars ranked 112th in the nation in pass efficiency defense with opponents completing nearly 67 percent -- 67 percent! -- of their passes.
May, 17, 2010
5/17/10
5:16
PM ET
By
ESPN.com staff
| ESPN.com
Arizona State's Toa Tuitea, a sophomore defensive tackle, has been named the Sun Devils' "Hard Hat Program Champion," which recognizes his work in the football program's strength and conditioning program.
He topped a list of 48 Sun Devils who were honored.
A news release from the school said the "Hard Hat Program was created to reward those individuals who do what's right in the weight room even when no one is looking ... a Hard Hat Player is someone who is self-motivated, a competitor, committed to personal and team excellence, dependable, accountable, disciplined and most importantly, puts the team first."
To become a Hard Hat Player, a player has to achieve a certain point total during winter workouts. He earns points based on his effort for strength training, speed development and conditioning sessions. They are also awarded points for competitive events and performing extra workouts in the "Blitz Package Program." Each athlete is evaluated after every workout by the sports performance staff with input from an athlete's position coach when applicable.
The list of the honored includes:
Corey Adams
, Derrall Anderson, George Bell, Omar Bolden,
Jarrid Bryant
, Mike Callaghan, Jonathan Clark, Chris Coyle, Dean DeLeone, Eddie Elder,
Steven Figueroa
, Evan Finkenberg, Clint Floyd, Garth Gerhart, Lawrence Guy, Jon Hargis,
J.J. Holliday
, Matt Hustad, Osahon Irabor, Patrick Jamison, Keelan Johnson,
Brandon Johnson
, Anthony Jones, Kyle Johnson,
Cameron Kastl
, Ronald Kennedy,
Dan Knapp
,
Trevor Kohl
,
LeQuan Lewis
, Shelly Lyons,
Cameron Marshall
, Shane McCullen,
Jamal Miles
, Bo Moos,
James Morrison
, Gerald Munns,
Brock Osweiler
,
Aaron Pflugrad
,
Cole Rarrick
,
Jamarr Robinson
, Andrew Sampson, Zach Schlink,
Max Smith
, Adam Tello,
Steven Threet
,
Matthew Tucker
and Thomas Weber.
Starters or key contributors who didn't make the list (for whatever reason, including injury or excused absence) include: linebacker Vontaze Burfict, receiver
Gerell Robinson
, receiver
Kerry Taylor
, defensive end James Brooks, defensive tackle Williams Sutton, defensive tackle Saia Falahola, defensive end Greg Smith and linebacker Brandon Magee.
March, 11, 2010
3/11/10
6:44
PM ET
By
ESPN.com staff
| ESPN.com
Arizona State cornerback Omar Bolden has been granted an extra year of eligibility by the Pac-10 due to injury hardship.

Bolden, who made 22 consecutive starts before getting hurt, will play next fall as a redshirt junior instead of a true senior.

Bolden hurt his hamstring in the the second game of the 2009 season and played a limited role in game three at Georgia. He then injured his knee during practice and missed the remaining nine games.

The Sun Devils lost three of the four players who started the season finale against Arizona, but they could be fairly solid in the secondary in 2010.

Along with Bolden, junior free safety Clint Floyd returns, as does cornerback Deveron Carr, who started three games but will miss spring after shoulder surgery. Redshirt freshman cornerback Osahon Irabor was a candidate to start last fall until he got hurt and redshirted. Sophomore strong safety Keelan Johnson started one game last year and saw significant playing time.